Best CRM for Freelancers: 6 Top Options in 2023
This article is part of a larger series on CRM.
Customer relationship management (CRM) software for freelancers helps solo-operated businesses manage multiple functions, such as sales, marketing, and client projects, in a single interface. The best freelancer CRMs let single users complete more with less through marketing and sales automation features. The software can also include additional useful freelancer tools, such as invoicing, quote generation, and multi-channel communication with leads or customers through email, chat, and phone.
We evaluated dozens of freelancer CRMs to determine the best overall and which products can help specific circumstances. Based on our evaluation, our list of the six best CRM solutions for freelancers are:
Best CRMs for Freelancers Compared
Provider

Our CRM Rating

Starting Price*

Key Features

Our Product Review

4.9/5

$14.90 per user, per month

Intelligent sales features like SmartDocs and Sales Assistant

4.87/5

Free to $8 per user, per month

Intuitive data management and multi-view capabilities

4.82/5

Free to $15 per user, per month

Built-in phone, email, and live chat channels

4.72/5

Free to $14 per user, per month

Inventory management for quote generation, invoicing, and product tracking

4.6/5

Free to $45 per month

Marketing features for email campaigns, digital ads, and content management

4.47/5

Free to $14 per user, per month

Help desk module with ticket management
*Based on annual billing; monthly billing is also available for slightly higher rates.
Pipedrive: Best CRM for Freelancers (Overall)
Pros
Artificial intelligence (AI) sales assistant tool for automated performance suggestions is available on Essential plan
Built-in meeting and video call scheduling tools
Robust contact and deal management features such as timelines, one-page overviews, and custom pipeline tracking
SmartDocs feature for fast contact data entry onto sales documents plus e-signature and document tracking capabilities
Cons
No free plan
SmartDocs features for streamlined quote and proposal generation not available until Professional plan
Google Drive and OneDrive integrations get expensive
Pipedrive is a sales-focused CRM system for freelancers who want to develop customer relationships and grow their client base. It offers contact, lead, and deal management features, including one-page complete overviews of CRM records that indicate activity history, contact data, pipeline stage, and prior communications. Users can schedule meetings with prospects through phone calls or video conferencing and send emails from the CRM.
This CRM offers an AI sales assistant that monitors user behaviors and lead and deal activity. It'll then use data to notify users of events and make recommendations such as tasks to focus on next and tips to improve performance. Additionally, freelancers can use Pipedrive to streamline data and document management activities. SmartDocs is a feature that populates information on a sales document, like a quote or proposal, using stored CRM data, so that they can easily be sent for signatures. The Smart Contact Data also auto-updates records using online and LinkedIn sources.
---
Though sophisticated in sales capabilities, the biggest issue with Pipedrive, specifically for freelancers getting started on a budget, is that no free-forever plan is available. Luckily, every other CRM system on this list offers a free-forever plan for those who want a no-cost, risk-free solution to manage customers.
---
Pipedrive Monthly Pricing (per User) at a Glance*
Essential: $14.90
Advanced: $27.90
Professional: $49.90
Power: $64.90
Enterprise: $99
Free trial: 14 days
*Pricing based on annual billing; monthly billing is also available for a higher cost.
---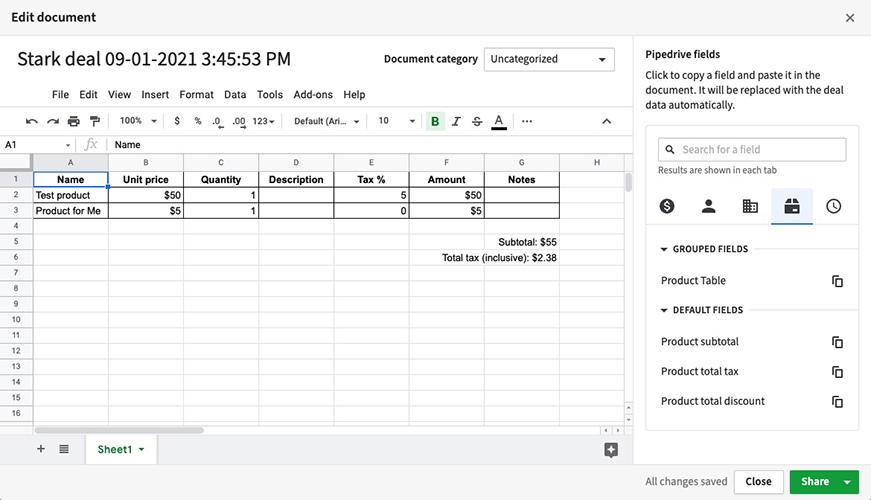 ---
monday.com: Best for Simplicity
Pros
Free plan available
Customizable boards letting users manage and view any sort of sales, marketing, and administrative activity or projects
Provider offers hundreds of CRM and project templates for users to immediately access
Simple product to use with spreadsheet-style data entry
Cons
Misleading pricing as paid plans require a minimum number of users
System does not have built-in email, text, or phone capabilities to communicate with customers
Lacks AI capabilities for high-level insights and analytics
Rather than using a traditional CRM system, freelancers can turn to monday.com, a highly customizable work management system, for their CRM needs. The product is free to access and operates using a system of boards and items that act as the equivalent of modules and records in a CRM. Because it's a work and project management system, solopreneurs can use premade board templates or tailor their monday.com boards for activity in all business functions, like sales, marketing campaigns, billing, client projects, and other operational areas.
monday.com is highly intuitive to operate because all data, such as CRM records or client projects, can be added and edited on a simple spreadsheet-style board. Once the information is there, freelancers can monitor progress and activate their data through multiple board options, including timelines, Gantt, Kanban, charts, and dashboard views. It's also easy for users to create automations in the system, as monday.com uses low-code workflow designing tools.
---
monday.com's product simplicity causes users to miss out on more advanced features, like capabilities such as AI for analytics and performance suggestions and built-in communication capabilities through phone, chat, email, or text. Freelancers seeking a CRM for more than data management should look to Freshsales as an alternative. It has a built-in telephone, email and chat channels, and an AI tool to help users automate tasks and receive helpful insights.
---
monday.com Monthly Pricing (per User) at a Glance*
Free: Up to two users
Basic: $8 (minimum three users)
Standard: $10 (minimum three users)
Pro: $16 (minimum three users)
Enterprise: Contact for pricing
*Pricing based on annual billing; monthly billing is also available for a higher cost.
Freshsales: Best for Communication Capabilities
Pros
Scalable, low-priced paid plans
Communication features either built-in or through native integrations to engage leads through phone, email, and live chat
Excellent modules for deal, contact, and account management
Cons
Price, quotes, invoices, and onboarding documents management requires paid add-on
Most AI features unavailable until Pro plan
Expensive customizable modules
Freshsales is one of the best CRMs for individuals, primarily because of its costs and built-in features. The free plan includes account, deal, and contact management, a built-in phone system, and live chat channels to engage leads browsing your website. The paid plans are also highly accessible, starting at just $15 per user, monthly for email options, visual pipeline management, and sales activity tracking.
The Freshsales system is one of the more intuitive CRMs for self-employed individuals in terms of customizing the product, operating the features, and navigating the interface. The platform is a great end-to-end sales solution as it acts as a lead and client management software for freelancers, thanks to its deal and account management capabilities. Finally, this CRM offers advanced AI features, such as a chatbot for auto-lead engagement, and Freddy AI insights for lead scoring, data deduplication, deal insights, and next-best-action recommendations.
---
Leveraging AI features as a digital assistant or analytics tool can give freelancers additional productivity and capabilities without needing a full-time employee. Freshsales, unfortunately, does not begin offering its AI capabilities until the Pro plan for $39 per user, monthly. Pipedrive has the best AI value—starting on its Essentials plan for just $14.90 per user, monthly.
---
Freshsales Monthly Pricing (per User) at a Glance*
Growth: $15 (free for up to 3 users)
Pro: $39
Enterprise: $69
Free trial: 21 days
Add-ons
Configure, Price, Quote: $19 for quote document templates, invoicing, and document activity tracking
Additional bot sessions: $75 for 1,000 bot sessions per month for automated customer or lead support
*Pricing based on annual billing; monthly billing is also available for a higher cost.
Zoho CRM: Best for Quotes & Invoice Management
Pros
Free plan and scalable paid plans
Highly customizable CRM system in terms of modules, tabs, page layouts, automations, and data fields
Users can manage sales, marketing, and customer support cases in one product
Built-in inventory management for products, price books, quotes, orders, and invoice management
Cons
AI features unavailable until Enterprise plan
Multi-rule lead scoring requires Enterprise plan
Third-party integrations not allowed on Free plan
Zoho CRM is a sales management product that gives solo-operated businesses the ability to manage leads, accounts, contacts, deals, customer support cases, and email marketing campaigns. The system is highly customizable, where freelancers can design CRM components like modules, data fields, CRM automations, and tabs to meet their unique requirements. Advanced features, such as the artificial intelligence (AI) Zia tool for suggestions, predictions, and reminders, are also available on the higher-tiered plans.
As for features most relevant to freelancers, Zoho CRM's best attribute is the inventory management module, which is available on the Professional plan starting at $23 per user, monthly. Within that module is an array of features for generating and sending sales documents and tracking inventory. Users can create products and price books, generate quotes, sales orders, and invoices, and manage a vendor database. On top of that, invoicing allows users to manage both recurring and retainer-based invoices.
---
Though it has a free basic CRM plan, Zoho does not allow users to integrate with third-party applications until the Standard plan—starting at $14 per user, monthly. HubSpot CRM is a great freelancer CRM alternative that allows for outside integrations on its free-forever plan.
---
Zoho CRM Monthly Pricing (per User) at a Glance*
Free: Up to three users
Standard: $14
Professional: $23
Enterprise: $40
Ultimate: $52
Free trial: 15 days
Additional Plans
Bigin: $7 for basic sales pipeline management
Zoho CRM Plus: $57 for added help desk, email and social media marketing, survey, and analytics functions
*Pricing based on annual billing; monthly billing is also available for a higher cost.
HubSpot CRM: Best for Marketing Campaigns
Pros
Free plan includes email marketing, ads management, and forms generator
Easy-to-use CRM for operating its features
Users can manage web pages, search engine optimization (SEO), and a blog
Built-in documents management with e-signature, meeting scheduling, and payment processing
Cons
Paid plans get expensive
Payments processing capabilities not available until Starter plan
Omnichannel marketing automation unavailable until Professional plan
HubSpot CRM is a popular product, well known as a free CRM tool for freelancers with a clean interface—letting users with minimal technical knowledge extract value from the features. Regarding sales capabilities, HubSpot offers features for freelance client management to store account data and documents, generate quotes, obtain signatures, and schedule meetings. Users can even process payments through automated clearing house (ACH) transactions or Stripe integration.
HubSpot is by far the best for its marketing capabilities—many of which come at no cost. The free marketing features include creating and deploying email campaigns, designing landing pages, segmenting contact lists, and managing digital ads on Google or Facebook. Users can oversee a blog and receive SEO recommendations for free. For more advanced marketing capabilities, freelancers can upgrade to a paid plan to publish social media content, deploy automated omnichannel campaigns, run A/B campaign tests, and host on-demand videos.
---
HubSpot is not a great option for when a freelancer is ready to scale, add more employees, and needs additional CRM features like automated sales sequences, forecasting, and team management. The paid plans are expensive whether you choose to bundle or subscribe to an individual product. Freshsales and Zoho CRM are the best options that offer a free plan and have cost-friendly, scalable paid plans.
---
HubSpot CRM Monthly Pricing at a Glance*
Free: Unlimited users
Starter CRM Suite**: $45 for two users
Professional CRM Suite: $1,600 (up to five users)
Enterprise CRM Suite: $5,000 (up to 10 users)
Free trial: 14 days
*Pricing based on annual billing; monthly billing is also available for a higher cost.
**CRM Suite includes sales, marketing, customer service, content management system (CMS), and operations software. Individual modules can be purchased for lower monthly costs.
Pro tip: Did you know Pipedrive, Freshsales, Zoho CRM, and HubSpot CRM are also considered some of the top overall CRM systems for small businesses? To learn more about other CRM platforms that can help your business establish itself and grow, check out our guide on the best CRMs for small businesses.
Agile CRM: Best for Client Case Management
Pros
Free and low-cost plans available
All-in-one sales, marketing, and customer support solution
Robust system customization options
Most CRM features are available the in Free or Starter plan
Cons
Phone system not available until Regular plan
Only one integration or plugin allowed on Free plan
No free email campaign features
Agile CRM is a low-cost, highly customizable CRM with sales, marketing, and customer service features for all-in-one functionality. Freelancers have access to a wide range of task management features, such as scoring leads, storing documents, and organizing contact and lead data. There are also appointment scheduling tools and the ability to send direct and mass emails from the CRM. Additionally, users can utilize the two-way phone system to place and receive calls and track social media activity from the interface.
Many technology consultants, such as IT firms, virtual chief information security officers (vCISOs), and software developers operate in a solopreneur capacity. Those freelancers often need case management features to assist clients with system issues, technical challenges, and other inquiries. Agile CRM includes a simplified ticketing collection, grouping, automation, and viewing system in the help desk module of the platform. Users not only can ensure they effectively assist clients, but they can also manage service-level agreements (SLAs) and store prepackaged replies for fast resolutions.
---
The email campaign features of Agile CRM, unfortunately, are not available for free—something critical for solopreneurs who need to market their brand on a slim budget. HubSpot is the best CRM alternative for users who need free email marketing features, also providing ads, blogs, and search engine optimization (SEO) management for free.
---
Agile CRM Monthly Pricing (per User) at a Glance*
Free: Up to 10 users
Starter: $8.99
Regular: $29.99
Enterprise: $47.99
*Pricing based on annual billing; monthly billing is also available for a higher cost.
How We Evaluated the Best CRMs for Freelance Businesses
To determine the best CRM for freelancers, we evaluated the features relevant to helping a solopreneur manage and grow their client base. Quote generation, for example, lets users quickly create and send price estimates and contract proposals to leads to help bring them on as clients. Additionally, invoicing capabilities let freelancers collect revenue from clients using the CRM. We also looked at other critical product attributes, including price, ease of use, and customer support.
We found Pipedrive to be the best freelancer CRM overall. Its robust, sales-heavy features give solopreneurs the ability to manage leads, documents, and communications all in one platform. Additionally, the pricing starts at just $14.90 per user, monthly, which includes a sophisticated artificial intelligence (AI) sales assistant tool that acts as another employee through activity notifications and tips to improve performance.
The tabs below offer insight into our evaluation process of the best freelance CRMs:
20%
Niche/Advanced Features
25% of Overall Score
We looked at overall features crucial to any CRM system, regardless of whether it's used by a freelancer or a large sales team. Third-party and native integrations, for example, let all sorts of users expand functionality from their CRM and keep data synchronized between multiple applications and systems. Additionally, a mobile application lets freelancers access their CRM on the go, while product customization lets them configure their CRM to their own operational needs.
20% of Overall Score
Pricing is particularly important to freelancers on a tight budget. Therefore, we considered free plan availability and various low-cost, scalable pricing options solo-operated businesses could afford as they grow. We also looked at the availability for a subscriber to either pay monthly or save by paying annually. Finally, we looked at the costs of using the features specific to accessing the niche features we felt were especially crucial to freelance businesses, like invoicing and marketing automation.
20% of Overall Score
Freelancers must manage multiple facets of their business and often need features to make their solo operation as productive as a multi-person team. Therefore, we evaluated niche CRM features that would help fulfill these requirements, such as invoicing modules, simple quote generation and distribution tools, and marketing automation capabilities. Additionally, we looked at omnichannel communication options for freelancers to build relationships with customers through phone, text, email, or chat.
20% of Overall Score
Extensive support and service help prevent poor user experiences and outcomes users may encounter while using any of these freelancer CRM systems. Help and support were evaluated in terms of customer service hours and the availability of support via phone, live chat, and email. We also looked at self-service and help center resources users can access, like tutorials, forums, and training modules.
15% of Overall Score
In addition to firsthand experience with these CRM products for freelancers, we evaluated what actual users say about each product. Based on their reviews, these criteria consider how customers feel to gain insight into their perceived value for the price paid, ease of use when operating and navigating the CRM, and how users feel about the CRM's features.
*Percentages of overall score
Frequently Asked Questions (FAQs)
What is a freelance CRM?
A freelance CRM is a software product with features for solo-operated businesses. Since solopreneurs and freelancers must oversee sales, marketing, and administrative activities, a platform for lead tracking, marketing campaigns, invoicing, document management, and customer engagement is valuable. Additionally, any kind of automation and AI tools enables higher productivity and insights for freelancers.
Does a solopreneur need a CRM?
The short answer is it depends. While solopreneurs don't necessarily need a CRM, many products on this list are free and, therefore, have no risk attached to adopting the features. Using a CRM is also helpful for remaining organized. The primary use of a CRM is data management, where users can store and access information on contacts, leads, deals, accounts, or clients. The best CRMs for consultants and CRM products for designers will even contain project management features to help oversee client deliverables.
Is a freelance CRM the same as an industry-specific CRM?
An industry-specific CRM assumes the platform has features or integrations for a particular vertical, such as healthcare, manufacturing, insurance, or real estate. Freelance CRMs, on the other hand, have no industry requirements and are merely dependent on whether the CRM is useful for a solo-operated business. This, ideally, would be through its cost-friendliness, end-to-end capabilities, and features that serve sales, marketing, client management, and administrative activities.
Bottom Line
Freelancer CRMs are software products that offer multi-functional features for a solopreneur, such as a graphic designer, business consultant, or freelance writer, to stay organized and productive. It will include features for managing activities and projects for sales, marketing, service, and administrative work. While Pipedrive is our pick for the best freelance CRM system, other solutions on this list could be better suited for your business if you need certain features, such as marketing tools, omnichannel communication, or low-cost invoicing.