6 Best Free CRM Software for Small Business (January 2023)
This article is part of a larger series on CRM.
Unlike a paid subscription, free customer relationship management (CRM) systems let teams manage leads, marketing campaigns, and sales activities without a monthly or annual payment. Software providers often use free plans to let startups and small businesses access basic features with the hope they'll upgrade to higher-tiered plans as they grow and their business needs evolve. We evaluated dozens of products that offer free-forever plans to identify the best free CRM for small businesses.
Best Free CRM Software Compared
Provider

Free Plan # of Users

Starting Price for Paid Plans*

Free Trial for Paid Plans

Notable Free Features

Customer Support

Unlimited

$15 per user/month

21 days

Built-in phone system with contact and account management

24/5 email, phone, and chat support on all plans

Unlimited

$45 per month for up to 2 users

14 days

Blog, ads, and email campaign management

Tier-based email, chat, and phone support (7 a.m. - 8 p.m. Eastern Time)

Up to 3 users

$14 per user/month

15 days

Workflow automaton with email alerts

Tier-based chat, email, and phone support with some 24/7 options

1 user

$8 per user, per month

30 days

Lead, customer, supplier, and employee data management

Tier-based phone, email, and chat support

Up to 10 users

$8.99 per user/month

N/A

Customer service management and lead scoring

24/5 email plus paid phone support (9 a.m. - 5 p.m. Eastern Time)

Unlimited

$49 per month, includes 5 seats

30 days

Integrated project and task management

Live chat and email support for paid plans plus online resources
*Based on annual billing. Monthly billing is also available for slightly higher rates.
Pro tip: Did you know that because of the price value and features offered, many of the best free CRMs in this guide also made our list for the best CRMs for small business? Check out our article to learn about other excellent CRM systems that could be best for your technology needs.
Freshsales: Best Overall Free CRM System
What We Like
Unlimited users allowed on Free plan
Easy-to-use features and minimal learning curve required for navigating the interface
Free 24-hour daily customer support on chat, email, and phone channels Monday through Friday
What's Missing
Sales and activity home dashboard features are not available for free
System customization on free plan is limited to contact lifecycle stages and renaming modules
No free two-way email sync
Freshsales Monthly Pricing at a Glance (per User)*
Free: Unlimited users
Growth: $15
Pro: $39
Enterprise: $69
Free trial: 21 days
Add-ons
Configure, Price, Quote: $19 per user, per month for managing branded invoices, onboarding documents, quotes, and contacts
Additional workflows and bot sessions: $5 for 10 more workflows and $75 per month for 1,000 bot/automated live chat sessions.
Phone credits: Starts at $5 for additional telephone credits
*Pricing based on annual billing. Monthly billing is also available for a higher cost.
Freshsales offers an easy-to-use and powerful CRM system for managing sales activities and leads. The Free subscription includes essential features such as contact, lead, account, and deal management, as well as the ability to organize activities and notes associated with specific records. Freshworks, the provider of Freshsales, also gives its users 24/5 support on live chat, email, and phone—including those on the Free plan.
Part of the platform's appeal involves the free communication features. For instance, its live chat widget tool lets reps directly interact and message website visitors to help them navigate the site or convert them into leads. There's also a built-in phone system that lets team members place calls from contact records and receive all calls directly in the CRM.
Unfortunately, while the communication and data management features are excellent, the Freshsales free option is restrictive on system customization. For example, users would need to upgrade to the Growth plan to tailor data fields, record tags, product catalogs, and workflows within the platform. Zoho CRM and Agile CRM are the best alternatives in terms of free system customization.
Freshsales Free Feature Summary
Built-in phone system: Voice-over-internet-protocol (VoIP) phone within the CRM for placing and receiving calls.
Contact and account management: Users can add, view, and edit data records for leads, customers, and other contacts in the CRM.
Contact lifecycles and activity timelines: Teams can view previous activity associated with leads and customers as well as where they are in the sales cycle.
Task management: Ability to create and organize tasks and notes associated with lead and account records and set appointments with contacts in the CRM.
Deal tracking: Users can manage deals and sales opportunities from the CRM to stay up-to-date on progress.
Website chat widget: Reps can create a live chat widget for their website to directly interact with web page visitors and generate leads.
Mobile app: Free mobile app for on-the-go contact, account, and deal management plus voice notes, ability to book Uber rides and use Google Maps from the app.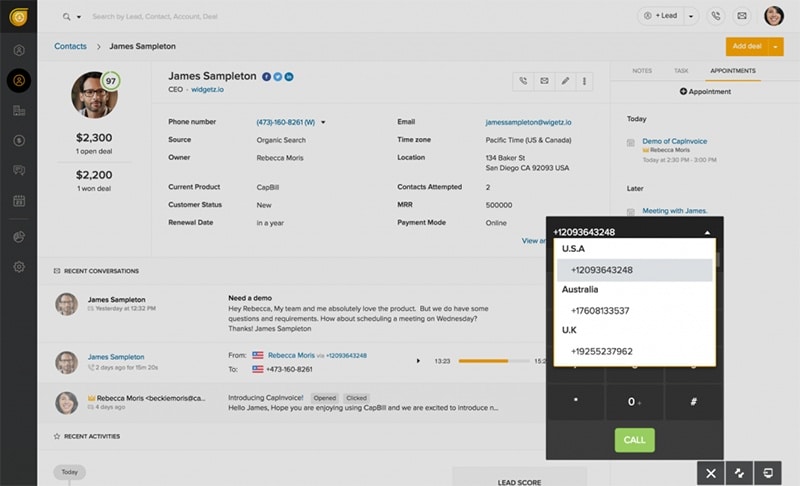 ---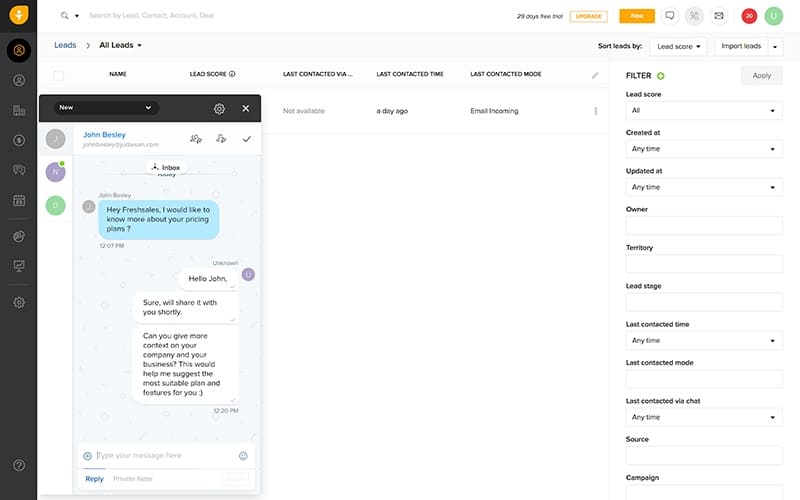 ---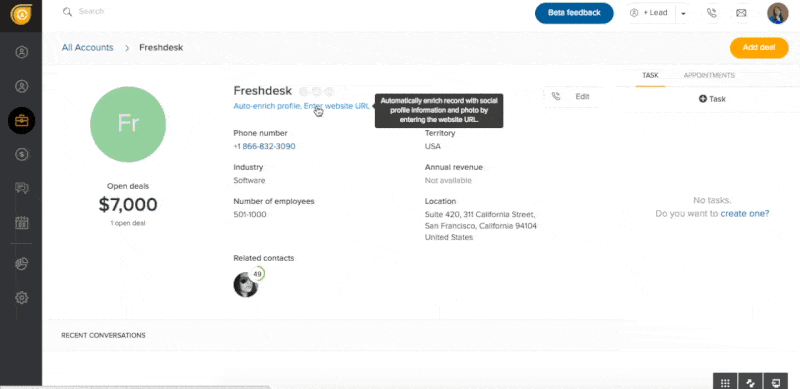 ---
Freshsales Customer Support
Product assistance includes 24/5 live chat, email, and phone support on all plans—even the Free one. Users can also access self-service resources such as help guides, a blog, product tours, tutorials, and product documentation.
Want to see why Freshsales is one of the most popular CRMs for small businesses? Check out our in-depth Freshsales review for more information on features, pricing, and overall usability.
HubSpot CRM: Best for Content Management & Marketing
What We Like
Free plan for unlimited users
Advanced, free marketing tools that cannot be found on other free systems
Offers free quoting and documents management features
What's Missing
Free plan only has self-service product support options
The free option only allows for one sales pipeline
No free sales automation features
HubSpot CRM Monthly Pricing at a Glance*
Free: Unlimited users
Starter CRM Suite**: $45 for two users
Professional CRM Suite: $1,600 (up to five users)
Enterprise CRM Suite: $5,000 (up to 10 users)
Free trial: 14 days
*Pricing based on annual billing, monthly billing is also available for a higher cost.
**CRM Suite includes sales, marketing, customer service, content management system (CMS), and operations software. Individual modules can be purchased for lower monthly costs.
HubSpot CRM's Free plan is available for all product modules such as sales, marketing, operations, customer service, and the content management system (CMS). The powerful sales tools include contact data management, quote customization, and a built-in meeting scheduler. There's also sales list segmentation that creates lists of similar leads based on contact or company criteria such as their industry. Additionally, it offers live, one-to-one chatting with web visitors and the ability to customize data properties within contact, company, and deal records.
Even with the free sales software offering so much to a business, the marketing features are tough to come by. HubSpot's free marketing solution offers limited but valuable capabilities for ad management, creating, sending, and automating email campaigns, and customizable website landing pages where you can embed forms to collect lead data. Users can also host a blog on their site and use search engine optimization (SEO) to increase organic traffic.
The free HubSpot CRM plan does not offer basic or advanced sales automation. This feature is useful if, for instance, you want to automatically create and assign a task such as "call a lead" or "generate a proposal" whenever a deal is generated or moved. Zoho CRM is the best alternative for free workflow automation features.
HubSpot CRM Free Feature Summary
Email capabilities: Users can schedule email deployment and create and send out mass email marketing campaigns that include up to one drip automated action, which will auto-deploy new content based on a trigger such as the recipient clicking a web link.
Quotes and document storage: Ability to create customizable quotes and store up to five documents within an account record.
Meeting scheduler: Built-in link and calendar sync for contacts to book meetings with reps.
Ads management: Limited functionality; allows users to connect up to two social media or online accounts to create ads that link to a company website.
Landing pages with webforms: Teams can make up to 20 landing pages using simple HubSpot templates and include pop-up webforms to collect lead data for the CRM.
Contact list segmentation: Up to five active and 1,000 static lists can be created for sales and marketing campaigns based on contact data, behaviors, and attributes.
Blog with SEO analysis: Up to one blog with 100 blog posts and 50 tags on a single website domain, plus basic SEO recommendations to gain organic web traffic.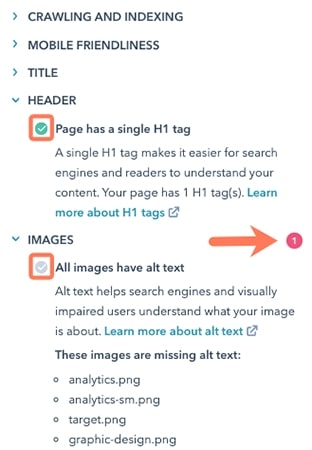 ---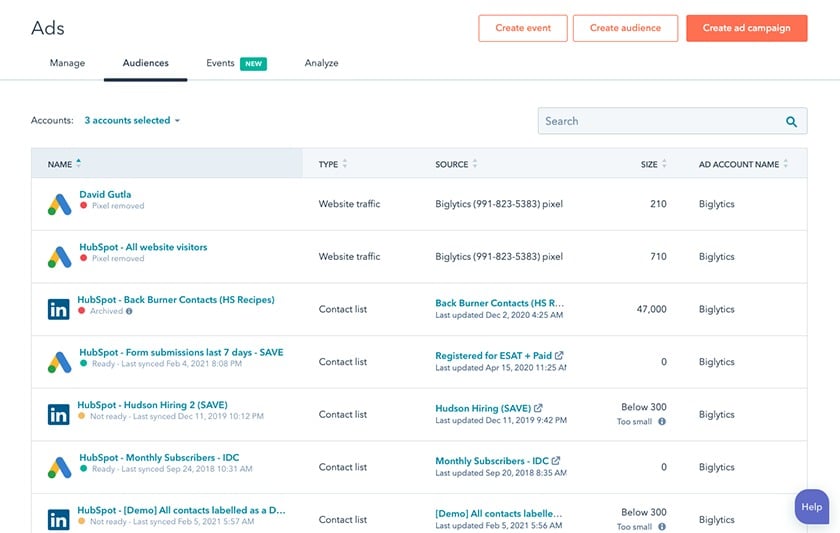 ---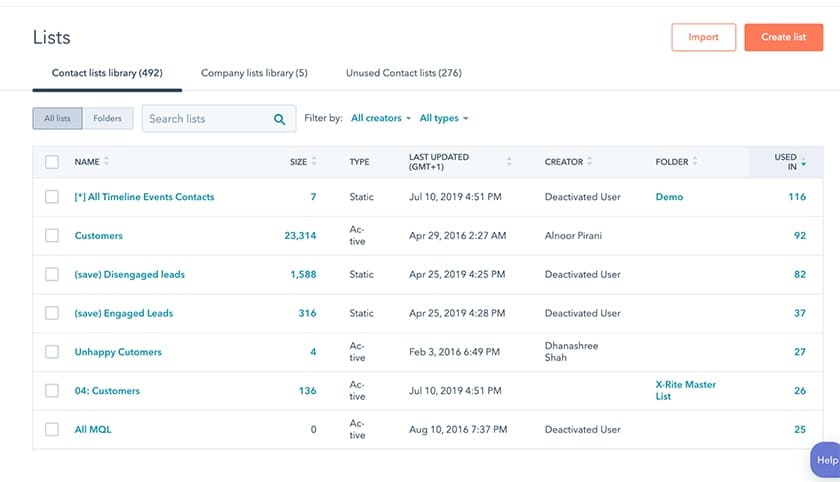 ---
HubSpot Customer Support
While the HubSpot paid plans include tier-based support from 7 a.m. to 8 p.m. Eastern Time via phone, email, and live chat, Free plan users are limited to self-help resources. These include a community forum, tutorial library, product guides, and the HubSpot Academy with certifiable courses on sales, marketing, and CRM features.
Read our HubSpot CRM review to learn more about its features and see why it's one of the most popular CRM products on the market today.
Zoho CRM: Best Workflow Automation
What We Like
Free workflow automation and notifications
Paid plans start at very inexpensive prices for users looking to upgrade
Email templates and mass emailing included for free
What's Missing
Free plan limited to three users
Technical skill required to set up CRM system
Third-party integrations require paid plans
Zoho CRM Monthly Pricing at a Glance (per User)*
Free: Up to three users
Standard: $14
Professional: $23
Enterprise: $40
Ultimate: $52
Free trial: 15 days
Other Plans
Bigin: $7 for basic pipeline management
Zoho CRM Plus: $57 for added help desk, email and social media marketing, survey, and analytics functions
*Pricing based on annual billing. Monthly billing is also available for a higher cost.
The free Zoho CRM option allows small teams to manage their lead, contact, account, and deal data in the system and customize up to one sales pipeline to monitor deal progress. Teams can also store up to 10 email templates in the CRM for email campaigns. For users who need product assistance, the Free plan gives them access to online resources as well as email customer support.
Many CRMs require users to subscribe to higher-tiered plans, such as Professional or Enterprise levels, if they want to automate some of their sales activities, data entries, and tasks. Zoho differentiates itself by offering some workflow automation tools on its Free plan. These capabilities include up to 10 automation rules per module and five tasks per action that will trigger after events, such as a new lead generated or change of deal status, or a specific task gets completed. Additionally, users can get up to five email notifications per action to stay on top of what's happening and what they need to do next.
Zoho CRM, unfortunately, caps you at three users on the Free plan, which isn't ideal for growing teams that want to save money on their CRM. Freshsales and HubSpot are the top alternatives with unlimited user access on the free plans. HubSpot is better for marketing solutions while Freshsales gives more sales-specific capabilities like the built-in phone system and excellent lead management features.
Zoho CRM Free Feature Summary
Email campaigns: Teams can use up to 10 email templates to construct email campaigns.
CRM customization: Businesses can tailor their CRM to their operational needs, including one pipeline, 30 personal data fields per module, and up to five custom list views per module.
Workflow automation: Ability to automate tasks and recurring sales activities; Free plan includes 2,000 active workflow rules per organization and five per module.
Email notifications: Users can receive up to five automatic notifications through email for workflow actions or activity by customers. It also includes real-time alerts for users based on CRM record creation or ownership.
Webforms: Teams can create up to one form per module for leads and contacts to submit data into the CRM system.
Lead, contact, and account management: Users can store and organize data for their leads and customers, store their documents, and track their activity.
Deal monitoring: Teams can track and collaborate on pending deals and sales opportunity progress from the CRM system.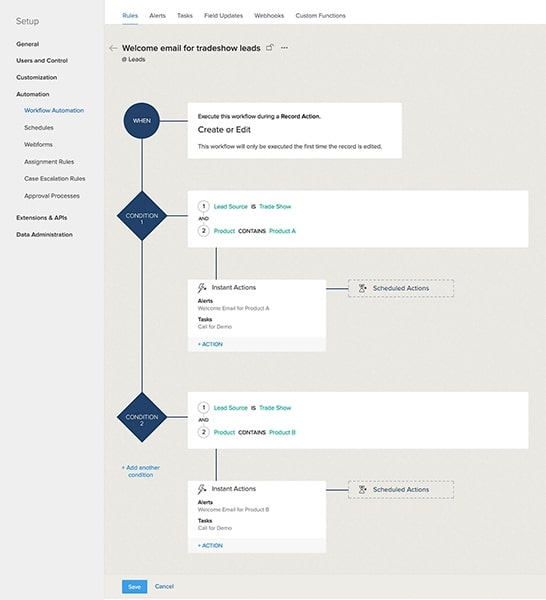 ---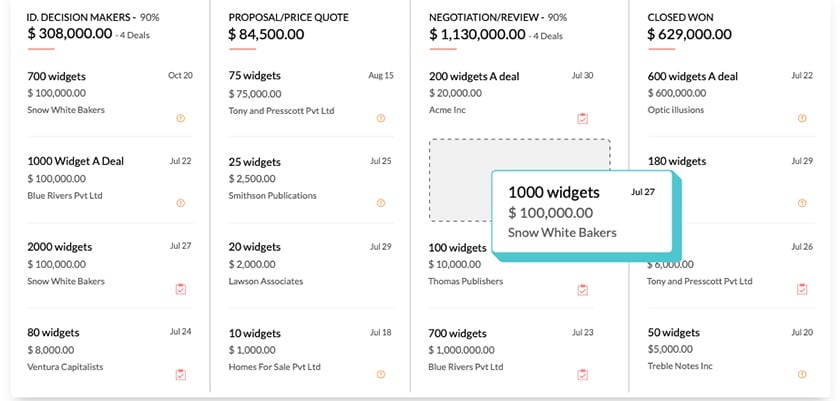 ---
Zoho CRM Customer Support
Zoho CRM's Free plan offers self-service options such as product documentation, guided product tours, video tutorials, webinars, and access to email customer support. If users elect to upgrade to the paid plans, they get tier-based phone and chat support included as well. Those come on a 24/5 or 24/7 basis, depending on the support plan.
Like what you see? Check out our in-depth Zoho CRM review for everything you need to know about features, integrations, and use cases to see if it's right for your business.
Apptivo: Best for Managing Profiles for All Types of Contacts
What We Like
Lets you manage employees and human resources (HR) activities for free
Most contact management tools are available for free
Includes free email customer support and a knowledge base for users
What's Missing
Free plan limited to one user
The free option offers very few features
Difficult CRM to set up, particularly for new users
Apptivo Monthly Pricing at a Glance (per User)*
Free: Up to one user
Lite: $8
Premium: $12
Ultimate: $20
Enterprise: Must contact for pricing
Free trial: 30 days
*Pricing based on annual billing. Monthly billing is also available for a higher cost.
Apptivo is a simple CRM system with features that are easy to navigate and operate. For those using the Free option who need assistance, email support and online resources are available. Price-wise, the paid plans are cost-friendly and scalable for those who want to upgrade and gain access to more features and integration capabilities.
This CRM is the best solution if you are a solo-operated business looking for a basic way to manage your data. It includes a wide range of information management capabilities for storing, organizing, and viewing contact, lead, and customer records. There are even modules for storing information on partners in the supply chain, such as suppliers and distributors.
Apptivo only lets one user on the Free plan, which only comes with basic data management features. Users looking to add more users and access to more advanced CRM capabilities should look into Freshsales as a more robust alternative.
Apptivo Free Feature Summary
Tasks and appointments: Users can create and track tasks or meetings associated with contact records.
Notes: Teams can stay organized on lead or customer progress through activity notes within the CRM profiles.
Lead data management: Lead information such as contact details, activity, and pipeline status can be stored and tracked in the CRM.
Customer profiles: Users can monitor customer and client records and organize their data in the system.
Supply chain data: Teams can store data and records for other businesses in their supply chain, including suppliers and distributors.
HR tracking: Businesses can store employee data records, assign them to teams, and associate them with a department.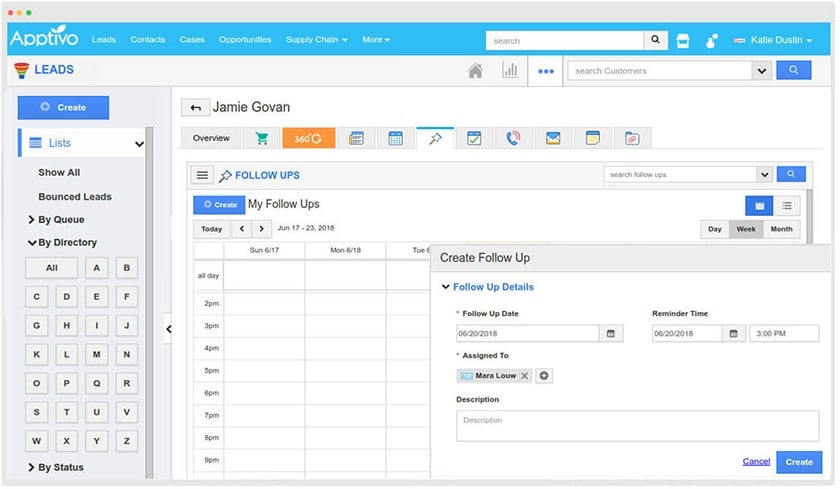 ---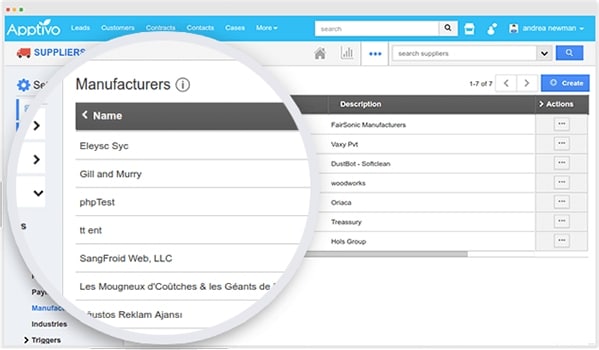 ---
Apptivo Customer Support
The Apptivo free-forever plan includes email support and a knowledge base, webinars, and blog for self-help resources. Upgrading to the paid plans gives teams tier-based support, including 24/7 live chat and email availability, as well as 24/5 phone support and onboarding training for new users.
Want to learn more? Read our Apptivo CRM review for insights on features, pricing, and usability to see if it's the best CRM platform for your business.
Agile CRM: Best for Customer Service Management
What We Like
Includes free lead scoring capabilities
Offers 24/5 email support for free users
Free option includes customer service management modules
What's Missing
Can be a tricky interface to navigate
Only one integration or plugin allowed on Free plan
Contacts and companies capped at 1,000 records
Agile CRM Monthly Pricing at a Glance (per User)*
Free: Up to 10 users
Starter: $8.99
Regular: $29.99
Enterprise: $47.99
*Pricing based on annual billing. Monthly billing is also available for a higher cost.
Agile CRM arguably has one of the most outstanding set of free features on this list. In addition to standard modules for tracking leads and accounts, its lead scoring capabilities enable teams to prioritize sales opportunities based on custom and preset criteria that indicate sales potential. There's also appointment scheduling and the option to customize data fields and deal milestones.
What stands out the most, however, is the platform's customer service module. Not only can businesses handle sales and marketing activities for free, they can also manage an entire help desk and customer support system. These tools allow them to receive inquiries and tickets, add them to groups, associate them with labels, and use saved, canned responses to help efficiently fulfill customer needs.
If your business uses many outside integrations, Agile CRM is a poor free CRM choice as it only gives users up to one integration or plugin. HubSpot is the best option for free integrations, simultaneously offering many different options, including Slack, Google Workspace, Microsoft Exchange, and many more.
Agile CRM Free Feature Summary
Custom data fields and milestones: Users can customize data fields within the system to track specific lead or customer information relevant to them. They can also create a custom pipeline for deal milestones.
Contacts and companies: Businesses can store data records for contacts, leads, customers, and accounts, including associated deals, tasks, and documents.
Lead scoring: Teams can qualify leads quantitatively based on their profile and behaviors to determine which ones to prioritize.
Email marketing: Email campaigns, including up to 5,000 emails with a template builder.
Website content: Ability to create website landing pages with embedded forms, and facilitate web-to-lead form submissions to add new records in the CRM.
Automation rules: Up to one campaign workflow and five nodes per workflow, which initiate functions such as sending an email, waiting a certain amount of time, or tagging a contact. System includes up to one automation rule that triggers an action after an event takes place.
Customer service module: Free help desk and case management for teams to view, track, organize, and collaborate on customer service requests.
Appointment scheduling: Teams can schedule appointments with customers or leads through the CRM system.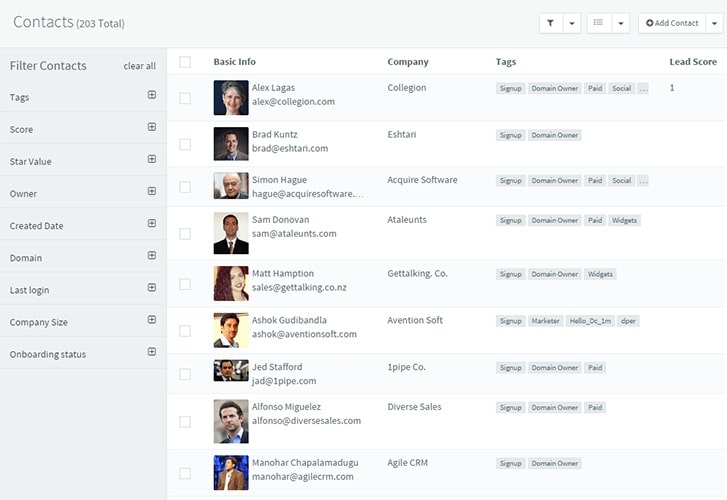 ---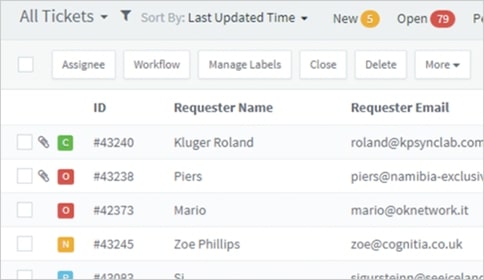 ---
Agile CRM Customer Support
Agile CRM offers 24/5 email support on all plans, including the free-forever option. When you upgrade to a paid plan, you get phone support during standard business hours (9 a.m. to 5 p.m. Eastern Time). In addition to the free and paid support, there are self-help options, including blogs, videos, infographics, setup guides, and onboarding assistance.
Learn more about this CRM solution in our Agile CRM review. You'll get insights on its features, pricing, integrations, ease of use, and best-for scenarios.
Bitrix24: Best for Project Management
What We Like
Free CRM for unlimited users
Offers free project management
System includes unlimited deals and contacts
What's Missing
Poor customer support available on Free plan
Challenging CRM to set up, particularly for novice users
Event planning tools require paid plans
Bitrix24 Monthly Pricing at a Glance*
Free: Free for unlimited users
Basic: $49 for up to five users
Standard: $99 for up to 50 users
Professional: $199 for 100 users
Enterprise: $399 for 250 users
Free trial: 30 days
*Pricing based on annual billing, reflecting a 20% discount compared to monthly pricing. Monthly and quarterly billing is available for a higher cost.
Bitrix24 is free to an unlimited number of users, and includes unlimited data storage for contact, deals, and products within a catalog. There's also the ability to customize record data fields and pipeline stages to meet your unique needs, and options for automatic duplicate detection to ensure the database is clean and up to date all the time.
In addition to free CRM tools, Bitrix24 comes equipped with a project management module. This lets teams create, collaborate, assign, and monitor long-term initiatives within the company, such as marketing campaigns, product development initiatives, and even projects related to a service deliverable for a customer.
Bitrix24, unfortunately, is a complex CRM to set up and only has self-service options for customer service on the Free plan. Freshsales is the best alternative when it comes to user experience. The system is all-around easy to use and they offer 24 hour support, Monday through Friday, on all channels for free users.
Bitrix24 Free Feature Summary
Deals and contacts: Unlimited records allowed to manage data for contacts, customers, and deal opportunities.
Product catalog: Teams can create and use a built-in catalog to track an unlimited number of products or services from the CRM.
Project management: Users can manage and collaborate on long-term projects, assign project owners, create templates, and do time tracking for specific tasks.
Custom data fields: Businesses can tailor data fields for contact, deal, pipeline stages, and project records to meet their operational needs.
Social media contact center: Teams can receive messages from connected social media platforms like Facebook and Instagram and convert incoming messages into new deals.
Duplicate detection: Ability to automatically identify records that are similar or identical to other records in the CRM to keep the database clean.
Ecommerce: Online retailers can manage a store, unlimited products, and up to 100 orders through the CRM.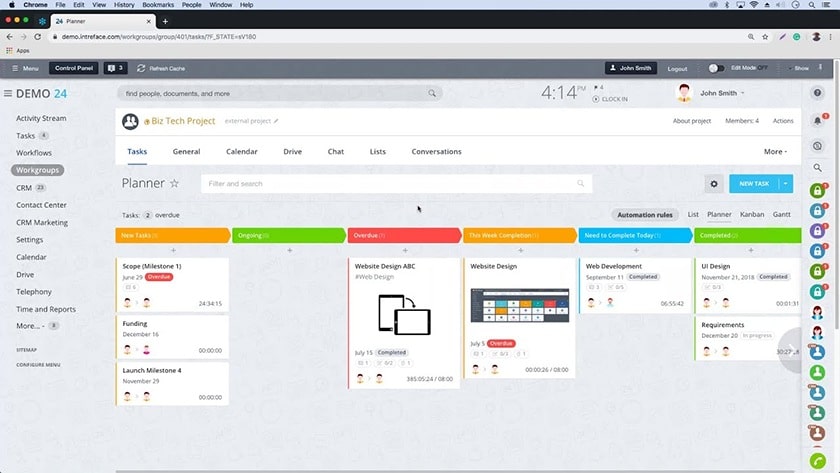 ---

---
Bitrix24 Customer Support
Free plan users can access self-service resources online, such as a help desk, product guides, and training tutorials. Becoming a paid user, however, lets you contact customer support through live chat or email channels during business hours, from 8:00 a.m. to 5:30 p.m.
Be sure to check out our comprehensive Bitrix24 review for an expanded look into the features, pricing, usability, and best-for circumstances to see if it's right for your business.
How We Evaluated the Best CRM Platforms With Free Plans
To determine the best free CRM system for small business, we only considered products that offered a free-forever plan that gives users feature access without time constraints, as seen in a free trial. We then compared each product in terms of the maximum number of users and the specific CRM features available on those free plans. We also evaluated the platform on other attributes, like usability and customer support.
We found Freshsales to be the best overall free solution. Free-forever users get access to 24×5 customer support on all channels and one of the most intuitive user interfaces on the CRM market. Additionally, Freshsales has free communication features such as live chatting widgets to engage website visitors and a built-in telephone in addition to the standard contact and account management modules.
The tabs below offer insight into our evaluation process of the best platforms:
30% of Overall Score
We looked at overall features we feel are necessities for a CRM, specifically ones available for free. These could include CRM integration options, reporting and analytics tools, a mobile app, and system customization to let any business tailor the platform to their unique sales process and operation. We also evaluate other common capabilities in most CRM systems, such as lead management and workflow automation.
20% of Overall Score
In addition to offering a free-forever plan, we looked at the product's ability to offer various pricing options users can purchase affordably. We also evaluated the scalability of plans that let the CRM capabilities grow with the business' needs and capacity requirements, along with the availability for a subscriber to either pay monthly or save by paying annually.
20% of Overall Score
The solutions are also evaluated on platform usability. This was analyzed in terms of the expertise required to set up a CRM account and integrate with native or third-party applications. We also reviewed the overall intuitiveness of navigating the system's interface and the skill needed to operate the CRM's features.
20% of Overall Score
Extensive support and service help prevent poor user experiences and outcomes users may encounter while using any of these systems. Help and support are evaluated in terms of customer service hours and the availability of support via phone, live chat, and email. We also looked at online resources for users to review, like tutorials, forums, or training modules, and compared the support that was available for free compared to those requiring a paid plan.
10% of Overall Score
In addition to firsthand experience with these CRM systems, we evaluated what users say about each product. These criteria consider how customers feel, based on their reviews, to gain insight into platform popularity, ease of use, and overall value for the price.
*Percentages of overall score
Frequently Asked Questions (FAQs)
Is HubSpot a completely free CRM?
While HubSpot offers a free plan for unlimited users, the features are fairly limited to contact and deal management. HubSpot CRM's Starter Plan offers more advanced features for only $45 for two user seats, with additional scalable plans as your business grows.
What is the best free CRM solution?
The answer to what the best CRM platform is varies for each team depending on your needs. For example, if you need a free plan for unlimited users, HubSpot and Freshsales are excellent choices. However, if you need more customizable features but have a smaller team, Zoho CRM is a great choice for a free plan that supports up to three users.