DoorLoop Review: Is It Right for Managing Your Rental Property?
DoorLoop is one of the top online property management and rent payment software, earning a rating of 4.07 out of 5. It is an all-in-one software for investors, landlords, and property managers to manage one property or entire portfolios from one convenient platform. It offers online banking and accounting, leasing and property management, tenant management, and app integrations.
Our DoorLoop review evaluates this top-rated software, considering its general and advanced features, ease of use, customer satisfaction, affordability, customer service, and our unbiased expert assessment. Read along to see if DoorLoop is the right choice for your real estate business needs.

Pros
Rental listing management
Leases and applications
Maintenance requests
Cons
No "free-forever" plan
Fee-based Automated Clearing House (ACH) transactions
No free trial
Recommended For
Landlords and property managers who want electronic leases and rental applications
Easy-to-use tenant portal
Built-in maintenance requests
Not Recommended For
Real estate investors who want next-day rent payments
Those looking for a free platform
Free ACH payments
Starter: Starting at $49 per month
Pro: Starting at $99 per month
Premium: Starting at $149 per month
---
---
Positive reviews reported that the DoorLoop software covers what you need to manage your investment properties; thus, it received a high rating of 4.63 out of 5 based on our evaluation. One positive DoorLoop review appreciated that it has a mobile app to manage your rentals from anywhere. Another user said it helped hold all their real estate documents in one place and allowed tenants to pay their rent through the software.
GetApp: 4.8 out of 5 rating based on 286 reviews
Software Advice: 4.84 out of 5 rating based on 243 reviews
G2: 4.8 out of 5 rating based on 44 reviews
Negative reviews stated that the software is not simple to use. One negative DoorLoop review said that training is non-existent and many hidden fees exist. Another reported that you have to start over if you set it up wrong, and they charge to import the tenant's information. If you're looking for a simplified dashboard without additional fees, look to Baselane.
We highly recommend DoorLoop as an excellent resource for managing rental properties and portfolios of any size. Its easy-to-use platform with drag-and-drop functionality and simple dashboard makes it stand out among competitors. The convenient financial interface allows real estate investors and property managers to create reports based on their chosen criteria, like profit and loss statements and balance sheets, and it integrates seamlessly with QuickBooks. It has a convenient tenant portal where they can submit maintenance requests and pay their rent and other fees.
A few areas where it falls short of the competition, losing a couple of points, are with its popularity. However, the company is still very young, founded in 2020, and its popularity continues to grow. Additionally, although the platform appears easy to use in the DoorLoop demo, some negative reviews say otherwise. Lastly, it loses a few points for its costs. Monthly transactions and other fees make it difficult to compete with other software in the online property management space with free or lower-priced options.
DoorLoop Alternatives
If you're looking for alternative property management tools and resources, here are some of our recommended DoorLoop alternatives:
Software

Best For

Automatic reminders

Free online rent collection, accounting, and Baselane banking

Rent collection and tenant screening tools

Streamlining property financials

Key Features

Free account
Free bank account
Built-in bookkeeping

Vendor ACH payments
Comprehensive tenant screening reports
Online rental applications

Lease management
QuickBooks integration
Maintenance request tracking

Pricing

$0 to $7 per unit

$0

Starting at $45 per month

Starting at $15 per month

Learn More
Every DoorLoop plan includes a tenant portal, e-signatures, tenant screening, property maintenance requests, client relationship management (CRM), accounting and financials, online rent collection, and email and chat support. While it's packed with features that landlords need, DoorLoop pricing for the basic package starts at $24.50 per month, which is higher than its competitors. Its mid-grade packages begin at $49.50 per month, and its Premium package is $74.50 for the first two months. It also lacks a free version or trial, thus receiving a very low score for pricing and plans.
With DoorLoop, you have the option of paying monthly or annually. Annual DoorLoop pricing is paid in full when you subscribe and provides a discount on the monthly pricing. The first two months of every plan are at a reduced price, with the 10 remaining months at the original price. It offers three packages that have tiered pricing, with each upgrade adding features with corresponding price increases. DoorLoop pricing also increases by the number of units you own.
Check out the features for each below in the table below:
Plans

Monthly Pricing

(Billed Annually)

Features

Starter

$24.50 for the first two months;

$49 per month after

Accounting and financials
CRM for prospects
Maintenance
RapidRent online payments
Tenant screening
E-signatures
Email and chat support
Tenant portal

Pro

$49.50 for the first two months;

$99 per month after

Everything in Starter, plus:

Outgoing ACH payments
Owner portal
Market online
User access roles
Bank account reconciliation
Tenant announcements
Customizable dashboards
Email, chat, phone, and Zoom support
CAM charges
QuickBooks Online sync
Unlimited Zoom training sessions

Premium

$74.50 for the first two months;

$149 per month after

Everything in Pro, plus:

Fee waived for incoming ACH payments
API access
Zapier integration
Free personalized website
Unlimited users
Unlimited data storage
Unlimited free e-signatures
VIP priority support
Mobile app
Support and onboarding
App integration
Manage any size portfolio or property type
DoorLoop's general features garnered a perfect score, as they provide the tools to acquire and manage your tenants and properties. Manage from your computer or on the go with its convenient mobile app. Your tenants have a convenient app to communicate with you, pay rent and fees, connect their bank accounts, and submit maintenance requests. DoorLoop also integrates with thousands of apps through Zapier, including QuickBooks, FreshBooks, and Expensify.
There's no limit on the numbers or types of properties you wish to manage. The software works with them all—residential, commercial, community association, affordable and workforce housing, self-storage, mobile homes, and student housing. Property management companies working for owners can also conveniently manage their investor clients.
DoorLoop demo (Source: DoorLoop YouTube channel)
DoorLoop is an all-in-one software with accounting, leasing, and tenant and property management features. You can sync bank accounts and automate your advertising, rent collection, and maintenance, freeing time for building your portfolio or nurturing your hobbies.
Owning multiple rental properties, keeping track of tenants, or collecting rent on time can become challenging. Its tenant portal allows them to automate rent payments so they don't fall behind. If they do, it automatically assesses late fees so they can pay from the app.
Click on each of the arrows below to learn more about the advanced features of DoorLoop:
Direct deposits
Prepare taxes
Sync bank accounts and credit cards
Integrate with QuickBooks
DoorLoop's property management accounting features give you the ability to manage all your costs and revenue related to your properties. You can accurately maintain your ledgers by keeping track of everything from rent payments to maintenance fees, repair charges, deposits, late fees, and owner payouts, saving time by not having to record everything in different spreadsheets manually.
You can save more time if you automate payments and do not have to track down tenants for the rent or manually calculate late fees. The software sends automatic rent bills and late charge notices and provides tenants with payment receipts. Tenants can connect their bank accounts for direct deposit and pay the rent with a credit card. They can also send electronic checks from their bank to yours.
---
QuickBooks and other app integrations
Avoids double-entries
Create your own or choose from 60 customizable templates
DoorLoop also saves time and adds convenience to tax preparation by exporting all accounting data with a single click. It integrates seamlessly with QuickBooks online, prevents double data entries, and provides unlimited custom reports based on chosen criteria. Some reports you can include are rent rolls, deposits, profit and loss statements, balance sheets, and 60 customizable property management reports. Choose your criteria, and a full report is generated in seconds.
---
Automate rent and fees collection
Send applications and lease agreements
Collect electronic signatures
See who has paid and who is past due
DoorLoop's leasing process allows you to send new or returning tenants lease agreements, save them as templates, and obtain electronic signatures. Payments can be collected automatically for a nominal fee with RapidRent via credit card or ACH deposits. DoorLoop has partnered with Stripe, so there are no more insufficient funds, and Stripe verifies every bank account to ensure there is money in it.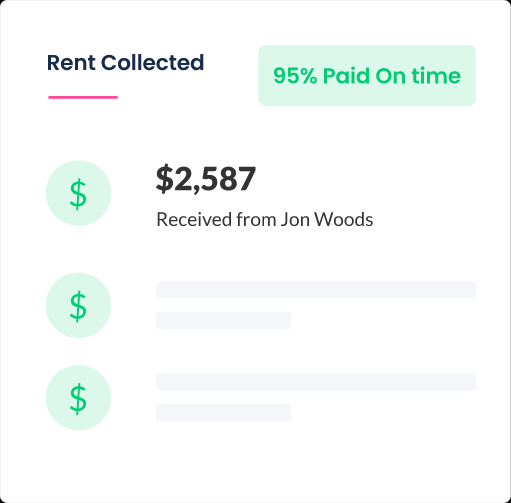 ---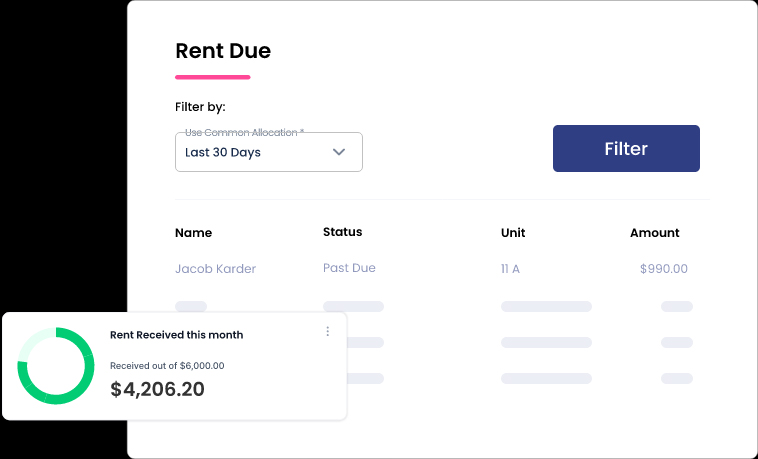 ---
---
Run background, credit, and eviction history
Powered by TransUnion
Manage tenant communication
A thorough background screening will help you find your ideal tenants and lessen the risk of property damage or missed rent payments. Prospective tenants can fill out online rental applications and pay for a background check, including criminal, credit, bankruptcy, and eviction histories.
Powered by TransUnion, the tenant background screening costs $39.99, which the applicant can pay with a credit card. Most states allow landlords to upcharge for a background screening, so landlords and property managers can increase the cost, but you must check with their state to ensure it's legal.
---
---
Communicate with tenants
Tenant information uploads automatically to your portal
Receive and send notifications
Tenant-friendly platform
The tenant portal is easy to use and has a simplified dashboard. The portal makes automating rent collection, paying fees, signing documents, communicating, and submitting maintenance requests easy. Everything they enter into the tenant portal populates the necessary fields in your platform and sends you notifications, so you can access everything at your fingertips and respond promptly.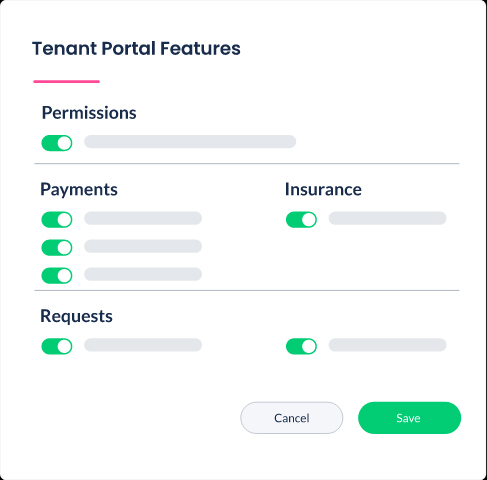 ---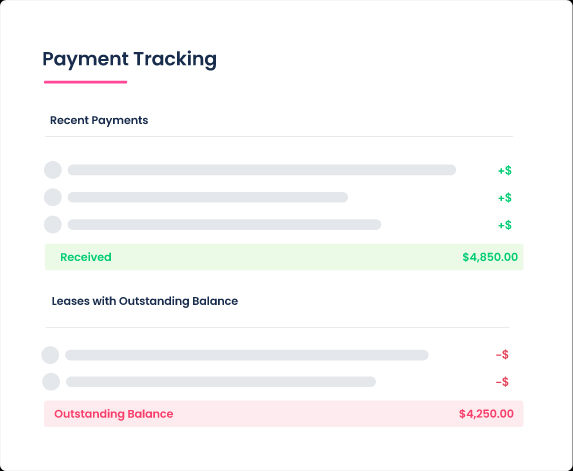 ---
You can also program it to send tenants rent reminders and other notices. Tenants can set up their bank accounts and track their rent payment history. As mentioned, they can pay rent with a debit, credit card, or e-check. You can also automate and collect and manage security deposits, pet, and late fees.
---
File storage
Manage maintenance
The DoorLoop CRM saves all the leads you've generated, allows you to view your application funnel, and tracks tenants, owners, and vendors in seconds from one convenient place. You can also request e-signatures and market your vacant units to prospective tenants. Its unlimited file storage allows you to go paperless, upload, and share your files with whomever you need to by simply dragging and dropping them into the database.
DoorLoop allows you to manage tasks and maintenance to stay on schedule, coordinate vendors, and make repairs before they get worse. Tenants can submit their maintenance requests, and you can set up work orders and send them directly to your repair team.
---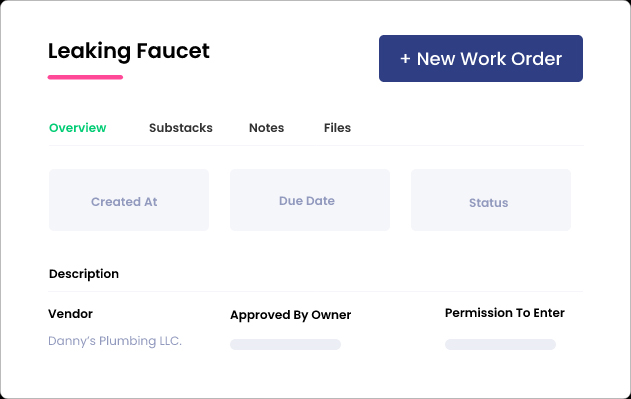 ---
---
DoorLoop received a perfect score as its dashboard is arranged in such a way that you have everything you need at your fingertips. The software is in-depth, but your information is easy to access from multiple locations within the software, and the search feature can take you directly to what you're looking for. It's so intuitive that when you input data in one section, it automatically populates the information in every other section where you want to access it.
It also has an excellent drag-and-drop feature to arrange information in the order that best suits your needs. It's customizable, so you can add your logo and change the colors. The menu tabs in the sidebar make finding what you're looking for even more effortless. And if you get stuck, customer service is just a chat, call, or email away.
DoorLoop provides excellent live customer training and support at no extra cost; thus, we gave it a perfect score. Software users can contact them by phone, email, chat, or request a video call. Each customer is assigned an account manager and can get as much onboarding and training as they need.
This is because DoorLoop staff understands that not everyone is tech-savvy, and they want you to succeed and take advantage of all of the software's bells and whistles to manage your property easily. It also has a FAQs section to answer quick questions when you don't need to access customer service.
How We Evaluated DoorLoop
The best property management software provides landlords, property managers, and real estate investors with the convenience of tools that can manage, track, and analyze their tenants and properties while allowing them to screen applicants and perform business banking, all from one easy-to-use platform.
We compared DoorLoop pricing, general and advanced features, customer service, subscriber reviews, and its ease of use side-by-side with the best property management companies. DoorLoop is a newer company that substantially impacts the online property management software market.
We researched the DoorLoop property management software based on the following criteria:
30% of Overall Score
Based on various rental payment features that help landlords and property managers simplify rent collection, improve cash flow, and secure rent transactions.
25% of Overall Score
Pricing is based on the cost structure, a la carte options, and availability of online rent payment services for landlords and tenants.
10% of Overall Score
It consists of various property management features like online payment collection and tenant screening for each tier to meet the specific needs of the property owners and tenants.
10% of Overall Score
Based on how easy it is to navigate the provider interface and if it provides hassle-free transactions and communication between property owners and tenants.
10% of Overall Score
Based on customer feedback for each platform, the functionalities that are most useful for property managers, and areas that need further improvement.
10% of Overall Score
Our team's expertise in the field and firsthand experience with the providers allow us to evaluate the standout features, value for the money, and ease of use for rent payment service software.
5% of Overall Score
We looked into the convenience and attainability of customer service for technical and customer support.
*Percentages of overall score
Bottom Line
Our DoorLoop review shows that it is an excellent property management software for landlords, investors, and property managers who want the convenience of properties, tenants, maintenance, and owners from one convenient platform. You can collect rent, screen tenants, manage leases and applications, and use its powerful customer relationship manager (CRM) to manage owners and prospective tenants. Its seamless integration with QuickBooks Online and other apps allows you to create financial reports, making tax time easier.