HubSpot vs Insightly: Which Is Best for You?
This article is part of a larger series on CRM.
When comparing HubSpot vs Insightly, there are differences between the two customer relationship management (CRM) platforms' pricing structure, specialized features, and customer service quality. HubSpot offers a free plan with superior integrations, reporting tools, and support channel options, while Insightly contains additional project management functionality without requiring an expensive add-on.
When to use HubSpot or Insightly based on specific business needs:
HubSpot: Excellent option for users who need free or low-cost CRM software with essential lead generation and marketing tools
Insightly: Better choice for users with longer sales or support cycles who need a CRM with additional project management features
Are you seeking more flexible and customizable CRM options for your startup? Read our recommendations on the best CRMs for startups for low-cost providers with scalable plans.
HubSpot vs Insightly at a Glance
| | | |
| --- | --- | --- |
| | | |
| Starting Price* | Free (unlimited users) or $45 per month (2 users) | Free (2 users) or $29 per user, per month |
| Ease of Use | Beginner-friendly | Beginner to intermediate |
| Expert Score | 4.75 out of 5 | 2.75 out of 5 |
| Customer Support | Community forum and knowledge base only for the free plan, 24/7 email and in-app chat on Starter plan and up, phone support for Professional and Enterprise | Help center access for the free plan and email support for paid plan; extended phone support for subscribers to paid support plans (starting at $1,500 per year) |
| Integrations | 500+ integrations including Slack, Mailchimp, Salesforce, Unbounce, and Zapier | 250+ integrations including Google Workplace, Microsoft Office, and Slack |
| Lead & Deal Management | ✔ | ✔ |
| Customizable Sales Pipelines | ✔ | ✔ |
| Reporting & Analytics | ✔ | ✔ |
| Project Management | X | ✔ |
| | | |
*Based on annual billing. Monthly pricing is also available at slightly higher rates.
Most Affordable: Tie
Free Option

✔

Unlimited users

✔

Up to 2 users

Starting Price*

$45 per month starting with 2 paid users + $23 per additional paid user

$29 per user, per month

Enterprise Level Price

Starts at $1,200 per month for the Sales Hub and $3,200 per month for the Marketing Hub with 2 paid users + $23 per month for each additional user

$99 per user, per month

Billing Options

Monthly and annually, except for Enterprise (annual billing only)

Monthly and annually
*Based on annual billing. Monthly pricing is also available at slightly higher rates.
Hubspot offers a free plan with contact and deal management, reporting, Facebook Messenger integration, as well as email and meeting scheduling. It supports an unlimited number of users and allows you to create up to 1 million contacts. If you need automation and analytics, we recommend subscribing to a paid plan. You can also sign up for a 14-day free trial that allows you to try out its Professional plan.
HubSpot's paid plans start at $45 for two users. Its mid-range plan costs $450 per month for five users, while its enterprise-level plan costs $1,200 per month for 10 users. Additional users cost $23 to $120 per month each, depending on which plan you subscribe to. For another $50 per month, you get access to the Starter CRM Suite bundle, which offers more tools, such as email marketing, ad management, landing pages, and list segmentation.
Insightly also offers a free plan that includes contact, sales, and project management capabilities for up to two users. Its paid plans start at $29 per user, per month, with the mid-range plan at $49 per user, per month, and the most expensive plan at $99 per user, per month. It does not offer a free trial, and there's no cap on the number of paid plan users you can add.
Winner: Comparing Insightly vs HubSpot in terms of affordability yields a tie. Insightly has a simple pricing structure that makes it easy for teams to scale up when their CRM requirements expand. On the other hand, Hubspot offers a free plan that does not have a user cap, has a 1 million-contact limit, and includes lead management and reporting features. These also make it a great choice for users looking for robust free CRM software.
Looking for other free CRMs well-suited for small businesses? Learn about your other options by reading our guide on the best free CRM software.
Most User-friendly: HubSpot
Hubspot's interface presents data in a user-friendly manner, even for novice users. It also offers a step-by-step guide on how to use its functionalities. This includes prompts to read tutorials on each function. Insightly, on the other hand, does not offer this option and lets users explore and navigate the app on their own. While its most recent version features a clean and modern layout, its sophisticated dashboard is more suited for experienced users.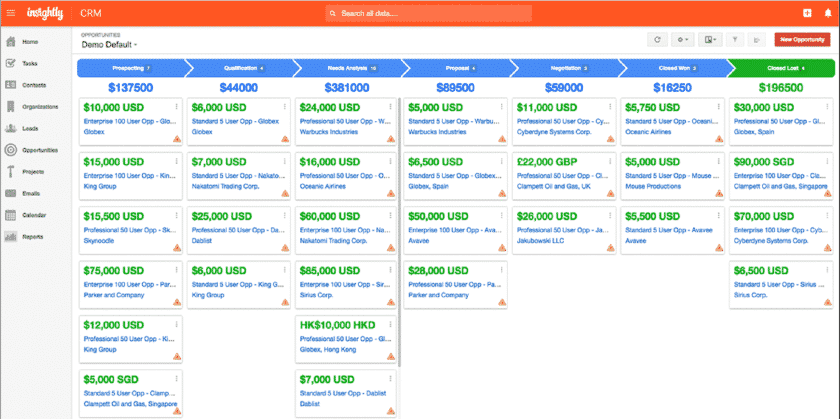 ---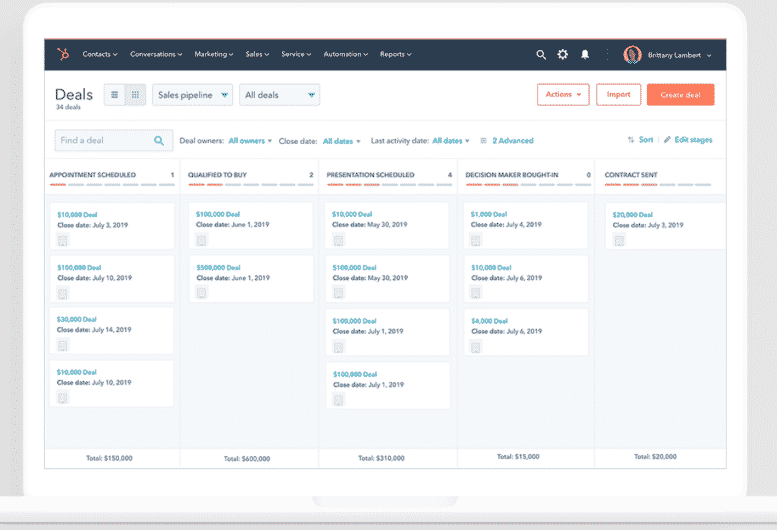 ---
Winner: When discussing the ease of use between HubSpot vs Insightly, we find these two solutions are equally intuitive and easy to navigate. Hubspot wins by a small margin because its interface is more straightforward and less intimidating to use for beginners. Insightly is recommended for users who prefer a more sophisticated presentation of their data because its system provides advanced visualizations of reports like pie charts and scatter graphs.
If neither Insightly nor HubSpot works for you, consider using other general-purpose CRM systems with similar ease of use and capabilities. Check out our guide to the best simple CRMs to read about other options.
Specialized Features: HubSpot
Insightly provides users with essential CRM features, including lead, deal, and opportunity management. It also offers tools for project management, sales pipeline customization, and email scheduling. Hubspot, on the other hand, offers additional specialized features and niche functionalities. These include ads, email marketing, landing pages, lead scoring, and sales forecasts.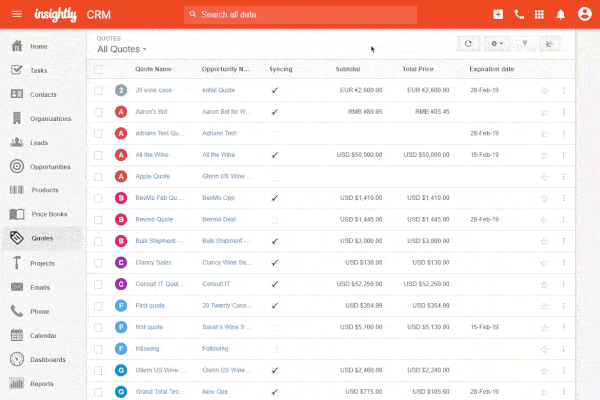 ---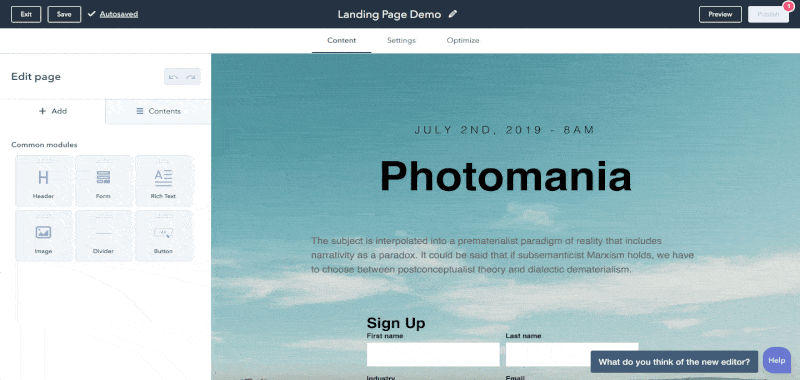 ---
Winner: In this category, Hubspot wins because of its ability to offer specialized features for sales and marketing on top of essential lead generation capabilities.
Best Available Integrations: HubSpot
When it comes to CRM integrations, you can connect Insightly with over 250 third-party apps, including sales, marketing, and human resources (HR) software. Meanwhile, Hubspot offers more than 500 integrations with apps including other sales CRMs, ecommerce, lead generation, social, automation, sales, and analytics tools.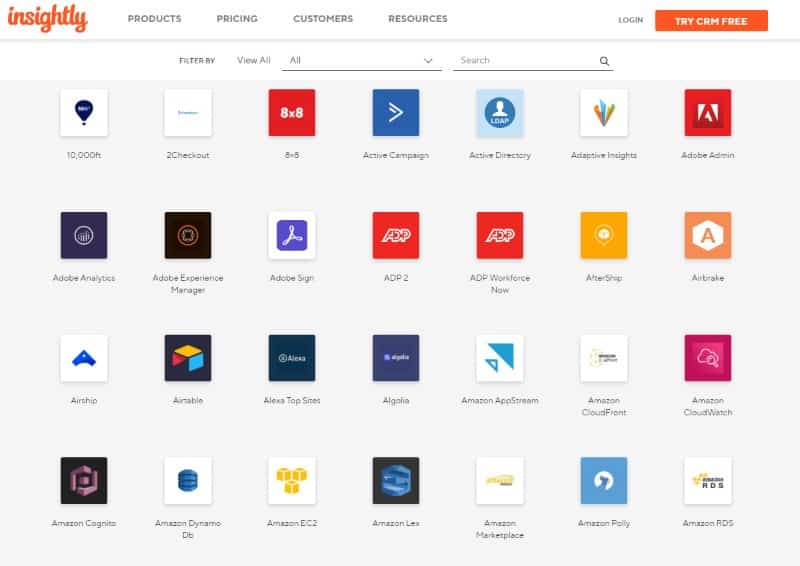 ---
---
Winner: HubSpot wins this round because it offers far more options for third-party integrations.
Best Reporting Tools: HubSpot
Both Insightly and Hubspot allow you to generate various types of CRM reports, including opportunities, leads, and task reports. However, HubSpot offers intelligent reports on sales revenue, sales rep performance, and funnels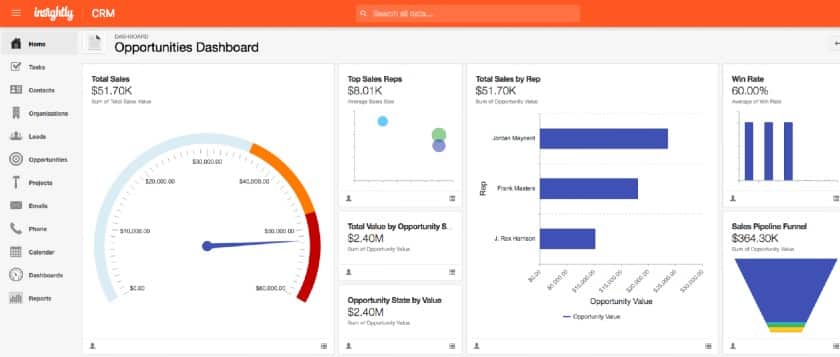 ---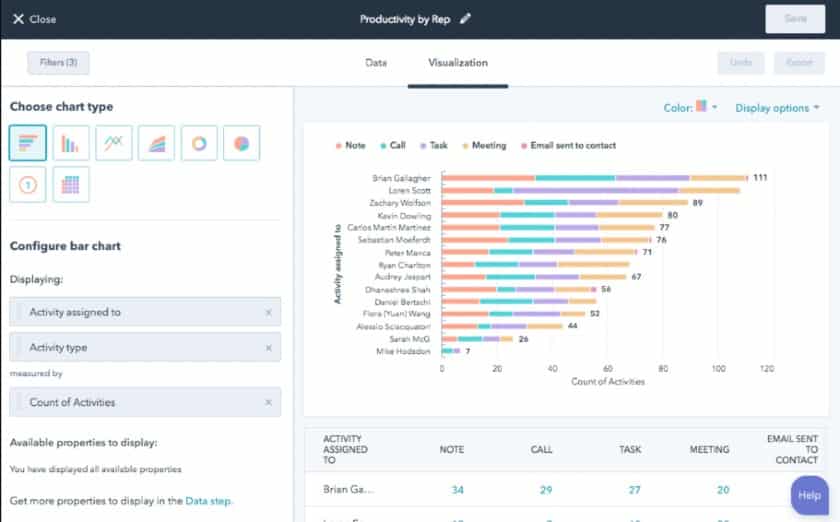 ---
Winner: Hubspot wins in this category as it offers reporting templates that are more useful in providing users with visibility on the various areas of their business.
Best Customer Support: HubSpot
Insightly offers tiered customer service that starts with access to its help center for those using its free plan. You can access email support once you upgrade to a paid plan. Phone support (4 a.m. to 7 p.m. Pacific Time) and access to a customer success manager are available under its paid service plans, which start at $1,500 per year (or 10% of the annual subscription fee). Unfortunately, it does not offer live chat support.
Hubspot also offers tiered customer service that starts allows free plan subscribers to access self-help resources like community forums and blogs. Upgrading to a paid subscription allows you to access 24/7 email and in-app chat support, as well as phone support daily from 7 a.m. to 8 p.m. Eastern Time.
Winner: A side-by-side comparison of HubSpot vs Insightly in terms of customer service reveals HubSpot to be the superior provider. Aside from providing 24/7 technical support, it also gives users more channel options for reaching out to its service team.
Best Alternatives to HubSpot & Insightly
Even though Insightly and Hubspot are both considered excellent CRM solutions, they aren't always the best option for every small business. If you prefer to look into other product attributes, like a specific app integration or a particular tool your current sales workflow needs, you can explore other platforms.
Here are some of the best alternatives to Insightly and HubSpot:
| | | | |
| --- | --- | --- | --- |
| | | | |
| Best For | Businesses looking for a solid mix of lead management features and integration capabilities | Organizations that heavily utilize social media marketing | Small ecommerce businesses |
| Starting Price* | Free or $15 per user, per month | Free (3 users) or $14 per user, per month | Free (unlimited users) or $39 per month (5 users) |
| | | | |
*Based on annual billing. Monthly pricing is also available at slightly higher rates.
How We Evaluated Insightly vs HubSpot
To compare Insightly and Hubspot side-by-side, we looked at several essential factors small businesses value when choosing a CRM. We evaluated these two software options according to their pricing, features, ease of use, customer support, and our expert score.
40% of Overall Score
Total costs, along with a variety of pricing options, are typically the most important criteria for any small business decision. Therefore, it was the most heavily weighted when comparing Pipedrive and Salesforce. These criteria looked at free account availability, a variety of subscription choices, and monthly billing options.
20% of Overall Score
We looked at overall features necessary for CRM software, including mobile application quality, customization ability, third-party integrations, and available built-in tools.
15% of Overall Score
The functions of any application are only as beneficial as they are usable. Therefore, ease of use of the varying CRM software is the next-highest weight of criteria. Ease of use was analyzed in terms of the expertise needed to integrate it with other applications, the skill required to operate the built-in features, and the overall interface usability.
15% of Overall Score
Help and support hold the same weight as the ease of use criteria, and we evaluated it in terms of customer service hours as well as the availability of phone support, live chat support, and email support.
10% of Overall Score
In addition to our own experiences with the providers, we looked at reputable review sites and gathered expert opinions from outside sources. We evaluated standout features, overall value for money spent, popularity, and ease of use.
*Percentages of overall score
Bottom Line
In the Insightly vs HubSpot discussion, it's a draw when it comes to value for money. However, Hubspot rises above Insightly because it offers additional specialized features like marketing tools, wider integration options, and more support channel options. It is best suited for users or teams needing a low-cost CRM with essential lead generation features, while Insightly is recommended for those looking for a CRM with project management capabilities.
You Might Also Like …