We asked leading real estate professionals for their best open house ideas, and their answers cover the basics (clean and stage the house) to the innovative (hire a drone banner to advertise your event). You'll definitely want to take notes, and be sure to let us know your favorite open house ideas and tips in the comments below.
Here are 35 real estate open house ideas from the pros to help you generate more leads:
---
When you claim a property listing on Zillow, you can include details about your open house for no additional cost. And when you join Zillow Premier Agent, you can crowd out the competition by making yourself the exclusive agent for your listing. You'll also show up on OTHER agent's listings for more exposure.
---
2. Engage With Your Visitors & Put Away the Phone
"As an agent, it is extremely important to constantly be engaged with whomever comes into your Open House. The best and most treasured tip I can give is to put away your cell phone – out of view, either in your pocket or a drawer – and do not be on your computer. Think about it…when you arrive to an Open House as an agent and you see the hosting agent on their cell phone or computer, what is your first thought? Mine is that they would rather be somewhere else and are not totally interested in selling the house. I understand there are exceptions. However, I've seen this become more than norm. Host an Open House with the intention of engaging EVERYONE who comes in with a smile on your face, eyes up, and armed with facts on the house you want to sell. Your attendees will appreciate your full attention."
---
3. Offer Your Visitors Food & Drinks
Any experienced realtor will tell you there is no better way to build your sphere of influence than circle prospecting. Inviting the neighbors to a private lunch or wine and cheese party at your open house is a great way to build your sphere. Who can resist free food?
Here's how broker Javier Gines does it:
"Reach out to 10 neighbors on each side of the house and 15 across the street. This will create a buzz between neighbors and their friends. Make sure you are acquainted with those homes. Socialize, be friendly, connect with the public but most importantly, have fun!"
Though he primarily uses Facebook marketing these days, 37 Year Veteran Broker and Attorney Bruce Ailion takes it a step further:
"One of our lenders has offered to bring a food trailer and cook hot dogs and hamburgers for the neighborhood for kids. We have brought an ice cream truck out in the past."
---
4. Know Your Market Data Before Even Thinking About Hosting an Open House
"Buyers are becoming increasingly savvy to current market trends and data points, so know your numbers. Before the open house, study up on competing listings, so you can speak intelligently on the competition and recent sales. Also, since not everyone that comes through the property will be "the Buyer", make sure to have printouts of all the competing listings in the immediate area so that in the event a potential Buyer doesn't have interest in the house that's being held open, you can still potentially work with them on another of the homes they might be considering. Plus, in the end, your extra prep will help demonstrate that you are the trusted neighborhood expert that they should be working with!"
---
5. Want More Contacts in Your CRM? Skip the Flyers & Show Sheets
"My favorite open house tip (Realtor to Realtor) is NOT to provide flyers but to explain to clients / potential home buyers that "these days, digital marketing packages are so robust, along with reports and disclosures" that it's much better to email them. This way, I have increased (in a major way) information capture. If a buyer is leery of providing the contact information, I tell them that I will either CC their Realtor or respect their privacy but that this way they have a direct line to ask questions.
I pick up more buyers to put in my drip system this way – when you "let" them take a flyer and walk out the door, they're gone forever."
---
6. Schedule an Open House the Day The Listing Hits the Market
"One strategy that has worked well for us is to put a lot of effort into marketing a home while it is still "Coming soon" and at the same time, market an open house for the same day it hits the market. In a market where homes are selling quick and for top dollar, this could be a great strategy to generate buzz and get your sellers more money. Convenience is key, as most people work till early evening and getting a showing privately is tough. Then if you cant get in, often times the home is sold.
An open house on the day you list allows those people to view the home quickly and it also shows those people that there is a lot of interest in the home and generates more ACTION vs just a bunch of lookers. This will ultimately lead to more offers, more competition, and a higher sale price for your sellers."
---
Emile L'Eplattenier, Real Estate Editor, Fit Small Business
Since email marketing has an incredible 4300% ROI, it's no wonder more and more agents are focusing their marketing efforts on people's inboxes.
An invitation to your open house can be the perfect excuse for your audience to finally come meet you in person. It also has the added benefit of showing off your property marketing skills.
To learn more, check out our in-depth email marketing guide for realtors!
---
8. Open All the Curtains to Let the Light Shine in
"Tucson is home to some of the best views, and quite often they can be seen in every part of Tucson and if they can natural light is key to the homebuyers process. When we first arrive at the property, we walk through the home and take inventory of rooms to highlight with natural lighting. We find that the homebuyers generally embrace it because that's what most people want. In most cases, Tucson weather is rather stagnant, we don't really have to worry about the rain that often unless it's monsoon, however we still leave th blinds open. It can really transform a space even if the weather isn't the best outside, ceiling lighting can only do so much.
---

Everyone who visits an open house is a potential buyer, making an open house one of the best ways to build relationships in an area. Whether they're interested in the particular property, or if they're an active buyer seeing places, you should follow up within a couple days. We recommend using a CRM such as Contactually so you can make sure no potential buyers fall through the cracks. Click here for a free 14 day trial.
---
10. Make Minor Renovations & Repairs Before Your First Open House
"Most sellers and their brokers know the importance of cleaning and de-cluttering a home before listing it on the market, but I also stress the importance making small home improvements to my clients. If the first thing a buyer sees are outdated light fixtures, peeling paint and dirty windows, they can easily be put-off and focus on how much work the property needs. Hiring a window cleaner, painting and replacing light switches/outlets and fixtures are all relatively inexpensive ways to make a better first impression. "
---
We mentioned earlier how you can advertise your open house on your Zillow listing for free. But competing agents using Zillow Premier Agent can steal your leads by advertising on your listings. As a Zillow Premier Agent, however, you can prevent other agents from advertise on your listings and stealing your leads.
---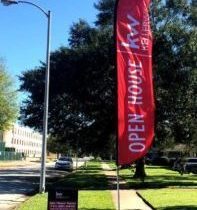 Since most of the neighbors probably aren't following your listings on Zillow or your email list, the only way they'll know you're having an open house is to tell them. One strategy is to knock on doors or make phone calls to invite the neighbors but some find this invasive and some neighborhoods don't even allow it.
Instead, use open house signs strategically to draw traffic to your open house. Here's how: Use multiple types of signs that are visible and legible from a distance (at least 30 feet), and place directional signs to advertise in a five block radius to reach a wider audience.
If you want to learn check out our in-depth guide on open house signs.
---
13. Depersonalize the House
There are a few schools of thought here, but most professionals recommend removing as many family photos, awards, or diplomas etc from the home as possible before the open house.
Elizabeth Kee, an Associate Broker from New York City explains why:
"You have a lot of different types of people, from all walks of life, with different customs, cultures and religions, attending your open house. You don't want the space to feel like it belongs to any one group of people."
---
An open house is not only free publicity to potential buyers who visit the listing, but also to potential buyers who aren't able to make it. Give those buyers an open house experience by creating a virtual tour of the listing with Matterport 3D technology. A virtual tour will also give those who visited another chance to revisit the house, solidifying the deal.
Learn more about how Matterport can take your business to the next level by downloading their free eBook: "Top 10 Ways to Use VR to Win Listings in Real Estate."
---
Designed to Sell designer Lisa LaPorta recommends cleaning and organizing the closets.
No matter how hard you try to stop them, buyers (sometimes even buyer's agents) will open the closets. Instead of letting them drown in an avalanche of boxes when they open that closet door, make sure all closets (this includes hall closets, bedroom closets, kids closets, linen closets ALL CLOSETS) are clean and organized.
---
Did you make sure all valuables are put away? Is the thermostat set to a comfortable temperature? Did you check the house for burnt out light bulbs? Are ALL the windows clean? Instead of pulling your hair out the day of your open house, use this handy checklist.
---
17. Open House Prep Makes the Difference
Even though the actual Sunday open house probably isn't going to sell your home that very day, the process of cleaning, staging, and making your place shine will make for amazing photographs and productive private showings.
---
Market Leader owns "HouseValues.com" where potential sellers check to see how much their house is worth. Leads from this site are extremely sought after and sold out in many zip codes. Market Leader also generates buyer leads. Check to see if Market Leader has leads available in your zip code. Check Now!
---
19. Bundle Neighborhood Open Houses Together
Our office has found greater success in getting 3-5 open houses scheduled together in the same neighborhood. This way all of the agents go to work promoting an "event" rather than a single open house.
Of course, each home needs to as welcoming at possible. Many opt for professional staging. This strategy works wonders too: faster sales mean happier clients!
---
20. Rent a Drone to Hover an Open House Banner
Eugene Stark, Founder & CEO, Hoovy
Our company, Hoovy, does drone advertising. We attach professional banners to drones and fly them in public places for businesses and real estate agents. We can hover a banner stating that a particular house has an open house and the real estate agents that have used our services saw a tremendous increase in traffic to the properties.
For more check out our in-depth guides on real estate drone photography and drone insurance.
---
21. Stage Like a Pro
To learn more check out these 18 home staging tips from the pros.
---
22. The 3 Handouts Every Realtor Needs For An Open House
---
23. List in the Correct Radius
In order to have a productive open house, you have to invest time and effort–which is the same thing as money. Before you commit yourself to such an investment, make sure that the property you want to hold open has what it takes. Here are the five things you need:
Make sure it is priced right. Any neighbors who visit your open house probably have some idea of selling, or at least refinancing, in the not too distant future.
Create good traffic flow with directional signs off a main thoroughfare. It doesn't make sense to hold an open house when no one can find it.
List within your service area. Don't drive forty miles to hold an open house.
The sellers must be gone. Buyers only go to open houses to avoid contact with either owners or salespeople who are too pushy.
Stage the home. The sellers must know that the house must be impeccably clean for starters.
---
24. Spruce Up the Front Door to Make a Great First Impression
Marni Epstein-Mervis, Editor, Agent Ace
Simple updates to your front door can make a huge difference. It's the first thing buyers see – an inviting door calls people in and sets the tone for the rest of the home. Good first impressions go a long way and can result in a relatively large return on investment.
To learn more take a look at these 3 Ways to Dramatically Increase Your Home's Worth and our list of 25 Curb appeal ideas.
---
25. Don't Forget About Security
In nearly all the cases, preparing a property for showing happens in a big rush. You need to clean, declutter, wash and polish things up to make your home look as appealing to prospects as possible. Under the circumstances, it's easy to forget about safety and security. Keep in mind that holding an open house means letting complete strangers in. This mere fact should be enough reason to tighten up on security. Make sure to hide from sight all checkbooks, private documents, jewelry, expensive gadgets, and other valuables. After all, it's better to be safe than sorry.
---
26. Remove All Vestiges of Former Owners (and their Pets)
What can you do to make the house look better? Make it's SUPER clean, personal photos removed, and smells good. Turn on every light and open the blinds. Remove the pets. Never let strangers walk through the house unattended.
Here is a link to a playlist on our YouTube Channel with lots of Home Prep and Selling Tips.
---
27. Consider Having a Themed Open House.
These days hosting an open house is about an experience even though the prospective home buyer may not have the opportunity to spend too much time at any given open house. They'd like to maximum their Sundays and preview as many as possible.
For example–if the home is Spanish Hacienda style–why not present delicious tapas? Playing light music–bossa nova also cheers up the preview time too.
---
28. Don't Forget Small Local Newspapers
Many realtors ignore small local papers as they think they'll get more bang for their buck online. While this is true to some extent, small local newspapers are often circulated widely, and their readership usually hits the prime homeowner demographic. Many retirees for example read local papers every day.
For examples of great real estate ads from the pros, check out our 25 Top Real Estate Ads.
---
29. Bring in a Housekeeper or Professional Organizer.
Brian Horan, Real Estate Broker / Home Buyers Marketing II, Inc.
If it's tenant occupied, then the agent can offer to bring in a housekeeper. Even if it's not tenant occupied, the cost of a housekeeper and you paying for that can really go a long way in the eyes of the Seller. It shows you are looking to make a good impression to the market. It can also help a not so organized Seller feel a little more organized since you've taken over a skill set that they may be lacking.
---
30. Hold an Agents-Only Open House
Build a list of every agent that has sold a house in the neighborhood in the past year, as well as all the active buyer's agents in the area, and call them to personally invite them to the event. Have refreshments and hors d'oeuvres ready for your guests. This leaves a lasting positive impression.
---
31. Hire an Extra Set of Hands from TaskRabbit to Help Out at Your Open House
Let's face it, even if this is your 40th open house in as many years, the amount of things you need to remember can be overwhelming. A spare set of hands is ALWAYS welcome. The peace of mind that comes from knowing you have someone that can move the couch or clean up the kid's room at the last second is worth its weight in gold.
The best part is that you can choose a tasker based on skills so you can hire someone with moving experience, admin experience, personal assistant experience etc. There's also no minimum, so you can hire someone for just an hour or two, or the entire day.
---
32. Keep the Scent Neutral
Did you know 1 out of 3 people don't like scented products? That includes air fresheners, candles, incense, and potpourri. Instead of masking odors with plugging in, warming oils, or burning candles, invest in carpet shampoo and be sure to air out the home for a few hours before your open house. Here are 10 more open house tips from the folks at Veterans United.
---
33. Make Sure the House is Ready for its Close Up
Turn all lights on and open all blinds/curtains, remove everything off of countertops (not only does it look cleaner but it gives the appearance of a larger space which is very important in areas like the kitchen).
Declutter and clean
It should go without saying BUT the home must be entirely clean, organized and tidy (beds made, junk should be organized or thrown away). A Seller's home is their home until the day they decide to list, once that decision is made the home becomes a product. A product that is going to be consumed by the marketplace, so you always want to ensure you put your best foot forward.
---
34. Create a Single Property Website
Most people when they visit an open house, are pulling out their mobile phone to take more photos of the house to remember / evaluate it later in the day or a day or two later. In addition, buyers usually end up visiting 3 to 5 house in the same day, so how do they remember your house versus the other ones they saw?
A good marketing strategy is to create a property website where you already have photos of every room in the house from multiple angles, as well as close up photos of all the interior and exterior features of the home. Once you have this, then provide a simple flyer with a QR code / short url link as an easy way for visitors to the open house to see all the photos, especially after they leave the house.
Need help putting together a good-looking real estate site? Check out our Best Real Estate Website Builders article.
---
35. Use a Sign-Up to Generate Leads
Use the "Open Home Pro" app for iPad to have people sign-in as they come into the house. The app doesn't require wifi, so you can take it from open house to open house. Agents can generate valuable leads by collecting names and contact information of everyone who comes to look at the house. You can make the sign-up as simple as first name and phone number but you can also add other questions as well. A follow-up call can be useful to determine their interest level and to gain valuable feedback on the property.
---
36. Get Advice From Those You Trust
If money's a bit short, then some sage advice is to invite three of your closest friends/family to your home to tell you what they really think. Get them to pretend they are a potential buyer and walk around the property, speaking aloud their thoughts and asking questions potential buyers might ask. Follow them around with a notepad and jot down anything they say (or give them a dicataphone).
Make sure that you have a chat with them beforehand, encouraging them to be completely honest in their thoughts – from what your house smells like, to removing a hideous picture from a wall. It helps if they walk round independently of each other; if they all mention the same things, you know you definitely need to take action.
---
Over to You
Though they're a lot of work, open houses are still one of the best ways to generate leads and expand your sphere of influence in your farm area. Taking the time to market, advertise, clean and style your listing properly before the big day will lead to bigger crowds and more closed deals on the horizon. Let us know in the comments if there are any open house ideas we missed!