14 Proven Open House Ideas to Entice Multiple Offers (+ Expert Tips)
Open houses have been essential for real estate agent success for decades, but they've changed over time. In today's real estate market, your open house ideas need to stand out if you want to attract qualified buyers, intrigue prospective sellers, and grow your real estate business. Use these open house ideas and expert tips to turn your open houses into interesting and exciting events that buyers and leads talk about for years to come.
Here are the top 14 memorable open house ideas and expert tips:
1. Use a Digital Open House Sign-in
One of the reasons open houses are such an impactful tool for real estate professionals is because it puts real estate agents directly in front of active homebuyers and other prospective clients. It's critical that you capture and track each lead in order to not only sell the property but also generate new real estate leads.
The traditional way to do that at open houses is to download an open house sign-in sheet template, print it out, and place it near the entrance for visitors to write down their name, phone number, and email address. However, the more efficient way to capture the contact information of open house visitors is by using a digital sign-in sheet.
When visitors arrive at your open house, have a short form ready on your smartphone or tablet that asks for the visitor's name, phone number, email, how they heard about the open house, and any relevant details they want to share about their home search. The data collected in your form can then be stored, exported, and uploaded or even automatically synced to your lead management software in real time.
For example, with Zoho CRM, you can generate a form so each new contact is automatically imported, qualified, and added to your visual pipeline. Plus, Zoho tracks your communication with each lead across multiple channels, making it easier to build relationships and grow your clientele.
2. Engage With Every Visitor at Your Open House
You don't get a gold star just for hosting an open house—you're going to need to do more than sit around and wait for leads. Instead, put your phone and other devices away and take a proactive approach by engaging with each person who attends the open house.
Be ready for visitors to walk in and give them your full attention when they do. Ask questions, make genuine conversation, and build rapport. When you use open houses as an opportunity to build relationships and grow your sphere of influence, you'll notice a significantly different response when you send follow-up messages.
After experiencing genuine conversations, leads from your open houses will recognize your name and will be much more likely to open and answer your emails and messages. You can make it extremely easy to stay connected to new leads by using a customer relationship manager (CRM) like Pipedrive.
With Pipedrive, you can set up a visual pipeline to clearly track where each of your leads is in the sales process. Plus, you can use open house follow-up templates and set emails and text messages to be sent automatically.
3. Use Food & Drink to Attract More Open House Visitors
Unfortunately, many qualified buyers avoid open houses because they assume it's going to be boring, awkward, or even high-pressure. You can make the atmosphere more welcoming and casual by advertising that you'll be offering food and drink at the open house. This automatically lightens the mood of the open house and makes it more appealing for people to attend.
Here's a fun and memorable open house idea involving food:
It's important to note that you may want to avoid serving alcoholic beverages. While doing so might attract more people, it may not be attractive to all potential homebuyers. Plus (more importantly), it could become a liability as you can actually get sued if someone drinks too much and gets hurt at your event. If you do decide to serve alcohol, make sure you comply with all local regulations, and consider leaving serving drinks to professional, licensed caterers or bartenders.
4. Let the Sun Shine In
Having natural light is often very important to homebuyers, so highlight it in every way you can at open houses. Before the event, walk through the home and take inventory of the rooms with the most natural lighting or any spaces that need more light.
Make sure to be prepared for a cloudy day with fake candles and additional warm light sources to make the home feel bright and cozy. Part of your open house checklist should include walking through the house to open all the blinds and curtains, turning all lights on, and removing any unnecessary items from surfaces to make the space feel bigger.
5. Bundle Neighborhood Open Houses Together
When your brokerage or real estate connections have multiple homes in or near the same neighborhood, you can bundle advertising and marketing efforts for your open houses. This creates a larger, even more appealing event for prospective homebuyers where they can check out a few or even several homes in a short period of time. With multiple agents advertising the event, you're also likely to get a lot more visitors.
A great way to advertise open house events is by using a professional real estate website design team to create real estate landing pages or single-property websites, and then run online ads to drive traffic back to these pages. Placester is a website creator specifically for real estate professionals that does just that. You can outsource the job to a Placester marketing specialist and view your website within 48 hours.
6. Offer Virtual Open Houses
Virtual open houses are an ideal way to make a home accessible to those who are unable to or uncomfortable with attending an in-person event, or who simply prefer to get a virtual preview before seeing a property in person. There are many virtual open house ideas you can use to make an online event just as interesting and impactful as a physical event.
For example, you can create a virtual tour of the home to show during a live broadcast or as a recording. Host a Facebook Live open house tour and interact with people just like you would during an in-person event. Send a link to a recording of the virtual tour to individuals who were going to attend the open house but didn't show or had to cancel last minute.
If you'd prefer not to host a livestream video, you can use Fiverr to hire a freelancer to edit or create a video of your property. Fiverr allows you to post a job and interview multiple people to find the right fit—you might even find a local video editor who specializes in real estate. Alternatively, look into local real estate video marketing companies that can help you put on a successful virtual open house.
7. Boost Open House Curb Appeal to Increase Offers
Homes with good curb appeal and landscaping receive offers averaging between 5.5% and 12.7% more. Taking the time to trim bushes, plant flowers, clean up, and furnish the front porch can have a significant return on investment (ROI).
As this expert open house tip shows, you can even encourage clients to make bold choices to help the home stand out, like a freshly painted bright and bold front door or a seasonal display:
Even if your clients don't want to take on any do-it-yourself (DIY) curb appeal or landscaping projects, you can improve any home's curb appeal with the right decor. Get large, colorful planters to place around the property or change up the furniture. Even simple changes like replacing the mailbox or a modern door handle can have a powerful impact on a buyer's first impression.
8. Get Creative With Guerilla Marketing Tactics
Guerilla marketing refers to promoting your event to your audience in an unconventional, unexpected way. Think differently about the places, times, and ways leads are seeing your open house ads or how they interact with your listing. For instance, while listing brochures are important, they're also expected. Because of that, homebuyers may not pay as much attention to them as they would large, colorful signs placed in different rooms of the house pointing out specific features.
A few other examples of guerilla marketing ideas for open houses are:
With permission, leave stickers, flyers, or postcards with open house information at local businesses
Record a funny or parody video in the home and share it on social media and email marketing
Use drones to put banners in the sky, like the fun expert open house tip below:
If real estate drone photography isn't in your wheelhouse, you can stick with tried-and-true advertising methods and still see massive results. Zillow is a great example. It's the top real estate marketplace in the world, and it's an incredibly powerful way to generate qualified, active buyer leads. As a Zillow Premier Agent, you can be the exclusive agent shown on listings, which could mean hundreds of new, qualified leads every single month.
9. Throw a Themed Open House
Another way to add a twist to the age-old open house is by adding a theme. Themed open houses create a distinct and highly memorable experience, which can work to attract more buyers and generate additional new leads.
You can choose a theme based on the home's style, the ideal buyer, the location, or any other differentiating factor. For example, if your listing is a Spanish hacienda-style home, you can offer delicious tapas and play light music (e.g., bossa nova) to stay on theme.
10. Ask a Local Business to Cater
Real estate agents often build referral partnerships with other businesses in their industry, but sometimes miss the opportunity to work with local businesses when it comes to open house events. You can work with restaurants, food trucks, coffee shops, caterers, and other local small businesses to create mutually beneficial referral partnerships.
You'll attract more people to an open house featuring catered or gourmet food or drinks from a local business, and you and your business partners will get even more mileage out of your marketing efforts. Using premade templates from Canva, you can easily create graphics and printable materials to promote your open houses, such as coupons open house visitors can exchange for food and beverages at your event.
Here's an expert open house tip for using coupons in promotional partnerships with other businesses relative to your open house, such as local handy services, plumbers, electricians, insurance agents, mortgage brokers, and more:
11. Add an Event to Your Open House Event
The more creative, fun, and unique open house ideas you are willing to use, the more likely your events are to attract larger numbers of people. You can make your open houses memorable and interesting with a wide variety of events. Plus, you give people a reason to linger, which will give you more time to converse, show the property to interested buyers, and capture the contact information of open house attendees for future lead nurturing.
Here are some examples of events that successful real estate agents have hosted open houses in junction with:
Book signings
Live music
Food from local restaurants or food trucks
Pop-up boutique shopping
Antique and estate sale furniture
Garden parties
Pop-up art shows inside the listing
If possible, it's ideal to keep everything local to promote your area and your expertise to the community to generate more clients in your target location. This can also become a jumping-off point for referral partnerships with other businesses, such as auction houses, galleries, restaurants, retail stores, and more.
12. Give Away a Raffle Prize
When you want to incentivize traffic to your open house, offer raffle prizes and giveaways. Since not all visitors of the open house will be interested in purchasing the listing, this is a highly effective way to build rapport with potential leads and keep people engaged.
It gives you an opportunity to communicate with everyone who enters and builds the know, like, and trust factor with potential clients. Keep the focus on real estate by offering prizes for locally sourced items that homeowners want or need and give away promotional items that are branded with your real estate logo.
13. Give Out Goodie Bags at Open Houses
Giving away physical items is an incredibly effective way to attract and help open house visitors remember you. Goodie bags, like pop-by gifts, can be simple, easy, and affordable with just a little bit of creative thinking. You can find kits on Etsy or create your own printable labels for gifts with Canva.
Once you see the impact of giving away promo items and goodies out at your open houses, you'll want to automate the process. Evabot uses artificial intelligence (AI) to automatically select and send gifts to your leads, new clients, or previous clients. You set the specific requirements for each type of gift, and your connection receives a personalized gift from you—allowing you see the results of gift-giving without sacrificing your time.
14. Use Open House Ideas & Feedback Forms to Gain Insights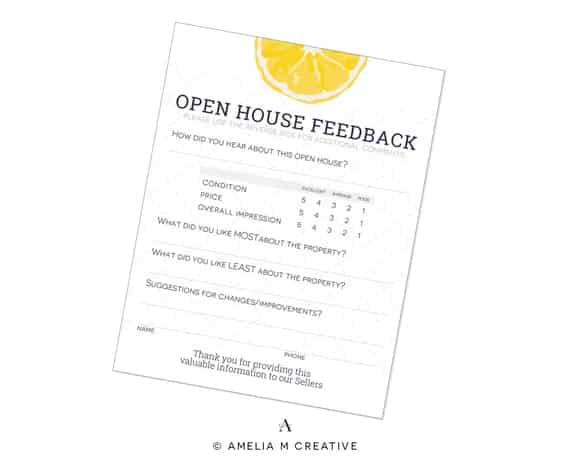 Don't forget about open house attendees after they arrive. Before they leave, ask for feedback about the home to show that you truly value their opinions, expectations, and needs. Make it easy for them to give honest feedback by handing them a short, simple form to complete (or use a digital form to make it even easier). Instead of saying, "It was great," as they walk out the door, this form asks specific questions to get insights they may feel more comfortable providing anonymously.
With 99designs, you can work with a professional graphic designer to create beautiful feedback forms like these. Also, if you need additional help with logos, website design, graphics, and so on, 99designs can set you up with an individual designer or start a contest to see who creates the best design to match your style.
Bottom Line
Open houses should create demand for your listings, but they can also be used to generate leads and grow your authority as an agent, creating demand for your services. Use our list of creative and memorable open house ideas to plan open house events that impress clients, attract serious buyers, help you build referral partnerships, and contribute to your overall real estate lead generation strategy.