14 Free Open House Flyer Templates (+ Distribution Tips)
Open house flyers are a classic and effective way to publicize your real estate listings and bring people to your events―especially if you maximize distribution. They enable you to target and reach different types of potential buyer clients and promote key pieces of information about a property listing. Plus, it's easy to create them using customizable templates. We gathered 14 of the best free open house flyer templates, tell you what to include, and offer tips on how to get them into the hands of your target clientele.
From designs to event details, here are 14 of the best free open house flyer templates to promote your real estate listings:
1. Open House Flyer Template Showcasing Price
Best for: Agents seeking to target buyers within a specific price range, or where price is a differentiating factor
Why it works: This flyer emphasizes key features of the home with stunning photography, but the price is the most prominent piece. In markets where houses within certain price ranges are difficult to come by, this could be a key strategy to attract budget-conscious buyers.
2. Property Listing Flyer Templates for Spotlight-worthy Features
Best for: Real estate listings that have multiple features worthy of the spotlight
Why it works: Although this open house flyer does include images of the property, the text in the eye-catching yellow block is centered around the property's features. This is ideal for homes with elements in high demand among buyers, like open-concept floor plans, first-floor laundry, or recent updates and renovations.
3. Apartment or Condo Open House Event Template
Best for: Property managers or apartment building owners seeking to promote an annual or semi-annual open house event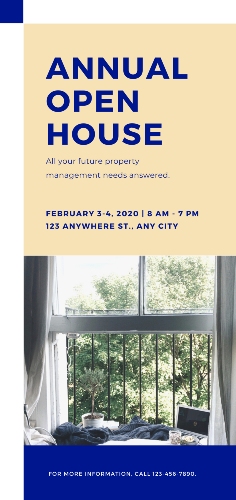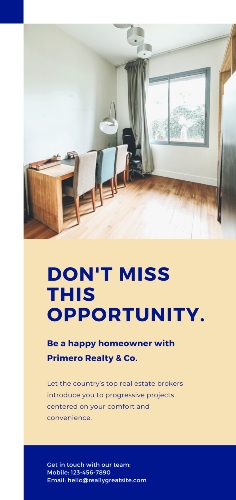 Why it works: The images are few, but they are eye-catching enough to make the property appealing. This template is to help promote a one-time event to attract renters and buyers to come view vacant units, get questions answered, and reserve a unit or get on a wait list. The text and language work to create a sense of urgency for potential buyers.
4. Neighborhood or Apartment Building Event
Best for: Property managers, homebuilders, or agents hosting a neighborhood-wide open house event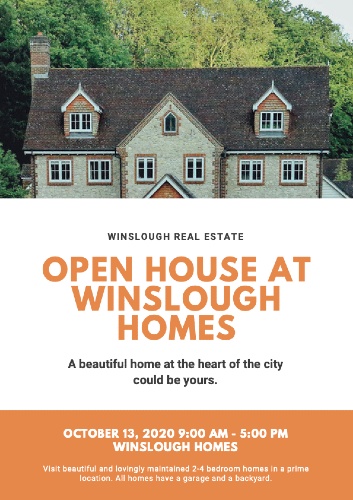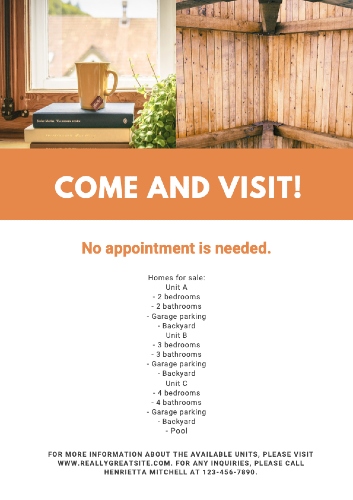 Why it works: Similar to the last example, this flyer template is designed to promote a one-time event for interested buyers to view a specific neighborhood of homes. This can be very effective for homebuilders and listing agents involved in neighborhood presales or to help sell the last remaining homes in a new home community. The bright colors and large images make this flyer especially eye-catching.
5. Brokerage-branded Flyer Template
Best for: Brokers or agencies focusing on promoting their brand and services as much as a single property
Why it works: This real estate open house flyer template has almost an equal amount of space dedicated to the brokerage as it does the property. The images are specific to a property, but the flyer is also used to advertise the brokerage's services. Highlighting your brokerage in this way can help you achieve two goals at once—you can market a property to the right buyers and market your services to get more real estate listings.
Another way to simultaneously advertise open houses and your services is through the marketing automation capabilities within Market Leader. For each listing, Market Leader automatically produces a single property website, a listing email, social media posts, and printable property flyers and postcards. Plus, it's easy to create a pipeline and nurture leads in this user-friendly customer relationship manager (CRM). See if Market Leader is available in your area.
6. Featured Image Open House Flyer
Best for: Real estate agents and brokers who want to leverage a single, stunning property photo
Why it works: This open house flyer template uses almost all of the space to display a large photo. If your listing has a unique feature or curb appeal, it could be a perfect opportunity to showcase that. The important information is still included on the flyer, but simplicity could actually generate even more interest.
7. Home Feature Spotlight Design
Best for: Listing agents who want a modern template that highlights a select few important features
Why it works: This free open house template is minimal and modern, giving buyers only the most basic and appealing information. It uses color block-style design to create visual interest.
8. Flyer That Features the Agent
Best for: Real estate agents desiring to highlight their abilities and skills along with the property
Why it works: This open house flyer template showcases the real estate agent, even including a brief "about me" section. Put your personality and image into your marketing designs. This not only highlights the property but can help interested buyers feel comfortable reaching out with thoughts or questions.
9. Graphic Flyer Template for Real Estate Open Houses
Best for: Agents who want to showcase the important details without including property photos
Why it works: Unfortunately, not every real estate listing will have photos that appeal to buyers. Plus, it might be wise for real estate agents to have a basic real estate flyer template that can be adjusted in a matter of minutes and used for any type of event, from listing or office open houses to educational webinars. This is a great go-to option.
10. Colorful Marketing Design
Best for: Real estate agents and brokers who want to use color to get the attention of prospective buyers and want bold geometric design elements to separate photos and text
Why it works: The colors and shapes on these free open house templates have a distinctly bold style, which is most fitting for urban or modern properties. It's a great way to highlight a handful of property photos, details, as well as your realtor headshot and contact information.
If this design would work well with your target audience, you may want to consider working with a professional graphic designer as there are several design elements involved. Hire a freelance graphic designer through Fiverr for as little as $5 to create bold designs that will appeal to your audience. To find one, go to Fiverr's website and search for a service like "real estate flyer" or "real estate design," and you'll find hundreds of freelance pros with previous experience, examples, and reviews.
11. Featured Amenities Flyer
Best for: Real estate agents who want a template design that highlights specific features or amenities
Why it works: This single property open house flyer template design from Zillow leaves plenty of space for a property description and a bulleted list of features. Plus, the photos bordering the page bottom showcase the features that are described.
In addition to being the top listing website with millions of unique visitors each month, Zillow provides marketing materials that agents can use to advertise their listings. Zillow's Agent Toolkit is full of resources like scripts, handouts, marketing plans, free downloads, and direct mail templates. Visit the Zillow website to find a collection of their available flyer and postcard templates.
12. Open House Flyer Hospitality-rich Invitation
Best for: Real estate agents who want to attract buyers to their open house with food and drinks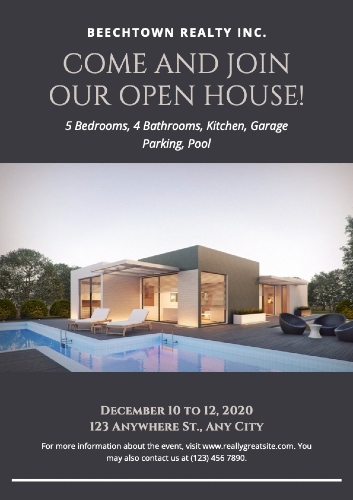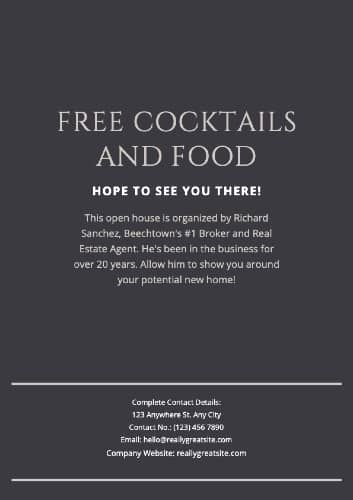 Why it works: One of the best open house ideas is to make your event feel more like a party with friends than a sales opportunity. When your audience feels comfortable, they are more likely to interact with you during the open house. This free open house flyer template feels like a personal invitation, with casual language like "Hope to see you there!" and a simple design.
13. Block-style Template
Best for: Agents seeking a linear layout of images with bright colors to grab attention
Why it works: This free template gives you the ability to present several images mixed with a few small blocks of text with important details. The property address, listing price, and open house time are easy to see, and there is enough room for a brief home description.
14. Feature-focused Flyer
Best for: Real estate agents spotlighting important features of the home centering around the price
Why it works: This real estate open house flyer is simplistic, with plenty of white space, while also presenting many details. With a great hero image to draw attention, a checklist of features, and the listing price highlighted, this template is effective for any property or market.
What to Include on an Open House Flyer
Open house flyer templates are designed to allow agents to easily fill in fields or boxes with the correct information and images for each property or event. However, there are some details that you should always include in order to become more successful in real estate and increase conversion and engagement with your listing.
Here are the most important details to include:
Date and time: A clear date and time for your open house should be prominently placed on your flyer. If it is difficult to find this basic information, most interested buyers will skip the open house completely. If your open house offers virtual elements, make sure to include the website address where the event will be streamed and/or where the video can be viewed afterward. A quick response (QR) code is a great way to add mobile-friendly links to your flyers.
Property features: While price might be the feature that gets the most attention, buyers may be looking for an exact feature that your listing has. Help attract the right buyers by listing key features attractive to today's buyers as well as unique features that make your listing a standout.
Clear and professional images: Images are by far the most eye-catching visual element, and any open house checklist should include time for photographing quality images so you can choose those that are the most appealing.
Location: The location of the property is not only vital for buyers to know where to attend the open house, but it's also important for buyers who have strict location requirements or preferences. This can extend to listing specific neighborhoods as well as city, county, school district, and so on.
Asking price: Although having the listing price may scare off buyers with a lower budget, it prevents wasting time on buyers who aren't seriously considering an offer.
Home description: An accurate and succinct description of the home helps give buyers more context. As a general rule, the description should be three short sentences that talk about the features and neighborhood with top amenities like a pool or a view.
Real estate agent contact information and headshot: Information about you as the agent, including a headshot, gives buyers the ability to put a name and a face to the property. This makes them more likely to contact you with questions. In turn, this can help you generate real estate leads.
7 Tips to Maximize Open House Flyer Distribution
In nearly every market, there is an incredible amount of information available when it comes to real estate. Distributing your open house flyers to people who represent your ideal buyer types and standing out can be challenging. Luckily, there is a large variety of real estate marketing ideas that can help you get the word out.
Here are a few effective ways to distribute open house flyers:
Canvas the neighborhood: Passing out open house invitations near the property for sale is a great way to attract buyers within the neighborhood. Although it is against the law to put flyers in mailboxes, putting your real estate marketing materials in a newspaper box, door frame, or hanging on the handle is a great way to ensure it is seen.
Use mailing services: Print design services like ProspectsPLUS! include Every Door Direct Mail (EDDM) services. You can have your flyers automatically delivered to every mailbox in a certain area, and send them out as part of your real estate farming efforts to increase exposure for your services.
Reach out to past customers: Your sphere of influence includes past clients who are happy with your services, and they are often happy to spread the word. Share your flyers with former clients and ask them to share them with people who may be interested in buying the listing.
Leverage social media: Creating an event or running ads on social media can help you reach more buyers with less legwork. By promoting your open house online, people can share the information with a simple click.
Send emails and texts: Writing an email and/or text message to your contact list should be an important part of hosting an open house. By promoting your flyer virtually, you can reach potential buyers on your contact list.
Post flyer boxes: All of your open house signs should have flyer tubes or boxes attached in order to allow people to find out more about the property as soon as they see the sign. Be sure to place your flyers and real estate brochures in these boxes.
Include with local newspapers: Newspapers often have flyer inclusion services that reach out to people within a certain ZIP code. Including your open house flyer in a newspaper delivery can immediately increase your exposure.
Best Tools for Open House Flyer Design & Distribution
Creating, editing, and printing your flyers is a relatively simple process, but you need the right tools. If you find it's time-consuming or frustrating, it's time to find the right tools for more efficiency. These tools can help you create professional-quality marketing materials with minimal effort and distribute them easily.
Here are some useful resources and tools for creating and distributing your flyers:
Bottom Line
The right open house flyer template makes it easy for you to customize information and attract targeted leads to your listings. With these free open house templates, you'll be able to promote and distribute flyers to potential buyers, generate leads, and close sales more effectively and efficiently.