6 Best Pipedrive Alternatives & Competitors
This article is part of a larger series on CRM.
Pipedrive is one of the most popular customer relationship management (CRM) systems for small businesses because of its affordability, ease of use, and sales-focused features. However, it lacks a free plan and features such as advanced workflow customizations. To discover the best Pipedrive alternatives, we analyzed dozens of top providers and considered factors affecting small businesses' decision-making process.
Check out each of the best Pipedrive competitors below and their best use cases:
Best Pipedrive Alternatives Compared
Pipedrive Alternatives

Free Plan

Free Trial for Paid Plans

Starting Price for Paid Plans*

Help & Support

N/A

14 days

$14.90

24/7 email and chat support plus knowledge base

Yes

(Unlimited users)

21 days

$15

24/5 email, live chat, and phone support

Yes

(Unlimited users)

14 days

$45 per month, includes 2 users

Email, chat, and phone (7 a.m. to 8 p.m. Eastern Time, Mon - Fri)

No free plan

30 days

$19

24/5 email, live chat, and phone support

Yes

(Up to three users)

15 days

$14

Resource page, email, phone, and live chat

Yes

(Up to two users)

14 days

$29

Email and paid phone support (4 a.m. to 7 p.m., Pacific Time)

No free plan

14 days for Essentials and 30 days for higher-tier plans

$25

Technical email support
*Pricing is per user, per month, based on annual billing (HubSpot's monthly price includes two users)

Freshsales: Best Overall Pipedrive Alternative With Advanced Phone Features
What We Like
Advanced features in the built-in phone system such as call queue, recording, and conference calling
Allows users to buy local and toll-free numbers
Robust lead scoring and territory management features
What's Missing
Free plan doesn't have list segmentation for marketing emails
Does not support unlimited contacts (only up to 5,000 per month)
Pricing Summary*
Free plan: Supports unlimited users
Growth: $15
Pro: $39
Enterprise: $69
Free trial: 21 days
*Pricing is per user, per month based on annual billing. Monthly subscriptions are also available at higher rates.
Pipedrive and Freshsales both offer in-app phones. However, Pipedrive's calling features are available only in higher-tier plans. Meanwhile, Freshsales' dialer is included in all of its plans and offers advanced tools like caller ID, voicemail, call recording, call escalation, and conference calling. Users can also get call summary reports to analyze activities, such as agents who made the most calls or average call time.
It offers additional features, such as call masking, call routing, and virtual hold. It also has a Bring Your Own Carrier (BYOC) function that allows you to use numbers from an external carrier and maintain the benefits of the CRM's built-in dialer.
However, Freshsales' free plan lacks the marketing list segmentation feature, and the system can only accommodate up to 5,000 contacts per month. Consider HubSpot CRM if you're looking for a CRM solution that offers free list segmentation and allows users to store up to 1 million contacts.
Freshsales Features
Freshsales is an easy-to-use CRM that provides extensive tools to engage prospects, close more deals, and monitor sales growth. Check out some of the features we find most beneficial:
Pipeline management: Track and monitor multiple sales pipelines, set the probability for deals, and view revenue forecasts for each deal stage.
Reporting and analytics: Provides data-backed insights that let you know how long it takes to convert leads into customers, as well as the roadblocks to conversion.
Territory management: Segment customers based on geography, industry, and company size, and assign them to specific agents.
Voice notes: Record conversations with leads or contacts and save them as voice notes in the system for future reference.
Freshsales is a powerful, scalable sales CRM system packed with features for contact, account, sales pipeline, and deal management. Learn more about how this software helps small businesses thrive in our comprehensive Freshsales review.
HubSpot CRM: Best Pipedrive Competitor With Free Email Marketing Tools
What We Like
Free email marketing tools, such as a template library, email tracking, and list segmentation
Total of 2,000 emails per month in the free plan
Has an intuitive, easy-to-use interface
What's Missing
Expensive to scale up
Support included in the free plan is limited to forums
Pricing Summary*
Free: Unlimited user allocation
Starter Sales Plan: $45 for two paid users
Professional Sales Plan: $450 for five paid users
Enterprise Sales Plan: $1,200 for 10 paid users
Free trial: 14 days
*Pricing is per month based on annual billing. Monthly subscriptions are also available at higher rates.
Both Pipedrive and HubSpot CRM offer email marketing tools. However, HubSpot CRM offers these tools for free, while Pipedrive only provides access to this feature in its Advanced Plan. HubSpot has professional-looking email templates, distribution list segmentation, email reply tracking, and email health reporting. Users who want to remove the HubSpot branding on their marketing emails can sign up for a paid plan.
You can also leverage HubSpot's A/B testing and analytics function to ensure your emails adequately engage your contacts. A/B tests reveal data like how and when your contacts interact with your emails, which subject lines get opened the most, and which calls to action yield better sales.
However, HubSpot CRM is expensive to scale up from the most affordable paid plan to the mid-tier level plan, going as high as $450 per month. Users who want more affordable pricing options should consider Freshsales as an alternative. It offers a free plan, and its pricing plans range from $15 to $69 per month.
Pro tip: Looking for other CRMs that offer a free plan? Check out our list of the best free CRMs for small and growing sales teams.
HubSpot CRM Features
HubSpot CRM offers extensive sales, marketing, and service tools, making it a well-rounded tool to manage customer relationships and grow your business. Check out some of its standout features below:
Contact management: Provides an overview of your communication history with your contacts and leads, as well as sales activity logs like active deals and customer service tickets.
Pipeline management: Create custom pipelines that fit your sales processes and provide an overall view of expected revenue.
Live chat: Offers a live chat function accessible via its desktop or mobile app to communicate with your website visitors instantly.
Real-time notifications: Alerts you about any updates on your deals and leads through real-time alerts, such as pipeline movement and closed deals.
HubSpot CRM offers a simple, intuitive user interface to manage leads and customers, understand their behavior, and improve marketing automation strategies. Check out our HubSpot CRM review to learn more about its full feature set.
Zendesk Sell: Best Pipedrive Alternative With a Robust Mobile App
What We Like
Mobile app shows all sales key performance indicators (KPIs) in a centralized dashboard
Excellent text messaging and call features in the mobile app
Robust customer service analytics and reporting tools
What's Missing
No free plan
Lacks marketing tools
Pricing Summary*
Sell Team: $19
Sell Professional: $49
Sell Enterprise: $99
Free trial: 30 days
*Pricing is per user, per month based on annual billing. Monthly billing is also available.
Pipedrive's mobile app is intuitive and designed to mirror the desktop app, allowing agents to toggle between their desktop and mobile easily. However, Zendesk Sell offers the same and more. It helps agents access their most crucial sales and CRM data anytime, anywhere by providing a mobile-friendly view of their sales key performance indicators (KPI) dashboard, where they can access charts that track activities, metrics, reports, and goals.
Furthermore, its geolocation feature helps users locate nearby prospects or customers, obtain directions to a meeting, and log client visits. Users can also use the app to track in-person visits and verify if the lead or contact's saved address matches their current location.
However, while Zendesk Sell provides a robust mobile app, it does not offer a free plan—which users can get from providers like Zoho CRM. It also lacks extensive marketing tools to nurture leads, and this is something users can easily access by subscribing to HubSpot CRM.
Zendesk Sell Features
Zendesk Sell provides sales tools that offer well-rounded insights on projects, accounts, and deals in a centralized dashboard. Some of our favorite features include:
Mobile app customization: Lets you organize how you want to view your app's features, so you only see the data you need to see daily.
Messaging: Stay connected with clients, managers, and sales team members with in-app messaging, where you can share and store essential information about meetings, deals, and tasks.
Lead and contact management: Contact information recording, lead duplicate data detection, lead tagging, list filtering, and automated lead assignments.
Omnichannel communications: Reach out to your leads and contacts through in-app phone, SMS, email, and live chat.
Zendesk Sell helps users optimize their sales processes through its lead management tools, mobile app, and communication features. To learn more about what it can do for your small business, read our Zendesk Sell review.
Zoho CRM: Best Pipedrive Competitor With Robust Analytics & AI Capabilities
What We Like
Easily request sales data from Zoho CRM's AI assistant, Zia
Offers robust analytics and reporting functionalities, including predictive revenue forecasting
Intuitive and easy to use; ideal for beginners
What's Missing
Free version is limited to three users
Advanced analytics tools are only available in the top-tier plans
Pricing Summary*
Free plan: Up to three users
Standard: $14
Professional: $23
Enterprise: $40
Ultimate: $52
Free trial: 15 days
*Pricing is per user, per month based on annual billing. Monthly subscriptions are also available at higher rates.
Both Pipedrive and Zoho CRM offer AI-powered sales assistants. Pipedrive's Smart AI assistant lets users analyze historical performance to predict upcoming sales. However, Zoho CRM takes this further by not only predicting upcoming sales but also providing a conversational AI assistant called Zia.
Users can ask Zia to provide sales data by calling the bot through their Zoho CRM mobile app or typing on their desktop. Zia helps users with virtually anything—from requesting lead and deal information, taking notes, and providing sales numbers to scoring leads and giving recommendations based on a deal's status.
Zoho CRM's free plan, however, is limited to three users, and its advanced analytics features are only accessible to subscribers of the more expensive plans. For those who prefer unlimited user allocation in a free plan, Freshsales is the best alternative. Those who need advanced analytics tools within a lower-priced plan should also consider Salesforce Essentials.
Zoho CRM Features
Apart from its excellent AI and analytics features, Zoho CRM provides user-friendly tools to manage leads, track deals, and monitor sales growth. Below are some of its standout features:
Sales forecasting: Analyzes both your current and historical forecasting and performance data to recommend the most accurate targets for your business.
Task management and reminders: Shows all your upcoming tasks like following up on a lead, sending an email, meeting with your team, or moving a deal in the pipeline.
Social media management: Monitor brand mentions and interact with customers in various social channels like Facebook and Twitter directly from your CRM dashboard.
Lead scoring: Prioritize sales leads based on their quality and level of engagement with your business.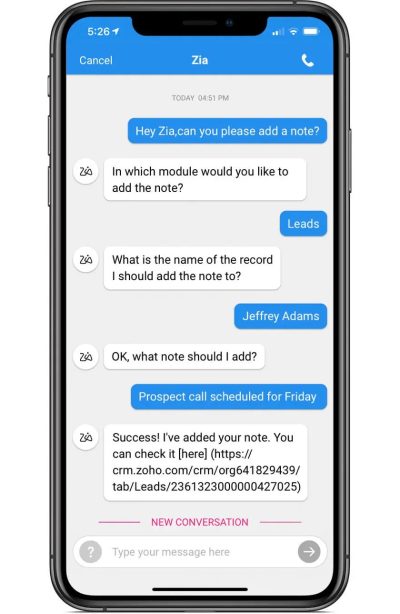 ---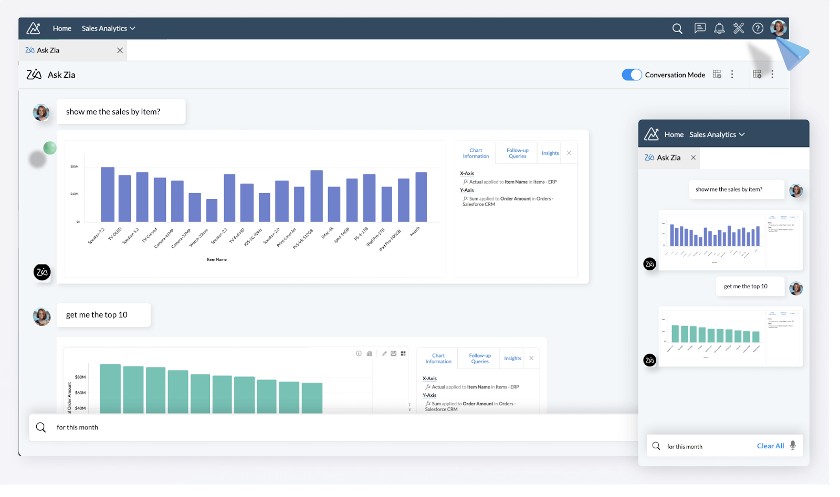 ---
Zoho CRM is simple, yet feature-packed software that helps teams manage leads, sales pipelines, deals, and workflows. To learn more about its features and functionalities, read our in-depth Zoho CRM review.
Insightly: Best Pipedrive Alternative With Strong Project Management Tools
What We Like
Project management and workflow tools to ensure no tasks fall through the cracks
Desktop real-time data synchronization with mobile app
Third-party integration with Google Workspace, Gmail, Xero, and QuickBooks
What's Missing
Free plan is limited to two users
In-app dialer is only available in the higher-priced plans
Pricing Summary*
Free plan: Up to two users
Plus: $29
Professional: $49
Enterprise: $99
Free trial: 14 days
*Pricing is per user, per month based on annual billing. Monthly subscriptions are also available at slightly higher rates.
Pipedrive is a visual CRM platform that does not have advanced project tracking features outside of sales. On the other hand, Insightly's built-in project management tools let users monitor project milestones and organize tasks. It lets them manage and configure work processes and convert won opportunities to projects. Users can also integrate with third-party apps like Trello and Slack to allow seamless team collaboration.
Insightly is an easy CRM to use, but it also has its share of limitations. For instance, its free plan is limited to two users, and its in-app phone is only available on higher-priced plans. We recommend HubSpot CRM for users who want an unlimited user allocation. Meanwhile, Freshsales offers in-app phone features like local and toll-free number purchasing and caller ID, even on its free plan.
Insightly Features
Insightly integrates sales automation with project management in a centralized platform—enabling users to manage their deals and accounts in one dashboard. Below are some of the features we like most from the system:
Project pipeline customization: Customize pipelines to follow your internal business processes and project workflows.
Insights and reporting: Has prebuilt or customizable sales reporting templates that reflect sales trends, targets versus revenue, ongoing leads, and active opportunities.
Mobile app: Scan business cards, synchronize data in real time, and access the mobile app via Android and iOS.
Workflow automation: Set up triggers and actions when certain conditions are met, such as sending a follow-up email to a lead when a certain amount of time lapses or archiving a stagnant deal.
Interested in learning more about what this software can do? Check out our comprehensive Insightly review.
Salesforce: Best Pipedrive Competitor With Robust Sales Process Automation Capabilities
What We Like
Customizable sales automation workflow tools to fit any business process
Provides extensive tutorials and setup guides
Highly customizable
What's Missing
No free plan; can be budget-prohibitive for startups and small businesses
Technical experience needed
Pricing Summary*
Essentials: $25
Professional: $75
Enterprise: $150
Unlimited: $300
Free trial: 14 days
*Pricing is per user, per month based on annual billing. Monthly billing is only available on the Essentials plan.
Pipedrive offers essential workflow automation tools such as lead and project management workflows. Meanwhile, Salesforce also provides the same features with more advanced capabilities. It has a process builder tool that provides a simple point-and-click interface to automate business processes, enabling users to create automatic email alerts for deals over a certain size and auto-assign tasks as a deal moves through different sales stages.
However, while Salesforce offers advanced workflow automation, its interface can be challenging to navigate for novice users—unlike a more user-friendly provider such as HubSpot CRM, which is easy to operate right out of the box. It also doesn't offer a free plan for users with little to no budget—something Freshsales provides.
Salesforce Features
Salesforce offers users a wide range of tools to help them sell and market their business efficiently. Below are some tools that help users grow their business and improve their relationships with their customers.
Task management: Create multiple tasks under an opportunity or project so no step is missed and follow-up actions are completed on time.
Territory management: Allows users to segment accounts, contacts, and deals into specific territories to help users manage similar accounts and customers.
Lead scoring: Define scoring metrics and conditions, such as location or purchase history, to easily identify hot leads.
Lead management: Track the progress of all active leads and identify those who need follow-ups; communicate to leads using phone, email, and social media.
Salesforce is an advanced CRM tool that integrates with the overall ecosystem of Salesforce apps. To learn more about its rich feature set, read our Salesforce review.
How We Evaluated the Best Pipedrive Alternatives
The best Pipedrive competitors should have a simple interface that is easy to use. It should also offer robust features, including lead generation and deal management, sales automation, a mobile CRM, and excellent customer support.
We chose Freshsales as the best overall Pipedrive competitor due to its ease of use, unlimited user allocation (even in the free plan), advanced in-app phone, and robust mobile app that mirrors the desktop experience. It also includes a handful of essential CRM features like contact, account, and deal management. Plus, Freshsales offers a range of affordable pricing options suitable for businesses of any size.
The tabs below provide more insight into our evaluation process for selecting the best Pipedrive alternative:
30% of Overall Score
The costs per user, and any upfront costs, such as CRM customizations, onboarding, and maintenance fees, were considered. We also factored in the availability of a free plan and monthly billing options of CRMs like Pipedrive to determine the best value for your money.
30% of Overall Score
We evaluated the overall set of CRM features, including customizable pipelines, reporting, and analytics. In addition, we looked at the availability of a mobile app and third-party integrations.
15% of Overall Score
The best Pipedrive alternatives should not require technical skills to understand and use, and should also have an intuitive interface. Each solution on this list was evaluated on how easy it is to set up and operate.
15% of Overall Score
Business owners looking for a CRM like Pipedrive prefer one with 24/7 customer service via phone, live chat, and email. We assessed each platform in this article to see the quality of help and support they offer to their users.
10% of Overall Score
We checked customer reviews on reputable sites to learn how satisfied their customers are with Pipedrive alternatives. We also noted common issues that users had. Apart from online reviews, we weighed the features that stood out, their value for money, and their popularity to narrow down the best options.
*Percentages of overall score