How to Write a Book Press Release in 4 Steps (+ Template & Examples)
To secure publicity when launching a new book, you must learn how to write a book press release. First, identify your target audience. Next, format your media release, craft a captivating headline and subheadline, write a few paragraphs about your new book, and add a boilerplate. Finally, get broad exposure by distributing it in different ways. To make it easier, start by downloading our free book press release template, then follow the steps below.
Need help getting publicity for your new book? The media experts at eReleases can take on your announcement from beginning to end, including distribution, guaranteeing your announcement gets into the right hands. See why eReleases is a top choice for press release writing services.
Download Our Free Book Press Release Template
Using the format expected by the media improves its readability and chances of gaining additional exposure. Download the free template below and use it as you follow the steps for how to write a book press release.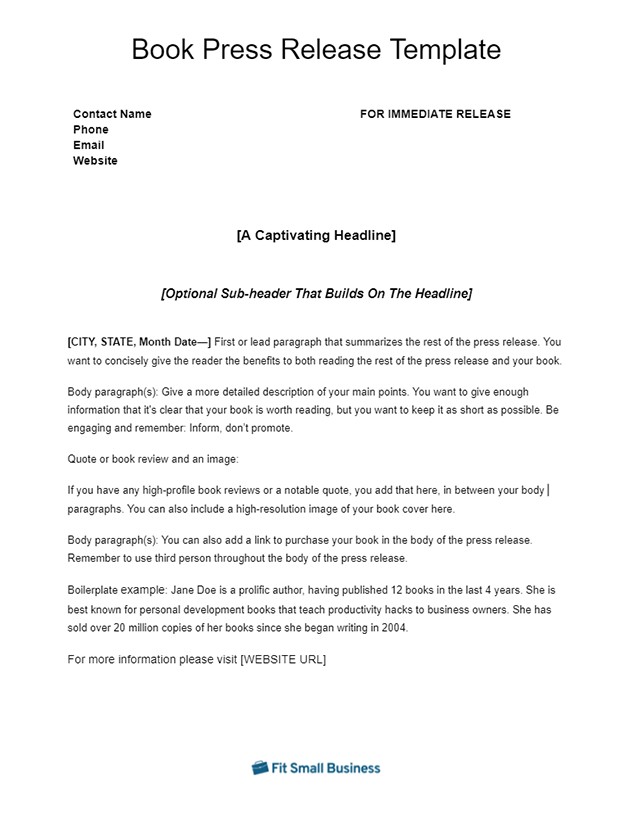 Thank you for downloading!
💡 Quick Tip:
Writing a press release is no joke–improve your chance of landing coverage with expert writing and distribution services through eReleases.
Visit eReleases
Learn how to write a press release for a book in four easy steps:
1. Identify Your Audience
As with every type of press release, before writing one to announce your book launch, identify your target audience. Also, keep in mind there might be multiple audiences to consider.
For example, it should include the types of people who would be most interested in your book as well as journalists who cover launches of books like yours. You might also consider influencers who share similar content on social media and publishing houses that might be interested.
This allows you to tailor the content of your press release in a way that grabs their attention. It will also help you determine the best press release distribution methods so that your press release gets in front of the right people―those who most likely want to read it and journalists who want to cover the announcement.
Start by creating profiles outlining the demographic and interests of the people who would most likely want to buy your book, such as age range, income, interests, and more. Also, consider their motivations; e.g., are your readers trying to solve a problem in their lives, or do they just want to escape into an enticing story? Your press release should be written with the answers to these questions in mind in order to start building awareness of your brand as an author.
2. Format Your Media Release
Journalists and media outlets will expect your announcement to follow the standard press release format, otherwise it might get overlooked. To set your story up for success, use the correct press release format, structure, and font characteristics. Also, choose just one font to use for your press release, either Arial or Times New Roman, and then include the following:
Header section with your logo (optional), contact information (left-aligned) opposite your release date (left aligned but on the right side of the page in bold)
Headline from 60 to 80 characters in length in 14pt bold
Subheadline (optional) up to 120 characters in length in 13pt italics
Lead paragraph that starts with CITY NAME, ST, date (month and day) followed by a dash "-" (12pt normal font for this and the remainder of the press release)
Two or three supporting paragraphs
Boilerplate with a call to action, media contact, and link to multimedia assets
3. Write Your Headline, Story & Boilerplate
With your document's formatting in place, it's time to write the content for your media release. This consists of a headline, subheadline, and the lead and body paragraphs of your news. It concludes with a boilerplate and call to action (CTA).
Open the drop-down menus below for detailed instructions about how to write each one:
Your headline is the most eye-catching part of your press release, so it needs to be compelling. As a rule of thumb, it should be specific and focused, and 60 to 80 characters in length. The ultimate goal of your headline is to capture the reader's attention fully so that they read the rest of your press release and, ultimately, your book.
Here are some tips to help you write a compelling headline:
If you're struggling to write a captivating headline, wait and write your headlines last. Doing so allows you to have a better grasp of the best angle to appeal to your audience, including journalists who might be interested in providing additional coverage of your book's launch.
---
Subheadlines are about 120 characters in length and appear directly below the headline. They capture the reader's attention and help them better understand what your new book is about. In other words, a great headline will draw your audience to read your subhead, and an effective subhead will support your headline and entice readers to read your press release. The examples below show how the subheadline supports the main one: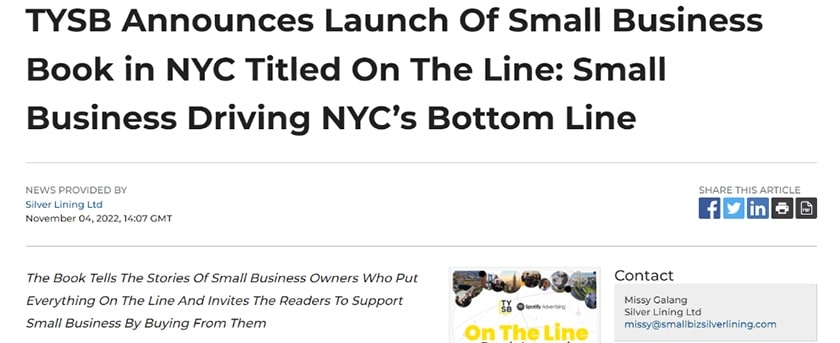 ---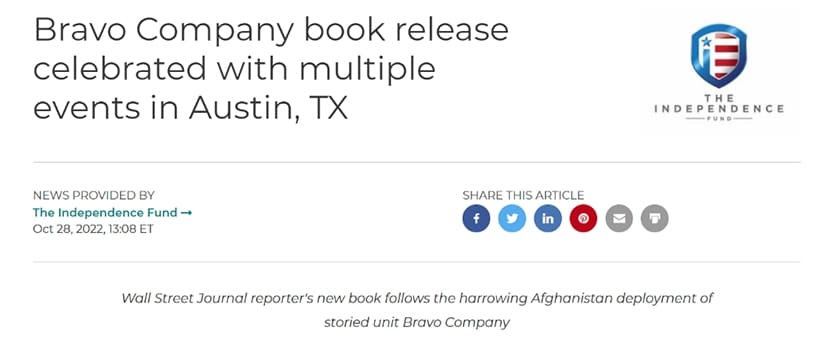 ---
Landing on a newsworthy angle in your headlines and the overall story is critical. Learn what to do (or not to do) in our article detailing more than a dozen of the most common press release mistakes.
---
The first paragraph, called the "lead," should be impactful and engaging, while also being very succinct. It must give the reader an overall summary, including the who (both the author and audience), what (the topic), why (motivation for writing the book), when (actual release date), and how (where to purchase).
It should be no more than three sentences and ideally only about 60 to 70 words. The lead begins with the city and state, written in all caps as in the example below, and the date of the media release. Media outlets look for this when deciding whether to pick up your press release, which outlets to place their stories in (e.g., national, regional, or local placements), and when to publish it.
The paragraphs following the lead should contain additional details regarding your book. You want to include the highlights of the book, the benefits of reading it, and any other compelling information. This is also where you can include quotes, images, and links and give a detailed description of what your book is about and why it matters to your readers.
Add a review or notable testimonials as a quote to provide additional appeal and social proof. The quote(s) should come from someone with a solid reputation in reviewing books or an expert in your specific topic.
For more guidance, read our list of press release best practices.
---
A boilerplate is usually a description of a business, but the boilerplate in a book press release showcases the author's bio. Share your background as an author, how many books you've written, and other information relevant to your book. This could include awards, professional or first-hand experience, education, and other proof-of-topic expertise. It can also include personal details that create a personal connection with readers.
Here are a few things you can include in the boilerplate:
Your background, if it supports your book (e.g., a former Fortune 100 CEO writing a book on a business strategy)
How many copies this or your previous books have sold
Links to positive reviews (pre- or post-launch)
Your awards, honors, and recognitions
Personal details or experiences if relevant to the book or to connect with readers
A link to your website or book's landing page
Contact information for members of the media (name, email, phone number)
Link to multimedia assets, like your headshot, book cover or jacket, video interviews about the book, sample content from your book, and so on
A press release boilerplate should be around 100 words or less. If your book has more than one author, you can include a separate paragraph for each author. It's also not uncommon for book press release boilerplates to include information about the publisher. In some cases, a book press release may have one boilerplate for the author and another for the publisher.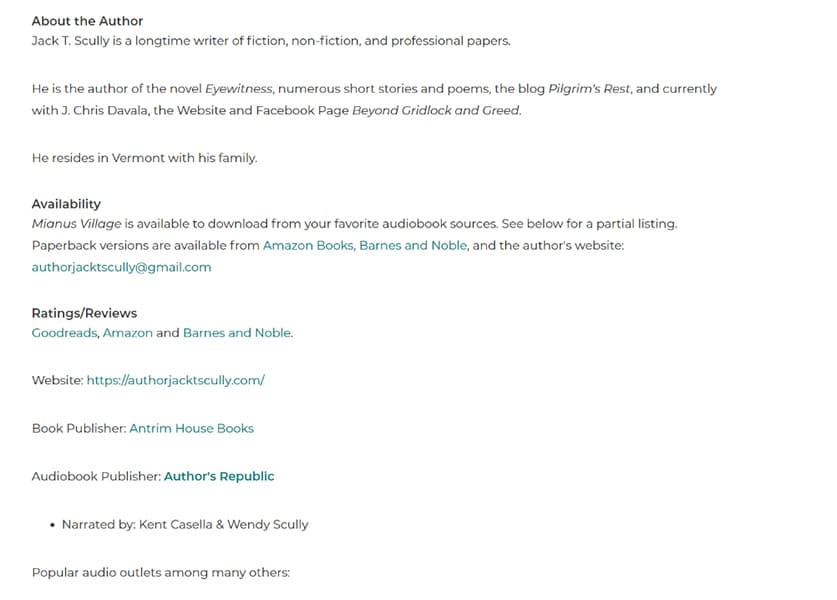 ---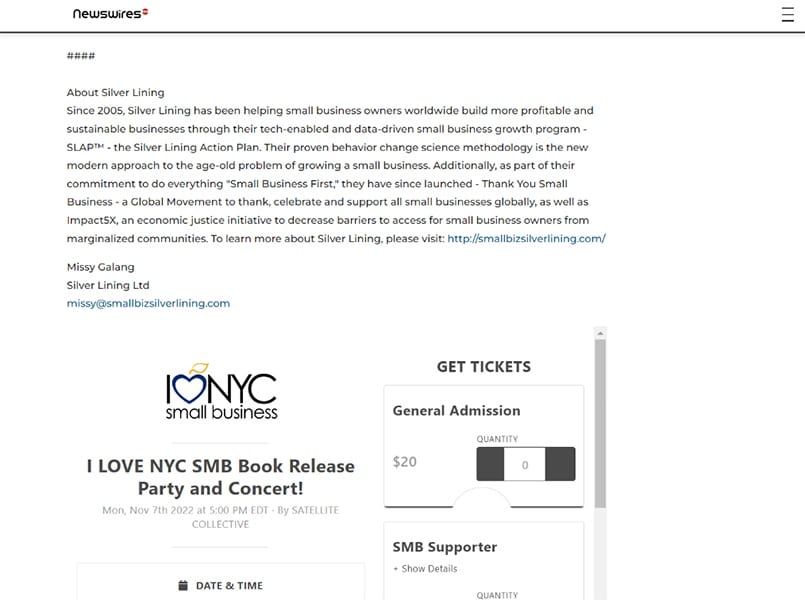 ---
---
4. Distribute Your Book Press Release
Once you are confident the media release of your new book is ready to be sent to news outlets and journalists, it's time to send it out into the world. This is the most crucial part of public relations (PR). It's how your press release gets into the hands of the journalists who can increase awareness of your new book.
There are multiple ways to distribute a press release for a new book—for the most exposure, use them all. Here are the top ways to distribute your book press release:
Press release distribution service: The most effective way to mass distribute your press release is to use a platform like eReleases. It guarantees placement on thousands of media sites, distribution to the largest database of U.S. media and journalists, and targeting to ensure your story reaches the right ones. To find the best service to send your media release, check out the best press release distribution services.
Direct outreach to media contacts: If you have an existing press contact list, reach out to them directly. If you don't have a list, create one by identifying media outlets and journalists that frequently cover related topics. Then, get their contact information from websites, or submit your story through online submission forms. To pitch journalists directly by email, use an email finder like Hunter.io to get the email addresses you need.
By mail to journalists and influencers: Sending a copy of your book and your announcement to people who blog or write about your topic can be a great way to get additional coverage. It gives these individuals a chance to review your work and pull out the information their audiences would be most interested in.
Send to publishing companies: If you hope to be a professional author, sending a copy of your story and your book to publishing companies could be the best way to get the attention of these organizations.
Post it on your website or blog: Post your press release on your website (or your book's website, or both) to increase overall visibility. Unlike other types of content, having your press release on multiple websites isn't considered duplicate content.
Add it to the product page: Amazon has made it incredibly easy for anyone to self-publish through the Kindle platform. Add a link to your book's media announcement to the product page and your author page on the platform if you're selling books on Amazon.
Distribute via social networks: Once you have a shareable link (from your website or your press release on news outlets), post a link to your social media pages so that your fans and followers can see, like, and share your news as well. You can even create social profiles for your book and use social media marketing campaigns to increase awareness and sales of your book on an ongoing basis.
Use paid social media ads: Paid social media ads are another option for promoting your book, and individuals can use this tactic as well as businesses and organizations. Learn more about which paid social media advertising channels are best for your book and how to use them to increase book sales.
For additional information on how to distribute your press release so that it gets maximum exposure for the most publicity, follow our step-by-step on how to send a press release.
Did you know? It's easy to create a website for your book or for yourself as an author, and you can get started for free. Website builders like Wix offer free versions and intuitive editing tools so even a true beginner can build a website and get online in a few hours.
Book Press Release Examples
One of the best ways of learning how to do a press release for a book is to read effective examples for inspiration and reference. The real-world examples below demonstrate how authors or publishing companies can pique the interest of the media while providing crucial information regarding the upcoming book:
Wealth Advisor Points Out How Book Can Prepare the Next Generation of Financial Professionals
Amplify Publishing offers a great example of how to write a book press release. It starts with an impactful headline highlighting the author's commendable goal for writing the book: to educate the next generation of financial professionals.
The lead paragraph gives basic information about the author, what the book is about, when the book will be published, and where it will be available for purchase in a concise way. The second paragraph does an excellent job of establishing the author's credibility by including the honors and citations earned by Raj Sharma.
The press release persuades people to read the book by saying that it is an easy-to-read guide and consists of an endorsement from a finance professor at the Wharton School. It ends with a call to action that encourages interested readers to pre-order.
---
Did the Great White Shark Do It? By Jonathan Kaledin
In this example, author Jonathan Kaledin self-publishes not only a fiction murder mystery book but a press release to announce its launch. He includes a quote that explains his reasoning for writing the book, even tying it to his professional experience as a lawyer.
Proof of expertise is provided in supporting paragraphs, such as the author bringing his personal experiences, passions, and knowledge of the locale into the book. Reasons for readers to connect personally with the book include not only its location but the author's love of classical music, which is also woven into the story. It concludes with an invitation for the media to interview the author and provides contact information.
---
RadCraft Presents the 2022 Industry Relief Coloring Book to Support James Beard Foundation® Open for Good Campaign
RadCraft puts itself in a good light by showing its support for independent restaurants. This is a great example of how to spur book sales through brand and cause-affinity, while also increasing awareness of a charity or charitable cause.
The first two paragraphs indicate how the proceeds from the book will be used to support the chosen charity. In addition, this book press release stresses the importance of the charity's work. End the press release by including contact information for the charity in case readers want to learn more or make a donation.
---
Frequently Asked Questions (FAQs)
Do press releases work for books?
Press releases are an excellent tool for generating book sales and awareness. Written and distributed effectively, a press release for a book can earn additional coverage, introducing the book and its author to an even wider base of prospective readers. Ideally, you'll use them as part of a larger marketing campaign to promote your new book to give it the broadest exposure. For more insights, learn what a press release is and how best to use it.
Where do you send press releases for books?
You can send press releases for books directly to publishing houses to gauge interest in your book and to journalists who cover stories about your book's topic (or book releases themselves). In addition, you should send them to the mass media through press release distribution services like EIN Presswire. $99.99 gets your story guaranteed placement in major media outlets, including the Associated Press (AP) newswire.
What do you say at a book launch?
At your book launch, take time to thank the people who helped you along the way, such as your agent, editor, publisher, loved ones, and so on. You'll also want to share what inspired you to write the book and what you hope readers will take away from it. And, of course, you'll want to end with a call to action, inviting people to buy your book and telling them where they can do so.
Bottom Line
A press release can be a fantastic and useful tool to get the word out about your new book. To get the most benefit, it is essential that you not only write your press release so that it's concise and engaging, but also distribute it to the right people so that it actually gets coverage.
The best way to get the word out about your new book is to use a distribution service like eReleases. They offer expert writing services from PR professionals and advanced targeting, ensuring that your news gets wide coverage to help spur interest in and sales of your book.
You Might Also Like…