How to Write a Book Press Release in 7 Steps (+ Template)
After publishing your book, one way to secure publicity and get your book in front of the media is to write a press release. To write an effective book press release, you need to identify your target audience and lay the foundation with proper formatting. Then write a captivating headline and subheadline, a few paragraphs about your new book, your boilerplate, and contact information. Last but not least, you need to distribute it to media outlets and journalists.
Even the most compelling book press release can be a marketing flop if you don't distribute it to a large network of journalists who cover your topic. Guarantee your book press release gets to the right hands using a press release distribution service like eReleases. They'll do the heavy lifting for you and give you exposure to thousands of targeted outlets. Learn more about how eReleases can help your book land press and drive more sales.
Here's how to write a press release for a book in seven steps:
1. Identify Your Audience
As with every type of press release, the first thing to do before you start writing your book press release is to determine who you want to read your press release. With your audience identified, you will be able to tailor the content of your press release in a way that grabs their attention. It will also help you determine the best distribution methods so that your press release gets in front of the right people―those who are most likely interested in reading it.
Start by creating a reader profile outlining who your potential readers are. Ask yourself about their demographics, interests, and behaviors. For example, what age group and gender was your book written for? Are your readers trying to solve a problem in their lives? Are they trying to escape into an enticing story? Which media outlets are they likely reading? Your press release should be written with the answers to these questions in mind.
2. Format Your Press Release
Next, set up the correct press release format, structure, and font (e.g., Times New Roman, 12pt). This is a crucial step in writing a book press release, because media outlets and journalists will expect the standard press release format. If you fail to use it, your press release may get overlooked. To save you time and to ensure you get the formatting and structure right the first time, download the free book press release template below.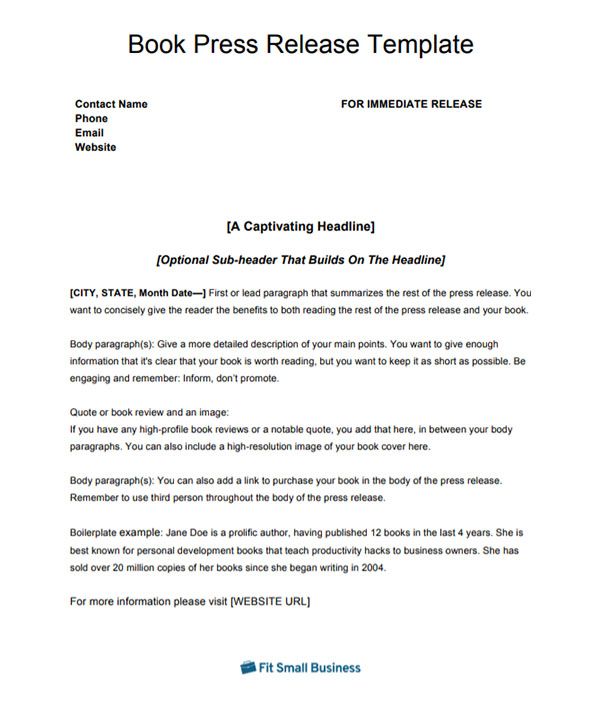 Free download:
DOCX | Google Doc | PDF Format
3. Craft a Catchy Headline
Your headline is going to be the most eye-catching part of your press release, and so you want to make it compelling. As a rule of thumb, it should be specific and focused, and be from 65 to 80 characters in length. The ultimate goal of your headline is to capture the reader's attention fully so that they read the rest of your book press release and, ultimately, your book.
Here are some tips to help you write a compelling headline:
Pro tip: While some feel they need to write their headline first to set the tone of the press release, others suggest that after you write the rest of your press release, you'll have a better grasp of the overall message you want to send to the reader. If you make your headline the last thing you write, you might find that it allows you to express your thoughts into one well-honed headline.
4. Support Your Headline With a Subhead
Subheadlines are about 120 characters in length and appear directly below your headline. Subheadlines allow you to capture the reader's attention and help them better understand what your press release is about. In other words, a great headline will draw your audience to read your subhead, and an effective subhead will support your headline and entice readers to read your press release.
5. Write the Body of Your Press Release
The first paragraph of your book press release—sometimes called the "lead"—needs to be as impactful and engaging as possible. You want to give the reader an overall summary of what the rest of the press release will be about—namely, the topic of your book. You want to keep your first paragraph at less than 60 words. If you do that, you will have a better chance of getting picked up by media outlets.
Here are some things to keep in mind as you write the first paragraph:
Begin with the date and location: Your press release should begin with the date you want the release to be published and the city the press release originated in. Media outlets will look for this when deciding when to pick up your press release, and when to publish it.
Answer the "who, what, when, where, and why": Many readers won't make it past your first paragraph, so you want to give the most pertinent information here, such as who is the author(s), what is the author's expertise, what is the topic of the book, what was the motivation for writing it, when was it written, and when and where will it be available for purchase?
Keep your language simple: Avoid industry jargon and other words your reader might not know or understand. It is important that your reader can completely understand the general content of the press release.
The paragraphs following the lead should contain additional details regarding your book. You want to include the highlights of the book, benefits of reading, and any other compelling information, in 300 to 500 words.
The body of your press release is also where you can include quotes, images, and links. This is where you will also give a detailed description of what your book is about and why it matters to your readers. You will build on the overview you gave in your first paragraph and add more details here.
Pro tip: Add a review or notable testimonials as a quote to provide additional appeal and social proof. The quote(s) should come from someone who has a solid reputation in reviewing books or is an expert in your specific topic.
6. Create Your Boilerplate
The standard press release boilerplate is a one-paragraph description of a business; however, in the case of a book press release, a boilerplate serves as the author bio. This is where you share your background as an author, how many books you've written, and any other information relevant to your book that you wish to share, such as awards and proof-of-topic expertise.
Here are a few things you can include in the boilerplate:
Your background, if it supports your book (e.g., a former Fortune 100 CEO writing a book on a business strategy)
How many copies this or your previous books have sold
Links to any of your high-profile reviews
Your awards, honors, and recognitions
A link to your website
Any additional contact information you may want to provide, such as an email address
A press release boilerplate should be around 100 words or less. It should include a link to your website and your contact information should a journalist wish to reach out to you for an interview or with questions.
If your book has more than one author, you can either use one paragraph to introduce both writers or use a separate boilerplate for each author. Additionally, it's not uncommon for book press releases to use the boilerplate to include information about the publisher. In some cases, a book press release may have one boilerplate for the author and another for the publisher.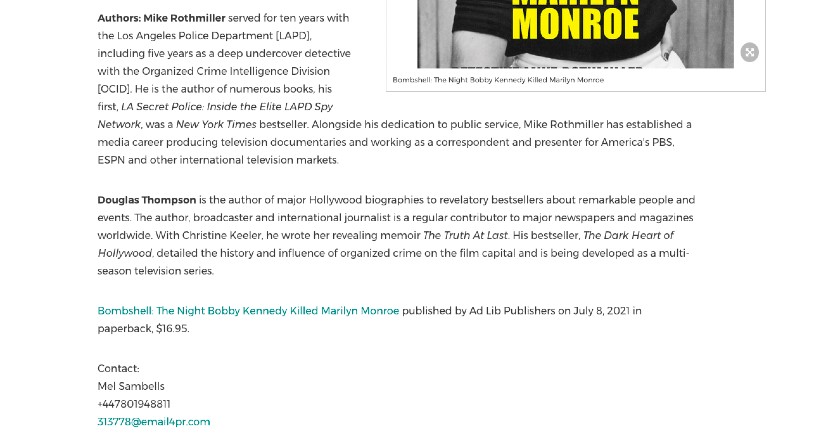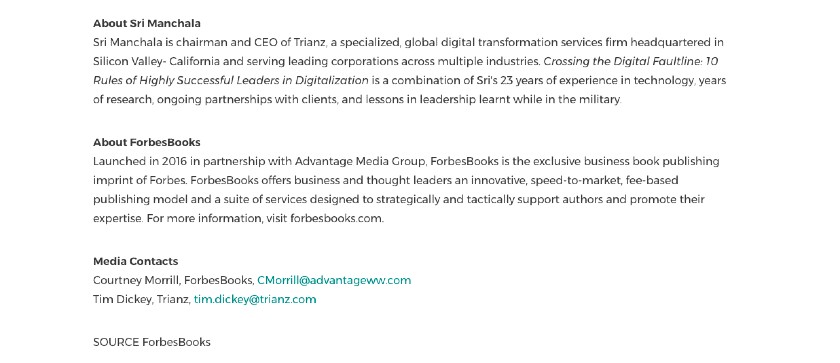 7. Distribute Your Book Press Release
Once you are confident that your book press release is ready to be sent to media outlets and journalists, you can start the process of distributing it. This is the most important part of public relations. It's where your press release goes into the hands of the journalists who can increase awareness for your new book. You can start distributing your press release a few different ways.
Here are the top ways to distribute your book press release:
Direct outreach to media contacts: If you have an existing press contact list, reach out to them directly. If you don't have a list, you can create your own by finding media outlets and journalists who frequently cover related topics.
Press release distribution service: The most popular way to distribute your press release is to use a professional syndication service like eReleases for maximum exposure. To find the right one for you and your budget, check out the best press release distribution services.
Post it on your website or blog: You should always post your press release on your website or your book's website to increase overall visibility. If you use a syndication service, posting your press release on your blog or website will not be considered duplicate content by search engines.
Distribute via social networks: Once you have a sharable link (either from your website or from your press release getting picked up by news outlets), post those links to your social media pages so that your fans and followers can see, like, and share them as well.
For additional information on how to distribute your press release so that it gets maximum exposure for the most publicity, follow our step-by-step on how to send a press release.
Bottom Line
A book press release can be a fantastic and useful tool to get the word out about your book. In order to get the most benefit from your press release, it is important that you not only write your press release so that it's concise and engaging, but also distribute it to the right people so that it actually gets coverage. The fastest and easiest way to do this is to use a press release distribution service like eReleases, which offers advanced targeting.
You Might Also Like…