18 Real Estate Prospecting Expert Tips That Generate New Leads
Real estate prospecting is the process of initiating new business opportunities by targeting potential real estate clients. This involves personal outreach, time, and leveraging real estate technology to build a sales pipeline. From choosing a real estate niche to asking for referrals and joining community events, our 18 real estate prospecting tips below will empower you to consistently attract and identify prospective clients. This helps you build a strong pipeline of leads to fuel your real estate business in the long term.
1. Choose a Real Estate Niche
Choosing a niche hyper-focuses your real estate prospecting efforts on a specific group to maximize your efforts—whether you want to focus on luxury real estate or commercial properties. Furthermore, establishing yourself as a real estate expert in a specific niche makes you stand out from your competition. One easy way to find (or refine) your niche and connect with former clients is to ask how they found you and why they chose to work with you.
Examples of real estate niches include prospecting by:
When you establish yourself as the go-to real estate agent in a location, client type, or property type niche, you can easily prospect real estate clients looking to buy or sell properties in those areas. You can then use targeted language in outbound communication to attract prospects in that niche. It's a strategic way for agents to focus time and resources to generate leads and increase conversions (turning leads into clients and closed deals).
2. Create a Business Website
Having a real estate website makes it easier for you to attract new clients, encourage prospects to reach out, and establish your brand as a professional business. Your website should showcase your property listings and successful results, as well as highlight your capabilities and expertise.
Publishing search engine optimized (SEO) content, downloadable resources, and blog posts helps your website rank higher on search results. With this, it would be easier for prospects to find your content in online searches, while driving traffic to your website. For you to get started and enrich your SEO strategy, here are 40 of the most-searched real estate keywords.
If you don't know how to build a website, enlist Placester's services to create a fully customized website and landing pages that are 100% codeless. Placester provides creative direction and the tools you need to manage your site and make changes yourself or with a website design expert. Additionally, Placester websites are fully integrated with internet data exchange (IDX) listings and have lead generation solutions.
3. Create Landing Pages
In addition to websites, landing pages are an effective way to prospect in real estate as they add legitimacy to your business. More important for real estate prospecting, landing pages provide essential and compelling information about your services to capture site visitors' contact information and generate more leads.
Conversion rates are usually much higher for leads who respond to your landing pages (e.g., those who download your free content). Since the lead responded to a specific message that interested them, you can effectively nurture them based on their inquiry and position yourself as the expert in that field. Moreover, when they give their contact information, you are starting the process of being their agent by assisting them in some way from the get-go.
Landing pages provide valuable and unique content, such as offering a home valuation report or comparative market analysis (CMA) or giving the visitor access to browse listings. To create a professional website and real estate landing pages quickly, check out Real Geeks all-in-one platform for real estate lead generation. Furthermore, you can tailor landing pages to attract buyers, sellers, or renters in your target niche.
4. Outsource Your Real Estate Prospect Marketing
To be successful at prospecting real estate leads, you need a solid marketing strategy with proven tactics, as well as the time and know-how to implement them. Some resources may be provided by your brokerage, such as in-house photography and access to listing databases. However, many agents need to be self-sufficient when creating their own marketing materials and managing leads.
Strengthen your ability to generate leads and convert clients by outsourcing prospect marketing to platforms like Market Leader. It's an all-in-one lead generation platform with a complete marketing suite to help you create professional-looking, easy-to-customize marketing materials like email newsletters and print mailers. You can also automate a multichannel (print, email, and phone) marketing campaign using Market Leader and automatically assign leads to specific campaigns.
Providing valuable and interesting content via email newsletters increases the chances of your contacts forwarding it to other people they know or sharing it on social media. Additionally, physical print mailers enable you to reach demographics you may not have connected with before. Market Leader's marketing suite simplifies this process and takes care of your campaign—from printing to mailing.
5. Make Real Estate Prospecting Part of Your Daily Routine
Effective real estate agent prospecting is a skill that gets stronger over time with practice. Agents should set aside time to prospect daily not only to generate leads but also to strengthen their real estate prospecting strategies.
Consistency enables you to collect leads regularly and miss fewer opportunities. Creating a real estate agent prospecting plan and blocking time in your daily calendar will ensure success and help you schedule other obligations. You don't need large pockets of time if you're prospecting daily. A lot of real estate agents prospect every day for at least one hour, and 26% of them spend several hours a day on lead generation activities.
Choosing the right time frame to prospect maximizes immediate responses from clients. For example, you probably won't get many responses if you send emails or engage with social media leads at midnight. However, if your prospecting phone calls take place from 3:00 to 6:00 in the afternoon, you're more likely to get real-time engagement with decision-makers. Learn more cold-calling statistics to secure direct connections and potential buyers.
6. Engage in Social Media
Social media is a proven way to establish your online presence and prospect new real estate clients. To make your social media strategy more effective, provide quality content, establish a following, and encourage followers to interact with and share your content with their connections.
Here are some best practices that you can use to enhance your social media marketing:
Create regular social media content: Share valuable content on your social media, like property photos, client testimonials, real estate success stories, insights about your brand, and personal interests, to send traffic to your website or real estate landing pages. The types of content you share should vary by platform since each caters to a different audience.
Incorporate hashtags strategically: Use real estate hashtags with keywords or phrases relevant to your business to be found by clients interested in specific locations and home types. For example, if your focus is on real estate in Miami, Florida, use hashtags like #miamirealestateagent, #miamirealestate, and #miamivacationhomes.
Tag relevant social media profiles: Your posts can also geo-target niche audiences in areas you are interested in by tagging the corresponding neighborhood, location, or local business' social profiles using the "@" symbol.
Social media management platforms like Sprout Social streamline your lead generation efforts. Sprout Social provides insights into your customers' social activities, such as their engagement with your content, direct interaction with your team, and personal interests, so you can make more strategic decisions. Its integration into popular social sites provides context for future client interactions, so it's easier to manage marketing campaigns and scale your engagement strategy with a unified social inbox.
7. Contact FSBO & Expired Leads
Another prospecting idea for realtors is finding For Sale by Owner (FSBO) or expired real estate listings. Agents can prospect for expired or FSBO listings by providing valuable expertise to help sell their homes and overcome objections they may have had when originally listing the property for sale.
Homeowners trying to sell a property by themselves may do so to save on agent fees. However, they may not have the knowledge and skills to take full advantage of the market and generate interest among buyers. Leverage this shortfall by explaining why working with you is a more effective strategy to get their home sold faster, and how it may help them make more money on the sale in the long run.
Similarly, sellers with expired listings may be distrustful of agents because their homes originally did not sell with the previous agent they worked with. Though prospecting for these leads might take some convincing, send them expired listing letters or use scripts for expired listings to boost lead generation efforts and win them over.
Contacting all the homeowners on your list can be daunting, but a service like REDX can assist in generating leads from FSBO and expired listings. The REDX power dialer calls through your list of contact numbers until it gets someone on the phone with you. This saves you time and maximizes your ability to successfully connect with future clients.
8. Get Face Time With Clients
Meeting prospects in person allows you to develop deeper connections and clearer communication that simply cannot be conveyed electronically. Face-to-face interaction is a perfect opportunity to talk about your clients' pain points and fears of the sales process. Get to know their interests, personality, and motivations for selling or buying, adding a more personal touch to your client relationships. This type of personal connection is essential for developing long-term relationships, loyalty, and trust.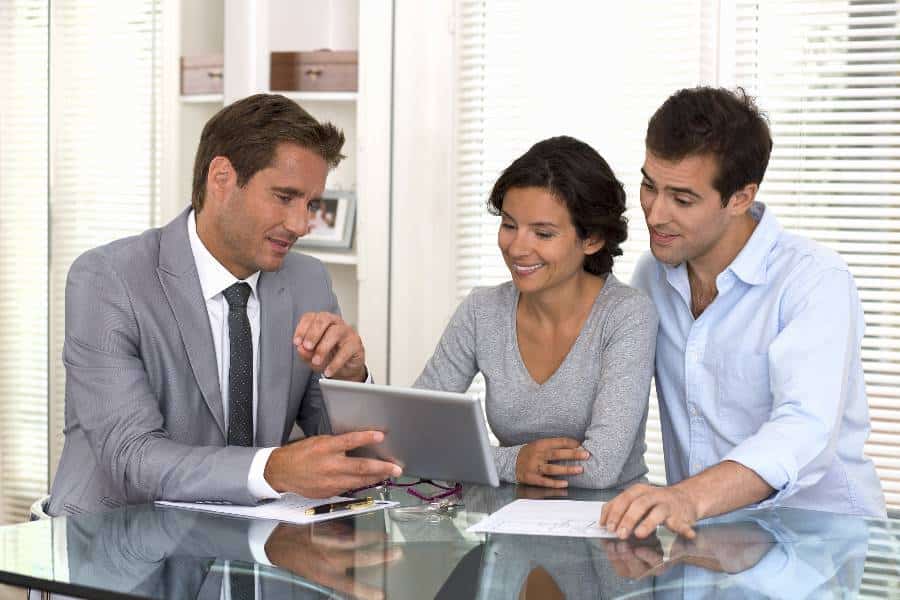 There are plenty of opportunities to get face-to-face time with clients. When prospecting for real estate clients, ask questions and pick up on information like their favorite restaurant or bakery. Ask them to join you for coffee, a meal, or any other opportunity to get together and catch up. If you have insight into their milestones, like birthdays or anniversaries, these events also make for great meetup opportunities.
If it is not possible to meet a client in person, suggest a virtual meeting via Zoom or another video conferencing site. It is a convenient alternative for your clients, can give them comfort by minimizing physical contact, and offer the same advantages as meeting in person. This way, you can still pick up on non-verbal cues and maximize their safety, especially with COVID-related concerns.
9. Nurture Past Clients as Well as Prospects
Past clients can be very influential in expanding your network and growing your business. Since they've already closed a deal with you, they are familiar with your abilities as a real estate agent. Sending them regular emails or giving them personalized real estate gifts lets you stay top of mind if they choose to move again. You can also ask for referrals and reviews to be used in your marketing outreach.
Email marketing is an effective way to keep in touch with past clients and make sure you are their go-to real estate agent for the long term. Many customer relationship managers (CRMs) provide customizable templates to fit your clients' interests. You can also create your own email drip campaigns to promote current listings, share real estate tips, or send personalized birthday greetings.
Another lasting impression is giving personalized gifts to your past clients. EvaBot seamlessly sets up gift delivery from your phone and automates the gifting experience for you and your client. You can send branded gifts with a request for testimonials and even send recurring gifts for birthdays, anniversaries, and holidays. The platform can further connect to your CRM to trigger gift-giving as you collect customer information.
10. Ask for Referrals
Referrals are a cost-effective method to generate leads. It can be as simple as asking for referrals in person, on the phone, or via email. Use CRM automation tools to trigger referral requests once a deal has closed.
Consider asking for referrals from past clients and other contacts within your sphere of influence, such as friends, family, and former colleagues, who had a positive experience with you. Use a personable approach in your email marketing outreach, so contacts don't feel like they received a mass email blast.
Clients who had a great experience with you will want to refer you to their friends and family looking for real estate assistance. Once you get your referral business up and running, don't forget to thank your referrers by sending a handwritten note or a small gift.
11. Farm Specific Areas
Another strategic real estate prospecting tip is using real estate farming to establish yourself as the go-to agent in a specific area. Your farming campaign should target a location you know well, such as where your real estate business is located or the area where you live. The key is to pick an area and use marketing and advertising collateral that establishes your expertise over time. Creating campaigns that offer value to the homeowners in your chosen real estate farm area connects you to the right prospective leads.
Prospecting clients in your farm area can be through in-person or community events, social media groups, or email marketing. You can also leverage postcard mailers to reach potential homesellers in your farm area. PostcardMania has proven results and makes the mailing process extremely simple. To save time, use PostcardMania's in-house design services, and its team will print and mail the real estate farming postcards for you.
12. Become a Zillow Premier Agent (ZPA)
One way to find homebuyers to represent is by joining Zillow Premier Agent (ZPA). This helps you reach active homebuyers directly by placing your agent information on active listings, along with the listing agent's contact information. Furthermore, having a ZPA profile gets your name out to prospective homebuyers and encourages them to reach out to you to represent them in purchasing a property.
The Zillow Premier Agent platform does not require you to have exclusive listings to participate in the buying process. While you won't know specifically when and where your contact information will be displayed, it does provide you with a percentage of impressions based on your chosen ZIP code, budget, and housing prices, with leads costing anywhere from $20 to $60 per lead. To maximize your real estate prospecting strategy, read How to Advertise on Zillow Successfully in 10 Steps.
13. Host Open Houses
Holding open houses is an exciting opportunity to attract prospective buyers when you represent an exclusive listing. To gather as many prospects as possible, advertise your open house ahead of time and make sure you have proper signage out front and within the neighborhood, so people see your contact information. Make sure you're thoroughly prepared for that day by following an open house checklist of everything you need to do before, during, and after hosting an open house.
Have your sign-in sheet ready to collect contact information when visitors arrive at your open house event (including that of other real estate agents) and use these lists to prospect for leads and referrals. If someone visits your open house without an agent, make sure to follow up and contact them, offering something of value that can assist with their property search.
Spacio by HomeSpotter is designed to be used at open houses. It's the perfect electronic platform to collect visitor information with capabilities to help market your listings once contact information is obtained. It also makes follow-up and remarketing simple, so you not only capture but convert as many leads as possible from your open houses.
14. Attend Networking Events
Networking events are typically organized around a common interest, so attend the right events to connect with the right people. If you're looking to network with other real estate professionals, join an Inman Conference or National Association of Realtors (NAR) event, which mostly gathers real estate agents and brokerages. If you'd like to connect with a variety of business professionals, look into events held by your local Chamber of Commerce or explore groups on LinkedIn.
Being prepared before going to a networking event will determine your success. Create a 30- to 60-second elevator pitch that summarizes your real estate experience, explains your value-add, and entices others to explore your services. Make sure to align your sales pitch to the type of event you're attending. Don't forget to develop and practice your pitch so it will stand out from that of other attendees. Also, make sure to have business cards handy to give out to potential clients and collect theirs as well.
15. Connect With Local Businesses
Connecting with local businesses can be mutually beneficial when it comes to prospecting. Drive clients to another business by giving a special promotion or discount, and in return, they can refer clients to you. Partner with local businesses that strategically align with your business, such as homebuilders, handyman services, trade specialists like landscapers, title companies, or a local credit union that offers mortgage loans.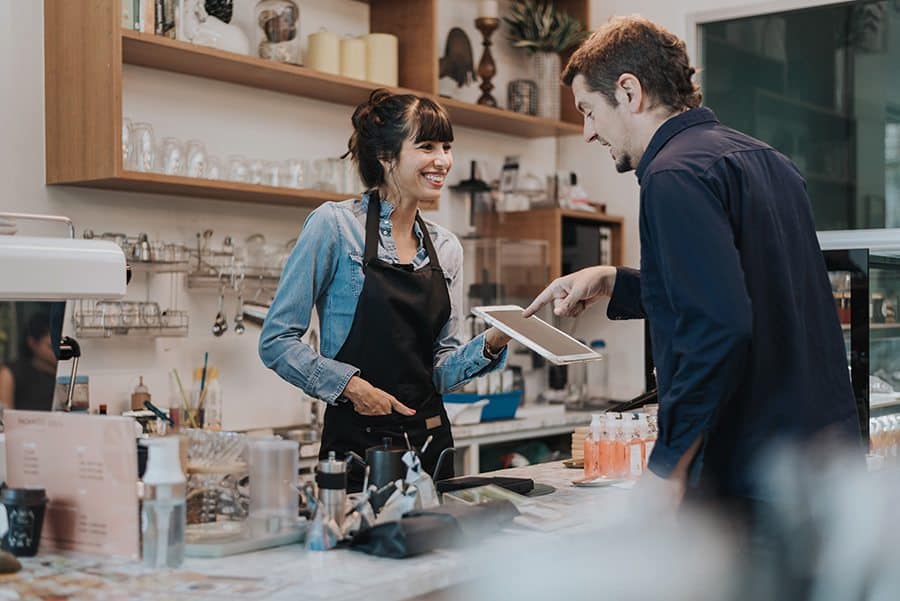 If you frequent a local coffee shop, restaurant, bar, or store, ask the owner or manager to leave your business cards on the counter to promote your business to their clients. To sweeten the pot, consider offering an incentive to the business owner. For example, for every client they refer, you will purchase and give a gift card for the referral to use at their business. This creates a mutually beneficial business relationship that builds your local presence.
16. Become Active on Knowledge-based Forums
Crowdsourcing communities are untapped resources that can leverage your expertise when prospecting for real estate leads. Websites like Quora and Reddit have forums where people ask real estate-specific questions. These are the perfect platforms to engage with prospects and increase your online visibility. Quora allows you to create a profile and include links for location and business. It also has a section for you to list your topics of knowledge.
Online forums are beneficial for lead generation because, as a user, you can select topics relevant to your expertise and provide your insights. These forums further enable you to have an open dialog with target prospects and other users. Make sure your input is engaging and offers something of value without being transactional. Plus, you can leverage the topics to provide content for your other marketing platforms.
17. Get Involved in Your Community
Prospecting for real estate clients by being active in projects that matter to your community increases local brand recognition, building your potential client base while contributing positively to the community. Moreover, getting involved in your community creates organic connections with leads and enables you to develop meaningful relationships with individuals and other professionals in your neighborhood.
Join local community activities, such as fundraisers, festivals, parades, charities, cleanup and beautification projects, school events, and community centers. Similar to networking, you want to add value and showcase your local real estate expertise, so your business remains top of mind when these connections are ready to buy, sell, or provide a referral.
You might even find a community event to sponsor and give back locally on an annual or ongoing basis to leave a strong, lasting impression. Search for local community events on your city's website or connect with organizations like your local Chamber of Commerce, school district, or food bank. Event management sites like Eventbrite also showcase locally promoted events that may align with your real estate prospecting and branding goals.
18. Follow Up Consistently With All Leads
Following up with your leads regularly is essential to developing a strong relationship that keeps your real estate services on top of your prospects' minds. You will more likely catch them at the right time in their journey, such as just before or when they are ready to move forward with buying or selling a home.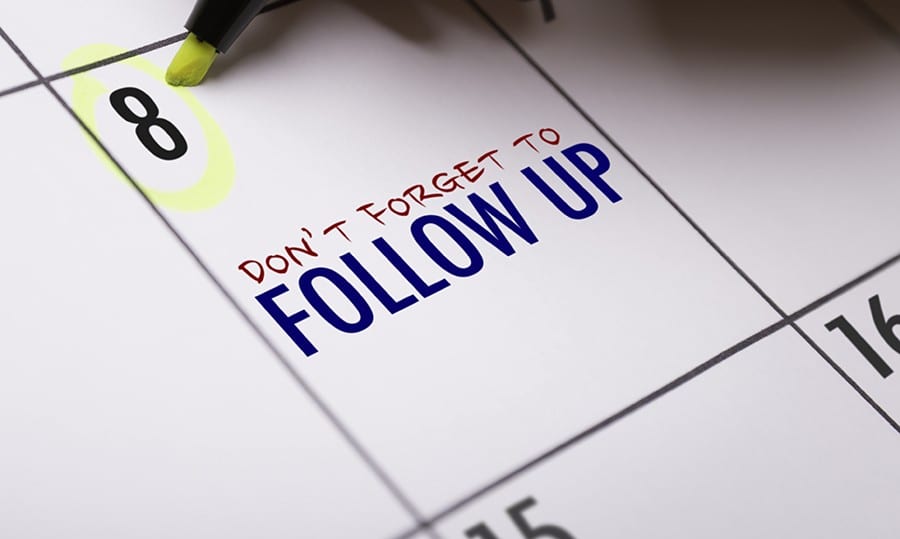 For example, if a lead has recently reached out about a listing coming on the market, follow up with them by giving specific details about the home, inviting them to open houses, sending them similar listings, or scheduling a phone call to speak about their home preferences. Since they are actively looking now, you should reach out multiple times to capture their attention before another agent does.
On the other hand, if a lead reaches out to inquire about the homebuying process, you can be less aggressive by sharing pamphlets, downloadable white papers or reports, or a video about the sales process. Next, schedule a phone call to discuss the details and their preferences, and send them contacts for financing to get them started early in the sales pipeline. It's important to be consistent if you want to convert them into clients.
Clients can fall through the cracks if you're managing a list of leads manually. A customer relationship manager (CRM) will make nurturing current and past leads more efficient. Pipedrive has sales automation, lead management tools, and insights to better understand your business. You can also set up workflow automation to execute tasks based on a series of events assigned to a contact. For example, once you input a deal closed date in Pipedrive, you can automatically send a thank-you email or text to your clients with a referral request.
Bottom Line
Success in real estate prospecting comes down to your ability to attract, establish, and nurture client relationships. The best real estate prospecting ideas incorporate both paid and organic online lead generation strategies and community involvement to connect with high-quality leads and add value. Not everyone will immediately close deals with you, but learning how to prospect in real estate will help you build a strong foundation to sustain and grow your real estate business.