We evaluated some of the leading Zenefits competitors and have selected the top six based on pricing, HR and payroll features, ease of use, popularity, and other criteria. Explore our guide to find the best Zenefits competitor for your business.
Zenefits offers an all-in-one HR platform that lets you manage employees from hiring to retiring, with onboarding, scheduling and time tracking, compensation management, performance management, and more. While popular with small businesses, it may not be right for everyone. You may need stronger benefits, a payroll-first solution, or even a full-service professional employer organization (PEO). We examined multiple Zenefits competitors and chose the top six you should consider.
Best Zenefits Competitors Compared
Pricing

Contract?

Payroll included in price

Pay options

Onboarding

Benefits availability

Federal, state, and local taxes

Performance management tools

Access to live HR experts

$10–$27/employee per month

✕

-

Direct deposit, manual check

✓

50 states

✓

In higher plans

Add-on

($10/employee/month)

$39–$99/employee per month

✕

✓

Check, direct deposit

✓

50 states

✓

-

✓

$39 + $6/person to $149 + $12/person per month

✕

✓

Check, direct deposit, pay card

✓

39 states

✓

-

In highest plan

Starting at $8/employee per month

✕

-

Direct deposit, check

✓

50 states

✓

-

Add-on

($100/month)

Custom-priced

1 year

✓

Check, direct deposit, pay card

✓

50 states

✓

Add-ons

✓

Starting at $50/month + $4 per employee, per month

1 year

✓

Check, direct deposit, pay card

✓

50 states

✓

✓

✓

Custom-priced

1 year

✓

Check, direct deposit

✓

50 states

✓

✓

✓
When Zenefits Is Best
Zenefits is found on several of our best-of lists because it offers a great toolset at an excellent price. If you don't need payroll, it's the cheapest. Overall, its HR tools get a special notice in these lists:
---
If you want to learn more about Zenefits before deciding, check out our Zenefits review.
Justworks: Best Overall Zenefits Alternative
Justworks

What We Like
24/7 customer support (via phone, email, SMS, chat, and Slack)
Enterprise-level benefits from major insurance companies + 401(k)
IRS and ESAC certified
What's Missing
Report customizations limited
No applicant tracking function
Limited integration options
Justworks Pricing
Basic: $39–$49/employee/month
Plus: $79–$99/employee/month
Justworks ranks No. 1 in our guide to the best PEOs. We think it's the best Zenefits alternative because of its price and health insurance benefits, payroll management, compliance support, and HR tools (such as online onboarding, employee information management, and PTO monitoring).
A PEO is a co-employer that provides human resource support, so you can focus on the day-to-day HR tasks. It has reps that run payroll for you, reviews and helps you prepare policies, and provides large-group benefits (meaning at very discounted rates). To learn more about a PEO, check out our article on
professional employer organizations
.
The Basic plan compares closely to Zenefits in terms of features, although Zenefits can get you health insurance. The Plus Plan surpasses Zenefits for benefits, however. Like ADP and TriNet, it gets you access to enterprise-level health insurance at discounted prices.
Justworks Pricing
Justworks has two plans with flat, per-employee pricing depending on the tools. Justworks only charges you the Basic plan for part-time employees even if you are on the Plus tier. Justworks' base plan (Basic) is more expensive than Zenefits's Essential plan (even with the payroll and benefits administration add-ons).
Basic: Covers payroll, benefits, HR tools, and compliance (Use your own insurance)

1–24 employees: $49/employee/month
25–99 employees: $44/employee/month
100–149 employees: $39/employee/month
15+: Call for quote

Plus: Everything in Basic, plus medical, dental, and vision

1–24 employees: $99/employee/month
25–99 employees: $89/employee/month
100–149 employees: $79/employee/month
15+: Call for quote
Justworks Features
Justworks's Basic plan has a comprehensive feature set that includes payroll processing, payroll tax filing, HR consulting services, PTO management, workers' comp, health and wellness perks, life and disability insurance, and a more robust employee self-service dashboard. Justworks, like Paychex and TriNet, provides you 24/7 customer support and access to HR consultants. It recently added time tracking tools, something most of the software on our list had already offered.
Payroll with automated deductions, direct deposit, reimbursements
Handle off-cycle, contractor, vendor, and bonus payments
Federal, state, and local tax filing
Time tracking now available
HR consulting included in all plans
Access to harassment prevention and inclusion training
Fitness memberships
COBRA administration, HSA/FSA accounts, medical/dental/vision insurance, life and disability insurance, and 401(k) retirement plans available
Online company directory and calendar (for holidays, birthdays, pay dates, and more)
Workers' comp, Employment Practices Liability Insurance (EPLI), other compliance services
Onboarding including electronic signature
HR tools for policy creation, time-off tracking, reporting features
Integration with accounting software (QuickBooks, QuickBooks Online, and Xero)
The features above are just a few that make Justworks our top Zenefits competitor. Discover more in our full review.
Gusto: Best Zenefits Competitor for Payroll
Gusto

What We Like
HR and payroll support in all plans
Variety of payment options, including payroll card and on-demand pay
Highly rated customer service
Special program for financial health
What's Missing
Health insurance limited to 39 states
Lacks performance and compensation management tools
Time tracking is included only in premium plans
Gusto Pricing
Core: $39 per month + $6 per employee monthly
Complete: $39 per month + $12 per employee monthly
Concierge: $149 per month + $12 per employee monthly
Contractor-only plan: $6 per person monthly
No free trial
Primarily focused on payroll and earning the top spot in our best payroll services guide, Gusto can process paychecks for both employees and contractors located in any US state. Like Zenefits, it can provide your staff with medical, dental, vision, life and disability, flexible spending account (FSA), and health savings account (HSA) plans. However, Gusto's health insurance coverage is limited to 39 US states. All the others on our list offer benefits in all 50 states.
In addition to only having health insurance in 39 states, Gusto is low on HR functions. You need the highest plan for access to HR professionals, for example. However, it is extremely strong with payroll, surpassing most of the Zenefits competitors on our list.
Gusto Pricing
Gusto's plans run from $39 per month plus $6 per employee, per month, to $149 per month plus $12 per employee, per month. The higher the plan price, the more features; for example, time tracking is in the medium and high plans. Gusto has a contractor-only plan for $6 per employee, per month, one reason it tops our list of the best software for paying contractors. If you only work with contractors, this is the most cost-effective plan; otherwise, it's about par with the lower-priced plans on our list while not offering as many HR benefits.
Gusto also has add-ons for managing benefits. In addition to the prices, there's a $200 annual service charge that covers all three programs:
Health Savings Accounts: $2.50 per participant, per month
Commuter Benefits: $4 per participant, per month, $20 per month minimum
Flexible Spending Accounts: $4 per participant, per month, $20 per month minimum
Gusto Features
Gusto is easy to use, has competitive pricing and strong customer support. The pay card and Gusto Wallet features make it great for workers without checking accounts and set it apart from most of those on our list. However, unlike Zenefits, Paychex, or ADP, it lacks performance evaluation tools, and you need to purchase the highest plan to get compliance alerts and access to HR professionals. It does not offer workers' comp plans.
Access to Gusto Wallet (an app that helps employees paid with Gusto save money, access cash between paydays, and monitor financial health); other services on our list offer some of these benefits, but Gusto's is the most complete and easiest to use
Payroll in one or multiple states with two-day or next-day direct deposit, pay card, or in-house printed checks
Benefits administration
Tax filing for local, state, and federal taxes
Project tracking and workforce costing
Health insurance (39 states)
HSA, FSA, 401(k), 529 college savings, and commuter benefits (all states)
Workers' compensation assistance
HR tools for new hire reporting, HR documents, and compliance; offer letters and employee surveys
Dozens of integrations with software like FreshBooks, Xero, QuickBooks, When I Work, Homebase, Expensify, and more
Rippling: Best for High-tech & IT-heavy Businesses
Rippling

What We Like
Offers IT management of employee apps and devices
More than 500 integration options
Has an applicant tracking add-on
Can easily turn PEO on and off and still access HR/payroll software
What's Missing
No compensation or performance management
Payroll, other functions are modular add-ons
Phone support costs extra; how-to guides are limited
Rippling Pricing
Custom-priced
HR software starts at $8/employee/month for the core program, with other modules increasing the cost
No free trial
Add-ons
Full-service payroll: $8 per employee monthly
Employee benefits: $6 per employee monthly
Flex HSA/FSA and commuter benefits: $6 per employee monthly
HR help desk: $100 per month
App management: $8 per employee monthly
Device management: $8 per employee monthly
Rippling has an employee management platform as its base system that allows you to manage staff information and electronic documents. Rippling beats out all the others on our list in customer satisfaction (a consistent 4.9 out of 5 stars averaged from third-party websites) and its IT onboarding tools that make it easy to assign employees the software and hardware needed for their jobs.
Like Zenefits and the Zenefits alternatives on our list, Rippling has talent management services for hiring and onboarding as well as a strong learning management module. You can also use its job codes tool to monitor employee time and the cost of that time on a per location, client, and task basis. However, Rippling doesn't provide tools for managing and tracking compensation and employee performance.
Rippling Pricing
Contact Rippling to get an exact price quote. Rippling starts with a core HR module at $8 per employee (with an annual contract, $10 month to month), and you add modules after that. It used to post module prices on its website, but no longer does. However, we have verified these prices:
Full-service payroll: $8 per employee monthly
Employee benefits: $6 per employee monthly
Flex HSA/FSA and commuter benefits: $6 per employee monthly
HR help desk: $100 per month (access HR professionals by phone or email)
App management: $8 per employee monthly
Device management: $8 per employee monthly
While inexpensive when piecemeal, costs can add up fast. However, Rippling will give you a custom quote. It also sometimes runs discounts for which you may be eligible. Nonetheless, you may find less expensive options with the tools you need in Gusto or Justworks.
Rippling Features
Another advantage that Rippling has over Zenefits is its international reach, especially when processing employee salaries. This is ideal for employers whose staff and contractors are located globally. ADP can also handle international payroll and compliance issues as well (something Rippling does not do outside the US).
Full-service payroll (international and all 50 US states)
PEO option
Federal, state, and local tax filing
Direct deposit and check options
Access to over 4,000 insurance plans from leading carriers (such as Aetna, Human, and BlueCross Blue Shield)
Job codes and multiple pay rates
New hire and W-2/W-4/1099 filings
Online onboarding, employee self-service, and open benefit enrollments
IT management module employee device and app setup and monitoring
Library of pre-built reports
Learning center with canned courses such as for sexual harassment training (similar to Gusto), plus 1,000+ pre-built courses and the ability to create and load your own
PEO option with an on/off switch that none of the other providers on the list offer
Over 500 integration options that include Homebase, When I Work, GoodHire, Checkr, SurveyMonkey, Greenhouse, Guru, QuickBooks Online, Xero, Slack, Asana, DocuSign, and Adobe Sign
Paychex: Best Zenefits Competitor for Businesses Needing Flexible HR Plans
Paychex

What We Like
Multiple pay options (i.e., paper checks, direct deposits, pay on-demand, and pay cards)
Intuitive interface
24/7 customer support
Highly flexible
What's Missing
Not all of its pricing details are transparent
Garnishment payment services are available only for premium plan subscribers
Different contacts for different HR and payroll products
Paychex Pricing
Custom-priced
Annual contract
Paychex is an all-in-one payroll, HR, and benefits platform. While its Flex plan is basic, it has over 300 additional tools that you can add to your plan. This can get pricey but allows you the flexibility to create the best HR program for your needs, all administered with one company. Its primary features include online onboarding, time and attendance tracking, payroll and tax administration, workers' compensation, and benefits administration. You also get access to a customer service team that, like Justworks, is available 24/7.
Paychex is the only service on our list that assigns a dedicated specialist to help with all of your payroll and payroll tax needs. Unlike Zenefits, Paychex lets you pay employees through direct deposits, paper checks, pay cards, and pay on-demand. Only Gusto and ADP have this level of flexibility. Its learning management model is comparable to Rippling.
Paychex Pricing
Paychex has three plans. The lowest one, Paychex Flex, costs $39 per month + $5 per employee. This plan has even fewer HR services than the similarly priced Gusto Core plan. The Select and Pro plans require quotes. In addition, you will be charged extra for additional features (such as the learning management tool).
We were given an estimate for its Enterprise program at $125 per month plus $3.01 per employee, per month, with a $200 setup fee they offered to waive. One representative told us that prices can increase each year but are negotiable.
Paychex Features
Payroll with check, direct deposit, and pay card. Garnishments in higher plans only (compare to Gusto, which includes garnishment deductions and child support payments to most states in all plans)
Tax preparation and filing for federal, state, and local taxes; automatic W-2s and 1099s
Hiring tools including new hire reporting and background screening
HR library and business forms, compliance posters
Learning management with Select and higher plans: access online courses, incorporate your existing training programs into its platform, or create custom videos, reminders, and quizzes
Compensation and performance management available
Access to group and individual health insurance options, HSA, FSA, dental and vision plans, and 401(k) retirement services
Standard and custom analytics and reporting
Add-on solutions for hiring services, liability insurance options, time and attendance, and more
Integration options include QuickBooks Online, Xero, Indeed, Bamboo HR, SimplyHired, Clover, OnShift, Hubworks, and Insight360
Paychex offers more than what's covered here. Learn more in our review.
ADP: Best Zenefits Competitor for Growing Businesses, Including International
ADP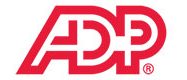 What We Like
Feature-rich with strong HR tools; includes tax payments and filing
Flexible product plans
24/7 customer support
Access to enterprise-level benefits
What's Missing
Pricing is not transparent
Its do-it-yourself (DIY) payroll option is expensive
Inconsistent customer support quality
ADP Pricing
Call for a Quote
No free trial
May get three to five months free
Annual contract
ADP offers flexible product options that are designed to support your business as it grows from five employees to more than 1,000 staff. It has DIY options for small businesses and a full-scale PEO for medium and large businesses wanting to outsource payroll and HR.
It can also work as a Global PEO, paying employees in over a hundred other countries and providing compliance support. It works with partners if you need an Employer of Record (EoR) for certain countries. ADP handles international payroll and compliance issues as well (something Rippling does not do outside the US).
ADP provides full-service payroll, and HR solutions that enable you to manage benefits, recruitment, and new hire onboarding. Like Zenefits and Paychex, ADP also has performance, compensation, and attendance management solutions. Like TriNet, it can offer compensation benchmarking.
ADP Pricing
Unlike Zenefits, Gusto, and Justworks, ADP does not list its pricing online for all its plans. Its DIY solution starts at $59 + $4 per employee. This plan is its most basic and does not include all the HR tools of Zenefits.
ADP's full-service payroll and HR solutions are not published on its website. Based on our quote of $14 to $15 monthly per employee, ADP is more expensive when you do a feature-by-feature comparison, because time tracking, integrations, and some hiring options (like background checks) aren't included in the base product.
ADP Features
Payroll with direct deposit, pay card, and checks (delivered to employees) taking into account garnishments and deductions
Tax filing for federal, state, and local taxes (international if needed)
PEO option; Global PEO and EoR available for international employees
Hiring services that include job posting, background checks, onboarding, and new hire reporting
PTO management and time tracking software
Access to enterprise-level health, dental, vision, life and disability, and retirement plans
Access to business insurance (for employers)
ADP DataCloud: accesses current market insights and analyzes information (such as employee turnover, overtime, and pay data) from over 30 million anonymized employers
Designated HR help desk support
Integration options include QuickBooks, Xero, Wave, SAP Success Factors, Workday, TSheets, Homebase, ZipRecruiter, iCIMS, Docufree, OrgChart Now, Slack, and Pingboard
TriNet: Best for Industry-specific PEO
TriNet

What We Like
Robust offering of HR services and tools
Access to comprehensive benefits options
Easy-to-install platform
Tailors your plan to your industry
What's Missing
Pricing not transparent
Inconsistent customer support quality
Dedicated reps for larger businesses only
TriNet Pricing
Call for a quote
Price per employee
Prices go down as employees reach certain payroll milestones
Annual contract
Like Justworks, TriNet is a PEO (ADP and Rippling also offer PEO services but are not solely PEOs). It, too, is on our list of best PEO companies for 2022, meaning it provides excellent services for payroll and HR administration. Its learning module is competitive to Rippling in breadth and depth of courses offered..
What sets TriNet apart is its adaptability for industries. It can customize your PEO according to your industry's needs as far as insurance, compliances, and benefits. For example, its manufacturing customers are given best practices guidance and workplace safety assessments. TriNet is also the only Zenefits competitor that reduces your monthly cost if your employees meet certain milestones such as maxing out deductions.
TriNet Pricing
Like most of the PEO companies on our list, TriNet requires you to call to get a quote. We were given a quote of $150–$165 per employee, per month, for a company of 25 employees. Like ADP, it depends on geographic location as well. It's the most expensive on our list, but also the most complete.
One thing TriNet does that we have not seen with any other PEO service is that its prices will decrease as employees either max out their Social Security deductions or unemployment taxes. It also reduces your rates if employees elect for a pretax medical deduction.
TriNet Features
Payroll including direct deposit and checks, electronic W-2s that employees can import directly into TurboTax if needed
Time and attendance tools, scheduling software
Federal, state, and local tax preparation and payment are done for you
Access to enterprise-level medical, dental, vision, life, disability, and retirement plans from major companies at excellent prices
Access to voluntary benefits (such as accident coverage, critical illness, pet insurance, and discounted auto/home policies)
Online self-service tools and open benefits enrollment
ACA compliance; industry-specific compliance
Workforce analytics, expense management, compensation benchmarking
Learning management module: more than 500 courses that tackle business skills (such as accounting, business writing, and computer skills), workplace ethics, and compliance training among others
Access to HR advisers, performance management tools, leadership training, employee culture surveys, and more
Integration options include QuickBooks, Xero, Greenhouse, BambooHR, Okta, and Google Cloud
Allows its ecommerce customers to advertise to other TriNet users by offering products or services through TriNet's discount program
How We Chose the Zenefits Competitors
To identify the top six Zenefits competitors, we looked at several platforms that provide a similar set of HR, benefits, and payroll features. We then ranked them according to how similar they are to Zenefits but highlighted features that are different to help you decide which software is best for your company. We evaluated each using the following criteria:
Click through the tabs below for our full evaluation criteria:
25% of Overall Score
Aside from the low or high cost of monthly subscriptions (wherein anything below $45 per employee is best), we looked at whether the provider offered multiple plan options, unlimited payroll runs, zero setup fees, and discounts on annual plans.
30% of Overall Score
HR tools that allow online onboarding, new hire reporting, time and attendance monitoring, compensation and performance management, and employee benefit options that are available in many US states are a must. Plus, having access to HR experts and a self-service portal are also ideal.
10% of Overall Score
As much time as we spend on research, it cannot replace the experiences of real-world users. Here we consider scoring on popular review sites like Capterra and G2.
5% of Overall Score
Users should be able to access payroll summaries and customize reports, as well as create new reports within the system.
10% of Overall Score
Automatic payroll runs, payroll tax processing (federal, state, and local), year-end tax report preparation and filing, and direct deposits within two days are just some of the essential functionalities that we looked at. We also checked whether or not the provider offered a penalty-free guarantee—in case they make a mistake when processing the client's payroll.
20% of Overall Score
Apart from having an interface that's intuitive and easy to learn, the provider's system should be able to integrate with commonly used programs such as QuickBooks, Homebase, and TSheets. Users should also have access to how-to guides and live phone support that's reliable and quick when it comes to problem resolution.
*Percentages of overall score
Bottom Line
Zenefits is a great choice for businesses looking for an integrated platform with HR, payroll, and benefits tools. However, there are other good options that also offer functionalities similar to Zenefits. Some even provide additional solutions like employee device and app management, learning management, or PEO services.
When it comes to the best HR and payroll benefits for the price, Justworks topped our list as the best Zenefits competitor. While a PEO and not a simple payroll/HRIS, it's nonetheless reasonably priced and offers excellent HR tools to take employees from hire to retire. Sign up for Justworks today.