Voice-over-internet-protocol (VoIP) technology became a daily fixture in our work and personal lives in 2020. In truth, the technology has been on a rapid rise for decades now. And while 2020 was a year of steady growth for VoIP's biggest players, the future is likely going to hold even bigger things for the industry.
Did you know? VoIP systems can help everyone from freelancers to large multinational enterprises save money and be more productive. If you are in the market for a new phone service, check out our guide to the best business phone systems available today.
'The Before Time'
When the COVID-19 pandemic forced many workers to stay home in the early months of 2020, they were introduced to VoIP technologies for the very first time. Since they couldn't have face-to-face conversations with their colleagues, they used video conferencing software as a substitute. That, in concert with messaging apps like Slack and Microsoft Teams, filled in where conference rooms and cubicle chatter once stood.
The biggest industry players, such as RingCentral and 8×8, had been growing steadily in both market value and sales volume for many years before COVID. Their rise also coincides with a fall in the number of people still using landlines.
The CDC gathers data on what types of phones their surveyees use. Since 2004, there has been a 34% drop in callees who have a landline phone. Unsurprisingly, this directly correlates to the rising number of people who have only a cellphone in their home.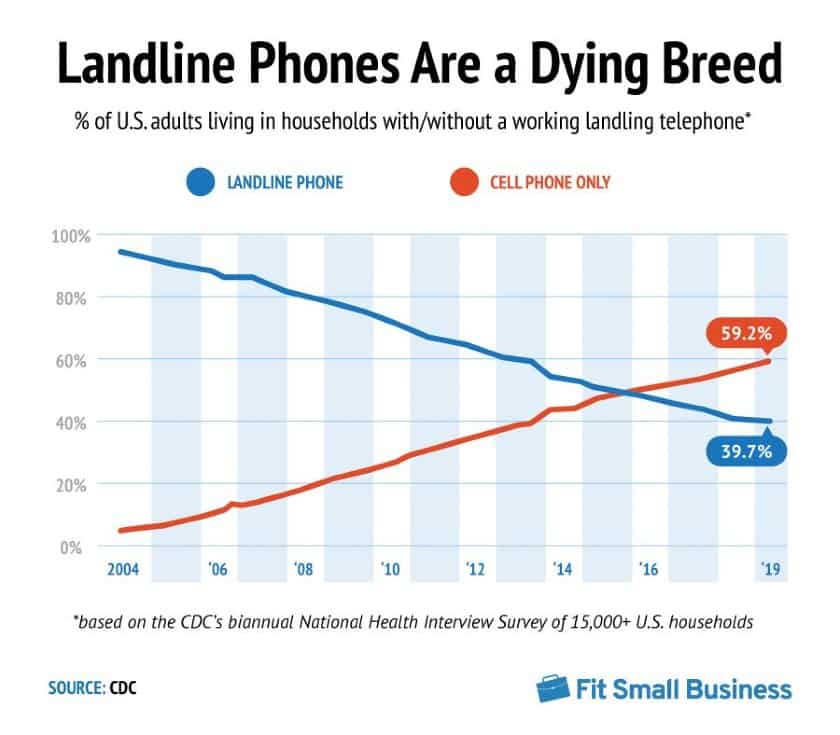 While the term VoIP usually brings to mind work usage, it's worth noting that many people have used VoIP technology in their personal lives for many years. Apps like Google Hangouts and WhatsApp are among the most popular on the market, and they use VoIP technology in order to keep you in touch with your friends and family all over the world.
You can read more about the technology's evolution in our article on the history of VoIP.
Big Growth in 2020 for Major Players
The growth of the VoIP industry in 2020 was impressive, to say the least. Investors of VoIP stocks saw remarkable returns, and companies like Zoom went from popular tools to household names virtually overnight. Tech companies that offer VoIP services in addition to other things also saw enormous growth.
The following players were some of the most impacted by the events of 2020:
RingCentral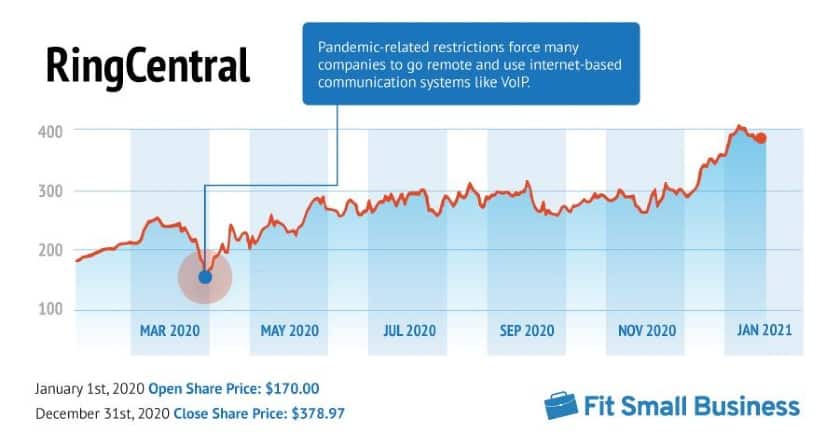 RingCentral, which is one of the more popular business VoIP vendors in the world, had a very strong year and is set for big growth in 2021. It was one of the more popular systems on the market before the pandemic, and that only continued once most businesses were forced to go remote in the spring. The fact that RingCentral offers powerful mobile and desktop apps that can be used from anywhere helped the value of the company grow.
Zoom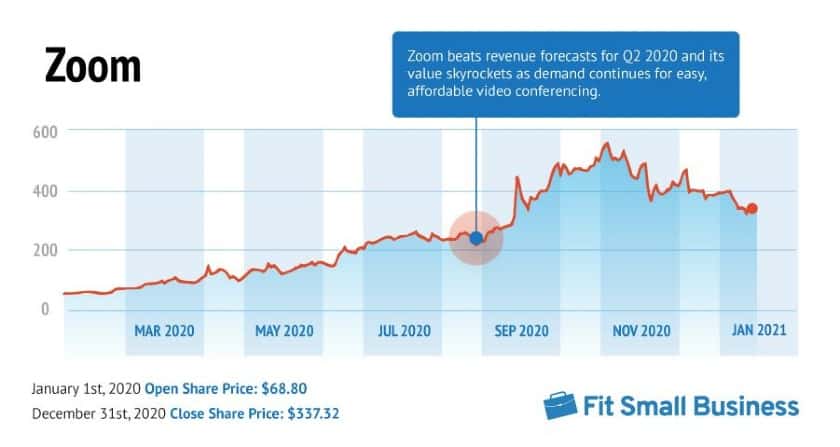 Perhaps the biggest business story in VoIP is the growth in value that Zoom saw. At the beginning of 2020, Zoom's stock price was hovering around the $70 mark. However, by October, Zoom's share price skyrocketed to more than $568 per share before finally settling down to around $350 by the end of the year. For reference, Zoom's market value was bigger than companies like IBM, 3M, and Boeing. To say that Zoom got a lot of attention in 2020 is an understatement.
8×8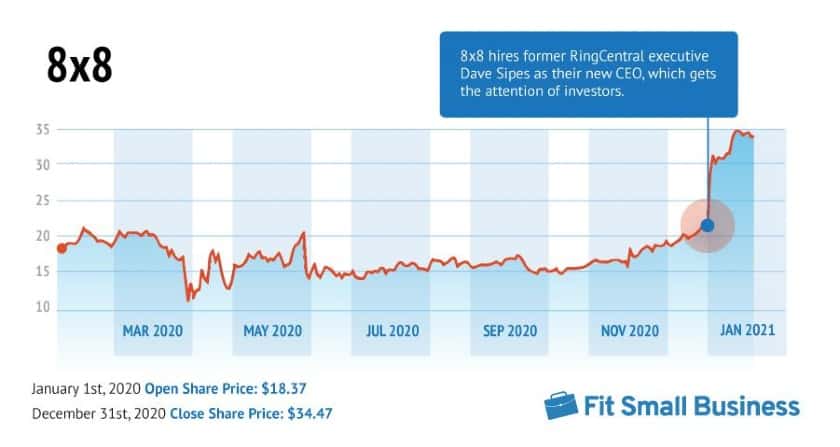 Despite much fanfare, some vendors fared better than others. 8×8 saw a large spike in December after the announcement that former RingCentral COO Dave Sipes would take over as CEO. However, the months preceding that saw minimal growth compared to competitors. This suggests 8×8 failed to capitalize on the growing number of workers who needed remote communication tools.
Future Predictions
COVID sped up longstanding trends of workers ditching their daily commutes in favor of remote work. While vaccinations might return us to some sense of normalcy, it's likely that the virus has made some permanent changes to our work culture, and VoIP plays a large role in that change. Many industry players are clamoring to cater to the needs of this new workforce.
As a result, we anticipate the following will occur based on recent trends in the VoIP industry:
2021: Dawn of the Planet of the Slack Copycats
To say Slack is a popular communications platform would be an understatement. The service, which allows working groups to communicate via text and video, had a fantastic 2020, seeing impressive growth and a massive acquisition by Salesforce. Thousands of organizations around the world have enjoyed Slack's usability and flexibility.
It only makes sense, then, that other VoIP communications providers are trying to cash in. For example, RingCentral's revamped Glip service will include many video conferencing features from both Slack and Zoom under one app. Nextiva, 8×8, and other players have similar features available to subscribers. And they are all banking on cutting into Slack's market share.
So far, the only competitor to truly threaten Slack is Microsoft Teams, which has the benefit of a marketing campaign and a bundle with the company's Office platform. Do any of the other providers stand a chance against these behemoths? Only time will tell.
Zoom Phone Will Dominate VoIP in 2021
Zoom formally entered the VoIP space with their new Zoom Phone service. The service stands out with a unique pricing structure and the backing of Zoom's proven VoIP technology. However, what really makes Zoom a threat to the competition is the fact that, well, it's Zoom.
The video conferencing platform has a mammoth install base. At its busiest points in 2020, the service was seeing 300 million daily meeting participants. Many of those users have been receiving advertisements for the phone system on a regular basis, making the San Jose-based company top of mind for many business users looking for a new phone service (surely more people on Earth have heard of Zoom than, say, Nextiva or 8×8). Zoom's existing popularity as a company, on top of the fact that Zoom Phone is a very solid product in its own right, makes it a sure bet that Zoom Phone will become a market winner in 2021.
COVID: The Final Nail in Landline's Coffin
Compound the long rise of VoIP with the fact that so many big companies like Adobe, Amazon, and Slack are going remote on a long-term or even permanent basis will likely set off a trend of smaller companies also abandoning the physical office.
While this likely is troubling news for the commercial real estate market as leasing plummets, this could be a net positive for companies and their workers. Experts suggest that remote workers tend to be happier, more productive, and more likely to stick with the company they work for. Removing the carbon footprint of so many people commuting can be also helpful in the battle against climate change. If landline technology had any life left in it before 2021, then we will almost certainly see its demise this year.
5G Means the Ubiquity of VoIP & the Death of Traditional Telephony
5G is slated to see remarkable growth in 2021 and beyond. Apple, which has a large market share in the smartphone space, introduced 5G devices late last year. Other industry leaders are bringing the technology to their handsets as well. Millions of people around the world will be experiencing faster and more stable mobile internet as sales of these products continue.
This has major implications for the VoIP space. For comparison, 4G LTE has a maximum download speed of 1GB per second. Depending on the device and connection strength, 5G could theoretically reach speeds of 20GB per second. It's also worth noting that the average home network in the United States is around 50MB per second. For many people, their 5G connection will be the fastest internet connection they have access to.
So what does this mean for VoIP? The technology, which works over the internet as a rule, provides advanced features such as HD voice and video calling. The audio fidelity of traditional cellular communication is far inferior to that found in a standard VoIP service. When such fast internet is available everywhere, will the cellular network calling outlive its usefulness? We are fast approaching a time when every call made will be a VoIP call. The days of crackly audio over traditional cellular signals may soon be behind us.
Bottom Line
In its infancy, VoIP was a novelty: The process of transmitting voice audio data over the internet was dwarfed by the ubiquity of the landline and cellular technologies. That's been changing for years, but 2020 was transformative for the market. We can expect VoIP to not just thrive in 2021 and beyond, but eclipse other forms of telephony entirely.