A survey by the California Association of Realtors found that "Only 17 percent of buyers prefer to communicate with their agents by telephone, yet they reported that 51 percent of agents communicated by telephone." 
Why not give them what they want?
In this article you'll learn the basics of launching a successful real estate email marketing campaign. You'll learn about and get real world examples of the 5 emails every new agent needs to master, as well as how to build and maintain a healthy email list. In order to convert people on your email list into leads, you need to reach them with the right message, at the right time. A referral focused CRM like Contactually uses automation to help you convert more leads. That's why we named Contactually the best real estate CRM of 2017.
The Five Emails Every New Agent Needs to Master For a Successful Real Estate Email Marketing Campaign
1. The Welcome Email – Introduce Yourself
The first email any lead will receive is called a welcome email. This a short, friendly yet professional message to thank them for signing up for your email list, or ordering a free competitive market analysis from your landing page. You should also tell them what to expect from future emails and from you as an agent.
When writing your welcome email, you should focus on answering these two questions for your leads:
What kinds of emails will you send them?

Why are you the best agent to work with?
You Only Get One Chance to Make a First Impression
Since competition for buyers and sellers is fierce, getting your welcome email just right is crucial for any successful email campaign. Think of it as your elevator pitch. You need to grab their attention and prove your value quickly.
Make it Actionable
Like all good marketing messages, welcome emails should end with a prominent call to action(CTA). Your call to action can be an offer to schedule a phone call or in-person meeting, an invitation to connect on Linkedin or other social media, or an invitation to add you to their address book so further newsletter emails don't wind up in their spam folder or "promotional" tab on gmail.
Whatever CTA you decide to use, remember to make it prominent at the end of your message.  A button is a great way to encourage people to click your CTA. They may never call or click to set up a meeting, but it reminds them there is a real person behind your emails that they can talk to when they're ready. Remember, your goal of any real estate email marketing campaign is to get them off email and into your office.
Example Welcome Email
Here is an example of a welcome email that you're free to copy and tweak for your email campaign. This was made using the "Event Follow Up" template from Constant Contact.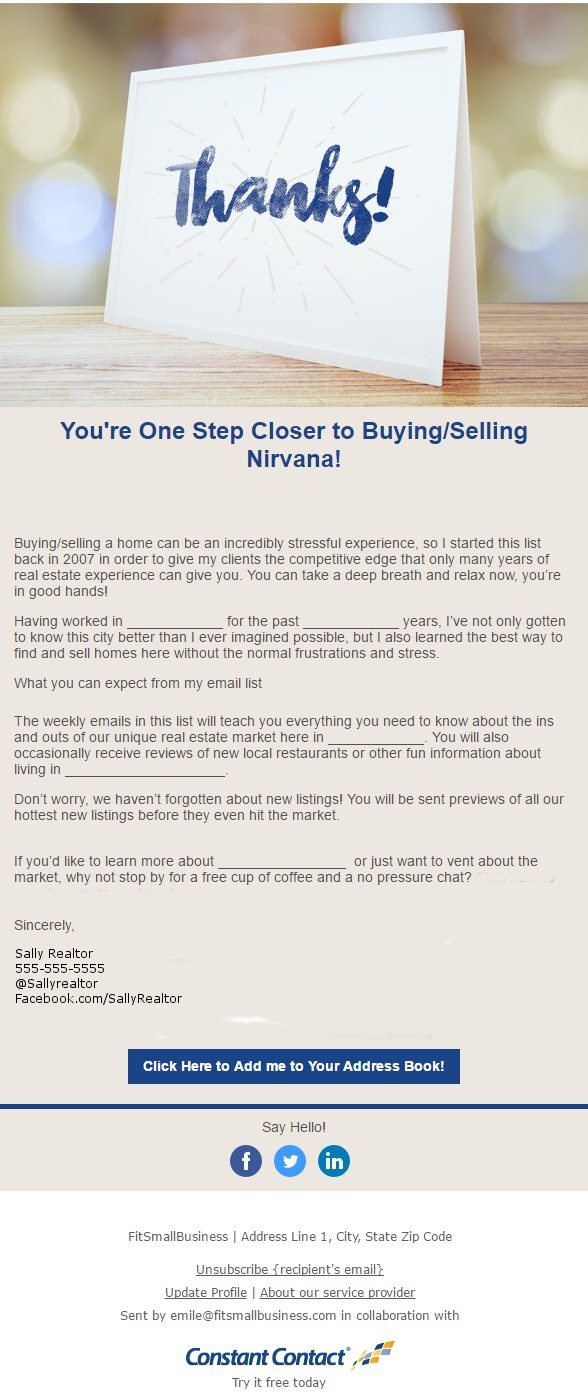 2. The Newsletter – Educate, Entertain, and Sell
Besides an interview, there is no better way to tell your lead that you're a local market expert and someone they want to spend time with than an email newsletter. Email newsletters are a great way to educate, entertain, and sell to your leads until they're ready to hire you. They're also the perfect way to stay top of mind with your best source of new leads; former clients who refer you to friends.
After the welcome email, your newsletter emails should focus on educating, entertaining, and selling to your lead in that order.  Try to keep these emails short enough to read or skim in a few minutes, and only send relevant, engaging, and shareable content. You can include market reports, interesting articles, or sneak previews of new listings. 2-4 topics or articles per email are more than enough.
Educate
To help educate your lead, you can post content like infographics highlighting market data (Use a free service like Venngage to create eye catching and shareable infographics), links to interesting news articles about your local market, home improvement tips, recent sales or new listings, open house invites, or mortgage news and advice.  If you do decide to post articles, remember to always include a quick summary to explain why it matters to your audience.  Always focus on their needs and interests, not yours.
Entertain
For people who don't work in the industry, a newsletter about interest rates and median price per square foot can get dull pretty quickly, so be sure to spice up your newsletter with fun local events, holiday greetings, or reviews of new local restaurants. You can also include charities or other local events you participate in. This is a great way to warm them up by showing what you're passionate about.  
Sell
A word of advice on selling:  There is no quicker way to end up in someone's spam folder than constantly pushing for a sale in your newsletter. No one likes to be thought of as a dollar sign. You can and should include invitations to open houses, and new and recently sold listings, but try to keep the main focus of your newsletter on educating and entertaining first, and leave selling as an afterthought.
Example Newsletter Email
Here's a quick example I did for a thanksgiving newsletter. Feel free to copy and tweak for your clients. This was made using the "Restaurant Thanksgiving" template on ConstantContact. Feel free to use any and all of these ideas in your own real estate email marketing campaign. 

3. Buyer Lead Emails – From Your Email List to Your Car
Unlike most of the subscribers to your newsletter, buyer leads primarily want to see new listings. If they sign up to receive listing alerts through your IDX enabled website right away, great, that means they may be ready to buy.  If not, then you need to nurture them until they are.
Example Buyer Lead Email
Here's an example of an email you might want to send to buyer leads after they sign up to receive listing alerts or join a drip campaign you set up for buyers.

4. Seller Lead Emails – Those Who List, Last
Whether seller leads find you through your boomtown home valuation page  on your web site, an open house signup sheet, or referral, potential home sellers are primarily interested in only two things; learning how much their home is worth, and figuring out if you're the person they want to hire to sell it. That's pretty much it. With a series of strategically written emails sent at the right time, you can give them the right answer to both questions.  
The Competition is Stronger Than Ever
According to NAR, 70% of home sellers only interview one agent, and only 4% of them find that agent through a website. This means getting them to your landing page and converting them might be an uphill battle. Even more than with buyer leads, standing out from the crowd and getting a face to face meeting should be your primary goal at every stage of your seller lead email campaign.
If they are contacting you from your web site offering a free comparative market analysis (CMA), then explain to them you are working on it and when to expect it. Since your end goal here is a face to face meeting, be sure to remind them that your CMA will be far more accurate after an in home assessment.
Example Seller Lead Email  
Here's an example of a seller lead email that you're free to modify and use. This was made using the "Event RSVP Request" template from Constant Contact: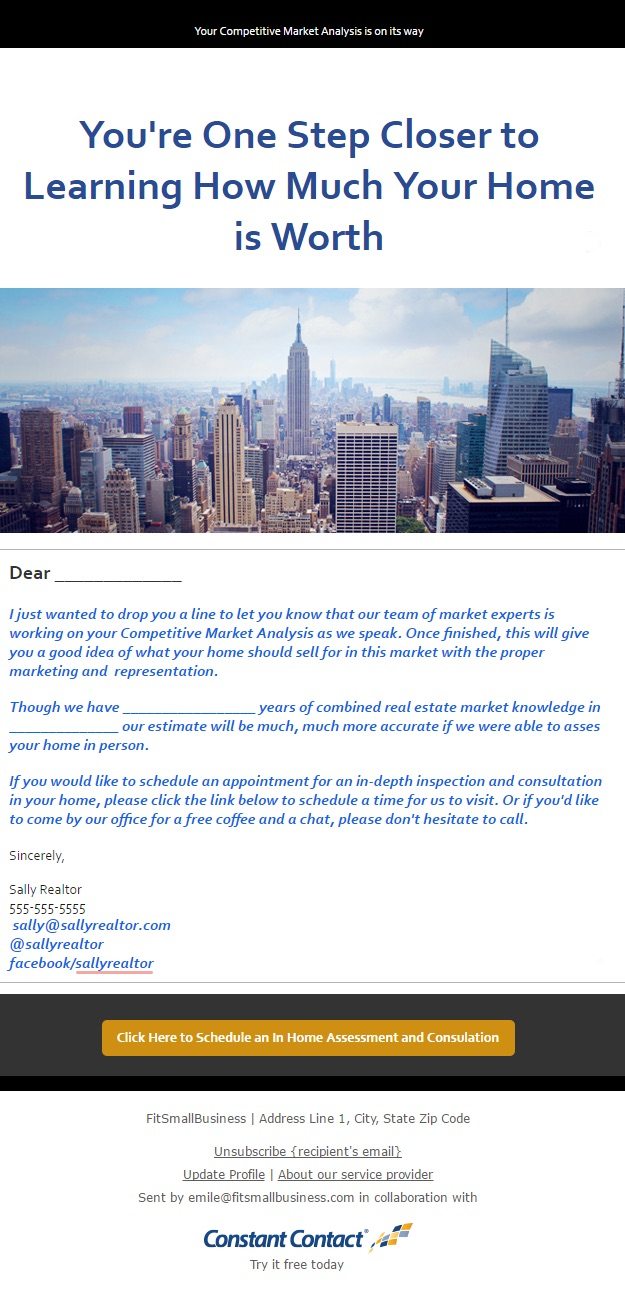 5. Former Client Emails – Stay Top of Mind to Get More Referrals
Let's face it, our best new clients always come from referrals.  According to the NAR report, 40% of buyers and 38% of sellers chose to work with a realtor referred by a friend, relative or neighbor. In my own career, I've found that my closing ratio for referrals is at least twice as good as leads from any other source. Staying top of mind with former clients should be a large part of your email marketing efforts.
Think Facebook Instead of LinkedIn
The last thing most people who have just closed on a home want to read about is the real estate market, so avoid sending former clients your regular newsletter or buyer/seller emails. Instead, you can send more personal emails spread much farther apart to stay top of mind.
Reaching out for the anniversary of their move to see how things are working out, or sending holiday or birthday greetings will all remind your former client that they were more than just a paycheck for you.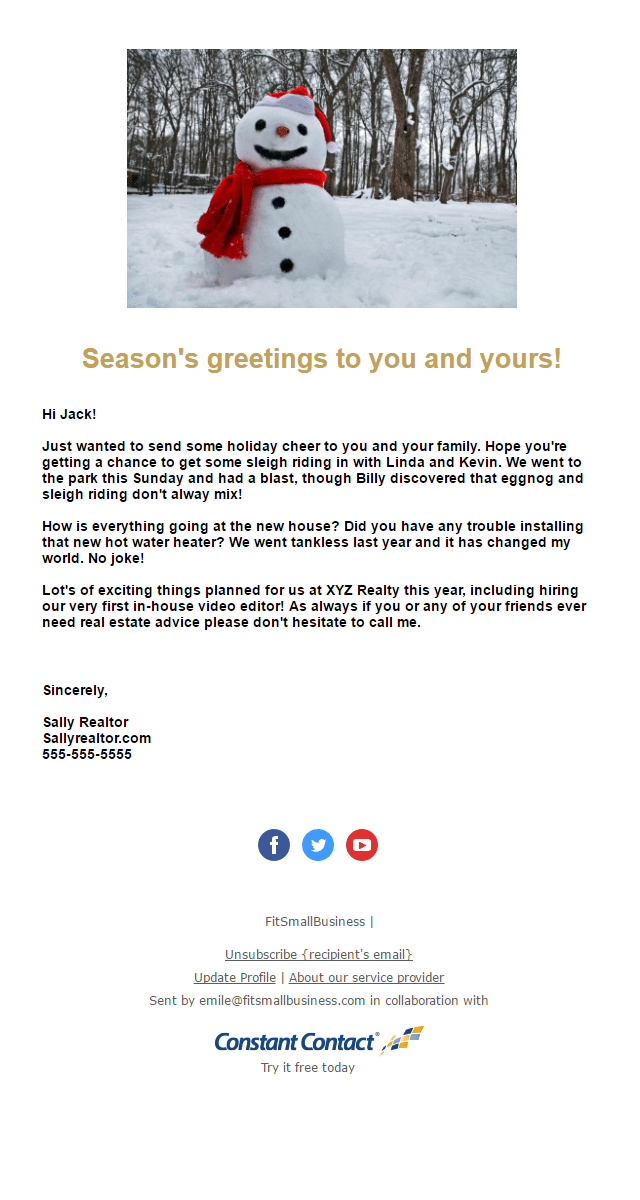 How to Build and Maintain Your Email List
Building Your Email List
Open house sign in sheets, your website lead capture page, or links from social media can all be great places to encourage people to sign up for your emails.
Maintenance
Keeping a healthy list is crucial to any successful email marketing effort. By using email marketing software like Constant Contact, you can  keep track of who is opening and engaging with your emails. People who never open your emails should be removed from your list, or at least sent an email asking if they still want to stay on the list.
Email Marketing Software – Tools to Automate Your Real Estate Email Marketing and Track Performance
Automation – Drip Campaigns and Autoresponders
While slick templates and analytics are great, the main attraction of these platforms is their ability to automatically send emails based on actions taken by your lead. For example, if a buyer lead fills out a form to download a free buyer's guide from your web site's landing page, an autoresponder might send them an email thanking them for the download and offering more free resources, to sign them up for personalized listing updates, or even better, offer a way to schedule a time to meet in person.  Automated drip emails can then be sent out over the next few weeks depending on how your lead reacts to your first email.
Tracking Your Performance – Finding out What Works
Almost all email marketing platforms allow you to use analytics to keep track of who's opening your emails, and what they're clicking on. Use this valuable information to tweak your campaign until you reach your goals. Placester has an amazing guide on tracking your results here. 
The Speed Your Future Clients Expect
Many realtors still think that getting back to someone right away can come across as desperate, but in reality nothing could be further from the truth. In California at least, 44% of buyers expect an instant response from their agent. According to a study of 16 million emails from Yahoo Labs, the most common response time to an email was a blazing two minutes.  Put simply, if they're willing to give you their email address, they might be thinking of hiring you. Why not use technology to show them just how timely and accurate your responses are?  A well designed email marketing campaign can do just that.  
Choosing the Right Real Estate Email Marketing Platform
Gone are the days of manually typing hundreds of addresses into outlook then wondering if anyone actually read the email you spent two hours writing. Using powerful email marketing software like ConstantContact, Aweber, or MailChimp, you can send fully automated drip emails, with social media and CRM integration, in depth analytic reporting to track your results, and free professional looking, customizable templates for less per month than you probably spent on lunch today.  
All in One Services
Or, for the cost of your morning latte, you can sign up with an all-in-one real estate email marketing service like placester, who offer a package that includes email drip campaigns, your own responsive IDX web site, and lead management all for $79 per month.  For the price of two lattes per day outboundengine will not only set up, deploy and test your automated email campaign, but will also write your content for you. Welcome to the future of real estate marketing!
Bottom Line
Due to its unbeatable ROI, and overwhelming preference among buyers and sellers, effective real estate email marketing should be the cornerstone of every realtor's marketing strategy. To learn more about email marketing best practices, check out our list of tips and best practices from the pros.  
Once you've sent out all of your emails, don't forget to follow up! Using a referral-focused CRM such as Contactually will help ensure that your leads don't go cold, helping you close more deals with less effort. Start a free trial today.