6 Best Contractor & Construction CRM Software for 2023
This article is part of a larger series on CRM.
Customer relationship management (CRM) systems for contractors and construction businesses have features for managing the entire revenue cycle. For example, they typically offer end-to-end features for email marketing, proposal and bid tracking, project management, and payment processing. We evaluated dozens of CRM systems to identify the best CRM for contractors and construction businesses:
Best Construction CRM Systems Compared
Provider

Free Plan

Starting Price for Paid Plans*

Free Trial for Paid Plans

Key Features

Customer Support

Up to 2 users

$29 per user/month

14 days

Project and lead management plus quoting tools

Tier-based support via phone and email

Yes, unlimited users

$45 per month for up to 2 users

14 days

Free email and content marketing features

Email, chat, and phone support (7 a.m. - 8 p.m. Eastern Time)

N/A

Must contact for pricing

14 days

Advanced project management with task automation

Tier-based email, chat, and phone support

N/A

$500 setup fee plus $65 per user, per month

N/A

Mobile app with Google Maps, voice notes, and PhotoDraw

Email and phone support during business hours (Eastern Time)

N/A

Must contact for pricing

N/A

Opportunity and proposal management

Tier-based email, chat, and phone support with some 24/7 options

N/A

$99 per month

N/A

Sales, marketing campaign, and referral management

Phone and email support with some live chat options
*Based on annual billing; monthly billing is also available for slightly higher rates.
Take our quiz to find out the best CRM to help manage your construction business.
Which Is the Best Construction CRM for You?
Answer a few questions about your business, and we'll give you a personalized product match.
Insightly: Best Overall Construction CRM for Contractors
What We Like
Free plan and low-cost options
Excellent lead and opportunity management features
Built-in project management features
What's Missing
Quoting features not available until Enterprise plan
Payment processing requires third-party integration
A general-use CRM, requires field customization to make into a construction platform
Insightly Monthly Pricing at a Glance (per User)*
Free: Up to two users
Plus: $29
Professional: $49
Enterprise: $99
Free trial: 14 days
Insightly is a general-use CRM that can be customized into a construction management system by tailoring the data fields, modules, and process steps accordingly. In addition to lead and opportunity management features, businesses can oversee work projects, tasks, and events within the CRM. Plus, there's the activity set feature, which will create a template of tasks and events that need to be completed related to a specific project. This is useful for contract services that require a standardized process for completion.
Insightly is the best overall CRM for construction and contract businesses because of the price value for the features given. The lead and project management features are free for up to two users, giving access to the mobile app to create project and sales updates on the go. The paid options aren't expensive, and users get excellent features in terms of functionality and usability regardless of the plan selected.
While it does have quoting capabilities within the system, those features aren't available until the Enterprise plan, which can get expensive. HubSpot CRM is the best alternative with free, customizable quoting options.
Insightly Plan Summary
| | Free | Plus | Professional | Enterprise |
| --- | --- | --- | --- | --- |
| Lead & Contact Management | ✓ | ✓ | ✓ | ✓ |
| Project Management | ✓ | ✓ | ✓ | ✓ |
| Calendar Syncing | ✓ | ✓ | ✓ | ✓ |
| Task & Event Management With Activity Sets | ✕ | ✓ | ✓ | ✓ |
| Custom Sales Process | ✕ | ✓ | ✓ | ✓ |
| Lead Assignment & Routing | ✕ | ✕ | ✓ | ✓ |
| Custom Business Intelligence Dashboards | ✕ | ✕ | ✓ | ✓ |
| Workflow Automation | ✕ | ✕ | ✓ | ✓ |
| Products, Price Books & Quotes | ✕ | ✕ | ✕ | ✓ |
| Custom Deployable Apps | ✕ | ✕ | ✕ | ✓ |
*Pricing based on annual billing; monthly billing is also available for a higher cost.
Insightly Key Features
Task and event activity sets: Teams can create a templated process of tasks and events for a specific project or opportunity to use on a recurring basis.
Project management module: Ability to manage contracting projects and associated tasks within the CRM. Module includes calendar sync, custom project processes, and milestone tracking
Lead and opportunity management: Users can store and organize contact information on leads, nurture them with email campaigns, assign sales or bidding opportunities to reps, and track deal progress.
Insightly mobile: On-the-go capabilities with the mobile application where users can make voice notes and update project information from job sites in real time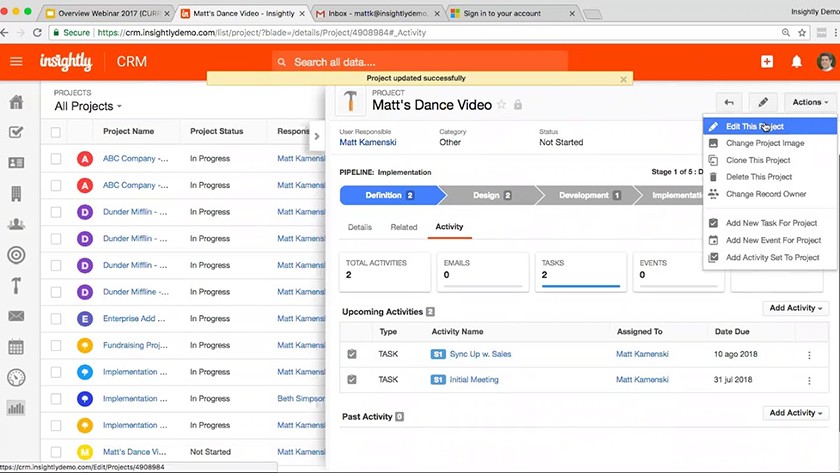 ---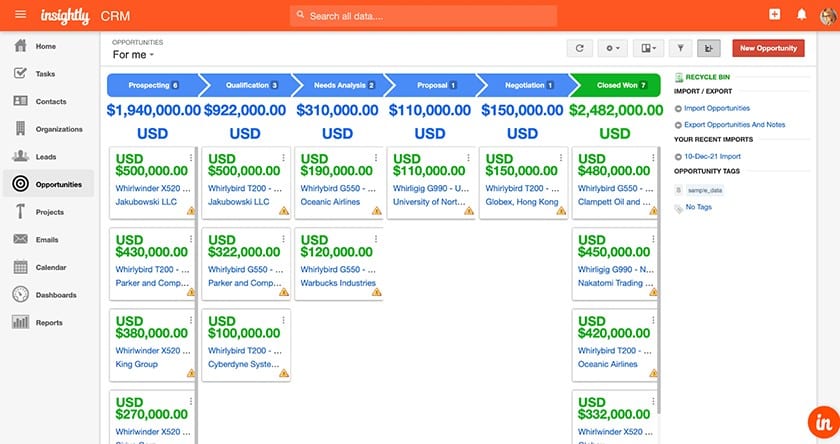 ---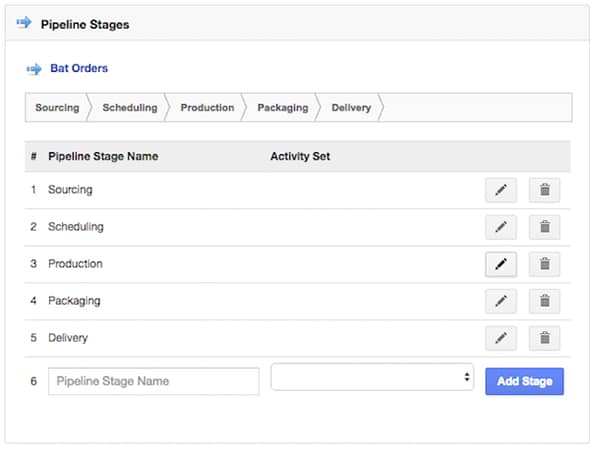 ---
Insightly Customer Support
Insightly has self-service options through the help center and product resources available to both free and paid plan users. It also has tier-based support for paid subscribers during Pacific Time through email and phone. The email response rates vary for customers depending on the selected service plan.
Learn more about Insightly's robust sales, marketing, project management, and customer service features in our Insightly review, which includes insights on platform capabilities and more details on pricing and all-around system usability.
HubSpot CRM: Best for Free Marketing Tools
What We Like
Free plan for unlimited users
Full range of powerful marketing features available
Intuitive interface that's easy to navigate
What's Missing
Both individual and bundled paid plans get expensive
Requires system customization because it's not designed for construction businesses
Project management features designed for marketing campaigns
HubSpot CRM Monthly Pricing at a Glance*
Free: Unlimited users
Starter CRM Suite**: $45 for two users
Professional CRM Suite: $1,600 (up to five users)
Enterprise CRM Suite: $5,000 (up to 10 users)
Free trial: 14 days
*Pricing based on annual billing; monthly billing is also available for a higher cost.
**CRM Suite includes sales, marketing, customer service, content management system (CMS), and operations software. Individual modules can be purchased for lower monthly costs.
HubSpot offers an easy-to-use CRM system that lets businesses manage contacts, leads, and deals, and automate sales workflows. In addition to the general features available, contracting businesses can use HubSpot to send custom quotes to customers for potential projects, receive payments via credit card or Automated Clearing House (ACH), and get the go-ahead for work with e-signatures.
In addition to those excellent capabilities, HubSpot is the best free CRM for contractors specifically for its marketing features. Small firms can extract value through built-in ads management, email marketing, blogging, and search engine optimization (SEO) analysis within the CRM system. The free plan is available for unlimited users and allows access to other helpful management tools, like meeting scheduling and a website landing page designer.
Unfortunately, because HubSpot is a general-use CRM and primarily contains sales and marketing features, users wouldn't be able to use it for overseeing the construction or other service projects. JobNimbus is the best construction CRM software in terms of project management capabilities, task automation, and monitoring workflows.
HubSpot CRM Plan Summary
| | Free | Starter | Professional | Enterprise |
| --- | --- | --- | --- | --- |
| Contact Management | ✓ | ✓ | ✓ | ✓ |
| Meeting Scheduling | One link with HubSpot branding | 1,000 personal and team links | 1,000 personal and team links | 1,000 personal and team links |
| Ads Management | Simple website audiences only | Up to two contact and company list audiences | Up to five contact and company list audiences | Up to 15 contact and company list audiences |
| Landing Pages | Limited features | Removes HubSpot branding but limited features | ✓ | ✓ |
| Email Marketing Campaigns | ✓ | ✓ | ✓ | ✓ |
| Create & Share Custom Quotes | Quotes only | Quotes and payments | Quotes, payments, and e-signature plus product library | Quotes, payments, and e-signature plus product library |
| Blog | One with HubSpot branding | One with HubSpot branding removed | 100 blogs | 100 blogs |
| SEO Recommendations | Basic | Basic | Advanced | Advanced |
| Payment Processing | ✕ | ACH and cards | ACH and cards | ACH and cards |
| Task Calendar Sync | ✕ | ✓ | ✓ | ✓ |
| Automatic Lead Rotation | ✕ | ✕ | ✓ | ✓ |
| Custom Objects | ✕ | ✕ | ✕ | Up to 10 object definitions and 500,000 records |
HubSpot CRM Key Features
Content marketing: Teams can engage online leads and customers through managed blog articles, videos, social media posts, and website landing pages as well as receive SEO recommendations, all from the CRM.
Email marketing: Email campaign design and deployment from the CRM, with list segmentation to target new leads as well as customers of old contract jobs.
Payment processing: Contractors can collect revenue from the CRM system through the Stripe integration for credit cards or HubSpot Payments to receive payment through ACH.
Quotes management: Free custom quote options for work projects that allow payments, e-signature, and product libraries on the paid plans.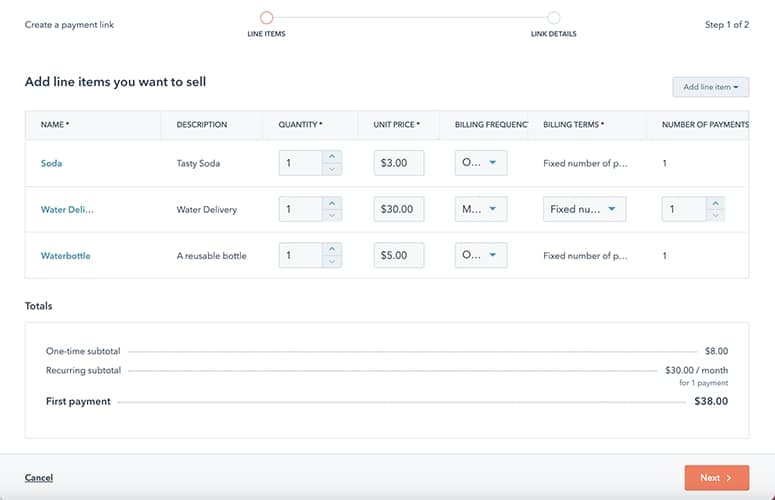 ---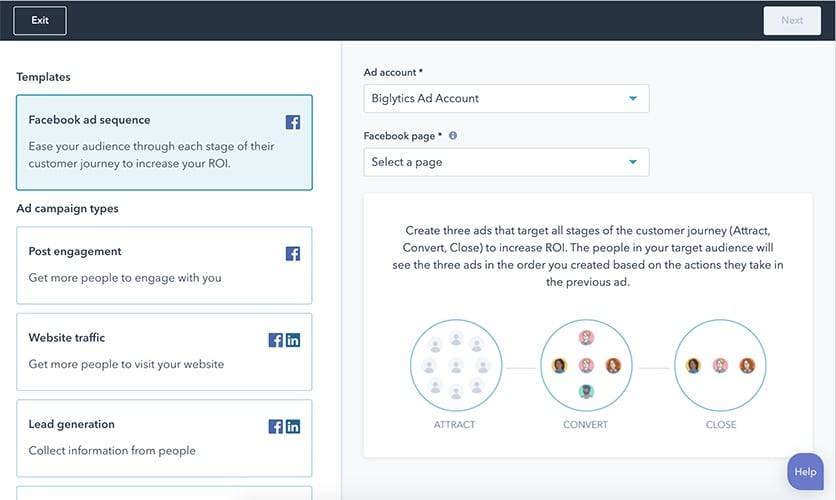 ---
HubSpot Customer Support
HubSpot's customer support is available from 7 a.m. to 8 p.m. Eastern Time through phone, live chat, and email channels. There is also an array of useful online resources such as HubSpot Academy, a community forum, and an extensive library with user tutorials and guides to help navigate the platform and operate the features.
Want to learn more about HubSpot? Check out our in-depth HubSpot CRM review for detailed insights on its sales and marketing features, price structures, third-party integrations, platform usability, and what users say about the product.
JobNimbus: Best CRM for Construction Industry Project Management
What We Like
System fields and modules are specifically built for contracting businesses
Includes payment processing, invoicing, jobs, and project management in one platform
Project management includes multi-jobsite capabilities and automated to-do lists for construction teams
What's Missing
Lacks transparent pricing
Limited third-party integration options
Doesn't have project management until Growing plan
JobNimbus Pricing at a Glance
Early: Must contact for pricing
Growing: Must contact for pricing
Established: Must contact for pricing
Free trial: 14 days
The JobNimbus CRM solution is acclaimed for its ease-of-use features and sales tools such as contact and lead management, invoicing, and payment processing. This construction CRM software also gives contractors, roofers, and other trades the option to integrate their system with QuickBooks for easy expense and revenue tracking that update based on project updates and invoice sends.
Where this CRM best serves businesses is in project and jobs management. Users can create and assign automated to-do lists to their jobsite teams and collaborate together through project board mentions and notifications. Additionally, they can track work progress within each job board and identify workflow bottlenecks slowing down their production and service operations.
JobNimbus, unfortunately, only has 19 third-party integration options, which are limited mostly to payment processing and job estimation tools. Insightly and HubSpot are the best alternatives for integrations on this list, with each offering hundreds of options for sales, marketing, finance, and operations solutions.
JobNimbus Plan Summary
| | Early | Growing | Established |
| --- | --- | --- | --- |
| Unlimited Contacts | ✓ | ✓ | ✓ |
| One-click Invoicing | ✓ | ✓ | ✓ |
| Payment Processing | ✓ | ✓ | ✓ |
| Reporting | General only | Custom | Custom |
| Workflow Tracking | ✓ | ✓ | ✓ |
| Unlimited Jobs | ✕ | ✓ | ✓ |
| Financing to Homeowners | ✕ | ✓ | ✓ |
| Automated Workflows | ✕ | Up to 10 | Unlimited |
| QuickBooks Integration | ✕ | ✓ | ✓ |
| Custom Tasks & Fields | ✕ | ✕ | ✓ |
| Unlimited Integrations | ✕ | ✕ | ✓ |
JobNimbus Key Features
Invoicing and payments: One-click invoicing options with payment processing options plus integration with QuickBooks to sync invoice and revenue data into an accounting system.
Project and job management: Team members can monitor progress, view tasks, and collaborate on large construction projects as well as smaller contracting jobs.
Homeowner financing: Through its partnership with Sunlight Financial, the system has modules that can let contractors offer their customers simple financing options with quick, digital loan approvals to help close more deals.
Contact management: Contact and lead data storage and organization for their activity information.
JobNimbus Customer Support
JobNimbus uses tier-based support for their users. The Early plan comes with email support and access to the community forum and online resources. The Growing plan provides email, live chat, and phone support as well as onboarding assistance from a representative from JobNimbus. The Established plan gives all of those support options plus expanded access to a dedicated Customer Experience team.
Like what you see? Check out our JobNimbus review for more details on features, price, and platform usability.
JobProgress: Best Mobile Construction CRM Application
What We Like
Powerful mobile application with a broad range of capabilities
System designed for contractors and includes fields and modules applicable to them
Offers end-to-end feature capabilities in the system to generate, complete, and receive payment for contract jobs
What's Missing
Only one, relatively expensive plan
Limited number of integration options
Platform notability can be challenging to operate, navigate, and set up
JobProgress Pricing at a Glance*
JobProgress Plan: $500 one-time startup fee plus $65 per user, per month
*Pricing is based on monthly billing.
JobProgress is an industry-specific CRM designed for construction companies, home renovation firms, and trade contractors such as plumbers, electricians, flooring specialists, and roofers, to name a few. The features offer end-to-end, comprehensive capabilities for contractors to close sales deals, complete the contracting work, receive payments, and track finances. Within the CRM and project management platform are custom proposals, email automation, customer tracking, and modules to oversee worksites.
This CRM is the best mobile CRM software for contractors looking to manage sales and projects on the go. Users can call, text, or email contacts from the app, take and add job site photos, and receive directions from Google Maps directly from contact profiles. Teams can also create a follow-up on contract proposals and receive field communication messages from their home office for new tasks and updates.
JobProgress, though powerful and useful to contracting businesses, does poorly in the usability category for navigating the interface, using the features, and setting up the system. JobNimbus is the best industry-specific CRM alternative that has excellent ease-of-use ratings.
JobProgress Plan Summary
| | JobProgress |
| --- | --- |
| Estimates & Proposals | Users can custom generate quotes, contracts, estimates, and proposals and send them to leads for review |
| Financial Statement Generation | Teams can generate financial statements and run profit/loss analysis from the CRM |
| Staff Management | Managers can create work schedules and store data and tasks for employees and subcontractors |
| Job & Project Management | Customizable project and task manager module to oversee ongoing construction or contracting work |
| E-signatures & Remote Pay | Team can receive contract signatures and payments digitally |
| Email Automation | Teams can create and send out email campaigns to leads and contacts and run re-deployment automation sequences |
| Homeowner Webpage | Interactive customer web page that lets them view work progress, remaining payment balance, next steps, and essential documents |
| Insurance, Selling Price & Macros Worksheets | Worksheets within the CRM that will do cost tracking for insurance underwriting and outline estimates for customers to sell their property |
| Mobile App | App on iPhone and Android devices to navigate to job sites through Google Maps, PhotoDraw on work progress, and create voice notes |
| Field Communications | Teams can communicate and assign tasks from the CRM to reps in the field or at worksites using text options |
| Reporting | Sales, marketing, and project performance and activity reporting from the system |
JobProgress Key Features
Lead and sales management: Ability to organize contacts and engage them through automated email campaigns.
Staff scheduling and management: Users can store data and files on their employees and subcontractors and manage their work schedules.
Mobile applications: On-the-go communication options through call, text, or email, Google Maps navigation, voice notes, and PhotoDraw to create sketches on images taken by the mobile device to share with customers or staff members.
Digital proposals, invoice, and pay: Users can create custom proposals and quotes, receive e-signatures from customers, and send out invoices from the CRM.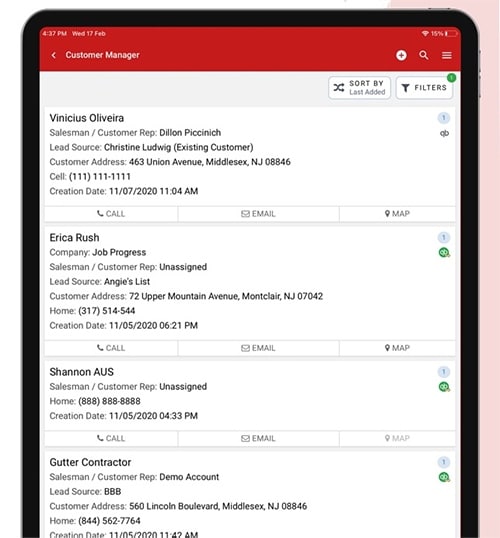 ---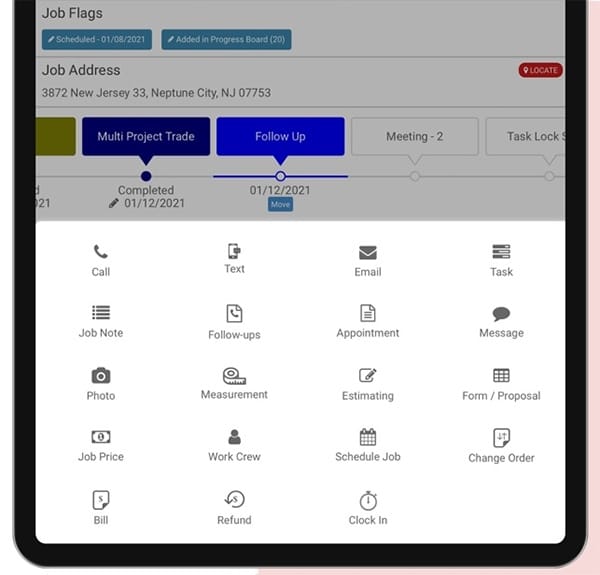 ---
JobProgress Customer Support
JobProgress customer support is available during standard business hours Eastern Time through phone and email channels. They also offer online resources such as a blog and training videos for using the CRM's features.
Unanet CRM by Cosential: Best for Opportunity Management
What We Like
Excellent proposal and opportunity management features
Unique business planning tools, such as success factor analysis and revenue projections
Includes data enrichment tools from over 50 social media sites
What's Missing
No free plan or transparent pricing
Does not have built-in project management
Difficult to navigate interface
Unanet CRM Pricing at a Glance
Unanet CRM: Must contact for pricing
Unanet CRM is contractor and construction sales software offering features for three types of roles: business development managers, marketers, and firm principals. It has solid data management features for organizing contact and lead information, previous activity through email and call logs, and enriching lead and customer data records by pulling information from social media websites. There are also sophisticated strategic and business planning capabilities, such as success indicator analysis and revenue estimation.
This CRM for tradesmen and general contractors mainly stands out for its opportunity management capabilities. Users can view all pending deals and outstanding proposals in the sales pipeline and update them using drag-and-drop functionality. Plus, they can create and collaborate on specific tasks associated with an opportunity and receive notifications for at-risk deals using custom red flags. Lastly, the proposals have data output options for automatically pulling contact or company information to add to a quote or contract document.
While it offers great features, it can be frustrating for new users or startup businesses to not have any pricing transparency in their contracting, residential, or commercial construction CRM system. Since Unanet CRM requires all businesses to be quoted separately, we recommend Insightly or HubSpot as the top alternatives with clear pricing and multiple plan options while also offering solid opportunity management features.
Unanet CRM Plan Summary
| | Unanet CRM |
| --- | --- |
| Business Card Scanner | Users can scan business cards with mobile app and have contact data automatically added into CRM |
| Email & Call Logging | Ability to add or link email messages and call logs directly to contact profiles to track activity |
| Data Organization | Data management for contacts, leads, companies, and opportunities with record linking options |
| Opportunity Management | Drag-and-drop opportunity stage tracking, task management associated with opportunities, and flagging to find at-risk deals |
| Contact Enrichment | Data pulling from over 50 social media sites to keep contact and client records up to date |
| Margin Calculator | Revenue and expense tracking and complex calculation capability to help find margin estimates on individual projects |
| Go/No-Go Decision-making | Users can generate automated emails to decision-makers for opportunities that meet certain criteria and create custom red flag forms for simple yes or no decision-making |
| Proposals & Marketing Materials | Custom proposals with automated data output from CRM records to documents |
| Sales & Deal Reporting | Teams can generate performance reports or view the system dashboard to see opportunity progress |
| Revenue Projections | Ability to create revenue estimates based on closed deals and pending opportunities with high closing likelihood and values. |
| Strategic Planning | Built-in success factors and strengths, weaknesses, opportunities, and threat (SWOT) analysis features |
Unanet CRM Key Features
Business planning: Built-in modules for finding key success indicators, running SWOT (strengths, weaknesses, opportunities, threats) analysis, projecting future revenue estimates, and making quick decisions based on detailed project opportunity analysis.
Opportunity and proposal management: Easy-to-use proposal generation with data output to proposal documents as well as opportunity management to track where each pending deal stands.
Record storage and organization: Contact, lead, and company data management within the CRM plus automated enrichment and call and email logging.
Financial reporting: Users can calculate margins of current and potential work projects and generate financial reports on revenue and profits.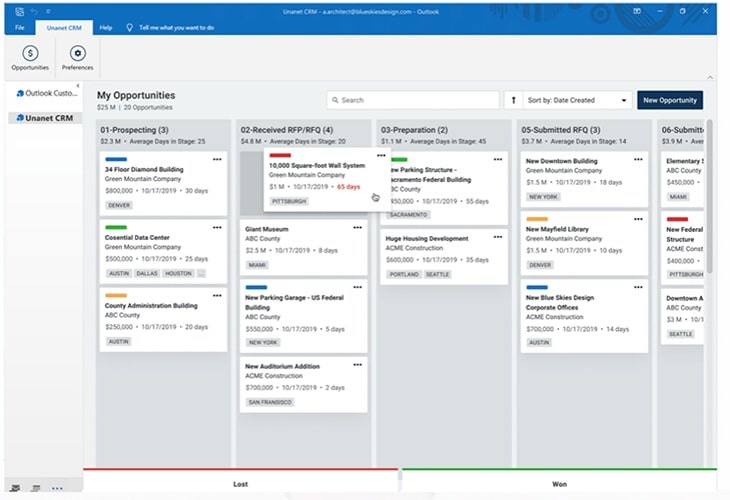 ---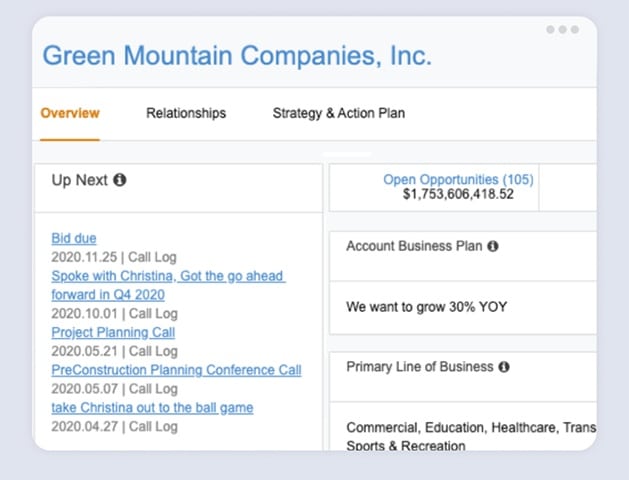 ---
Unanet CRM Customer Support
Unanet CRM provides customers with online resources, including webinars, tutorials, and a blog, as well as an assigned implementation specialist and Customer Success Manager for all users. There's also tiered support available through phone, email, and live chat, 8:30 a.m. to 7:30 p.m. during the work week for standard support users, and 24/7 available for premium users.
MarketSharp: Best CRM for Small Construction Businesses & Home Remodelers
What We Like
End-to-end solution for managing sales and marketing tasks
Includes point-of-sales tools like payments, quotes, and commissions management
Specialty CRM for remodeling and home construction businesses
What's Missing
No free plan or free trial
All plans start at an expensive price
Limited project management features
MarketSharp Pricing at a Glance*
Standard: $99 per month for one user then $40 per each additional user, per month
Pro: $199 per month for one user then $45 per each additional user, per month
Ultimate: $299 per month for one user then $50 per each additional user, per month
*Pricing is based on monthly billing.
MarketSharp advertises as being exclusively designed for remodeling contractors and home professionals. As many of those are often smaller, local businesses, they need a CRM like MarketSharp that provides solutions for selling locally, such as geographic-based email marketing automation and the ability to develop reward-based referral programs. The CRM also lets you send requests to customers to post an online review and has features for creating direct mail campaigns.
Sales teams can also extract value from MarketSharp with the point-of-sale features, including quotes and estimates and payment processing through card, ACH, or mobile payments. Additionally, there are commission management capabilities that let sales directors view finalized sales and installation projects to allocate performance-based compensation to sales reps.
While it's an excellent sales CRM for general contractors and homebuilders, MarketSharp is not ideal for managing the projects or overseeing the work being completed for customers. Its features are limited only to basic progress monitoring on installation jobs and product deliveries. JobProgress and JobNimbus are the best CRM for construction options regarding advanced activity tracking, servicing, and managing work on all types of project sites.
MarketSharp Plan Summary
| | Standard | Pro | Ultimate |
| --- | --- | --- | --- |
| Lead, Account & Contact Management | ✓ | ✓ | ✓ |
| Search & List Filtering | ✓ | ✓ | ✓ |
| Calendar With Appointment Scheduling | ✓ | ✓ | ✓ |
| Documents & Photos | ✓ | ✓ | ✓ |
| Referral Marketing Management | ✓ | ✓ | ✓ |
| Geographic & Demographic Targeting | ✓ | ✓ | ✓ |
| Quotes, Estimates & Payments | ✓ | ✓ | ✓ |
| Commission & Production Management | ✕ | ✓ | ✓ |
| QuickBooks Integration | ✕ | ✓ | ✓ |
| Appointment Routing | ✕ | ✕ | ✓ |
| Two-way Texting | ✕ | ✕ | ✓ |
| Email Automation | ✕ | ✕ | ✓ |
MarketSharp Key Features
Marketing features: Teams can connect with leads and potential customers through automated email campaigns, direct mailing, and referral program management.
Sales and rep management: Dashboarding on rep performance, including conversion rates and closing ratios. It also includes commission management capabilities and sales production reporting.
Quotes and payments: Custom quote and estimate generation from the CRM plus payment processing through PaySimple integration via credit cards, mobile payment, and ACH.
Record management: Lead, account, and contact data storage and filtering plus options to add files and photos to records.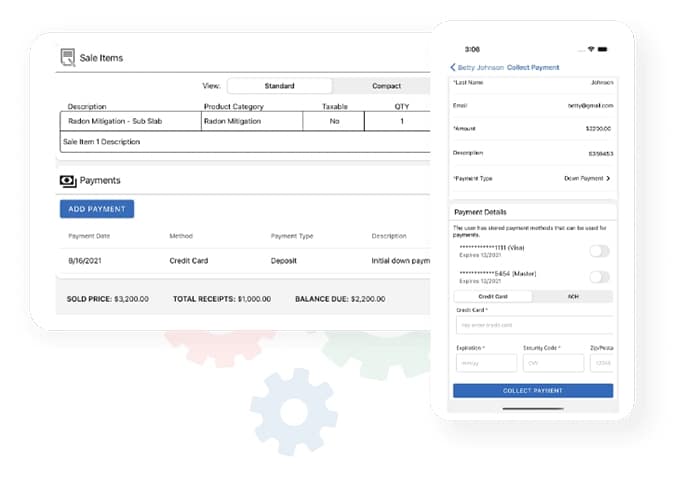 ---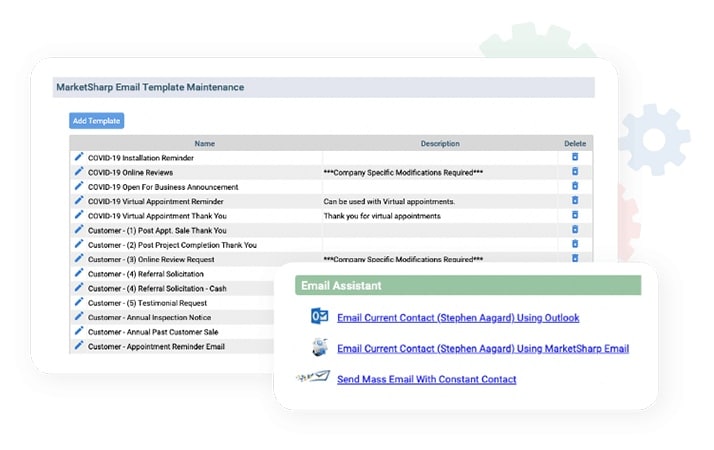 ---
MarketSharp Customer Support
MarketSharp has online resources available for its users, such as a blog, MarketSharp Online University, and a library of webinars. There's also phone and email support on all plans, plus live chat options on the premium customer success tier.
Why Use a Construction or Contractor CRM System?
CRMs built for contractor operations enable businesses to manage their work projects, track bid proposals, generate quotes, engage and track leads, and process payments in one platform. By using an industry-specific CRM designed for construction businesses or trade contractors, teams can manage their data and workflows in a central system. Centralization on one interface helps improve collaboration and efficiency for all parts of your business, including sales, marketing, finance, and service operations.
How We Evaluated the Best Construction CRM Software
To determine the best CRM for construction firms and trade contractors, we considered niche product features specific to managing those kinds of businesses. For instance, payment processing, project management, and meeting scheduling modules are especially useful for contractors to oversee the entire service-to-revenue cycle. We also looked into each CRM for standard product attributes such as price, general CRM features, ease of use, and customer support.
We found Insightly to be the best overall construction CRM software because of the value it offers its users. A free plan for up to two users includes essential contractor features such as lead and project management. Even the paid plans are relatively inexpensive and add tremendous contracting business support with opportunity management modules for bid tracking, custom sales processes, and activity templates that let you create and use sequential tasks or events for projects.
The tabs below offer insight into our evaluation process of the best CRM for contractor businesses:
30%
Niche-specific Features
30% of Overall Score
The best CRM for contractors will have features directly related to managing their sales and operations. For instance, project management, proposal tracking, meeting scheduling, and payment processing capabilities are must-haves in these types of CRM systems. The system should also let users design and deploy email marketing campaigns for lead generation and nurturing activities.
20% of Overall Score
The solutions were also evaluated on platform usability. This was analyzed in terms of the expertise required to set up an account, integrate with native or third-party applications, and the skill needed specifically to use the niche features helpful to contractors. We also reviewed the overall intuitiveness of navigating the system's interface.
20% of Overall Score
Extensive support and service help prevent poor user experiences and outcomes users may encounter while using any of these systems. Help and support were evaluated in terms of customer service hours and the availability of support via phone, live chat, and email. We also looked at online resources for users to review, like tutorials, forums, or training modules.
10% of Overall Score
Pricing takes into account free plan availability, various scalable pricing options users can purchase affordably, and the availability for a subscriber to either pay monthly or save by paying annually. Additionally, we looked at the costs specifically for built-in features or integrations with construction or contractor solutions.
10% of Overall Score
In addition to specialized features, we looked at the overall functionality we feel is necessary for all CRM systems. This includes various CRM integration options, reporting and analytics tools, and a mobile app. We also evaluated other common capabilities in most CRM platforms, such as contact management and workflow automation.
10% of Overall Score
In addition to firsthand experience with these software systems, we evaluated what real users say about for each product. These criteria consider how customers of contracting firms feel, based on their reviews, to gain insight into platform popularity, ease of use, and overall value for the price.
*Percentages of overall score
Bottom Line
Construction and contracting businesses need a niche CRM system built to handle the data and workflow needs of the industry, as it lets them manage leads, proposals, and worksites in one platform. Insightly is the best overall construction CRM for the value it offers general and specialized contractors. However, specific product attributes, such as free marketing tools, advanced project management, or a robust mobile application, may require you to look into the other CRM software options on this list.