7 Best Account Management Software for 2023
This article is part of a larger series on CRM.
Account management customer relationship management (CRM) software lets businesses assist and engage clients after they've undergone the sales process and become closed business deals. Commonly used in business-to-business (B2B) sales, the best account management software offers features that allow users to communicate with contacts through phone or email and set up appointments. It also needs to store product catalogs, be able to manage invoices, and track previous account activity.
We evaluated dozens of account management software products to oversee, support, and upsell current business clients. Based on our evaluation, the seven CRMs for account management include:
Best Account Management Software Compared
Provider

Our CRM Rating

Starting Price*

Key Account Management Features

Our Product Review

4.8/5

$19 per user/month

Product books, communications, and account activity tracking

4.6/5

Free to $15 per user/month

Free built-in telephone system for placing and receiving calls

4.4/5

$55 per user/month

Leadership edition for managers to drive team performance

N/A

4.05/5

Free to $14 per user/month

Custom modules, data fields, and layouts to meet account management needs

4.0/5

$25 per user/month

Case management features with auto-routing and knowledge resources

3.9/5

$8 per user/month

Customizable product catalogs with inventory management

3.75/5

Free to $46 per month

Free product catalog and account management features
*Based on annual billing; monthly billing is also available for slightly higher rates.
Pro tip: While account management software helps businesses upsell and provide clients with solution support, customer service software assists customers through various communication channels and self-help resources. Check out our guide on the best customer service software for small businesses to find the right product for your service operation.
Zendesk Sell: Best Overall Account Management CRM
Pros
Data features like duplicate detection and document management available on Team plan
Great product usability for navigating the interface and operating the features
Users can manage account subscriptions and price/product books from the CRM platform
Wide range of communication channels to engage clients through email, text, and phone
Cons
No free plan available
Product and price books not available until Growth plan
Automated task creation and assignment features get expensive
Zendesk Sell equips account managers with everything they need to assist, upsell, and communicate with their clients. Users, for instance, can reference product and price books from the CRM system to help clients navigate products and services. There are also communications capabilities for users to engage account points-of-contact through direct email, mass email, text, or phone through the CRM. On the data management side, Zendesk Sell teams monitor client information and activity history, store account documents, and keep their database clean with automated duplicate detection.
Ranked the best overall account management software, Zendesk Sell supplements its communications, data management, and sales features with a simple interface that's easy to navigate. It also comes with over 1,000 outside integrations, including RingCentral, QuickBooks, and Dropbox, for sales teams to add additional functionality through their favorite third-party applications. Finally, users who need assistance can rely on Zendesk Sell's excellent customer support, available on live chat, phone, and email channels, plus its self-service resources like an online help center and forum.
---
A significant issue with Zendesk, particularly for startups and smaller businesses just getting started with software for account management, is that the provider does not offer a free-forever plan to users. A free plan lets users become comfortable with the features risk-free until they're ready to upgrade and scale their operation. Luckily, alternatives such as Freshsales and Zoho CRM offer a zero-cost plan—making them two of the best free account management software options.
---
Zendesk Sell Monthly Pricing (per User) at a Glance*
Team: $19
Growth: $49
Professional: $99
Enterprise: $150
Free trial: 14 days
*Pricing based on annual billing; monthly billing is also available for a higher cost.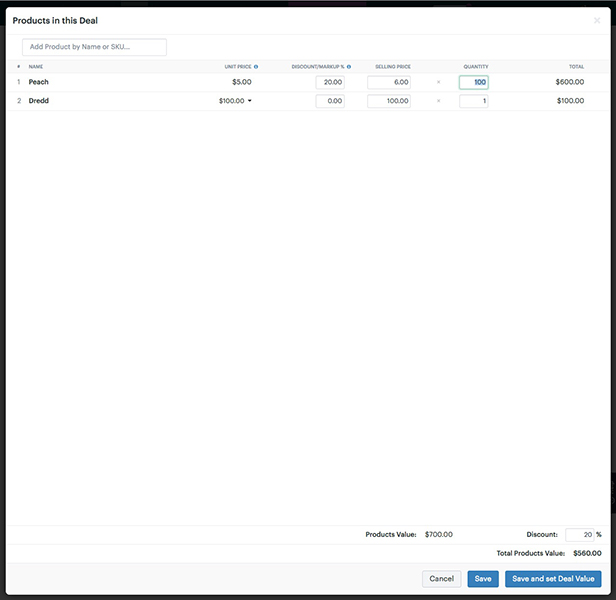 ---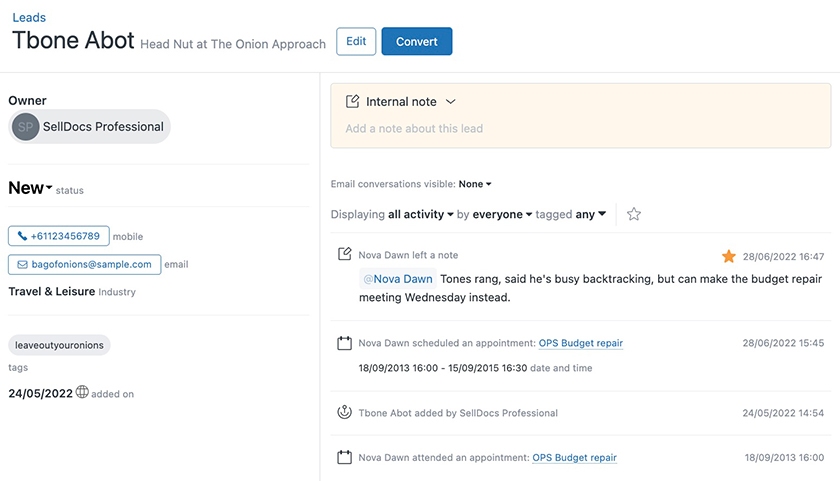 ---
Discover the best use cases and robust feature set of this platform in our full Zendesk Sell review.
Pro tip: Did you know chatbots and live chat channels are becoming increasingly popular for lead generation, customer support, and account management activities? To learn about the primary differences, check out our article on chatbot vs live chat for insights on how and when to use each communication channel.
Freshsales: Best for Its Built-in Telephone
Pros
Free plan includes up to 3 users and a built-in phone system
Scalable, low-priced paid plans
Clean and intuitive interface for navigation and using the CRM tools
Account management tools with data storage, activity tracking, task monitoring, appointments, and notes
Cons
Price, quotes, invoices, and onboarding documents management requires paid add-on
Product catalog and two-way email sync are not included in growth plan
Data features like deduplication and profile enrichment require higher-tiered plans
Freshsales stands out as an excellent CRM system for its free plan available for up to 3 users, scalable paid plans, and solid user experience through its clean interface and easy-to-use features. In terms of sales account management tools, the platform can act as a comprehensive solution for overseeing business clients and deals. The CRM data records include a complete view of contact information, notes, tasks, appointments, prior activity, and related deals and support tickets. Account hierarchies also let users view companies with all associated personnel and job titles.
Freshsales, however, dominates with its zero-cost, built-in telephone system. A significant part of an account manager's job involves placing or receiving calls for upselling, cross-selling, or being available to assist clients. Having a phone within the CRM makes it easy to centralize work activity in one interface. With the phone system, users can dial or call directly from a contact or account record through click-to-dial.
---
While cost-friendly all-around, some data management features, such as deduplication and automated profile enrichment, require the higher Pro and Enterprise plans for access. These features are critical for maintaining a clean customer database with up-to-date information to help account managers succeed. Zendesk Sell has a more cost-friendly option, with deduplication available on the Team plan for $19 per user, per month, and profile enrichment credits on the Growth plan for $49 per user, per month.
---
Freshsales Monthly Pricing (per User) at a Glance*
Growth: $15 (free for up to 3 users)
Pro: $39
Enterprise: $69
Free trial: 21 days
Add-ons:
Configure, Price, Quote: $19 per user, monthly for quote document templates, invoicing, and document activity tracking
Additional bot sessions: $75 for 1,000 bot sessions per month for automated customer or lead support
*Pricing based on annual billing; monthly billing is also available for a higher cost.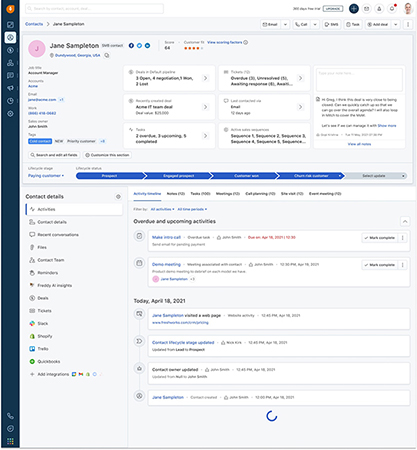 ---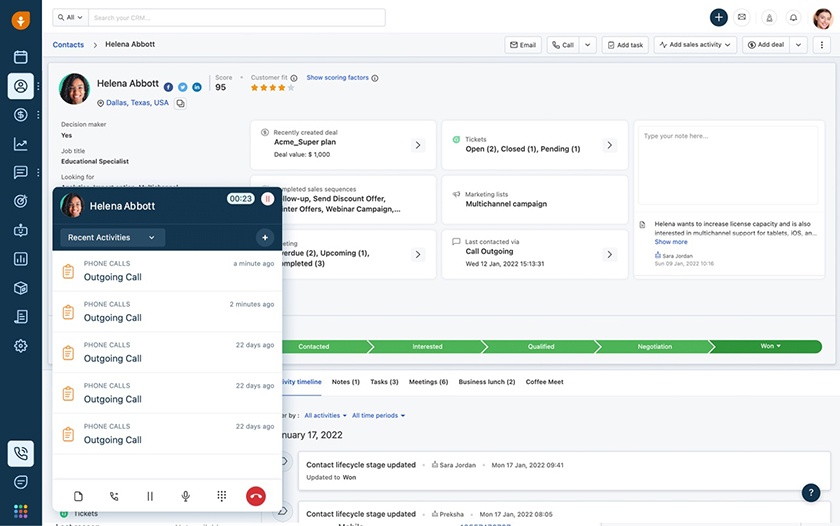 ---
Explore the features of this CRM platform to determine if it's the right solution for your business in our comprehensive Freshsales review.
Maximizer CRM: Best for Running Account Management Operations
Pros
Solid case management and resolution features within the platform
Users can store document templates within the system, add custom fields, and obtain e-signatures
Includes products tracking and quote generation features
Provider offers a standard CRM product and a sales leadership platform for overseeing a sales operation
Cons
No free plan
System can be tricky to set up for new users
CRM plans start at an expensive price
Maximizer CRM is built to help businesses "maximize" performance in terms of new business and recurring revenue. The first of the two product editions involves the base CRM system, which includes features that account managers and customer success managers use. For example, there's a full case management module for tracking customer inquiries, managing service level agreements (SLAs), and storing manuals and notes to help reps assist clients. Teams can also organize contact data, notes, and documents, including quotes and invoices from a product catalog.
The other product offered by Maximizer is the Sales Leader edition. It's specifically built to help sales leaders, in this case, those overseeing account management operations, boost and monitor performance. There are tools for automatically tracking indicators that a deal could be going south, performance reporting and activity tracking for account reps, and quote management features with sales forecasting. Plus, there are features for creating friendly competitions for upselling or retention campaigns and coaching tools to provide feedback and advice on specific deals, accounts, or tasks.
---
It's clear that price is the most significant barrier to selecting this CRM. There's no free plan option, and paid plans start at $55 per user on a monthly basis. Users looking for a lower-priced alternative with similar operations management capabilities should consider Zoho CRM. Many of its reporting, performance management, and process oversight features start on the Professional plan for $23 per user, monthly.
---
Maximizer CRM Monthly Pricing (per User) at a Glance*
Base Edition**: Starts at $55 (three-user minimum)
Sales Leader Edition**: Starts at $75 (five-user minimum)
Free trial: 30 days
*Pricing based on annual billing; monthly billing is also available for a higher cost.
**Prices indicated are just estimated starting prices—other taxes and fees may apply once subscribed.
Zoho CRM: Best for Account Management System Customization
Pros
Free plan and scalable paid plans
Highly customizable CRM system in terms of modules, tabs, page layouts, automations, and data fields
Includes modules specifically for account management
Offers Zia artificial intelligence (AI) for data enrichment, macro suggestions, and automations
Cons
Platform requires some technical skill to set up
Price books, quotes, and products not available on Free plan
Case management features unavailable until Professional plan
Zoho CRM is a popular, cost-friendly CRM that serves as a powerful resource due to its advanced automation and artificial intelligence (AI) capabilities as well as its account and case management modules and the ability to store product price books in the system. Account management teams can also use Zia, the AI tool, to keep their profile data up to date, remind users of tasks, and recommend automated workflows and macros that boost productivity. Automated workflows are available on the free plan to send email notifications, assign tasks and records, and update data based on preset criteria in real time.
Zoho's greatest attribute, however, is system customization. No matter what you sell, how you sell it, and the manner in which your account management operation runs, anyone can tailor Zoho to meet nearly any requirement. Teams can design custom modules, home page components, tabs, automations, and page layouts. There's also the option to insert and require customizable data fields within account or deal records and create customizable page buttons to help navigate the interface.
---
Those with little technical knowledge or no experience setting up a CRM may struggle with Zoho. The platform lacks intuitiveness when managing users, creating system preferences, and configuring admin settings. Freshsales is a better alternative that measures well in all usability categories, including ease of setting up the CRM software.
---
Zoho CRM Monthly Pricing (per User) at a Glance*
Free: Up to three users
Standard: $14
Professional: $23
Enterprise: $40
Ultimate: $52
Free trial: 15 days
Additional plans:
Bigin: $7 for basic sales pipeline management
Zoho CRM Plus: $57 for added help desk, email and social media marketing, survey, and analytics functions
*Pricing based on annual billing; monthly billing is also available for a higher cost.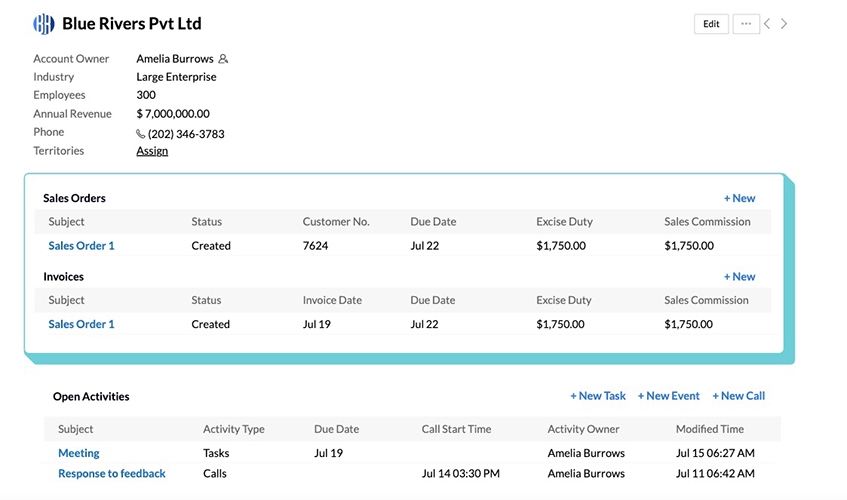 ---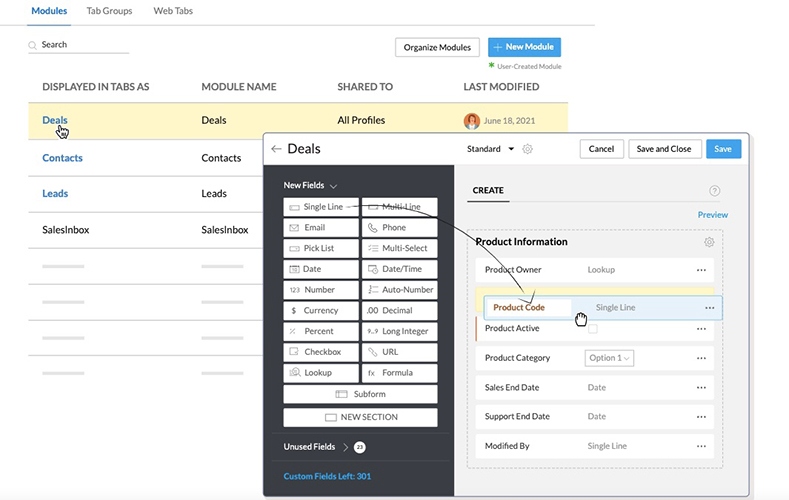 ---
Learn more about this comprehensive sales management platform in our detailed Zoho CRM review.
Salesforce Essentials: Best for Case Management Features
Pros
Over 2,500 third-party and native integration options plus CRM add-ons
Robust case management with knowledge resources in the CRM
Built-in modules specifically with account manager tools like complete customer data and activity views
Highly sophisticated mobile CRM app to manage accounts on the go
Cons
No free plan and only one paid plan option
Poor usability ratings in setting up and operating the CRM
Quotes, contracts, orders, and product and price books aren't available
Salesforce Essentials is a CRM system built specifically for small businesses. Because of Salesforce's hold on the CRM market, the platform comes with a highly advanced mobile application to run account management operations on the go. There are also over 2,500 integration options with both general-use and industry-specific CRMs—letting teams sync account data between multiple apps. Team members can maintain a complete overview of their accounts and clients, including tracking activity history, prior communications, key contacts, and internal discussions.
For account management teams that need case management and help desk software, look no further than Salesforce Essentials. The system allows users to link cases to accounts, automatically route incoming customer inquiries to specific reps, and manage service level agreements (SLAs). Teams can also store knowledge resources while engaging with a client—allowing account managers to resolve issues faster and with better quality service.
---
The most clear-cut problem with Salesforce Essentials is that because it's the provider's small business-specific product, the features for creating contracts, sales orders, quotes, and managing a products and price books page are not included. The provider does not begin offering those modules until the Salesforce Professional Sales Cloud for $75 per user, per month. Zoho CRM is an excellent alternative with a low-cost inventory management module with quoting, invoicing, and product management starting at $23 per user, per month.
---
Salesforce Essentials Monthly Pricing (per User) at a Glance*
Salesforce Essentials: $25
Free trial: 30 days
Add-ons:
Sales Dialer: $5 for a built-in dialer with click-to-dial and call logging
CPQ and Billing: $75 for price and quoting tools
Social Intelligence: $25 for social media data collection and sharing
Sales Cloud Einstein: $50 for AI analytics and automation
Pardot: $1,250 per month for marketing and lead generation automaton
Partner Relationship Management: $25 per user or $10 per login, per month for partner oversight features
*Pricing based on annual billing; monthly billing is also available for a higher cost.
Dive into this platform's rich feature set for small businesses in our full Salesforce Essentials review.
Apptivo: Best for Product Catalog Management
Pros
Inexpensive CRM all-around
Critical account management features like products catalog, appointment setting, and file storage available on Lite plan
Built-in referral tracking tools
Customizable products catalog that can integrate with inventory management and accounting systems like Xero or QuickBooks
Cons
No free plan
Lacks any type of advanced AI capabilities for automation and insights
Pricing and quote features not available until Ultimate plan
Apptivo is a sales, marketing, and inventory management system built into one platform. Regardless of the plan selected, it's a cost-friendly customer account management software option that lets teams store and manage contact data. Teams can also organize client files and oversee tasks, appointments, and notes associated with an account. Once on the Ultimate plan for $20 per user, monthly, users can access critical features for sending quotes and bills, as well as deploying automated email and text sequences to clients.
Businesses that sell tangible products and use account managers to support existing clients (as common with office suppliers, equipment manufacturers, or IT hardware distributors) get solid value from Apptivo. In addition to sales, marketing, and account management capabilities, Apptivo has inventory management modules. These features include a customizable product catalog where users can insert specific products with descriptions, tags, serial numbers, and prices. They then can directly add ordered items from the catalogs to a payable billing invoice and track inventory stock.
---
Apptivo lacks platform sophistication in that there is no AI tool built in to help users get insights, automate tasks, maintain up-to-date data, or obtain productivity suggestions. These features are particularly great for small businesses as they can transform the capabilities of a small team into that of a larger operation. Zoho CRM and Freshsales are the two best alternatives for AI capabilities, with Zoho's Zia and Freshsales' Freddy AI tools.
---
Apptivo Monthly Pricing (per User) at a Glance*
Lite: $8
Premium: $12
Ultimate: $20
Enterprise: Contact for pricing
Free trial: 30 days
*Pricing based on annual billing; monthly billing is also available for a higher cost.
Interested in learning more about this software? Head over to our comprehensive Apptivo review.
Bitrix24: Best Free Account Management Software
Pros
Free plan for unlimited users
Built-in project management tool available for free
Free product cataloging tools
Client management features such as activity planning, tasks management, and internal collaboration
Cons
Poor usability ratings for setting up the CRM platform, operating the features, and navigating the interface
Custom data fields not available on Free plan
No free quotes or invoicing features
Bitrix24 is exhaustive CRM software that has sales, marketing, human resources, inventory, projects, and customer service management features in one system. Users can support their business accounts with tons of account management capabilities, including contact data storage, task management, activity tracking, and a contact center with phone, email, live chat, and social media communication channels.
Bitrix24 is the best free account management software for a few reasons. The first is that the free plan is available to unlimited users. Next, the free plan offers a range of account management features. For example, teams can store and manage an unlimited number of contacts and accounts, store client documents, manage account tasks or projects, and maintain a product catalog with unlimited items in the CRM. There are also free client management features for planning collaborative activities with clients from the CRM.
---
Product usability is the most significant flaw with Bitrix24. Based on our evaluation and user reviews, the platform can be challenging to set up the system, operate the features and modules, and most notably, navigate the interface. Freshsales is the best CRM on this list in terms of usability and operating the system.
---
Bitrix24 Monthly Pricing at a Glance*
Free: Unlimited users
Basic: $49 (up to five users)
Standard: $99 (up to 50 users)
Professional: $199 (up to 100 users)
Enterprise: $399 (up to 250 users)
Free trial: 30 days
*Pricing based on annual billing; monthly and quarterly billing is also available for a higher cost.
Learn more about this platform's full feature set in our comprehensive Bitrix24 review.
How We Evaluated the Best Account Management Systems
To determine the best account management system, we evaluated the specific features relevant to assisting business clients, communication with account points of contact, and tracking activity. A product catalog built into the CRM, for instance, helps account managers efficiently help a client navigate through various product or service offerings and monitor purchases to include on invoices. We also looked at other critical product attributes, including price, ease of use, and customer support.
We found Zendesk Sell to be the best overall account management CRM system. It offers end-to-end account management solutions for activity tracking, communicating with clients through phone, email, and text, and data management. The system also includes a products and price books tool that lets users store product or service information to pull for upselling sales deals and when helping clients. Finally, Zendesk Sell is an easy-to-use platform offering multi-channel customer service for user assistance.
The tabs below offer insight into our evaluation process of the best account management CRMs:
20%
Niche/Advanced Features
20% of Overall Score
To qualify as client account management software, the CRM system must have features for overseeing clients and helping them find solutions. Therefore, we evaluated niche features specifically for account managers to stay organized, productive, and ready to communicate with clients. Product cataloging, for instance, lets account managers find products or services that could be useful to their customers. We also looked at activity tracking capabilities and AI tools to help automate tasks and provide insights on accounts.
20% of Overall Score
The account management solutions were also evaluated on platform usability. This was analyzed in terms of the expertise required to set up a CRM account, operate the account management features, and ease of integrating with third-party or native applications. We also reviewed the overall intuitiveness of navigating the system's interface.
20% of Overall Score
Extensive support and service help prevent poor user experiences and outcomes users may encounter while using any of these account management systems. Help and support were evaluated in terms of customer service hours and the availability of support via phone, live chat, and email. We also looked at self-service and help center resources users can access, like tutorials, forums, or training modules.
20% of Overall Score
In addition to firsthand experience with these account management systems, we evaluated what actual users say about each product. These criteria consider how customers feel, based on their reviews, to gain insight into value for the price paid, popularity, ease of use when operating and navigating the CRM, and how users feel about the CRM's features.
10% of Overall Score
Pricing considered free plan availability and various scalable pricing options businesses could afford as they grow. We also looked at the availability for a subscriber to either pay monthly or save by paying annually. Finally, we looked at the costs of using the features specific to managing and communicating with business accounts.
10% of Overall Score
We looked at overall features crucial to any CRM system, regardless of its primary use case, e.g., the amount of third-party and native integration options that allow users to expand functionality in their CRM and keep data synchronized between systems. We also examined whether the provider offered a mobile application, a wide range of product customization options, and the ability to track performance and activity using built-in reporting tools.
*Percentages of overall score
Frequently Asked Questions (FAQs)
What is account management software?
Account management software is a platform, usually a CRM system or equivalent solution, used to communicate with business contacts and assist clients in finding products, services, or other solution needs. It also helps oversee transactions with a business account through billing, invoicing, quoting, and purchase order features. Account management software is most commonly used by business-to-business (B2B) organizations to help support business customers and track account activity.
Why should you use an account management system?
An account management system helps account managers stay organized and more productive. It has capabilities, such as data enrichment, activity tracking, and product catalogs, specifically built to help them perform better and provide excellent support to their clients. Without those built-in features, account management teams must manually update client data, monitor prior communications and purchase history, and seek out product information from another source—ultimately taking more time away from other tasks and being more prone to error.
Which is the best free account management software?
Many account management CRMs on this list, including Zoho CRM and Freshsales, offer a free-forever plan that gives users access to certain features at no cost. Bitrix24, however, offers the best free account management solution. Its free plan supports unlimited users and comes with account management features, including contact management, product catalogs, and client activity planning.
Bottom Line
Account management CRM software helps account managers and businesses stay engaged with clients, assist their needs, and keep organized contact data and account activity history. While Zendesk Sell is our pick for the best overall account management software, other systems could better fit your business depending on features or product attribute needs. Zoho, for example, stands out for its solid system customization, while Freshsales offers a free, built-in phone system.