Wix is an easy-to-use website builder that enables anyone to build a professional website with no technical experience in just an hour or two (depending on complexity). It's best known for its vast customization capabilities for a zero-code site builder. Plans include everything you need to build a site, including a domain name, web hosting, templates, and a drag-and-drop site editor. To build a site with Wix simply go to Wix and create an account, select a template, customize your site, and purchase a plan.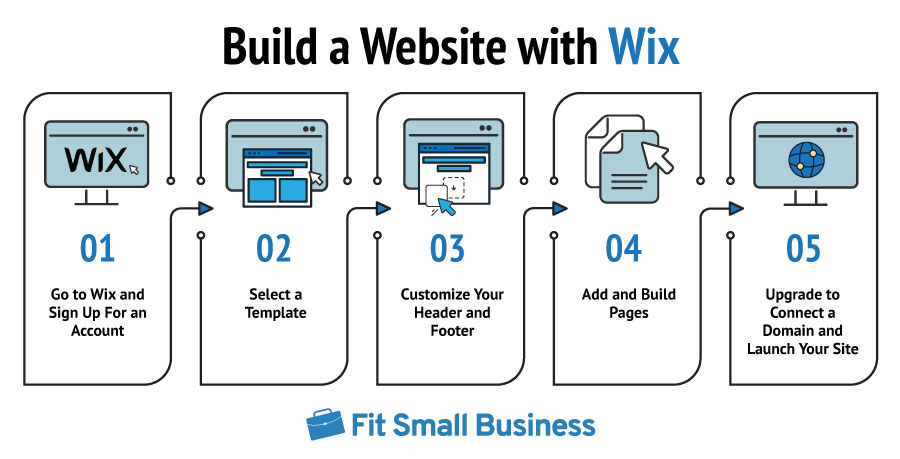 Here's how to build a Wix website in five easy steps:
1. Go to Wix & Sign Up for an Account
Go to Wix.com and click the "Get Started" button. Complete the prompts to sign up for a new account, such as inputting your email address and password. While you can start your free trial, do know that after your free trial ends you will be required to sign up for a premium plan for as little as $13 per month.
2. Select a Template
After signing up for an account, you will be asked a few questions, such as what type of site you want to build (e.g., business, online store, restaurants and food, and so on) and whether you want to use Wix ADI or the Wix Editor. The main difference between ADI and the editor is that the site editor is where users choose their own template and design their own site, whereas the Wix ADI will ask you a series of questions and generate a website based on your answers. Which is best for you will depend on how much design control you want.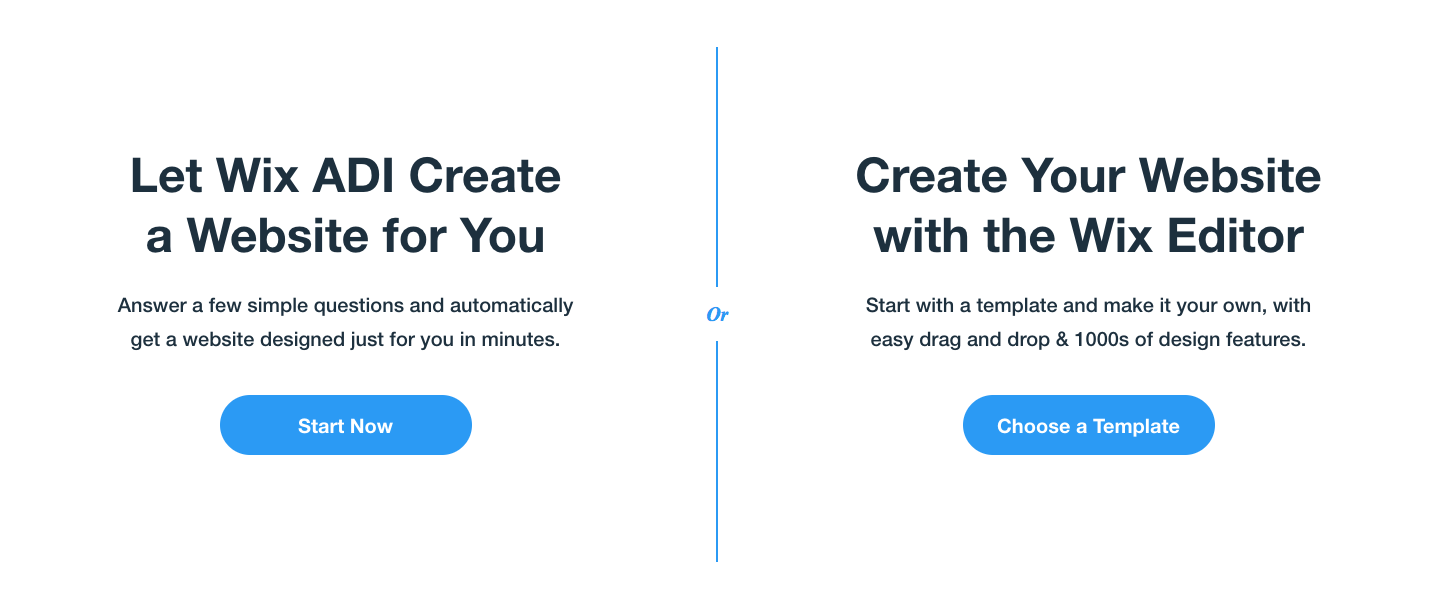 Those who chose to use the Wix Editor will be brought to the templates gallery, which is organized by categories of industries and website types. Find your category listed across the top of the page and select the one that best fits your business type. For example, a local bakery would want to select the "Restaurant & Food" category, which will list templates with features a bakery might need (like a menu page and online ordering).
Building an online store? Check out this article to follow the step-by-step instruction on building a Wix eCommerce site. 
3. Customize Your Header & Footer
After choosing your template, make it yours by customizing the header and footer with your own business name or logo. Wix has a live on-page site editor, where all you have to do to make changes is click on the element you want to customize. For example, to update your header, click within the header area. This will open the options to customize header elements such as your business name, header layout, and background color.
When customizing your template, make sure to consider your business' branding. For example, add your logo to your header and footer rather than using your text for your business name. Also, customize your template and maintain branding further with your business' color scheme and a fitting font. For example, a playful children's website should use a fun font, as opposed to a legal website, which should use a traditional and professional font.
4. Add, Rename and Build Pages
With your header and footer complete, add pages to your site. To do this, click on the left-hand site menu icon (the top option) and click the "Add Page" button. Here you'll see all of the content that came with your site. To remove any that you don't want to use, click that page, then click the ellipses that appear to the right ("…") and select "Delete."
Note that as you add, remove, and reorder pages, your site's navigation will automatically update. Check your site's navigation as you reorder pages to ensure it functions as you want it to.
To customize pages, simply select the page you want to customize from the site menu list, and then select the elements on the page you want to update. You can also add new page elements by clicking the "+" icon from the left-hand menu and selecting the element (e.g., text, image, contact form, button) you wish to add to your page.
Here you can also add an online store where you can create product listings or add the Wix Booking feature to enable online bookings and appointments. If you need additional functionalities, browse Wix apps. There you can find a wide range of apps that add features to a Wix website, from lead generation and email marketing tools to dropshipping integrations.
5. Upgrade to Connect a Domain & Launch Your Site
After designing your site, the final step is to connect a domain name and launch your site. To do this, click the "Publish" button in the upper right corner of the site editor. Note that Wix will automatically publish your site on a subdomain (i.e., yoursite.wix.com), though any professional site needs to use its own domain name (e.g., yourbusiness.com). To do this, click the "Upgrade Now" option from the pop-up screen, select a premium plan, choose a domain, and checkout.
Wix Website Pricing
Wix offers a variety of plans to suit any budget, with pricing ranging from $0 to over $39 per month. It does have a free plan, but it does not allow users to connect their own domain, and instead uses a subdomain (i.e., yoursite.wix.com). It's worth noting that the free plan does give users a good way of building a site before investing in a paid plan.
Frequently Asked Questions (FAQs)
What are the best Wix website alternatives?
Wix surely isn't the only option people have to build a website, and it's also not the cheapest for business websites. The top Wix alternatives are Squarespace for high-quality web design, Weebly for online stores, GoDaddy for service-based businesses looking to accept online appointments, and WordPress for building highly custom websites. Get the complete breakdown on the best Wix alternatives.
Is Wix good for SEO?
Wix has a number of built-in search engine optimization (SEO) tools to help Wix websites get found in search. While Wix websites have come a long way in terms of SEO, it still does not compare to the SEO capabilities of WordPress. Those whose primary concern is SEO should consider building their site using WordPress. While it's not as easy as Wix, it is possible to build a WordPress site with zero coding thanks to site builder plugins. Learn how to build a WordPress website.
Is Wix better than WordPress?
Wix is better than WordPress when it comes to ease of use. It not only uses a super-user-friendly, drag-and-drop site editor but it also automatically connects your domain name and web hosting. On the other hand, WordPress is better than Wix when it comes to customization capabilities, search engine optimization, and affordability. Get the complete breakdown on Wix vs WordPress.
Which is better: Wix or Squarespace?
Wix and Squarespace are neck and neck as they are both top all-in-one site builders. Wix is better in regard to customization capabilities, as its drag-and-drop site editor has the most design freedom of any site builder. On the other hand, Squarespace costs a bit less and it's known for its professionally designed themes that require little customization to suit a business' needs. Learn more about Wix vs Squarespace.
Bottom Line: How to Build a Wix Website
Building a Wix website is easy. After all, that's the reason why it was created—to enable anyone to build a professional website regardless of web design knowledge or experience. You can build a Wix website in as little as an hour or two and launch it using a custom domain name for just $13 per month or $23 per month for an online store. All it takes is five simple steps to get your business website live. Start building your Wix website today.
You Might Also Like…