Clover and Square both have easy-to-use point-of-sale (POS) software, a full suite of hardware, and integrated payment processing with online, mobile, and contactless payment tools. The biggest difference between Clover and Square is that Clover has higher upfront and ongoing costs with a few extra features, while Square is more transparent and affordable, making it the best option for most small businesses.
We'll evaluate Clover and Square's retail-specific features, including POS software and ecommerce, in detail below. However, if you need a solution for your business, here are our recommendations:
Square: Best for most brick and mortar or mobile sales, or if you need a website/online store.
Clover: Best for established brick-and-mortar businesses that don't need too many ecommerce components.
Clover vs Square Products at a Glance
POS: requires a monthly fee and higher startup costs; multiple options from mobile readers to full stands
Payments: 2.65% and up; must use its payment processing software
Hardware: more options; more expensive; no free readers
Online ordering: Optional add-on; includes end-to-end order management

POS: Free; sign up and start selling in minutes, can upgrade to paid plans
Payments: 2.6% + 10 cents; use with POS or integrate with other software
Hardware: Free magstripe reader, contactless readers from $49, register and terminal options
Online ordering: Free; syncs with POS, can upgrade to paid plans
When To Use Clover
Clover is an all-in-one POS and payment processing solution. Unlike Square, which works on iOS and Android, Clover runs on its own hardware. It's more expensive, both in terms of upfront and ongoing costs (because it requires a monthly subscription), but it has more advanced business management tools for brick-and-mortar businesses. Namely, in a Square vs Clover showdown, the Clover has more advanced employee management features than Square.
When To Use Square
In a Clover vs Square comparison, Square has more affordable hardware and fees than Clover. It's also more customizable, offering a wide range of third-party integrations that Clover doesn't.
Anyone can sign up for a free Square account and start selling online or in-person in minutes. It also includes business management features that allow you to manage sales, track products, connect with customers, and view reports. Square is ideal for newer businesses and brick-and-mortar businesses that want a flexible, all-in-one POS and payment processor.
When To Use an Alternative
Sometimes neither Clover nor Square fits the bill for your small business. If you have a storefront business with lots of SKUs, thousands of products and variants, need to manage custom orders or service orders, you may want an alternative option with more robust inventory tools.
In that case, check out Lightspeed. Lightspeed also has a comprehensive POS system with built-in payment processing. Its inventory management and reporting tools are more advanced than what you get with Clover or Square. Visit Lightspeed for a free trial.
Clover vs Square Pricing at a Glance
| | Clover | Square |
| --- | --- | --- |
| Monthly POS subscription | $14+ | $0 - $299 |
| Monthly ecommerce subscription | N/A | $0 - $72 |
| Card reader pricing | $69 | $0 - $49 |
| Terminal and register pricing | $749 - $1,649 | $299 - $799 (all-inclusive) |
| Card-present transaction fees | 2.65% | 2.5% + 10 cents - 2.6% + 10 cents |
| Ecommerce transaction fees | 2.9% + 30 cents for invoices and online payments | 2.9% + 30 cents |
| | | |
Both Clover and Square offer:
Full selection of hardware, though Square's is more affordable
Built-in payment processing and POS features
Clover vs Square Payments
Clover and Square offer payment processing features that allow for in-person, mobile, contactless, and online credit card payments without requiring a traditional merchant account. Square has predictable fees with no contract, monthly minimums, or cancellation charges, while Clover requires a monthly subscription fee. Square also offers more third-party integration options than Clover.
Clover Payments
| Clover Payment Pros | Clover Payment Cons |
| --- | --- |
| Accepts virtually any payment type | Requires a monthly Clover subscription |
| Customer loyalty and email marketing add-ons | Limited third-party integrations |
Takeaway: If you need to accommodate an ever-growing number of payment methods, Clover can likely handle it. It even accepts gift cards, as well as payments made over the phone. However, Clover comes with a minimum of $14 per month fee for each register, regardless of how many transactions you process.
Additionally, Clover isn't as transparent as Square about its payment processing fees, because Clover hardware can be purchased through several different merchant service providers. The exact transaction fees you'll pay depend on the merchant account you choose.
Square Payments
| Square Payment Pros | Square Payment Cons |
| --- | --- |
| Quick and easy to set up | Account instability |
| Predictable fees | Lack of advanced features (such as store credit) |
| No monthly subscription required | |
Takeaway: Similar to Clover, Square offers online, in-store, and mobile payment processing, though its list of accepted payment types is slightly shorter than Clover's. Square requires no lengthy signup or application process, so it's quick and easy to get up and running. It charges transparent, flat-rate transaction fees that you pay as you go. You can get your money in a few business days or pay a 1% fee for instant payout.
Why Square Payments Beats Clover
Square Payments beats Clover because it has more flexibility, is easier to set up, and comes with transparent pricing. You can use it on its own or integrate with other POS and ecommerce software. If you only occasionally need to accept payments and can get by with basic business management features, Square Payments is worth a look. To see if Square Payments is right for you, check out our full Square Payments review.
Clover vs Square Hardware
Clover has a far more comprehensive hardware offering than Square. You can choose from mobile card readers and processors, full POS systems, and counter service kiosks. Square has its own mobile readers, or you can use compatible third-party hardware if you need something more robust. Square is more affordable and offers more flexibility in the way of external integrations.
Clover Hardware
Clover Flex: $499; Clover's entry-level card reader and POS system
Clover Go: $69; mobile card reader
Clover Mini: $749; small but full POS
Clover Station: $1,399 + monthly plan; full POS
Clover Station Pro: $1,649 + monthly plan; full POS with counter service kiosk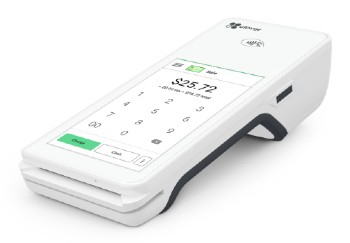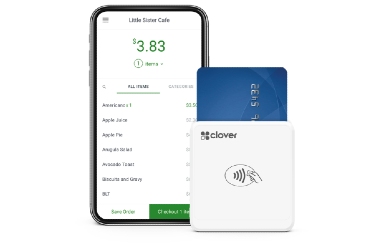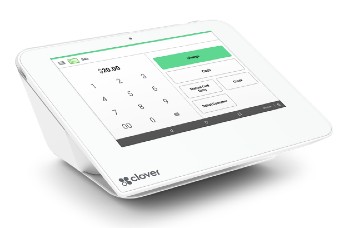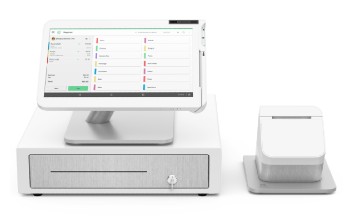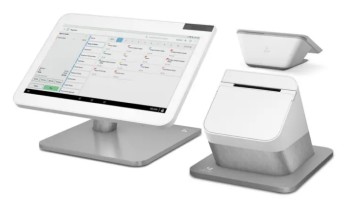 While Square is more of a software-prioritized business tool, Clover offers proprietary software that is specifically made to work on its hardware devices. That means the features and systems are typically more tightly integrated, but it also limits flexibility. Clover also requires a greater investment to get set up with the Clover POS system.
Square Hardware
Square Reader for contactless and chip: $49; card reader for contactless and chip payments
Square Reader for magstripe: Free; card reader for swipe payments
Square Register: $799; full POS system with touch-screen monitor, card reader terminal, and detachable customer-facing display.
Square Stand: $169; turns your iPad into a swipe card reader and basic POS
Square Terminal: $299; accept tap, dip, chip, and swipe payments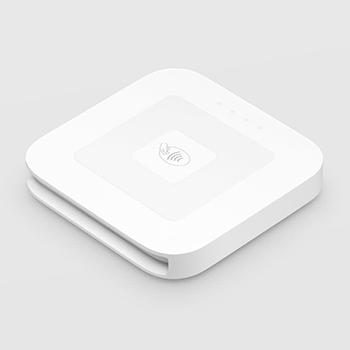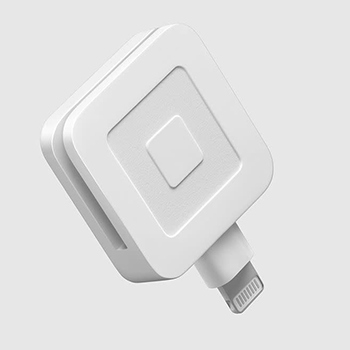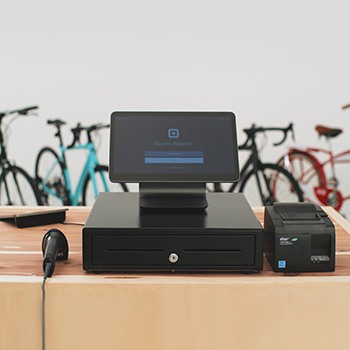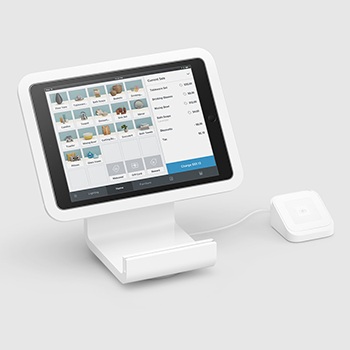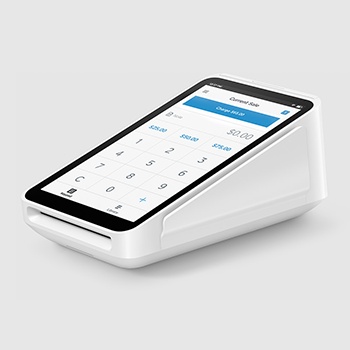 Though Square launched and made a name for itself with its mobile reader, it has since expanded its hardware offerings for small businesses. Square is also known for providing affordable tools for businesses, so you can get started with a smaller investment than what you'd need for Clover. Square also offers installment payment plans, so you can pay for hardware interest-free over time.
Clover vs Square Point-of-Sale
Both Clover and Square offer solutions for a comprehensive POS system, where you can process payments, track inventory, and engage with customers. It also offers tailored solutions for retail, restaurant, and service-based business models. Clover has a more comprehensive system that's tightly integrated with its POS hardware, whereas Square relies on flexibility and integrations so you can build your own virtual headquarters and grow your business the way you want to.
Square is also easier to get up and running, at an affordable price point without monthly fees and lengthy application processes, while Clover's advanced features and reliable hardware come at a higher price point. Both Clover and Square have multichannel and ecommerce features, but Square's offerings are more complete.
Clover vs Square POS at a Glance
| | Clover | Square |
| --- | --- | --- |
| Best for | Selling in-person at a permanent brick-and-mortar store | Small businesses that need affordability and flexibility along with great features |
| Monthly fee | $14+ | $0+ |
| Retail features | Customizable POS you can use to access sales, refunds, deposits, and reports | Full POS or use a third-party POS integration; flexible and scalable |
| Service features | Detailed employee management features, tipping, and add-ons available through apps | Appointment management, mobile payments, online booking, tipping, and more. |
| Restaurant features | Clover Dining offers built-in features like online ordering, curbside pickup, guest seating, tableside service, and floor plans; also works with third-party apps | Square for Restaurants offers menu costing, order management, kitchen display system, online ordering, and staff management; works with more third-party apps |
| | | |
Clover Online Ordering & Ecommerce vs Square Online
For restaurant businesses, Square and Clover both offer the option to use Google's The Ordering.app online ordering tool, which helps you gain visibility in search. With both POS options, you can also add CRM and customer loyalty to the online ordering experience. For Clover, online orders come with a 1.5% fee, but they've waived that until Jan. 1, 2021, so its online ordering tools are completely free for small businesses. If you use The Ordering.app through Square, you'll pay a 45 cents per order fee.
Both POS systems also include build-in options for restaurants and cafes to set up online ordering pages for pickup and delivery. Square for Restaurants offers more options, with integrations for Caviar, Postmates, DoorDash, and Chowly.
For retailers, Square offers a free website and online store through Square Online, which syncs completely with Square POS. Clover integrates with BigCommerce and Ecwid for ecommerce sales through the Clover App Market.
Clover vs Square Online Features Compared
| | Clover | Square Online |
| --- | --- | --- |
| Best for | Small restaurants and cafes | Retail and restaurant businesses |
| Monthly fee - The Ordering.app | No additional fees; the 1.5% fee per order is waived until Jan. 1, 2021 | No monthly fees; 45 cents per order |
| Monthly fee - ecommerce | Varies based on third-party integration | $0; can upgrade to more robust plans |
| | | |
Takeaway: Clover offers ease of use and affordability, so it's a great way to test out online ordering for your restaurant. However, Square's online ordering options offer more flexibility and a better value. They both offer some type of built-in/integrated online ordering for food service businesses. Square also offers a free online store for retailers, making it the better all-around option for storefronts that also want to sell online.
Bottom Line
A Square vs Clover comparison shows that both offer user-friendly POS, online ordering, and payment processing solutions. Square has more flexibility and third-party integration options, making it a better fit for online and multichannel businesses. It's also more affordable, so if you're just launching your business or primarily sell online, it can be a good option. Clover offers a comprehensive POS with proprietary hardware and software that are great for businesses that primarily sell in-person at permanent establishments.