Pipedrive and Salesforce are both highly customizable customer relationship management (CRM) software, allowing businesses to manage sales processes through contact management and marketing outreach tools. Pipedrive is lower cost with user-friendly, easy-to-use tools for managing leads and simple deals. In contrast, Salesforce is an advanced CRM with robust features for more complex sales pipelines.
When to use Pipedrive or Salesforce based on specific use cases:
Pipedrive: Better option for small businesses looking for an easy-to-use CRM with sales pipeline visualization tools.
Salesforce: Better option for larger sales teams looking for robust features to assist with sales, marketing, operations, and customer service.
Pipedrive vs Salesforce at a Glance
| | | |
| --- | --- | --- |
| | | |
| Pricing (Annual Subscription) | Ranges from $12.50 to $99 per user, per month | Starts at $25 user, per month, and can go up to $300 per user, per month |
| Ease of Use | Intuitive to operate, even early on | Can take time to learn and doesn't have an intuitive interface |
| Expert Score | 4.75 out of 5 | 3.75 out of 5 |
| Customer Support | 24/7 live chat and email support | Available during extended business hours with live chat, phone, and email support |
| Mobile App | Extremely intuitive interface | Customizable and easy to navigate |
| Free Trial | 14 days | 14 days |
| Drag-and-Drop Interface | ✔ | N/A |
| eSignature | Yes, on higher pricing tiers | ✔ |
| Google Workspace Integration | ✔ | ✔ |
| Built-in Sales Automation Tools | ✔ | ✔ |
| Reporting & Analytics | Easy to generate, even on the mobile app | Robust and displayed well overall |
| Quote Proposal Generation Tools | Yes, on higher pricing tiers | Yes, on higher pricing tiers |
| Accounting Software Integrations | ✔ | ✔ |
| | | |
How We Evaluated Pipedrive vs Salesforce
To compare Pipedrive and Salesforce head-to-head, we looked at essential factors small businesses consider when evaluating CRM providers. These factors include pricing, features, ease of use, customer support, and our expert score.
Click the tabs below to learn more about our evaluation criteria:
40% of Overall Score
Total costs, along with a variety of pricing options, are typically the most important criteria for any small business decision. Therefore, it was the most heavily weighted when comparing Pipedrive and Salesforce. These criteria looked at free account availability, numerous subscription choices, and monthly billing options.
20% of Overall Score
We looked at overall features necessary for CRM software, including mobile application quality, customization ability, third-party integrations, and available built-in tools.
15% of Overall Score
The functions of any application are only as beneficial as it is usable. Therefore, ease of use of the varying CRM software is the next highest weight of criteria. Ease of use was analyzed in terms of the expertise needed to integrate it with other applications, the skill required to operate the built-in features, and the overall interface usability.
15% of Overall Score
Help and support hold the same weight as the ease of use criteria, and we evaluated it in terms of customer service hours, phone support, live chat support, and email support.
10% of Overall Score
In addition to our own experiences with the providers, we looked at reputable review sites and gathered expert opinions from outside sources. We evaluated standout features, overall value for money spent, popularity, and ease of use.
*Percentages of overall score
Most Affordable: Pipedrive
| | | |
| --- | --- | --- |
| | | |
| Starting Price | $12.50 per user, per month | $25 per user, per month |
| Enterprise Level Price | $99 per user, per month | $150 per user, per month |
| Billing Options | Monthly and Annually | Monthly (Essentials only) and Annually |
Pipedrive
stands out for being the most affordable option without much debate. Many negative reviews of Salesforce stem from the cost being too high.
Salesforce's
starting price is twice that of Pipedrive. Its enterprise plan costs about $50 more than Pipedrive per user, per month.
Pipedrive is still the better option in terms of flexibility as it has monthly subscriptions from the lowest to the mid-pricing tier (Essentials, Advanced, and Professional plans). Meanwhile, Salesforce only extends a monthly billing subscription to its lowest pricing plan (Essentials). All other plans are billed annually.
Winner: Pipedrive offers better pricing with more available billing options. However, neither option is the most inexpensive CRM in the market. You can check out our recommendations for the top low-cost options by visiting our guide on the best free CRM software.
Best User Experience: Pipedrive
| | |
| --- | --- |
| | |
| Intuitive to navigate, especially on the mobile app | Lots of buttons and options on a page, which can cause users to get lost |
| Very easy to use due to drag-and-drop capabilities and simplified dashboards | Relatively simple to operate once users have some experience with it, and it also offers many learning tools |
Pipedrive winning the usability category is a combination of how well designed the interface is and how complicated operating Salesforce can be. On any given page, Salesforce will have many buttons or horizontal bar tabs, which can be overwhelming.
Because of how robust the Salesforce platform is in terms of built-in features and integration options, users generally cannot get comfortable with it right away. However, Salesforce offers an array of learning tools in the form of video tutorials, in-person seminars, and Salesforce consultants to help users adapt.
Pipedrive has a cleaner interface that contains fewer buttons, fewer tab options on the top, and drag-and-drop capabilities.
Winner: Pipedrive is easier to figure out right off the bat and has a much cleaner interface than Salesforce. However, Pipedrive is one of several easy-to-use CRMs. You can learn more about other options by visiting our guide on the best simple CRMs.
Best for Integrations: Tie
| | |
| --- | --- |
| | |
| Extensive third-party integration capabilities | Extensive third-party integration capabilities |
Both CRM software options are well-established enough to offer nearly the same third-party integration options in terms of quantity. Pipedrive and Salesforce each also include plenty of data import tools and synchronization with Google Workspace and Office 365 products.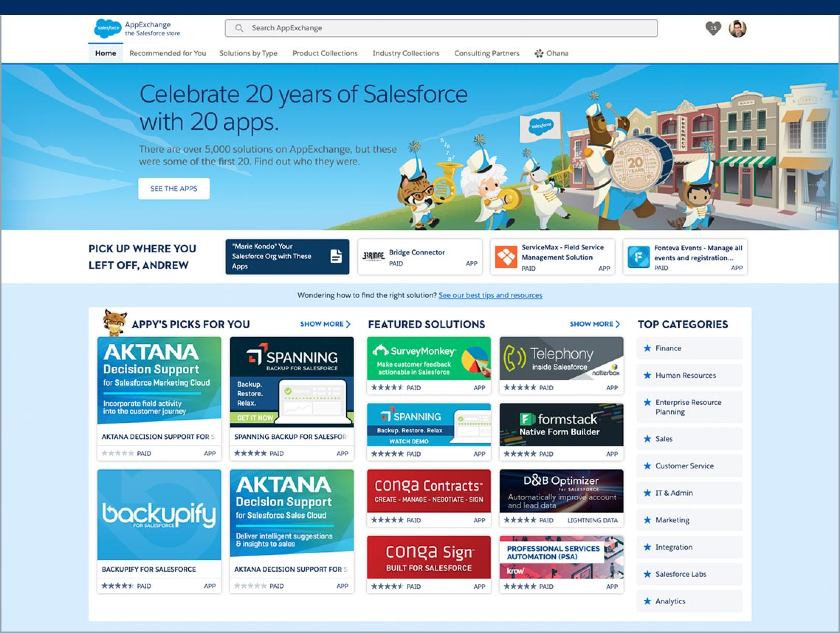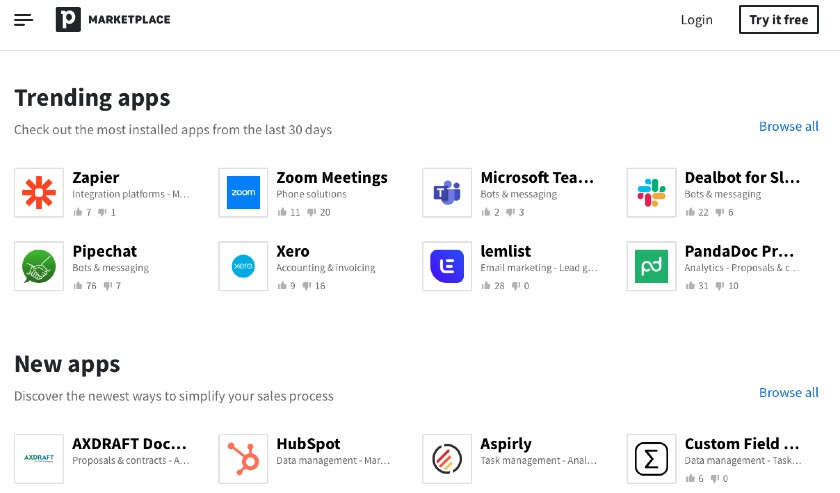 Winner: It is so close when evaluating integration capabilities that there isn't a clear winner.
Best Customer Service: Salesforce
| | |
| --- | --- |
| | |
| 24/7 live chat and email support | Available during extended business hours with phone, email, and live chat support |
Salesforce can invest heavily in assisting users and supporting customers through their extensive resources. Its revenue is more than 200 times the revenue of Pipedrive, and total personnel is more than 50 times larger than Pipedrive's.
Salesforce doesn't offer 24/7 availability on the lower-tier plans but has phone support that users say is reliable. Pipedrive offers 24/7 service but doesn't provide phone support, allowing Salesforce to stand out in this category. Salesforce also offers in-person training and Salesforce University for training and CRM certifications.
Winner: Salesforce offers more customer support channels to choose from and provides high-quality learning tutorials.
Best Marketing Automation Features: Pipedrive
| | | |
| --- | --- | --- |
| | | |
| Automated Email Marketing Capabilities | ✔ | ✔ |
| Automated Lead Contact Management | ✔ | ✔ |
| Marketing Return on Investment (ROI) Reports | ✔ | N/A |
| AI Assistant Function | Sales-specific Assistant | Organization/Workflow Assistant |
Pipedrive and Salesforce offer marketing automation features, allowing businesses to schedule and deploy email campaigns and update lead contact information automatically as activity happens.
However, Pipedrive edges Salesforce in this category through its ability to provide marketing reports specific to ROI and with its Sales Assistant tool, which provides users with automated sales tips and recommendations to enhance overall performance. Check out our Pipedrive review page to know more about its features and functionalities.
Winner: Pipedrive has built-in automated campaign tools and an artificial intelligence (AI) Sales Assistant feature to help improve campaign performance.
Best File Management Tools: Salesforce
| | | |
| --- | --- | --- |
| | | |
| Quote Proposal Generation | Yes, on higher pricing tiers | Yes, on higher pricing tiers |
| eSignature Tools | Yes, on higher pricing tiers | ✔ |
| Document Sharing | Yes, through third-party integrations | Yes, through built-in software and third-party integrations |
For anything related to document and file management, specifically for quote proposals and acquiring customer signatures, Salesforce wins. One of the key differences is that while both CRM software integrate with file-sharing applications like Google Drive and Dropbox, Salesforce offers internal file-sharing functionality. Salesforce also provides eSignature tools on its lowest-priced plans, while Pipedrive requires additional costs to use that function.
Winner: Salesforce can offer businesses eSignature tools for a better cost value and contains a synchronized, built-in file-sharing software.
Best Alternatives to Pipedrive & Salesforce
If you don't believe Pipedrive or Salesforce is a good fit for your business, there are plenty of other options. Your preferences may come down to certain factors, such as usability or a specific feature that you want to use.
Here are some of the best alternatives to Pipedrive and Salesforce:
Freshsales: Best for businesses looking for an extremely user-friendly alternative with robust call center functionality.
HubSpot CRM: A better alternative for small businesses looking for a solid free CRM option with content management tools.
Zoho CRM: Great choice for businesses looking for a CRM that offers advanced AI features.
Don't know which CRM is best for you? We invite you to check out our article on the best CRMs for Small Businesses.
Frequently Asked Questions (FAQs)
Do Pipedrive or Salesforce offer tools for project management?
While neither CRM has a built-in software specific to project management, each of them can integrate with popular project management applications like Trello and Asana.
Can my business manage other business activities with Pipedrive or Salesforce?
Both CRMs focus primarily on the sales and marketing aspects of the business, along with a few customer service functions. Both CRMs can manage accounting workflows by integrations with QuickBooks, and Salesforce has a few human resources integration options with Employee Manager and Cloud HR.
Bottom Line
Choosing between Pipedrive and Salesforce for a solid CRM comes down to your business size and goals. Both CRM providers offer tools to handle sales management initiatives. However, specific attributes of Pipedrive, such as how easy it is to use, make it a better fit for small businesses that may have owners who need to "wear many hats." At the same time, Salesforce offers larger organizations advanced pipeline management tools.
You Might Also Like …