25 Ecommerce Statistics to Know in 2023
Ecommerce trends accelerated by the pandemic and economic uncertainty are here to stay—including ecommerce as a growing percentage of retail sales. The 2023 ecommerce landscape is shaped by new growth projections, changing consumer behaviors, emerging demographics, and the role of social media.
We've compiled 25 recent ecommerce statistics—broken into five categories—to help you prepare and capitalize on the world of online shopping in 2023.
Ecommerce Statistics: Industry
1. Global ecommerce sales are set to more than double pre-pandemic levels by 2025
In 2019, before COVID-19 and lockdowns forced the rapid expansion of the ecommerce world, ecommerce was valued at $3.4 trillion globally. Insider Intelligence anticipated that ecommerce sales would be up by 12.8% year-over-year, but they increased by 25.7% in 2020—and are poised to hit $7.4 trillion by 2025, over twice the value of the 2019 ecommerce market.
2. Ecommerce is predicted to make up a quarter of all retail sales globally by 2025
With the continued growth of ecommerce, Insider Intelligence forecasts it will make up 24.5% of all retail sales worldwide by 2025, up from 19.6% in 2021. The US market is generally on track to meet that mark as well, with ecommerce sales predicted to hit 23.6% of total retail sales that year, up from 11.0% in 2019.
3. US ecommerce sales crossed a massive threshold in 2022: $1 trillion
In 2022, US ecommerce sales surpassed $1 trillion in sales for the first time. As reported by Forbes, analytics firm Comscore pegged total sales at $1.09 trillion. Before the pandemic, Insider Intelligence (the source responsible for this figure) did not forecast ecommerce reaching the trillion-dollar milestone until 2024.
4. In the US, ecommerce sales are expected to grow by 13.8% across retail sectors in 2023
Ecommerce growth estimates for 2023 range from 9% to 23% across a variety of retail sectors. Auto and parts took the lead with an anticipated 22.7% increase, followed by jewelry at 21.3% and food and beverage at 19.6%.
5. There are currently 9.1 million online retailers in the world, 2.5 million of them in the US
The ecommerce industry is growing rapidly and new stores are popping up every day. According to Etailinsights, as of 2022, there are over 9.1 million online retailers globally, with 2.5 million in the US alone.
6. 69% of books, music, and videos are purchased online
Of everything you can purchase online, entertainment (books, music, and movies) is the category with the largest majority of online versus in-store revenue. Nearly 70% of entertainment purchases are made online, with the next highest category being electronics and computers at 53%.
The purchasing of entertainment online is a trend that is being driven by Gen Z. You can learn more about this powerful new purchasing class with our article on retail statistics.
7. 96% of retailers increased their ecommerce budget in 2022
The COVID-19 pandemic proved that retailers need an effective online presence to meet their sales goals. As a result, a survey from Verifone found that 96% of merchants made plans to increase their ecommerce budget in 2022. Specifically, sellers increased their budgets surrounding digital marketing (42%), online sales (30%), ecommerce platforms and channels (29%), and product/supply chains (25%).
Ecommerce Statistics: Mobile
8. Mobile commerce sales reached $415.9 billion in 2022
Insider Intelligence reports that retail mcommerce sales (transactions made on mobile devices) saw an increase of 9.9% over 2021, coming in at $415.93 billion in 2022.
9. Mobile sales are anticipated to account for 10.4% of retail transactions by 2025
A report for eMarketer projects that mobile sales will account for more than 10% of all retail sales by 2025. This nearly doubles the 2022 number of 6%. In 2023, it's estimated that about 8% of all retail sales will take place on a mobile device.
If you are ready to get your website into shape so that you can capitalize on mobile sales, check out our article on the best ecommerce platforms.
10. Mcommerce is anticipated to account for over 44% of ecommerce sales by 2025
According to Insider Intelligence, by 2025, mcommerce sales should reach $728.28 billion and account for 44.2% of US retail ecommerce sales.
Ecommerce Statistics: Conversion Rate
11. The average conversion rate among ecommerce businesses is around 2%
Shopping micro-moments and more time online have certainly increased traffic for online retailers. However, very little of this traffic actually becomes buying customers, with ecommerce conversion rates at only around 2% across industries (it fluctuates monthly).
12. By incorporating augmented reality (AR) into your online site, you can increase conversions rates up to 40%
Using 3D and AR technologies in your online shopping platform can boost conversion rates up to 40% by increasing buying confidence. This technology also boosts post-purchase satisfaction and reduces returns.
Ecommerce Statistics: Consumer Trends
13. 74% of US consumers say they will shop online instead of in stores, even after the COVID-19 pandemic is over
Even though stores are opening back up and people are eager to resume their lives, one thing that most Americans don't want to change after the pandemic is their shopping habits. In fact, in a new report from ShipStation, nearly three-quarters of Americans say their preference is to continue to shop online even after the pandemic ends. Some habits just aren't going to break as we enter into the "new normal."
14. 65% of consumers now prefer to buy goods and services from their own country when they shop online
According to Kantar's COVID Barometer survey, globally, there has been a surge in localism, or the desire to buy from your local community or home county. Nearly two-thirds of survey respondents now prefer to buy local goods.
15. Millennials aged 25 to 34 years accounted for 20.2% of digital buyers in the United States in 2020
As of February 2021, millennials between the ages of 24 and 35 were the largest group of digital buyers in the US, accounting for over 20% of ecommerce sales. The second-largest online buyer audience was 35- to 44-year-olds, accounting for 17.2% of US digital buyers.​
16. 51% of US consumers have purchased clothing online in the last 12 months
Of all the retail categories, clothing is the most commonly purchased via ecommerce. In a survey from Statista looking at ecommerce in the US, 51% of consumers had bought a piece of clothing in the last 12 months. Shoes followed at 41% and then consumer electronics with 28%.
17. 63% of online shoppers in the US research online when planning a major purchase
While impulse shopping is certainly a part of the ecommerce industry, 63% of shoppers say that they do research online when making major purchases. Online shopping is important for larger purchases because people can price compare and see lots of options without committing.
For example, Statista noted that consumer electronics and household appliances were highly searched shopping terms. However, people still tend to make their final purchases in-store for these products.
Tip: One of the best ways to help shoppers feel secure about their purchases is to write a strong product description and provide good product photos. Learn how with our guides:
18. Seven in 10 consumers shop in "micro-moments"
With the rise of technology and the aftermath of COVID-19, consumers are spending 10% to 30% more time online. This has led to 70% of shoppers saying they do their shopping in micro-moments, or unplanned, short online shopping excursions most often done on mobile devices and apps. Of these, 35% are having shopping micro-moments weekly.
Ecommerce Statistics: Social Commerce
19. 77% of consumers are more willing to buy from a brand with a social media presence
Social media is a growing part of the ecommerce landscape, with many brands using social media presences to garner customer trust and loyalty. Over 75% of consumers are more willing to buy from a brand with a social media presence, and 78% will choose a brand over a competitor after a positive experience on one of their social channels.
Learn more about building your business's social media with these resources: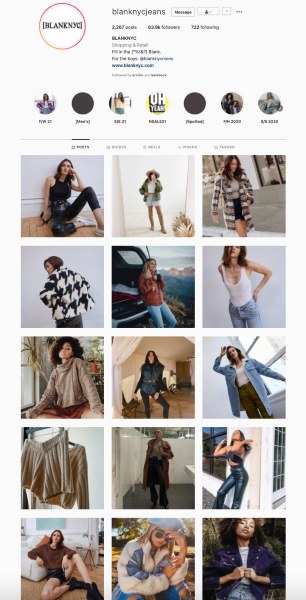 20. Social commerce sales were on track to hit $51.8 billion in 2022
Social commerce sales, or ecommerce transactions done through social media, is a growing category in the ecommerce industry. In fact, Statista forecasts that social commerce sales would hit $51.8 billion by the end of 2022—and continue rising steadily to reach $145.2 billion by 2028.
21. 58% of millennials have already made purchases directly through social networks
According to Statista's 2022 survey, millennials are the generational group with the highest adoption of social shopping worldwide, with 58% of shoppers between the ages of 26 and 41 having made at least one purchase on a social platform. Users aged 18-25 follow closely behind, with more than half saying they have shopped through these platforms.
22. 89% of retailers agree that businesses neglecting to use social media will be left behind
Transactions on social channels are becoming a larger and larger share of all ecommerce revenue, and retailers can't ignore this trend. A survey from Sprout Social found that 89% of business owners think that retailers that fail to capitalize on and incorporate social media will be left behind in the new consumer landscape. And, consumers are on the same page, with 62% agreeing that without social media as part of your brand, you won't be able to stay relevant.
Need help learning how to set up shoppable social media accounts? Check out these resources:
23. 86% of small businesses plan to increase their social media budget by at least 50%
Small businesses are at the forefront of social commerce and want to use their social platforms to foster connections and drive sales. In fact, 86% of small businesses had planned to increase their social budget in 2022, with 53% anticipating an increase between 50% and 100%, and 33% anticipating an increase of more than 100%.
24. Gen Z learns about new brands or products through social media 78% of the time
Gen Z, the youngest generation that is gaining more and more buying power, is the biggest user group of social media for shopping. In fact, whereas social media is the source of product and brand discovery 55% of the time across all age groups, for Gen Z, social media accounts for 78% of their discoveries.
Getting your brand or product on social media channels will make it easier for people to find you and will increase your ability to market to Gen Z.
25. 54% of US consumers say they have discovered a new small ecommerce retailer via social media in the last year
While the internet is steeped in competition, it is also rich with possibilities for expanding your customer base. In a 2021 survey, 54% of consumers said that they had discovered new, small ecommerce brands via social media in the last year. This, paired with concerted efforts by the majority of consumers to shop and support small businesses, indicates the ecommerce horizon is bright for small retailers around the country.
Bottom Line
The retail landscape underwent major changes during the COVID-19 pandemic and it hasn't stopped evolving since. With more and more people choosing to shop online, it is important to understand the world of ecommerce—growth projections, buying patterns, consumer behaviors, and the role of social media. With all this information under your belt, you're ready to drive online sales strategically and effectively.