Gone are the days when customers only speak with company representatives to get product information. Nowadays, consumers consult a myriad of sources before making a conscious decision to buy. In addition, there are factors that influence a consumer during the buying process. The road to selling a product online is long and full of obstacles. We'll shorten the travel time for you with these 16 ecommerce statistics that you should know.
1. How big are retail ecommerce sales expected to grow by 2020?
Retail ecommerce sales will skyrocket to $4.058 trillion in 2020, making up 14.6 percent of total retail spending that year. (Source: eMarketer 2016)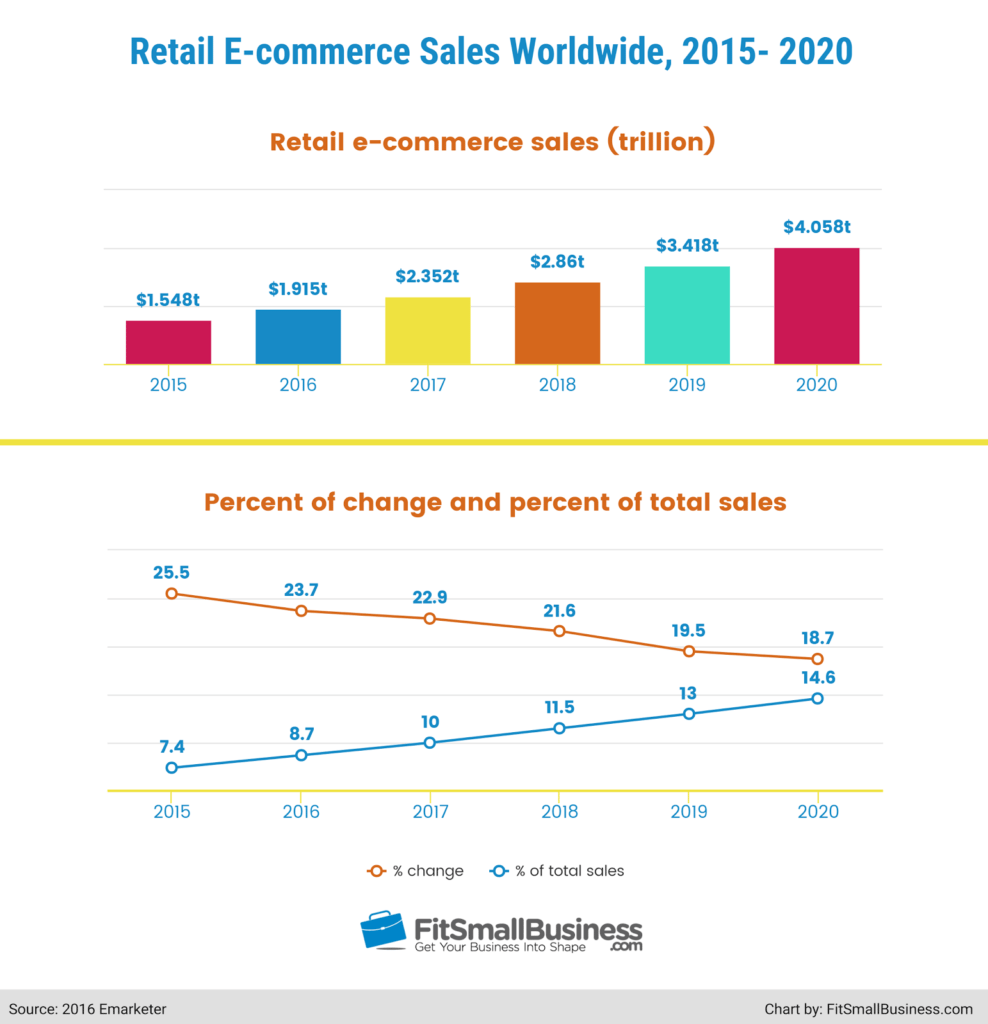 2. What percent of internet users have bought a product online?
Current ecommerce statistics claim that 40 percent of worldwide internet users have bought products or goods online via desktop, mobile, tablet or other online devices. This amounts to over 1 billion online buyers and the number is projected to continuously grow. (Source: Statista)
3. What is the typical age group of ecommerce shoppers?
The age group between 25-34 is now one of the largest demographics earning and shopping online. (Source: Boomtrain 2016)

Source: Boomtrain
4. What is a good way to boost ecommerce sales?
The Walker Sands Future of Retail report claims that offering free delivery encourages 9 out of 10 users to purchase. (Source: Walker Sands Communication)
5. What percent of shoppers conduct research before buying?
81 percent of shoppers research a product online before purchasing. (Source: Social Media Today 2017)
6. Are product videos effective in encouraging users to purchase?
Using product videos on ecommerce sites may increase product purchases by up to 144%. (Source: Small Business Trends 2016)
7. How important is website loading speed?
Conversion rates can climb by up to 74 percent if loading speed is decreased from eight seconds to two seconds. (Source: Aionhill 2017)
8. Where should I post my offers to attract more attention?
A study shows that people spent over twice as much time viewing the left side of the page as they did right. Therefore, offers should be posted on the left side of the page to attract more attention. (Source: Nielsen Norman)
9. Do personalized offers increase conversion rates?
Yes, they do. A study by Barilliance found that the conversion rate of users who click on product recommendations is 5.5 times higher than the conversion rate of non clicking users.
(Source: Barilliance)
10. What percent of consumers consider the website's return policy before purchasing?
Over 60% of consumers take the time to review a return policy before making a buying decision. (Source: ReadyCloud)
11. How much does email marketing contribute to ecommerce sales?
Email marketing accounts for 20 percent of traffic driving ecommerce sales.
(Source: Wolfgang Digital 2016)
12. What percent of users abandon their carts?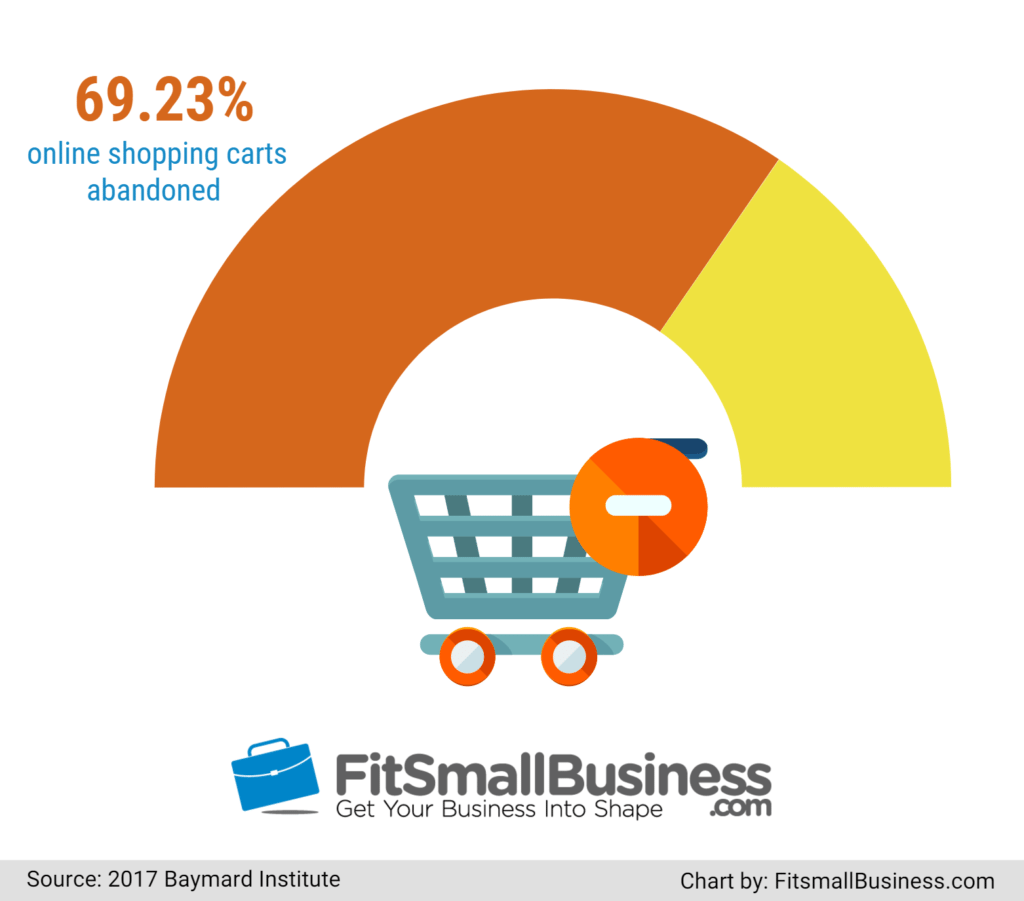 69.23% is the online shopping cart abandonment rate on average.
(Source: Baymard Institute 2017)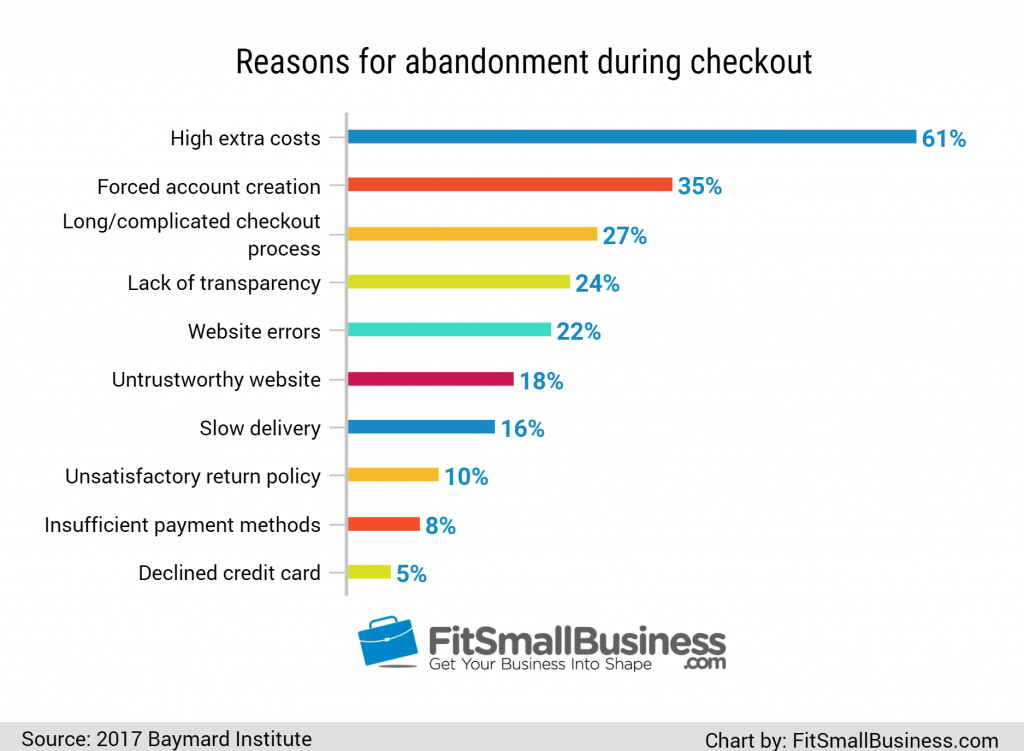 13. What percent of sessions are done on mobile devices?
Mobile sessions account for 59 percent of all sessions on ecommerce sites.
(Source: Smart Insights 2017)
14. What percent of ecommerce sales are driven by social media?
Almost a quarter of respondents (23%) in one survey said they made a purchase that was driven by social media. (Source: Pressroom 2016)
15. How many small businesses are on Facebook?
There are 40 million active small business Facebook pages with 4 million of those businesses paying for social media advertising on Facebook. (Source: Dream Grow 2017)
16. What effect does social media have on ecommerce?
23% of online shoppers are influenced by social media recommendations. (Source: BigCommerce 2017)
Bottom Line
Online marketers should take advantage of these ecommerce statistics to maximize the returns of their campaigns. What are your thoughts about these numbers? Let us know in the comment section below.