While it's free to set up a seller profile on Etsy, there are fees associated with listing and selling products. Etsy fees include listing fees, payment processing fees, and currency conversion fees. You can also pay to promote your products on Etsy. And, you'll need to pay to ship orders to customers.
Listing fees start at 20 cents per item, and transaction fees are typically 6.5% of the total transaction value. You can also pay a $10 monthly subscription for Etsy Plus or $15 to make a customized website through Etsy Pattern. Shipping, taxes, marketing, and advertising costs vary depending on a number of factors.
We'll walk you through the Etsy seller fees below and show you how to estimate how much you'll pay for each product you sell on the makers' marketplace.
Etsy Listing Fees
If you want to sell on Etsy, you can set up a profile for free. But, you'll have to pay for each listing you add to your Etsy store.
Merchants pay a 20-cent listing fee for each item they publish for sale to their Etsy storefront. This fee also applies each time you renew a listing. When it comes to private listings, this fee only applies once the item has sold.
After four months from the listing date, the item will expire. If you use the auto-renew feature, your listing will automatically "republish" after the four-month period, and you'll also pay an additional 20-cent listing fee.
Note: There is no listing fee if you are only publishing the item for sale to your Etsy Pattern website—we'll get to that in a bit. Pattern listings don't expire.
Etsy Payment Processing Fees
Payment processing fees are a reality for every entrepreneur who starts a retail business—and it's no different when it comes to Etsy.
Etsy Transaction Fees
Etsy charges a standard transaction fee of 6.5% of the total item price, including shipping, gift wrapping, and additional personalization costs, for every sale you make on your Etsy store. If you're based in the US and use Etsy Payments, you'll pay 3% plus 25 cents for every transaction. These fees vary for sellers located in other countries.
In-person Transaction Fees
Etsy is compatible with the Square card reader for in-person payment processing. You can integrate Etsy with your Square online store, which will require you to pay the standard 20-cent listing fee for each item. If you don't sync your products, Etsy will also charge 20 cents in the form of a transaction fee for each sale. There is no 6.5% transaction fee from Etsy for in-person sales made via Square. However, you'll have to pay Square's applicable fees.
Etsy Currency Conversion Fees
If you list and sell an item for a currency other than your home currency, Etsy Payments will charge a 2.5% currency conversion fee. Etsy mostly does business in US dollars (USD), so if you handle any other type of currency, you may have to pay some sort of currency conversion fee as well. Most merchants will operate with USD, while Etsy uses the euro for merchants and Etsy Payments users in Bulgaria, Croatia, the Czech Republic, Hungary, Poland, and Romania.
Etsy Advertising & Promotional Fees
Etsy has additional optional services to promote your storefront as part of your retail marketing strategy. These services come with additional Etsy seller fees.
Etsy Ads
Etsy Ads increase the visibility of your store and products for Etsy's on-site search and related pages. The fees for Etsy Ads vary depending on your budget and goals—you can spend as much as your marketing and advertising budget allows. You can set your own maximum daily budget, and Etsy will advertise until you hit that budget. Etsy defaults to a $25 max daily budget, but you can adjust this as needed.
Off-site Ads
Etsy's off-site ads offering increases your visibility on external sites and platforms in its network of advertising partners, which may include social media, search engines, and other places on the web consumers shop. These fees are 15% of Attributed Orders for the previous year. Attributed Orders come from people who click on the ad and make a purchase from your Etsy store within 30 days of that interaction. Once you exceed $10,000 in annual sales, this fee drops to 12%.
Etsy Plus Subscription Fees
Etsy Plus is an optional monthly subscription that grants you access to a more comprehensive set of tools to customize and promote your Etsy shop. It costs $10 per month and gives you features including:
Credits for listings (15/month) and Etsy Ads ($5/month)
50% discount on a custom web address for your Etsy shop
Restock requests for shoppers interested in your items that have sold out
Shop customizations
Discounts on custom packaging and promotional material like boxes, business cards, and signage
Etsy Plus automatically renews, so you'll need to proactively cancel if you don't want to continue paying the $10 monthly fee.
Etsy Shipping Fees
Etsy doesn't directly offer shipping services and, therefore, doesn't directly charge shipping fees. Merchants may pay shipping fees to whichever carrier they use, and those fees depend on carrier rates, which often factor in package size, weight, origin destination, and shipping destination.
Additional costs may apply for insurance, signature confirmation, and return labels. You can, however, purchase shipping labels through Etsy—though this requires the use of Etsy Payments or PayPal as a payment method. Again, fees vary.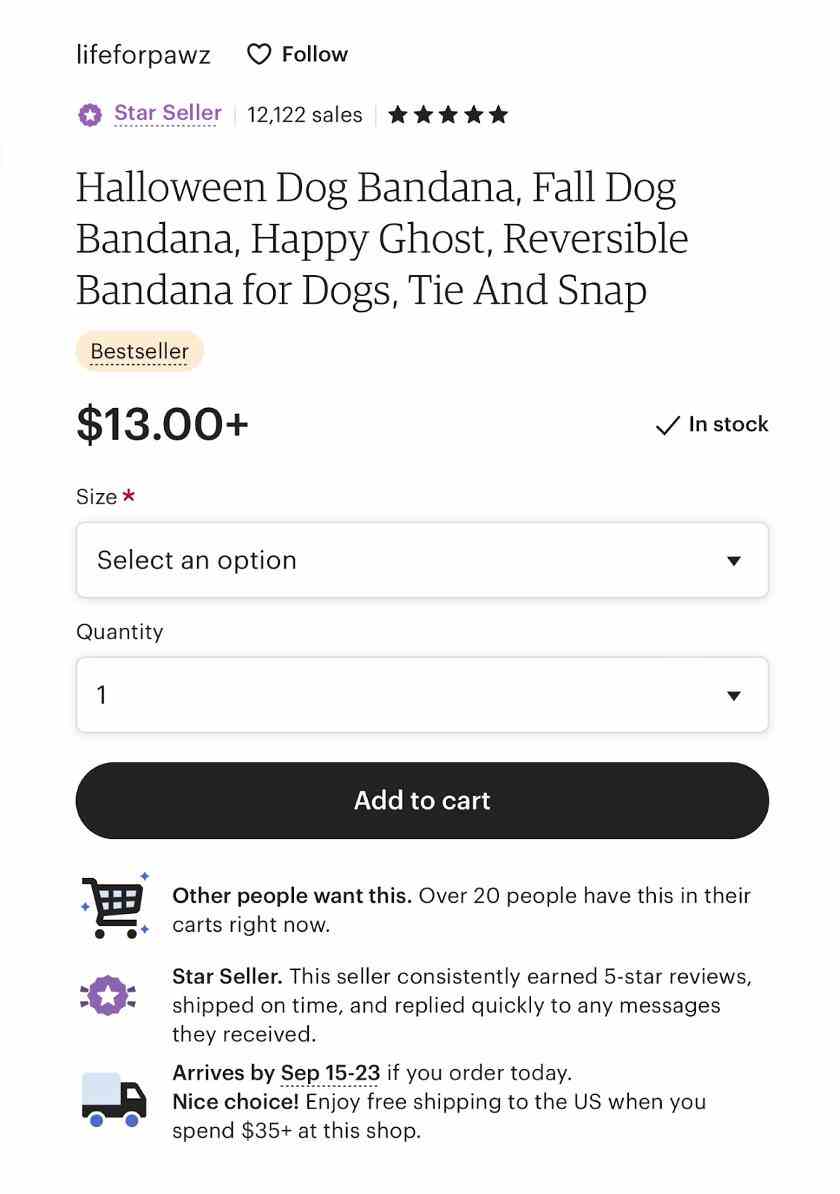 Etsy Regulatory Operating Fees
Depending on your location, you may also have to pay a Regulatory Operating fee for each transaction. This is applied as a percentage of the total item cost, including shipping, gift wrapping, and personalized customizations. These Etsy seller fees break down as follows:
United Kingdom: 0.25%
France: 0.40%
Italy: 0.25%
Spain: 0.40%
Turkey: 1.1%
Etsy Pattern Fees
Etsy Pattern is an optional add-on that allows you to create a fully customized Etsy website, designed and branded to your liking. This requires a $15 monthly subscription fee (plus any applicable sales tax), though Etsy offers the first 30 days free as a trial. You may also have to pay domain name registration fees. Etsy Pattern subscriptions automatically renew, so you'll need to proactively cancel if you don't want to use or pay for this tool.
Etsy Taxes
All online merchants are responsible for staying up-to-date with the latest ecommerce sales tax requirements and regulations, both in the locations they're operating from and the locations they're shipping to. You can adjust sales tax settings from your Shop Manager dashboard.
Etsy automatically prepares and supplies US-based sellers with an annual 1099-K form for their federal and state taxes. Sellers doing business in other countries may need to accommodate VAT or GST, depending on their location. Sometimes, Etsy will automatically calculate and collect this on your behalf. Other times, you'll need to customize pricing and tax settings to ensure you're compliant.
Etsy may also charge sales tax on additional services like Etsy Plus, Etsy Pattern, and seller fees.
Bottom Line
Around 5.23 million sellers actively make profits on Etsy's marketplace to a customer base of over 90 million consumers. As many as 71% of Etsy sellers view their shop as a legitimate business, and 82% have aspirations to grow sales. With so much opportunity for growth, it's important to be aware of associated fees so you can factor this into your pricing strategy and ensure profitability.
Etsy can change these fees at any moment too. So, it's vital to understand the fees and costs you incur, as well as ways to lower those fees or take advantage of other selling channels. With this knowledge in mind, you'll be able to successfully sell profitable products in this ever-growing creative marketplace.
You May Also Like…