Shopify vs Etsy 2023: Which Is Best for Your Business?
When it comes to comparing Shopify vs Etsy for online selling, Shopify is the better choice because it is scalable, flexible, and has better ecommerce tools. The more products you sell, the better fit Shopify is going to be for a selling platform. Etsy is a better fit for artisans selling in small quantities (<10 products a month) and wanting a built-in audience.
We recommend:
Shopify: Best for small retail businesses and growing a standalone online store
Etsy: Best for creative vendors selling handmade, customized, and vintage products
Etsy vs Shopify: Quick Comparison
| | | |
| --- | --- | --- |
| | | |
| | | |
| Best for | Retail businesses and growing a standalone store | Creative vendors wanting to sell handmade goods easily |
| Product restrictions | Unlimited products | Limited to handmade, vintage (20 years), and craft supplies |
| Monthly fees | $5 (Starter/social media); $39 (Basic); $105 (Shopify); $399 (Advanced Shopify) | Free; $10 (Etsy Plus); $15 (Etsy Pattern) |
| Transaction fees | None (if using Shopify Payments); 0.5–2% if using third-party providers | 6.5% from each sale (item price + shipping fee) |
| Point-of-Sale (POS) system (for in-store or offline sales) | Yes (Shopify POS) | Yes (Square integration) |
| Multichannel selling (Facebook, Instagram, etc.) | Yes | No |
| Standalone store | Yes | No |
| Ease of use | Beginner-friendly | Beginner-friendly |
| Customer service | 24/7 live chat, email, and phone support | Email, phone support by schedule |

Pros
Extremely scalable with robust ecommerce tools
Unlimited products
Multichannel capabilities
Cons
Exposure can be limited if not marketed to target market
Add-ons/apps can get expensive
No free plan (but has free trial)
Shopify Is Best For
Small businesses wanting a standalone store, to sell retail products online and in-person, and to grow their online store should consider Shopify. You definitely get what you pay for with a customizable online store, embeddable "Buy Now" buttons, plenty of integrations, a point-of-sale (POS) system for in-store purchases if needed, and multichannel capabilities. Shopify is our top-recommended ecommerce platform because of its ease of use, stellar ecommerce features, and scalable pricing plans. If you wish to have complete control over your ecommerce store, Shopify is the better choice. You can sign up for a Shopify free trial; no credit card is required.
Still undecided about Shopify? Explore Shopify alternatives.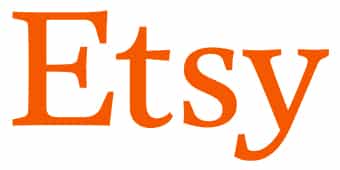 Pros
Pre-built audience due to Etsy's marketplace
No monthly fees
Quick setup
Cons
Listing and transaction fees
Product restrictions; limited to handmade items
Limited branding and creative control for your online store
Etsy Is Best For
If you are a creative entrepreneur planning to sell handmade items or craft supplies, Etsy is your best bet. Etsy beats Shopify with little to no upfront costs, quick setup, and, most importantly, a vast audience. The traffic alone from Etsy's marketplace is enough, especially for small-scale vendors. With this setup, you can rely on its popularity instead of marketing your own brand.
If you wish to explore other marketplaces, consider our top Etsy alternatives.
NOTE: Etsy has its ecommerce platform, Pattern by Etsy, where you can build a website to sell your products. It costs $15 per month and comes with a 30-day free trial. Pattern by Etsy is not integrated with the Etsy marketplace, so you will be responsible for generating your traffic. It is not as robust as Shopify's platform but is an alternative if you wish to keep selling within the Etsy platform.
In this guide, we'll only compare Etsy as a marketplace rather than explore its website builder.
Shopify vs Etsy: Pricing, Fees & Payment Processing
| | | |
| --- | --- | --- |
| | | |
| | | |
| Free Plan | None | Yes |
| Paid Plans | Starts at $5 a month | Starts at $10 a month |
| Transaction Fees | None (if using Shopify Payments); 0.5–2% if using third-party providers | 6.5% from each sale (item price + shipping fee) |
| Listing Fees | None | 20 cents per listing |
| Payment Processing Fees | 2.9% + 30 cents | 3% plus 25 cents each sale (US); varies per country |
| Point-of-Sale (POS) system (for in-store or offline sales) | Yes (Shopify POS) | Yes (Square integration) |
Our Expert Take: The more you sell, the less expensive Shopify becomes compared to Etsy. Shopify doesn't offer a forever-free plan compared to Etsy, but what you "save" in subscription fees, you end up spending in Etsy fees (listing fees, transaction fees, and more).
When it comes to pricing, Etsy is cheaper than Shopify upfront. You don't need to shell out anything to open a store as Etsy has a free plan, while you need to be subscribed to Shopify's Basic plan at $39/month to open your online storefront. You also would be paying $300 to $500 in startup fees with Shopify (securing a domain, paid theme, and add-ons, if any)—typical ecommerce website costs for a full standalone online store.
However, when you really consider all the pricing and fees per platform, you will discover Etsy's fees can pile up and you might end up paying more, especially if you sell more products. Etsy's fees (listing, transaction, and processing fees) can add up to more than 9% per transaction (more on this in detail below).
Let's compare their first-level entry plans: Etsy's free plan and Shopify's Basic tier ($39/month). We won't be considering Shopify's Starter plan ($5/month) as it doesn't give you a full store. Say, you sell 50 items for $25 each generating $1,250 in sales revenue. If you sell on Etsy, your fees will be around $112.50. If you sell on Shopify and use Shopify Payments, you will pay $36.55 in fees plus $39 in subscription fees, totaling $75.55. Shopify ends up being cheaper, even if you subscribe to a paid plan.
Take a look at the detailed pricing and fees of the two platforms below.
Etsy Pricing Plans & Fees
$0 (Free): Under the free plan, you can build a store within Etsy's marketplace, have a seller dashboard to track orders, communicate with customers, and manage your store (renew listings, track sales, and more).
$10/month (Etsy Plus): Etsy Plus includes everything under the free plan with the following additions: 15 monthly listing credits (a $3 value), a $5 Etsy Ads credit, and discounts on shipping boxes and business cards. The restock alert feature also gets unlocked under this plan.
$15/month (Etsy Pattern): Under Etsy Pattern, you can build your own standalone store and connect a custom domain. However, your store is not integrated into the Etsy marketplace.
Etsy also has the following seller fees:
Product listing fee: 20 cents per listing; expires after four months (renewable)
Transaction fee: 6.5% of the total item price, including shipping, gift wrapping, and additional personalization costs, per sale
Payment processing fee: Varies per country; in the US it's 3% plus 25 cents per transaction
Based on the seller fees above, you'll incur around 9.5% plus 45 cents in fees on each sale. Read more about seller fees in our Etsy Seller Fees guide.
Shopify Pricing Plans & Fees
$5/month (Starter): Shopify's social media selling tool, allows you to sell on social media, messages, and other websites
$39/month (Basic): Shopify includes all the main ecommerce features but has limited reporting; online transactions are charged at 2.9% + 30 cents
$105/month (Shopify): This plan has stronger reporting (such as first-time vs returning customer sales), USPS cubic pricing, and a discounted transaction fee of 2.6% + 30 cents
$399/month (Advanced Shopify): Under this plan, you can build custom reports and show third-party calculated shipping rates at checkout; online transactions are further discounted to 2.4% + 30 cents
Starts at $2,000 (Shopify Plus): This plan is for large enterprises and includes lower transaction fees, a dedicated account manager, full customization access to site coding, and more
Shopify doesn't have seller fees, but charges transaction fees (varies per plan, 0.5%–2% per transaction) if you don't use its built-in payment gateway, Shopify Payments. Fees are waived under Shopify Payments, and the usual credit card processing fees apply (2.4%–2.9% + 30 cents).
To read more about Shopify's plan inclusions and corresponding fees, read our ultimate guide on Shopify pricing plans.
Payment Processing
Both platforms have built-in payment providers, Shopify has Shopify Payments and Etsy has Etsy Payments. However, Etsy requires sellers to use Etsy Payments exclusively in their shops, while you are not locked into using Shopify's payment system and can choose to integrate with your preferred third-party provider (though note that this will incur transaction fees).
Etsy Payments lets you accept from 10 payment options (PayPal, Apple Pay, Google Pay, Klarna, to name a few). Shopify has over a hundred third-party payment providers.
Related Reading:
Shopify vs Etsy: Site Design (Full Online Store)
Our Expert Take: If you want better control of your online store when it comes to branding and site design, go with Shopify. Shopify lets you connect a custom domain and build a full standalone store with website pages. With Etsy, you are confined to a single landing page within the Etsy marketplace.
You can take a look at how I built demo stores for each platform from the articles linked below:
With Shopify, you can totally build an online presence, including buying a domain name and customizing the look and feel of your site with themes. You don't have to worry about web hosting and site security, too, as Shopify's subscriptions come with included hosting, SSL certificate, and PCI compliance already.
Shopify's site builder is also intuitive and easy to use. I like that you can build a nice-looking website even with limited technical coding skills. It also provides a lot of varying website themes.
When you build your store with Etsy, you also do not have to worry about hosting, site security, and PCI compliance. However, you are only given a page where you can sell your products, and other than customizing your header banner, adding information about your store, and uploading a profile picture, there is not much else you can do when customizing your store. Your store also lives under a subdomain in the Etsy website (yourstore.etsy.com), and you cannot use your own domain name.
Related Reading:
Here is a comparison of actual Shopify and Etsy stores:
As you can see, a Shopify store (pictured above) has a more pleasing layout. An Etsy store (below) is similar to other Etsy stores in the Etsy marketplace, you only get to change your banner image and be creative with your product photos.
Shopify vs Etsy: Ecommerce & Marketing Tools
Our Expert Take: With scalable ecommerce features and unlimited product listings, Shopify wins this category by a mile. As your business grows, you can seamlessly transition into Shopify's higher-tiered plans. It's important to note, though, that certain sales features (such as those in the Shopify App Store) come with monthly fees. It can quickly add up, so consider which features your store needs before buying.
Shopify lets you sell an unlimited number of products even on the basic plan, set up promo codes and discounts, and perform lead generation and email marketing with its built-in tools, Shopify Forms and Shopify Email. The abandoned cart recovery feature—which is mostly offered on higher plans with other ecommerce platforms—is also included in the entry-level plan (Basic at $39/month).
In short, if you are serious about online selling and want to start with a platform that can support your growth, Shopify is the way to go. Shopify gives you all you need to grow your ecommerce business. Read our Shopify review for a more in-depth look at its sales features.
Etsy, meanwhile, offers a basic ecommerce toolkit that includes everything you need to manage your Etsy store easily. These features include:
Sell on Etsy mobile app so that you can manage sales and the store on the go
Etsy and Off-site Ads
Create and manage coupons
Discounted postage labels
You can choose to upgrade to Etsy Plus for $10 a month and get advertising credits, more store customization options, discounts on marketing materials, email alerts for customers when an item is restocked, and a store domain name through Hover.
Even with an upgrade, Etsy's ecommerce tools are limited and not fit for a scaling business. For example, Etsy doesn't offer an inventory management tool, so you need to track inventory independently.
Shopify vs Etsy: Multichannel Selling
Our Expert Take: Shopify is the clear winner when it comes to multichannel selling. Sell anywhere—in person, online, and in various channels.
Multichannel selling is a huge advantage for any online business. Shopify allows you to seamlessly sell on different channels and use its platform as a central inventory, order management, and payment platform. You can integrate your Shopify store and start selling on Facebook, Instagram, TikTok, Pinterest, and more. You can even use a third-party app to post your Shopify listings on Etsy.
With Etsy, the most you can do is create social posts for selling in your Etsy dashboard and share them to Facebook and Instagram. But to sell on other platforms, you'll need to create listings manually—which can pose a challenge because it's harder to keep track of inventory, and you need to double the time and effort to maintain multiple selling channels.
When it comes to in-person selling, Shopify and Etsy make it easy for you by having POS integrations. Shopify has a built-in POS system, Shopify POS, while Etsy can integrate with Square POS.
Shopify vs Etsy: Existing Audience
Our Expert Take: Etsy's marketplace gives it an edge as it puts your products in front of millions of active buyers; with Shopify, you'll have zero audience traffic to start with and need marketing strategies to attract buyers.
Regarding attracting customers, Etsy has the edge because of its 90.5 million active buyers. It also has over 5.2 million active sellers (as of Etsy's 2020 Global Census). Moreover, you have the right target market if your products are handmade.
However, ensuring that your products stand out from the competition is the challenge. Product quality and uniqueness are needed to ensure you capture Etsy's vast audience. Read our tips for selling on Etsy to stand out from the competition.
While you don't have the benefit of having a preestablished audience in Shopify compared to Etsy's marketplace audience, Shopify has built-in promotional and marketing tools that make it easy to promote your store.
Shopify's marketing features include SEO, email campaigns, and social media integrations.
You can configure your SEO to rank in Google, promote yourself on social media, and build an email list to attract customers.
Shopify vs Etsy: Ease of Use
Our Expert Take: Both Shopify and Etsy are straightforward and easy to use. Etsy is quicker to set up, but both platforms are very beginner-friendly. Shopify wins when it comes to customer service by providing support 24/7 by live chat, phone, and email.
Shopify is a bit more technical because you are setting up a standalone website and in-depth ecommerce tools; however, its user interface is intuitive and beginner-friendly. It takes you through a setup wizard when you first configure your account. Afterward, you see action buttons, a simple navigation menu sidebar, and standout callout links open to detailed instructions on a particular setup.
Even its ecommerce tools—such as inventory, order management, and product listings—are set up in a way that makes it very easy to navigate, track orders, and update product listings and inventory.
Shopify also provides helpful beginner guides, and its help page tries to give answers to commonly asked questions with tips and how-to articles before recommending you contact its support team.
Etsy's setup does not require as much time and effort, so you can expect a working Etsy store in a few hours if you have a product ready to sell. Since you do not have to set up a whole website, the process is more straightforward. You must start by opening an Etsy account, choosing a store name, and setting up products, payment, and billing options.
When it comes to customer support, although Etsy provides an extensive help section and community forum, Shopify offers immediate 24/7 support—something you might need, especially if you are just starting your online store. Most users even commended its team for being professional and competent. However, you can schedule a phone call with Etsy's support staff or send an email if you have any concerns. The turnaround time is usually within 24 hours.
Shopify vs Etsy: Expert Score
Our Quick Take: Shopify and Etsy are both popular ecommerce platforms with excellent user reviews, with Etsy being considered more of a marketplace than an ecommerce website builder. We have tried and tested dozens of ecommerce platforms and seller marketplaces and found Shopify gives more bang for your buck.
Most of what you need to run an online store—tools to build, operate, and grow your online business—are included across Shopify's tiers. With Etsy, you think you can save more upfront, but it can be more costly because of its fees and limited sales features.
Shopify Expert Review
Shopify still comes out as our top ecommerce platform even as we regularly reevaluate dozens of ecommerce website builders because it continuously updates, upgrades, and introduces new features beneficial to business owners.
It is your best launchpad if you are serious about starting or growing your online business. Shopify is straightforward to use, can support your business's growing needs, and is very affordable if you are just beginning.
Etsy Expert Review
Even if Etsy has been under fire lately with its fee hike (which even prompted its sellers to seek Etsy alternatives), we still consider it one of the best platforms for creative entrepreneurs and indie sellers. It has a massive number of active sellers and offers a free plan; you can get your store up and running in under an hour.
Etsy is not for the business owner who wants creative control of his online platform since your website is very much part of Etsy's marketplace. You also will find its marketing tools limiting if you have outgrown Etsy's marketplace and would like to venture outside the handmade market.
Methodology—How We Evaluated Etsy vs Shopify
Evaluation Criteria
To help you decide which platform is best for your online business, I built demo stores on both and compared them using the following criteria: price, ease of use, store builder and design tools, inventory management, and sales tools. Together with Meaghan Brophy, we then added our own expert opinion based on years of experience testing different ecommerce platforms.
The evaluation criteria include:
Pricing and Payment Integrations: I considered the price point of each base plan that offers a complete online store, what plan options are available as your business grows, and payment processing options, including fees, flexibility, and one-click checkout options.
Site Builder and Maintenance Features: I considered how easy it is to build and maintain a professional and attractive online store, including available templates, customization options, free domain and SSL certificates, unlimited storage and bandwidth options, and built-in SEO tools and site analytics.
Sales and Product Features: I looked at what kind of product assortments Big Cartel and Etsy can accommodate, tools for in-store and mobile, integrated social media, and marketplace selling, and marketing tools. I also consolidated shipping options.
Ease of Use: Because online stores operate 24/7, I made note of which platform offers 24/7 customer support and provides multiple customer touchpoints, such as phone, email, and chat.
Expert Score: Here, I considered overall value, quality of features, popularity, customer satisfaction, and ease of use. Together with Meaghan Brophy, we also factored in our own experience working with each platform and feedback from businesses that use each system.
Meet the Experts
The following retail and ecommerce experts contributed to this article:
Meaghan Brophy

has 10-plus years of retail experience, during which she has operated a variety of cash registers and POS systems in different settings and applications. Since working in retail, Meaghan has 7-plus years of experience writing for retailers and 4-plus years of experience evaluating POS systems.

Agatha Aviso

is Fit Small Business' resident ecommerce software expert. She has spent years testing and evaluating different platforms and building online stores.
Shopify vs Etsy Frequently Asked Questions (FAQs)
While both are considered selling platforms, Shopify and Etsy are different in building an online store, product and marketing tools, and ease of use. Shopify is a highly scalable and flexible ecommerce website builder, while Etsy can be considered more of a marketplace where you can sell your handmade goods. You cannot use Etsy for an unlimited variety of products.
---
When comparing Shopify fees vs Etsy fees, your ultimate consideration is the number of products you intend to sell. While Shopify has upfront costs like a monthly subscription, there are no product listing fees, and it allows you to sell an unlimited number of products. Etsy has quarterly listing fees from unsold listings, which can add up if you have an extensive product collection.
---
Shopify. Unlike Etsy, there are no listing fees when you sell artwork on Shopify. Plus, you can sell more quantities of original artwork in a Shopify store.
---
Etsy. Shopify doesn't charge listing or transaction fees (when using Shopify Payments). Credit card processing fees still apply on sales for both platforms, though.
---
We recommend Etsy for small-scale sellers that offer homemade goods, vintage products, or craft supplies. Etsy's audience base is huge—you don't want to miss out on that.
---
Bottom Line
Even if Etsy has the edge over Shopify in attracting customers, Shopify wins in almost all aspects. When choosing an ecommerce platform, work with what you have now (e.g., a small budget or limited tech know-how), then scale as your sales grow. On both counts, Shopify can help.
If you have a business that you want to keep small, Etsy is a good option. But if you plan to grow your business, Shopify is the platform that will best serve your needs.