7 Best Garden Center POS Systems for 2023
This article is part of a larger series on POS Systems.
The best garden center point-of-sale (POS) systems should do more than tally items and take payments—they should also be able to sell and inventory by dimensional units, bundle items, and even handle invoicing and rental management. Having an online component is a plus, and the software should be easy to use and also easy on the budget.
We examined a dozen POS systems for price and toolset. The best seven POS systems for small garden centers are:
Garden Center POS Systems Compared
Software Fee

Card-present transaction fee

Online store

Invoicing

Mobile card readers/app

Rental functions

$999 one-time or $99 per month

Varies by provider

✓

✓

Third-party PIN pads, no mobile

✓

$0–$60 per month

2.6% + 10 cents

✓

✓

✓

Limited

$89–$269 monthly

2.6% + 10 cents

With higher plans

With ecommerce

✓

✓

$49 per terminal monthly

Varies by provider

With WooCommerce

✓

For inventory only

✕

Starting at $449 (one-time)

Call for quote

Online ordering only

✓

✓

Limited

$105–$129 per user monthly

Varies by provider

With integration

✓

✕

✓

Starting at $495 (one-time)

2.5% plus 5 cents

With integration

✕

Separate software

Limited
Not what you're looking for? If the POS systems on our list don't quite meet your needs, check out our list of the best POS systems. These may not come with garden center functions but may have other features you're looking for.
POS Nation: Best Overall Garden Center POS Systems

What We Like
Can go on a monthly plan or purchase outright
24/7 support
Special tools for garden centers
Supports multiple payment providers
What's Missing
Some integrations cost extra, including QuickBooks
Remote/cloud access costs extra
Higher than normal learning curve
POS Nation Pricing
Plans include software, PC, receipt printer, cash drawer, and card reader.
Flex Monthly: $99 per month for 24/7 support, lifetime warranty
Freedom: $999 one-time for 30 days free support, two-year warranty
Additional hardware and software available for additional prices
POS Nation often makes our lists for specialty POS systems, like best convenience store POS and leading grocery POS systems. Here, it takes first place for the best garden center POS system because of its tools that meet the needs of nurseries and garden centers. For example, in addition to excellent tools for ringing up sales and tracking inventory, it has outdoor-rated materials and the ability to manage rentals and wholesale sales.
It received an excellent 4.56 out of 5 in our evaluation. The biggest hits it took to scoring are for lacking a free plan and having so few integrations—you need to pay extra to integrate with QuickBooks and ecommerce systems. However, POS Nation excelled in register and checkout features and management tools.
POS Nation Pricing
POS Nation offers three pricing schemes, and they all include hardware and software. You can pay monthly or as a one-time fee, and you can create your own custom package or take POS Nation's standard retail equipment.
All plans include the POS software, touch PC, receipt printer, scanner, cash drawer, and chip card reader.
Flex Monthly, $99 per month: Includes a lifetime warranty on equipment, 24/7 support, and unlimited training. You may be locked into POS Nation's payment processing, but you can quit at any time by returning the hardware.
Freedom Plan, $999 one-time fee: With this plan, you own the hardware and get a two-year warranty and 30 days of free 24/7 support. You only get a chip card reader if you sign up for POS Nation payment processing.
Custom Plan: In addition to the basic hardware and software, you can build your own system with additional hardware and software additions.
Like with Windward, you need to pay for integrations like ecommerce and QuickBooks. However, you need to call for custom pricing. It also differs from cloud-based software like Square in that you need to purchase remote access to the back office as a separate function.
POS Nation Features
Detailed sales and inventory for garden items: POS Nation has the most extensive pricing and inventory tools for the unique needs of garden centers. You can break cases to sell flowers by the slat or individually, create kits such as for a window herb garden, or integrate with scales for items you sell by weight, like mulch or pea gravel.
Weather-resistant barcode tags: POS Nation was the only one on our list that specifically mentioned weather-resistant barcode tags for trees or other outdoor items. You can customize labels with whatever information you need such as growing instructions.
Rental management: While the other providers on our list have some functions that can let you handle rentals, POS Nation has full rental functionality, with quotes, due dates, hardware serial numbers, and service history.
Mobile POS: Unlike Square, POS Nation does not have a mobile app. However, it does have handheld POS tablets and barcode scanners that can tie to your system so that your staff can help customers anywhere in the garden center. You may have to pay extra for this functionality, however.
24/7 customer support: POS Nation, along with Windward, offers 24/7 customer support (ePOS has a 24/7 chat line). Real-world users gave it an average of 4.6 out of 5 on multiple user review sites, with high praise for the customer support they received.
Square: Best Free POS System for Garden Shops on a Budget

What We Like
Super easy to use
Basic POS and online store are free
Inventory can account for damage
Excellent resources for business finance and employee management
What's Missing
Advanced tools require paid plan
Loyalty is an add-on
Limited to Square payment processing
Square Pricing
30-day trial on paid plans
Monthly software fees: $0–$60
Installation fee: $0, installation is DIY
Contract length: Month to month
Processing fees:

In person: 2.6% + 10 cents
Online: 2.9% + 30 cents
You need Square for Retail Pro ($60 per month) for vendor management.
Square tops our list of the best retail POS systems and finds a place in this guide because of its excellent price point and ease of use. It does not offer as many garden-specific features as the others on our list but does have mobile and counter POS systems, good inventory, an online store, and invoicing capability. Plus, as you grow, you can add other tools like loyalty, team management, and even payroll. Square also offers banking services.
It earned a 4.31 out of 5 in our garden center POS evaluation, taking second place to POS Nation, which has tools specific for garden centers. Square lost points because it ties you to its payment processing; some of the features also require a paid plan (which is still the least expensive on the list).
Square Pricing
Square's basic POS and ecommerce system cost nothing but offer excellent features for loading and tracking inventory and sales both in-store and online. For more features, it offers paid plans. Square's transaction fees are competitive, although you may find some cheaper rates with other processors. It also has add-ons for loyalty, marketing, and other business functions.
Square's software is the cheapest on our list, unless you consider buying your software outright—like with RetailEdge—and using it for a year or more. The hardware, too, is reasonable; Square can be used on mobile systems but also has its own line of systems.
Basic POS: Free
Square for Retail Plus: $60 per month, per location—adds vendor management, inventory counting, inventory counting, purchase orders, cross-location returns, vendor sales, and cost of goods
Ecommerce: $0–$72 per month
Card readers for mobile: First one free; next $49
Handheld systems: Starting at $299
POS system: Starting at $799
Square charges flat-rate processing fees. They are competitive, and Square often makes our list of best payment processors. RetailEdge is slightly cheaper, however.
Flat-rate transaction fee: 2.6% + 10 cents per transaction
Invoices: 2.9% + 30 cents per transaction
Ecommerce sales: 2.9% + 30 cents per transaction
Keyed-in payments: 3.5% + 15 cents per transaction
Volume discounts: Square will create custom pricing packages for any business processing over $250,000 in credit card sales.
Square is unique among those on the list for its many additional services. While others incorporate some, like loyalty, only Square has payroll and banking services.
Marketing: Starts at $15 per month for up to 500 customer contacts
Loyalty program: Starts at $45 per month, per location, for up to 500 loyal visits
Payroll: $35 per month plus $5 per employee
Team management: $0–$35 per month, per location
Banking: Varies; includes business accounts and loans
Square Features
POS system: Square's POS system is very easy to use, and, unlike many POS systems, lets you take credit card payments even if offline. (It processes them once you have a connection again.) Its photo buttons make it easy to find items. It is also the most modern-looking interface of those we reviewed.
Omnichannel sales: Square has an online store component that includes a webstore, the ability to order online and pick up in-store, and to sell via social media. Most on our list require add-ons for this functionality. Like the others on our list, it includes sound invoicing tools.
Inventory: For the best inventory tools, you should purchase Square for Retail. This plan offers cost of goods sold (COGS) reports and the ability to filter items by damage or theft, track items by dimensional units like feet or ounces, and automatically update inventory when an item is sold.
Hardware: Square works on tablets, but you can also purchase POS systems. Handheld systems let your employees take payments anywhere in your nursery, while the mobile POS app lets your people collect payments on the job site. Unlike the others, its tools are proprietary to Square, but they are highly rated and versatile, and you don't need to worry about compatibility issues.
Customer management: Unlike most of the others on our list, Square charges extra for loyalty programs. However, you can track customer information and even ask for feedback right after the sale via text or email receipt.
Lightspeed: Best Garden Center POS for Complex Inventories

What We Like
Granular matrix inventory management
Option to choose payment processor
24/7 customer support and onboarding
What's Missing
User interface can take time to learn
Can get pricey
No offline mode
Lightspeed Pricing
14-day free trial
Lean: $89 per register
Standard: $149 per register; includes accounting integration capability and ecommerce
Advanced: $269 per register; includes advanced reporting and loyalty program
Contract length: Monthly
Processing fees: 2.6 + 10 cents or choose your own payment provider
Lightspeed tops our list for best inventory POS systems, and this functionality makes it a great choice for garden center POS systems. It can handle a massive number of variants, bundle products, record rentals, and handle purchase orders. With an easy-to-use register and strong reporting tools, it takes third place on our list.
Its score in this evaluation was a strong 4.3 out of 5, though it took some small hits in features because several we looked for were only available in the higher-tier plans. Lightspeed also lacks an offline mode, which we consider important for nurseries.
Lightspeed does have a mobile app, but the ratings are lower than those for Square or ePOS. Even so, it offers good value and is the only one that comes with a dedicated account manager at all plan levels.
Lightspeed Pricing
Lightspeed's pricing is competitive with those on our list, although if you want advanced features like loyalty and ecommerce, you can expect to pay more. In some cases, it could be cheaper to get an add-on—for example Square Retail ($0) + Square Loyalty ($45). The payment processing is competitive, too, while not being the cheapest; however, you can select your own payment provider if you prefer.
Lean, $89 per register monthly ($69 with annual plan): POS, 24/7 support, one-on-one onboarding, free training, dedicated account manager
Standard, $149 per register monthly ($119 with annual plan): Everything in Lean, plus accounting integrations and ecommerce
Advanced, $269 per register monthly ($199 with annual plan): Everything in Standard, plus advanced reporting
Enterprise, custom quote: Everything in Advanced, plus personalized consultation, preferred Lightspeed Payment rates, API consultation and support
Payment processing fees (Lightspeed Payment Processing): 2.6% + 10 cents for card-present; call for ecommerce fees
Lightspeed Features
Inventory management: Retailers can bulk upload up to 10,000 SKUs at once, manage variants, create bundles, and track unit costs, layaways, and special orders. Built-in product catalogs streamline orders, and low-stock alerts let you know when to place them. Lightspeed has the most sophisticated integrated product ordering on this list, largely because of the built-in supplier network.
Supplier network: Retailers can discover products, submit purchase orders, and track stock shipments from within Lightspeed POS. The only other system on this list that comes close to matching this tool is KORONA.
Easy checkout with product search: Lightspeed has a smooth checkout interface, with product buttons that can include images and product search. You can add customers right on the screen (no need for extra buttons) and also create discounts and notes. We especially liked the ability to check specific products and get the current inventory. For example, it's easy to look to see if you have enough paving stones for a customer's project.
Rental management: Lightspeed has simple rental management, allowing you to set a rental as a non-inventory item. While more simplistic than POS Nation, it still stands ahead of the others on our list, which require plug-ins.
KORONA: Best for Franchises & Multistore Reporting

What We Like
Robust inventory includes case-break function
Choose your payment processor
Includes shipment tracking so you know when to expect new stock
What's Missing
Only integrates with WooCommerce for ecommerce
Reporting module has a learning curve
Inventory tools require higher-tier subscriptions
KORONA Pricing
Unlimited free trial
Core: $49 per register monthly
Advanced: $59 per register monthly; Core + inventory management and employee time tracking
Plus: $79 per month; Advanced + order level optimization, multi-store reporting, franchises
Installation fee: $0
Payment processing: Varies by processor; KORONA is payments agnostic, so you can shop for the lowest rates and use your preferred processor.
KORONA is the only POS system on our list that specifically mentions franchise and multistore capabilities like specialized reports, although you need the Plus plan for these tools. (It's still cheaper than most on our list.) We liked its customizable register, which lets you control everything from button size to functions and interactions, and its inventory tools (although you need the Advanced or higher plan).
It makes our lists for many specialized POS systems (such as convenience store, bakery, and liquor store POS). Here, it earned 3.94 out of 5, with great scores for pricing and overall value. It did well for features, although it lacks rental management, and ecommerce is done through WooCommerce. However, it lost points for lacking offline modes and a mobile POS system.
KORONA Pricing
Korona charges per month and per register, with a month free if you choose to be billed annually. All plans include unlimited users and sales, and you can choose your own payment provider. With prices starting at $49 per month, it's the cheapest POS system on our list after Square. However, for multistore capability, you need the Plus system at $79 per register monthly.
Core, $49 per register monthly: Includes customizable checkout, a product database, a customizable dashboard, basic reporting, promotions and gift cards, API access, and an ecommerce store (through WooCommerce).
Advanced, $59 per register monthly: Includes everything in Core, plus inventory management and reporting, real-time tracking, and employee time tracking.
Plus, $79 per register monthly: Includes everything in Advanced, plus order level optimization, the inventory app, multi-store reporting, and franchise tools.
Enterprise, custom pricing: Everything in Plus along with customized onboarding, a dedicated account manager, pre-built integrations, and ticketing and event management.
KORONA Features
Flexible multistore management: KORONA POS has multistore management tools to consolidate data and reports in real time. You can manage inventory, conduct inventory counts, award loyalty points, track sales, and monitor employee performance for all locations from a single platform. You can also do this with Lightspeed, but it requires a customized plan.
Franchise functionality: If you are setting up a franchise, KORONA can make managing it easier with specialized reports, franchise royalty calculations, and revenue shares. It's the only POS system on our list with such tools.
Mobile inventory management: While lacking a mobile POS*, the KORONA mobile inventory app is a great feature for managing inventory away from the register, like in the greenhouse. It also supports barcode scanning. The app includes automated counting with a daily count list. You can also set automatic reordering, track shipment, and manage your vendor list.
Highly customizable interface: KORONA offers a very flexible register system. You can create hot buttons for any item or function, and even dictate how certain tools interact with other functions. You can also choose the size and colors of the buttons. Unlike Square, however, it does not let you add images to products.
Receipt barcodes: One interesting feature of Korona is the receipt barcodes. If your customer has an issue with a sale—like, for example, if a plant that was not run with its discount—or needs to return an item, you can quickly find the previous receipt by scanning the barcode on the customer's receipt. This makes it easy to void a purchase, create a gift card, and add loyalty points that might have been missed.
*Android shows a KORONA POS app in German only.
ePOS Now: Best for Standalone Software You Purchase Outright

What We Like
Built-in loyalty program
Built-in staff management tools
Multiple integrations
What's Missing
Transaction fees are not transparent
Large upfront investment
Pay per device
ePOS Now Pricing
ePOS is a standalone system with integrated hardware and software. It also comes with payment processing.
Call for a definitive quote
From $999 one-time or $59 per month, including hardware

Currently discounted to $449 or $39 per month
Discounted price requires a payments, care, and support subscription of $59 per month.

Transaction fees: Call for quote
Can integrate with other payment processors
If you prefer a standalone system with excellent inventory tools and a clean interface, ePOS Now is definitely worth considering. You can purchase the system for $999 (discounted as of this writing to $449), and it not only includes sales and inventory but also loyalty, online ordering, and staff management. You have the option to add other integrations if you need additional functionality. There's also a leasing program available.
ePOS Now earned 3.86 out of 5 in our evaluation—the same score as Windward and RetailEdge. Aside from lacking customizable hotkeys and not being able to process payments while offline, it did well in all categories. It supersedes Square in that it includes a loyalty program, and like Square, it offers a wide range of integrations. As a standalone, it is a better choice than POS Nation if you need integrations and RetailEdge for both integrations and customer management. The inventory and sales tools such as sell-by-weight, are specific enough for the unique needs of garden centers.
ePOS Now Pricing
ePOS Now offers different pricing depending on your needs. It promotes its $449 (down from $999) one-time fee, which includes a touch-screen POS system and software, cash drawer, and printer. The same page also lists tablet systems at $599. However, the fine print warns that the reduced price requires a payments, care, and support subscription of $59 per month.
There is a lease option, listed at $39 per month (reduced price), which is based on a startup business for a three-year contract. ePOS says rates can vary depending on the number of years in a term, your company's financial information, and even your "personal circumstances."
ePOS Now Features
Sales and inventory: Like several on our list, ePOS Now has functions that work for garden centers, like selling by weight or size as well as quantity, custom barcodes, and invoicing. Its rental tools are weaker than POS Nation's, however.
Loyalty and marketing: ePOS has built-in tools for tracking details like customer information and preferences, loyalty programs, and marketing campaigns. Square, by contrast, charges extra for similar tools.
Ecommerce: Unlike Square, which comes with its own ecommerce system, you will need to use an app like Shopify or WooCommerce (which is free) to sell items online or set up ordering for in-store pickup. However, unlike POS Nation or Windward, you don't need to pay extra to arrange the integration.
Multiple payment processors: ePOS has its own payment processing system, like POS Nation or RetailEdge, but can also integrate with other payment processors so you can secure your best rate.
Integrations: ePOS has over a hundred integrations, something that sets it well apart from our No. 1, POS Nation. Find apps for ecommerce, accounting, payments, scheduling, and more. Only Square on our list offers more in terms of app options.
Windward POS: Best for Landscaping, B2B & Large Orders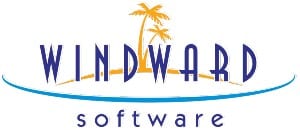 What We Like
24/7 support
Inventory includes kitting, dimensional tracking, automated ordering
Extensive invoicing tools
Accounting ledger built-in
What's Missing
Add-ons expensive to set up
Rental system is an add-on
POS system not as sophisticated as others
Windward POS Pricing
Priced by number of users:
2–10 users: $129 per user monthly
11–30 users: $115 per user monthly
31–50 users: $105 per user monthly
Add-ons:
Rentals: $2,000 setup + $348 per year (cloud) or $1,000 per year (standalone)
Department: $1,000 setup + $288 per year (cloud) or $360 per year (standalone)
Multi-currency: $3000 setup + $348 per year (cloud) or $626 per year (standalone)
Opportunity Tracking: $1,200 setup + $420 per year (cloud) or $756 per year (standalone)
Windward's POS system can work in the cloud or as a standalone. It offers a comprehensive system, including basic accounting software and a strong inventory system, plus invoicing and a touch-screen POS. While we found the interface not as clean as, for example, Square's, it was nonetheless easy to navigate, and users gave it props for ease of use and reporting.
In our scoring, Windward earned 3.86 out of 5, the same as ePOS Now and RetailEdge. Price brought down the score, as did the fact that it needed integrations for ecommerce. However, we liked that the checkout that lets you move smoothly from invoices to a retail register—a nice feature for garden shops that do B2B sales or landscaping services. The reports and ledger tools are impressive too.
Windward POS Pricing
Windward POS is the most expensive on our list because it charges by user with a minimum of two users. The prices go down as you add users, but not significantly. While it lists annual rates, they are no different from the monthly ones. Many POS software systems give you a discount if you commit to a year.
2–10 users: $129 per user monthly
11–30 users: $115 per user monthly
31–50 users: $105 per user monthly
Like Square, it has add-ons that you can pay for as your needs grow. However, unlike Square, Windward charges a high setup fee. The monthly prices for the add-ons are somewhat cheaper, however.
Rentals: $2,000 setup + $348 per year (cloud) or $1,000 per year (standalone)
Department: $1,000 setup + $288 per year (cloud) or $360 per year (standalone)
Multi-currency: $3,000 setup + $348 per year (cloud) or $626 per year (standalone)
Opportunity Tracking: $1,200 setup + $420 per year (cloud) or $756 per year (standalone)
Windward POS Features
POS System: Windward offers two ways to check out customers from the same screen. You can use New Sale to create an invoice, or use Quick Sale to pull up a more traditional touch-screen register. This is the only software with this kind of flexibility on our list and is a great choice if you do service work or large-scale commercial orders as well as retail sales.
Inventory: You can track manufacturers' serial numbers, generate and print internal barcodes, and track true cost and warranty. Inventory can be tracked and sold by dimension such as by linear foot. You can search by multiple fields such as small flower perennials. It also lets you assign up to 99 different prices, such as sales or garden club prices. We found it comparable to POS Nation.
Precise reporting: Windward makes it easy to get the information you need in the form you need. In addition to its wide range of standard reports, it has 40 filtering criteria in 200 available columns. Reports are exportable to Excel.
Built-in accounting tools: Windward has its own ledger system for accounting. Others, like Square, require a QuickBooks or other accounting integration. You can even print checks straight from journal entries.
Training and support: In addition to the videos and online articles, Windward offers 24/7 support. It prefers email but provides a number you can call in an emergency. Many, like Square, only have help during extended business hours.
RetailEdge POS: Best for Nurseries & Large Garden Centers

What We Like
Low payment processing fees
One-time software fees
Full-featured standalone software
What's Missing
No software as a service (SaaS) option (standalone only)
Support plans cost extra
Must purchase for each terminal
RetailEdge POS Pricing
Free demo
Software pricing is one-time only

POS software: $495
Client workstation: $225
Island Workstation (mobile): $450

Gold software support: $45 per month, per location
Software maintenance: $5 per workstation monthly
Transaction fees (RetailPlus Payments)

Card Present: 2.5% + 5 cents
Card Not Present: 3.0% + 10 cents
Pin Debit: 1.0% + 30 cents
RetailEdge is a standalone software rather than a software-as-a-service that you pay monthly fees for. That means the initial investment is larger, but after that, you can choose not to pay again. (It has update and maintenance plans for as little as $5 a month, however.) We liked it particularly for garden shops and nurseries that are large and benefit from having independent mobile registers that can work offline.
It finishes our three-way tie, with 3.86 out of 5 on our rubric. The pricing was competitive but not as good as Square's—particularly as you need to purchase the software and then pay extra to secure regular updates. It's also not great for integrations. However, it had strong order management and checkout tools.
RetailEdge POS Pricing
RetailEdge is the only software on our list that can only be purchased as a standalone. You have a large software fee upfront. Aside from the option of monthly maintenance plans, however, there are no additional monthly fees.
You'll purchase RetailEdge software and hardware separately. Workstations start at $1,709, but you can also buy hardware from other vendors.
RetailEdge V8.2 POS software: $495
RetailEdge V8.2 POS software for client workstation: $225—a simpler version of the software for additional registers in your store
Island Workstation software: $450—designed for mobile stations
RetailEdge offers 90 days of technical support; after which, you are charged $45 per 15 minutes for support. Alternatively, you can purchase a plan. For businesses with heavy seasons, you can rotate between silver and gold.
RetailEdge Gold Support Plan, $45 per location monthly: Provides software updates as they are released and technical support during extended business hours and on weekends.
RetailEdge Silver Maintenance Plan, $5 per workstation monthly: Provides software updates and standard technical support and access to cloud services for backups, mobile, and multilocation synchronization of devices. Phone support at $30 per 15 minutes.
RetailEdge has payment processing at very competitive prices, or you can choose to integrate with CardConnect/Fiserv, GlobalPayments, or WorldPay. Below are RetailEdge Payments pricings:
Card Present: 2.5% + 5 cents
Card Not Present: 3% + 10 cents
Pin Debit: 1% + 30 cents
RetailEdge POS Features
Complete, independent mobile POS: RetailEdge Island is a complete copy of RetailEdge, just modified for tablets. It holds all the information of your countertop POS and syncs with it every few minutes. As a result, it's especially suited for use when there's no internet, as it can hold transaction information and pass it to the countertop station when the connection returns. That makes it great for large garden centers, where employees can get orders in each department with ease.
Batch billing: If your garden shop includes landscaping maintenance or snowplow services, then the batch billing tools will come in handy. Others have invoicing, but RetailEdge is specifically designed for these tools.
Open Order: Open Order is how RetailEdge handles open jobs (such as backyard landscaping) or layaway. It can also work to park or save sales, such as if a customer needs to go back for something. Additionally, it works with RetailEdge Island, so a customer can buy a tree in one section of the garden center, then go to another section to find decorative rock.
Dead loss inventory: While you can fudge inventory tracking for dead plants by calling them damaged, RetailEdge is the only one on our list that lets you specifically deal with dead loss. It also has expiration date and growth tracking.
How We Evaluated Garden Center and Nursery POS Systems
To find the best POS software for garden centers, we first looked at the best POS systems in general and sought tools specific to the industry. Next, we expanded our search for POS software specifically designed for garden shops, nurseries, and landscaping businesses. We narrowed it down and did deep dives into the top 12 to find the best seven.
POS Nation took the top of the list because of its many specific features for gardening as well as its excellent checkout tools. This is the first time in over three years of evaluating that three products tied in their overall scores.
Click through to see the scoring criteria:
25% of Overall Score
These are the tools that help make a quick and easy checkout experience, like hotkeys, a multitude of payment options, order management, and the ability to sell on the floor or on-location. POS Nation earned a perfect 5 out of 5.
25% of Overall Score
Management tools help the back-office: inventory, purchase orders, customer management, and marketing. Ecommerce was considered here as well. We gave emphasis to POS services that had garden-specific tools, like tree tags or dead item inventory tracking. POS Nation again earned 5 out of 5.
10% of Overall Score
Ease of use went past the software itself to the tools to help when software does not cooperate: support hours, offline mode, online help tools, and business services. Lack of 24/7 support or offline modes hurt most of the products we reviewed. Square got the highest score on our list with 4.25 out of 5.
20% of Overall Score
This score reflects our considered opinion based on years of experience as well as reviews from real-world users. Square and POS Nation both had a perfect score, while ePOS Now and Windward came in second with a solid 4.75 out of 5.
*Percentages of overall score
Garden Center POS Systems Frequently Asked Questions (FAQs)
What tools do garden center POS systems need that are different from other POS systems?
Garden centers should be able to account for "expired" items, like dead plants; send invoices for large deliveries or landscaping services; and account for items that might be measured by dimensions, such as lumber or bulk fertilizer. It should also be able to create odd-sized or waterproof barcode tags for items like trees. Many POS systems can offer workarounds, like counting dead items as "damaged."
Learn more about POS systems.
---
Do I have to have a specialized garden center POS system?
If your needs are not complex, you may be able to use a POS system with strong inventory management tools. Square is on our list, but we also recommend Lightspeed, which made our best inventory POS systems list.
---
Can a garden center POS system work for a landscaping company?
Yes, many companies that sell POS systems to garden shops also sell the same software to landscapers. For landscaping, you'll also want to make sure that it has a strong invoicing tool.
Learn more: How to start a lawn care business
---
Bottom Line
Your garden center deserves the best POS system to make sales transactions easier for your cashiers and keeping track of stock easy for you. We evaluated several POS software not only for general sales but also for garden and landscaping functions to help you make the best choice.
We recommend POS Nation because it offers a fully-featured POS system with invoicing and online sales, but also because it has garden center functions like custom tree tags and rental management. Prices start at $99 a month, so get started today.