Gusto vs SurePayroll: Which Is the Better Payroll Solution for You?
Gusto and SurePayroll are popular payroll processing programs with a lot to offer. However, a closer look reveals significant differences. Gusto is a general-purpose payroll software with greater HR and integration functionality, making it a good choice for nearly all small businesses, although it's more expensive. SurePayroll, on the other hand, is cheaper and more limited but has some great options for nanny and household payroll. In short:
Gusto: Best for most small businesses, especially those that need to pay contractors only or contractors plus employees.
SurePayroll: Best for startups, household payroll, and businesses on a tight budget.
Both solutions are better for small businesses with fewer than 100 employees. If your company is larger or has more complex needs, consider Paychex or ADP.
SurePayroll vs Gusto At-a-Glance
*Subscribers can access HR forms, compliance posters, and an HR Adviser for $9.99 per month.
Both Gusto and SurePayroll have strong features, user-friendly interfaces, and great pricing, often making our best-of lists, like these:
When to Choose Each
Here's an overview of when each solution would be ideal for your business:
Most Affordable: SurePayroll
*For a monthly fee of $7.99, you can upgrade to two-day payroll processing.
For simple payroll, SurePayroll is the obvious winner. It offers two plans. For $19.99 + $4 per employee per month, it processes your payroll and calculates your taxes, but you need to handle paying taxes yourself. If you'd like SurePayroll to handle your tax payments and get its Tax Penalty Protection Plan, you need to use the full-service plan for $29.99 + $5 per employee per month. This is $10 cheaper than Gusto's most basic plan (which also includes tax filing.)
However, you won't find the plan pricing on its website—you'll need to call SurePayroll for a quote. Also be aware that some services, like integrations and multistate tax filing, incur additional fees. If you need benefits for your employees, you'll also need to talk to a SurePayroll representative about pricing for those functions. SurePayroll offers multiple free months if you commit to an annual plan, although you have to contact sales for exact details.
When To Use Gusto
Gusto is more expensive, but also offers more by way of HR assistance, benefits management, and time tracking. It comes with some health and other benefits, and its prices are all listed on the website, making it easy to calculate and do comparisons. Gusto also offers multistate tax filing. SurePayroll, even with its full-tax plan, charges extra for multiple states as well as for local tax filing. This can add up to almost $20 per month in extra fees.
If you only pay contractors, Gusto is definitely a better choice than SurePayroll because it has a contractor-only plan that costs only $6 per contractor per month—no additional monthly fee. The plan is basic, with no withholdings services, but it offers new hire reporting and 1099-NECs at the end of the year.
Best for Creating Payroll: Gusto
As far as basic features go, SurePayroll and Gusto are reasonably close, but we chose Gusto as the winner because its features are all included, even in the basic plan, whereas SurePayroll charges extra for some things, like local tax filing. Also, Gusto includes time tracking in its Complete ($39 per month + $12 per person, per month) and higher plans, whereas SurePayroll charges extra or requires a third-party integration (for which it also charges). Finally, Gusto handles PTO and benefits tracking, something not mentioned in SurePayroll's plans.
Gusto is easy to set up and takes an average of 13 minutes to run payroll, according to its website. You can also put it on autopilot. Additionally, Gusto keeps up on compliances and offers warnings when compliances change. In fact, users report that you can't run a payroll unless you are compliant. Compare this to a user review of SurePayroll, where the customer said SurePayroll's spotty enforcement of compliances subjected them to fines and resulted in their shutting down their New York operations.
When To Use SurePayroll
If you have seasonal services where you may not need payroll for a month or more, you can contact SurePayroll about pausing your services while still keeping the information handy for quick reactivation. They charge a minimal fee for this. Gusto does not offer such a service.
Best for Paying Employees: Gusto
Once again, while both offer a great set of features, including tip tracking and next-day direct deposit, Gusto takes the lead. First, it offers pay card options through Gusto Wallet, which also allows employees to take advantage of financial tools like splitting paychecks among different accounts and on-demand pay (getting access to wages as employees earn them rather than having to wait until payday). This is a great option for younger employees who may not have traditional bank accounts. In addition, you can pay international contractors if you have the international contractor payment add-on. We also like that you and your employees get lifetime access to their information, even if you stop using Gusto.
When To Use SurePayroll
One thing Gusto lacks is a tax penalty guarantee. It does say in its terms of service that it will take responsibility if its calculations are incorrect (provided you gave accurate information). However, SurePayroll (with its full-service plan) will work with the IRS to resolve the issue, and if at fault, take care of any penalties incurred. If you are concerned about penalties, such as if you have workers in multiple states or a complex tax situation, then the guarantee from SurePayroll may give you peace of mind.
Another use-case for SurePayroll is household payroll, which Gusto does not cover. SurePayroll offers all the functions of its plans plus help with benefits and household employee management.
Best for Hiring & Onboarding: Gusto
Gusto is the clear winner when it comes to hiring and onboarding. It only posts jobs to Google Jobs, which is nice, though you'll probably want to post on other job sites. However, once you've selected your new hire, it offers several tools to make those first few days easy. Craft offer letters and send them through Gusto. Create orientation documents and checklists they can follow to get started, and even better, let them fill out forms and sign electronically to get things rolling fast.
When To Use SurePayroll
Gusto does not provide some services like background checks, skills testing, and behavioral assessments for candidates. SurePayroll can, but these tools may cost extra. Thus, alone, it's not a reason to choose SurePayroll over Gusto. Nonetheless, if you already like SurePayroll—for example, you are interested in using it once you hire a nanny—and need these kinds of hiring tools, they are there for you to take advantage of.
Best for Benefits: Tied
*Not available in Alabama, Alaska, Hawaii, Louisiana, Mississippi, Montana, Nebraska, North Dakota, South Dakota, West Virginia, and Wyoming.
We had to give this one a little thought because while Gusto offers more benefits itself, it only had health benefits for 39 states. SurePayroll, on the other hand, can broker benefits for all 50 states. Both charge extra for benefits as well. In the end, they seem closely matched.
Gusto offers health, dental, vision, HSA, FSA, and commuter benefits. It also has 529 savings and 401(k) plans. Finally, through Gusto Wallet, it offers financial management tools and early paycheck access of up to $500 (Gusto Cashout)—something SurePayroll does not offer. However, employees need to sign up for a Gusto Wallet account to use these tools.
SurePayroll works through Paychex for health, dental, vision, and other benefits like HSAs. It has 401(k) plans designed for small businesses. While it does not have financial programs like Gusto Wallet, it can help you purchase general liability, commercial auto, umbrella, BOP, E&O, D&O, and EPLI coverage.
You can get workers' compensation insurance through either service.
Best Mobile Apps: SurePayroll
SurePayroll takes the lead for mobile apps. In fact, it offers two: one for employers and one for employees.
Employer app: The employer app lets you manage, edit, and approve payrolls, preview totals and payment methods, and view reports on earnings, taxes, deductions, and year-to-date totals. You can also access employee contact information.
Employee app: While lacking the financial management functions of Gusto Wallet, SurePayroll's employee app nonetheless offers the tools we usually find in payroll apps for mobile. It lets employees handle their payroll information, view paycheck details such as earnings, taxes, deductions, and year-to-date totals. They can see PTO use and totals and check wage rates and retirement contributions.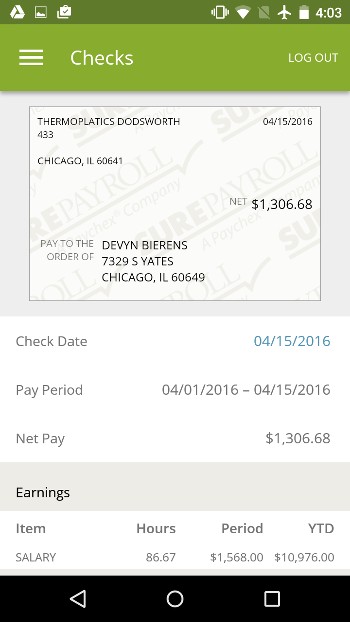 When To Use Gusto
Gusto does not have an employer app, although the website is mobile-friendly. Further, its employee app, Gusto Wallet, is for employees that have a Gusto spending account. However, the app is well-rated, and we recommend it for businesses with younger employees, especially Gen Z. Many in this generation do not own traditional bank accounts, and the app can help them manage money as well as access it more easily than cashing a check.
Best for HR Features: Gusto
Gusto offers a variety of HR tools that span hiring to retirement, HR document assistance, and access to SHRM- and HRCI-certified HR professionals. It provides law alerts and anti-harassment training. You also get access to tools for performance evaluations and requirements for terminating an employee so you are on the right side of the law. In all, it offers more than SurePayroll and often makes our list of HR systems that include payroll.
What Does SurePayroll Offer?
Gusto offers more for HR than SurePayroll, but many of the tools come with the higher-priced plans. If all you need is access to an HR professional for advice, then SurePayroll offers the cheaper alternative, with $9.99 per month if you have the self-service plan (it's included in the full-service plan). It does not offer performance reviews, but its personal development inventories can be used to provide objective criteria for identifying employee strengths and weaknesses. You can also access forms, compliance posters, and guides.
Best for Accountants: Gusto
Gusto offers some excellent tools for accountants who want to use it to run payroll for their clients. Depending on the number of clients you bring into the system, you get a 10% to 20% discount on the Gusto Complete Plan, which you can elect to keep or pass on to your clients. (Clients get a free month trial.) Gusto will also make you a Partner, which gives you access to marketing materials and a listing on its website. In addition, it offers training webinars that get you CPE credits, a great advantage for continuing education.
When To Use SurePayroll
SurePayroll has a strong program for accountants too. You get up to $300 for each referred business and invoicing tools to bill your clients. It offers two billing methods: Direct Billing bills you the software costs, which you can mark up when billing your clients individually, and Revenue Share Billing, which lets SurePayroll handle the billing for you. You pay extra for the latter service, but you still have the option of marking up the rates.
Best for Ease of Use: Gusto
Setup with Gusto is easy, and there are online guides or you can ask for assistance. The user interface is bright, clean, and easy to follow. There are a lot of tools, so it can take a little time to learn, but overall, it's among the easiest to use.
Real-world customers say Gusto has a great user interface and makes tax filing and paying employees a breeze. Some asked for more interactivity and scheduling options. Customers said it offered more features at a lower cost than their previous service. One person, however, had trouble with a Plaid integration that resulted in lost paychecks.
How Easy Is SurePayroll To Use?
Users say SurePayroll is easy to use…until it isn't. If you run into a problem or a task you don't know how to do and you can't find help on the program, you'll need to contact Customer Support. In fact, the website FAQ inevitably suggests calling Support. Unfortunately, real-world users say getting customer support involves long wait times.
There were some complaints that the interface is older; however, I didn't find it distractingly so. It was still easy to find the most important functions.
Best for Customer Support: Gusto
*May require a premium plan or additional fees.
For this score, I gave a lot of weight to the real-world user reviews found on Capterra, particularly for the past year or so. While all businesses have been struggling, including payroll services, it's vital that a company that's taking care of your people's paychecks be reliably there for you in times of need.
That said, Gusto takes the clear lead. It offers stronger online help features and tutorials, as well as advanced training for its partners. However, the real kicker was the strength of the support team. While some people said they had trouble getting a hold of someone, most complimented customer support and said their issues were resolved.
SurePayroll customer support, however, was mostly rated one star or none at all in the past couple of years. Users cited hourslong hold times and suggestions that did not solve their problem (even after the case was accelerated). One person said, "SurePayroll personnel made me feel helpless, confused, and hung out to dry." Not what you want to hear about a company that pays your people.
Bottom Line
Both SurePayroll and Gusto offer strong payroll features. However, when it comes to Gusto vs SurePayroll, Gusto generally comes out on top. It offers more functions and a more modern interface. Plus, its customer service is far better than SurePayroll, according to real-world user reviews. Unless you are looking for household payroll or need a cheaper option, Gusto is the better choice. Sign up for a Gusto account and take the headache of payroll off your plate.