Businesses in Florida with at least one employee must do payroll according to federal and Florida laws. State of Florida payroll is one of the least complex states for doing payroll because it doesn't have state or local income taxes. This makes it easier to process payroll manually.
Because doing payroll in Florida is less burdensome than in other states, we will cover how to do it yourself first. Then we will give you a step-by-step example of how to automate payroll using one of the best choices in payroll software, Gusto, our recommended software for small business. Click for a free trial.
Disclaimer: Fit Small Business does not operate as a licensed legal or tax professional. We recommend you consult with your lawyer, payroll accountant, or licensed professional for decisions related to your payroll process.
How State of Florida Payroll Works
Florida payroll works similarly to how you would run small business payroll in other states with the exception that there are fewer state-specific rules. Small businesses in Florida find it much easier, because there are no state or local income taxes, and many of the employment laws, for example, those pertaining to overtime and leave, defer to federal law and aren't very restrictive.
Paid time off (PTO) is also more relaxed, and employers can choose to implement a use-it-or-lose-it policy, which simply means employees must use any accrued vacation or sick time within the year they earn it or they lose it. This is favorable to businesses that aren't comfortable tracking their employees' unused vacation year after year. With this policy, employees lose any unused PTO at year-end, and employers don't have to pay it out.
Keep in mind that there are many labor laws you should be aware of before hiring your first employee. We've summarized those we believe are most important at the end of this article. Florida business owner, Kate Lake, discusses some of the challenges of doing payroll:
"One of the biggest challenges to doing payroll, probably in any state, is making sure you don't miss deposit and reporting deadlines. What makes this so hard is there is no early warning system to let you know that you forgot to make a deposit or file a report. Instead, you get a government "nasty gram" letting you know you failed at something and often severely penalizing you in the process. A friend just told me how they missed a federal deposit and by the time it was brought to their attention, it came with a $1,000 penalty."

– Kate Lake, Owner, My Office & More
Free Florida Payroll Checklist for Small Businesses
Doing your own payroll for the first time can be intimidating, so we've created a checklist you can download to keep you on track. You can use it with or without software to ensure everything is covered. We've broken the process down into five steps to make it easy to digest.
Here are the five steps to do payroll manually in Florida:
1. Collect Your New Employees' Documents
There are certain documents you need employees to complete upon hiring, some more time sensitive than others. Failure to submit them can result in withholding the wrong amount of Florida payroll taxes, a delay in processing an employee's pay, and monetary penalties.
Here are the forms you should collect from a new hire:
Form W-4
Form W-4 is used to calculate the number of exemptions your employees will claim, which ultimately determines the tax rate you will use to calculate total taxes to withhold. Florida employers only need to issue the federal W-4 form. Since there is no state income tax, Florida employers don't use a state W-4 form. This means you will not need to withhold state income tax from your employees' wages.
It's a good practice to store a copy of Form W-4, so you can access it when needed. Employees are allowed to make changes throughout the year and proper storing makes it easy to keep track.
I-9 Form
Form I-9 verifies that your new employee is being truthful about his identity and is eligible to work in the United States. You must collect a completed I-9 form on your employee's first day of work and fill out the employer section within the first three business days after that.
Example: Let's say your new employee begins working Wednesday. The employee section must be completed by the end of day Wednesday, and your deadline to complete and sign will be the following Monday.
Complying with regulations surrounding the I-9 form is essential. Craig Vanderburg, chief operating officer of Trion Solutions, points out the importance of compliance for any small business, and especially in the state of Florida.
"Florida is high on the list of a workforce inclusive of immigrants, so compliance with the I-9 process — and affirming that all employees are eligible to work in the USA — is a big factor.

The process of payroll is less a challenge than compliance itself. We see a large transient workforce and labor pool in Florida, largely in the service, food, and restaurant industries."

– Craig Vanderburg, chief operating officer, Trion Solutions
Direct Deposit Form with Voided Check
If you decide to offer direct deposit as a payroll option, you should create a form your new employees can fill out to consent. You should also request a blank check copy that is linked to the checking account that will be used for payroll deposits.
2. Track Hours Worked & Calculate Gross Pay
Setting up a system to track hours worked is as simple as giving your employees time sheets to record their start and end times each day. If you allow them to take unpaid breaks of 30 minutes or more, verify this is reflected on their time sheets. Total hours worked is a sum of all hours between the start and end times. Unpaid breaks are not included.
You can also try using a digital time and attendance system. This will not only simplify tracking work hours but also help you manage employee schedules more efficiently and reduce costs by minimizing overtime.
Once you know the total hours worked, you can calculate gross pay. Since gross pay for
hourly and salaried employees
is calculated differently, we will cover both.
Here's what you need to consider when calculating gross pay for hourly employees:
Hourly Employees
Hourly employees who work 40 hours a week or less are paid straight-time, which is their regular rate of pay. Any hours over 40 per week are considered overtime and must be paid at 1.5 times the regular rate.
Example: Melissa's regular pay rate is Florida's minimum wage rate, $8.46/hour. If she works 44 hours, her gross pay is:
40 hours of straight time are paid at $8.46/hour and totals $338.40.
4 hours are paid at 1.5 times her regular rate, or $12.69/hour. That totals $50.76.
$338.40 (straight time pay) + $50.76 (overtime pay) = $389.16 (gross pay)
You can use a spreadsheet or calculator to help you do this manually. Or you can use free timesheet software, like Homebase to do the payroll calculations for you.
Salaried Employees
Salaried employees are paid a fixed rate at regular intervals, so there's no need to factor in overtime or hours worked. Instead, you need to decide how much to pay your workers per year and how often. Then, you will divide the annual salary total by the number of pay periods in the year to determine their gross pay for each pay period.
Example: Jean is a salaried employee and is paid $30,000/year. Her employer pays all salaried employees twice a month. Her gross pay for each pay period is:
12 months/year x 2 pay periods/month = 24 pay periods/year
$30,000 annual salary / 24 pay periods per year = $1,250 (gross pay)
3. Calculate Payroll Deductions
After calculating your employees' gross payroll, you will need to determine the total amount of their deductions. Some deductions will be made at the employee's discretion, but others are mandatory by law. Luckily, Florida, doesn't have a state or local income tax, so your only tax concern will be federal payroll taxes.
Here's a list of potential deductions:
Social Security & Medicare (FICA): Use current year percentages and be mindful of the maximum Social Security withholding for the year. Employees do not have to pay Social Security taxes on income over $132,900, so you must be mindful of year-to-date income.
Federal Income Tax: The total deduction will be determined by the number of allowances claimed on the W-4 form submitted at hire. Use the tax withholding tables for the current year from IRS Publication 15-A to determine appropriate tax brackets.
Benefits, like health insurance, 401(k), life insurance: Insurance premiums are determined by the provider, and total 401(k) deductions are left up to employees. If you decide to contribute to a portion of health insurance costs, deduct your contribution from the total premium to determine the amount the employee needs to pay.
Miscellaneous Deductions: Be sure that any deductions you withhold that are not legally mandatory are under the consent of the employee. If the employee purchases a product from your business, the two of you may agree to withhold the payment from her next payroll check instead of requiring upfront payment.
Garnishments: Once you receive notice to garnish an employee's check, act immediately or you could be personally liable. A wage garnishment is a court order or IRS levy to pay a debt. Begin withholding the required funds on the pay period following your receipt of the notice.
4. Determine Net Pay and Pay Employees
Once you've calculated gross pay and total deductions, you can subtract the two to find your employees' net pay. Net pay is the amount you will pay out to your employees .
How to pay your employees is another decision you will need to make. If you decide to pay by check, you'll need to decide if you're going to manually process (physically write), print, or outsource. To manually process, be sure you have a dedicated checkbook for the account you are paying from. To print, you'll need to find a template to use and be prepared to enter data.
Because both of these processes can be time-consuming, offering direct deposits is a good idea if you have more than a couple of employees and limited time. To get started, contact your financial institution, and find out what you need to provide. There is usually a one-time set up fee and small transaction fee, sometimes $1.50 or less, for each deposit.
Another option is to outsource to a professional employment organization (PEO), like JustWorks, that can set up direct deposit for your employees, print checks, and provide electronic check stubs, saving you time and money. Sign up for a trial.
5. Document and Store Payroll Records
Neither federal nor Florida law requires that you issue your employees pay stubs, only that you maintain adequate payroll documentation and store for a minimum of three years.
Adequate documentation includes the following:
Employee's full name and Social Security number
Address, including ZIP code
Birthdate
Sex and occupation
Employee's schedule
Total hours worked each day
Basis on which employee's wages are paid, like "$10 per hour" or "$500 a week"
Regular hourly pay rate
Total straight-time earnings
Total overtime earnings
All deductions from or additions to employee's paycheck
Total wages paid each pay period
Payment date and pay period covered by the payment.
You can download a free check stub template, so you can create your own.
Security
As you begin to accumulate payroll records, you'll need to implement some controls to ensure the information doesn't get into the wrong hands. If you're storing payroll information on your hard drive, consider moving them to a protected folder that only you, and who you designate, have the password to access. If you have hard copies in your office, try storing in drawers you can place a lock on, so anyone who wants to access will be required to have the key.
Other options you can use to secure your payroll information are payroll software, such as Gusto, that stores everything electronically, or storage companies that maintain your files off-site, such as Iron Mountain,
How to Do Florida Payroll Using Software
Successfully doing payroll in Florida without the assistance of software is possible, but using it would simplify the process. Many software systems automate new hire reporting, tax payment and filing, and even payroll processing. You save time and frustration by not having to manage IRS deadlines and other regulations by yourself.
Now, we'll show you how to do payroll using our recommended software, Gusto.
1. Provide Your Payroll Data
Before you can start running payroll, you need to set your company up in the software system. You'll need identifying information, like your Employer ID, state tax account numbers, and anything else the system needs to ensure your tax payments are submitted correctly. You will also have to input or import information, such as work hours and pay rates, so the system can calculate payroll.
Data for Initial Setup
To complete the initial setup in Gusto, you will submit certain data, like your company address and phone number, Employer Identification Number (EIN), your company type (LLC, Partnership, S corporation, etc.), federal tax deposit schedule, reemployment tax account number and rate, bank account numbers, employee data, and payment preferences. The payroll system will need this information to file payroll taxes and pay your employees accurately and on time.
Also, if you're using QuickBooks Online, FreshBooks, or Xero and want to sync your payroll data to your accounting software, you can do so at this time or wait until later.
Employee Data
You will need to provide basic information about all of your employees, such as first and last names, hire date, and email address. Gusto recommends entering new employees at least a week before they start, so they can receive a welcome email with important reminders and details.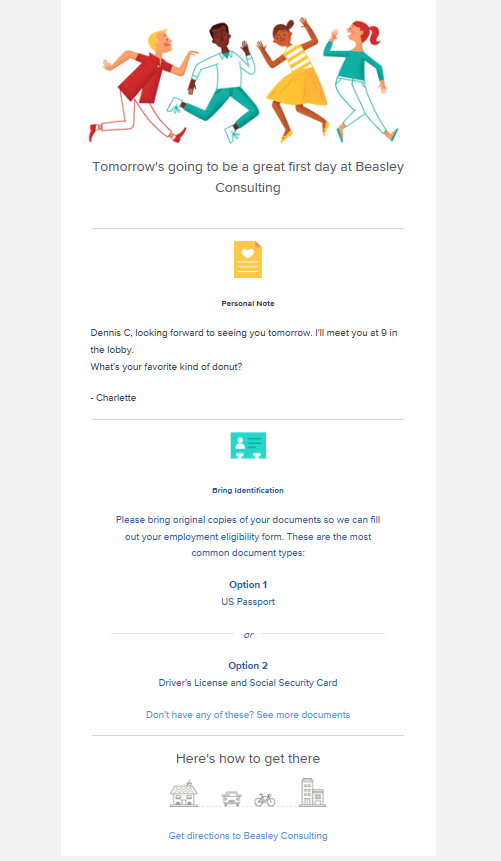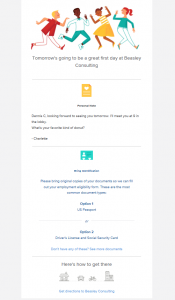 Even if you enter an employee after they've started working, Gusto will send an email to collect their personal, tax, and bank account details in addition to giving them the opportunity to sign all onboarding documents. This saves you from having to prepare and distribute your own onboarding documents. Carolyn Denman, Finance Director of Florida company, The Tolan Group, discusses the importance of creating an onboarding process that is clear and informative.
"Florida is an "at-will" employment state, meaning that either you or your employer can terminate your employment at any time and without any advance warning. Sometimes explaining that to an employee can be a bit tricky ― but the law is clear. I recommend onboarding documents that clearly reflect this law to new hires to clear up any misunderstandings."

– Carolyn Denman, Director of Finance, The Tolan Group
Federal Tax Information
Have your federal tax details handy, because Gusto will ask you for your Federal Employer Identification Number (FEIN), legal entity name, entity type, and your federal income tax deposit schedule. If you haven't registered with the federal government, you can use the link within the software system to complete an application.
Florida Reemployment Tax Information
You will need to enter your 7-digit reemployment account number and tax rate issued to you by the Florida Department of Revenue. Your current tax rate will be on your latest Reemployment Tax Rate Notice (Form RT-20). You can also call the Florida Department of Revenue Account Management at (850) 717-6629 to retrieve your account number and rate. We will discuss Florida reemployment taxes in more detail later.
Pay Information
Gusto needs to know when to pay your employees, so you will have to enter your pay schedule, and the date you want to run your first payroll. You can also enter previous payrolls to ensure your year-to-date payroll information is correct in the system. If you have any unpaid payroll taxes, you can transfer them in and pay through Gusto.
Bank Information
Don't forget to have your bank account information nearby. You will need the correct account number and routing number so Gusto can process payroll on time. After you enter, Gusto will make two small deposits into your bank account to verify. They usually show as pending within 24 hours, so you can check the amounts and enter in Gusto to complete the verification process.
Data for Each Pay Cycle
After the initial set up, you will need to enter some information each pay cycle. This includes hours worked, new hires, leave taken, and terminated employees. Your employees' names and pay rates will be in the system from the initial setup, so the only time you will need to re-enter is if there are changes. If manually tracking hours worked becomes too tedious, consider using the free time-tracking app, When I Work. If you decide to use Gusto for your State of Florida payroll processing, you can link the two to save you even more time.
Payroll Decisions
Keep in mind that before you get started, you will still need to make the decisions we discussed in the manual payroll section, like whether to pay your workers by check or direct deposit, whether to classify employees as salary or hourly, how often you will process payroll, and how much, if any, you will contribute toward their benefits.
The good thing about using payroll software, such as Gusto, is that it provides guidance on issues you may have questions about. It also files your Florida payroll taxes, including federal and reemployment, and the Florida Quarterly Contribution and New Hire reports, all legal requirements within the state of Florida.
2. Employees Enter Hours Worked
Once your employees are completely onboarded, they can enter their hours worked. You or any managers you assign to them can review and approve. Once that's done and you're ready to run payroll, Gusto will sync the approved hours to payroll. Salaried employees' fixed rates are added as a default total per period. If anyone earns a bonus, commission, or needs to be reimbursed, you can enter. Don't forget to add sick and vacation days used for each employee, or checks could be short.
3. Review & Run Payroll
After all hours worked and other earnings are in the payroll system, Gusto will perform payroll calculations for you to review. Give yourself time to check for accuracy. It's better to catch mistakes on the front end to save you from having to correct after payments have been made.
Check Gusto's calculations for the following:
Gross pay: Is the total in line with what you are expecting to pay out?
Taxes: There should be an amount here, so if it's $0, there's a problem. You should always see FICA taxes, and the percentage of gross pay should be pretty consistent.
Net pay: Spot check that this is reasonable.
Benefits: Are all benefit types included? Does it look reasonable?
Payroll date: Confirm that the date is correct so payments are not delayed.
Payroll cycle: Confirm that the pay cycle beginning and end dates are correct so employees are being paid for the correct work period.
After you confirm your payroll data is accurate, you can click submit, and Gusto will automatically file and pay all of your payroll taxes.
Pay Employees
This is the fun part: It's time to pay your employees. By now, you have decided whether or not you are paying by check, direct deposit, or both. Cash is an option but is not recommended because it's much harder to track. If you do opt to pay in cash, keep in mind you are still legally responsible for withholding and paying Florida payroll taxes.
Checks
If you use your payroll software to print checks, you will need to purchase check stock. To save time, you can purchase pre-printed check stock that has your bank account and business information already on the checks. Your payroll software provider may recommend a specific personalized check stock that ensures compatibility with the software.
If you happen to use Gusto, our recommended software provider, you can purchase blank check stock and Gusto will print your company and bank information.
Direct Deposit
Once you run your payroll, your payroll software should automatically process the direct deposits for all designated employees. Just be sure you have accurate bank account information for your company and your employees.
It goes without saying, but it's always a good idea to double-check your bank account balance to ensure your balance is sufficient before paying your payroll expenses. Some banks charge fees for insufficient funds (NSF fees), and they can add up quickly.
Special Cases
As much as it would simplify the payroll process, each payroll run will probably not be the same. There are times when you may have special circumstances, like an off-cycle payroll or an employee on Family Medical Leave (FMLA).
Here's how you will need to handle these special cases when doing State of Florida payroll:
Contractors: Contractors should be set up as vendors through Accounts Payable, not employees. If you work with a large number of contractors, you may need specialized payroll software.
Employee on FMLA Leave: If the leave is unpaid, remove them from the pay cycle without terminating.
Employee on unpaid leave of absence (LOA): Remove them from the pay cycle without terminating.
Employee is paid commission or base pay + commission: Confirm your software can handle processing commission payments. You will most likely need to manually enter.
3. Store Payroll Documents
The good thing about using a payroll software system is that everything can usually be saved electronically. This cuts down on printing costs and storage space. Find out what documents your software provides, such as W-2s, pay stubs, etc., and if PDFs can be stored within the system. It's also a good practice to print and/or save the documents to PDF and store in other places you control, such as a cloud account and/or your hard drive.
Security
If you decide to use Gusto, you can take advantage of the document storage feature to keep your payroll information safe. It saves all documents by employee within an easy to use and affordable system. No one can access without the proper login credentials and software permissions.
Learn Which Payroll Laws Apply to Your Business
Although Florida's labor laws are less stringent than many other states, they are still important to be aware of. State requirements for minimum wage and child labor are just two areas that have stricter regulations than federal law. Be mindful of all state and federal labor laws to prevent any penalties due to non-compliance. Linda Forde, owner of Florida CPA Firm, The Forde Firm, LLC, discusses some of the challenges of doing payroll in Florida and the importance of doing it correctly.
"Doing payroll in Florida is fairly easy. I think the most difficult item is unemployment and new hire reporting and perhaps that the minimum wage is different from the federal minimum wage. The caveat I give to that is that I ran a department at a CPA firm that handled all of the payroll for the clients so I am an expert.

While using EFTPS might seem straightforward to me, I have found that anything related to the IRS can be anxiety-producing for most people. My husband has commented that had I not had the experience, we wouldn't have purchased the restaurant. Oftentimes payroll companies can appear to be too expensive but because payroll taxes are trust fund taxes. It's critical that they're done correctly."

– Linda Forde, CPA & Owner, The Forde Firm, LLC
New Hire Reporting
Both federal and Florida law require that new hires and rehires be reported to the Florida New Hire Reporting Center. Failure to do so can result in the State of Florida imposing civil monetary penalties that can be up to $25 per new employee for negligence. If the omission is intentional and part of a scheme, the penalty can be up to $500 per new employee. You must report all newly hired and rehired employees to a state directory within 20 days of their start date.
Rehires are employees who return to work after being laid off, furloughed, separated, granted a leave without pay, or terminated from employment. They must be reported if they have been "unemployed" for at least 60 consecutive days.
If you're self-employed, you must still report yourself.
Minimum Wage
Florida's minimum wage increased to $8.46/hour in 2019, while the federal rate remains at $7.25/hour. To maintain compliance, you should always pay the higher rate or more. Florida's minimum wage for tipped employees is handled differently. It's $5.44/hour while the federal rate is $2.13/hour. The key thing to remember about paying tipped employees is they must earn at least $8.46/hour each week after combining hourly wages and tips. If the total is less than $8.46/hour, then you must make up the difference.
Keep this is mind when setting and reviewing pay rates for employees. You are also required to display a Florida minimum wage poster in a place within your workplace that can be easily seen.
Rest & Meal Breaks
Florida doesn't have any laws that require employees 18 and older to receive a break. However, if you do offer employees a break, federal law requires that any breaks under 20 minutes be paid. Any breaks lasting 30 minutes or more can be paid or unpaid. For employees under the age of 18, the Florida break requirement is a minimum of 30 minutes after four continuous hours of work.
Paid Time Off (PTO)
Florida law doesn't require vacation or sick leave be paid out at termination or rolled over from year to year. This use-it-or-lose-it policy simplifies PTO tracking, because you can reverse all expenses for outstanding paid time off at the end of the year and start fresh in the new year. You do have the option of allowing employees to carry-over unused PTO if you wish.
Here are a few other types of leave employees take:
Holiday time: Holiday time doesn't have to be paid at the 1.5 rate unless it qualifies the employee for overtime under federal overtime laws.
Jury duty: Time off for jury duty does not have to be paid. However, you may not penalize an employee for receiving and/or responding to a summons.
Voting leave: Voting leave is not required by Florida law. You have the discretion as to whether or not employees can take off work to vote and whether it will be paid or unpaid.
Bereavement leave: Bereavement leave is solely at the discretion of the employer. Whatever policy you have in place must be maintained. Typically, companies that offer bereavement leave give at least three days of paid leave for the death of immediate family members.
Child Labor Laws
Federal law doesn't limit the number of hours worked for minors who are at least 16 years old. However, Florida law provides additional restrictions.
Here are key regulations under Florida's Child Labor Law:
Ineligible workers: Generally, minors under the age of 14 may not work. There are exceptions.
Maximum work hours: Minors who are at least 16 years old may not work more than 30 hours/week when school is in session.
School hours: Minors who are at least 16 years old may not work during school hours (on any school day), except when participating in a career education program.
Outside of school hours: Minors who are at least 16 years old may not work before 6:30 a.m., later than 11 p.m., or for more than eight hours a day when school is scheduled the following day. Example: If Tyra is 16 years old and has school tomorrow (Tuesday), she cannot work today (Monday) before 6:30 a.m. or after 11 p.m. today (Monday) or Tuesday.
Breaks: All minors under age 18 who are legally allowed to work must receive an uninterrupted 30-minute rest break for every four hours of work.
Hazardous work: Minors are not allowed to work in hazardous occupations.
Maximum work days: Minors may not work more than six consecutive days in a week.
There are several exemptions from the hour and age restrictions listed above, like some 12- and 13-year-olds are allowed to work on a farm. For more information, check out this work sheet that summarizes the child labor laws of the State of Florida and the Federal Fair Labor Standards Act (FSLA). And if you decide to add minors to your payroll, be sure to post the Florida Child Labor Law Poster in a place that's easily visible within your workplace.
Payment Frequency
Florida law does not dictate how often employers need to pay their employees. However, it does require employers pay employees on regularly scheduled paydays with a set minimum frequency. This means you may use your own discretion in determining how often to pay your employees. Just be consistent.
Some of the most common payroll schedules are monthly, semimonthly (twice a month), weekly, and biweekly (every two weeks). Once you set your payroll frequency, you are not allowed to pay less frequently.
Final Check
There are no Florida laws governing when employers must pay employees who have been terminated. However, to avoid wasting time and money in a legal dispute, we recommend paying terminated employees all monies owed within a reasonable time frame.
Disability Insurance
You can opt to provide disability insurance for your employees, but Florida law does not require it.
Reemployment (Unemployment) Insurance
Reemployment tax is paid by employers and all monies collected is deposited into a trust fund established solely for paying reemployment assistance benefits for future claims. This is akin to the unemployment compensation programs in other states. It's a good idea to register to pay the tax on the Florida Department of Revenue website.
Your business is liable for the Florida reemployment tax if it meets any of the following conditions:
Liable for federal unemployment tax
Has a quarterly payroll of $1,500 or more in a calendar year
Indian tribe or tribal unit
You hired at least one employee for a day (or partial day) during any 20 weeks in a calendar year
No State Disability Insurance
No local taxes
Here are a few facts about the Florida reemployment tax and your responsibility for it:
Rates can range from 0.10% to 5.40%. New employers in 2019 use an average rate, 2.7%, and established employers with stable employment records are eligible for reduced tax rates.
You only have to pay tax on the first $7,000 of wages paid to each employee in a calendar year.
You can apply Florida reemployment taxes paid toward your federal unemployment tax bill for a possible credit of 5.4%.
You must submit Employer's Quarterly Tax Report (Form RT-6) by the last day of month following the end of each quarter (Q1- April 30, Q2- July 31, Q3- Oct. 31, Q4- Jan. 31). Even if you have no employees or wages to report for a quarter, reports are still due.
You are required to display the Florida Reemployment Assistance notice with information on eligibility rules for reemployment (unemployment) assistance.
Federal Unemployment Tax (FUTA)
FUTA taxes are federal unemployment taxes that employers are required to pay on a portion of the wages paid to employees during the year. You are required to pay 6% on the first $7,000 paid to each employee during the year. If you pay your reemployment taxes, as discussed above, in a timely manner, you can potentially reduce your effective FUTA tax rate to 0.6%.
State Taxes & Workers' Compensation Insurance
The State of Florida does not charge state income taxes, but employers are required to obtain workers' compensation insurance. The costs are charged per employee and vary depending on the type of work performed and your company's claim history. The rate is charged per $100 of payroll and can range from $44 a year to $8,000 a year and up.
Here are some rules regarding which employers need coverage:
Construction companies with at least one employee must carry coverage.
Non-construction companies with a minimum of four employees (full or part-time and including corporate officers and LLC members) must carry coverage.
Agricultural businesses with at least six regular employees and/or at least 12 seasonal employees who work more than 30 days must carry coverage.
Subcontractors must carry coverage for their workers, and businesses who contract the jobs to subcontractors are responsible for verifying.
Corporate officers, sole proprietors, and partners working in non-construction companies can determine whether or not they want to be exempt.
Garnishments
If you ever receive an order to garnish an employee's check(s), take it seriously. A garnishment is a court order or IRS levy that dictates you withhold money from an employee's check(s) to pay a debt. There are exceptions that may apply. If an employee earns less than $500 a week and is the head of household, meaning over half of his/her income is used to care for a dependent, he/she is exempt.
To maintain compliance and avoid being held personally liable for the debt, do the following:
Act quickly: Contact the debtor and tell them you will comply within the first week of receiving the notice. Start withholding the money on the next pay cycle.
Do not retaliate: Being forced to manage another person's debt can be frustrating, but you aren't allowed to retaliate. Terminating or punishing an employee because of a garnishment is illegal.
Send funds withheld to the creditor: Don't hold the funds in your account for months at a time. Send them to the creditor regularly just as you do the other payroll deductions. The creditor may provide guidance on how often you should send.
Resume normal compensation when garnishment is over: Sometimes, garnishment notices will include an end date and other times, the garnishment won't end until the debt is paid in full. Whenever you receive notice, you can stop withholding funds.
Workplace Compliance
We mentioned the minimum wage, reemployment assistance, and child labor law posters above. To find out which posters you are required to make visible in your workplace under federal law, visit the Department of Labor's First Step Poster Advisor. It will ask questions about the industry your business is in, state, number of employees, etc., and help you determine if you need any other posters to maintain compliance.
Frequently Asked Questions (FAQs) About Florida Payroll
There are numerous small-business owners in Florida who are new to, or want to become better at, processing payroll. We have listed several common questions they ask below.
How much are State of Florida payroll taxes?
There is no set dollar amount for Florida payroll taxes. Your FICA taxes total 7.65% but are subject to limitations. Reemployment tax varies from 0.7% to 5.4% on the first $7,000 earned by each employee. FUTA taxes must be paid at a rate of 6% on the first $7,000 earned by each employee but can be reduced to 0.6% if state reemployment taxes are in good standing.
Does Florida law allow me to pay employees in cash?
Yes, you are allowed to pay employees in cash, but it can raise a red flag. This is a strategy some small-business owners use to avoid paying taxes and reporting to the IRS, so you could subject yourself to a higher chance of being audited. If you still opt to pay in cash, you will need to withhold applicable taxes and deductions. You will also still be responsible to maintain adequate payroll records.
How can I reduce my payroll taxes and expenses in Florida?
Some payroll taxes, like FICA, are fixed. The reemployment tax, however, can be reduced. If you're a new employer, it will be 2.7% until you have reported for 2.5 years. After that, your account will be evaluated to assess total benefits paid out. Do what you can to keep them low or nonexistent, like maintaining a good workplace culture and minimizing layoffs, and your rate may be lowered.
Another expense that can be lowered is workers' comp. Over time, your expenses will decrease if you have little to no claims. To do this, prioritize safety in the workplace. You can also earn the following credits: 5% for certifying you established a drug-free workplace and 2% for certifying you established a safety program.
Can I hire my child to work for me and help lower my Florida payroll taxes?
Yes, you can lower your payroll taxes by hiring your child if you own a sole proprietorship or partnership in which you and your partner are the child's parents. Neither you nor your child will be required to pay FICA taxes on their wages. In addition, you will be exempt from paying FUTA or Florida Reemployment taxes on their wages. Check out our section above on Florida Child Labor Laws for more information on child labor restrictions.
Is hiring employees in Florida a good idea, or will it cause me more headache than benefit?
Only you can determine whether or not hiring employees is the best strategy for your business. However, we can tell you that Florida is one of the least regulated states when it comes to labor law, which means you will have less headache and more autonomy than employers in many other states. Also, with no state or local income taxes, you will have less paperwork, fewer agencies, and fewer deadlines to deal with.
Bottom Line
Florida payroll has its nuances but is not complex when compared to other states. You are still required to pay some taxes and adhere to reporting deadlines, but with a little organization, it's doable. If you only have a few employees, doing payroll yourself could work out fine, but as you grow, you may want to consider other options to save yourself time.
Gusto is a small business payroll provider that offers payroll tax return filing and compliance along with a range of other payroll management services in the state of Florida. If you're a small-business owner who needs help with time tracking and payroll processing, consider Gusto. Sign up for your free 30-day trial today.