QuickBooks, an Intuit product, is an all in one accounting solution that allows you to manage sales, expenses, payroll and inventory. By using one software to manage everything, you can easily produce financial statements like profit and loss so you can stay on top of business. QuickBooks comes in both an online and desktop version.
In this article, we'll show you how small businesses are using QuickBooks and some of the benefits that it can offer to your business. If you want to try it out, click here for a free 30-day trial.
How Small Businesses Are Using QuickBooks
Here are some of the top ways small business owners like you use QuickBooks:
Next, we're going to look at each of these functions in-depth so you can understand how QuickBooks can simplify bookkeeping and other functions for your business. We'll also give an overview of the different product offerings in the QuickBooks line to help you decide which one is right for you.
Managing Sales and Income in QuickBooks
Some key benefits of managing your sales and income in QuickBooks are:
You can track sales by customer which will provide you with insight into what products and services your customers are buying and how often.
You can quickly find out which customer invoices are past due so that you can follow-up about payment. In just a few clicks, you can create an Accounts Receivable Aging Report that will provide you with the details of both current and past due invoices. Below, is a snapshot of an A/R Aging Report as of September 30, 2016 for a fictitious company, Paul's Plumbing: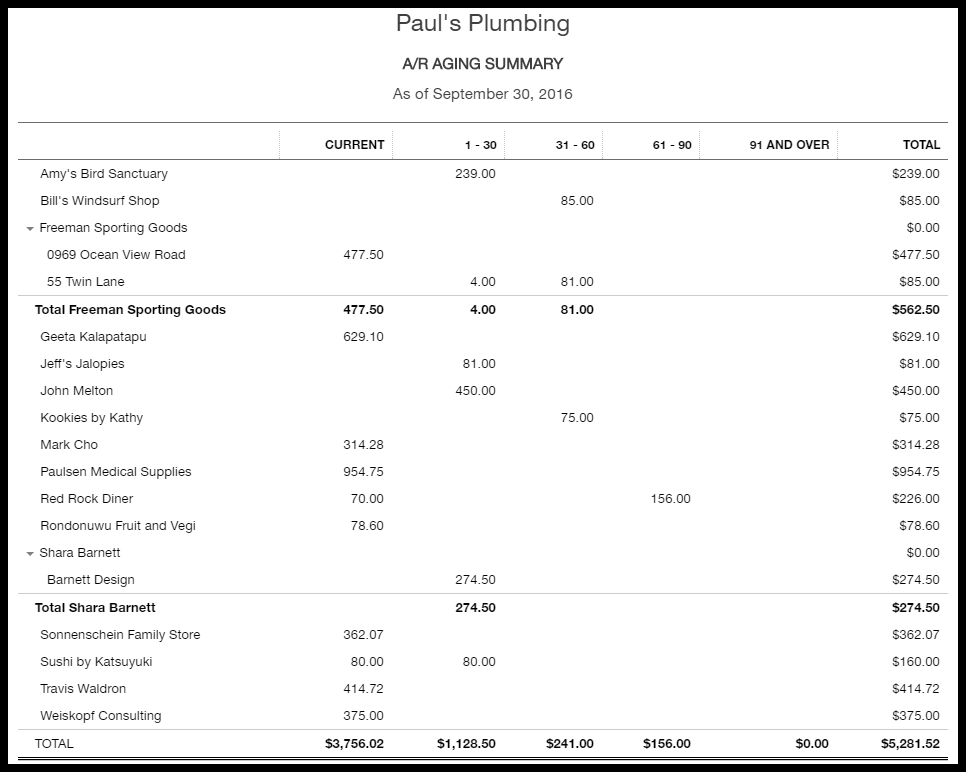 You can keep track of both cash and credit sales in QuickBooks. This allows you to manage the money owed to you by your customers (accounts receivable).
If you are currently using spreadsheets or a sales receipt pad to keep track of sales and income, then you probably are not able to easily see what items your customers are ordering most often. In addition, if you are using a program like Microsoft Word to create customer invoices, then most likely you are spending hours trying to figure out which customer invoices are past due. This means you may not be getting paid on time, which can have a negative impact on your cash flow.
Keep Track of Bills and Expenses in QuickBooks
Some of the benefits of managing bills and expenses in QuickBooks are:
You can connect your bank and credit card accounts to QuickBooks so that all of your expenses are automatically downloaded for you.
You can print a check directly from QuickBooks in just a few minutes to pay a bill.
Pay your bills on time by creating an Accounts Payable Report in under 2 minutes. This report will provide you with the details of your current and past due bills so that you can be sure to quickly address any issues. Below, is a snapshot of an A/P Aging Report as of September 30, 2016 for a fictitious company, Paul's Plumbing: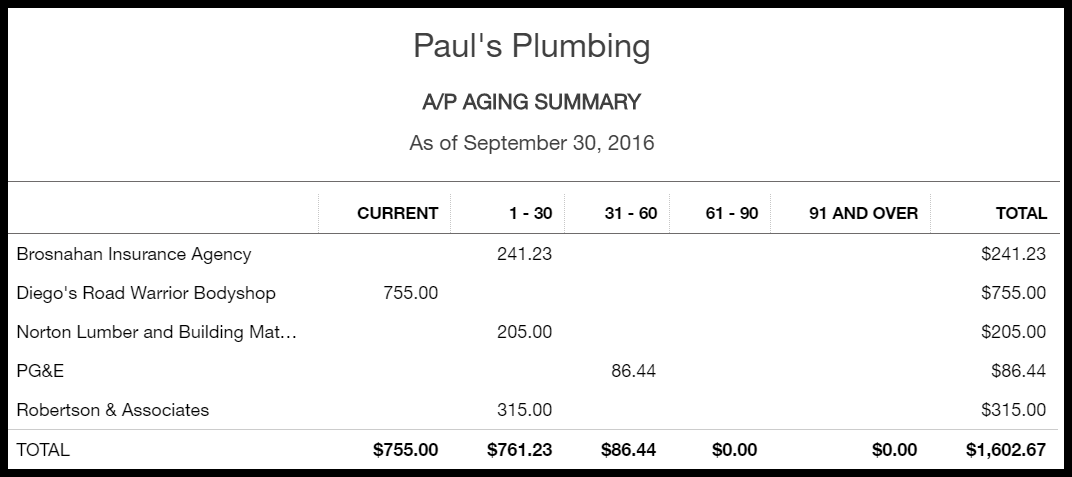 If you are keeping track of bills and expenses manually, then you probably have a stack of receipts for purchases you've made. In addition, you may pay recurring transactions like utilities directly from your bank account or write checks. Instead of spending hours organizing receipts and entering them into Excel or using an adding machine to total everything up, you can keep track of your bills and expenses much more easily in QuickBooks.
Gain Key Insights with QuickBooks Reports
By managing all of your cash inflow and outflow activities in QuickBooks, you are able to access several reports that will provide you with invaluable insight into your business. A couple of benefits of QuickBooks reports are:
No need to build a report from scratch. All of the reports are pre-built in QuickBooks and can be run in just a few clicks.
Up-to-date financial statements. Reports are updated in real time as you enter and save transactions. This can be beneficial if you need to provide financials to a potential investor or to your bank for a bank loan or line of credit.
In addition to the Accounts Receivable Report and the Accounts Payable Report that we discussed previously, you can run the top 3 reports that you need in order to assess the overall health of your business:
Below, you will find a brief description of each report along with a snapshot of what it looks like in QuickBooks.
Profit and Loss Report
The profit and loss report can be run in just a couple minutes. It will show you how profitable you are by summarizing your income minus your expenses. It shows you your bottom line net income (loss) for a specific time period, such as a week, a month, or a quarter. Below is a Profit and Loss Report for the period of January 1 – September 29, 2016 for a fictitious company, Paul's Plumbing: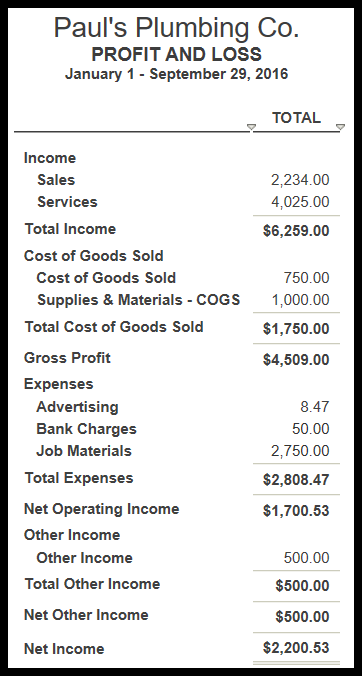 Balance Sheet Report
In just a few clicks, you can create a balance sheet report in QuickBooks. The balance sheet report shows the Assets, Liabilities, and Equity for a business at a particular point in time. Below, is a snapshot of a Balance Sheet report as of September 29, 2016 for a fictitious company, Paul's Plumbing: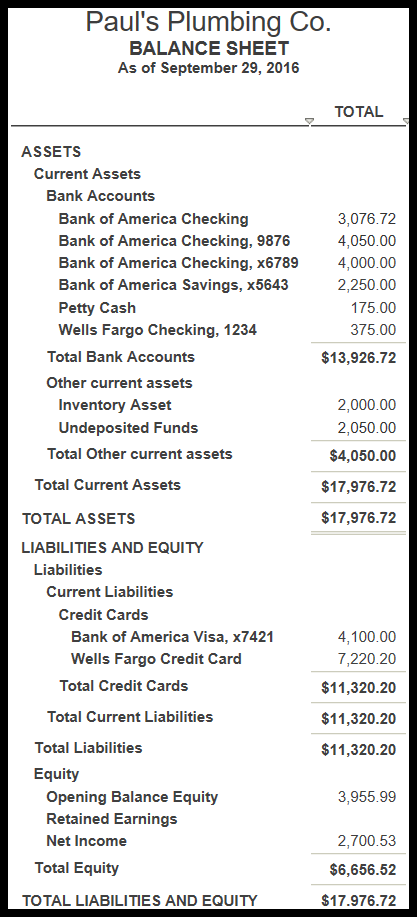 Statement of Cash Flows
You can quickly create a statement of cash flows in QuickBooks. "Cash is king" as the old adage goes. This report will show you all of the activities that affect the cash inflow and cash outflow for your business. Below is a snapshot of the statement of cash flows for the period January – September 2016 for a fictitious company, Paul's Plumbing: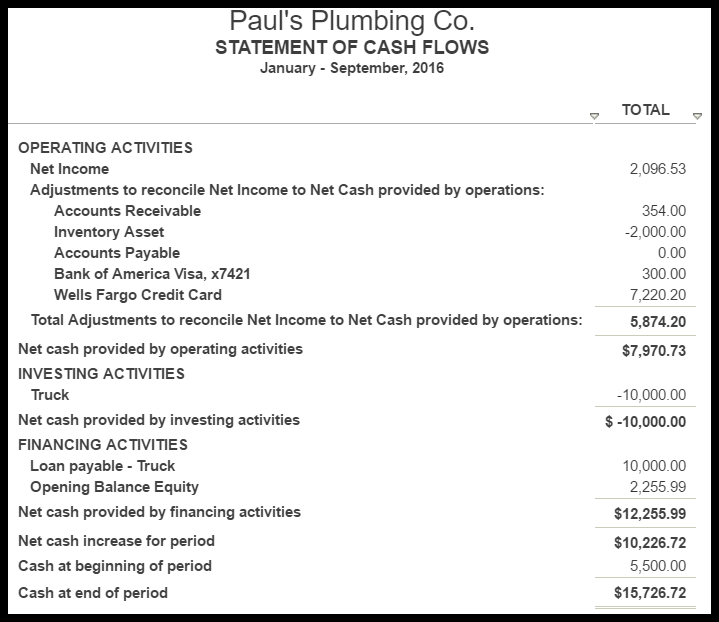 Run Payroll with QuickBooks
Payroll is an area that you don't want to skimp on by trying to do it manually. Mistakes made in calculating paychecks could result in steep penalties and unhappy employees. QuickBooks has the capability to run full cycle payroll. The purchase of a payroll subscription is required so that you have access to the latest payroll tax tables to calculate employee and employer payroll taxes.
Some of the benefits of running payroll with QuickBooks are:
Pay employees with a check or direct deposit
Federal and state payroll taxes are calculated automatically
QuickBooks fills in the payroll tax forms for you
You can e-pay directly from QuickBooks
The best part about using QuickBooks payroll is it is integrated with QuickBooks so your financial statements are always up-to-date as of the latest payroll run. Here's a video from QuickBooks on how a small business owner uses QuickBooks payroll to pay employees:
Inventory Tracking
If you need to keep track of the quantity and cost of products that you sell, you can do so in QuickBooks. QuickBooks will keep track of the following:
Items you purchase from vendors
Items received into inventory
Payment for those items
The sale of those items.
Inventory costs and quantities are automatically updated after you enter transactions into QuickBooks. While keeping track of inventory is doable in an Excel spreadsheet, it can be very time consuming to do so.
There are several reports available to manage inventory. Below is a snapshot of the Inventory Valuation Summary Report for a fictitious company, Paul's Plumbing. This report shows a list of your inventory products, quantity on-hand, average cost, and their total value.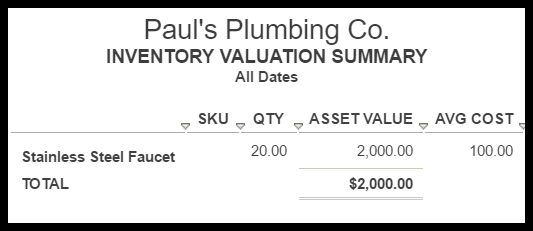 Simplify Taxes With QuickBooks
If you're still not convinced how an accounting software program like QuickBooks beats manually keeping the books, just think about how much you dread tax season.
Whether you have to consolidate several excel spreadsheets or organize a shoe box full of receipts, it can take you longer to get your tax professional what they need than it actually takes them to prepare your tax return!
Here at Fit Small Business, we use QuickBooks Online to manage all of our business accounting and taxes. We have set up our tax professional with a user id and password to access our QuickBooks data and pull the information that is needed to file our tax returns. Since everything is tracked in QuickBooks, we do not spend a lot of time organizing receipts and bank statements. This also ensures that we have accounted for all income and expenses and as a result improves accuracy.
Features & Pricing of the QuickBooks Product Line
The QuickBooks product line includes products that offer a variety of features at various price levels. Before you do your research on these products, write down everything that you want an accounting software program to do for you. This should be based on your specific business needs.
Once you have that list, then I would recommend that you check out our QuickBooks Online vs. Desktop article. This will provide you with a detailed comparison of the features and benefits of the online vs. the desktop product.
If you decide that QuickBooks Online is the right product for you, check out our QuickBooks Online: Which Version is right for you? article. We provide you with a side by side comparison of the QuickBooks Online products, including features, pricing, and the types of businesses that use each type.
If you are an independent contractor, be sure to check out our QuickBooks Self-Employed: Is It Right for You? article.
QuickBooks Desktop and QuickBooks Mac software are also available. Click here to learn more about these products.
Below, you will find a summarized table that includes the QuickBooks products, the versions available, and the price range.
QuickBooks Product Options for Small Businesses
QuickBooks Product
Available Versions
Price Range
QuickBooks Online
Simple Start
Essentials
Plus
$13 & up per month
QuickBooks Desktop
Pro
Premier
Enterprise
$299 & up
QuickBooks Self-Employed
Self Employed
Self Employed TurboTax Bundle
$10 & up per month
QuickBooks Mac
One version only
$199 & up
Next Steps
Now that you have a good understanding of what QuickBooks is and how businesses use it, let us know what accounting software product you decide to go with and why. Also, if you've got a question or just want to provide us with feedback, please leave a comment in the box below.
Here are the next steps to take after reading this article:
Decide what you want from your accounting software and which QuickBooks product will work best for your business.
Get up to speed quickly by taking our FREE QuickBooks Online training course. This course includes the following 7 modules, with bite-size lessons that will take you through each topic step by step:
How to Setup QuickBooks
Managing Sales and Income
Managing Bills and Expenses
Managing Banking Transactions
Managing Business Credit Card Transactions
How to manage Credit Card Sales
Reporting