If you're already using QuickBooks Online and you have employees, consider adding QuickBooks Payroll to your plan. You can access it from the same system you use to manage your business' books, and your payroll expenses will easily transfer to the appropriate general ledger accounts. In just a few easy steps, you can set up your employees and run payroll as often as you need to at no extra charge.
When you add QuickBooks Payroll to your existing QuickBooks Online subscription, your business gains access to features such as next- or same-day direct deposits, employee benefits, and tax filing. Sign up for QuickBooks Payroll today.
Payroll Setup Checklist: Info You Need to Have Handy
Below is a checklist that you can use to ensure you have everything you will need—both employer and employee data.
Employer Information You'll Enter in QuickBooks Payroll
Employee compensation: Hourly wages, salaries, and any other compensation you regularly provide your employees.
Employee benefits: Health and dental insurance, 401(k),  retirement plans, vacation and sick leave policy, and Flexible Spending Account (FSA).
Bank account information: The full routing number and account number of the checking account that you will write payroll checks from as well as make your payroll tax payments.
Tip: You should have a separate payroll account from the checking account that is used for your day to day business operations.
Employee Information & Items You'll Use to Enter Data in QuickBooks Payroll
Form W-4: Upon hiring a new employee, you need to have them complete a W-4 form which will provide you with their withholding info and other pertinent info you need in order to correctly calculate their payroll tax deductions.
Pay rate: The hourly rate or salary you pay each employee along with any bonus or commission pay, if applicable.
Paycheck deductions: Employee contributions to health insurance, retirement plans, or garnishments.
Pay schedule: This is typically weekly, biweekly, semimonthly, or monthly. You can also set up multiple pay schedules if you need to in QuickBooks. For example, if you pay hourly employees every week and salary employees every other week, you can set up both of these pay schedules.
Hire date: The hire date for each employee must be entered during the payroll setup.
Direct deposit authorization form: To offer your employees direct deposit in lieu of a check, you must have them complete a direct deposit authorization form. It gives you permission to make deposits to their account and includes the bank account and routing information you need to make the deposit.
Paid-time-off (PTO) policy and balance: If you offer sick or vacation pay, you will need to enter the total number of hours you're allocating to each employee for the year. In general, these hours will be earned each pay period.
Tip: If you are converting to QuickBooks Payroll in the middle of a calendar year, be sure to enter the total sick or vacation hours an employee had from the old system.
How to Set up Payroll in QuickBooks Payroll
To set up your employees and run your first payroll while watching the process in action, follow along with our QuickBooks Payroll setup video.
1. Navigate to Payroll
You can find "Payroll" midway through the list of navigation options in the left menu bar. Hover over it, and click on "Employees."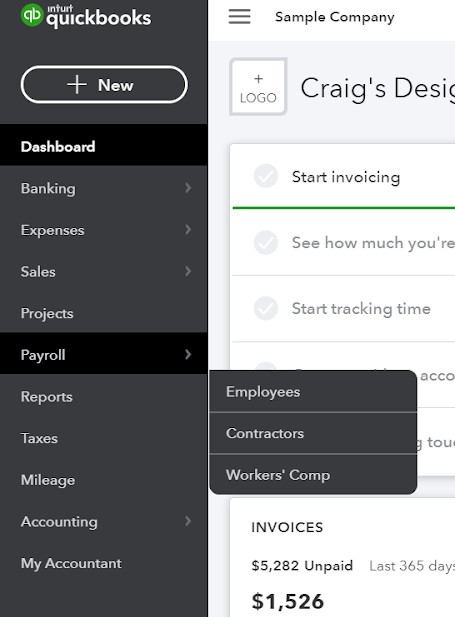 If you just purchased payroll with your QuickBooks Online subscription, your screen will resemble the one in the screenshot below. Click the "Get Started" button to proceed to the next screen. If you already had access to payroll but just hadn't used it yet, the button will indicate you need to set up payroll.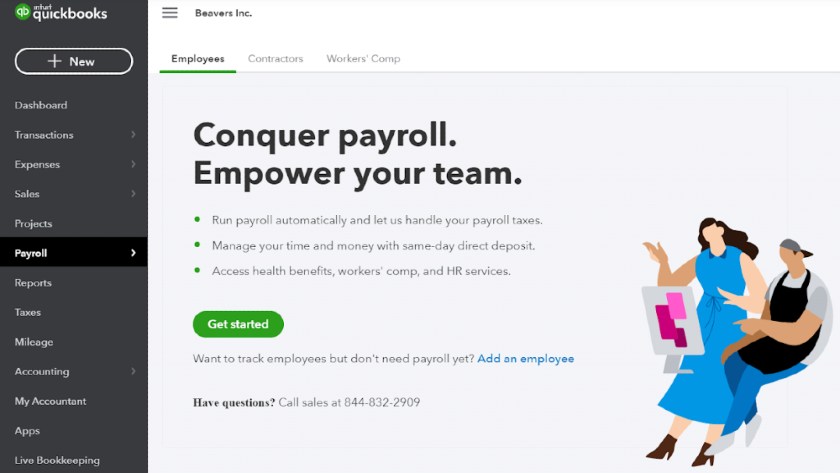 If you are just now signing up for payroll, QuickBooks will ask you a few questions to help match you with the right plan. It also gives you the option to manually choose one of its three payroll plans yourself.
Do you need to track your workers' hours?
Do you want help setting up your payroll? You can have an expert help you set it up, review your work, or do nothing at all.
Do you want coverage if you receive tax penalties? Its premium (Elite) plan will cover you for any mistakes made regarding taxes, whether it's your fault or not.
Do you need HR support?
QuickBooks will recommend the best payroll plan for you, and you can sign up for a 30-day trial. Check out our QuickBooks Payroll review for more information on how QuickBooks' direct deposit works, automated payroll, and other features you and your employees may need.
2. Enter General Information About Paying Your Employees
The next step is to start the setup to prepare for adding your employees.
If you are converting to QuickBooks from a manual or computerized payroll system, then you will need to provide some additional information to ensure that your W-2 forms are accurate. You will need to provide information about any payroll checks issued in pay periods before the beginning of your QuickBooks Payroll subscription.
Note that you will need to provide the year-to-date payroll information for each employee later on in the set up.

Tip: This information should be readily available from the last payroll check that you processed for each employee.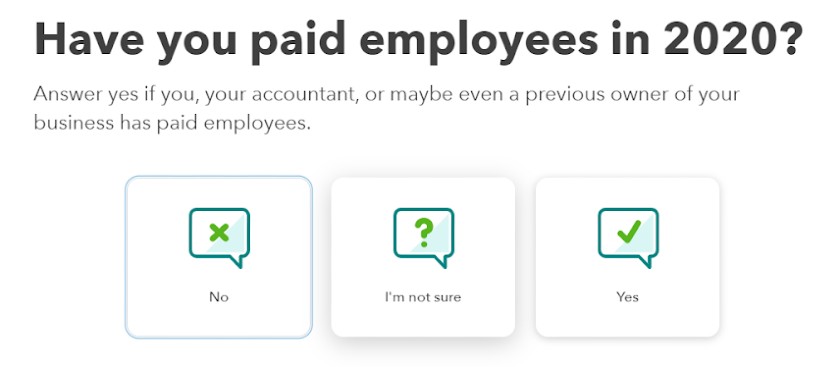 Here is a list of all the questions that you will need to respond to along with a brief explanation of each:
Have you paid employees in 20XX?: This question is pretty self-explanatory. If you have paid employees this year, select "yes." If this is the first time you are paying employees this year, select "no." Also, answer yes if your accountant or even a previous owner of your business has paid employees.
When is your next payday?: Indicate the date that you plan to run your first payroll in QuickBooks. The options that appear here will be based on the current date.
Tip: If you selected "no" to the first question, you will not see this question.
What's the primary work location?: You'll enter the physical address where the majority of your employees work.
3. Add Employees
Click on "Add an employee" as indicated in the screenshot below to start adding each employee on your payroll, as well as those no longer on your payroll who were paid within the current year. You'll enter information like their name, birth and hire dates, pay rate, pay schedule (i.e., biweekly vs weekly), pay method (check vs direct deposit), and so on.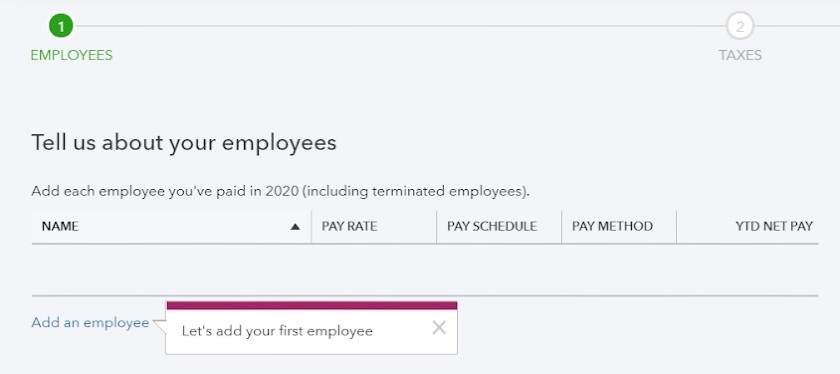 4. Complete Employee Info
As you add basic employee information into your QuickBooks Payroll system, you'll have the option of adding their email address so they can receive a link to view their pay stubs and W-2 forms. If you're using one of QuickBooks' premium plans, you'll get free time tracking through TSheets, and an option for QuickBooks to send an invitation to track and record their hours.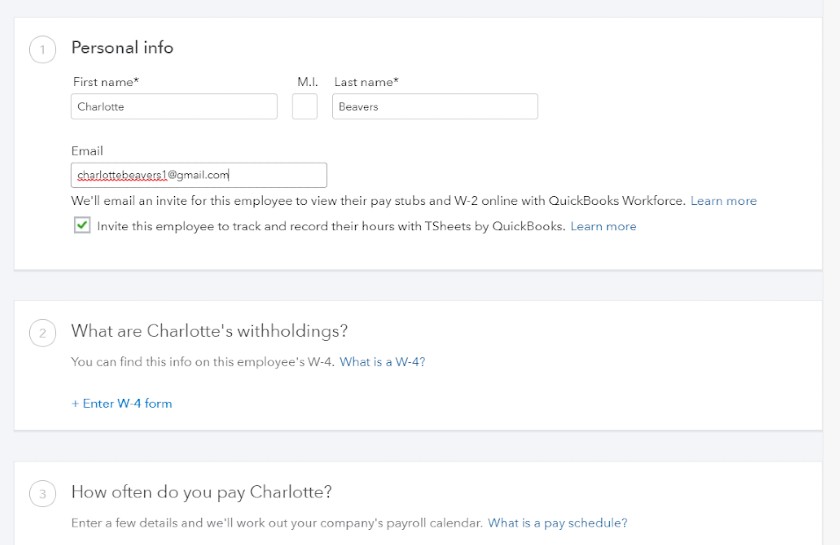 The employee information fields you need to complete the QuickBooks Online Payroll setup are:
Employee withholding information: This information will come from Form W-4, which we discussed earlier. When you click "Enter W-4 form," you'll select whether you need a 2020 form or an earlier version. The form changed in 2020, and QuickBooks stores both versions. You'll be able to print one directly from the system to give to your employees so you can enter the correct information.
Pay schedule: From the dropdown, select the pay schedule for the employee (i.e., Weekly, Every other Friday, Monthly etc.).
Employee pay: Enter the employee's wage in this field. If you need to add more pay types, just click the Add additional pay types link directly below this field.
Employee deductions/contributions: Select the deductions/contributions for the employee as indicated in the screenshot below.
Payment method: Select either direct deposit or live check from the dropdown. If you select direct deposit, enter the employee's banking information directly from the direct deposit authorization form we discussed previously.
Enter year-to-date payroll info: If you paid this employee this year, enter their YTD payroll info from their last payroll check issued. QuickBooks will ask for totals paid in prior quarters of the current year as well as any amounts paid within the current quarter but before you began using QuickBooks Payroll.
Tip: It is extremely important that you ensure the year-to-date totals are accurate. This information will impact federal and state taxes that have an annual maximum as well as limits on contributions to 401(k) and retirement accounts. Check out our How to Do Payroll guide to learn more about deduction/contribution limits.
Coronavirus Pay Features
If any of your employees are on paid leave due to coronavirus, you can classify this as QuickBooks Payroll so paychecks are booked correctly and paid on time. If you're planning to take a tax credit against the employees' wages under the CARES act, you'll need to elect this as well. Be sure to check the qualifications for this credit (for instance, workers must be employed a minimum of 30 days for their wages to be eligible).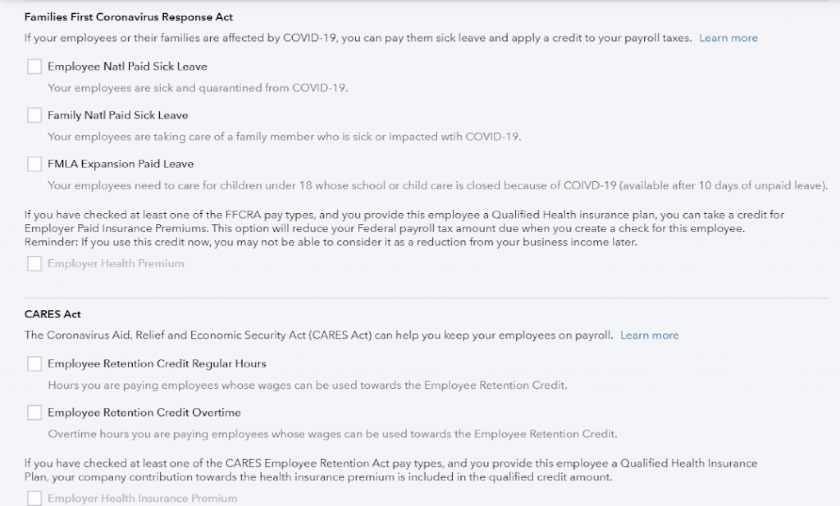 Once you have completed all of the necessary information for each employee, you will see a list of your employees on your payroll for the year, similar to the one below. You should review it carefully to make sure all of the information looks correct. You can always add new employees using the "Add an employee" link on the bottom left of the page if you realize you left out an entry.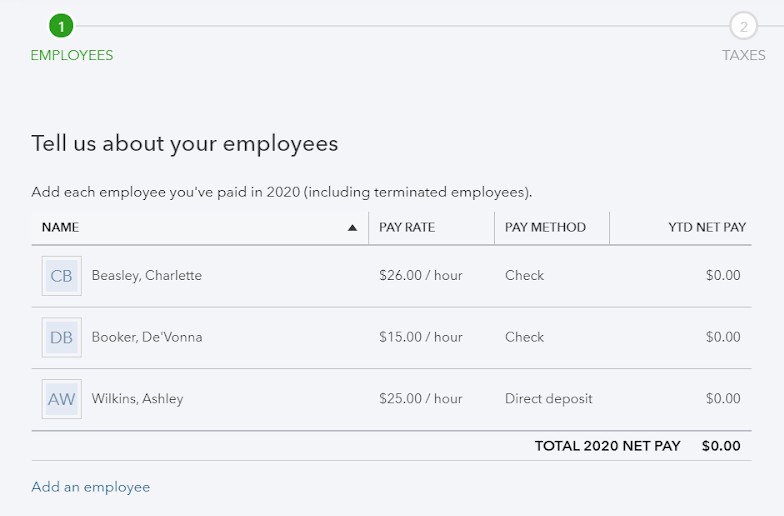 How to Run Payroll in QuickBooks Online
Now that you've got all of your employees set up, the next step is to run your payroll. You'll enter payroll hours, and QuickBooks will automatically calculate payroll checks and taxes for you. You can print checks or submit direct deposit payments to employees.
Follow these four steps on how to do payroll in Quickbooks Online:
1. Click "Run Payroll"
From the Payroll Dashboard, you will see the list of employees that you set up. Click on the "Run payroll" button located in the upper right-hand corner as indicated in the screenshot below: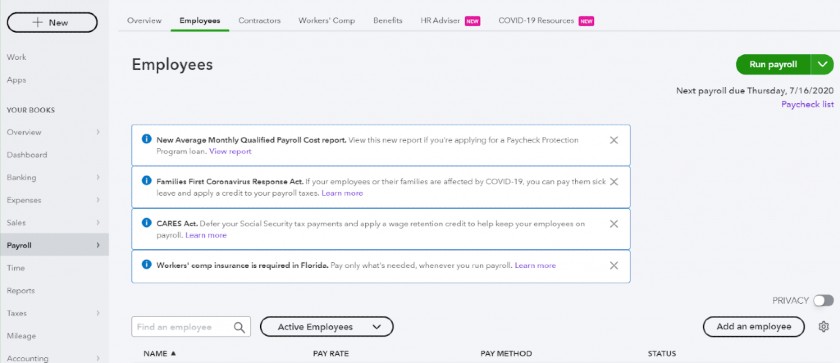 2. Enter Current Payroll Hours
In the screen below, you will enter the hours worked for all hourly employees and review other information to ensure accuracy. If you entered a default number of work hours for an employee during the setup, the total will automatically reflect here. Feel free to update if there have been changes. You won't see hours worked for salaried workers, just the payroll amount.
When you're done, select "Preview Payroll," located in the bottom right corner.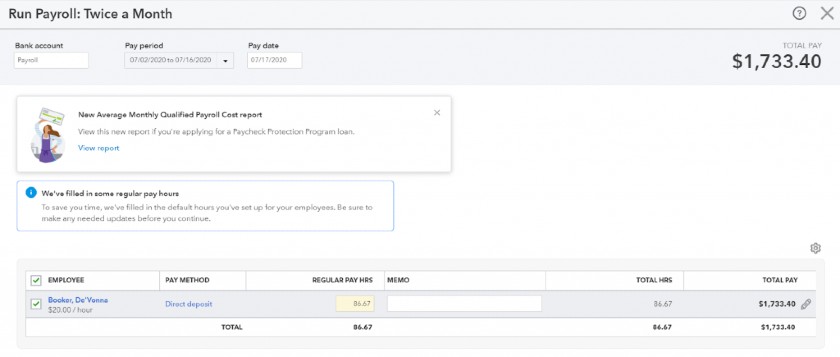 3. Review & Submit Payroll
This is your last opportunity to review and edit the payroll information before finalizing it. Check payment methods to make sure everyone being paid by direct deposit shows correctly and vice versa for checks. Also, check the net pay and both the employer and employee tax amounts for reasonableness.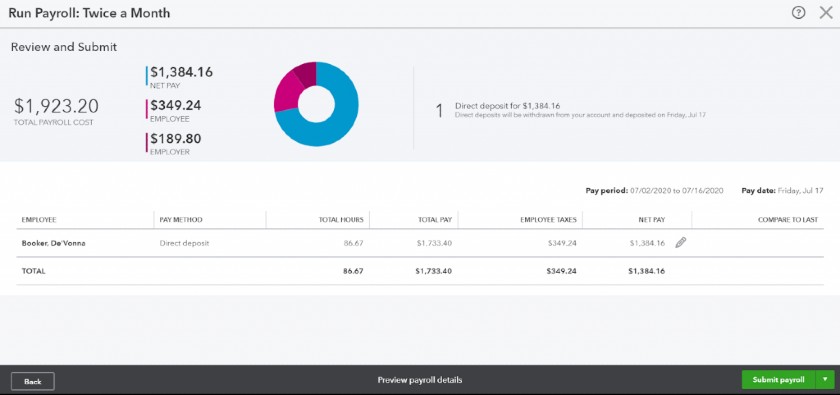 If you're satisfied that everything is correct, click the "Submit Payroll" button that is located at the bottom right of the screen. You can view all payroll reports by selecting the option at the bottom middle of the page. You will be able to print payroll checks and/or direct deposit remittance advice to distribute to employees.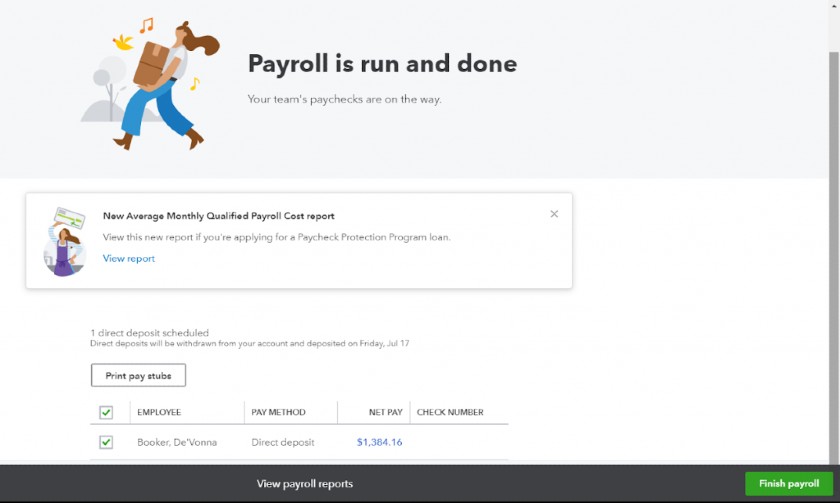 Frequently Asked Questions (FAQs) About QuickBooks Online Payroll
Listed below are the frequently asked questions about QuickBooks Online Payroll.
Can QuickBooks Online Do Payroll?
You can pay employees via a handwritten check, print checks directly from QuickBooks Online, or submit direct deposit payments. To start processing payroll in QuickBooks Online, navigate to the Employees tab and click the Payroll button to get started.
How Much Does It Cost to Add Payroll to QuickBooks?
You can add payroll to your existing QuickBooks Online account for as little as $45 monthly plus $4 per employee, per month. QuickBooks Payroll services include payroll checks or direct deposit, payroll tax payments, and all tax form filings.
How Do You Turn Payroll On in QuickBooks Online?
When you're ready to pay employees, you can activate payroll in QuickBooks Online with a click of a button. Once you are logged in to QuickBooks, navigate to the "Payroll" tab located on the left menu bar and select "Employees." You should see a button that says "Get Started." Follow the on-screen prompts to get started.
Bottom Line
You've got your payroll running like a well-oiled machine now but you're not quite done. You've still got to get those payroll taxes paid. Check out our article on payroll tax setup in QuickBooks if you need help. With each payroll that you run, QuickBooks calculates the amount of payroll taxes that you must remit on behalf of your business and your employees. The key is to make sure you complete and file both the payroll tax forms and payroll taxes by the due date.
If you haven't signed up for QuickBooks Payroll, you can try it out for free for the first 30 days. During the trial period, you will have full access to all of the features we have discussed in this article.
Although having payroll software makes paying your employees the right way much easier, you still need to know the basics. Check out our tips on how to get the best payroll training to help.