6 Best Touch-screen POS Systems for Small Businesses in 2023
This article is part of a larger series on POS Systems.
A touch-screen point-of-sale (POS) system operates on tablets and handheld devices, typically via an app. The biggest advantage of using a touch-screen or tablet POS is a streamlined interface for faster checkout. Plus, touch-screen devices are more portable than cash registers or hardwired countertop POS systems, allowing for mobile sales capabilities.
The best tablet and touch-screen POS systems are affordable and easy to use and have key business management features like inventory management and sales reporting.
Based on our evaluation of over a dozen options, the best touch-screen POS systems are:
Touch-screen POS Systems Compared
Our Score

Compatible Industries

Monthly Fee From

Read Our Full Review

4.65 out of 5

Retail, restaurant, service/appointment

$0–$60

4.48 out of 5

Retail, restaurant

$69–$199*

4.28 out of 5

Retail with strong online sales

Shopify POS**: $0–$89

3.92 out of 5

Grocery, retail, specialty stores, vape shops, amusement parks, theaters, high-risk business

$59–$89+

3.89 out of 5

Restaurant, cafe, food trucks

$0–$165 (custom quote)

3.74 out of 5

Beauty, wellness, fitness, spas

$25–$85
*This is the monthly fee if you pay annually and use Lightspeed Payments. If you choose to use a different processor, monthly fees will be $139–$319.
**A Shopify Ecommerce subscription is required to use Shopify POS.
Find the Best Tablet POS System for Your Business
Take our short quiz to find the best touch-screen POS system for your business's unique needs.
Square: Best Overall & Best Free Touch-screen POS System

Pros
Provides flexible payment options such as contactless and on-the-go mobile sales
Free POS, ecommerce, and online ordering
Can process card payments while offline
Flexible hardware options
Cons
Limited inventory management and basic reporting features
Payment processing rates are not easily negotiable
Limited customer support for free users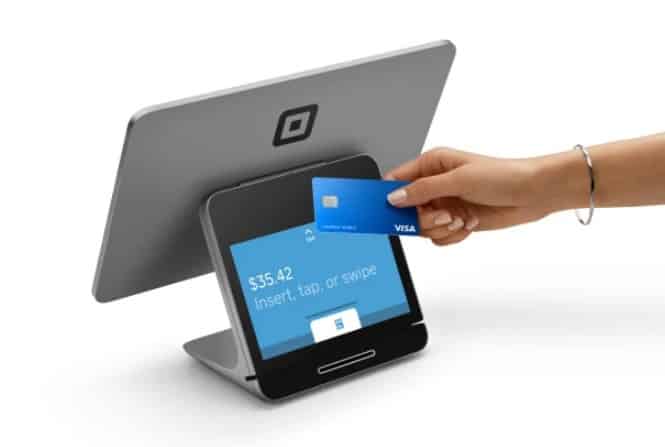 Offline mode
Attach customer screen to base or set on counter
Customer display takes tap, dip, swipe, or scan
Customize setup; accessories available from Square or third party
2-year limited warranty
What We Like
Square's modest payment processing fee—combined with excellent features included in its free version—provides exceptional value, making Square the best touch-screen POS, the best iPad POS, and the best overall POS systems for small businesses. It works for the casual seller or for the large retailer and has plans that work for restaurants and service organizations that take appointments. In addition to an excellent touch-screen POS, it offers a free integrated online store.
Square earned a total score of 4.65 out of 5—the only software that scored perfect marks for touch-screen-specific features. The lack of additional payment processing options and limited customer support kept Square from gaining a perfect score, but it is one of the few that offers custom report capabilities even in its free plan and alone places no limits on the number of registers you have in your free plan.
POS software plans
Free: $0
Plus: $60 per month
Premium: Custom pricing
Processing fees
Card-present transactions: 2.6% + 10 cents per transaction
Ecommerce and invoice transactions: 2.9% + 30 cents per transaction
Keyed-in and card-on-file transactions: 3.5% + 15 cents per transaction
Volume discounts: Available for business processing over $250,000 in credit card sales
Hardware
Every account comes with a free magstripe card reader
Square register: $799 or $39/month over 24 months
Square terminal (handheld, counter): $299 or $27/month over 12 months
iPad stands: $149 or $14/month for 12 months
Chip readers: $49—$59
Accessories available, prices vary
---
Free basic POS system with customer profiles and contact information
Free inventory tools that include categories, variants, low-stock alerts
Free online store that syncs to POS
Free employee clock-in on the device
Free restaurant version includes table and menu management
Excellent free mobile POS with card swipe
Offline mode
Inexpensive advanced POS system with advanced inventory tools including barcodes, purchase orders
Competitive fixed-rate payment processing
Dozens of free sales reports; paid version adds personnel reports and stock forecasting
Loyalty and email marketing available
Appointment scheduling tools available
Payroll available
Banking (checking, savings, loans) available
---
Lightspeed: Best Touch-screen POS for Inventory Management

Pros
Extensive built-in inventory management features
Automates purchase orders, receiving and returns
Robust, integrated ecommerce platform
Option to choose payment processor
Cons
Requires use of Lightspeed Payments to get the best subscription pricing
Only basic CRM and reporting features included in baseline plan
Restaurant POS can get pricey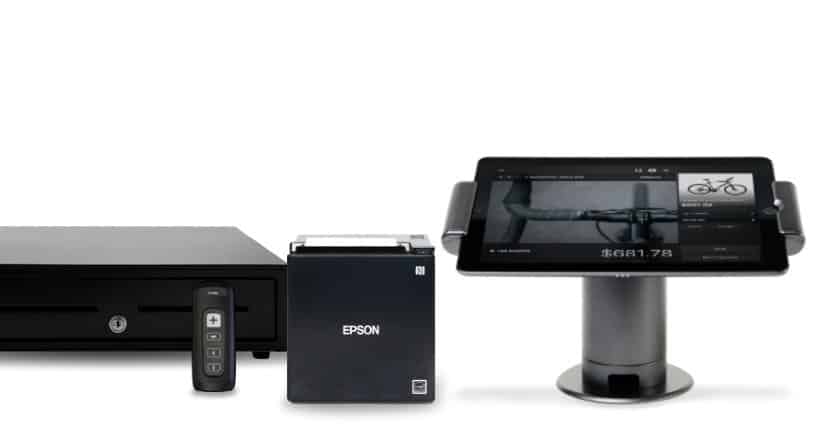 iPad kit (shown here) includes LAN receipt printer, cash drawer, Bluetooth scanner, stand (iPad, payment terminal not included)
Desktop kit includes a receipt printer, cash drawer, USB scanner
Choice of mobile payment terminals
Accessories available
What We Like
Lightspeed's inventory management features—for both retailers and restaurants—are what make it stand out from competitors. It can sort through items with searchable tags, check supplier lists, and draft purchase orders straight from the platform. Restaurant users get ingredient-level inventory tracking, suggested orders based on par levels, and one-click reordering. It's our top choice for POS inventory management.
Based on our evaluation, Lightspeed earned a score of 4.48 out of 5, with outstanding marks for its top-of-the-line inventory management and analytic tools and ease of use. It took a small hit in pricing because the price increases if you use a different payment provider and because the plans are per register.
Retail software subscription plans*:
Basic: $69–$139 per month
Standard: $119–$199 per month
Advanced: $199–$319 per month
Enterprise: Custom-quoted
Restaurant software subscription plans*:
Essentials: $69–$90
Plus: $189–$246
Pro: $399–$519
Enterprise: Custom-quoted
*Pricing varies whether paid monthly or annually and with enrollment in Lightspeed Payments.
Processing fees:
Lightspeed Payments:

Chip, tap, and swipe payments: 2.6% + 10 cents per transaction
Keyed-in payments: 2.6% + 30 cents per transaction

Also integrates with Vantiv and Cayan
Hardware:
Kits: Call for quote
Accessories: $129–$399
Card readers: $99–$299
---
Feature-rich inventory including reorder tools, built-in vendor catalogs, search terms
Restaurant inventory includes ingredient tracking, reorder par levels
Restaurant POS includes floor plans, menu manager, take-out and delivery, bar tab mode
Park and save transactions
Choose your own payment processor
Basic CRM functions in all plans
50+ pre-built reports
Ecommerce available with higher plans
Multi-location management
Loyalty plan available, includes branded smartphone app, push notifications
Accounting integration with higher plans
24/7 support
---
Shopify: Best Touch-screen POS for Ecommerce Retailers

Pros
Includes top-notch ecommerce platform
Excellent omnichannel selling tools including social channel integrations
Includes marketing features in its baseline plan
Customizable checkout interface
Cons
Lacks offline card payment processing
Limited features in free POS
Requires an ecommerce subscription; prices can add up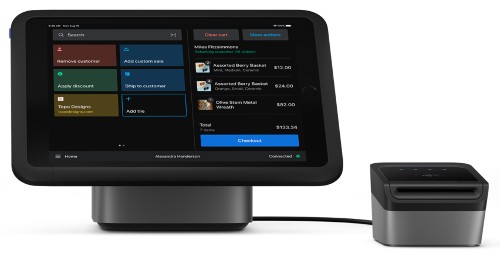 Retail bundle (shown here) works with 9.7" and Air and Air 2 10.5" iPads
Chip and tap card reader with doc included
1-year warranty (2 years with POS Pro subscription)
Android version available
What We Like
If you do most of your sales online and need a more powerful omnichannel sales system with a good touch-screen POS, then we recommend Shopify. As one of the world's leading ecommerce platforms for small businesses, Shopify allows you to create an online store and manage both your online and in-person sales from the same system. You can use Shopify to sell on Amazon, eBay, Facebook, and Instagram—truly managing all your sales channels from one platform.
Shopify has a free POS app plan, but you need a paid plan for important POS features like customer relationship management. It earned a 4.28 out of 5 in our evaluation, thanks in part to its omnichannel selling tools and overall popularity. However, its lack of offline payment processing and the need for an ecommerce plan and upgraded POS plan took its score down.
Shopify POS plans:
A Shopify Ecommerce subscription is required to use Shopify POS. So, your monthly price is a combination of your Shopify plan and POS subscription.
Shopify ecommerce plans: $39–$399
POS: Free; included in all ecommerce plans.
POS Pro: $89 per month, per location, or free for enterprise users under the Shopify Plus plan.
Shipping discounts: starting at 77%, depending on your ecommerce plan
Processing fees:
In person: 2.4%–2.7%
Online: 2.4% + 30 cents–2.9% + 30 cents
Choose your own processor: 0.5% to 2%, depending on your ecommerce plan
Hardware costs
Retail Bundle: From $129
Shopify Go handheld POS: $429 with case
Card readers: From $29
Accessories: $29–$399
---
Strong checkout tools including custom tiles, refund and exchange processing (with Pro plan)
Custom websites, extensive social media, and omnichannel sales capabilities
Buy in store and deliver or buy online and pick up in store
Basic CRM includes customer profiles and emails
Advanced inventory with Pro plan includes purchase orders and shipment tracking
Employee clock in/out through POS
B2B selling includes customer-specific product catalogs, quantity rules, net payment terms and more
Mobile POS app
Hundreds of easy-to-use integrations
---
KORONA: Best for Specialty Shops & Ticket Sales

Pros
Free trial has no time limit
Supports high-risk businesses like vape shops
Integrates with virtually every payment processor
24/7 customer support
Cons
Inventory tools only available at the Advanced level or higher
No advanced reporting features (custom reports)
No built-in payment processor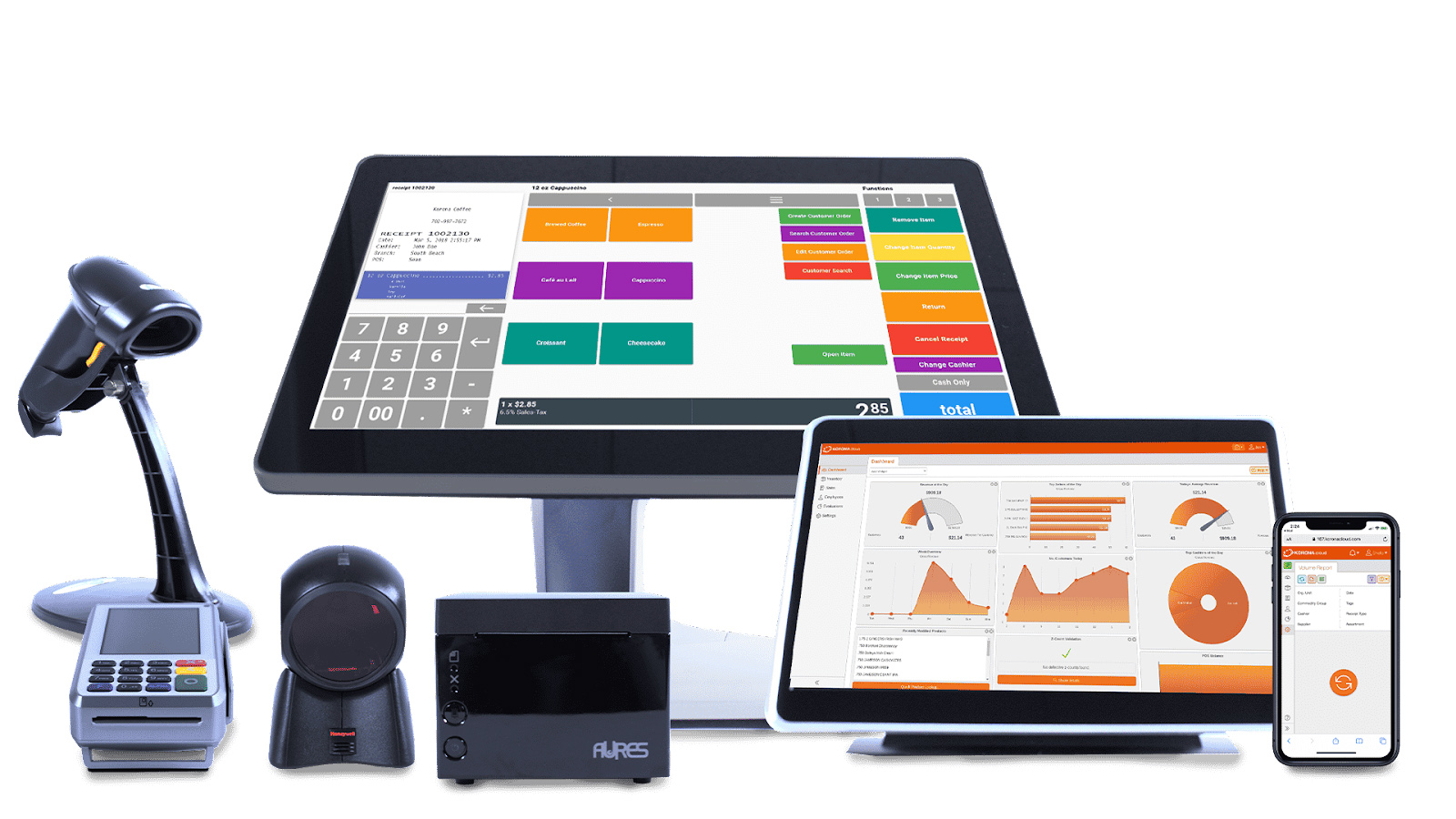 Choice of tablet or desktop from Aures, Partner Tech, and Hisense, and others
Leasing and purchase plans available
Accessories available
What We Like
KORONA is a highly customizable cloud POS system that regularly appears on our rankings for specialty businesses like bakeries and liquor stores. It is also one of the few cloud POS systems that supports high-risk businesses like vape shops that sell age-restricted products. In addition to those niche businesses, KORONA includes detailed ticket-selling tools, making it an ideal touch-screen POS for event spaces, museums, and amusement parks.
It earned a 3.92 out of 5 on our touch-screen POS ranking, earning high marks for including all sorts of niche features like dynamic inventory tracking, flexible hardware, and centralized multi-location management. It earned a perfect score on ease of use, and the highest user review score on the list, 4.7 out of 5, averaged over multiple review sites. KORONA lost some points because many of these tools require higher subscription levels.
Software subscription plans*
Core: $59
Advanced: $69
Plus: $89
Enterprise: Custom-quoted
* Offers free trial with no time limits
Processing fees
KORONA is payments agnostic, so you can bring whatever payment processor you like. Thus, fees depend on your chosen payment processing provider.
Hardware
Korona works with multiple POS terminal and tablet vendors, so pricing can vary.
Touch-screen registers: $1,300–$3,400 purchase; some available for lease
Cash drawer: $120
Barcode scanners: $120–$600
Receipt printer: $255
---
Unlimited free trial
POS prompts for age verification for tobacco or alcohol products
Can schedule discounts and location-specific events
Ticket sales online or in person; can scan or integrate with a turnstile system (Enterprise plan)
Choice of payment processors (can use with high-risk businesses)
Dynamic inventory includes product forecasting, vendor management, shelf-life reports
Loyalty program includes referral program that rewards customers that refer a friend
Reports can include foot traffic analysis
Self-service kiosk capable
---
Toast: Best Touch-screen POS for Restaurants

Pros
Proprietary, industry-grade hardware includes multifunctional handheld tablet
Offers a pay-as-you-go and $0 upfront cost subscription
Excellent order and table management tools
Best-in-class employee management tools
Cons
Mandatory purchase of proprietary hardware
Advanced inventory management tools require purchase
Requires a Toast Payments subscription, no payment integrations available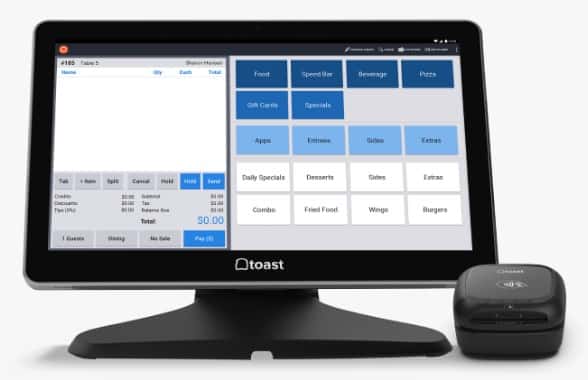 IP54 rated: protected from dust, spill-proof, and waterproof
14" screen
Takes tap, chip, or swipe payments
Handheld, self-serve kiosk, and kitchen display systems also available
What We Like
Toast is our No. 1 choice for POS systems for restaurants, and it is our best choice here because its touch POS system is built for restaurants. Toast's touch-screen register is an IP54 rating, certifying its resistance to damage from dust and water. iPads, meanwhile, do not have a rating. It also offers a sturdy kitchen display system (KDS) designed to withstand the heat of the kitchen.
The software includes top-of-the-line order and table management features designed to keep servers in constant communication with the kitchen, while handheld terminals ensure that servers are immediately notified whenever orders are ready or if an item is 86ed from the menu.
Toast earned an overall score of 3.89 out of 5, with excellent scores for ease of use and expert evaluation. However, the additional cost to use simple tools—such as inventory, employee management, loyalty, and gift cards—can make the system quite pricey. Moreover, the proprietary hardware, while great for restaurants that need it, makes the system pricier if you don't.
Toast Pricing Update: Toast has changed its plans and no longer lists its payment processing fees.
Software subscription plans
Quick Start Bundle: $0
Core: $69 per month
Growth: $165 per month
Build Your Own: Custom-quote
Bundle POS and Payroll: $110 per month
Installation fee: Custom and required
Toast requires installation.
Add-ons (call for quotes):
Mobile order and pay
Partner connect (integrations)
Scheduling and team communication
Marketing, gift, and loyalty
Payroll and team management
Third-party integrations
xtraCHEF by Toast (bookkeeping)
Processing fees
Toast provides bespoke processing fees specific to the characteristics of your restaurant. Call for a quote. Previous rates were comparable to those provided by Square or Lightspeed.
Hardware
Toast's website does not list prices. You'll need to call for a quote. We've received the prices below. You may be tied to a multi-year contract.
Countertop starter kit: $799 upfront + $69 per month, or pay 2.99% + 15 cents per transaction
Self-service kiosk: $999 upfront + $99 per month or pay 2.99% + 15 cents per transaction
Handheld starter kit: $609 upfront + $69 per month, or pay 2.99% + 15 cents per transaction
Accessories, KDS: Call for pricing
---
Restaurant-hardened POS hardware
POS tools include table management, automatic 86ing of items, alerting waitstaff about prepared orders
Contactless ordering
Online ordering and delivery
Sync menu and ingredients
Collect customer feedback via digital receipts
Set tip pooling
Clock in/out via the device
Reservations system
Loyalty and marketing tools available
Payroll available
---
Vagaro: Best Touch-screen POS for Gyms, Spas & Salons

Pros
Can use customer display for advertising as well as check-out
Robust booking, HR, payroll, and marketing tools
Online directory
Works for booth rentals, too
Cons
More specialized than others on our list
Intake and other forms cost extra
Many tools cost extra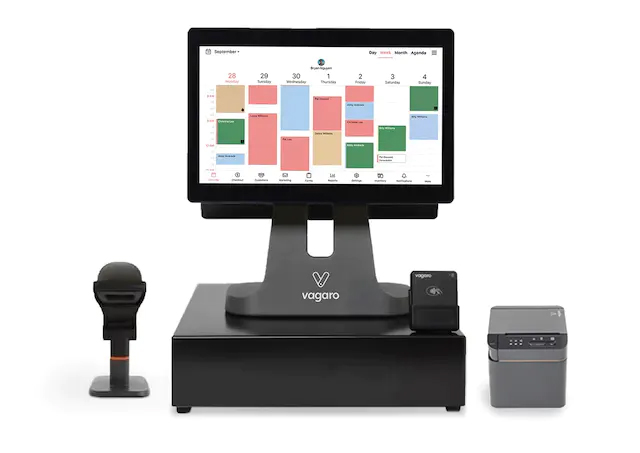 Includes customer-facing screen that lets customers see their check, apply a tip, sign and pay, plus use it to show off deals and advertising
Both screens have a 15.6" display
Works with USB or Bluetooth card swipers, keyboards
1-year warranty
Accessories available
What We Like
Vagaro offers a user-friendly and versatile touch-screen POS that is designed specifically for health, wellness, fitness, and beauty industries. You can purchase the large-screened POS hardware, which includes a customer-facing screen that lets you create promotions for daily deals or upsells, but you can also use it on tablets, desktop computers, and even your phone. Vagaro is on our list of best salon POS systems.
However, like KORONA and Toast, it excels in its specialty with recurring appointments, invoicing, and SOAP notes, plus advanced marketing tools, intake forms, and its check-in app. It earned high marks, therefore, for general features, ease of use, and our expert score. Its lowest score was for touch-screen features because you pay for a plan for each terminal. Overall, it earned 3.74 out of 5.
Plans
Unlike the other POS software on our list, Vagaro charges by how many people and locations you use.
Monthly plans
Single location: $25–$85
Multiple locations: Call for quote
30-day free trial
Additional tools
Text marketing: Starting at $20 per month
Forms: $10 per month
Online store: $10 per month
Website builder: $10 per month
Vagaro Drive (cloud storage): $10 per month
Live Stream: $10 per month
Check-in app: $10 per month
Get featured in Vagaro Marketplace: $10 per month
Branded app: $200 per month
Payment processing
In-person payment processing fee:

Processing over $4,000 per month: 2.2% + 19 cents
Processing under $4,000 per month: 2.75%

Keyed-in transactions:

Processing over $4,000 per month: 3% + 19 cents
Processing under $4,000 per month: 3.5% + 15 cents

Chargebacks: $20
Hardware
First card reader is free
POS kits: $749–$1,256
Can be used in standard desktop computers or tablets as well.
Accessories available: Call for a quote or click on the Shopping cart button in the Vagaro software
---
Large customer screen for taking signatures and tips or for marketing
POS works for booth rentals
Invoicing and recurring billing with automatic reminders
Set up memberships with autopay
Appointments in-app and online with merchant protection for no-shows
Customer information includes photos
Send email or text reminders
SOAP notes (Subjective, Objective, Assessment and Plan) for health and wellness businesses
Inventory includes automatic purchase orders
Online store available
Ability to sell livestream classes
Online directory for increased publicity
Mobile app for clients and a separate one for users
Payroll tools including tips, commissions, and hourly pay
---
What Is a Touch-screen POS?
A touch-screen POS lets you or your employees operate it by tapping the screen as opposed to using a keyboard. They are pretty much the industry standard now. We looked for the best for different types of industries.
In most cases, touch-screen POS systems are cloud-based and can be downloaded onto a tablet or even a smartphone. Many POS providers offer dedicated touch-screen POS hardware; some, like Toast's, are specialized for their industry.
Learn more in our article, What Is a POS System?
How a Touch-screen POS Can Improve Your Business
From a hardware point of view, a touch-screen POS makes it easier to ring up sales with simple buttons you can tap rather than a menu you need to scroll through or type information into.
The real benefits lie in the software. The best POS software takes care of the most common tasks, like tax calculations, item lookups, inventory tracking, loyalty programs, discounts, and more. Some have scheduling tools for customer appointments or employee shift tracking. Most integrate or include other software like ecommerce or payroll.
In all, a touch-screen POS system will save you time from sales to paperwork, prevent errors in calculations, and help you keep on top of your sales and inventory.
Learn more in our article on the benefits of using a POS system.
Features to Look for in a Touch-screen POS
Price: You need to consider three things when looking at price: software, hardware, and payment processing. These can vary wildly. Some, like Square, have free POS and work on most devices but tie you to their payment processor. Toast, meanwhile, has proprietary hardware that requires a contract.
Hardware that suits your needs: Whether you want handheld devices for making sales anywhere in the shop or rugged registers that can take the heat and humidity of a busy restaurant, consider quality as well as price.
Ease of use: If you have to fight to set up your system or if you have to spend a lot of time training employees on its use, then you are spending time that could be used on building your business. Plus, if the software is hard to navigate, that means more time spent ringing up sales, which can lead to impatient customers.
Flexibility of features: Be sure you know what you need in a POS system and get the one that meets your needs without having to add a lot of extras, buy multiple integrations, or sacrifice quality.
Inventory: One of the best tools a good POS system has is the ability to track inventory. Features to look for include real-time tracking across multiple channels (like online sales), low-stock alerts, vendor management, and purchase order creation and tracking. Depending on what you sell, look for variants, kitting, non-physical product sales, and even warranty or rental tracking.
Customer management: The best touch-screen POS systems let you collect customer information to reach out to them with discounts, reminders, and promotions. They may also include loyalty programs. Still, others let you track important information, whether purchase history, style preferences, or health notes.
Reports: Any POS software should include at least sales and basic inventory reports. Better ones include employee reports like commissions, sales, and payroll; advanced inventory like forecasting; customer reports like trending sales or feedback, and more.
Payment processing: Many touch-screen POS systems include their own payment processor. It is possible, however, that you could benefit from someone different, such as if you do high-volume sales or are in a high-risk business. In that case, look for a POS provider that lets you choose your own payment provider.
How to Choose the Right Touch Screen POS for Your Business
Step 1: Start by knowing your needs. Consider sales, payment processing, inventory management, customer relationship, marketing, employee management, reporting, and multichannel sales. Also, ask yourself if you are interested in using one provider for everything, plus other tools like payroll or banking.
Step 2: Estimate your budget. This includes what you're willing to pay upfront for the hardware, what monthly rates you can take, and what percentage of sales you will spend on payment processing.
Step 3: Do your research. Check out best-of lists like ours, not only for general touch-screen POS systems but also for POS systems in your specialty. We've weighted POS systems against each other for nearly a dozen industries. Next, look at user review sites like Capterra and G2 to get real-world user insights into the problems or benefits of a particular software.
Step 4: Try it out. Many POS systems offer free trials. Look for those that do not require a credit card to avoid the danger of being put on a paid plan automatically. You can also ask for a demo before going to a free trial.
Step 5: Ask questions. Still unsure? Contact Sales or check out the system's online help documentation.
How We Evaluated Touch Screen POS
We compared popular software that offers outstanding touch-screen POS solutions based on price and features. The best touch-screen POS systems should provide offline processing, capture digital signatures, and have device compatibility and access to mobile card readers.
We also considered general POS features, such as payment processing flexibility, remote and multi-location features, and the level of inventory and business management tools available in baseline plans. Finally, we considered our retail experts' opinions based on their personal knowledge of each software as well as real-world user input.
Click through the tabs below for a more detailed breakdown of our evaluation criteria:
30%
Touch-screen-specific features
30% of Overall Score
This section weighs the POS system's touch-screen features against business requirements like offline transaction processing and compatibility with mobile card readers and different touch-screen devices. We also awarded points for the ability to issue customized digital receipts and work with multiple devices. Square had a perfect score here.
20% of Overall Score
We made sure that we highlight web-based and/or cloud-based solutions so that your data can be synchronized and accessed from every connected device. We also gave extra points for systems that provide round-the-clock support. KORONA and Vagaro had perfect scores, although everyone scored 4.5 or higher.
10% of Overall Score
Finally, we evaluated each system's overall performance based on our experience and research, considering the quality of both general and industry-specific features, value vs cost, and popularity and ease of use. Toast, Lightspeed, Square, and Shopify earned perfect scores, which is expected as they often make our best-of lists.
*Percentages of overall score
Bottom Line
While there are a definitive number of business types, each business owner's approach to growth is unique. The many different types of POS systems in the market are designed to offer a variety of features to match combinations of business concepts, sizes, objectives, and growth strategies. Whether your primary goal is to manage a vast inventory, handle multichannel sales, boost your loyalty program, or improve the quality of your table service through tableside ordering, a touch-screen POS system will help you get the job done efficiently.
If you aren't sure yet where you need to be investing your money, the free POS tools offered by Square provide a great jumping-off point. Square offers just about everything a small retail shop or restaurant will need to get started, and it can scale with you. To try Square for free, click the button below.