What Is Content Marketing & How Small Businesses Can Do It
Content marketing is the distribution of articles, videos, case studies, and other forms of online content created to attract leads, create brand awareness, move prospects through the buying journey, or convert them to customers. To start using content marketing effectively, first ask yourself what problem your audience is trying to solve. Next, define the goal of your program, as this will inform what type of content marketing strategy to use.
1. Define Your Audience
Defining one or more target audiences is an essential, foundational step. The industries, interests, pain points, and buying behaviors of your target audiences will determine what type of content to produce and publish. It will also drive your keyword research efforts, contributing to your content's overall search engine optimization (SEO) strategy.
One way to define a variety of detailed target audiences is to create customer personas, also known as buyer personas or customer profiles, based on different ideal client types. You can download our free customer persona templates and follow the steps in the article to describe the typical background, demographics, preferences, and needs of your ideal buyer types.
2. Set Goals for Your Content Marketing Plan
Like any other sales or marketing initiative, you should set specific, measurable goals for what you want to achieve with your content marketing strategy. Examples include increasing web traffic by a specific percentage over a set period of time, generating more leads through online web form submissions, or producing more online sales. In turn, these goals will inform your strategy in terms of the types and quantities of content you need to publish to achieve them.
3. Research SEO Keywords & Competitors' Content
SEO keywords refer to keywords chosen in order to optimize your content for online search. This is critical if you want to drive organic traffic to your website, landing pages, YouTube videos, social media pages, and other online marketing content.
There are two general types of SEO keywords, short tail and long tail. Short tail keywords are general in nature and short in length, such as "content marketing." Long tail keywords are longer in length and more specific, such as, "how to generate leads with content marketing."
Shorter, more general in nature keywords usually have much higher search volume vs long tail search phrases. But they are also more difficult to rank for because more content marketers are creating content for them, and there is often already a lot of online content for the keyword. Conversely, it's usually easier to rank for long tail keywords, but as keywords get more and more specific, there is generally significantly less search volume.
The sweet spot in SEO keyword research comes when you find keywords that have decent search volume but low competition. It will be much easier for you to produce content that ranks more quickly and ranks higher in Google search engine results pages (SERPs) with these keywords.
You can conduct SEO keyword research for free by creating an account for Google Ads, even if you don't plan to advertise on Google. The Keyword Planner shows you search volumes for the keywords you have chosen and will also help you find additional keywords that might be better or fuel your content strategy going forward.
Alternatively, SEMRush and Ahrefs are two of the leading platforms for conducting keyword research for content marketing. In addition, SEMRush is a great option for competitor research as it will analyze content and rankings for your site or your competitors' sites, and enables you to see what kind of ads they are running on Google, as well.
In terms of researching competitors' content, make a list of your top five competitors. Besides using a tool like SEMRush to see what keywords are driving organic traffic to their websites, you should also go to their websites and check out what kind of content they are producing and how often they are publishing new content. This can help to inspire your own content or reveal content gaps, which give you opportunities to produce content lacking for your target audiences.
Evaluating your competitors' sites will also show you how they are differentiating themselves in online content. In turn, you can refine your content strategy to focus on your business' strengths, points of differentiation, and most compelling value propositions. Look through competitors' content and landing page examples to see what works for others who are capturing and converting leads.
4. Decide on Content Types Needed for Each Buying Stage
While your sales funnel may allow for more stages, there are at least three key stages of content marketing you should plan for to ensure your content plan is as effective as possible: awareness, consideration, and decision. You will want to create specific content for each of these stages to help move prospects to the next step in the customer journey.
Stage 1: Awareness / Lead Generation
Most people who are interested in a new product or service use a search engine to conduct their initial research. For example, a startup company may be looking for free or low-cost customer relationship management (CRM) software to help with lead generation and contact management. They decide to search online for "best free CRMs for startups" and begin exploring the content within the top organic search results.
The content created for this stage should be high-level informative. Continuing with the example above, this would include a general overview of the CRM software and its pricing, features, and benefits. Typically, the buyer will take the high-level information into account and either become a prospect or disqualify themself in some way. For instance, if the cost of the software is out of reach, they may not include it for consideration.
The goal for content at this stage is to persuade the reader to put the software on their shortlist for further consideration. They may also want to view a demo of the software or check out the software through a free trial or demo version. Alternatively, in the case of products with short buying cycles, a buyer could move from awareness to purchase right away.
Stage 2: Consideration / Lead Nurturing
Once a prospect has become aware of the products or services available to solve their problem, they will often conduct research to compare their top options. This is the consideration stage, and it requires content for lead nurturing. Content for this stage could include in-depth video guides, comparison articles, and as mentioned above, opportunities for a prospect to view a demo, receive a sales pitch, or take advantage of a free trial.
Did you know? According to a FocusVision study, the business-to-business (B2B) sales process can take from two to six weeks and involve three or four people in the purchasing organization. During that time, buyers consume an average of 13 pieces of content, about two-thirds of which are from the vendor, with the remainder being from outside sources.
Stage 3: Decision / Lead Converting
At the decision stage, your reader knows they want or need a product or service they've been researching, and now they're looking for confirmation or justification for their purchase. They may also be looking for content to present to colleagues if someone else needs to sign off on the decision.
Essentially, the prospect is ready to buy but wants reassurance that they're making the right decision. They may also have narrowed options down to two or three, and want a reason to choose one over the other. Content for the decision stage typically goes into pricing and value, but may also include case studies, testimonials, and reviews.
It can be difficult to cram information for every stage of the buying journey into a single piece of published content. It's better to implement a content marketing strategy that includes creating different content for different stages of the customer journey or buying process, with the goal of helping the prospect move to the next stage.
Examples of Content Types, Funnel Stage & Resources Needed
Although content creation often comes in the form of white papers, blog posts, landing pages, and e-books, it can include many other forms, such as video, social media posts, and webinars. Whatever type of communication you can use to inform, educate, and convince in online media will work for a content marketing plan.
You can expand the sections below for examples of content marketing at various stages and the resources typically needed to produce them:
Blog Articles
Stage: Awareness, consideration, decision
Resources needed: SEO copywriting, keyword research, graphic design
A blog post or article can fit any stage of content marketing. In this example from Lilly Brush, it's clear that this post can fit the awareness, consideration, and decision stage, depending on where the reader is in their journey. The content helps a reader solve a simple problem: Which brush to use to remove pet hair from surfaces?
If a reader has never heard of Lilly Brush and stumbled upon this blog post through an online search or while scrolling through social media, they'll now be aware of the brand. If the subject is relevant to the reader, the content helps answer their question, so they may then consider buying a Lilly Brush. And the blog post includes links to product pages, so if a reader finds their ideal solution, they can move on to purchasing the brush they need.
Content that can fit all stages of the buying cycle is fine for a product or service with a short or even immediate buying cycle. However, businesses with longer customer journeys, such as high ticket items or solutions requiring a long-term commitment, will be better served with unique content produced for each stage of the customer journey.
One of the most affordable places for a small business to find SEO copywriters, keyword researchers, and graphic designers for blog articles is Fiverr. The freelance marketplace offers options for all budgets. When choosing a freelance professional on Fiverr, you will have the opportunity to see work samples as well as customer reviews and ratings, making it easy for you to find content marketing specialists to help with content production.
Alternatively, if you are able to produce most of your content in-house but just want help creating eye-catching graphics for your blog articles, check out Canva. You can use it for free and gain access to thousands of premade templates, image types, and inspiration.
---
Video
Stage: Awareness, consideration, decision
Resources needed: Video script writing as well as video recording and editing equipment
In this example, the company Doodle answers both "what is" (in the written content on the page) and "how to" (in the video itself). This is a great way to introduce a prospect to the product and the company. Additionally, Doodle, in its top-funnel content, makes its value clear to the end user: It's free to use.
Another effective method Doodle uses in its content is a call-to-action (CTA) button just above the video—it reads "Create a Doodle Poll." This is a great way to push a lead from the awareness stage to the consideration or decision stage because they'll get some hands-on experience with the product.
Video content once required hefty investments in equipment and professional expertise, but now anyone with a smartphone has the equipment needed to produce video marketing content. Should you prefer video content that doesn't require you to be on camera, sites like Envato Elements and Animoto have stock video you can edit to produce content for your website, blog articles, social media, YouTube, and so on.
Animoto can be used for free, and you can produce unlimited videos without their branding in plans starting at just $8 per month. For $15 per month, your videos can have your brand's logo and watermark and you gain access to millions of stock images and videos.
---
Infographic
Stage: Awareness, consideration
Resources needed: Graphic design
An infographic combines data and graphic design into a visual that makes it easy for the reader to digest the content. This infographic by Salesforce illustrates how data storytelling can persuade a reader to consider using its software. While it may be found by people doing research at any stage of the buying cycle, it's more of a mid-funnel type of content marketing meant to help a reader in the consideration stage.
Infographics are sometimes used on web pages, but are most commonly produced as part of blog articles and shared on social media. It's valuable for several reasons, not the least of which is that it can be used in many different types of online content, including webinars, sales presentations, e-books, email marketing newsletters, and more.
Visual content like this is highly effective when it comes to producing desired actions. For example, one study shows that people followed directions 323% better when it had a combination of text and images than without.
Visual elements like infographics also make your content far more memorable. According to Cognition, people will remember 65% of information presented in a visual element vs just 10% when absorbing information through text alone.
Sites like Canva and Envato Elements have premade templates for infographics. On Canva, you work on the platform to create an infographic and then download it for use. With Envato Elements, on the other hand, after finding the template you want to work with, you can download it, usually in several formats, such as Adobe Illustrator, Photoshop, XD, or Figma or Sketch, and then modify it with your data and design changes.
Alternatively, you can save time by outsourcing the creation of your marketing infographics to a freelance professional on Fiverr. Prices start as low as $5, giving small businesses with any size budget resources for creating high-quality marketing visuals.
---
White Papers & E-books
Stage: Awareness, consideration, decision
Resources needed: Graphic design, copywriting, research, photography (optional)
It's rare to come across an example of content marketing that can effectively speak to multiple stages of the customer journey, but a white paper or e-book is the most likely candidate for this type. In this Google white paper on cloud storage and security, the content speaks to an audience that wants to know why cloud storage would work for them and why Google, specifically, would be a good choice.
Examples of different types of white papers and e-books that can be used include statistical reports, such as "The state of <insert topic here> in 2022," idea-based e-books, such as "X ways to use CRM software to generate leads," technical manuals, industry research, and much more. According to Instructional Solutions, when preparing to produce a white paper, research and a visual "mind map" are prerequisites.
In addition, white papers often include any or all of the following sections:
A title page and title that is accurate and conveys relevance (i.e., why should I read this?)
A brief, one- to two-paragraph abstract, or overview of what's in the piece
A statement specifying what issues, pain points, or problems the e-book was created to address
Background information offering context and explaining any research methodologies used
The solution, or meat of the white paper—this is the content the reader came for
A conclusion summarizing findings, and this section can also suggest next steps or calls to action for the reader
References, citations, and sources
A branded end page with company logo, name, contact information, who to contact for more information, and instructions about copyright, reprinting, or distribution
As with infographics, Canva is a great resource for small businesses that don't have in-house resources or a budget for outsourcing graphic design, research, or copywriting. You can start an e-book on Canva with one of their many templates or from scratch, use the easy editing tools, and produce a professional white paper in a short amount of time.
For low-cost outsourcing options, turn to Fiverr. You can quickly find e-book producers by typing e-book or white paper into the search bar on the home page. Pricing generally ranges from about $35 to a few hundred dollars, which makes it an affordable option.
Be sure to check each freelancer's reviews and don't be afraid to ask for samples of their work. Keep in mind that your final product might be better if you hire more than one freelancer, such as hiring one to write the copy for your e-book and another to do the graphic design and layout.
---
Review
Stage: Consideration, decision
Resources needed: A strategy for generating reviews—and brand fans
When a blogger or a review site creates content on your business' behalf, it's one of the best types of content marketing that can fit any stage. Third-party, objective reviews can be the most powerful form of word-of-mouth marketing during the consideration and decision stages, and are trusted by consumers and business buyers alike.
Develop relationships with bloggers and influencers before reaching out to request a review of a product or service. You can also join a network like Insense.pro to find vetted YouTube vloggers (video bloggers) to produce video reviews or unboxing videos of your products or services. In many cases, all you have to do is provide the product or service for free to get earned content.
Likewise, the reviews left by your satisfied customers on sites like Yelp, Google My Business, Facebook, Angi, and others can be the catalyst for lead generation and conversions. Organic reviews give prospects reasons to choose your business over other options. Check out our list of 11 ways to get more reviews and rank higher in Google local search.
If your business sells to consumers, we recommend creating (or claiming) your company's free profile on Yelp. Learn how to do this as well as how to get more Yelp reviews in our article explaining what Yelp for Business is and how to use it to grow your business.
---
Case Study
Stage: Consideration, decision
Resources needed: Graphic design, copywriting, interviews, and potentially photography or videography and video scripting
A case study is typically hosted on a business' website or shared on its own social media accounts. It's also a good piece to send to leads via email. It requires some of the same resources as are needed to produce white papers and videos.
Whether in the form of a video, presentation, or blog post, a case study serves as a detailed testimonial to showcase why others should use your products or services. Even when produced by a brand, it feels like an objective piece of content, and so can sway a lead to converting.
One way to produce case studies easily, and on a regular basis, is to write spotlight blog articles about your top clients. Telling their stories through interviews transcribed into articles, or via podcasts or videos, is another way to add the weight of real customer results to your marketing and advertising claims.
In addition, multimedia content is highly shareable. Your customers will want to share these pieces where they are the "star" with their own networks. It also benefits SEO as Google has indicated that interactive, media-rich content like videos and audio recordings are a factor that can help your content rank higher.
---
5. Create a Content Publishing Calendar
If you are just beginning to implement a content marketing plan, start with a manageable schedule. Many companies simply publish one search-optimized blog post each week and then help to drive traffic to their content by sharing it on social media and linking to it in email newsletters. Others publish multiple pieces of content each week, and some even publish several articles every day.
According to HubSpot, smaller sites that want to generate leads and sales through organic web traffic should publish three or four times a week, if possible. Their research shows that marketers who do so reap a 13x return on investment.
You can create a content publishing calendar using a Google Sheet or Excel spreadsheet. It can be as simple as a few columns for due or publish date, title, keywords, and target customer persona. To help you get started, we created a sample content publishing calendar spreadsheet you can download for free and customize for your process.
Downloadable Content Publishing Calendar Spreadsheet
Excel | Google Sheets
For more tools and features than you will find in a spreadsheet-based publishing calendar, use Trello. You can use it for free, and it provides both calendar and Kanban-style views as well as the ability to collaborate and assign tasks and create boards representing the various stages of your content production process. Trello even offers a premade template you can copy and instructions for how to create an editorial calendar in Trello.
Monday.com is another great option. It also has a free forever plan, although it limits access to two users, while Trello's free version allows up to 10. With more than 200 templates and multiple view options, you can easily create a process to manage all of your online content from beginning to end. Start with the Monday.com Content Calendar template and see how easy it is to use in the video clip below.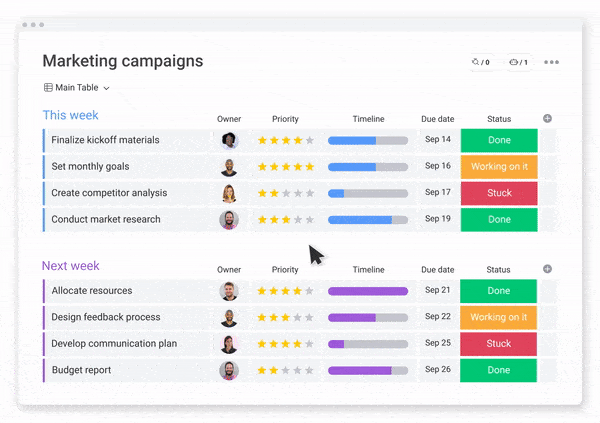 6. Publish & Distribute Your Content
Now that your plan is in place, it's time to start publishing and distributing your content. There are three basic content distribution types: owned, earned, and paid. You can control some aspects of how your content is distributed, but not all. Placement and promotion for owned and paid types of distribution are up to you, but you can only influence earned content distribution.
Owned Content
Owned content exists on your website, social media pages, email marketing newsletters, and so on. These are usually blog posts, pages you create that explain services or products, and posts you create for social media platforms. In addition to attracting inbound traffic, owned content extends to outbound methods you use, such as sending links to recently published content to your email subscribers.
Earned Content
Earned content can be a customer review, but is also "earned" any time your content is shared by someone outside of your company. When someone shares your content, they are in essence endorsing your business and the worth and value of your content. People sharing links back to your content on your website is especially beneficial not only in driving potential traffic but also in bolstering your search engine optimization (SEO) efforts.
Earned content shares can be anything a customer or fan shares from your website or social media. When people re-share your social posts, for example, it can help your profile and future posts get more reach, in addition to driving traffic to your content. You can also benefit from reviews people leave on your website regarding your products or services as well as feedback on sites like Amazon, Yelp, Facebook, and other review sites.
Reviews on your Google My Business (GMB) profile are also considered earned content. These reviews can help you rank higher in local search results and the map pack (the top local businesses based on search and location). Be sure to fill out your GMB profile and respond to feedback and reviews you get there to increase trust with your audience.
Paid Content
Paid content is when you drive web traffic back to your content through paid means. For example, you can create Google Ads in the form of text or retargeting display ads, social media ads, banner ads on various networks or digital publications, or get sponsored content created by an influencer to increase your brand awareness, traffic to your site, or sales.
If you aren't reaching the goals you set for your content marketing plan, paid promotion may be the answer. Look into search engine marketing (SEM) tactics such as pay-per-click (PPC) advertising and social media advertising to help with awareness and conversion.
In fact, of the social media users surveyed, 27% said they discover new brands on social channels. Plus, social ads target your ideal audience and enable you to reach "look-alike" audiences to reach even more potential customers.
7. Measure Results & Refine Your Content Marketing
Progress in terms of the goals you set for your overall content marketing plan should be measured regularly. In addition, you can measure the success of each piece of content, such as Google rankings, views, conversions to leads and sales, web forms submitted, and so on.
As you begin to measure the success of your content marketing efforts, you will also find opportunities to go back and improve existing content or refine the type and quality of content you produce in the future. In the beginning stages, you might decide to measure results quarterly or monthly. If you produce a significant amount of content, you might even be monitoring results daily.
Some of the basic tools you will need to measure results are free to use: Google Analytics and the Google Search Console. Google Analytics provides a wide range of metrics for your website overall as well as individual pages. It also offers insights about site visitors' demographics, conversions such as web form submissions, and much more. HubSpot's guide to Google Analytics is a great place to learn more.
The Google Search Console (formerly known as Webmaster Tools), on the other hand, is where you can see what keywords your website's content is ranking for. You can use this data to keep track of where your site ranks for each of your target keywords, measure your content's search click-through rate (CTR), and discover new or related keywords to target in future content. Learn more about how to use Google Search Console in HubSpot's guide.
The SEMRush platform offers another option for measuring the progress of your content marketing plan. You can set up projects in SEMRush to track your website's rankings in search, identify things that can hurt your content (such as broken links), see which websites are linking back to your content (creating backlinks), and more.
To make sure your website gets exposure, use some tried-and-true website marketing strategies. Once you find the right combination of tools and resources that work for your content marketing strategies, you should see content ranking higher on search engines and more clicks to your site.
The Benefits of Content Marketing
If you've ever heard the phrase "content is king!" from someone in marketing, there are a few good reasons why. Content marketing is important, especially for businesses that want to generate leads or sell online.
Content marketing can produce as much as a 13% return on investment, or ROI, according to HubSpot. The right type and length of content can establish you and your business as an expert on a topic or industry, which impacts your brand's reach in multiple ways. For example, blog articles over 3,000 words get three times the traffic, four times more shares, and more than three times as many backlinks as articles with fewer than 3,000 words, per SEMRush.
SEMRush's Anatomy of Top Performing Articles shows that long-form articles with more than 7,000 words perform even better. They gained four times more traffic than typical blog posts, which are usually anywhere from 900 to 1,200 words in length. Longer articles also got more backlinks and shares.
When you combine high traffic, backlinks, and shares, you'll see an increase in your site's authority and your site will rank higher in search engines. This kind of exposure can exponentially increase brand awareness with your target market and act as a lead magnet, bringing members of your target audiences to your website at every stage of the buying cycle.
Frequently Asked Questions (FAQs)
What is a content marketing campaign?
A content marketing campaign refers to a set of pieces designed for a specific purpose, such as when a new product or service is rolled out. A content marketing campaign could include creating a variety of content types, such as a product landing page, e-book or whitepaper, and how-to-use video, and then supporting the rollout with paid ads, emails to customers and prospects, and social media marketing.
Is email marketing a type of content marketing?
Email marketing is different from content marketing, but it can be used to promote content you create for repeat business or customer retention goals. For example, you can use newsletters or email campaigns to share testimonials or case studies to try to convert leads.
What is SEO in content marketing?
Content marketing and SEO work hand in hand because both involve attracting visitors to your website. Plus, your online content should be optimized for search in order to attract organic web traffic from your target audience. You can use strategies to build SEO backlinks to improve your site authority, which helps you rank your content in search results more easily.
Online business listings are also important for search engine optimization (SEO), which helps you rank on Google and other search engines. Local SEO is especially important for brick-and-mortar businesses or service-based businesses that cater to a specific area.
Bottom Line
Content marketing is essential if you want to drive organic traffic to your website through online search, email marketing, and social media. It supports every phase of the buying cycle, from building awareness and trust to nurturing leads and closing deals. Do due diligence by researching what your competitors are doing and finding keywords with search value that are relevant for your business to start creating your content marketing strategy.
If you are looking for an all-in-one solution for content marketing management, we recommend Hibu. Hibu is one of the best local SEO services and has a full suite of solutions to ensure your online content generates leads through search engine traffic, social media, online reviews, and more.
You Might Also Like…