With QuickBooks Payroll, you can pay employees via same- or next-day direct deposit and also print paper checks using your own printer. To print payroll checks, you'll need to purchase the proper check stock, adjust your printer settings so that everything prints in alignment, and run payroll for at least one employee.
As you read, follow along with our video on how to print paper checks in QuickBooks Payroll.
1. Purchase Check Stock
QuickBooks Online Payroll lets you print checks on blank paper or with pre-printed checks. QuickBooks says it does not print on third-party checks. Its online payroll only works with two kinds of paycheck styles:
Voucher checks with one pay stub for your employee
Voucher checks with a pay stub for your employee and one for you
You can purchase checks from QuickBooks directly. It offers three styles with different levels of anti-counterfeiting measures such as watermarks. Prices start at $36.99 for 50. See the styles and pricing on the QuickBooks website.
2. Check That Employees Are in the System
You need to have your payroll set up before you can print a paycheck. (See our how-to guide on QuickBooks Payroll setup.) When you first input your employees, you'll be given the option of how you pay them. If you choose paper checks, the system automatically creates a paycheck to print when you are ready.

Note: QuickBooks can only print checks for employees who receive checks, and pay stubs for those who receive direct deposit.
3. Set up Check Printing
Before doing a full paycheck run, it's a good idea to run a sample to make sure you have the right parameters and that everything is aligned properly.
Go to Settings, and then select Payroll settings.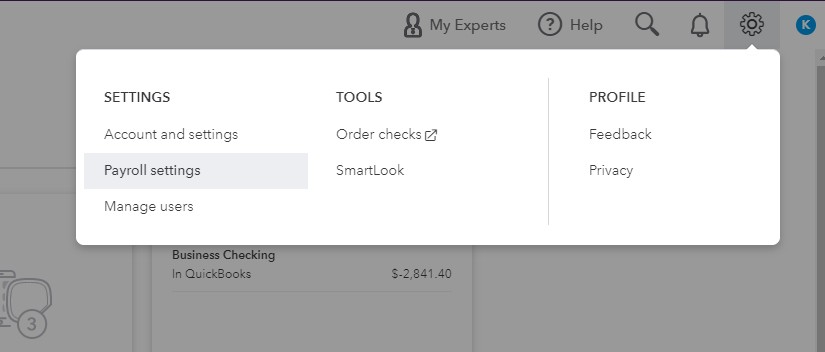 You'll see, under Printing, the current setting. If it is wrong, click on the pencil to edit. You can print on blank paper or QuickBooks pre-printed check stock.

If using blank paper, click Save to save changes.

If using pre-printed checks, it will ask if you wish to print one stub or two stubs. Make your selection and click Save.
If using pre-printed checks, you want to check the alignment. You should check alignment again whenever you use a different browser or application. You will use blank paper and a blank check to set alignment.
Click on Align check.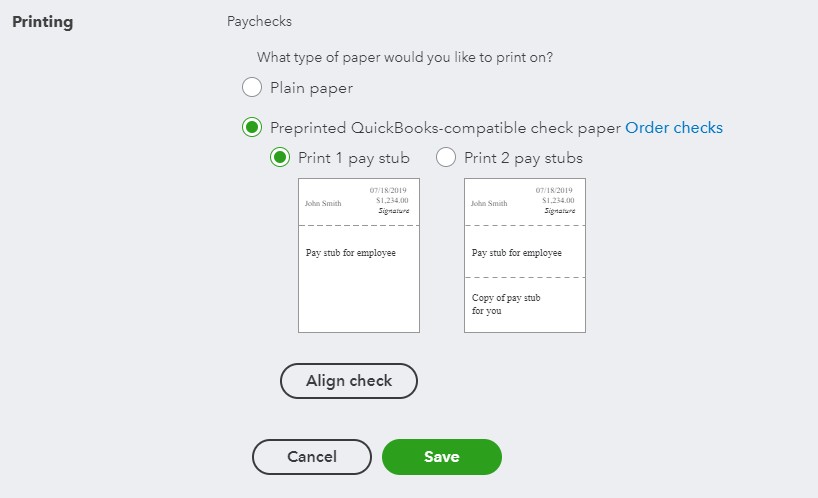 A side window opens with the instructions. They are simple and self-explanatory. After checking the alignment manually, run a paycheck with a blank check to ensure everything is properly aligned. When satisfied, click Save to close the side window.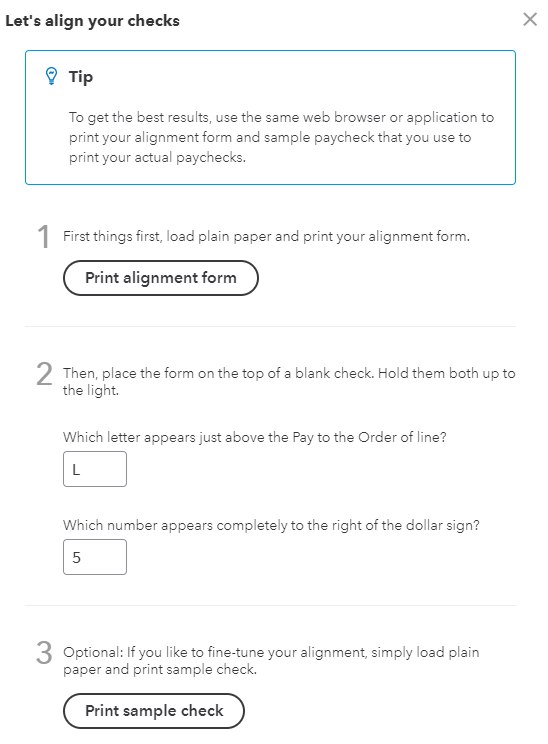 QuickBooks Payroll check alignment instructions: Click Done in the lower right corner of the screen to save all changes and exit.
4. Load Your Checks or Paper in the Printer
Be sure the checks are facing the correct direction.
Tip: If using a different browser, you should recheck the alignment before doing a print run.
5. Run Payroll
See our guide for specific instructions on how to run your payroll.
6. Print Checks
The Overview tab in Payroll should direct you to run payroll, or you will see it in the shortcut list. Click on View Paycheck list.

Select the names of the checks you want to print. Then click Print.

A new window will open up with the checks in PDF. Make sure the information is correct, then select Print on your browser (usually in the upper right corner).

FAQs and Troubleshooting
Do I need a special printer to print checks with QuickBooks Online Payroll?
No. QuickBooks can print checks with inkjet or laser printers.
Do I need special paycheck stock?
No. QuickBooks Payroll will print on blank paper or preprinted QuickBooks-compatible check paper.
How can I order checks from QuickBooks?
You can order checks from the QuickBooks website, or in your settings under Payroll settings > Printing.
How do I fix problems printing checks with Payroll Online using Chrome?
If you are having problems printing checks and you have the McAfee WebAdvisor extension active on Chrome, you may need to temporarily disable McAfee WebAdvisor. Go to Chrome Extensions, find McAfee WebAdvisor, and then toggle it off.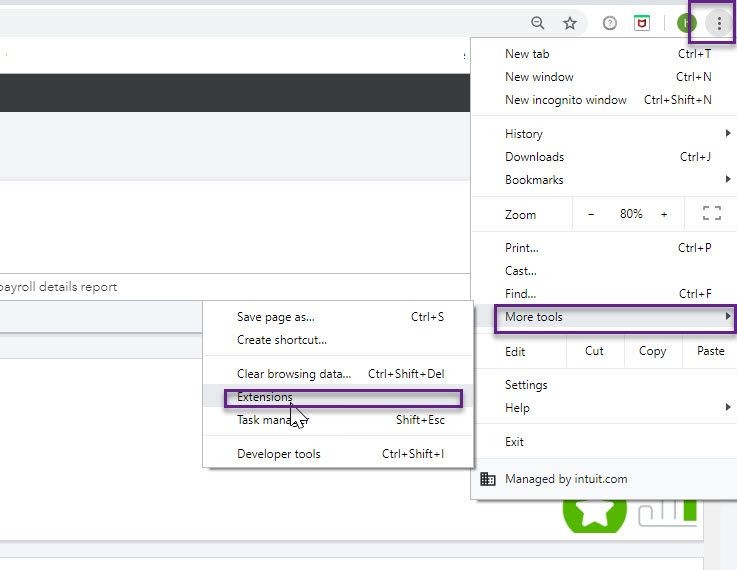 Alternately, you can go into Incognito Mode and run checks from there.
QuickBooks is working with Chrome and McAfee WebAdvisor to solve this issue.
QuickBooks is printing in the wrong places! What should I do?
If the printed information is not sitting neatly on the lines or in the proper areas, you need to recheck the alignment.
Where can I get help with my check printing?
QuickBooks has a troubleshooting guide, or you can click on the Help icon in the upper right corner to search the documentation or contact customer support by chat, email, or phone. Customer service hours vary by location, but the Help section will tell you the available times in your area.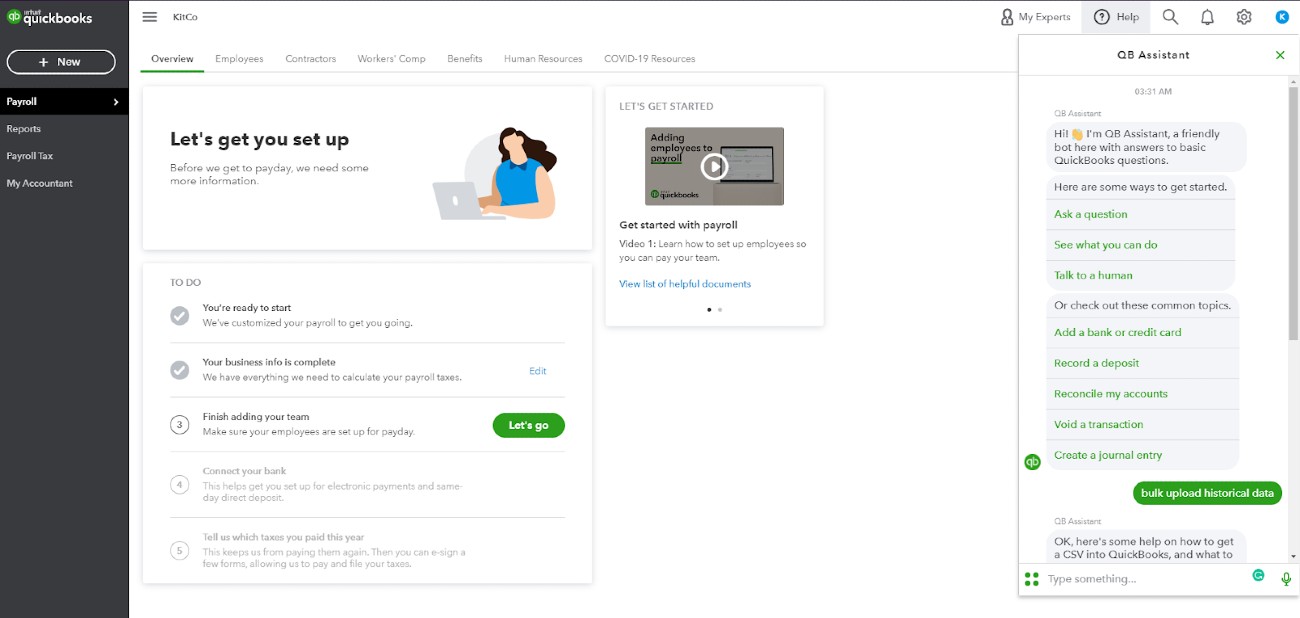 Bottom Line
QuickBooks Online Payroll, a top-rated payroll service, makes it to print paychecks for employees. If they prefer direct deposit, check out our article on how to set up QuickBooks Direct Deposit.
Although having payroll software makes paying your employees the right way much easier, you still need to know the basics. Check out our tips on how to get the best payroll training to help.