There are numerous factors to consider when processing payroll in New York. You have to be aware of federal, state, and local regulations to ensure you maintain compliance. It's a good idea to outsource or use payroll software to help minimize payroll mistakes. This can save you thousands of dollars in penalties and jail time.
Using software to help you process payroll can give you access to some guidance, but the laws change so often and sporadically that you really need an expert on your team who will commit to tracking this for you. Consider a professional employer organization (PEO), like JustWorks. It will handle all of your payroll management needs. You can outsource tax filing, benefits management, and human resource (HR) support to the experts. Visit the website for a demo.
Disclaimer: Fit Small Business does not operate as a licensed legal or tax professional. We recommend you consult with your lawyer, payroll accountant, or licensed professional for decisions related to your payroll process.
How New York State (NYS) Payroll Works
Although you have to comply with the same federal rules as other states, many of New York's state and local laws vary significantly. If you're in New York City (NYC), you're required to pay employees a minimum of $13 or $15 per hour, depending on the number of employees you have, while employers in the rest of the state, outside of Westchester and Long Island, must pay at least $11.10 an hour (as of December 31, 2019).
You're also responsible for providing disability, paid family leave, and re-employment benefits. And if your employees live or work in NYC or Yonkers, you may have to withhold local income taxes in addition to the regular FICA, unemployment, and federal and state income taxes. Additionally, how often you pay your employees depends on the industry in which your business resides. Manual workers must be paid weekly, and commission workers at least once a month.
Labor law governing payroll in New York is not a one-size-fits-all, so working with an expert company, like JustWorks or other payroll software, can save you time from having to learn all the caveats of New York's labor and payroll laws. The size of your business, your industry, and cities in which you operate are all critical factors that determine how much your New York State payroll taxes will be and which labor laws you must follow.
How to Do Payroll in New York in 7 Steps
Doing your own payroll in New York can be tedious, and subjects you to many risks since labor law changes often. Laurie Savage, Senior Compliance Officer at Paychex, highlights the complexities of handling payroll in New York State.
"Compliance mistakes can be common, especially when business owners are doing payroll manually without help from a payroll service partner. Payroll laws in New York—and in every state, for that matter—are complex and ever-changing. Once a business owner finally has the regulatory aspect of payroll figured out, the laws change, so they readjust accordingly and another law changes, and so on and so forth. Not to mention, cities within New York State may have different regulations, so a business owner with multiple locations may have to keep up with more than one set of laws."

– Laurie Savage, Senior Compliance Officer, Paychex
If you only have a few employees, it's understandable that you may want to try processing yourself, but we encourage you to, at the very least, utilize payroll software if you aren't ready to outsource just yet. Some software providers, like Gusto, will offer you a 30-day free trial to see if it meets your payroll needs. Click here to try Gusto.
To help you get started, we're going to tell you how to process your New York State payroll using our recommended software, Gusto, in seven steps:
1. Enter Company Information
One of the first things you will do is enter your company information into the system. Have your registered business name, address(es), and phone numbers nearby so you can enter them when Gusto prompts you to do so. This is also a good time to integrate your software. Gusto integrates with many providers.
Software Integration
If you're using QuickBooks Online, QuickBooks Desktop, Xero, or FreshBooks for an accounting solution, you can integrate it with Gusto at the beginning of the setup or later. You can also integrate Expensify if you're using it for expense reporting. Consider adding your accountant as a company administrator if you need help, and assign permissions you're comfortable with.
If you have problems integrating these systems, reach out to your Gusto representative. The team is more than willing to help and even do it for you, if necessary.
Add Previous Payrolls
You will need to add all previous payroll information for the current year into Gusto during setup. This will ensure all of your year-to-date and tax information reflects accurately in the system. If you happen to transition at the beginning of a quarter, all you have to enter is year-to-date information from your employees' last pay stub. Otherwise, you will need to enter payroll data from each of your employees' pay stubs for the current year.
Gusto will pay and file any taxes you have outstanding if they are in the payroll system. This will help you stay current with your payroll tax liability so you don't have to pay any late fees.
2. Add New Employees
You will also have to provide at least some basic information about each of your employees, like name, hire date, email address, pay rate, and classification (exempt versus nonexempt). Gusto will email your employees and new hires and request that they enter all of their personal and tax information, so you don't have to.
This self-onboarding feature saves you time from having to print and track all of the documents you're required to collect. If you opt to use a different software provider, be sure to ask about onboarding features. And even if you choose one without these features, you can always print, request that the employee complete, and submit yourself.
Here's the onboarding documentation and information Gusto collects and submits for you:
I-9 Form
The I-9 form is used to verify your new hire's identity and eligibility to work in the United States. It's critical that your employees complete and sign Form I-9 on or before their first day on the job. And you must complete the employer portion within three business days of their start date. You'll need your employees' identification to finalize, so it's best to request they submit them shortly after completing the form.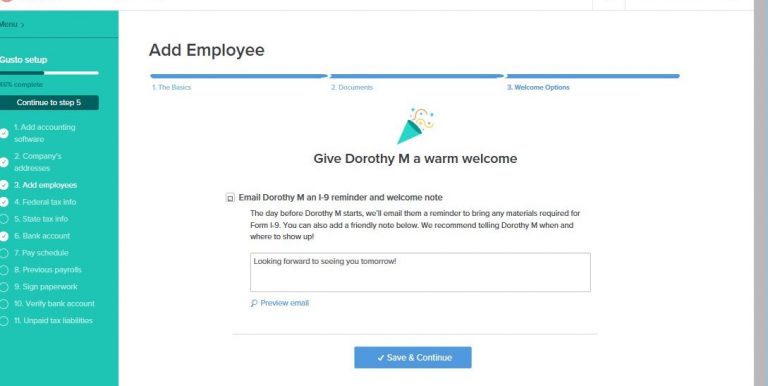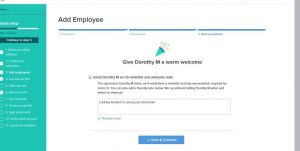 When you add a new employee, Gusto will ask if you want to automatically send an email reminder to your new hire with a reminder to bring identification documents for I-9 verification on his or her first day of work.
W-4 Form
Your new employees will need to complete and return the W-4 form in a timely manner to ensure their first paycheck is accurate. Gusto sends any employees you add to your account an email link they can use to set up these details. The information they enter will help you determine the amount of federal income taxes to withhold each pay period.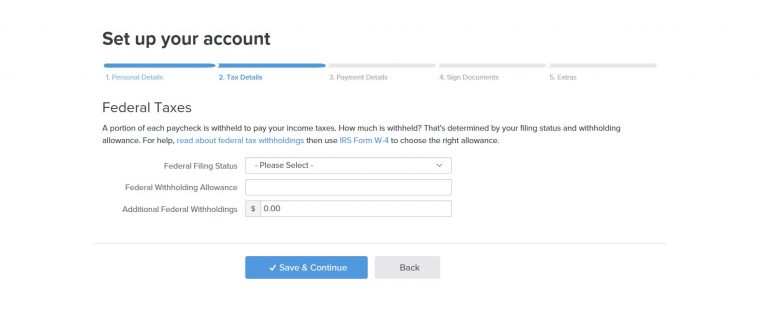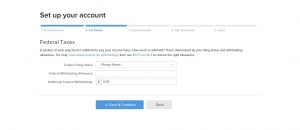 Direct Deposit Authorization
Gusto gives you the option to pay your employees by direct deposit, if they provide consent. The direct deposit authorization is another form you will need to prepare and collect from your employees before you can legally deposit funds into their checking accounts. If they opt in to direct deposit, they will enter their bank information, routing and bank account numbers, and account type.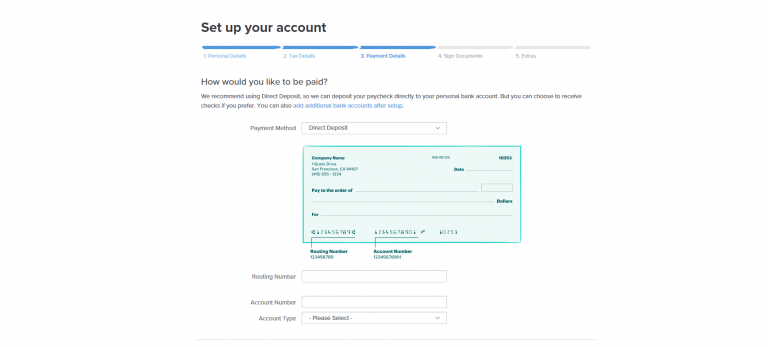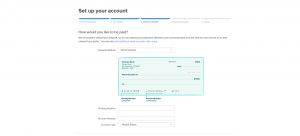 If the software you choose to use doesn't have this feature, or you are processing on your own, you can download a direct deposit authorization template within seconds.
You can also pay wages via an employee's payroll debit card, but this requires the employee's consent. The NY Department of Labor (DOL) has a standard form you can give your employee to obtain permission to pay using that method. Cash and check payments don't require official consent, but Gusto cannot automate those payment methods. However, it will help you prepare the check so you can print on your own.
Employee Pay Rate
When you set up new employees in Gusto, you have to enter how much and how often employees will be paid. You will need to classify them as hourly, salary, or commission. It's easy to go back and make changes later, but it is important you spend some time deciding how you will pay employees and maintain compliance with New York State laws.
When deciding how much to pay your employees, pay attention to New York's minimum wage rates. Your applicable rate depends on whether you're a large or small employer, located within Long Island and Westchester or the remainder of NYS, and what year it is. The minimum wage rates are scheduled to increase at the end of each year until they reach $15.00 per hour.
Use the table below to figure out the minimum amount you can pay your employees today and in future years:
| Location | 12/31/18 | 12/31/19 | 12/31/20 | 2021* |
| --- | --- | --- | --- | --- |
| NYC - Large Employers (of 11 or more) | $15.00 | | | |
| NYC - Small Employers (10 or less) | $13.50 | $15.00 | | |
| Long Island & Westchester | $12.00 | $13.00 | $14.00 | $15.00 |
| Remainder of New York State | $11.10 | $11.80 | $12.50 | * |
*Annual increases for the rest of the state will continue until the rate reaches the $15 minimum wage (and $10 tipped wage). Starting in 2021, the annual increases will be published by the Commissioner of Labor on or before October 1. They will be based on percentage increases determined by the Director of the Division of Budget, based on economic indices, including the Consumer Price Index.
When reviewing the table above, keep in mind that even though the "remainder of New York State" only reflects $12.50 as of 2020, the rate will continue to rise until it reaches the $15 minimum wage and $10 tipped wage. Also, if you own a restaurant, take note that all fast food workers in NYC must earn at least $15 per hour. Any fast food workers outside of NYC will be phased in until they reach $15 in 2021.
For more details on minimum wage requirements for fast food workers, visit the NYS DOL website. We'll go over more information on minimum wage requirements and exceptions later.
New Hire Reporting
Once your new hires finish the self-onboarding process, Gusto will notify you so you can review and file your new hire report. The easiest way is to let Gusto file the report with the state for you. NYS law states you must report new hires and rehires within 20 calendar days from their hiring date. Rehires are employees you previously employed before they were separated from the company for at least 60 consecutive days.
If you select software that doesn't have this feature, or you opt to manually process payroll, you can report online via the New York Hire Online Reporting Center or by submitting a copy of Form IT-2104, which is essentially a W-4 form for the State of New York, in place of, or in addition to, the federal W-4 form we discussed above.
If you decide to report using the second method, you can send the documentation in one of two ways:
Fax: (518) 320-1080
Mail to: New York State Department of Taxation and Finance
New Hire Notification
P.O. Box 15119
Albany, NY 12212-5119
Penalties for failing to report new hires start at $20 per employee not reported.
Notice to New Employees
You are required to give all employees a written notice with the following information on the date they are hired, in English and their primary language:
Employee's pay rate
Employee's overtime rate, if applicable
Basis on which employee will be paid (e.g., per hour, shift, week)
Allowance employer intends to claim as part of minimum wage (e.g., tips, meals, lodging)
Regular payday
Employer's name and names under which business is done
Employer's address and phone number
You must also obtain written acknowledgment, signed and dated, from your employees that they received the notice. Don't forget to give them a copy.
3. Load Information for Payroll Taxes
Gusto automates payment and quarterly tax filing for all your New York State payroll taxes. Just have your Federal Employer Identification Number (EIN) and NYS Unemployment Insurance (UI) Employer Registration Number nearby so you can enter them when prompted.
Federal Tax Setup
The Federal Employer Identification Number (EIN) is a nine-digit ID issued to you by the Internal Revenue Service (IRS). You'll need your EIN to identify your business when paying payroll taxes, registering your business with the state of New York, reporting your new hires, and to fulfill any other requirements pertaining to your business. To avoid penalties, it's a good idea to apply for your EIN prior to hiring any employees.
If you haven't yet applied for an EIN, you can use the link within Gusto to submit an application. You'll also need to enter the legal name your business is registered under and the type of company (e.g., LLC, sole proprietorship, partnership).
New York State Payroll Taxes
You will need all of your New York State payroll tax information so Gusto can know what, how, and when to pay your payroll taxes. Locate your New York State withholding deposit schedule, unemployment account number, unemployment tax rate, workers' comp insurance account number and rate, and any local tax account numbers, if applicable.
New York Unemployment Insurance (NY SUI)
Unemployment insurance benefits provide temporary income for eligible workers who lose their jobs at no fault of their own. You may have to pay contributions on the wages you pay to your employees. To find out if you're liable, you must register through New York Business Express or by submitting Form NYS 100. Household employers can register directly through the New York State Department of Labor website or use Form NYS 100.
After you register and your liability is verified, the NYS DOL will assign you an eight-digit employer registration number that you'll use on all correspondence, quarterly returns, and payments that you send in. You will enter this number in Gusto along with the rate the NYS DOL sends you on the Notice of Unemployment Insurance Rate form. It can be between 0.525% and 7.825%, but is generally 3.125%.
You should also display the related poster that tells employees their job may be covered by unemployment insurance. If you have multiple locations, it must be displayed in each location in places where employees can easily see it. We weren't able to find a free copy online, but you can call the NYS DOL at 888-899-8810 to request one. Here's an example:
Re-employment Taxes
You are responsible for paying 0.075% of your quarterly wages to the New York Re-employment Service Fund. You don't have to enter this into Gusto, because it automatically adds it into your unemployment insurance rate. Gusto will file this with your quarterly tax payments and returns.
Federal Taxes
Generally, most employers have to pay Federal Unemployment Tax (FUTA) and FICA taxes. As long as your NYS Unemployment taxes are up to date, you should be able to receive a credit of up to 5.4% on your standard 6% FUTA taxes, leaving a net 0.6% tax rate. We will discuss FICA taxes a little more later, but they are generally fixed at 7.45% for the current year.
Workers' Compensation Insurance
You must have workers' compensation coverage for all of your employees, including part-time employees and family members you employ. This protects you and your employees if an employee is injured in the workplace. You can purchase it through Gusto and set it up at no additional fee. Gusto's workers' comp partner will use your payroll information to calculate the most accurate premium amounts, make payments, and submit all paperwork.
You can also purchase from another private carrier, the New York State Insurance Fund (NYSIF), or self-insure. Just remember to purchase workers' comp. Employers are rarely exempt from this requirement in New York, and penalties for not complying can cost from $1,000 to $50,000 if criminally convicted.
Metropolitan Commuter Transit Mobility Tax (MCTMT)
You may or may not be subject to the MCTMT tax, and if you are, Gusto will submit your payment. It's a payroll tax based on the gross wages paid to employees within the metropolitan commuter transportation district. If you made any commuter tax deposits in the previous quarter, review the related documentation so you can find out the MCTMT rate you used. You'll need to enter your New York State tax settings within Gusto.
Rates are 0.11%, 0.23%, and 0.34%. You must pay if:
You are required to withhold NYS income tax from wages AND
Your payroll expense is over $312,500 in any calendar quarter
If this tax applies to your business, we suggest visiting the NYS Department of Finance's website for more information on tax rates and due dates. If you're exempt and choose to use our recommended software provider, Gusto, you will need to contact a representative so he or she can disable it.
New York State Disability Insurance (NY SDI)
Unlike many states, New York requires you to provide disability benefits coverage to your employees for off-the-job injuries and illnesses. You are allowed to deduct 60 cents per week from employees' paychecks to help cover the cost, or you can pay it all yourself. Once you decide, you can make the corresponding selection in Gusto. If you opt to deduct, Gusto will leave the funds in your bank account so you can pay the insurance.
You can sign up to provide the Disability Benefits policy through the state-run program, NYSIF, Just keep in mind that Gusto doesn't automatically make the payment, so you will have to submit yourself. If you're interested in purchasing through the NYSIF, request a disability benefits quote on the website.
Paid Family Leave (PFL)
Another requirement you have to adhere to is the paid family leave mandate. Under New York State law, you must obtain coverage so that employees are able to receive 55% of their pay if they need to utilize their eight weeks of paid leave for a qualifying event, like childbirth or caring for a loved one with serious health conditions.
PFL is funded through employee payroll deductions, and you're responsible for collecting. The maximum employee contribution is $85.56 annually. You can also opt to pay it all yourself. When looking for coverage, note that PFL coverage is usually added onto an existing disability insurance policy. The state program NYSIF only offers PFL with disability policies.
Bank Information
Gusto needs your bank information to process payroll taxes. Enter your bank routing and account numbers to begin the verification process. Gusto will send two small deposits to your account within 24 hours, and you must verify the amounts. After you complete the process, you will be one step closer to running payroll.
Employer Compensation Expense Program (ECEP)
The Employer Compensation Expense Tax (ECET) is an optional payroll tax New York implemented January 1, 2019 to help reduce negative effects to employees caused by the recent federal tax reform. If you opt in, you must file and pay yourself. Gusto doesn't yet handle it. You will have to pay and report quarterly, but separately, from your other payroll taxes.
Since individuals in NYS can now only deduct up to $10,000 of itemized state and local taxes on their federal tax returns, NYS is allowing employers to pay this tax to absorb their employees' tax liabilities. Generally, there aren't any limits on how much employers can deduct for business expenses, so you can offer this as a benefit and write it off at tax time.
The tax must be paid on any wages earned by employees that exceed $40,000 for the calendar year. The rates are being phased in as follows:
| For Quarters in Tax Year: | The Rate of Tax Is: |
| --- | --- |
| 2019 | 0.015 |
| 2020 | 0.03 |
| 2021 and after | 0.05 |
Employer compensation tax rates
Source: New York State Department of Taxation
If you're concerned that your federal tax deduction won't fully cover the cost, consider offering employees the ECEP tax credit in exchange for a salary decrease. The tax credit will decrease their personal income taxes, so they might agree.
4. Decide How Often to Pay Employees
Now it's time to decide when you will pay your employees. Gusto supports weekly, biweekly, semimonthly, and monthly pay schedules. Before you decide, you need to know the legal requirements. New York has stricter laws regarding how often you should pay your employees, depending on the type of position for which you're hiring.
Manual workers: Must be paid weekly and no more than seven calendar days after the end of the week in which they earned the wages
Commission sales positions: Must be paid at least once a month and no later than the last day of the month in which they earned the wages
Clerical, office, and other workers: Must generally be paid at least twice a month, on regular designated days
Tipped employees: Tips paid by credit card must be paid to employees no later than the next regularly scheduled payday
You'll need to set a consistent day of the week to pay your employees and the first date you want to pay using Gusto. Gusto will automatically populate a deadline for you to run payroll that's four days before the date you want to pay out. You'll also select the pay period, or the days you want your payroll to cover. For example, payroll paid on June 7 could cover work done May 20 through June 2. Be sure to familiarize yourself with applicable labor laws before setting this up.
5. Calculate Hours Worked & Gross Pay
Once your employees start working, you can use Gusto's time tracking system to track and approve hours worked. This feature is within the payroll system, and everything transfers seamlessly. Once employees enter their hours and you approve, Gusto will calculate the gross pay for you. If you choose to calculate pay manually, you can track hours worked using a spreadsheet or time sheet. Then, multiply the hours worked by the employee's hourly pay rate.
Time Tracking Setup
All hourly employees who have completed onboarding will display in the time tracking setup, and all you have to do is select the ones who you need to track. You will also need to set overtime rules, which can vary by state. To make it easy, Gusto includes a link you can reference. New York's overtime laws are in line with federal laws, and state that you must pay most employees 1.5 times their regular pay rate for all hours worked over 40 in a workweek.
Overtime
While most employees are paid overtime for working over 40 hours in a workweek, certain residential employees, or live-in workers, must receive overtime pay for all hours worked over 44 in a workweek. Federal law excludes certain employees, such as "white collar" salaried workers, from receiving the 1.5 times the regular rate in overtime pay. NYS requires most employees receive at least 1.5 times the minimum wage rate for any overtime hours worked.
The NY DOL set weekly salary thresholds for executive and administrative employees to help you determine whether or not they should be paid for overtime work. These are based on where the employees work, if your business is located in NYC, and the size of your company.
Here are the weekly salary thresholds you should consider when determining whether or not your executive and administrative employees should be paid overtime:
| Effective Date | NYC (11 or more employees) | NYC (10 or fewer employees) | Nassau, Suffolk, and Westchester Counties | Remainder of NY State |
| --- | --- | --- | --- | --- |
| Dec. 31, 2018 | $1,125.00 | $1,012.50 | $900.00 | $832.00 |
| Dec. 31, 2019 | $1,125.00 | $1,125.00 | $975.00 | $885.00 |
| Dec. 31, 2020 | $1,125.00 | $1,125.00 | $1,050.00 | $937.50 |
| Dec. 31, 2021 | $1,125.00 | $1,125.00 | $1,125.00 | TBD |
If these salary thresholds negatively affect your business or will in the future, consider whether increasing the salaries of the affected employees would help. If you can maintain their exempt status, you won't be affected by this regulation.
Enter Hours
After your time tracking setup is complete, employees can enter their hours through their own accounts. Once you've reviewed and approved them, you can sync the hours to payroll with the click of a button.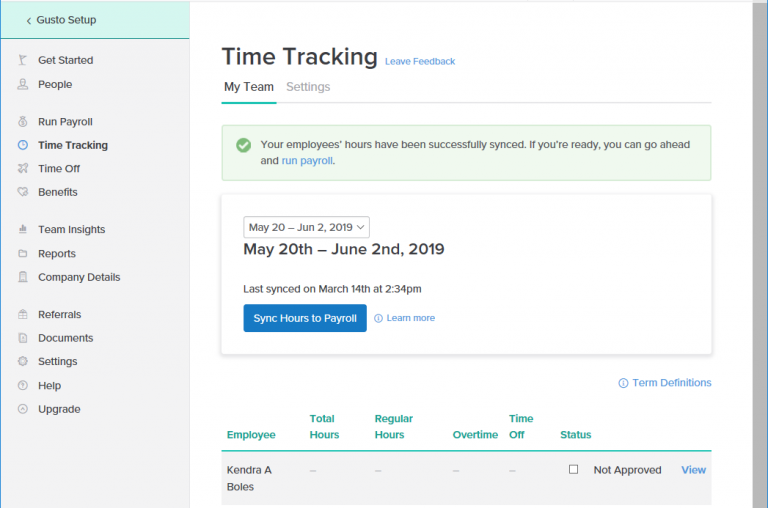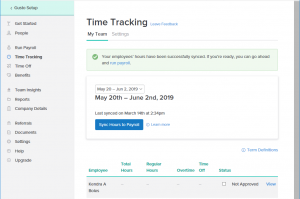 After you sync all employee work hours to payroll, you will be ready to start processing. Gusto will calculate gross payroll amounts for all of your employees as follows:
Hourly employees: number of hours worked x pay per hour + overtime (hours worked x pay per hour x 1.5 overtime rate)
Example:
John's regular pay rate is $15.00 per hour. If he is not a residential employee and works 44 hours, his gross pay is:
40 hours of straight time paid at $15.00 per hour totals $600.
4 hours are paid at 1.5 times his regular rate, or $22.50 per hour. That totals $90.00.
$600.00 (straight-time pay) + $90.00 (overtime pay) = $690.00 (gross pay)
You can use a spreadsheet or calculator to help you do this manually. Or, you can use Gusto to automatically calculate for you. Try it free today.
Salaried employees: annual salary / total annual pay periods + overtime, if applicable (hours worked x pay per hour x 1.5 overtime rate)
Example:
Dean is a salaried employee and is paid $40,000 per year. His employer pays all salaried employees twice a month. His gross pay for each pay period is:
12 months per year x 2 pay periods per month = 24 pay periods per year
$40,000 annual salary / 24 pay periods per year = $1,666.67 (gross pay)
Note: This $1,666.67 covers a pay period of two weeks, which equates to $833.33 per week. This falls below the minimum salary threshold we discussed earlier. When this happens, you need to make sure that your salaried employees are not working more than 40 hours a week. Otherwise, your payroll expense can increase substantially
If you have problems with non-exempt salaried employees working over 40 hours a week, consider changing their status to hourly.
6. Calculate Deductions & Verify Accuracy
After reviewing your employees' gross payroll, check that the deductions are accurate. Gusto automatically calculates these based on the information provided, like employee residence, allowances claimed on the W-4 form, and so on.
Your employees could be responsible for paying the following:
Social Security and Medicare: Required
NY Family Leave Insurance: You decide whether to deduct or to pay yourself
NYS Disability Insurance: You decide whether to deduct or to pay yourself
NYS Withholdings Tax: Required, unless exempt
NYC or Yonkers Local Tax: Depends on residence and business location
You cannot deduct the following:
Wages to correct overpayment due to mathematical or clerical error of employer
Cash shortages
Inventory shortages
Loss or damage to property
Required uniforms
Required tools or other items required for employment
Who You Should Withhold Taxes For
State and local taxes in New York can be tricky. You may have to withhold taxes for some employees based on where they live and for others, where they work. Even workers who don't live within the state may be subject to NYS taxes.
You should withhold taxes for the following:
New York State residents earning wages even when earned outside of the state
New York State nonresidents being paid wages for services performed within the state
New York City residents even when services are performed outside New York City
Yonkers residents even when services are performed outside Yonkers
Yonkers nonresidents on wages paid for services performed in Yonkers
New York State & Local Withholding Taxes
Gusto has the updated tax tables for New York State within the software and will use them to calculate and withhold the proper amounts from your employees' paychecks. You will be prompted to enter your New York State Identification Number so the system can process your state income tax payments in the future. Use your EIN followed by a location code of 00, unless you have multiple business locations.
In the event that you decide to process payroll on your own, you will need to familiarize yourself with the current tax tables for New York State (NYS), New York City (NYC), and Yonkers, depending on where your business is located and operates. New York City and Yonkers charge their own separate income taxes to employees who live within the city limits, and Yonkers taxes any wages earned within the city, regardless of resident status.
You have to maintain updated records that reflect your employees' current residences to ensure payroll taxes are withheld properly. If anything occurs that affects their tax withholdings, employees are required to inform you within ten days and complete Form IT 2104.1. Any employees who claim they aren't residents of NYS, NYC, or Yonkers must certify they aren't residents and estimate the percentage of their earnings attributed to NYS or Yonkers.
Quarterly Filing
At the end of each quarter, Gusto will submit all employee tax withholdings and unemployment contributions to the corresponding agencies along with required reporting. Be sure you have enough funds in your bank account to cover the payment. If you opt to file and pay on your own, be mindful of the deadlines:
| Calendar Quarter | Due Date |
| --- | --- |
| January-February-March | April 1 |
| April-May-June | July 1 |
| July-August-September | October 1 |
| October-November-December | January 1 |
New York payroll tax quarterly filing deadlines
Source: New York Department of Labor
You must file electronically using Form NYS-45 and NYS-1. If you don't, you will incur penalties and possible delays. The New York State Department of Labor (NY DOL) gives you three electronic filing options. Include the total federal gross wages subject to withholding and the total amount of tax withheld for every employee during the calendar quarter for which you are reporting.
Social Security & Medicare Taxes (FICA)
You won't have to enter any information regarding employee FICA taxes, because they are based on 2019 fixed rates, subject to limitations Gusto will consider.
Each pay period, Gusto will withhold up to 7.65% of your employees' wages (if they earn under $132,900) for monthly or bimonthly payment through the Electronic Tax Filing Payment System, and you will be responsible for paying another 7.65%. Gusto facilitates this process, so all you will need to do is approve.
7. Run Payroll & Store Records
Once you've reviewed gross pay and total deductions, you can check your employees' net pay. Gusto gives you the opportunity to review it before finalizing. If processing it yourself, just subtract deductions from gross pay. Net pay is the amount you will pay out to your employees. If everything looks reasonable, you can run payroll with one click. It can take up to four days to process, so run payroll early enough that your employees can be paid on time.
Pay Stubs
New York State law requires that you issue pay stubs to your employees. Gusto automatically creates pay stubs for your employees. They will always have access to download the pay stub from the software if they keep their accounts open, even after they've left your company.
If you choose a different software that doesn't produce pay stubs, or you process payroll on your own, be sure the documentation you provide contains the information included on the sample stub below:
Storage & Security
Gusto makes storing payroll records easy since everything is saved electronically. You are legally required to keep all payroll documentation for six years, so keeping physical copies on hand can be a challenge. All information is stored securely within the software, and no one can access it without you providing permission.
If you don't use Gusto for payroll and need a place to store your documents electronically, consider JustWorks. In addition to managing the payroll and HR process, it stores payroll records in the app and only gives access to employees you designate within the system. Try JustWorks today.
New York Labor Laws
Now that you know how to do payroll in New York State using Gusto and on your own, let's discuss a few additional labor laws and exceptions. You may be required to provide certain benefits to employees, like paid voting leave and 40 hours of sick time. You may also be responsible for providing some workers with a 24-hour break if you own a restaurant and your employees worked at least six days in the workweek.
Doing payroll in New York State can be a nightmare when you don't know all of the rules. A complete human resource (HR) solution, like Zenefits, is equipped to manage the intricacies of HR compliance in New York. Their HR advisers are always ready to help. Request a demo today.
Terminated Employees
When you have employees who are terminated, whether fired, discharged, voluntarily terminated, or laid off, there are a few regulations you need to keep in mind regarding their final paychecks. New York law requires you to adhere to the following in regard to a terminated employee's last paycheck:
Pay no later than the regular pay day for the pay period in which termination occurred.
Notify the terminated employee within five days of the exact termination date and date of benefits cancellation connected with your company.
If requested, you must mail the final wages to the employee.
New York Minimum Wage
We discussed minimum wage above, but there are numerous exceptions and caveats to New York minimum wage regulations. We found some extensive proposed regulations that would drastically change New York State's Call-in Pay (Show Up or Reporting Pay) and On-Call Pay requirements. So we encourage you to check the NYS DOL site often if you have hourly employees, because they may be affected.
Leave Laws in New York
As usual, New York provides more guidance than other states on their leave laws. We've discussed the Family and Medical Leave requirement, but there are a few others, like jury and voting, that differ from the majority.
Jury Duty
If you have more than 10 employees, you must pay all employees summoned for jury duty the first $40 of their regular daily wages for the first three days of jury service. In all other instances, you are not required to pay employees for time spent serving on jury duty. And remember, you cannot discharge or penalize employees for being summoned to serve.
Voting Leave
You must provide all employees time off to vote while the polls are open. A minimum of two hours must be paid. Your employees who wish to use voting leave must submit a request within at least two working days, but not more than 10 days before the election or voting day.
You are required to post a notice of employees' voting rights in a place they can easily see at least 10 days before an election.
Sick Leave
Under New York City's Earned Sick Time Act (ESTA), if you have five or more employees who work more than 80 hours in the calendar year within New York City, you must provide eligible employees with paid sick leave. If you have fewer than five employees, you must provide unpaid sick leave.
You must offer up to 40 hours of sick leave per calendar year. They can begin accruing one hour for every 30 hours worked from their start date. In addition, if the employees don't use all of their accrued sick time, they can carry over up to 40 hours to the next calendar year. And it must be immediately available for their use. If you'd prefer not to allow them to carry it over, you can opt to pay employees for unused sick leave at the end of the year.
You don't have to pay employees for unused sick leave when their employment is terminated. The New York City government has more details and guidance on who is eligible and how to comply with the sick leave law.
Vacation Leave
You are not required to provide paid or unpaid vacation leave to your employees. However, you must pay accrued vacation to employees upon termination if your policy or contract requires or is silent on the matter. This means you should be clear in your vacation policy; otherwise, you may have to pay employees for their vacation when they leave the company, even if you aren't intending to.
If you allow employees to roll over their unused vacation time year after year, you can set limits at your discretion as long as you give your employees notice.
Holiday Leave
You're not required to provide paid or unpaid holiday leave. If your employees have to work on a holiday, you are not required to pay the 1.5 premium pay rate that some businesses pay (unless the time qualifies the employees for overtime).
Meals & Breaks
You must give your workers at least a 30-minute break if they work a shift of more than six hours starting before 11 a.m. and continuing until 2 p.m. A 20-minute minimum is allowed only in special cases, and the NY DOL will have to investigate and issue a permit prior to this. Keep in mind you must pay employees for any breaks that last 20 minutes or less.
The NYS DOL does acknowledge it's customary for employees to eat on the job without being relieved in cases where there is only one person on duty or there is only one person in a specific job. If an employee volunteers to accept this arrangement, the DOL will not penalize you; however, you must offer an uninterrupted meal break to every employee who asks for one.
24-hour Break
New York DOL requires certain businesses, like hotels and restaurants, to provide employees at least 24 consecutive hours rest in any calendar week. The DOL lists specific rules governing this one-day rest break, and it can vary by type of business.
If you have specific questions and need additional guidance, contact the Division of Labor Standards Office nearest to you.
Frequently Asked Questions About New York Payroll (FAQs)
Below are questions small business owners may have about handling payroll in New York State.
What posters do I have to display in my workplace(s) per New York State Law?
All employers must post a Minimum Wage Poster, but your other posting responsibilities depend on the industry your business is in. If you sell food and beverages, you have to display the Deductions From Wages and Gratuities posters. For more posting requirements, visit the NYS DOL and the Federal Department of Labor websites.
How much are New York State payroll taxes for employers?
There's no set amount for employer New York payroll taxes. Employers must pay federal and New York Unemployment taxes, New York Re-employment taxes, and Social Security and Medicare taxes. Some employers will have to pay commuter taxes as well. State disability and family leave benefits are also required, but can be offset by employee deductions. The Employer Compensation Tax is optional.
Do I have to withhold New York City (NYC) income taxes from my employees' checks if my business isn't in NYC?
It depends. If you have employees who live within the city limits of NYC, yes, you will need to withhold NYC income taxes. If you don't operate within NYC and none of your employees resides in the city, you don't have to withhold.
Bottom Line
Learning how to do payroll in New York State isn't easy, as it's full of complex rules and regulations. While the process to pay employees is similar to other states, there are numerous decisions you have to make before, during, and after you pay them that can cause issues. Labor laws in New York change often and require constant tracking, even if you only have a few employees.
If you're feeling overwhelmed with all of the laws surrounding New York State payroll, JustWorks has payroll experts on staff that can help you gather the information you need to make the best decisions for your business. Schedule a free demo today.