CRM systems help you to manage your sales process more efficiently and effectively. In this guide we explain how to setup Zoho CRM, which is one of the most popular small business CRM systems. We will explain how to get your data into Zoho, how to setup your sales pipeline and how to customize fields to suit your needs.
Step 1: Getting Familiar with the Layout
The first step in learning how to use Zoho is to familiarize yourself with the layout. When logging into Zoho for the first time, you'll reach a setup screen called "Home." This is where you will add your data and customize the system to match the data fields you require.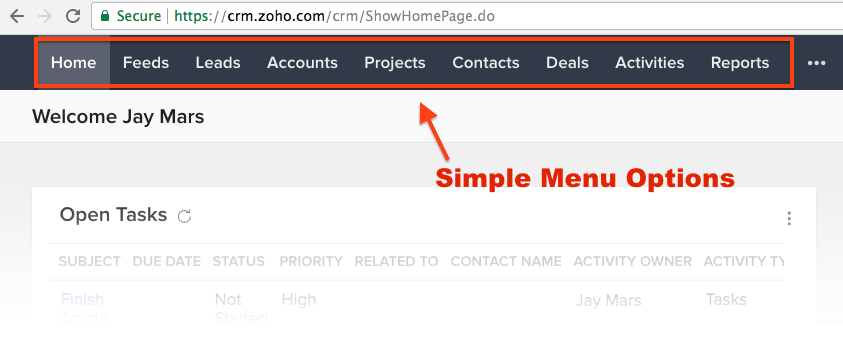 Before we begin setting up the system, however, try clicking some of the menu bars at the top to get familiar with the Zoho layout. For instance, Leads or Accounts. These are known as modules, and they're places where you store different types of data and access different system features.
Try clicking on Contacts, then fill-out and save a new contact. Next, head on over to Potentials, which is where you track sales opportunities. Try filling-out and saving one of these too. Once you start to feel familiar, move to Step 2 and we'll show you how to get your data into Zoho.
Step 2: Getting Your Data into Zoho
If you tried adding a contact at the previous stage, you've already learned the manual way to do this. However, if you have a large volume of contacts, there's a much quicker way to import all of your contacts in bulk.
This can be done in two ways:
1. Migrating Your Data From Another CRM
If you've used a CRM before and want to transfer your data from the old system, click on the Getting Started tab on the right hand edge of your screen and then click Migrate Data From Other CRM, which provides a simple process for you to follow.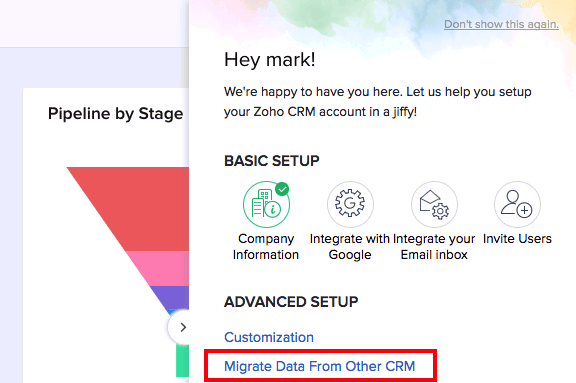 2. Importing Your Data from a Spreadsheet
If you want to import your leads via spreadsheet, which you have exported from your old CRM system, just click on Other CRM.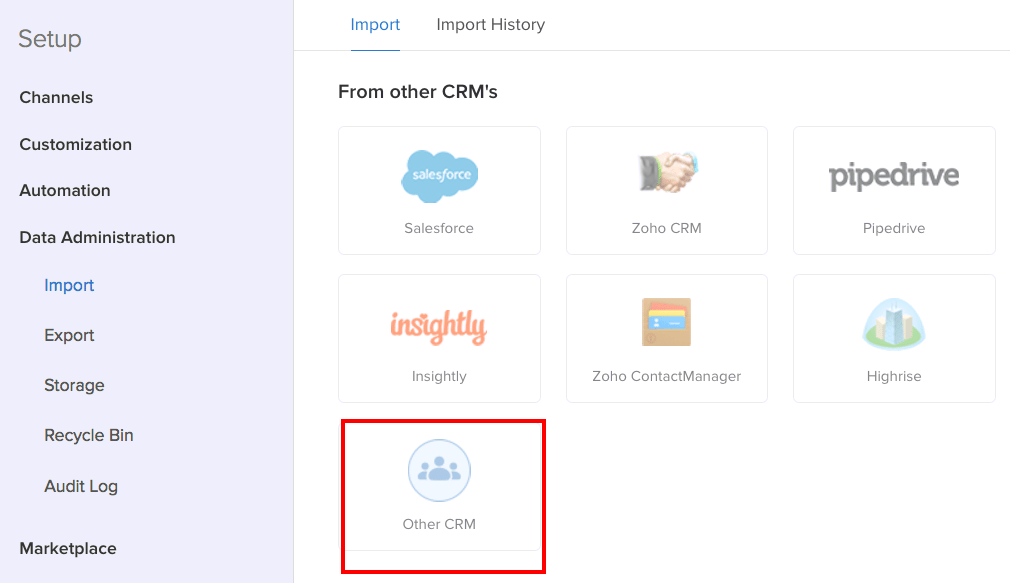 Zoho will ask you to upload a spreadsheet file in one of the following formats – XLS, XLSX, CSV or VCF. Then, follow the same process to upload your Contacts, Accounts and Activities too.
If you don't have a spreadsheet containing your exported contacts from your old CRM, you can export them to a spreadsheet from other software. Here's some simple instructions you can follow to export contacts from Gmail, Outlook, LinkedIn or MailChimp.
Exporting Contacts to Your CRM
| | |
| --- | --- |
| Gmail | Click Mail in the upper left corner of your inbox. Then select Contacts, More and Export. For more detailed instructions on how to do this, click here. |
| Outlook 2010 | Select File, Open & Export. Then hover to Import/Export and select Export to a file. For more detailed instructions on how to do this, click here. |
| LinkedIn | Simply follow this link and click Export. |
| MailChimp | Head to Lists, choose the list you want to work with, then select Export List. For more detailed instructions on how to do this, click here. |
If you use a different program, you may still be able to export contacts as a spreadsheet. Google Search with the term "[Insert your program name] Export to CSV." If your program allows you to do this, you should find instructions in the search returns page.
Once you have your contacts saved as an MS Excel, CSV or VCF spreadsheet, head back into Zoho and upload the file.
During the next step, Zoho will ask you to confirm the name of each different type of data field in your spreadsheet. For instance, it may change Email Address to read Work Email or Company to read Account Name. Open up your spreadsheet and confirm that each column matches with the correct data field in Zoho.
If everything looks good, go ahead and start importing your data. However, many businesses store unique data relating to their contacts, for instance you might want to know whether your contact plays golf or not, or remember their birthday. When Zoho does not have a data field to correspond with one of your unique data fields, you can create your own custom field to accommodate this.
If you need to add custom fields, complete Step 3 first and then return to complete Step 2 after you have done this.
Step 3: Personalizing Zoho with Custom Fields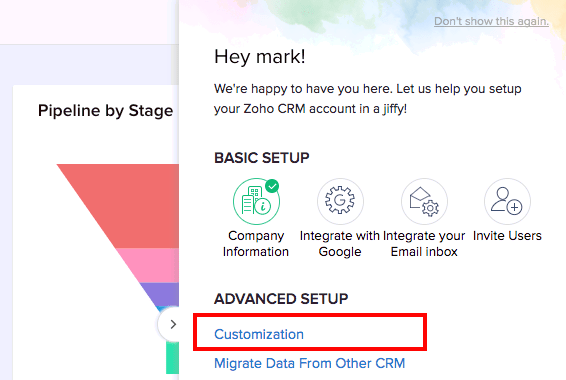 Head back to the homepage of Zoho and click on the Getting Started tab on the right hand edge of your screen again and then click Customisation. This will bring you to a special menu where you can personalize the layout of the CRM.
To start, let's click on Contacts. This brings us to a page where we can customize how contact pages appear: You can drag and drop to reposition fields, or click the Wastebin icon to remove them.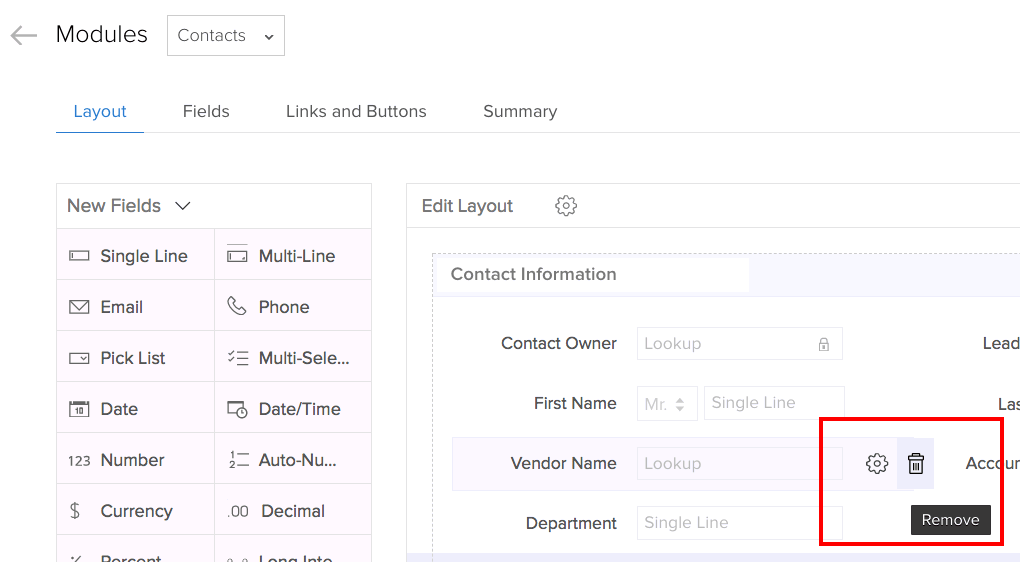 By default, Zoho has a huge number of data fields, including miscellaneous ones like Skype ID, Fax, Assistant Phone number, etc. To keep things more manageable, you may consider removing some of these. This will make things easier to navigate when you and your team start using the system in earnest.
Now you need to add any custom data fields that you require and that Zoho has not provided. To do this, simply click an option on the left under New Fields and drag it over to the other contact fields. If you are using the free version of Zoho, you will not be able to add custom fields as this only becomes available with the Standard Edition, which costs $12/month per user.
Step 4: Setting Up Sales Opportunities
Once you're happy with your contact pages, click on the Deals tab at the top of the screen.

Deals is where you track your sales opportunities in Zoho. Click Create New Deal and you'll see options to input a sales value, expected close date, account name, contact name and more.
The beauty to using a CRM is how pages like this are linked. Deals are always linked to an Account, and vice versa. In other words, you can immediately find which decisions makers are associated with each sale.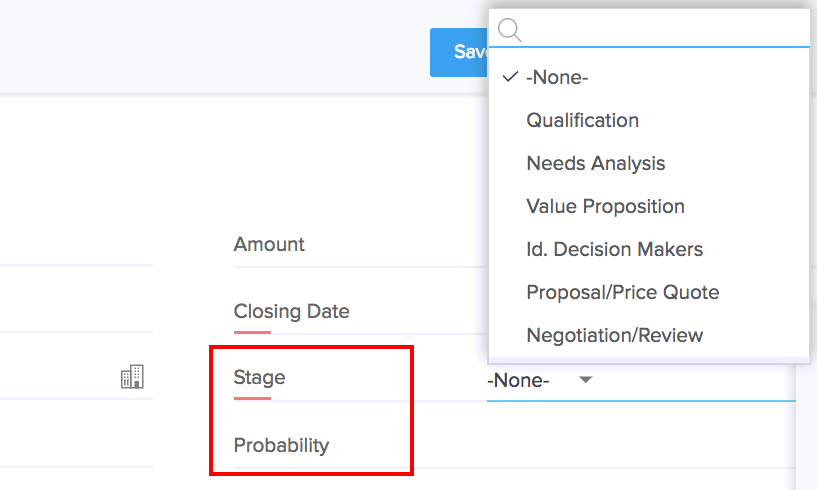 In the right hand column, you'll notice a field called Stage and another called Probability. Adjusting the stage of the sale automatically changes the probability of winning. This is because the probability of successfully closing the deal increases as the sale progresses from stage to stage. To learn more about how to define your own sales stages I recommend reading our guide which covers how to create your own sales funnel.
Step 5: Customizing Your Sales Stages
Zoho comes with a generic list of sales stages (Qualification, Needs Analysis, etc.) Since your business has your own unique sales process, however, you can customize these stages to your own liking. To do this, click on the Getting Started tab on the right hand edge of your screen and then click Customization and Deals which provides a simple process for you to follow.

Next to the Stage field, click on the gear icon and choose Stage-Probability Mapping. From there, you'll reach a menu where you can enter your own sales stages. For each stage, you can also adjust the probability of winning.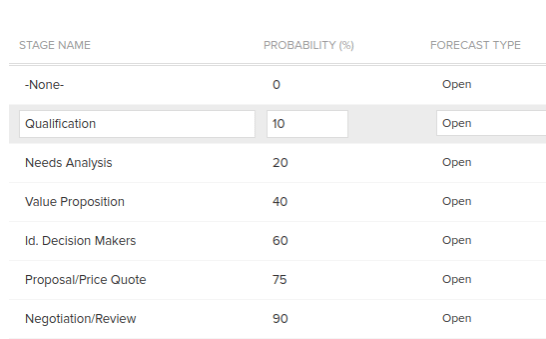 Once you have your own stages and probabilities saved, you'll be able to start tracking your sales. As you start to use the system, you'll also start to benefit from the sales analytics reports that Zoho generates automatically.
Bottom Line on Zoho CRM
After importing contacts and setting up deals, you're ready to introduce Zoho to the rest of your team. To learn more about advanced Zoho features like automated emails, tasks, and the mobile app, check out our full Zoho review.