Zoho CRM is one of many free online business programs offered by the Zoho company. This guide explains how to use Zoho CRM, including the benefits of setting it up for your business.
What is a CRM?
A CRM is an advanced contact book and task manager. It's a tool that organizes all of your contacts (be they leads, customers, vendors, etc.) AND lets you schedule appointments, track the progress of your sales, generate reports, and much more.
Before they adopt a CRM, many businesses keep this information spread across multiple address books and calendars. A major benefit to using a CRM is having everything centralized in one place. When a call comes in, for example, you can look up their name and immediately find all data associated with them.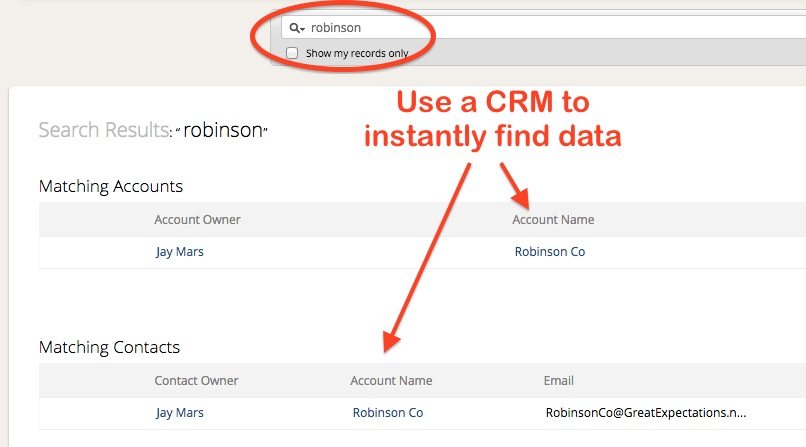 How is a CRM Used?
To break it down further, here's the advantages businesses find by using a CRM: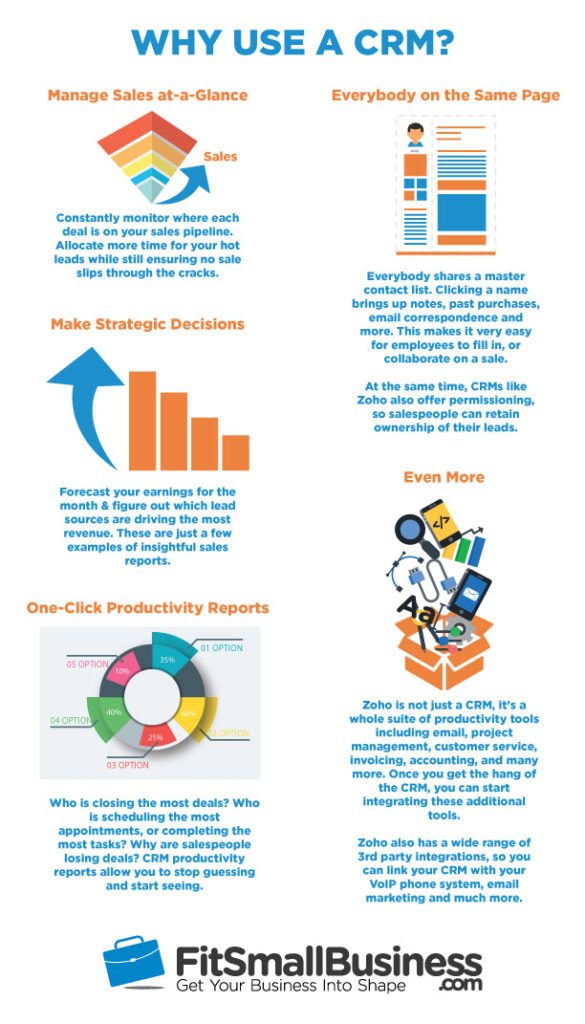 Everybody on the Same Page – Everybody shares a master contact list. Clicking a name brings up notes, past purchases, email correspondence and more. This makes it very easy for employees to fill in, or collaborate on a sale. At the same time, CRMs like Zoho also offer permissioning, so salespeople can retain ownership of their leads.
Manage Sales at-a-Glance

– Constantly monitor where each deal is on your sales pipeline. Allocate more time for your hot leads while still ensuring no sale slips through the cracks.
Make Strategic Decisions

– Forecast your earnings for the month & figure out which lead sources are driving the most revenue. These are just a few examples of insightful sales reports.
One-click Productivity Reports

–

Who is closing the most deals? Who is scheduling the most appointments, or completing the most tasks? Why are salespeople losing deals?

CRM productivity reports allow you to stop guessing and start seeing.
Even More – Zoho is not just a CRM, it's a whole suite of productivity tools including email, project management, customer service, invoicing, accounting, and many more. Once you get the hang of the CRM, you can start integrating these additional tools. Zoho also has a wide range of 3rd party integrations, so you can link your CRM with your VoIP phone system, email marketing and much more.
How to Use Zoho CRM
Zoho CRM is one of Zoho's many free business products. You can follow this link to sign up free. Or, if you have a Zoho email account already, you can login here using the same credentials.
Getting Familiar with the Layout
The first step in learning how to use Zoho is to familiarize yourself with the layout. When you login to Zoho for the first time, you'll reach a setup screen. The primary steps are to add your data (such as contacts and leads) and then customize the system with your own data fields.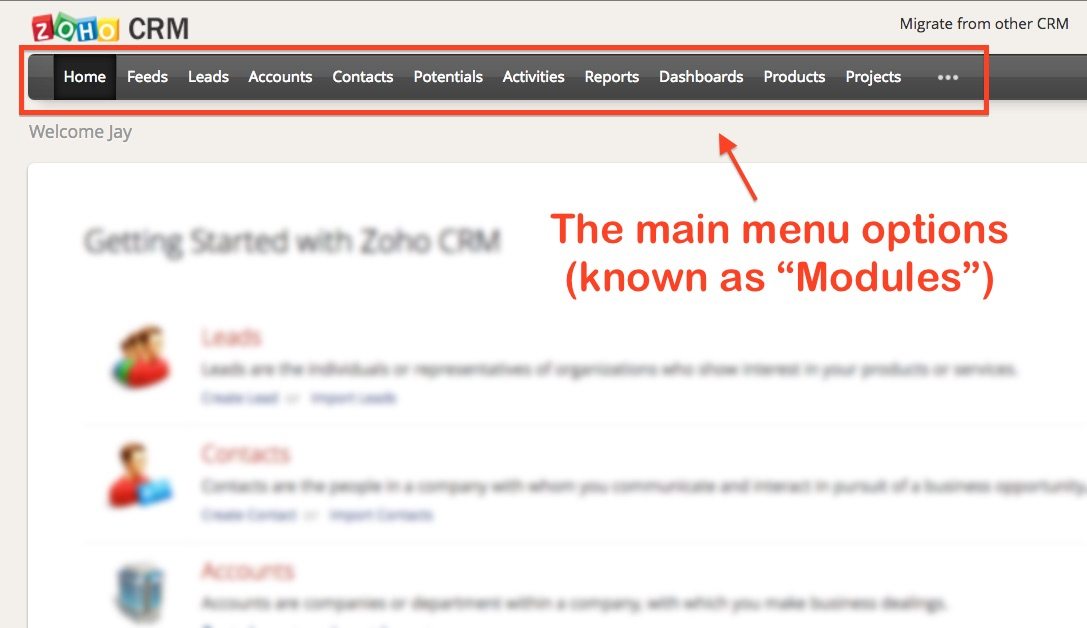 For now, however, just ignore the setup menu. To get familiar with the Zoho layout, try clicking some of the menu bars at the top (i.e. "Leads" or "Accounts.") These are known as modules, and they're places where you store different types of data and/or access different features.
In particular, click "Contacts" and try saving a new contact. Next, head on over to "Potentials," which is where you track pending sales, and also try saving one. We'll explain more about these modules and how to set them up throughout the rest of the article.
How to Get Your Data Into Zoho
Once you're familiar with the system, the next step is to start adding your own data. If you tried adding a contact, you've already learned the manually way of doing it. Fortunately, there's a much faster way that allows you to import contacts en masse.
First, click "Home" to head back to the setup menu. If you've used a CRM before and want to transfer your data from the old system, scroll to the very bottom and click "Migration Tool." Otherwise, we'll show you how to upload contacts from your email inbox, marketing software, LinkedIn or other program.
How to Import Contacts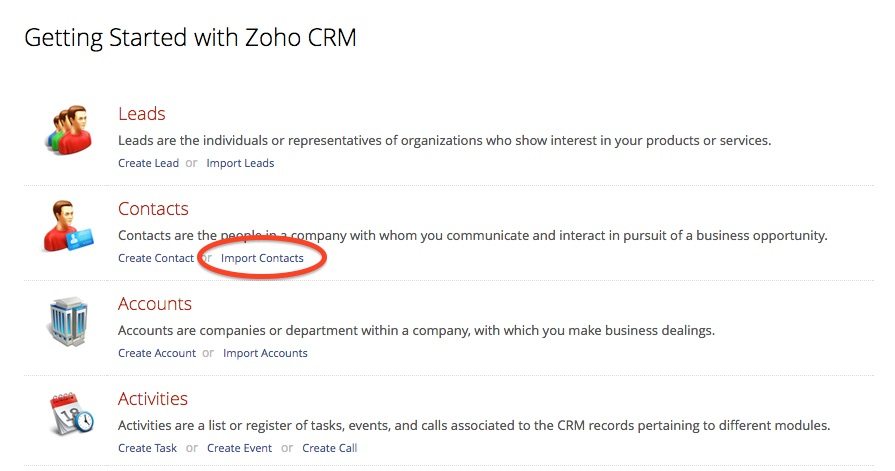 The first step is to click "Import Contacts" below "Contacts" homepage. Right away, you'll see Zoho ask you to upload a spreadsheet file (XLS, XLSX, CSV or VCF). This is the type of file Zoho needs in order to receive data.
BUT WAIT, I don't have a spreadsheet file with my contacts…

Fear not. Whether you want to add contacts from Gmail, Outlook, LinkedIn or Mailchimp, all of these programs allow you to export your contacts as a spreadsheet file. Here's how:
How to Export Contacts as a Spreadsheet
| | |
| --- | --- |
| Gmail | Click "Mail" in the upper left corner of your inbox. Then select "Contacts" > "More" and "Export…" (more instructions here) |
| Outlook 2010 | Select "File" > "Open & Export." Then hover to "Import/Export" and select "Export to a file." (see more here) |
| LinkedIn | Simply follow this link and click "export." |
| Mailchimp | Head to "lists," choose the list you want to work with, then select "Export List" (See more here) |
If you use a different program than one of these 4, you can likely still export contacts as a spreadsheet. Just search "[Your program name] Export to CSV." If the program allows you to do this, you should find instructions.
Adding Contacts to Zoho CRM
Once you have your contacts saved in an Excel, CSV or VCF spreadsheet, head back into Zoho and upload the file.
During the next step, Zoho will confirm what each data column in your spreadsheet should correlate to in the CRM (i.e. email address to "work email," company to "account name.") Open up your spreadsheet and confirm that each column matches with the data field in Zoho.
Now, many businesses save unique data about their contacts – such as a customer's product preference, website, service history, etc. If Zoho does not have a data field to correspond with one of your columns, fear not. You have 2 options:
You can add miscellaneous data under the "description" field

With a paid account, you can create your own custom data fields. We'll show you how to do this in the next step. Note, however, this feature is not available to free users.
If everything looks good, go ahead and start importing. Otherwise, if you need to add custom fields, put the import on hold for now.
How to Personalize Zoho with Custom Fields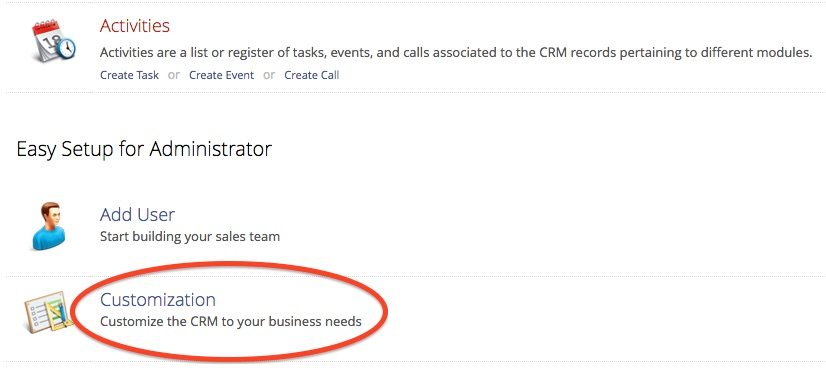 Head back to the homepage of Zoho and click "Customization." This will bring you to a special menu where you can personalize the layout of the CRM, among other options.
To start, let's click on "Contacts." This brings us to a page where we can customize how contact pages appear: You can drag and drop to reposition fields, or click the wastebin icon to remove them.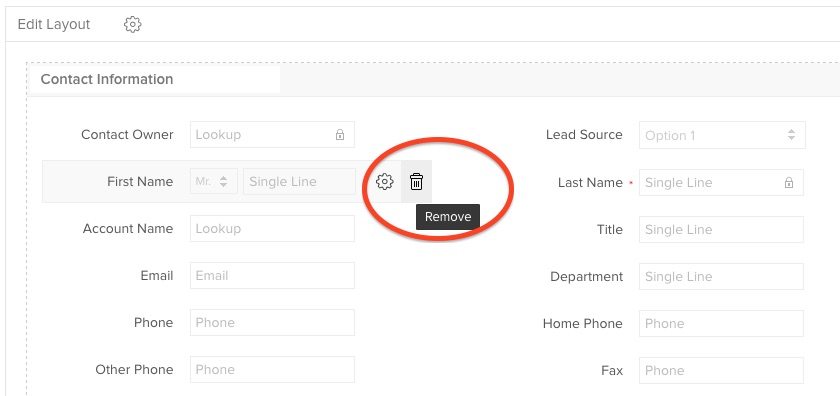 By default, Zoho has a huge number of data fields, including miscellaneous ones like Skype ID, Fax, Assistant Phone #, etc. To keep things more manageable, you may consider removing some of these. This will make things easier when you and your employees start adding contacts – they won't be bombarded with so many options.
Adding Custom Fields
Now, the next step is add any data fields you need that are not already represented. To do this, simply click an option on the left (under "New Fields") and drag it over to the other contact fields.
Note: Using a free version of Zoho CRM, you will not be able to add any custom fields. This becomes available with the Standard Edition ($12/mo).
How to Setup Potentials
Once you're happy with your contact pages, click on the "Potentials" tab at the top of the screen.

Potentials is where you track your pending sales. Clicking "Create New Potential" you'll see options to input a sales value, expected close date, account name, contact name and more.
The beauty to using a CRM is how pages like this are linked: Potentials are always linked to an Account, and vice versa. In other words, you can immediately find which decisions makers are associated with each sale.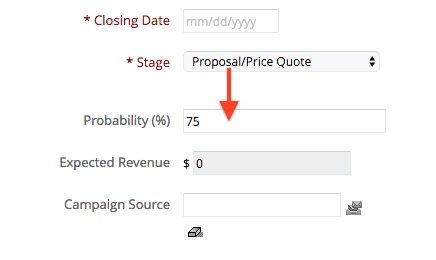 In the right column, you'll notice a field called "Stage" and another called  "Probability." Adjusting the stage of the sale automatically changes the probability of winning – it increases as the sale reaches it's final stages.
This tool gives you 2 key benefits:
You can constantly track how far your deals are along the pipeline. Using filter views, you can find just those that are near closing, or just those that need a scheduled demo.

By estimating the probability of winning at each stage, you can easily forecast your earnings.
How to Customize Sales Stages
Zoho comes with a generic list of sales stages (Qualification, Needs Analysis, etc.) Since your business has your own unique sales process, however, you can customize these stages to your own liking.

To do this, click "setup" in the upper right hand corner. Then choose "Customization" and select "Potentials."

Next to the "Stage" field, click on the gear icon and choose "Stage-Probability Mapping." From there, you'll reach a menu where you can enter your own sales stages. For each stage, you can also adjust the probability of winning.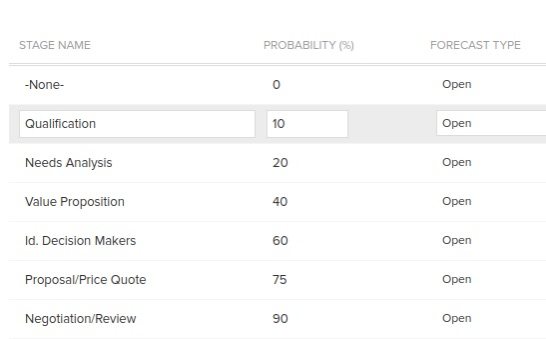 Once you have your own stages and probabilities saved, you'll be able to start tracking your sales. In addition to many other benefits, like earnings forecast and productivity reports, you can view the progress of all your sales at-a-glance on the "Potentials" module.
The Bottom Line
After importing contacts and setting up potentials, you'll be well on your way to a successful CRM launch. To learn more about advanced Zoho features like automation, mass emails and mobile tools, check out our full Zoho review.