How to Use Zoho CRM in 7 Easy Steps
This article is part of a larger series on CRM.
Zoho CRM is a customer relationship management (CRM) platform that allows businesses of all sizes to manage their sales, marketing, customer support, and inventory from a single system. To start using the platform, create a verified account, configure your settings, and import your data. Then, you need to integrate third-party apps, create workflows, and add users.
Read and follow these seven steps on how to use Zoho CRM:
1. Set Up a Zoho CRM Account
Start by going to Zoho CRM's website to either create a new account or to sign in if you already have one. To sign up, you only need to enter your full name, work email, password, and phone number, then click on the Get Started button.
After submitting your details, you will receive a confirmation email and will be asked to verify your account so that you can access Zoho CRM and see the welcome screen.
You can start with a 15-day free trial of the Enterprise edition, and then you can either upgrade to any of the paid accounts or scale down to the free plan when it expires. Choose a plan that's a good fit for your business size, allotted budget, and CRM needs.
Zoho CRM's pricing at a glance*
Free: Supports up to three users
Bigin: $7 per user, per month
Standard: $14 per user, per month
Professional: $23 per user, per month
Enterprise: $40 per user, per month
Ultimate: $52 per user, per month
Plus: Starts at $57 per user, per month
Free trial: 15 days
*Based on annual billing. Monthly pricing is available at slightly higher rates.
2. Configure Your Settings
The next step is to configure Zoho CRM to meet your business needs. Set up the custom fields, deal and pipeline stages, scoring rules, reporting, and other modules within the platform. Click on the setup icon in the upper right corner to access all the tools you need. Use the drop-down menu below to jump to the step-by-step instructions on the customization of each element.
Customize Modules & Fields
When you click on the Modules and Fields link under the Customization option, you will see options to modify the layout, name, fields, and permission under Leads, Contacts, Accounts, Deals, and other modules.
Clicking on Tab Groups allows you to set the tabs that are visible for each user's permission. The Web Tabs option, on the other hand, lets you open web pages or apps from within Zoho CRM.
Wizards
Wizards help you break down long layouts into a screen-by-screen form so you can enter data on each screen in a systematic sequence. This helps reduce the chance of erroneous data entry because it enables you to save a partially completed form as a draft before submitting it. You can create Wizards for leads, contacts, accounts, and deals, and even choose layouts for them.
Pipelines
Zoho CRM creates standard pipelines associated with sales opportunities in the Deals module. However, you can rename and customize pipelines depending on your sales process and business needs. When you create a new pipeline, simply select the stages that need to be included and click Save. Use these pipelines to monitor the progress of each deal and the probability of winning an opportunity.
Templates
Zoho CRM has a template gallery for email, inventory, and mail merge. You can also create and modify templates for purchase orders, sales orders, invoices, and quotes. Once you find the template that you need, click on the pencil icon in the upper right corner to edit it. You can change the print layout, fields, and position of the company logo. Save the changes when you're done editing.
Customize Home Page
When you click on the New Home Page button from the Customize Home Page panel, you can choose the elements that appear on the dashboard of each user role. Choose a name for the homepage and check off the components you want to be included in the dashboard. Once you save the changes, you can share this home page with multiple roles and it will be their default view each time they log in to Zoho CRM.
Lead Scoring
Zoho CRM helps you quickly qualify leads to ensure that you pursue the ones that are worth your time and effort. The lead scoring functionality lets you assign values based on a lead's characteristics and activities to determine the probability of converting that lead into a customer. Click on the Scoring Rules link under the Automation panel to access lead scoring options.
For example, you can choose to add or subtract points based on a lead's annual revenue or location. You can also add scoring rules based on any contact field variable or email activity. Under the Email Insights section, you can assign points based on email opens, clicks, and bounces.
Reporting
Zoho CRM allows you to edit existing reports or create new reports and dashboards based on your sales process. Clicking on the Reports tab gives you access to all available reports. To filter which reports you want to appear on your dashboard, click the folder names listed on the left side. You can also generate a new report by clicking on the blue "Create Report" button in the top right corner.
When creating a new report, Zoho CRM will prompt you to choose how you want the data to be presented and which filters you want to apply. Click the "Run" button on the upper right corner to automatically update a report based on your selected conditions. You can also save, share, or keep the reports private.
3. Import Your Data Into Zoho
To start importing data from other CRMs, find the "Import" link under the Data Administration panel and select CRM software from the given options. Once you click on the software, you will be prompted to select the files that you want to export from your old CRM. Zoho CRM will walk you through the process of data import and format checking.
4. Get Familiar With Zoho CRM's Layout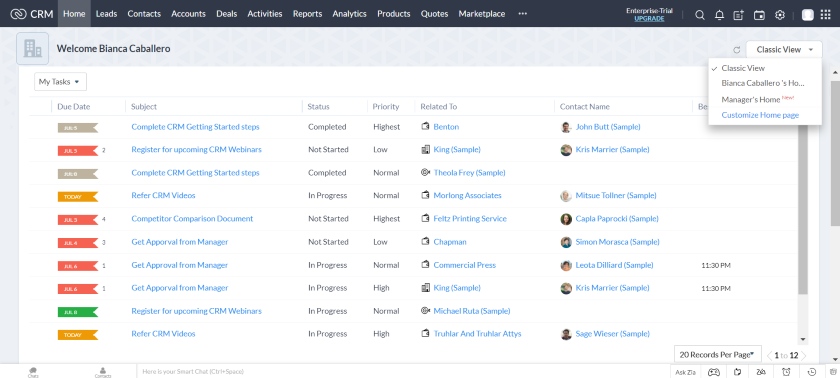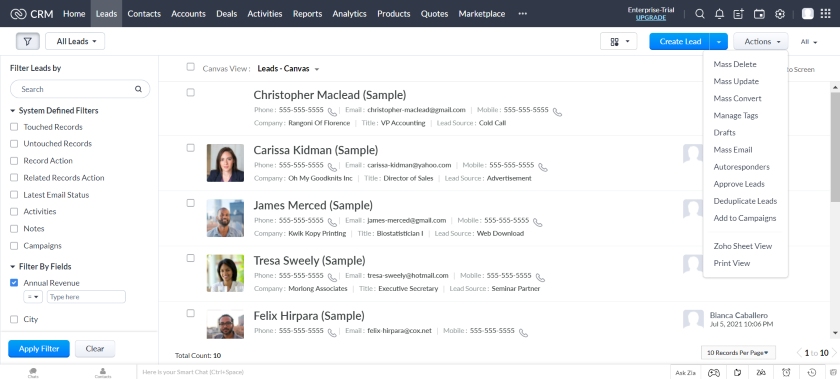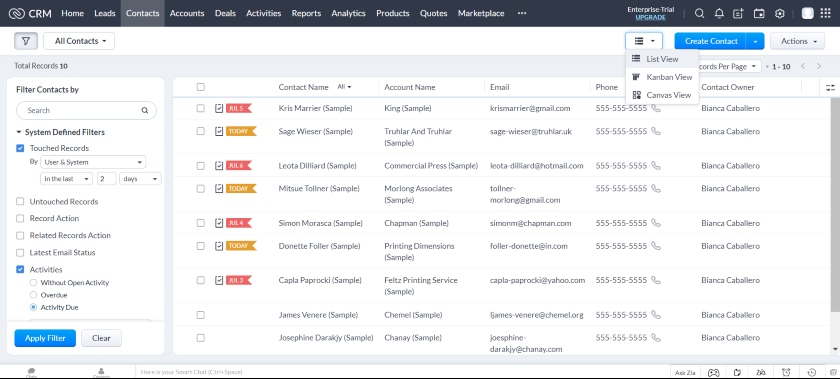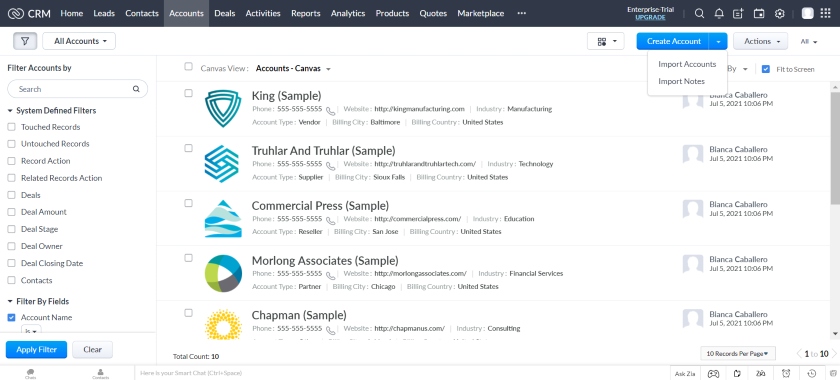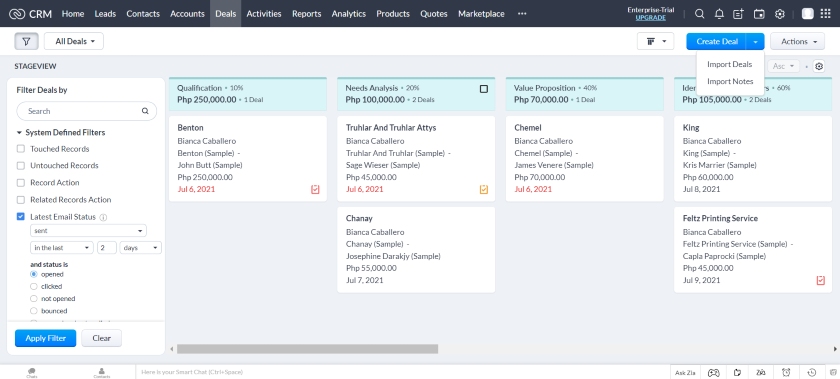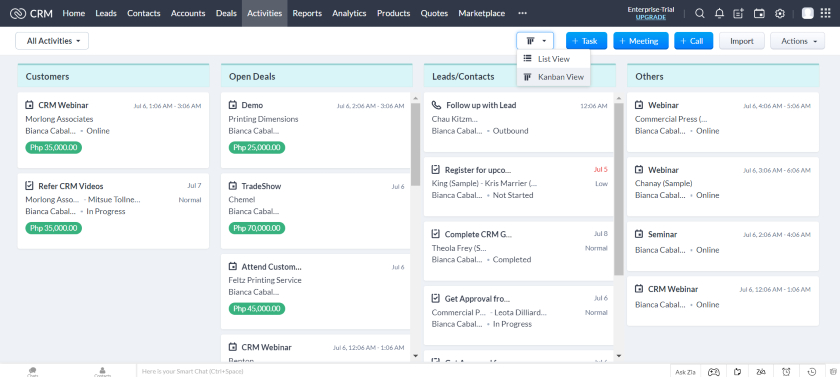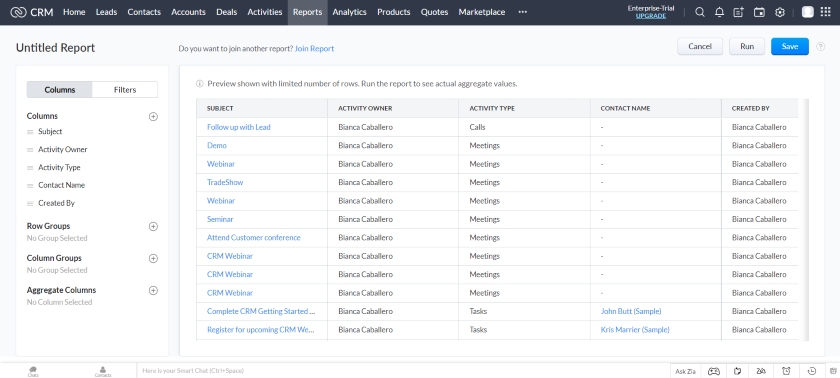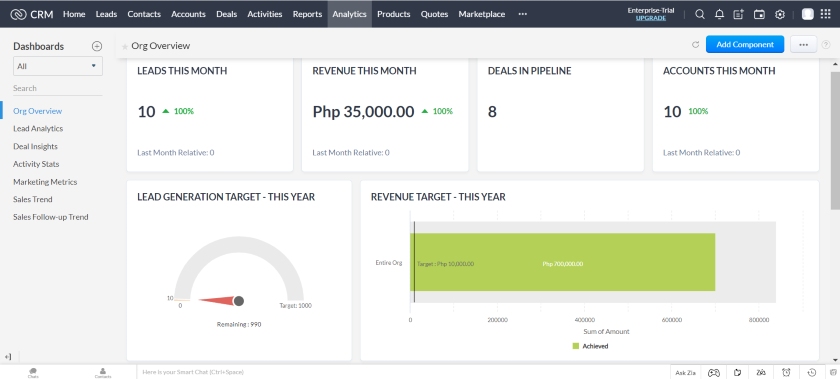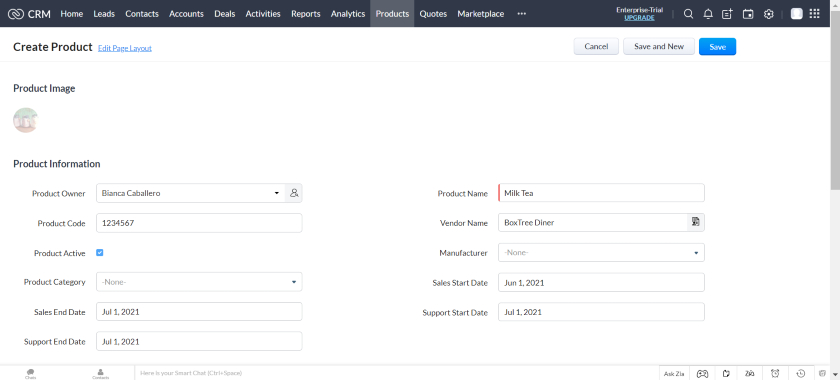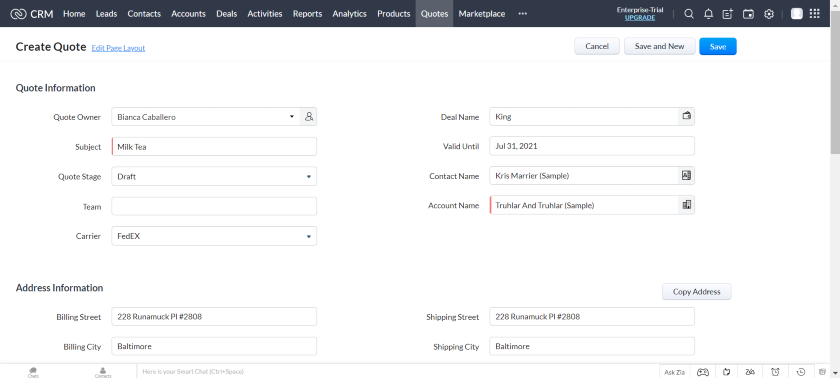 After configuring your CRM settings and importing your data, the next step is to familiarize yourself with the modules that you will be using regularly. These include Leads, Contacts, Accounts, Deals, Activities, Reports, Analytics, Products, and Quotes. You can find these modules at the navigation bar at the top. You can also easily navigate between them with a single click.
5. Integrate Third-party & Marketplace Tools
You can extend the capabilities and functionalities of Zoho CRM by integrating it with third-party apps and tools. Its integration Marketplace offers a robust library of compatible apps for a variety of categories, including marketing, customer service, sales, business, collaboration, telephony, analytics, and inventory. You can also find information, customer reviews, and ratings of these integrations.
To start an integration, click on a third-party app from the Marketplace. You will be routed to a page that contains a summary of the benefits and key features of that particular integration, as well as a link to an article on how to go about the process. Follow the instructions in the "Getting Started" article.
6. Create Workflows
Workflows are steps and tasks you want to execute based on the creation of a lead or deal. Creating automated workflows saves you time and effort on repetitive tasks. For example, you can set up a workflow that sends a follow-up email each time a new deal stage is reached. You can do this for leads, deals, and tasks.
To create an automated workflow, click on the "Workflow Rules" link under the Automation panel. You can either choose an existing rule or create a new one. Once you click on the "Create Rule" button, select your desired module from the drop-down and give it a name before moving on to the next step. Select the actions that you want the workflow to take and click "Save" when you're done.
7. Add Users
Once you have configured your Zoho CRM account, the final step is to add new sales team members to your list of users. Find the "Users" link under the Users and Control panel and click on the blue "New User" button. Fill up the necessary fields and click "Save."
New users will receive an email inviting them to complete their account setup so they can access your sales organization from the CRM.
Zoho CRM Alternatives
| | | |
| --- | --- | --- |
| Best for: Teams that are looking for a free CRM with chat and email marketing features | Best for: Companies looking for an easy-to-use CRM with a built-in phone system | Best for: Organizations wanting a CRM with visual sales pipeline tools |
| Starting price: Free or $45 per month | Starting price: Free or $19 per user, per month | Starting price: $12.50 per user, per month |
| | | |
You can also check out our 6 Best Free CRM Software article to discover more free CRM options that best fit your business needs.
Bottom Line
Zoho CRM is a comprehensive CRM solution that is easy to learn and use despite its robust features, which include lead and deal management, social media integration, and automated workflows. It has a free option and affordable paid plans. Find out if Zoho CRM is the right platform for your business by taking advantage of its free 15-day trial.