What Is a CRM Campaign? Top Features & Benefits + Examples
This article is part of a larger series on CRM.
A customer relationship management (CRM) campaign is the use of technology to launch email, telesales, or social media marketing initiatives. With the help of CRM software, you can monitor each channel's marketing campaigns from a single platform and determine which initiatives yield the best results for your business. You can also track the needs, preferences, and engagement of your leads and customers and use that data to launch targeted messaging.
In this article, we looked at the benefits of using a CRM system for marketing campaigns and what features to look for when choosing a provider. We also enumerated a few examples of CRM campaigns that can drive leads and revenue for your business.
The Role of CRM in Marketing Campaigns
The umbrella term "CRM" can refer to any strategy or process organizations and businesses use to manage or improve customer relationships. Most businesses utilize CRM software to manage this process. It's a tool or technology that serves as a centralized platform for sales, marketing, and service teams to store and manage customer data and communication history.
A modern CRM system is equipped with massive data storage and artificial intelligence (AI) capabilities, making it a versatile tool for marketers. It stores customer and contact information, and has features like automated workflows and custom fields useful in marketing campaigns facilitated via email, content, and social media. You can also use it to measure marketing metrics, such as expected revenue, conversion rates, and return on investment (ROI).
Ready to create your own CRM strategy? Follow our step-by-step tips and download our free strategy worksheet.
Top Features & Benefits of CRM Campaigns
Each CRM provider offers a different set of features and functionalities. It is a good idea for marketers to choose a CRM with excellent marketing automation and customer data management capabilities. While there are several CRM features helpful in marketing campaigns, we have rounded up the list to the top five most important and explained their benefits below.
1. Campaign Builder
A robust set of campaign management features helps ensure you don't lose track of your marketing process. Ideally, your chosen CRM should provide everything you need to build and manage your campaigns from a centralized platform. You can use this feature set to create automated campaigns for various purposes, including email, social media, and blogs.
Campaign management tools:
Drag-and-drop campaign builder
Campaign sequences
Team collaboration tools (tasks, calendar, and commenting)
Email marketing
Blog posts
Social media marketing
Ads
Online forms
Landing pages
Campaign reports
HubSpot CRM's Marketing Hub offers features for campaign management and audience engagement. You can build and track custom campaigns, including blog posts, social media, online forms, calls to action (CTAs), emails, web pages, and workflows. It also has real-time campaign performance reports and a marketing dashboard. Aside from that, you can assign tasks, mention team members, and view your team's marketing calendar.
If you need tutorials on marketing, you can take advantage of free CRM courses and certifications offered by HubSpot Academy. The topics covered include digital marketing, inbound marketing, how to use the HubSpot Marketing Hub, email marketing, web optimization, digital advertising, and measuring brand engagement. Registered users also have access to HubSpot CRM's free tools for sales, marketing, customer service, and operations.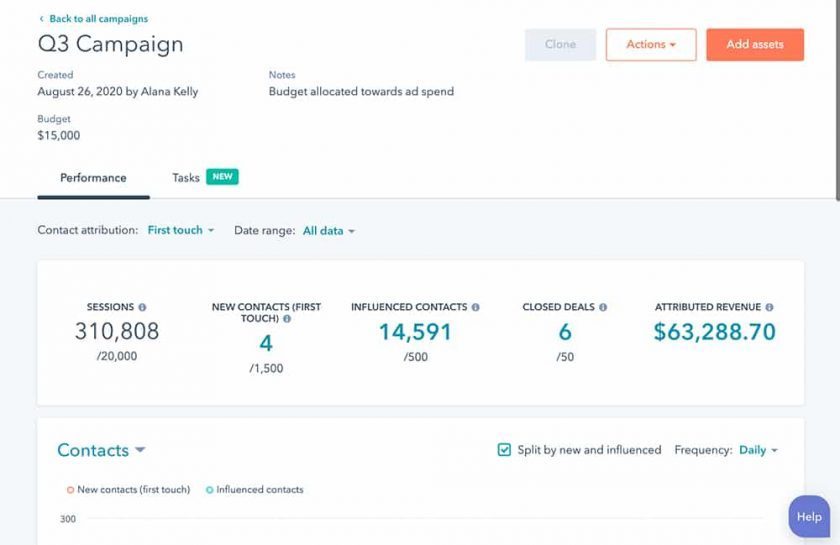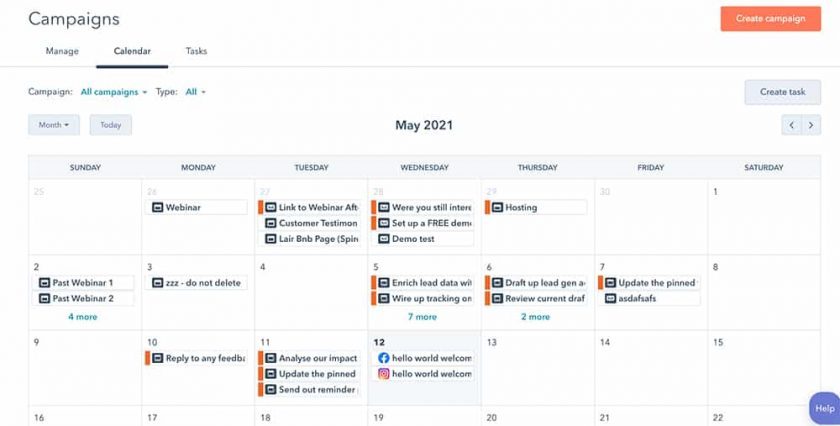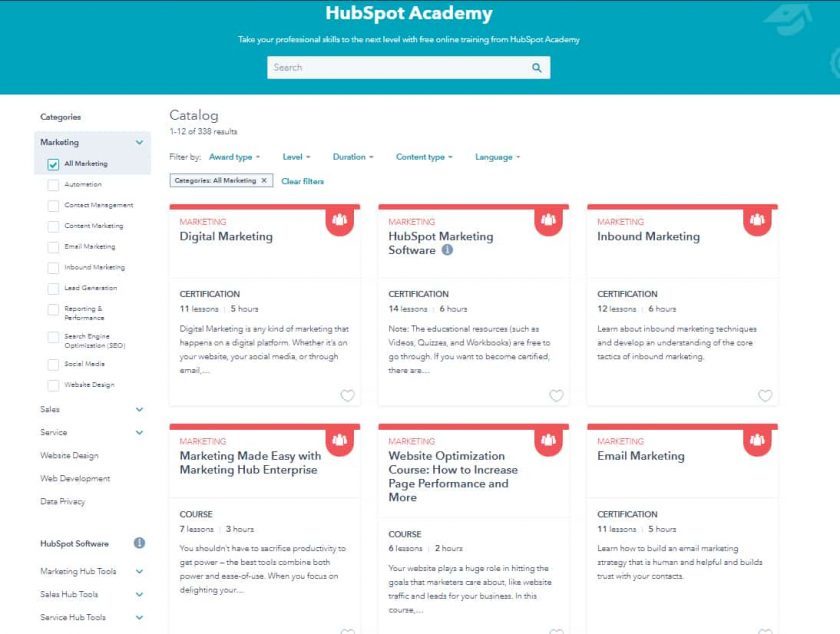 2. Targeting & Segmentation
Customer segmentation is the process of identifying and dividing your target audience into smaller groups that share similar characteristics. You can segment your customers based on variables like demographics (age, gender, marital status, employment, or income), behavioral patterns, geography, or the benefit they receive from your product or service.
Segmentation aims to provide you with in-depth data you can use to personalize your products and services based on your customers' needs and preferences. Once you have a better understanding of what they need, you can create targeted campaigns and tailor your marketing messages according to what suits each segment. This strategy makes your customers feel more valued and helps encourage brand loyalty.
Zoho CRM allows you to segment your customers based on the last time they purchased, their transaction frequency, and the monetary value of each deal. You can set scores for different levels of these three metrics and create labels based on their scores. The system automatically computes the scores and segments the customers under each label. Some predefined labels include Champion, Loyal Customer, Recent Customer, Promising, and Lost Customers.
3. Third-party App Integrations
If you're not using an all-in-one CRM, your software should be able to integrate seamlessly with other sales apps like Pipedrive or Freshsales. This way, there are no gaps between the sales and marketing teams because everyone has access to real-time customer data. Your reps will be able to trace which campaigns your customers responded to, what was their last conversation with your support team, or if they had already purchased your product.
Popular third-party integrations for marketing CRMs:
CRM and sales
Email marketing
Social media
It is also important that your CRM integrates well with email marketing software like Mailchimp. Depending on your business requirements, you might need a basic email sending system or a more comprehensive one. Social media integration is also an integral part of your marketing campaigns as it allows you to automate your posts on platforms like Facebook, Twitter, and LinkedIn. This feature helps you maintain your online presence even when you are busy.
HubSpot CRM is an excellent example of a marketing CRM with a robust set of third-party app integrations. Its Marketplace contains a wide range of apps to sync with. You can integrate it with other CRMs, email marketing, social media, marketing automation, customer service, and finance apps. Some of its free app integrations include Zapier, Mailchimp, Facebook Ads, Facebook Messenger, Hotjar, and Asana.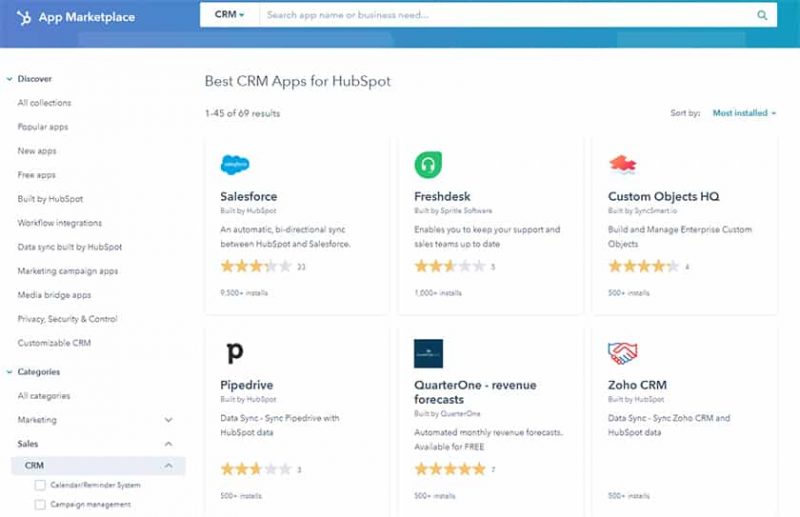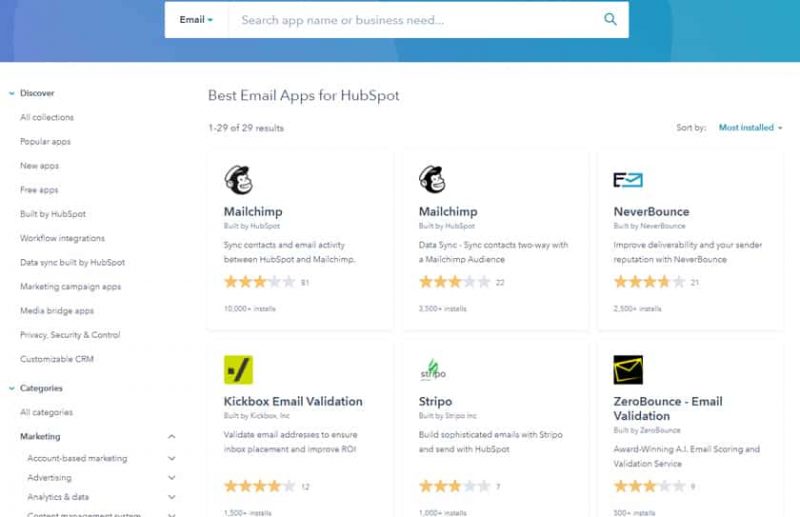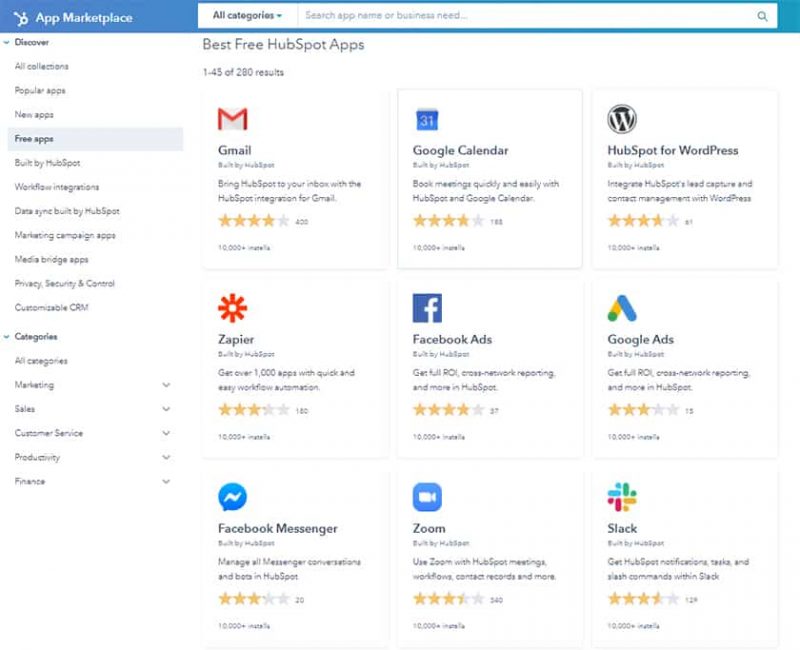 4. Analytics & Reporting
A good marketing CRM has the capability to evaluate the performance and effectiveness of your campaigns. Once you gain insight into your audience's interaction with your marketing efforts, you will be able to adjust your campaigns according to what works. These data will also serve as your guide in making decisions on your future campaigns, marketing budget, and business expansion.
Important campaign metrics:
Campaign revenue
Send, open, click, unsubscribe, and bounce rates
Split test email metrics
Campaign purchases
Customers acquired
Customer referrals
Web page views
Goal completion rate
Time per web visit
Customer lifetime value
Agile CRM is equipped with campaign reporting and analysis features, allowing you to periodically monitor the status of your marketing efforts. It provides metrics such as emails opened, email links clicked, email bounces, unsubscribes, and even spam complaints. You can generate campaign reports with a single click. Aside from that, it gives you actionable insights that can help you improve your subsequent campaigns based on the current results.
5. Mobile App
Businesses with remote or field workers benefit from a reliable mobile marketing CRM. This allows your reps to view and update customer data before a client call, respond to emails, and share social media posts even when they are out of the office. It is also especially useful in time-sensitive marketing campaigns because you can access the app from anywhere.
Important mobile CRM features:
Customer data access
Meeting scheduler
Team collaboration
Campaign management
Customer communication
Salesforce Essentials is an example of a customizable mobile CRM that allows you to manage marketing campaigns on the go. It has separate versions for iOS and Android devices, and has an offline capability. You can also collaborate with your teammates, schedule meetings, close deals, and interact with your customers using the mobile app.
Examples of CRM Campaigns
Prospects and customers have different objectives and actions at every stage of the customer journey. For this reason, each part of the marketing funnel requires a different approach. Let's explore the various marketing strategies you can choose from and the best channel you can use to deliver content to your target audience at each stage of the funnel.
Top of the Funnel
The top of the funnel is the widest because there are a lot of people at the beginning of the stage. At this point of awareness and discovery, your audience has realized a problem. They can now see your product or service as one of their options for a solution. They start to initiate contact with your business in a bid to gather useful information about your product. This is your first chance to grab their attention and try to move them forward to the next stage.
To convince your audience of your product's advantages, provide them with content that piques their interest. You can distribute organic content via ads, social media platforms, cold emails, and pop-ups, as well as your business website's home or blog page.
Here are a few examples of marketing content for the top of the funnel and tips on how to make them appeal to your audience:
Blog posts: Use relevant keywords to create consistent content that your audience is interested in. Include a call to action with the topics that you publish.
Social media posts: Since most people maintain at least one social account, a strong presence on social media platforms helps create an opportunity to connect with them. Make sure your posts emphasize how your product can address their needs.
Landing pages: These pages are great sources of leads because they provide your audience with valuable content in exchange for their personal information.
Infographics: Attractive and colored visuals make it easier for your audience to read your content. Its simplified content also helps deliver your message faster and more effectively.
Videos: Video content—especially those that add a human touch and emotional elements—helps you engage and connect better with your target audience.
---
Middle of the Funnel
The middle part of the marketing funnel is the audience's stage of "Interest and Consideration." During this time, they have acquired relevant knowledge about your product or service by engaging with your content. They are also on the verge of choosing the best provider for their needs, so they are comparing your business with your competitors. Thus, this is the time to give them all the information that they need to learn about your product.
In the second part of the funnel, the best strategy for you is to create content that details the benefits that your audience can gain if they choose your product. You can incorporate this content into nurturing emails, push notifications, chat messages, and your business website's features page:
Case studies: Detailed case studies provide your readers with data-backed insights into your product's benefits, making your content more convincing and reliable.
Webinars: Since your audience is sales-ready, use webinars to help them get to know your product at a deeper level and establish trust with them. You can also include your brand and its specific offerings or technical details.
Podcasts: This type of content allows your audience to easily digest your product information even when they are doing other things. It is a great way to reach more people and share useful and more detailed information about your business.
Whitepapers: These guides provide your audience with in-depth information about a specific topic that they are interested in. Make sure you incorporate a lot of details on what your product can do for them.
E-books: While blogs and social media posts provide you with limited space for information, e-books allow you to share a vast amount of details about your business. They are also a great way to generate leads since people need to give you their personal details to receive this type of authoritative content.
FAQs (frequently asked questions) section: Giving direct and detailed answers to your audience's most common questions helps move them forward to the next stage of the funnel. Once their concerns are addressed, they become more likely to convert.
---
Bottom of the Funnel
People at the bottom of the funnel are at the "Decision and Purchase" stage, where they are just a step away from deciding to buy. Here, your audience is considering their budget and the specific solution to address their pain point. Even though they are comparing you with other providers, remember they already understand the value of your product.
To help your audience transition toward conversion, focus on making your product more attractive to them. Use these sample content or incorporate these strategies into your client calls, nurturing emails, web push notifications, and your business website's pricing page:
Comparative analysis: This study highlights your advantages over your competitors, conveying that you are the best option.
Post-sale services: Customers take note of the quality of service you offer to them after you make a purchase. To score additional points over your competitors, make sure you address important post-sale issues like payment options, delivery schedules, customer support, product installation, and refund policies.
Demo or free trial: A free demo or trial period is an excellent way to let your prospect experience firsthand what it's like to use your product or service. It can also help clear their doubts about certain features.
Product testimonials: Make sure that you ask your clients for honest and fair feedback about your business. Successful testimonials about your product help you gain the trust of your target audience since they are already engaging with your content.
Promos and discounts: You can offer one-time promos and discounts to make your product or service irresistible to your prospects. A price slash or free shipping promo for the initial purchase can help you close a deal.
---
Bottom Line
There are a variety of ways that businesses can leverage CRM software for marketing campaigns. The key points for CRM campaigns include gathering as much customer data as possible and using the stored information to tailor your marketing efforts according to the needs of your target audience. Choosing the right CRM provider is also a main driving factor in the success and expansion of your business.
You May Also Like…