A customer relationship management (CRM) campaign is a project, initiative, or series of activities designed to build and nurture a customer relationship managed within a CRM system. It includes developing and deploying emails, short message service (SMS) messages, social media, promotional, and online advertising campaigns. Direct sales activities, like cold or warm call outreach, are also CRM campaigns if they are managed in a CRM platform.
Gain a robust understanding of CRM systems by downloading our CRM e-book. In this in-depth technology guide, explore insights into the value of CRMs, the features they offer, and how to select the right provider for your small business. You'll even learn how to create a CRM strategy and properly implement a CRM into your operations.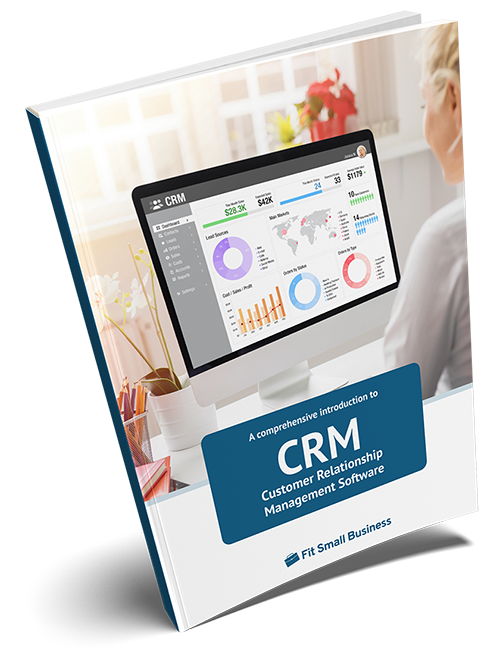 The Expert's Guide to Customer Relationship Management
Small Business Use Cases + Pro Tips
4 Most Useful CRM Campaign Features
CRM platforms have capabilities that help in all areas of a developing CRM campaign. These include content development, audience selection and targeting, workflow automation, campaign deployment and execution, and performance reporting. Here are the four most beneficial CRM campaign features to manage sales and marketing initiatives for brand awareness, lead generation, nurturing, and conversion.
Campaign building features allow you to create a CRM marketing campaign wherein users develop content such as blogs, emails, ads, landing pages, webforms, and social media posts. Teams can distribute content by publishing it on a website or social media page or sending it out via email or text. Teams can use campaign sequence builders to automate content deployment, redeployment, and customer journeys.
Pro tip: A CRM for marketing like HubSpot lets you custom-select content, audiences, and deployment date. You can also configure rules for when additional emails are sent based on opens, clicks, and other recipient behaviors. Read our expert HubSpot CRM review to learn how to use this platform to nurture leads through automated email campaigns.
Aside from the automation builder, HubSpot is also excellent for CRM marketing campaigns with content, website, and social media management. Teams can write and publish blogs or social media posts, manage editorial or social media calendars, and create online advertisements—all from the campaign CRM. There are even options to develop online webforms and landing pages and manage your entire website.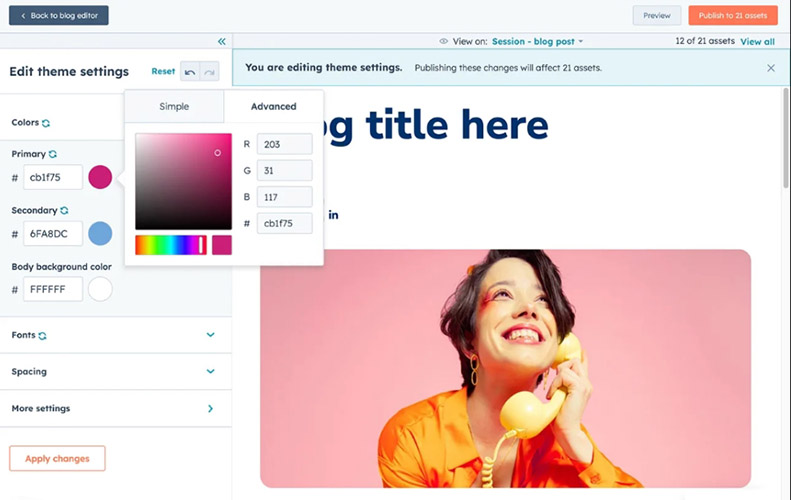 ---
---
Pro tip: Read our guide to the best social CRM software to see several options that you can use to track your social engagements and generate leads from social media. Take our quiz in the same article to get a personalized product match.
---
Audience management is the next essential component besides the content and channel side of CRM campaigns. Users need to segment their leads so they can target them with appropriate content and channels based on circumstances, e.g., where they are in the sales funnel, and customer attributes such as demographics or organization size and industry.
Audience segmentation features in a CRM are valuable for this particular aspect. Users can create contact and audience lists based on contextual lead data stored in the CRM, such as lead score, brand engagement history, and customer characteristics. They can then use those lists specifically for outreach campaigns such as email, text, or phone calls.
Pro tip: Freshsales is a CRM with excellent list filtering capabilities to segment audiences. Find out how this provider can help you attract quality leads and nurture customer relationships by reading our Freshsales review.
Tagging is another solid tool in CRMs that helps in the segmentation and filtering process. It essentially assigns custom attributes to leads and existing customer records to help better understand them. Plus, you can filter out customer lists based on tags in products, like Zoho CRM. For instance, if you want to deploy a promotional email campaign with limited-time discounts, you might only do it for people you've tagged "Discount Motivated."
Head over to our Zoho CRM review to learn about this platform's full set of features and how it can help you manage your marketing campaigns.
Pro tip: Not all general-use CRMs come with advanced features like audience segmentation. If you have a unique sales process that requires unique capabilities in a CRM platform, consider adopting a custom CRM solution.
---
Some types of CRMs may not have CRM campaign features built into the system, or you might be using a specific application or online service you're already comfortable with. In both circumstances, you can take advantage of CRM integration capabilities. You can connect your CRM system with a third-party application or native software to the CRM platform for extended functionality and data synchronization.
While popular CRM providers have hundreds to thousands of integration options for marketing, finance, and operations management, there are specific ones best suited for managing CRM campaigns. Here are some examples of CRM integrations for developing content and engaging with leads and customers:
Pro tip: CRM technology is crucial to campaign development and other tasks to move leads through the sales pipeline. Learn more about what goes into using a CRM to improve relationships with leads and customers with our CRM process guide.
---
Whether you're using built-in CRM tools or integrations, you need to track campaign performance to adjust your content, channels, and audiences. The ultimate goal is campaign optimization—where you're getting the best conversion rates in terms of brand interest gained, leads generated, and prospects moved to the next stages of the sales pipeline.
By choosing the right CRM, you can get data collection features to monitor audience touches, customer interactions, and conversions after campaign deployment. Users can also observe what's happening through the CRM's dashboard tools or report generation features. In Pipedrive, for instance, you can look at email campaign performance over time to monitor clicks and opens. Find out more about this provider's reporting capabilities in our Pipedrive review.
For deeper insight, teams can also analyze that data to look at conversion rates and factors of campaign performance. For example, HubSpot has A/B testing and analytics for their email, social media, and online ad campaigns. Users can run head-to-head comparisons with minor changes to content, the audience, or the channel to see which campaign produces better results.
On the highest analytics levels, CRMs have artificial intelligence (AI) and machine learning (ML) to spot patterns for campaign optimization. Zoho CRM, for example, has Zia, which helps businesses perform better in their email or call outreach by telling users the best time to contact a lead.
---
Benefits of Using a CRM for Campaign Management
A CRM solution is both a data management system and a sales and marketing application. As a database, it stores, organizes, transmits, processes, and reports data on contacts, leads, customers, activity, and performance. As a sales and marketing tool, it has features, modules, and integration capabilities to create content or communicate marketing messages to contacts in the system.
Customer relationship management involves building and maintaining relationships with prospects, leads, and current customers or clients. By default, CRM systems have modules and features that let you run campaigns to make initial connections and guide leads through their buyer journey.
According to a HubSpot study, 40% of sales professionals say their CRM effectively removes silos between sales and marketing teams. In addition, 47% of reps who exceeded their quota in 2022 attribute their success to using a CRM. These stats provide evidence of CRMs as a powerful method for campaign management because of these key benefits:
Sales and marketing automation: CRMs let you preconfigure customer journeys and workflows, allowing you to automate sales and marketing team tasks as well as campaign deployment.
Centralization: CRMs have all relevant customer data and tools in one system, letting users manage and monitor campaigns in one interface.
Business intelligence: CRMs let you track, report, and analyze activity and campaign performance through artificial intelligence (AI) and data insights tools. These give teams the ability to make critical adjustments for campaign optimization.
Collaboration: CRM for marketing campaigns offer data sharing, task and project management, and team communication features, allowing reps to coordinate and collaborate on campaigns.
Pro tip: CRMs are significantly more valuable when the system design, layout, data fields, and modules are tailored to your unique operational needs. Our picks for the best customizable CRMs will help you find a product that's easy to configure for your business requirements.
CRM Campaign Examples
Once you understand CRM campaign benefits and the specific features you can use to execute them, you can look into real CRM campaign examples. Your CRM and campaign management strategy, in terms of content and channel, will be determined by where your audience is in the sales funnel and buyer journey. The types of campaigns that can be managed through a CRM can be divided into three main categories:
These campaigns target prospective buyers who are not aware of your business and have not engaged with it. The purpose is to get leads into the marketing or sales funnel to later nurture them into qualified prospects. Below are CRM advertising examples that are appropriate for this stage, as well as their descriptions and best distribution methods.
Blog articles: Written conceptual, how-to guides, buyer's guides, listicles, and analysis pieces on a company website to educate customers
Social media posts: Copy published onto company social media profiles to present thought leadership, educate audiences, or in the form of a company update or promotion
Webform landing pages: Page on the company website with content and an online form to submit contact information for additional communications
Email introductions: Initial mass emails distributed to the contact list to introduce a brand or communicate a promotion
Phone introductions: Cold call with prospects who could be a good fit for your business to introduce your brand and qualify them
Videos: Video content to educate viewers and present your brand—easy to absorb and gives a creative touch
Infographics: One- to three-page thought leadership or analysis pieces that use limited copy but with plenty of stat and quote callouts
---
In these types of campaigns, it's assumed the audience already knows about your brand by submitting a web form or interacting with it in some way. Therefore, they've expressed some interest, and you now use your campaigns to nurture leads and develop the relationships further. Check out the campaigns you can use in this stage, as well as their descriptions and best distribution methods below.
Case studies: Written pieces on real-life customer success stories of when they used your product or service
E-books and whitepapers: Formal, visual (callouts, quotes, charts) thought-leadership piece discussing a common challenge, solution, benefit, and outcome that applies to your target audience
Podcasts: Audio content featuring discussions with industry leaders or authority figures in your organization
FAQ (frequently asked questions) landing pages: Direct responses web page to FAQs of leads and customers
Webinars: Education seminars conducted online on topics relevant to your target audience
Phone follow-ups: Warm calls or SMS texts to interested leads to see where they are in the buying process and if they have questions
---
Sales reps and account executives will likely distribute these campaigns to sales-qualified leads (SQLs) who've expressed buying interest. The idea is to push the prospects or even current customers into a position to consider or confirm buying from your business. Read the descriptions of the campaigns below and find out the best distribution methods for each content type.
Solution brief or comparative analysis: Condensed whitepaper, case study, or graphic piece comparing you to competitors while being applicable to a specific lead's circumstances
Demo or free trial offer: A session or limited trial that lets leads view or use products or services
Promotion and discount offer: Temporary special promotions used to get leads on the brink of purchase to quickly make a decision
Client/customer testimonials: Real positive feedback and quotes from customers on their experience and satisfaction with your offerings
---
Frequently Asked Questions (FAQs)
Building a CRM campaign involves organizing tasks related to your specific marketing campaign, generating leads, capturing contact data, segmenting prospects, and enabling email marketing automation through your CRM's pipeline management feature. The campaign should also include monitoring and measuring marketing metrics (e.g., email open rate, click-through, and engagement) and tailoring subsequent marketing initiatives based on campaign performance.
---
A CRM allows for seamless monitoring of campaigns, automating workflows, and measuring campaign performance. In general, these are the roles of CRM software in marketing:
Lead management
Supporting data-driven marketing
Mapping out customer journeys
Identifying new opportunities for targeted content
---
The goal of CRM marketing campaigns is to cultivate relationships with leads or customers. This can be done through marketing and sales activities that correspond with where the lead is in your sales and marketing funnel. For instance, in the Awareness stage of the buying journey, the activities could include cold calling and lead generation. In the Decision stage, the activities are closing the deal and customer onboarding.
---
Bottom Line
CRM campaigns are initiatives and activities managed through a CRM solution seeking to develop relationships with leads or customers. It can include CRM promotion activities—such as mass emails, blog or social media posts, or online ads—and sales campaigns in cold call outreach. CRM features like campaign builders and data reporting benefit organizations with streamlined automation, work centralization, and improved collaboration.