HubSpot and Salesforce are popular customer relationship management (CRM) software platforms that offer excellent lead management and workflow automation features. In addition, they both offer access to online certifications. HubSpot, however, stands out for its affordability, usability, and free access to artificial intelligence (AI) tools. Salesforce, on the other hand, takes an edge when it comes to advanced analytics tools and its robust mobile application.
When comparing HubSpot vs Salesforce, first evaluate your specific business CRM needs:
HubSpot: Better option for businesses seeking solid email marketing and free AI tools in their CRM
Salesforce: Excellent choice for larger sales teams who want advanced reporting and analytics tools
Pro tip: Want to see more software solutions that can help your business grow? Check out our picks for the top CRMs for small businesses for insightful comparisons on pricing, features, and overall platform usability.
HubSpot vs Salesforce Compared
| | | |
| --- | --- | --- |
| Our CRM Rating Out of 5 | 4.67 | 4.10 |
| Starting Monthly Price* | Free (unlimited users) or $18 (two users) | $25 per user |
| Workflow Automation | ✓ | ✓ |
| Reporting & Analytics | ✓ | ✓ |
| Email Marketing | Advanced email automation, mass email, plus templates and segmentation | Mass email and templates |
| Mobile Application | Yes | Yes, most capabilities that the web application has |
| Artificial Intelligence (AI) Tools | Task command functions and chatbot | Task command functions, chatbot, and performance recommendations |
| Integrations | 1,000+ third-party and native software options | 2,500+ third-party and native software options |
| Ease of Use | Great usability for setting up, operating features, and navigating interface | Easy to set up but tough to navigate interface |
| Customer Support | 24/7 tier-based email, chat, and phone support on paid plans | Tier-based live chat and phone support with some 24/7 options |
| | | |
*Pricing is based on annual billing on a per user, per month breakdown. Pricing reflects pricing info available at the time of publishing. While we update pricing information regularly, we encourage our readers to check current HubSpot Sales Hub pricing and Salesforce Sales Cloud pricing to stay up to date.
Best Alternatives to HubSpot & Salesforce
While the comparison of HubSpot vs Salesforce is close and both systems are great in their respective ways, there could be missing aspects that necessitate looking at other options. Here are some of the best alternatives to HubSpot and Salesforce:
*Pricing is based on annual billing on a per user, per month breakdown. Monthly pricing is also available at higher rates.
Most Affordable: HubSpot
| | | |
| --- | --- | --- |
| Our Pricing Rating Out of 5 | 4 | 2.25 |
| Freemium Plan | ✓ | ✕ |
| Starting Monthly Paid Price* | $18 (two users)** | $25 per user |
| Enterprise Price* | $1,200 (10 users) | $150 per user |
| Billing Options | Monthly and annual | Monthly billing option is available only for Essentials edition; all other plans are billed annually |
| Free Trial | 14 days | 30 days |
*Pricing is based on annual billing on a per user, per month breakdown for individuals and small teams.
**HubSpot also offers Enterprise-level products for larger sales teams and the CRM Suite, which includes sales, marketing, customer service, content management system (CMS), and operations software in one product for a higher price.
HubSpot pricing offers flexible software packages and bundled plans for sales, marketing, operations, customer service, and content management operations. There's also a free Starter plan for unlimited users that comes with email marketing plus simple ad, blog, lead, and deal management features depending on the subscription. The more premium plans include quotes, payment processing, customer segmentation, and strategic planning features.
Salesforce starts at $25 per user, per month for the Essentials plan, which is built specifically for small teams, with a cap at 10 users. There is no free CRM option, but it has comprehensive features on the Unlimited plan that costs $300 per user, monthly. Another important thing to consider is that many features usually included in regular subscriptions for HubSpot, like quotes and payments, require add-ons for Salesforce. Some of these add-ons include:
CPQ (Configure, Price, Quote) and billing: To send quotes and prices, the cost is $75 per user on a monthly basis (included on the Professional plan and above).
Sales Cloud Einstein for artificial intelligence (AI) analysis: $50 per user, per month (included on Enterprise plan and above)
Sales Engagement: Productivity management features with scheduled activity sequencing, work queues, to-do lists, and lead scoring for inside sales teams that cost $75 per user, per month (Sales Engagement tools are included in the Enterprise and Unlimited plans).
Sales Enablement: On-demand gamification features cost $25 per user, monthly.
Winner: HubSpot wins in the Salesforce vs HubSpot pricing category because it offers a free plan for unlimited users and starts at $18 monthly for two users. Salesforce, on the other hand, costs $50 for two users ($25 per user, per month). HubSpot also has flexibility in designing a subscription package that suits your operational needs or bundling them into a full suite.
Best for Email Marketing: HubSpot
| | | |
| --- | --- | --- |
| Mass Emailing | Yes, with static and dynamic customer segmentation options | Yes, with contact target lists |
| Email Templates | ✓ | ✓ |
| A/B Testing | ✓ | ✓ |
| Campaign Tracking for Email Results & Return on Investment (ROI) | Yes, plus email health reporting | ✓ |
Email marketing features let sales and marketing teams nurture leads by sending mass email messages and deploying email campaigns to contacts from the CRM. With Salesforce, users can create and store email templates and use them for their email communications. There's also A/B testing that helps you optimize the content, channel, and contextual factors of an email, such as customizing the time sent and target audience.
Similarly, HubSpot allows teams to create and deploy mass email communications using customizable templates from the CRM system. In addition, users can A/B test their messages and divide audiences into detailed customer segments, including dynamic lists that auto-update based on contact behavior to get leads with the right content. Lastly, HubSpot provides detailed email campaign analytics with health reports to evaluate a business' reputation.
Pro tip: Ready to create email templates to store your CRM? Check out our sales email templates you can download and customize for various sales situations.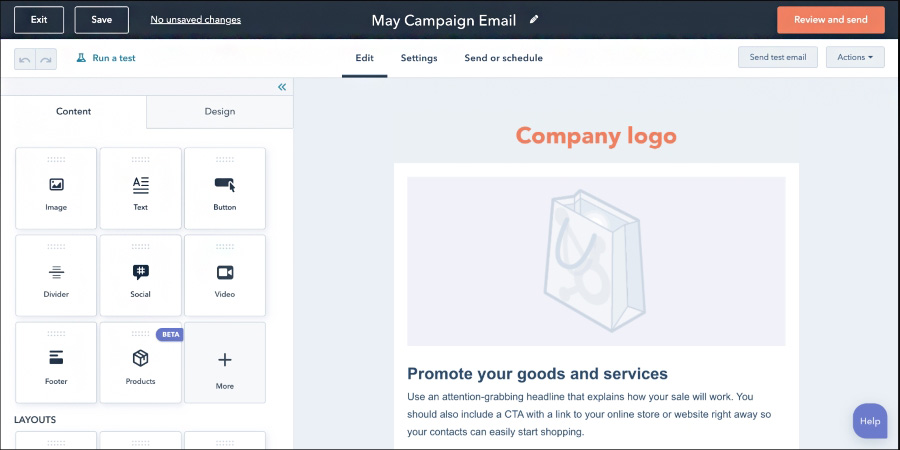 ---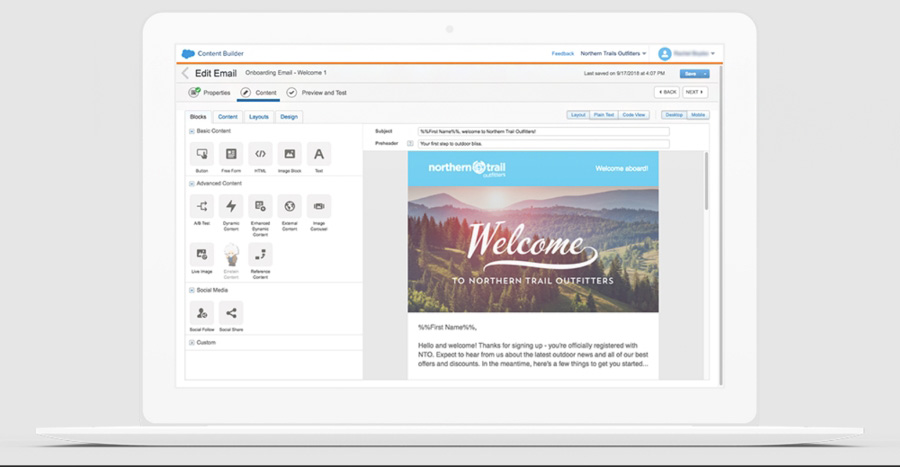 ---
Winner: HubSpot's email features give teams elaborate automation, optimization, and analytics for their campaigns. All the advanced and easy-to-use email communication tools match or outperform Salesforce in each subcriteria. This is why the winner in the HubSpot CRM vs Salesforce email marketing category is HubSpot.
Best Reporting & Analytics Tools: Salesforce
| | | |
| --- | --- | --- |
| Reporting Capabilities | Revenue, email campaign results, pipeline health, and activity | All data points within the CRM system |
| Customization | Custom analytics, reports, and dashboards | Custom reports and dashboards with advanced filtering, bucketing, and history tracking |
| Predictions & Forecasting | Custom forecasting including across team hierarchies | Customizable, collaborative, and mobile forecasting with territory dividing |
| Scheduled Reporting | ✓ | ✓ |
| AI Insights | Data enrichment, deduplication, and easy imports only | (Einstein) Deal and lead scoring, predictive forecasting, and trend insights |
CRM reporting features allow managers to track sales activity such as calls placed, emails sent, and business proposals generated. They also help monitor sales production in revenue or deals closed. It's great for monitoring individual, team, and organizational goal progress. There are analytics tools built in or derived through AI by using machine learning to analyze data, which provides insights into trends, predictions, and suggestions.
With HubSpot, in addition to the high-level email campaign metrics offered, teams can view sales activity on an individual or team basis, as well as overall revenue and deal production. They can also develop revenue forecasts and evaluate sales pipeline health on customizable dashboards, downloadable reports, or scheduled reports (which are auto-generated), and you can automatically send them through email or Slack.
Salesforce is slightly more elaborate when it comes to reporting and analytics. For starters, its AI Einstein tool provides more capabilities than HubSpot. These include predictive forecasts, prescriptive analytics, real-time recommendations, and automated discovery of potential opportunities. Salesforce also has fully customized CRM reports covering any data points in the CRM system while conducting advanced filtering and bucketing functions. This gives more structure to data by breaking it into ranges, or "buckets."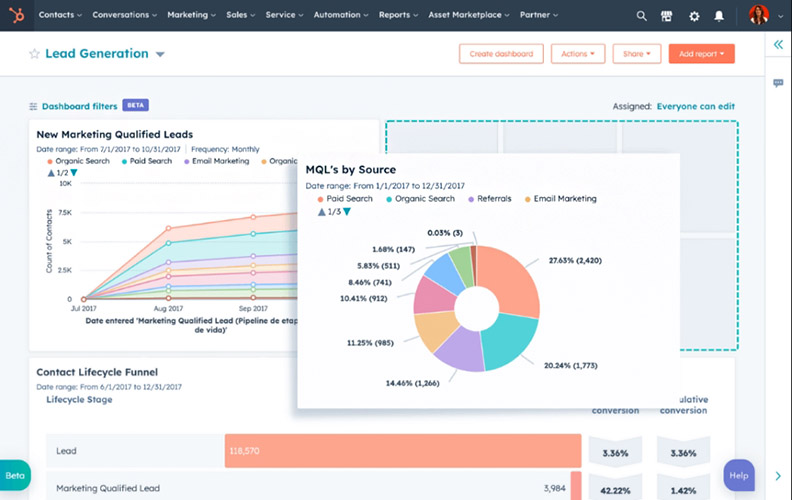 ---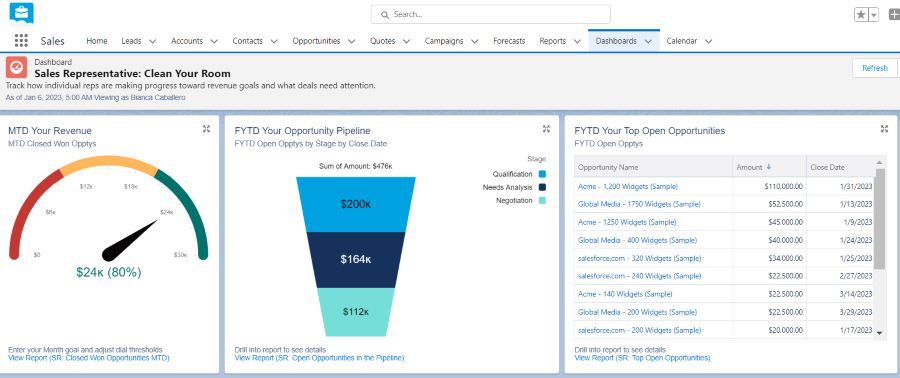 ---
Winner: Though HubSpot is an excellent reporting and analytics CRM, Salesforce is one of the most sophisticated CRMs on the market that offers fully customizable data reports and business intelligence features that can't be topped. Therefore, the winner in the Salesforce vs HubSpot reporting and analytics category is Salesforce.
Best for Artificial Intelligence (AI) Tools: HubSpot
| | | |
| --- | --- | --- |
| Task Command Functions | ✓ | ✓ |
| Chatbot | ✓ | ✓ |
| Performance Recommendations | ✕ | ✓ |
| Content Generation | Blogs and emails | Email and web content |
| Intelligent Insights | Lead scoring | Opportunities and accounts |
HubSpot has made it to our list of the best AI CRMs mainly because of its new ChatSpot tool that functions as a smart assistant, chatbot builder, and content assistant. Users can ask it questions or use it to automate tasks like adding users to lists and generating support tickets. What makes it even better is that users can access the AI features for free.
Meanwhile, Salesforce has Einstein AI, which analyzes your CRM data to provide insights on won and lost deals, top leads, and next steps to help you close your deals. Through this tool, you can run predictions, score opportunities, automatically enrich contact profiles, and even interpret conversations with prospects.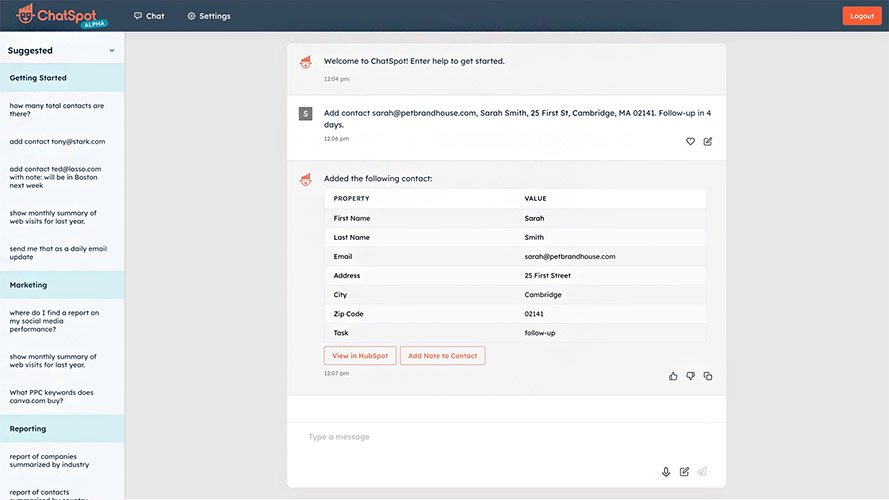 ---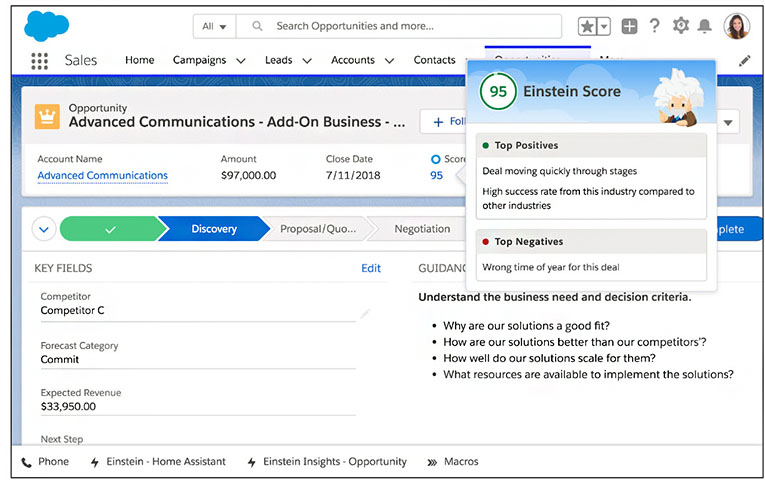 ---
Winner: Salesforce offers more advanced reporting and analytics features, especially when combined with Einstein AI. However, HubSpot trumps it by offering free AI tools, making it a game-changer for sales professionals looking to improve their productivity.
Best Mobile App: Salesforce
| | | |
| --- | --- | --- |
| Mobile Data Management | Access tasks, deals, CRM records, and dashboards | Offers most capabilities the web application has, including CRM customization options |
| Mobile Communication & Collaboration Tools | Live chat, email, outbound phone calls, and call recording | Group feed, document editing, and call logging |
| Mobile Interface Design | Clean interface that's easy to navigate | Intuitive interface but complex navigation process |
A mobile app allows teams to use their CRM to manage leads, communicate with contacts, and track opportunities during client-facing activities or at networking events. In this Salesforce vs HubSpot comparison, both options provide a mobile app but differ in some capabilities. For example, HubSpot allows users to create and track tasks, deals, and leads, as well as communicate with contacts via live chat, email, or calls. You can also create social posts and access deal reports.
Alternatively, Salesforce lets you do nearly all web application functions on the mobile app. Users can search and view deals and lead records, message teammates and contacts, pull up reports and dashboards, manage tasks, and organize customer cases. Users can also edit documents, spreadsheets, and presentations from the app and fully customize their entire mobile system with layouts, design, and custom application modules.
Pro tip: Looking for more CRMs with robust mobile apps? Check out our comprehensive guide to the best mobile CRM apps to learn more.

---

---
Winner: Salesforce wins in the Salesforce vs HubSpot mobile category due to the wider range of capabilities that nearly mirror the web application offered by the CRM on its mobile application compared to HubSpot.
Best Integration Features: Salesforce
| | | |
| --- | --- | --- |
| Number of Third-party Options | 1,000+ | 2,500+ |
| Native Software Tools | Marketing, Service, and Content Management Hubs available to bundle plus hundreds of native tools | Project management, finance, content management, human resource management, and industry verticals |
When comparing HubSpot vs Salesforce integrations, we can see that both offer connections to popular software products such as Trello, Mailchimp, Slack, QuickBooks, and Facebook. Each also provides plenty of native software integration options for project management, finance, content management, and human resource management that can connect with the CRM system.
The big difference in CRM integration capabilities isn't regarding general use and popular third-party software. Rather, it's the industry-specific ones. Salesforce, because of its popularity and size, has worked its way into numerous industry verticals, such as healthcare, financial services, manufacturing, and IT management. As a result, it can integrate with platforms used in those particular businesses, giving it a wider range of use-case scenarios.
For instance, Salesforce integrates with an insurance system called Vlocity Insurance, which is used to quote and issue policies and manage claims. With this industry-specific integration, data sync two ways into both systems—letting insurance agencies manage leads and policyholders in one platform. On the other hand, HubSpot's integrations are curated mostly for workflows, data sync, automation, marketing attributions, customer service, and finance.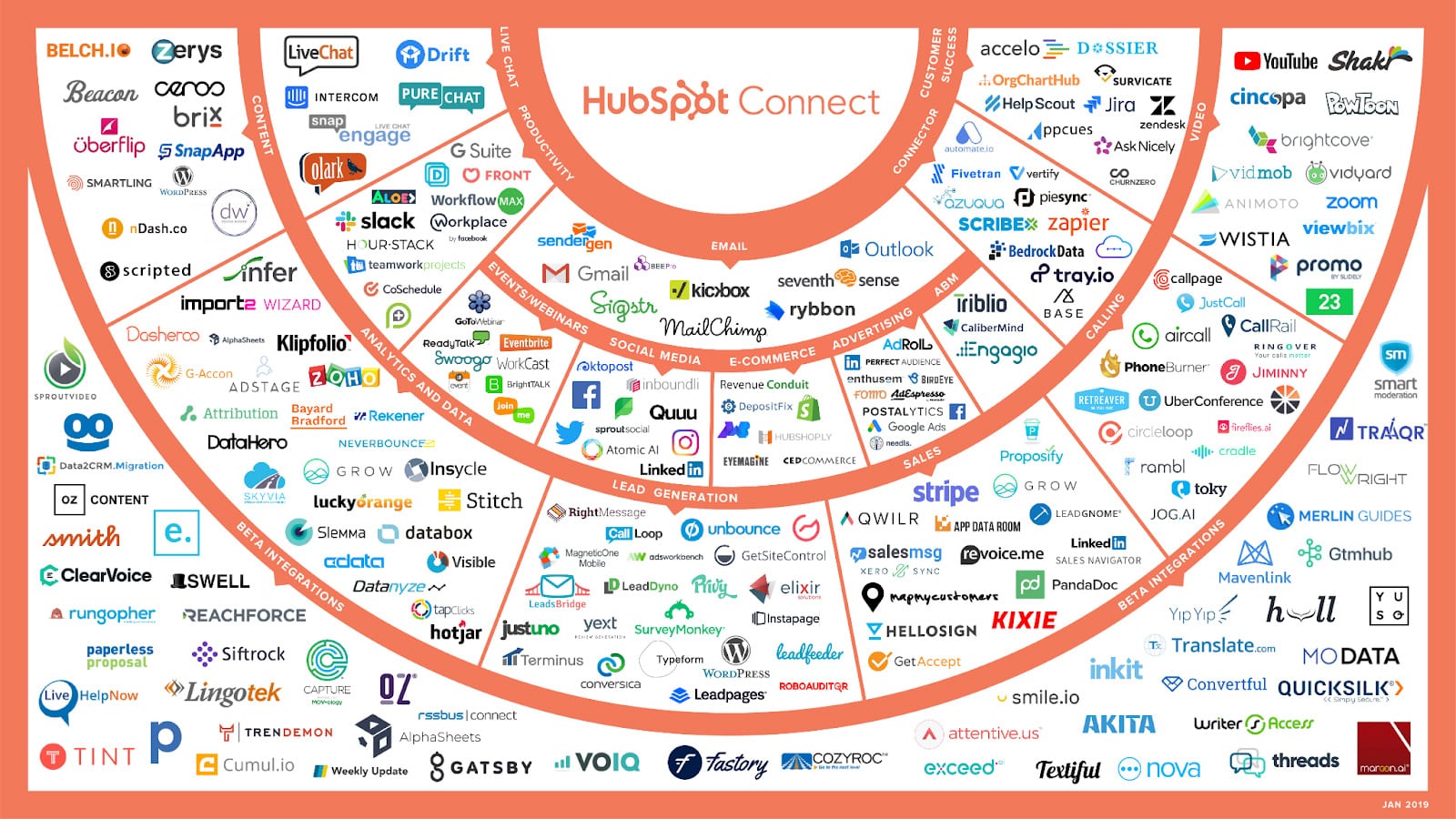 ---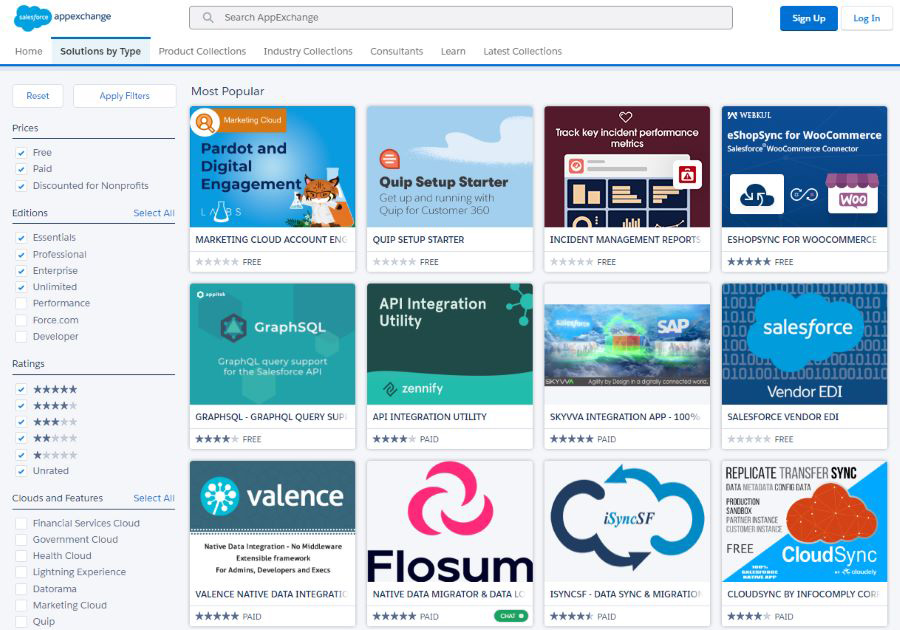 ---
Winner: Each platform has many integration options for third-party and native products. However, because of Salesforce's ability to expand past general-use applications and into industry-specific ones, it wins this category.
Most User-friendly: HubSpot
| | | |
| --- | --- | --- |
| Setting Up the System | Easy to set up data fields, customize pipelines, and build automations | East to set up data fields and customize the CRM system |
| Operating the Features | Intuitive tools with minimal learning curve | Steep learning curve in operating features |
| Navigating the Interface | Simple interface design for seamless navigation | Requires CRM experience to smoothly navigate the interface |
HubSpot is known for its usability ratings and is ranked in our best simple CRM systems guide. This is mainly due to its clean, modern-looking interface and features users of all technical levels can operate with ease. Salesforce is somewhat easy for new users to set up, design their system, and use the tools. However, it has a steeper learning curve when it comes to interface navigation due to the many button options that can come off as overwhelming.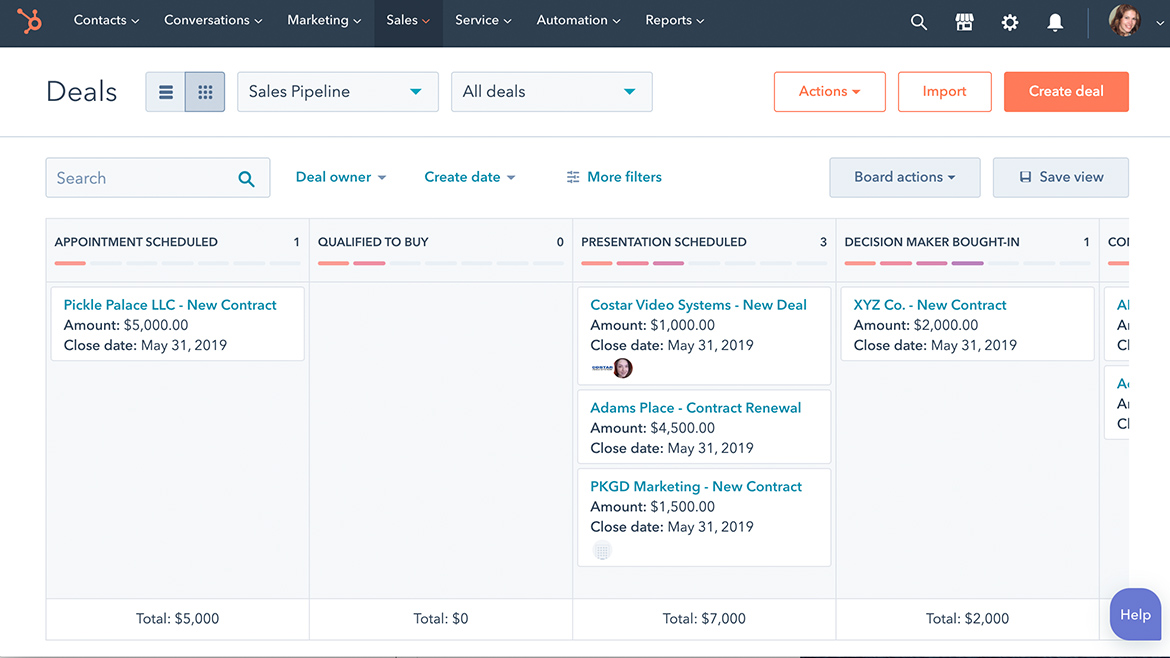 ---

---
Winner: Though both CRMs go head-to-head in setting up the system, HubSpot takes the edge because of its considerable intuitiveness in navigating the platform. This is mainly due to its straightforward, user-friendly interface.
Best Customer Support: HubSpot
| | | |
| --- | --- | --- |
| Online/Self-help Resources | Community forum, knowledge base, blog, and certifications through HubSpot Academy | Trailhead resource with webinars, tutorials, guides, and certification classes |
| Phone Support | 24/7 on Professional and Enterprise plans only | Tier-based support times including some 24/7 options |
| Live Chat Support | 24/7 on all paid plans | Tier-based support times, including some 24/7 options |
| Email Support | 24/7 on all paid plans | N/A |
Both CRM systems have an incredible arsenal of online resources, such as tutorials, documentation, forums, and self-help guides. Each also has certification capabilities for getting various accreditations and badges for completing courses on CRM, sales, marketing, and software development topics through HubSpot Academy or Salesforce Trailhead.
Aside from the online resources, both use tier-based customer support, where you get more options and availability based on your subscription plan. HubSpot, however, offers all channels of communication, while Salesforce is restricted to live chat and phone with some 24/7 availability.
Winner: HubSpot wins the customer support section because of the 24/7 availability on all channels and comprehensive online resources, including certification options.
What Users Say About HubSpot & Salesforce
For the most part, both platforms are popular, and users of HubSpot and Salesforce are happy with their investment in terms of usability, features, and value. Here's our HubSpot-Salesforce comparison per review scores from popular software evaluation websites: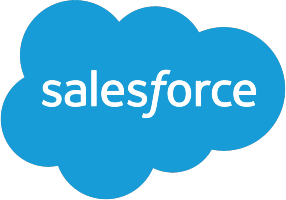 For HubSpot, one of the main issues reported are the caps on the number of custom fields with no options to purchase additional ones. In addition, the platform doesn't work well for certain industry groups (such as insurance and real estate) as it's primarily a general-use CRM. Users do, however, love the email marketing tools and the system's ease of use.
Some Salesforce customers dislike the user interface design that impacts the user experience. They also report having trouble with certain features, such as automation tools and data processing functions. However, its users do like a large number of integration options and dashboard layout options.
How We Evaluated Salesforce vs HubSpot
To compare HubSpot vs Salesforce, we looked at critical product attributes small businesses and sales teams consider when comparing CRM software. In a direct Salesforce HubSpot comparison, we evaluated pricing, features, usability, customer support, our expert score, and what real users are saying about the products.
The tabs below offer insight into our evaluation process for HubSpot vs Salesforce:
Pricing (20% of Overall Score)
Pricing considered free plan availability and various scalable pricing options a user could purchase affordably. We also looked at the availability for a subscriber to either pay monthly or save by paying annually.
General Features (25% of Overall Score)
We looked at overall features we feel are necessities in all CRM products, such as CRM integration options, system customization, and a mobile application. We also evaluated common modular features found within HubSpot and Salesforce's system, such as reporting and analytics tools and pipeline and deal management.
Niche-specific Features (20% of Overall Score)
This category looked specifically at tools and modules commonly sought by users and teams that gravitate toward HubSpot and Salesforce. Email marketing, lead management, and workflow automation, for instance, are features that both CRMs are well known for, which can offer very advanced capabilities compared to alternative CRMs.
Help & Support (20% of Overall Score)
Extensive support and customer service help prevent poor user experiences and outcomes users may encounter while using any of these CRM systems. Help and support were evaluated in terms of customer service hours and the availability of support via phone, live chat, and email. We also looked at online resources for users to review, like tutorials, forums, or training modules.
Expert Score (15% of Overall Score)
In addition to firsthand experience with these software systems, we evaluated what users say about each product. These criteria consider how customers feel, based on their reviews, to gain insight into platform popularity, ease of use, standout features, and overall value for the price point.
Frequently Asked Questions (FAQs)
In terms of offering more advanced tools for reporting, analytics, and customization, Salesforce is the better option. However, HubSpot rises above Salesforce because of its higher usability and affordability. In fact, HubSpot has a free plan that supports an unlimited number of users and includes AI tools.
---
HubSpot and Salesforce are both CRM platforms that offer tools for sales, marketing, content management, and customer service. However, HubSpot's high level of usability and affordability make it ideal for startups and mid-sized companies. Salesforce, on the other hand, offers an extensive set of features that come with a high price tag, making it best suited for midsized to large businesses.
---
Bottom Line
Salesforce and HubSpot are two of the most popular CRMs available due to their robust sales and marketing functionality and wide range of integration options. Despite that, each product stands out for its respective strengths that make it better for certain areas. For instance, HubSpot offers easy-to-use yet elaborate email marketing tools to engage with leads, while Salesforce provides advanced intelligence and analytics useful for decision-making.