HubSpot vs Salesforce: Which Is Better for You
This article is part of a larger series on CRM.
A comparison of HubSpot vs Salesforce reveals HubSpot pricing is better for businesses on a tight budget that need tools for capturing and engaging leads with ease. Salesforce, on the other hand, has a steeper learning curve, but offers broader and more advanced solutions including extensive workflow automations and artificial intelligence (AI), making it the better option for those with more robust needs and a more flexible budget.
Here is when you should use HubSpot or Salesforce, based on specific use cases:
HubSpot: Ideal for small businesses wanting free tools for basic lead management activities
Salesforce: Better suited for sales teams looking for advanced automation capabilities
Please note that both of these customer relationship managers (CRMs) are general purpose platforms that can be used for all business types and sizes. For businesses looking for a CRM tailored for use in specific industries, we invite you to check out our article about finding the right industry-specific CRM for your business.
HubSpot vs Salesforce at a Glance
| | | |
| --- | --- | --- |
| | | |
| Pricing (Annual Billing) | Ranges from $0 to $1,200 per month | Ranges from $25 to $300 per user, per month |
| Ease of Use | Very user-friendly | Intermediate technical skill required |
| Expert Score | 4.38 out of 5 | 4.38 out of 5 |
| Customer Support | 24/7 support through phone, email, and live chat | Extended business hours support through phone, email, and live chat |
| Lead Management Features | Tools for lead generation, engagement, and analytics | Tools for lead generation, engagement, and analytics |
| Automation Features | Automation mostly for email and reporting | Advanced automation for multiple workflows |
| Mobile Application | ✔ | ✔ |
| Customization Capabilities | Solid level of system customization | High level of system customization |
| Email Marketing | Robust features for email marketing campaigns that are also easy to create | Robust features for email marketing campaigns |
| | | |
How We Evaluated HubSpot vs Salesforce
HubSpot and Salesforce are both popular customer relationship management (CRM) software applications that help businesses with sales activities such as organizing contacts, managing leads, and monitoring the sales pipeline. However, the suitability of each platform depends heavily on your business size, budget, and business goals.
To directly compare HubSpot and Salesforce, we looked at the fundamental factors small businesses consider when choosing a CRM. This includes pricing, general CRM features, ease of use, customer support, and our expert scores.
Click the tabs below for more information on our evaluation criteria:
40% of Overall Score
Cost and pricing options are often the most important consideration for a small business. Therefore, it was the most heavily weighted when comparing HubSpot and Salesforce. These criteria include free account availability, pricing scalability, and monthly billing options.
20% of Overall Score
We evaluated overall features necessary for CRM software, including sales pipeline customization, automation capabilities, availability of a mobile application, and tools or integrations that would make either CRM stand out from the other.
15% of Overall Score
The functions of any application are only as beneficial as they are usable. Therefore, ease of use holds the next-highest weight of criteria. Ease of use was analyzed in terms of the expertise needed to set it up and integrate it with other applications, the skill required to operate its features, and overall intuitiveness while navigating the interface.
15% of Overall Score
Help and support provided by HubSpot and Salesforce were evaluated in terms of customer service hours as well as the availability of customer support through phone, live chat, and email channels. We also looked at the availability of video tutorials and a community forum.
10% of Overall Score
In addition to our own firsthand experience with the providers, we looked at reputable review sites in order to evaluate how users feel about each CRM's standout features, overall value for money spent, popularity, and ease of use.
*Percentages of overall score
Best for Pricing: HubSpot
| | | |
| --- | --- | --- |
| | | |
| Free Option Available | ✔ | N/A |
| Starting Price (Annual Billing) | $45 per month (includes two users) then $23 per additional user, per month | $25 per user, per month |
| Enterprise Pricing (Annual Billing) | $1,200 per month (up to 10 users) then $120 per additional user, per month | $300 per user, per month |
| Billing Options | Monthly and annual | Monthly only for the Essentials plan, monthly or annual for the Enterprise plan |
| Free Trial | 14 days | 30 days |
HubSpot is the clear winner for pricing because it offers businesses a free plan for an unlimited number of users that comes with a solid range of features. Among these features are online webforms for lead generation, email marketing, ad management, contact management, calling, and quote generation. HubSpot also offers both monthly and annual billing options, regardless of which plan you choose.
Salesforce does not offer a free plan and can get expensive if your business has many users. It also only allows monthly billing for their small business Essentials plan. When comparing direct per-user pricing per month, it is a bit less expensive to pay for multiple users on a HubSpot plan than a Salesforce plan.
Winner: HubSpot for offering a free plan, broader monthly billing capacity, and slightly less expensive paid plans.
Best for Usability: HubSpot
| | | |
| --- | --- | --- |
| | | |
| Ease of Setup | Low technical skill needed | Moderate technical skill needed |
| Ease of Integration With Applications | Easy to integrate through HubSpot App Ecosystem | Easy to integrate through the Salesforce AppExchange |
| Skill Needed to Operate Features | Low skill needed to operate features | Intermediate technical skill needed to operate features |
| Intuitiveness of Navigating the Interface | Easy interface to navigate | Interface can be intimidating and difficult to navigate |
HubSpot is especially well-known for being user-friendly, specifically when it comes to using the features and navigating the interface. Many of the tools in the platform have drag-and-drop functionality, and in general, users don't find the interface overwhelming since the platform limits its main menu options to just a few horizontally across the top.
Salesforce gets most of its negative reviews on usability, specifically when it comes to using features and navigating what can be an intimidating interface. Although Salesforce also uses a single-menu option across the top, there are far more button options to choose from and the dashboard can come off as crowded, especially for newer users.
Winner: HubSpot for its easy-to-use tools and intuitive interface.
Interested in learning about other easy-to-use CRMs? Check out our article on the top simple CRM systems.
Best Customer Service: HubSpot
HubSpot and Salesforce are virtually identical when it comes to customer support attributes. Both CRMs offer live chat, email, and phone support, along with video tutorials and a community forum where users can ask questions or voice concerns. The only difference is that HubSpot offers 24/7 customer support for their channels while Salesforce only offers extended business hours support.
Winner: HubSpot because they offer 24/7 customer support.
Best Mobile Application: Salesforce
HubSpot and Salesforce both have mobile applications available for iOS and Android operating systems. The mobile platforms are easy to use, whether from a mobile phone or tablet. The features available to HubSpot users in the mobile app are slightly fewer than from their web application and are limited to basic contact management, deal and opportunity monitoring, task creation, and communicating with leads.
Salesforce offers a powerful mobile application that extends nearly all of the features available from their web application. These include basic contact organization features and sales tools, as well as the use of the Einstein artificial intelligence (AI) feature with voice assistant functionality and advanced analytics.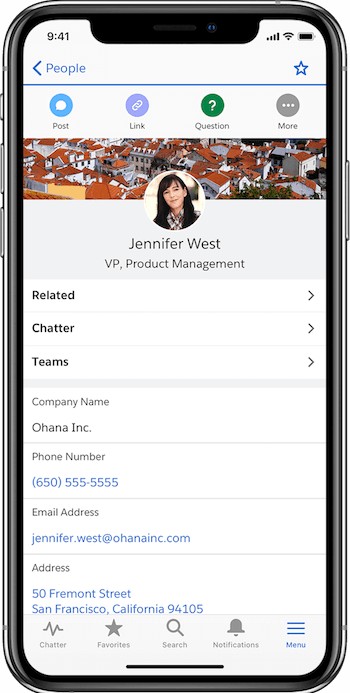 Winner: Salesforce because of the extension of features from the web to mobile application.
Best for Lead Management: HubSpot
HubSpot has multiple, easy-to-use lead management tools, some of which are available on the free plan. Leads can be generated by manual input or captured automatically through online web forms and social media. HubSpot users also have the ability to auto-assign leads to specific sales reps and score leads based on sales success probability.
While Salesforce's lead management tools are nearly as robust as HubSpot's, they are more difficult to use. Salesforce's social media capabilities are limited to communicating with leads through the platform―it can't automatically capture them into the CRM database. Salesforce also doesn't offer video messaging as a communication channel, a feature offered by HubSpot through the Vidyard integration.
Winner: HubSpot for its easy-to-use tools for generating and engaging with leads.
Best for Process Automation: Salesforce
| | | |
| --- | --- | --- |
| | | |
| Workflow Automation Design | Built-in automated workflow designer with point-and-click functionality | Lightning Flow feature for workflow process automation using point-and-click tools (up to five on Essentials and Professional plans and unlimited for Enterprise) |
| Automation Capacity | Mostly limited to lead assignment, task assignments, data updates, and follow-up emails | Nearly every process within the CRM |
| Artificial Intelligence | AI tools for search engine optimization, business card scanning, deduplication, CRM insights, and call transcribing | Einstein AI add-on feature for analytics, sales tips, forecasting, and advanced insights on leads and deals |
HubSpot is a strong contender for its automation capabilities, but it loses when put up against Salesforce. It has a simple workflow creation process with a point-and-click design, but the capabilities of what can be automated are limited to tasks like lead assigning, data field updates, and automatically following up with contacts through email.
Salesforce allows businesses to automate nearly any workflow process within the CRM and its integrated applications. It also contains the native Lightning Flow tool, which creates automated workflow processes. Additionally, the Sales Cloud Einstein tool can be purchased separately, adding AI functionality for acquiring advanced insights, sales tips, forecasting, and reporting analytics.
Winner: Salesforce for its broad workflow automation capacity and advanced AI features.
Best Alternatives to HubSpot & Salesforce
Even though HubSpot and Salesforce are both excellent CRMs for small businesses, they may not be the best solution for the specific needs of your business. If your business needs features like social media management tools, project management capabilities, or solutions for direct sales activities, you should explore other platforms.
Here are some of the best alternatives to HubSpot and Salesforce:
Zoho CRM: For marketing teams that want broad capabilities for social media management
Bitrix24: For businesses that want free project management features
Pipedrive: For sales teams that want comprehensive direct sales solutions
Is your business struggling to implement a new CRM? Check out our article on the six ways to increase CRM adoption.
Bottom Line
HubSpot and Salesforce are both robust, general-purpose CRMs that can be applied to a broad range of business types. The main difference comes down to user preferences. HubSpot is easier to use, more affordable, and has strong lead management capabilities, while Salesforce provides a wide range of advanced features for a higher cost.