Freshsales vs Salesforce: Which Is Better for You?
This article is part of a larger series on CRM.
Freshsales and Salesforce are popular customer relationship management (CRM) software platforms that serve businesses with excellent lead management, analytics, and workflow automation features. Freshsales stands out for free-forever plans, which offer phone, chat, and email communication with contacts. Salesforce, however, is better for tailoring the CRM to an organization's needs through system customization and integrations.
When comparing Freshsales vs Salesforce, first evaluate your specific business CRM needs:
Freshsales: Better option for small businesses seeking free communication tools across multiple channels
Salesforce: Excellent choice for larger sales teams needing high-level customization for unique sales processes
Pro tip: Want to see more software solutions that can help your business grow? Check out our picks for the top CRMs for small businesses for insightful comparisons on pricing, features, and overall platform usability.
Freshsales vs Salesforce Compared
| | | |
| --- | --- | --- |
| Starting Price* | $0 or $15/user/month | $25/user/month |
| Ease of Use | Outstanding usability for operating the features | Easy system to set up |
| Expert Score | 5 out of 5 | 4.75 out of 5 |
| Customer Support | 24/5 customer support through email, chat, and phone | Tier-based live chat and phone support with some 24/7 options |
| Integrations | Dozens of third-party software options + native integrations | 2,500+ third-party and native software options |
| Mobile Application | Record and task management plus email and calling | Most capabilities that the web application have |
| Reporting & Analytics | ✓ | ✓ |
| Workflow Automation | ✓ | ✓ |
| Lead & Deal Predictions | Scoring, forecasting, and deal insights | Scoring, forecasting, and deal insights plus pipeline analysis |
| | | |
*Based on annual billing. Monthly billing is also available at higher prices.
Most Affordable: Freshsales
| | | |
| --- | --- | --- |
| Free Option | Yes, with unlimited users | ✕ |
| Starting Paid Price* | $15 | $25 |
| Enterprise-level Pricing* | $69 | $150 (Enterprise) or $300 (Unlimited) |
| Billing Options | Monthly and annual | Monthly and annual |
| Free Trial | 21 days | 30 days |
*Per user, per month billing based on annual billing. Monthly billing is also available at higher prices.
Freshsales is highly affordable—offering a free plan for unlimited users for contact management features, contact lifecycle monitoring, and a built-in phone. The starting price is $15 per user on a monthly basis, which then adds automated sales sequences to help nurture and convert leads, lead scoring, and a visual pipeline.
Pro tip: Looking for other CRMs with free plans? Check out our comprehensive guide to the best free CRMs for small and growing sales teams.
The Pro and Enterprise plans cost $39 and $69 per user, per month, respectively, for artificial intelligence (AI) analytics, territory management, and modular customization. One thing to keep in mind is that Freshsales' configure, price, quote (CPQ) features—which let users generate branded invoices, quotes, onboarding documents, and contracts—require an add-on for $19 monthly, per user.
Meanwhile, Salesforce starts at $25 per user, per month, with a cap of 10 users for the Essentials plan, making it ideal for small teams. There is no free CRM option, but it has comprehensive features on the Unlimited plan, which costs $300 per user monthly.
Another important thing to consider is that many features usually included in regular subscriptions for most CRMs, like quotes and payments, require subscriptions to Professional or Enterprise plans or optional add-ons for Salesforce, just like Freshsales. Some of these other add-ons include:
CPQ and Billing: Used to send quotes and prices; the cost is $75 per user, every month (included on the Professional plan and above)
Sales Cloud Einstein for Artificial Intelligence (AI) analysis: $50 per month, per user (included on Enterprise plan and above)
Sales Engagement: Productivity management features with scheduled activity sequencing, work queues and to-do lists, and lead scoring for inside sales teams; costs $75 per user on a monthly basis (included in Enterprise plan and above)
Sales Enablement: On-demand gamification features cost $25 per user each month
Winner: Freshsales wins the affordability category in Salesforce vs Freshsales as it offers a free plan for unlimited users and scalable paid plans going from $15 to $69 per user on a monthly basis. Salesforce's starting and higher-tiered plans are less affordable, and it does not offer a free plan.
Pro tip: Want to learn more about Salesforce Essentials, its entry-level, affordable plan for up to 10 users? Read our in-depth Salesforce Essentials review.
Most User-friendly: Freshsales
| | |
| --- | --- |
| All-around easy CRM to use, specifically when operating its communications features | Simple CRM to set up and use, but may have a learning curve for new users |
Freshsales is known for its product usability ratings in terms of setting up, operating the CRM, and navigating the interface. It is even ranked in our best simple CRM systems guide, specifically for its easy-to-use, built-in telephone dialer. Alternatively, while Salesforce isn't necessarily a difficult CRM to use, its advanced features and wide range of capabilities can make the system tricky to navigate, particularly for users new to the CRM world.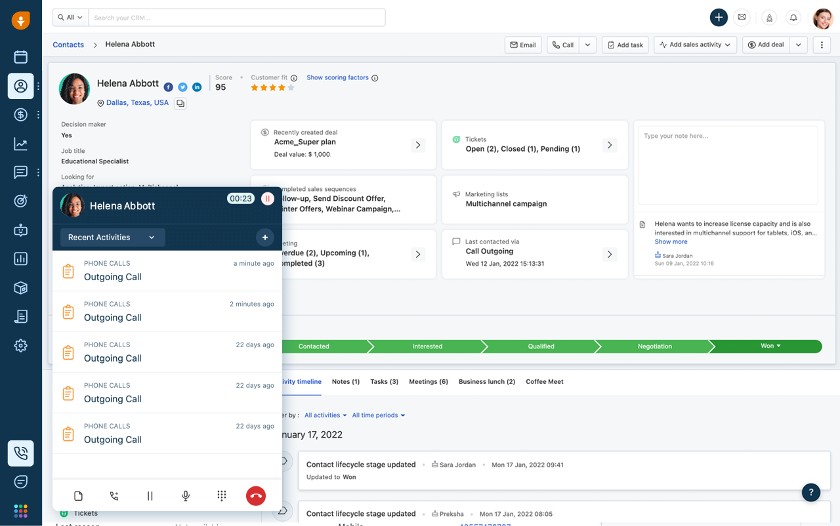 ---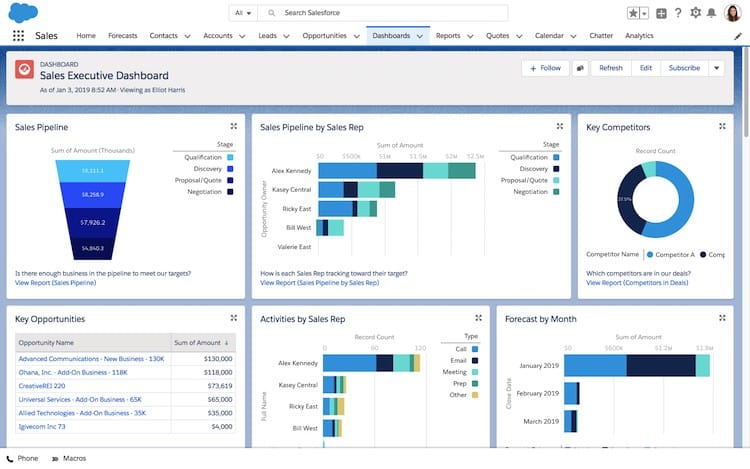 ---
Winner: While it's a close call, Freshsales edges Salesforce out in the usability category. It provides intuitive usability in all categories—setting up, operating, and navigating thanks to its clean interface and simpler design that strategically uses menu icons rather than text.
Best Customer Support: Tie
| | | |
| --- | --- | --- |
| Online/Self-help Resources | Blog, product updates, and tutorials through product tours | Trailhead resource with webinars, tutorials, guides, and certification classes |
| Phone Support | 24/5 phone support plus a dedicated account manager on Enterprise plan | Tier-based support times, including some 24/7 options |
| Live Chat Support | 24/5 chat support plus a dedicated account manager on Enterprise plan | Tier-based support times, including some 24/7 options |
| Email Support | 24/5 chat support plus a dedicated account manager on Enterprise plan | N/A |
Both CRM systems have a solid arsenal of online resources—such as blogs, documentation, product update pages, and self-help tour guides. Freshsales, however, offers 24/5 phone, live chat, and email support in all its plans. There's also a dedicated account manager assigned to you if you subscribe to the Enterprise plan.
Salesforce uses a tiered-based system where your customer support channels and hours are dictated by the customer success plan you select. This feature includes phone and live chat channels, which have 24/7 support for the Premier and Signature success plans.
Winner: The customer service category results in a tie because both CRMs can offer similar customer support value in their own way. Freshsales provides all lines of communication during standard business hours, while Salesforce does not offer email support but has 24/7 capabilities on its chat and phone channels.
Best Integration Features: Salesforce
| | |
| --- | --- |
| Dozens of third-party integrations plus native software options | 2,500+ third-party and native software options |
Both Freshsales and Salesforce offer integrations with popular outside software products, such as Google Workspace, Mailchimp, Microsoft 365, QuickBooks, and Facebook. They also provide native software options for service desk, marketing, IT support, and human resource management that easily connects with the CRM system—giving users a similar "feel" when it comes to their interface and features.
When placed head-to-head, however, Salesforce is more robust in integration capabilities with thousands of third-party options. Additionally, because of its popularity and size, it has worked its way into numerous industry verticals, such as healthcare, financial services, manufacturing, and IT management. As a result, it can integrate with platforms used in those particular businesses, giving it a wider range of use-case scenarios.
For instance, Salesforce integrates with Acumatica, a popular enterprise resource planning (ERP) software used by manufacturing and wholesale businesses. With this industry-specific integration, customer account data syncs two ways into both systems, letting teams view and manage purchase orders, invoices, and account history in both systems.
Pro tip: Do you want to learn more about choosing a CRM that fits your specific industry and needs? Check out our comprehensive guide to industry-specific CRM solutions.
Winner: Salesforce wins the integration category because it has far more third-party and native options for businesses to incorporate into their CRM. Plus, it can act as both a general use and niche-purpose CRM with its industry-specific integration capabilities.
Best Mobile Application: Salesforce
| | |
| --- | --- |
| Has record and task management plus email and calling | Offers most capabilities the web application has |
A mobile application allows teams to use their CRM to manage leads, communicate with contacts, and track opportunities during client-facing activities or at networking events. Both options provide a mobile application but differ in some of their capabilities. For example, Freshsales lets users manage and track lead, contact, and account records, view tasks, make calls, and send emails. Users can even book Uber rides from the mobile app.
Alternatively, Salesforce lets you do nearly all web application functions on the mobile app. Users can search and view all types of deals and lead records, message teammates and contacts, pull up reports and dashboards, manage tasks, and organize customer cases. Users can also edit documents, spreadsheets, and presentations and fully customize their entire mobile system with layouts, design, and custom application modules.
Pro tip: Looking for more CRMs with robust mobile apps? Check out our comprehensive guide to the best mobile CRM apps to learn more.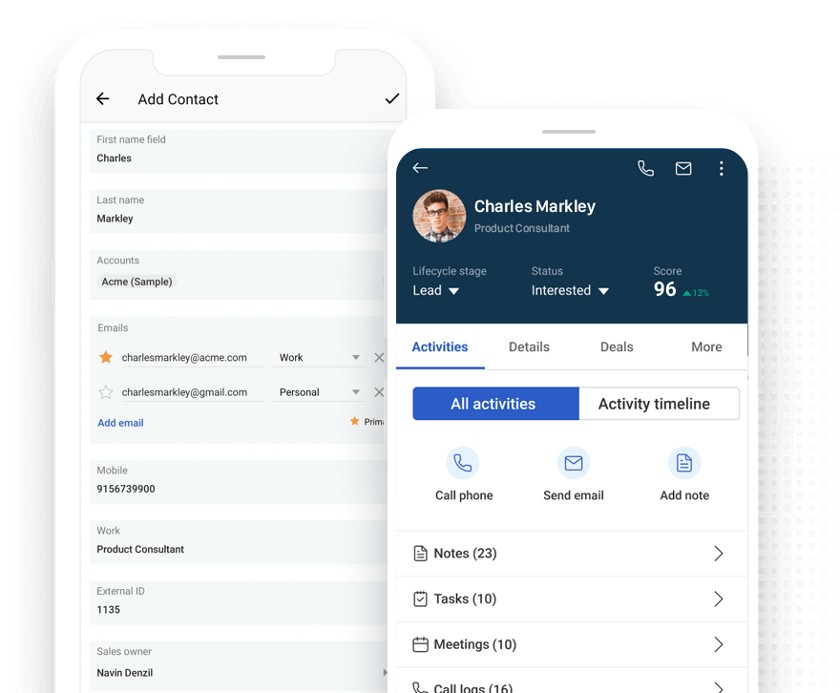 ---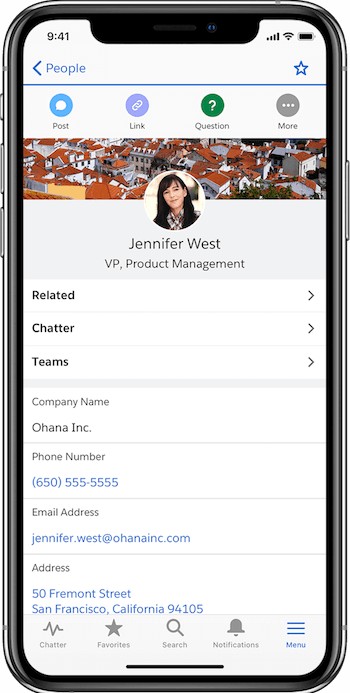 ---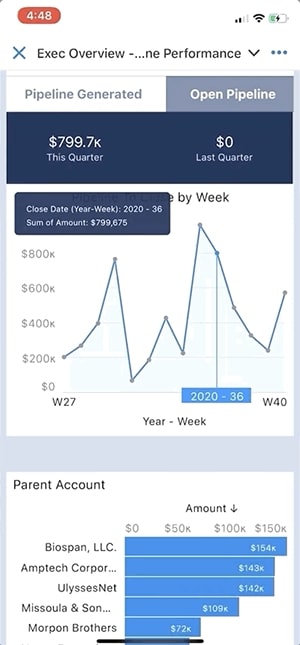 ---
Winner: Salesforce wins in the mobile category of Salesforce vs Freshsales due to the wider range of capabilities that nearly mirror the web application offered by the CRM. While still a solid mobile CRM product, Freshsales, relatively speaking, is limited to mobile record management, calling, emailing, and task management.
Best Workflow Automation Features: Salesforce
CRM workflow automation lets businesses complete tasks or sales activity hands-free. Through automated data updates, communications, task assignments, and lead qualification, teams can exclusively focus on the key aspects of sales—developing and maintaining relationships with leads and customers.
Freshsalesautomation features consist of lead scoring and data enrichment to keep records up-to-date using online information. There's also auto-lead nurturing to auto-deploy emails and text messages to contacts as well as reminders to users to call someone or complete a task. Additionally, Freshsales lets you automatically add or update records as pipeline activity takes place, send personal emails, and invoice customers.
Meanwhile, Salesforce has nearly unlimited automation custom capabilities, thanks to the Lightning Flow Automation Builder module. Users can customize any type of work or sales process to meet their needs. There are also built-in workflows for automated lead assignment, lead scoring, data enrichment and deduplication, and automated email campaign deployment.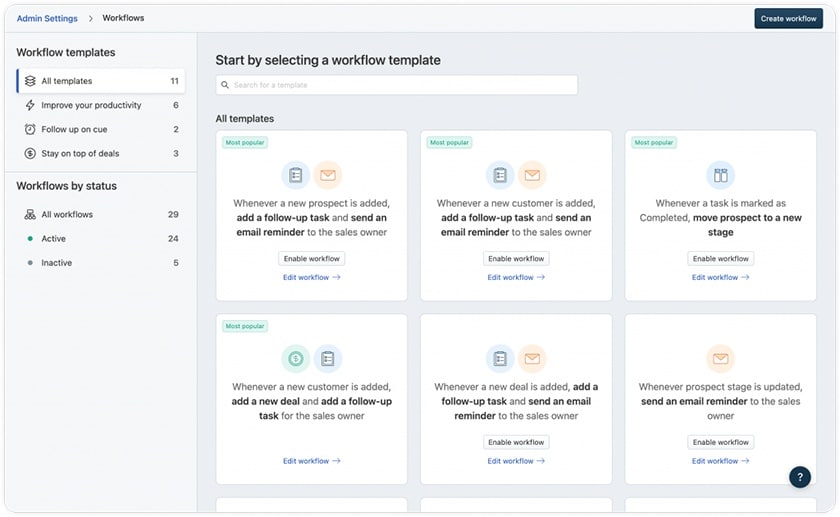 ---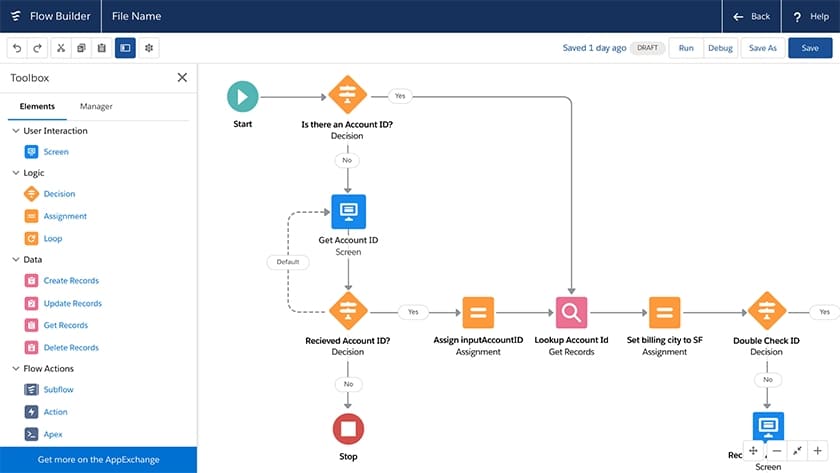 ---
Winner: Though it may be tougher to learn how to use, the Lightning Flow Builder gives users nearly unlimited capabilities for creating automated workflows. This, along with the amount of process customization offered, makes Salesforce the winner of the Salesforce vs Freshsales automation category.
Best Lead & Deal Predictions: Tie
Lead and deal prediction tools let teams forecast revenue, evaluate pipelines, qualify leads with scoring, and give analysis into deals for their likelihood to close. Freshsales has excellent, simple features powered by its Freddy AI tool for predicting revenue, scoring opportunities, and giving deal insights, including recommendations on what to do next to close a deal.
Alternatively, with the dashboarding, reporting, lead qualification, and Einstein AI features, Salesforce is a powerful lead and deal analytics solution. Teams can create custom predictive forecasts for revenue, total deals, and other key performance indicators (KPIs) an organization wants to estimate. There's also lead and opportunity scoring, a comprehensive analysis of the pipeline and its stages, and insights into deals and sales activities, such as interactions and calls.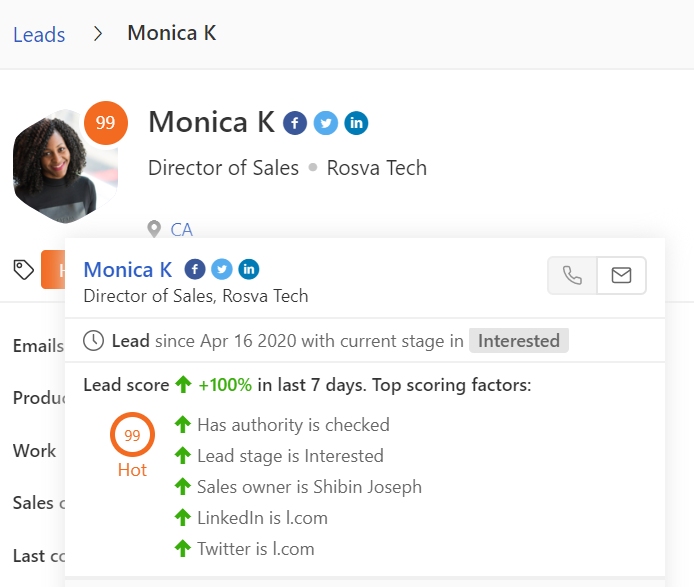 ---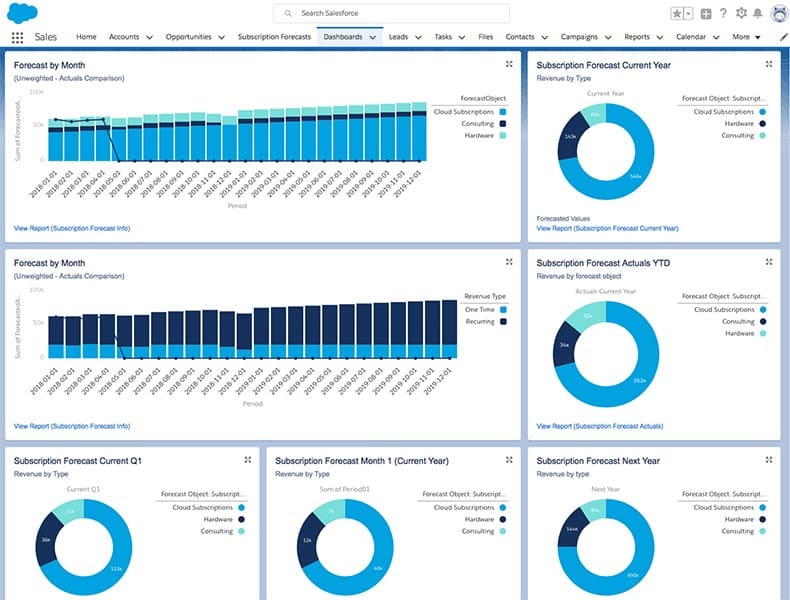 ---
Winner: Salesforce offers more lead and deal prediction functionality as it provides more features than Freshsales, including pipeline health analysis. However, if you are looking for easier-to-use tools for a lower price to lead score, forecast, or evaluate deals, Freshsales is the better option.
What Users Say About Freshsales & Salesforce
Both platforms are popular, and users of Freshsales and Salesforce are happy with their features and usability. Per review scores from popular software evaluation websites, here's how each CRM is rated: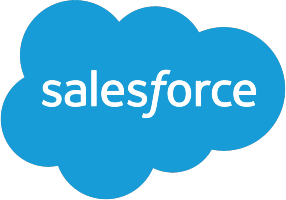 Freshsales users report poor customer service and issues with the reporting features as common negative Freshsales reviews. However, teams give positive reviews about the CRM's communication tools, intuitive interface, and simple workflow automation capabilities for nurturing leads and setting up sales sequences.
Salesforce's biggest flaw, according to users, is the user experience (UX). Many find the interface difficult to navigate and tough to use some of the features. On the positive side, users find the feature capabilities, add-ons, and integration options valuable to their growing businesses.
Best Alternatives to Freshsales & Salesforce
While the match-up of Freshsales vs Salesforce is close and both systems are beneficial in their respective ways, there could be a feature or product aspect missing that necessitates looking at other options. Here are some of the best alternatives to Freshsales and Salesforce:
| | | | |
| --- | --- | --- | --- |
| Best For | Those needing a great CRM with omnichannel communication options | Built-in project management modules | Teams seeking free marketing automation features |
| Starting Price* | $0 or $14 per user, per month | $0 or $39 per month (up to five users) | $0 or $45 per month (up to two users) |
| | | | |
*Based on annual billing. Monthly pricing is also available at higher rates.
How We Evaluated Freshsales vs Salesforce
To compare Freshsales vs Salesforce, we looked at critical product attributes small businesses and sales teams consider when comparing CRM systems. In a direct, apples-to-apples comparison, we evaluated pricing, features, usability, customer support, our expert score, and what users are saying about the products.
30%
Niche-specific Features
30% of Overall Score
This category looked specifically at tools and modules commonly sought by users and teams that gravitate toward Freshsales and Salesforce. Lead management, deal prediction, and workflow automation, for instance, are features that both CRMs are well known for, which can offer pretty advanced capabilities compared to alternative CRMs.
20% of Overall Score
The CRM solutions were also evaluated on platform usability. This was analyzed in terms of the expertise required to set up an account, the ease of integrating with native or third-party apps, and the skill needed to use CRM features. We also reviewed the overall intuitiveness of navigating the system's interface.
20% of Overall Score
Extensive support and customer service help prevent poor user experiences and outcomes users may encounter while using any of these CRM systems. Help and support were evaluated in terms of customer service hours and the availability of support via phone, live chat, and email. We also looked at online resources for users to review, like tutorials, forums, or training modules.
10% of Overall Score
Pricing considered free plan availability and various scalable pricing options a user could purchase affordably. We also looked at availability for a subscriber to either pay monthly or save by paying annually.
10% of Overall Score
We looked at overall features we feel are necessities in all CRM products, such as CRM integration options, system customization, and a mobile application. We also evaluated common modular features found within Freshsales and Salesforce's system, such as reporting and analytics tools.
10% of Overall Score
In addition to firsthand experience with these software systems, we evaluated what users say about each product. These criteria consider how customers feel, based on their reviews, to gain insight into platform popularity, ease of use, standout features, and overall value for the price point.
*Percentages of overall score
Bottom Line
Both Freshsales and Salesforce are excellent CRM solutions. Freshsales is far more affordable and easier to use than Salesforce—ideal for small teams needing basic communication and lead management tools. Salesforce, however, has advanced analytics and automation capabilities for larger firms that also need high-level system customization and plenty of outside integrations.