Freshsales vs Salesforce: Which Is Best for You
This article is part of a larger series on CRM.
Freshsales and Salesforce are excellent customer relationship management (CRM) software that offer essential tools, like lead management, sales automation, and analytics. However, Freshsales proves to be the superior choice overall for small teams as it provides fundamental features at lower price points and can be used straight out of the box. That said, Salesforce's advanced functionalities and expansive integrations can give it an edge for some businesses.
When to use Freshsales or Salesforce based on specific small business needs:
Freshsales: Ideal for small business owners who need a simple but feature-rich CRM that can be used immediately after sign-up.
Salesforce: Recommended for bigger businesses that need advanced features, such as sales forecasting and lead scoring, and have sales reps adept at using CRMs.
It is important to note that there are other general purpose CRM systems that are simple to use and offer similar capabilities at affordable price points. Learn about other options by reading our guide about the best simple CRMs.
Freshsales vs Salesforce at a Glance
| | | |
| --- | --- | --- |
| | | |
| Expert Score | 4.13 out of 5 | 4.38 out of 5 |
| Free Plan | ✔ | ✕ |
| Starting Price* | $15/user/month | $25/user/month |
| Ease of Use | Beginner-friendly | Intermediate |
| Lead and Contact Management | ✔ | ✔ |
| Lead and Deal Prediction | ✔ | ✔ |
| Customizable Sales Process and Pipelines | ✔ | ✔ |
| Reporting and Analytics | ✔ | ✔ |
| Mobile App | ✔ | ✔ |
| Integrations | 30+ direct integrations; 3,000+ integrations via Zapier | 100+ integrations; 4,000+ integrations via Zapier |
| | | |
*Starting price for annual contracts
How We Evaluated Freshsales vs Salesforce
To help you choose between Freshsales and Salesforce, we looked at the most fundamental factors critical to a small business' decision-making process when selecting the most suitable CRM. We evaluated both providers when it comes to pricing, ease of use, general features, customer service, and expert scores.
Click the tabs below for more information on the criteria we used to evaluate each customer relationship management (CRM) system:
30% of Overall Score
Total costs and various pricing options are typically the most important criteria for any small business decision. We considered the availability of a free plan, varying subscription options, and whether or not there are monthly billing plans available when reviewing Freshsales vs Salesforce.
20% of Overall Score
We looked through the overall set of CRM features, including lead and opportunity management, lead scoring, sales forecasting, and analytics. We also assessed the extensiveness of available third-party integrations that each provider offers.
20% of Overall Score
Simplicity and intuitiveness are two of our key considerations when looking into a software's ease of use. In evaluating Freshsales and Salesforce, we analyzed what level of technical expertise is needed to get up to speed with using the system.
20% of Overall Score
Support is critical for running a CRM tool, especially for small businesses without in-house technical experts. Hence, we analyzed the types of support provided by both Freshsales and Salesforce via live chat, email, and phone.
10% of Overall Score
We looked through existing customer reviews on credible sites to measure the level of satisfaction current users have, as well as any problems that they usually encounter. We also added our thoughts and expert opinion on key features, value for money, and popularity.
*Percentages of overall score
Let's take a closer look at Freshsales and Salesforce:
Most Affordable: Freshsales
*Month-to-month contract is only available for the Essentials Plan, Salesforce's lowest-priced plan. Its higher-priced plans are only available through annual contracts.
Freshsales offers a free plan for unlimited users, including basic features, such as lead and deal management, tasks, and an in-app phone. It has three paid plans, ranging from $15 to $69 per user, per month when billed annually. It also has an add-on configure, price, and quote (CPQ) feature that allows you to create branded invoices, quotes, and contracts.
Salesforce, on the other hand, doesn't offer a free plan. Its entry-level and lowest-priced plan, Salesforce Essentials, costs $25 per user, per month when billed annually. It is the only pricing plan available on a month-to-month contract subscription at $35 per user, per month. Its higher-priced plans range from $75 to $300 per user, per month and are all billed annually.
In addition, Salesforce offers add-on purchases to extend your CRM's capabilities, which include the following:
CPQ and Billing at $75 per user, per month
Sales Cloud Einstein (sales productivity with turnkey intelligence and automation) at $50 per user, per month
Pardot (sales and email marketing automation campaigns) at $1,200 per month for up to 10,000 contacts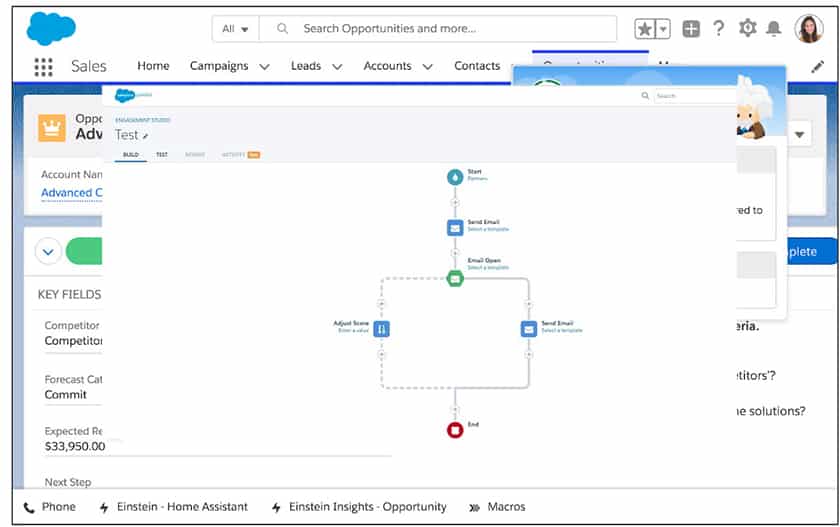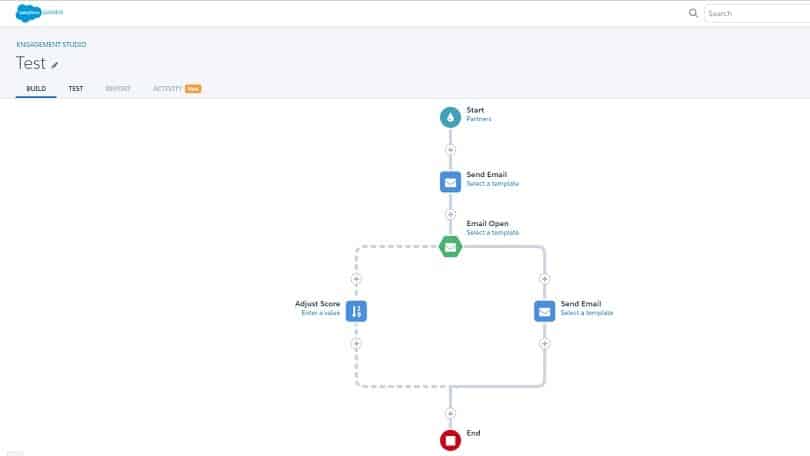 Winner: Freshsales wins this round for offering a free plan and a range of affordable pricing options for its paid plans. Its highest-priced and most extensive plan is only $69, which is still cheaper than Salesforce's mid-range plan. It also doesn't require a lot of add-ons, except for the CPQ functionality.
Most User-friendly: Freshsales
Both Freshsales and Salesforce offer flexibility in setting up the system according to your business' varying sales processes. The two providers' interfaces are also properly laid out, although Freshsales' dashboard and its presentation of information are less complicated and easier to understand.
Salesforce's interface is more suitable for experienced users. Its presentation of data when using some of its tools, such as reporting and sales analytics, requires prior CRM experience to comprehend. A technical expert could also be needed when setting up the system for the first time—depending on the level and complexity of customizations required.
Sales Reporting With Freshsales
Generating reports in Freshsales is quick and easy. It has robust analytics functionalities that make it easy for users to make data-driven decisions. At the same time, it offers a lot of ready-made report templates that users can simply adapt. Freshsales also has a simple one-click function to share reports using different formats, such as via email or a PDF.
Sales Reporting With Salesforce
Salesforce's sales dashboard, while highly visual and informative, requires some level of technical experience from users to understand and navigate. It offers various analytics tools that can measure sales forecasts and open pipelines, which users can download.
Winner: Freshsales is the winner for this round for being easy to use, providing a more straightforward user experience. While also reasonably easy to use, Salesforce requires users to have some level of technical experience and CRM understanding depending on how sophisticated they want their dashboard to be.
Best In-app Phone Functionality: Freshsales
Both Freshsales and Salesforce have fundamental in-app telephone features, such as easy click-to-call and access to previous notes and communication history with customers. Both also offer call holds and transfers, as well as conference calls.
However, Freshsales takes it a notch higher by providing advanced features, such as the capability to purchase local and toll-free numbers, number porting, and call masking. It also allows agents to enable or disable call recording based on the customer's consent. In addition, Freshsales lets you assess your agents' performance and the quality of their customer interactions, which you can use to evaluate your overall customer service.
Winner: Freshsales has the upper hand when it comes to providing a robust in-app phone. Its extensive features eliminate the need to use a separate mobile device as all customer calls—including logging-related information—can be done and accessed inside the app.
Most Advanced Capabilities: Salesforce
Freshsales has all the essential features needed in a CRM, such as contact and account management, lead, and deal management. It also offers sales pipeline management, in-app phone and chat, emails accounts, CRM analytics and reporting, and a mobile app.
On the other hand, Salesforce offers the same set of features plus a few other advanced functionalities, including sales forecasting and rule-based scoring. It also has additional sophisticated features, such as real-time sales insights, a developer sandbox, and role-based permissions that set object or data access for different users.
Freshsales offers over 30 direct integrations that include project management, messaging tools, finance, and marketing apps. Meanwhile, Salesforce offers a wider selection of integrations, enabling users to directly connect to over 100 apps that include lead generation, ecommerce, sales, and analytics. Both Freshsales and Salesforce's integrations can be further expanded through Zapier.
Winner: Salesforce wins in this category as it provides more advanced and highly intelligent features to process a business' sales performance. It also offers more extensive third-party integrations.
Best Customer Support: Freshsales
While Freshsales doesn't offer round-the-clock support, it provides 24/5 assistance in all its plans—including the free version. Meanwhile, Salesforce users can only access 24/7 support if they purchase Salesforce's Premier Support Plan for an additional 30% of your annual cost.
By default, Freshsales includes all essential support options for its paid plans, including live chat, email, phone, and community forum discussions. Salesforce, on the other hand, provides very limited support options. Its default support is limited to email support or online submission of support cases.
Winner: Freshsales is the clear winner in this round for providing users with live chat, phone, email, and community support in all its plans.
Best Alternatives to Freshsales & Salesforce
Both Freshsales and Salesforce are excellent CRM tools, but they may not be suitable for every small business. There are other user-friendly, reliable CRM systems with unique features and selling points to consider.
Here are the best alternatives to Freshsales and Salesforce:
Interested in exploring more options? Check out our guide to the best CRM software for small businesses and determine which option works best for your specific business needs.
Bottom Line
Freshsales and Salesforce are both robust CRM systems—but they serve a wide range of needs and cater to different kinds of users. Choosing one boils down to the features integral to your sales process and your team's level of experience. Freshsales is simpler and more affordable, but offers all the essential features in a CRM. Meanwhile, Salesforce is more advanced, but requires some level of technical expertise and prior CRM experience.
You Might Also Like…