14 Ideas & Tips for Real Estate Team Names (+ Examples)
Your real estate team or company name is often the first interaction potential clients have with your business—and first impressions are priceless. That's why you need to establish the best real estate team or company name, making sure it's clear, original, easy to remember, showcases your brand, and follows legal and ethical guidelines. By incorporating alliteration, positive terminology, and abbreviations, you will be able to formulate a team or company name that the group will be proud of.
Here are 14 ideas and tips, with examples, to help you generate strong real estate team names and set your business up for success.
1. Try a Team Name Generator
It can be difficult to come up with names for real estate companies that fit all the criteria you want. Before spending a large amount of time searching for real estate group names that encompass your real estate business values and ideals, try a team name generator that can provide you with a creative name or at least give you inspiration. Give our team name generator a try:
Generate Your Name
Warning: The company names produced by this generator were created by our team, but it is up to you to verify trademark status.
If you didn't like the name that was generated or would like to put your own spin on it, download our list of real estate team and company name ideas:
2. Use Simple Spelling
Your real estate team or company name will be used across all social media channels, on your website, and potentially on digital and print advertisements. Confusing spelling or pronunciation will ultimately make your brand difficult to remember and could result in lost business. For example, some of the most popular real estate companies are Houzz, Zillow, Open Door, and UpNest. Using a short, sweet, and easy-to-spell real estate name, you'll be able to get your branding across to potential clients more quickly and efficiently.
Pro tip: Do a Google search and look through the Urban Dictionary to make sure there aren't any negative connotations associated with your company name ideas. For example, "Fayetteville Area Rapid Transit" wasted hundreds of thousands of dollars on branding, only to become a laughing stock the day the first buses hit the streets with their initials. It has since changed its name to Fayetteville Area System Transit with the initials FAST.
With just one four-letter word, "Salt Real Estate" is a simple and easy-to-remember company name. It capitalizes on the power of "short-and-sweet" by using bold, simple branding in its logo and website design. On its website, it also uses its "about" page to explain the name choice and tie it into the mission of its company.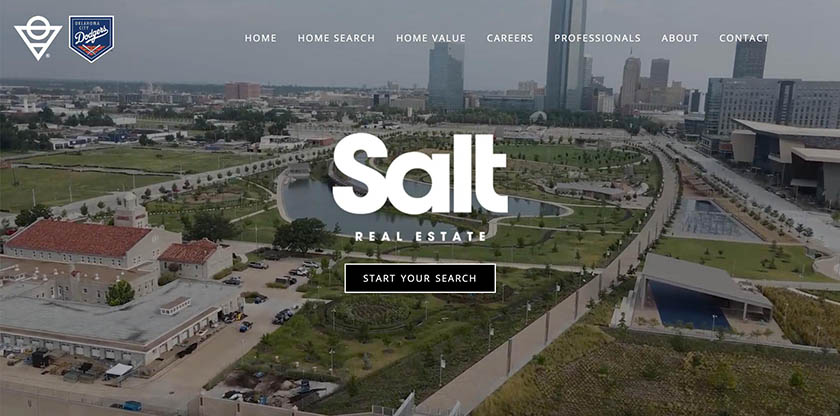 ---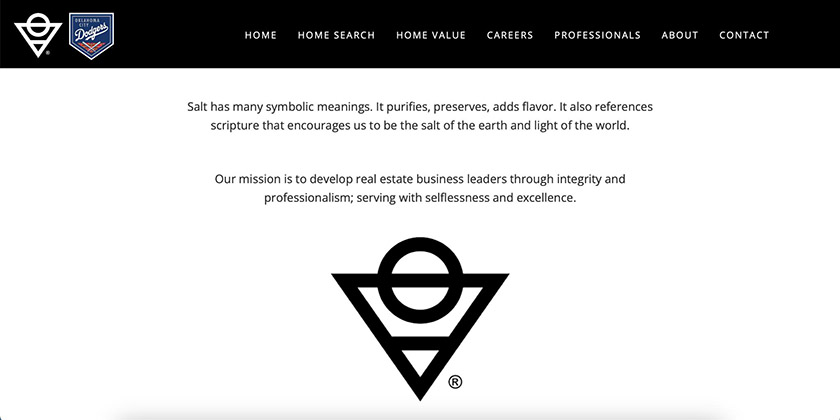 ---
"LAER" is an abbreviation for "LA Realty," which includes a geographic keyword in only four letters. In addition, "LAER" is pronounced like "Lair," or a lion's lair, a theme woven throughout the company's website and branding. Another unique touch is that the name's mirror image spells "Real."
"Reside Home Group" chose to focus its name on one simple term—reside. This is an extremely simple and easy-to-spell word that is highly relevant to real estate, making it easy to remember and market.
---
As you're thinking of potential real estate group names, make sure you are also thinking about your logo and visual branding. In these examples, Reside Home Group and LAER used simple graphics within their logo to build on their team name. Creating a logo and testing different visual graphics is easy to do with Canva, a user-friendly graphic design platform. It provides an endless number of elements, including graphics, fonts, colors, and even free logo templates. Start using Canva for free!
3. Highlight Your Core Value Proposition
One of the best ways to think of realty company names to help you build a successful business is to include your unique selling proposition (USP), core values, or your mission. Although you can't fit all that information into one team or company name, it should be a primary consideration. Ideally, your name should reflect the principles you stand for and the feelings you want to evoke in your clients. To get clearer about these values, ask yourself questions like these:
Why is your potential client buying or selling a home?
What are they afraid of?
What are their emotional needs during the process?
What needs will buying or selling a home help clients meet?
Once you have the answers to these questions, think about a name that will resonate with your clients' needs and your non-financial goals. If you haven't already determined your USP, make sure you go back to your business plan and finalize this. Get a free template and tips to create one in our guide, How to Write a Real Estate Business Plan.
"Agent Hero" is a company uniquely made up of military team members who also serve veterans and active members of the military. Therefore, its real estate company name consists of two very basic names that accurately reflect what makes the company stand out. By choosing this name, there is nothing difficult for customers to spell or remember, and their interactions with the business are closely tied to the emotions they might have when they think about the word "hero."
"The Cutting Edge Realtors" focus on providing its clients with the most up-to-date information and efficient systems. Using a well-known phrase, "cutting edge," the brand immediately communicates its focus on efficiency and innovation.
---
4. Use Alliteration
Alliteration is the repetition of a letter or sound in a word or group of words, and it's one of the simplest ways to help potential clients remember you. While there is a limited amount of science that explains why people tend to like alliterative words and phrases, research shows that alliteration improves recall. You can see examples of how successful businesses use alliteration everywhere, like Coca-Cola, TikTok, Dunkin' Donuts, and PayPal.
Consider trying your first and last name, locations, branding, and type of property your team specializes in to find commonality in letters and sounds. Make a list of these terms and brainstorm ways to string them together to create alliteration.
For example, if your last name is "Baker" and you specialize in working with oceanfront properties, you can consider the "Baker Beachfront Team" or "Baker Bungalow Team." Or, if your team's office is in Tampa, Florida, and you work with apartments, townhouses, and condos, you could call yourself the "Totally Tampa Group" or "Tampa Townhouse Realty Group."
The name "Pink Palm Properties" uses alliteration at the beginning of all three words, as well as descriptive imagery, to make it difficult to forget. With the addition of the pink palm tree in the logo, it's easy for anyone to immediately remember the image and the company name.
"Living Loving Team" not only uses alliteration with the letter "L" but also uses two similar words ending with "ing" to make it a lot easier to remember. This team name is also a perfect example of how realty names don't need to include "real estate" or "homes" to be the right fit for you. In fact, some states have many restrictions on real estate references in your team name, as you'll find out below.
"Sold Sisters" perfectly exemplifies a name with alliteration and simple spelling, and even highlights a memorable feature of the team. It is a play on a common saying, "soul sisters," making it easier to recall. Even if the members of the Sold Sisters aren't biological sisters, it immediately gets potential clients thinking and provides an easy conversation starter.
---
To test a potential real estate name, imagine how the name will look on a real estate business card, website, and other marketing collateral. In fact, you can upload a mock-up logo to ProspectsPLUS! to visualize what it might look like on business cards, flyers, postcards, and newsletters.
ProspectsPLUS! is a direct response marketing company designed for the needs of real estate businesses, so it's the best place to start—even while you are picking out your company name. Learn more about affordable marketing and management solutions from ProspectsPLUS!
5. Incorporate Searchable Keywords
Since your audience constantly sees an abundance of real estate advertisements, it's ideal for realtor company names to communicate who you serve and what you do clearly. Consider naming your business with words people are likely to type into Google when searching for real estate help, like "Colorado Homes" or "Colorado Springs Real Estate." This makes it more likely that your business will appear in search results when potential clients need you the most.
To generate some keyword-focused name ideas, ask yourself what people search for when they want to buy or sell a house. Are they searching for your county name, city name, region name, or perhaps the name of a lake or other landmark? Using a geographic keyword is often the best way to incorporate a keyword and make your company stand out. For instance, instead of simply choosing a name like "Inspire Real Estate," you could adjust your name to "Inspire Denver Real Estate" or "Inspire Lake Erie Real Estate."
Once you've brainstormed some potential keywords, use a tool like Google Keyword Planner or Semrush to gather data on the best keywords. It will show you the average number of times each keyword is searched, the competition level (low, medium, or high), and suggestions for related keywords.
One real estate brokerage, "Great Colorado Homes," used its company name and slogan to target a few high-volume Colorado Springs keywords (e.g., "Colorado Homes" and "Colorado Springs Real Estate").
This Massachusetts real estate brokerage combined two street names in downtown Boston, Stuart Street and St James Avenue. It shows up in local searches and displays the company's connection to the city.
---
Regardless of which team name idea you use, make sure you build a brand and take advantage of potential keywords with a professional real estate website. Placester is the only code-free website builder designed specifically for real estate professionals, including IDX, search engine optimization tools (SEO), and unlimited posts and pages. It also provides a full services marketplace and DIY options to help you easily create a beautiful, branded website that generates organic traffic. Plus, you can try it free for 30 days.
6. Include Slant Rhymes
Similar to alliteration, slant rhymes are another language trick that instantly makes your team's real estate brand more memorable. Slant rhymes are two or more words that end with similar letters or sounds—like Fitbit or StubHub. While a full rhyme gives poetry and song lyrics a sense of rhythm, a slant rhyme can achieve the same effect without sounding overly cute or silly. Depending on your brand, a slant rhyme may or may not be the right choice to attract your target audience.
To think of a slant rhyme for your team name, jot down some individual words that you may want in your name or real estate words that describe your brand, like "homes," "real," "bold," or simply your first or last name. Then brainstorm other words that rhyme or have similar sounds, using poetry, music, or even rap lyrics to get more ideas. Search for rhyming words for your first or last name, like "Homes With Rhodes." You could also choose a simpler route and look for slant rhymes for general words like "real" or "home" to find combinations like "Home Grown" or "Real O'Neill."
If you are lucky enough to have your first and last name automatically be a slant rhyme, the job of choosing a realtor group name could be extremely easy. Because "Tony Baroni" is a slant rhyme and rolls off the tongue, it makes a great team name, even with unusual spelling.
If you can't determine any real estate group names with a slant rhyme, consider including a rhyme in your tagline. Tulio and Jessica Morales, a married real estate team, use the tagline "The Spouses Who Sell Houses" as their tagline, Facebook page name, website URL, and social media user name. Although it's not exactly a slant rhyme, it includes a rhyme, is extremely memorable, and incorporates the team's unique personality.
---
7. Create a Positive Emotional Response
Another idea for creating a strong real estate name is basing it on the feelings you want your company or team to be known for. For example, if you want your team to be known for its strong negotiation skills and ability to close deals that others consider difficult, the words you brainstorm might be "strong," "bold," "negotiate," "overcome," "fearless," or "determined." Then you can try combining these terms with real estate or team names, like "Bold Homes," "Bold Real Estate Team," or "Fearless Real Estate."
Emotions are an essential part of marketing, and choosing the right real estate words is important in every aspect of your business. Even if you find a memorable real estate name, it still won't be a good choice if it comes with negative connotations. For instance, buyers may want the ability to close on a home quickly, but using "Quick" or "Fast" in your team name may also make people think that you aren't focused on building real relationships with clients. Using a synonym like "Steady" or "Prompt" can convey the same concept, but with positive connotations.
"Confident Realty" uses emotion and a specific personal quality they want each of their real estate agents and clients to have. This is a direct and straightforward way to show clients exactly what you prioritize in your transactions.
Who doesn't think of fun and positivity when they hear the word "play?" This team uses two words, live and play, along with their location name to complete their team name. This is a strategic choice since Silicon Valley is the nickname for an area famous for technology and innovation. Many homebuyers and sellers in the Silicon Valley area will be attracted to a team that values fun along with hard work.
This real estate company uses the word "future" in its company name and pairs it with a clever tagline, "Raise your expectations." Although this team name doesn't specifically use an email, the combination of branding elements evokes a sense of excitement and hope for the future.
---
Pro tip: Business owners usually can't objectively evaluate their business name ideas, so it's ideal to get feedback from members of your network who are closely associated with the audience you want to reach. For example, ask local friends and family members to give you honest feedback about what they think about when they hear your potential real estate company name.
8. Capitalize on Your Name & Team Member Names
It's extremely common for real estate teams and companies to use their last name as their business name. This can be effective if it's done with a thorough strategy, but it can also create some unnecessary obstacles. For instance, my last name is "Strozyk," which is uncommon, has confusing spelling, and doesn't roll off anyone's tongue. Naming a real estate company "Strozyk Realty" would make it difficult to remember, let alone spell it in a Google search.
On the other hand, if you have a simple or common last name like "Smith" or "Miller," the company names might not stand out or be memorable. However, first or last names that are easy to spell and remember can work well, like "Hickman Real Estate Team" and "The Brett and Julia Team."
Another potential problem with using your name as the owner of a real estate company or team is that it can be confusing to new buyers or sellers. If you are the title of your business, they might expect to always work directly with you instead of one of your team members. In addition, if you ever decide to sell your company, it can be difficult to sell branding built solely around you. However, with all of the potential pros and cons in consideration, using your first or last name can be effective and memorable.
"Chance Realty" may seem like a real estate name meant to evoke emotion, but it's actually based on the company founder's name, Teresa Chance. If you have a last name that is also another word, it might be a perfect fit for your company name and brand building.
The name "Choose Charlie" uses a combination of real estate team name ideas. It includes the team leader's personal name (Charlie), uses alliteration, and both terms in the team name are easy to spell and pronounce. It's interesting to note that the leader's full name is Charlie Aghadiuno, so by deciding to only include his first name, he eliminated any potential for confusion.
An alternative is to include part of your personal name in your team name. In the case of the Nelson Brothers Team, they leveraged their sibling relationship to create a punchy and memorable title. Not only is their last name simple and catchy, their team name instantly communicates their family relationship, which makes it even easier to remember.
---
9. Employ Simple Abbreviations
If your name or team members' names are confusing or difficult to pronounce, an alternative strategy is to use abbreviations. This allows you to incorporate multiple members of the team or company, avoid confusing names, and create a memorable name. You can even abbreviate something other than names so that the team name can easily grow with your company.
A simple way to make an abbreviation is to use the first letter of the names of your team members or team leaders. For example, a team with members named Alex, Gina, and Kaylee could be "The AGK Team." Alternatively, you could choose a few team values, like honesty and innovation, and abbreviate them to "The HI Team" or "Team H & I."
Pro tip: Before you decide on the name, do your due diligence to ensure the abbreviated name doesn't have a negative meaning or connotation, like IRS (Internal Revenue Service), DEA (Drug Enforcement Administration), or MRSA (Methicillin-resistant Staphylococcus aureus).
Instead of abbreviating first or last names, "The FM Real Estate Team" abbreviated its farm area—the Fargo-Moorhead area of North Dakota. If you aren't sure you want to use names or don't like any of the abbreviated name options, consider abbreviating other parts of your business like this team.
The "CHI Group" uses an abbreviation in its name that forms an interesting, simple, and easy-to-remember name. This abbreviation is specific to the area they operate, which is Chicago. Not only does this team name have a successful abbreviation, it also showcases its area of expertise and would be familiar to Chicago residents.
---
10. Focus on Your Location & Farm Area
For those short on creative ideas for their real estate name, think about using location-based terms from your local farm area. Including the location you serve in your title makes it easier to think of at least a few different options that clearly communicate your team's expertise and define your area of expertise.
In addition, using a location in your name increases your chances of appearing in search engines. To get ideas for a team name with your location, simply combine your farm area with any of the other real estate team name ideas on this list. For example, if you serve the New Orleans area, you can name your team "New Orleans Realty Team" or "NOLA Group." This team name strategy will be even more beneficial as you market your team and create brand recognition throughout the area.
The "Tampa Bay Home Team" clearly uses its city's name in its title, but also adds a unique element with the term "home team." Of course, "home" and "team" are extremely common terms in many real estate agent team names, but combining the two creates a baseball reference. This is confirmed in its tagline, "Your home-field advantage." This is a fantastic example of using a person's interest, even if it seems unrelated to real estate, to elevate your brand even further.
DFW is an extremely common abbreviation for the metropolitan areas of Dallas, Fort Worth, and Arlington in Texas. While that may not be common knowledge to everyone in the United States, it very clearly defines the team's area of expertise to anyone in the area. Combining the location title with another simple word—"tag"—makes the team name punchy, descriptive, and memorable.
---
11. Include Local Nicknames or Buzzwords
The best real estate team names are memorable and specific to your team and clients, so consider using a well-known nickname for your location or popular local establishment. Think about your city's nicknames or titles, like "The Windy City" for Chicago or "The Big Apple" for New York. If you serve a more suburban or rural area, there may also be nicknames for your area only used among locals. Just ensure that your state's real estate team rules don't prohibit you from using certain titles or phrases.
If there is a locally used nickname in mind, finding the right team name might be as simple as adding "Team" or "Real Estate Team." However, if you want to combine some city buzzwords, like "The New York Empire Team," it will take a bit more time and energy to rearrange terms and nicknames to find a real estate group name that is memorable and unique.
"Red Rock Real Estate" is a team that serves Southern Utah, commonly referred to as "Red rock country." Since this real estate team is focused on providing hyper-local expertise, using a nickname makes it easy for potential clients to instantly know what areas they work in.
Of course, the primary term in this team's name is "NYC," which leaves no room for potential clients to question the team's location or area of expertise. In addition, this team adds a term with a positive connotation to the word "experience"—finalizing a name that's exciting and easy to remember.
---
12. Emphasize Local Nature
Every region includes different elements of nature, which could be used to create a great company name. For example, beaches and palm trees differentiate Florida from Ohio, where there are many forests and a very different climate. Referencing local nature can make real estate names stand out and create imagery to be more memorable to clients. Just avoid nature terms that don't have such a well-received connotation, like bears, snakes, or tornadoes.
For example, Pennsylvania is well known for its mountains and rolling hills, and it's a positive and familiar trait to PA residents. Names like "Appalachian Real Estate Team" or "Rolling Hill Homes Group" could perfectly fit your audience. On the other hand, it's equally well known for its curvy and winding roads, but that may not have a positive connotation depending on your specific area.
The name "Ocean Reef Club Real Estate" is appealing because of its unique nature element. However, this team name is somewhat unique because the Ocean Reef Club is also the name of a private club community in the Florida Keys.
This Ohio real estate company references Red Oak trees, which are an important part of Ohio's landscape and economy. They also incorporate this local theme in their tagline, "rooted in excellence."
---
13. Reference Your Real Estate Niche
In most cases, your real estate group name will be the first thing that potential clients see. Even if you have an incredibly strong brand and marketing strategy, a team name that is unclear or doesn't fit the brand can stunt your growth. Instead, think about including an element of your unique brand or real estate niche in your team name to make sure that the first impressions of your team are clear and interesting.
For example, if you want to work exclusively with buyers, a name as simple as "The Buying Team" could help you get the attention of your target audience. On the other hand, if you want to work with foreclosed or expired listings, consider what terms would capture that audience's attention. Instead of using a real estate term like "distressed" or "expired," name how you will help them, like "The Next Steps Team" or "The Second Chance Team."
When the co-founder of Luxury SoCal Realty started this company, she had just moved away from her previous network of real estate clients and referrals. By choosing this name, she immediately established her specialty as a luxury real estate agency for the Orange County and San Diego regions. This helped skyrocket her business within just a few years.
"Flipping Moore Realty" is a unique real estate brokerage that provides selling services to investors and house-flipping professionals. By using the term "flipping" in its company name, it simultaneously creates interest and attracts an audience of investors who need their skills.
Texas residents have a unique culture, and there's a common sense of pride in being part of the Texas lifestyle. "The Texas Lifestyles Group" takes advantage of this pride with a Texas state cut-out in the logo, and the name clearly targets Texas residents who are passionate about their area.
---
If your branding doesn't set you apart from your competition like these examples, it may be time for an upgrade. You don't need to spend weeks or thousands of dollars to refresh or create a full branding kit. You can access professional graphic designers and branding experts and get a custom branding package for your business with 99designs. Search for a designer or start a contest to see branding concepts from an unlimited number of designers to choose the best one.
14. Consider Legal & Ethical Guidelines
Realtor group names are with you for the long haul, so be sure to start on the right foot by keeping legal and ethical considerations in mind. Make sure your name is not trademarked, that it's available online, and that it complies with National Association of Realtors (NAR) rules is essential when making your decision.
Here are three legal and ethical considerations to remember:
Don't skip this step—especially since it's easy and free to search for trademarks on Trademarkia.com. If your real estate group name is trademarked and in a similar industry, you won't be able to use it unless you want to end up in court. If it's in a different industry, consult with a trademark lawyer for details.
Many states have strict laws to regulate real estate team names. For example, in Colorado, team names may not include the terms "Realty," "Real Estate," "Realtors," or "Company." Similar rules apply in Louisiana, Maryland, New York, Ohio, Oklahoma, South Carolina, and Washington state.
Also, the National Association of Realtors (NAR) has regulations regarding real estate team names. Since the term "Realtor" is a nationally recognized trademark of NAR, only NAR members are allowed to use the Realtor name. Even if you are a NAR member, you're still only allowed to use the Realtor name in association with your personal name. In other words, it's perfectly fine to call yourself "Kelly Smith, Realtor," but it's against NAR trademark rules to call your team "The Kelly Smith Realtor Team."
When you're ready to start checking for available URLs for your team, use this handy and free domain availability check from Bluehost. Once you've found the right one, consider signing up with Bluehost. It offers domain name registration, quality hosting, and a WordPress website, all for $2.95 a month.
Make sure you fully understand the national and state-specific laws before investing any time or money into the wrong real estate name. If you don't, you may fly under the radar for a year or two, but you can get hit with fines of up to $10,000—not to mention that you will need to come up with a new name.
Bottom Line
When you're building a real estate team or company, choosing the right name can have a huge impact on your success. Use the ideas and real estate agent tips above to generate ideas for real estate group names that fit your team, reflect your unique offers, and build brand recognition.