Good ecommerce website design is critical when building your online store, as it attracts potential customers, provides an enjoyable user experience, and increases sales. Designing for ecommerce differs from building a regular website as it involves highlighting products and creating a seamless buying experience for your customers.
This guide outlines good ecommerce website design principles and how to achieve them. Download our checklist to ensure you implement each principle's key takeaways on your website.
1. Instill Trust
Various studies, including one from Tidio, highlight some of the most important factors in building trust in ecommerce. Those factors include website interface quality, perceived privacy and security, and product information quality. With this in mind, we suggest focusing on branding consistency, displaying privacy seals, and making reviews and contact information accessible on your site.
Branding is your unique identifier and what makes you stand out from the competition. An ecommerce website is a significant part of a brand's identity, and it should convey the same values that your products embody. Take time to define your brand and infuse that into your website design.
More importantly, you should present your brand consistently across all your platforms. For example, when visitors browse your website, then look at your social media channels like Instagram, the colors and messaging should be the same. If they reach out to your support team, its tone should be similar to that used on your website—conversational, casual, formal, etc.
By creating a distinctive brand that trickles down to your ecommerce design and shopping experience, you are securing your business' spot as a favorite brand, one interaction at a time.
Key takeaways:
Choose your logo, signature colors, and fonts well. Apply it to all your customer touchpoints.
Match your ecommerce website design with your brand's tone. For example, does your brand have a fun, light tone and evoke happiness in your customers? Then, your website design should have the same style and deliver the same emotions.
Go with a website builder that allows you to customize your ecommerce website to reflect your branding.
---
A good ecommerce website design needs to guarantee a customer's information is secure. Users will more likely purchase products if they feel your online store has top-notch security.
Key takeaways:
Ensure your site's Secure Sockets Layer (SSL) certificate stays current and valid. Users can check this by clicking the padlock icon in the address bar for your website when using a Chrome browser. A pop-up will show the site certificate's validity.
Make ecommerce payment security a priority.
Display your refund or returns policies prominently on your website.
Don't hesitate to use badges to show your security compliance and all the payment methods you accept.
---
You should also prioritize ensuring your customers find it easy to reach you. Customers are more likely to purchase if they can reach support quickly in case of any issues.
Key takeaways:

Have a Contact Us page visible throughout your website—in your website's main navigation and footer areas. Display your email address, phone number, and physical store location (and hours, if applicable).
Add a frequently asked questions (FAQs) page to address common questions.
Link to social media profiles, if there are any.
Provide multiple ways to get in touch. Live chat and automated chatbots can help customers find and select the right products and increase sales conversions.
Set clear timeframes when it comes to getting back to your customers.
---
Display Customer Reviews & Testimonials Strategically
When designing for ecommerce, look for ways to display the reviews and testimonials you've gotten from your existing customers to potential buyers. Use social proof to your advantage because the most effective recommendation is what real customers ultimately buy.
The more website visitors see how other people have had a good shopping experience on your website, the more trustworthy you'll appear—and ultimately, an increase in sales will result.
Key takeaways:
Add a rating system to your ecommerce website design, and encourage buyers to leave honest reviews.
Display a testimonials section on your homepage and product pages.
Leverage user-generated content (UGC) by adding a widget or section of it to your site. This content serves as testimonials and proof of how real people are using your product.
Did You Know?
It takes only 0.05 seconds (50 milliseconds) for website visitors to form an opinion of your website—and that determines whether they will stay (and hopefully make a purchase) or leave.
Google confirms the importance of first impressions, stating that some develop within just 17 milliseconds. Your online store doesn't have much time to draw a potential customer in. Following these ecommerce website design principles allows you to create an attractive, user-friendly online store that makes a positive first impression.
2. Design Mobile-first
Ecommerce website design should be planned with a mobile-first perspective. With 45% of ecommerce shopping coming from mobile commerce (m-commerce), your ecommerce website builder must provide mobile-responsive (if not mobile-first) templates. Responsive templates display consistently across all devices (from tablets to smartphones) and deliver an equally great on-site experience—with zero to minimal design constraints.
Key takeaways:
Provide a consistent shopping experience across different browsers and devices.
Ensure that your website sections' padding and margins do not disappear on smaller screens. Moreover, font sizes and line spacing should adjust automatically to the amount of white space on the screen.
Your website should also load fast, as mobile shoppers are more likely to purchase from sites or apps that help them make purchases quickly. For example, Google found that a 0.1-second improvement in mobile site speed improved retail conversion rates by 8.4%.
TIP: When viewing your ecommerce website, be sure to view it from several different devices and operating systems.
3. Create Visual Appeal
Historical research from Consumer WebWatch, which still holds today, showed that the average consumer paid far more attention to the superficial aspects of a site, such as visual cues, than its content. For example, nearly half of all consumers (46%) assessed the site's credibility based on the appeal of the visual design, including layout, typography, font size, and color schemes.
It is clear that people are primarily visual, and appeal is an important factor in converting visitors into buyers.
Here are a few ways to amp up your site's visual appeal:
Several studies and surveys indicate consumers prefer simple and familiar website designs. In fact, a GoodFirms survey of web designers found that about 85% of them said the most common mistake small businesses make is having a website that is too complex and overly cluttered.
Approach ecommerce website design from a shopper's perspective. Can you find what you need quickly or with fewer clicks? A good ecommerce website is easy to browse and digest and makes every element purposeful. Keep your website design clean and simple—focusing on obtaining a sale and providing a positive buying experience for your customer.
Key takeaways:
Utilize white space, limit your website colors to no more than three per page, and employ simple and readable fonts.
Make content scannable. Use headers and break up content into an easy-to-scan format with bullets, short paragraphs, and bold typeface to focus on crucial information.
When using a grid layout for displaying products, we recommend limiting a row to display up to three or four products only to maximize its visual appeal.
Eye-tracking studies of website visitors have historically shown that they usually follow an E or F formation when viewing a site. Use this as a basis to drive them to the primary conversion points of your website, such as CTA buttons or navigation menus.
---
High-quality images increase conversion—as much as 40% for 360-degree product photos—so it's vital to put them into the spotlight, especially with product images. Customers want to see a product from as many angles as possible before buying. Providing clean, high-quality, and actual product photos also helps build trust and confidence between you and your customers.
Key takeaways:
Create slideshows on your product pages that allow customers to view your product from different angles.
Consider enabling a zoom or 360-degree photo feature on your images so customers can zoom in and see fine details.
Make sure that your images are optimized for the web. Some high-quality images take a long time to load. Choose an ecommerce website builder that compresses and optimizes your images automatically for easy website viewing.
Use lifestyle images of people using or interacting with your products whenever possible. For example, clothing products are more appealing when worn by a model instead of photographed flat on a surface or a mannequin.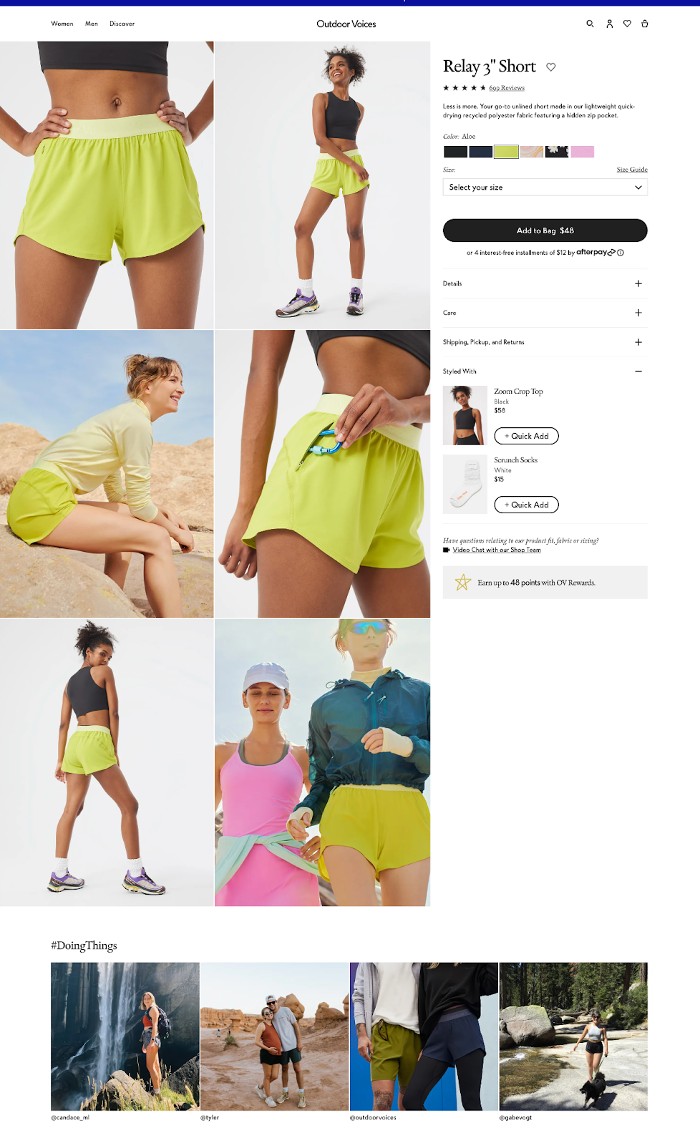 ---
Applying color psychology principles in your ecommerce website design can help with conversion. Using color and imagery can inspire and motivate a person to take action, as multiple historical studies show using red, for example, in CTA buttons can increase click-through rates.
Key takeaways:
Choose colors that are consistent with your branding.
Have website colors that pass accessibility guidelines.
Follow the 60-30-10 design rule in using color throughout your website—60% dominant color, 30% of secondary color, and 10% for accent colors.
---
4. Implement User-friendly Navigation
Convenience is the top consideration for online shopping and, not surprisingly, one of the main reasons for shopping cart abandonment. A good ecommerce website design should enable your customers to find what they need easily, and it starts with user-friendly and effective navigation. This usually helps propel a customer from browsing your online store to purchasing.
Navigation refers to all the website elements that help users get to specific information on your website. This includes the header navigation menu, product category pages, on-site search, product filters, and website footers.
Key takeaways:
Your brand logo should lead to the homepage and always remain in sight, no matter how deep the user goes.
Display your main navigation menu on top of your website and have well-organized website sections.
Include a search bar with an auto-complete feature or relevant filters.
Have a CTA button on each website page, especially the homepage.
Enable filtering by size, color, brand, etc., especially if you have an extensive product catalog.
Activate breadcrumbs on your product pages. Breadcrumbs allow users to return to several product categories and subcategories—and can serve as an expansion of the search.
5. Build a Seamless Checkout
Unexpected shipping costs, a complicated checkout process, and the need to create an account are three of the top five reasons for shopping cart abandonment. All of these revolve around the checkout process. Your checkout page design needs to be simple and easy to navigate. Make everything about the checkout process clear—price, shipping fees (if any), the information you need to process the purchase, and what to do if they need to do a return or encounter a problem with their order.
Key takeaways:
Give your customers an option to check out as a guest or register for your website.
Have your customers fill out as little information as possible—only get what is necessary for a purchase to push through.
Be upfront with your shipping options and how much they will cost.
Have clear return and refund policies on your checkout pages.
Enable the one-click checkout option if the feature is available. For example, Shopify businesses can use Shop Pay.
Provide as many payment options as possible—like Google Pay, Apple Pay, and buy now, pay later options.
Guarantee site security by employing ecommerce security best practices and display security seals on your website pages.
Optimize Product Pages
Products make ecommerce websites different from the usual websites. Keep your products front and center, which you can achieve by optimizing your product pages. Most of what we have discussed above—navigation, social proof, easy checkout, and high-quality images—also applies to your product pages.
You need to remember that an optimized product page is designed to be found using search engines and, more importantly, to convert browsers into buyers.
Implement the following takeaways below to optimize your product pages.
Key takeaways:
Add more than one image for your products, ideally from different angles or perspectives.
Add keywords relevant to your product's title and image alt tags.
Incorporate videos, if helpful.
Place the Buy Now button above the website fold and use striking color to make it stand out from the page.
Have clear pricing.
Write well-crafted product descriptions that align with your brand and appeal to your target audience's language.
Add social proof.
Optional features: Add-to-wishlist or buy-later options, product recommendations (upsell or cross-sell)
Good Ecommerce Website Design Examples in 2022
Jewelry retailer Pura Vida Bracelets operates its ecommerce website from Shopify's platform. The brand gets all the ecommerce website design principles we have outlined above. Scroll through the images to see how they implemented them.

---

---

---
---
This jewelry retailer highlights its five-star product reviews from thousands of customers on its homepage and reviews from media outlets like BuzzFeed and HuffPost.
---
Skullcandy's website powered by BigCommerce has always been a frontrunner for showcasing brand identity and design. It is a terrific example of using color effectively—using appropriate colors to evoke emotions based on its products' target audience. The website is also easy to use and provides an engaging customer experience for its visitors.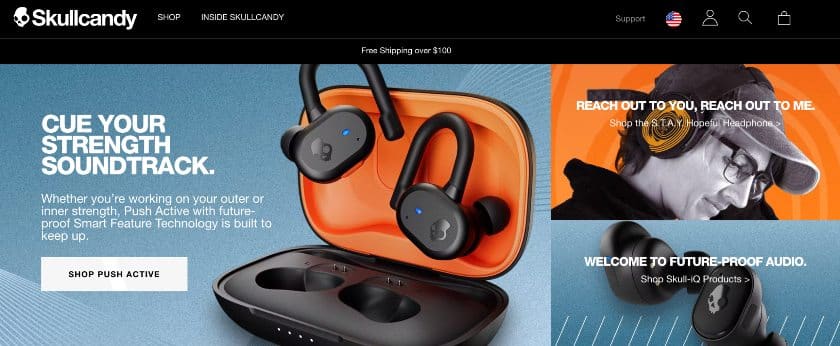 ---

---

---
---
The family-owned business based in Australia runs its ecommerce store through Ecwid. Upon viewing its website, you immediately get a sense of its brand—feminine and dainty—because of its typography and color choices. All their product photos also showcase how their dresses look for their target market—little girls.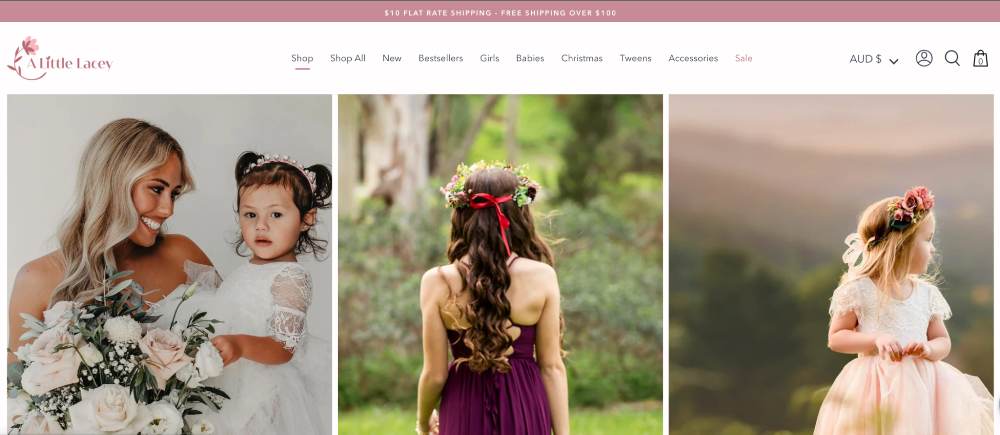 ---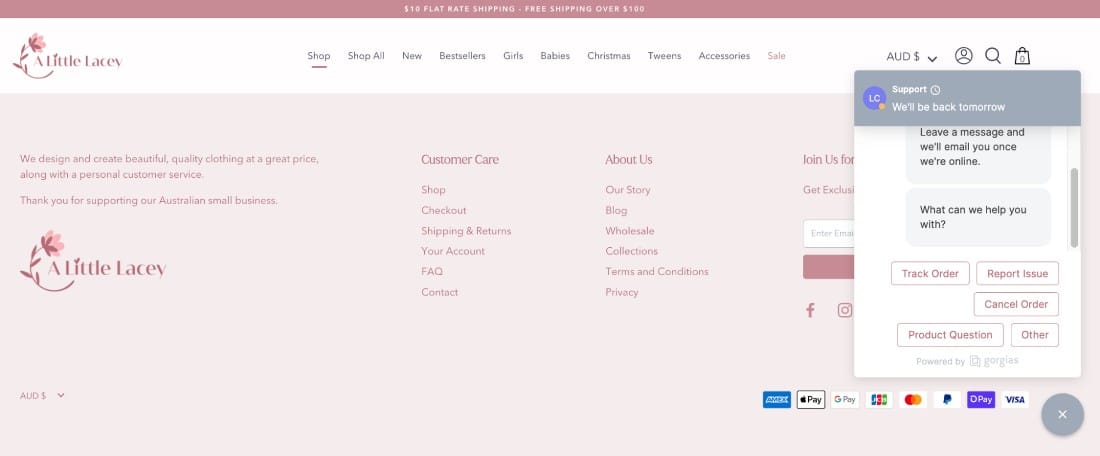 ---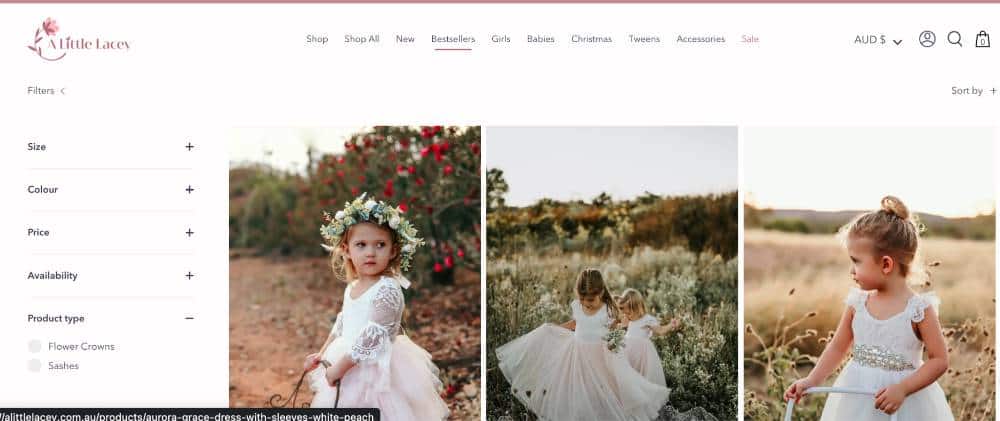 ---
---
This Squarespace-powered ecommerce website clearly made use of an ecommerce website design principle to the fullest—visual appeal. From color to product photos and easy website content flow, Supernatural got everything perfectly.

---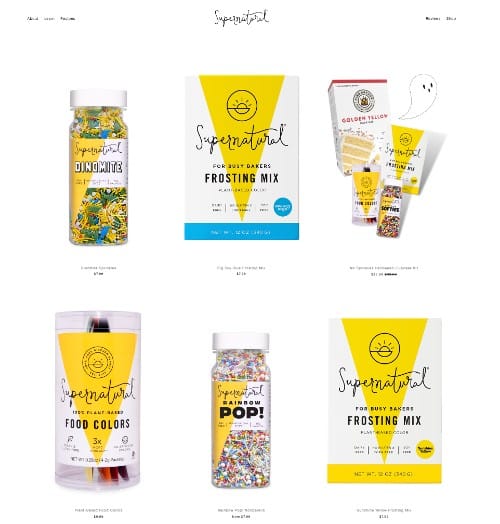 ---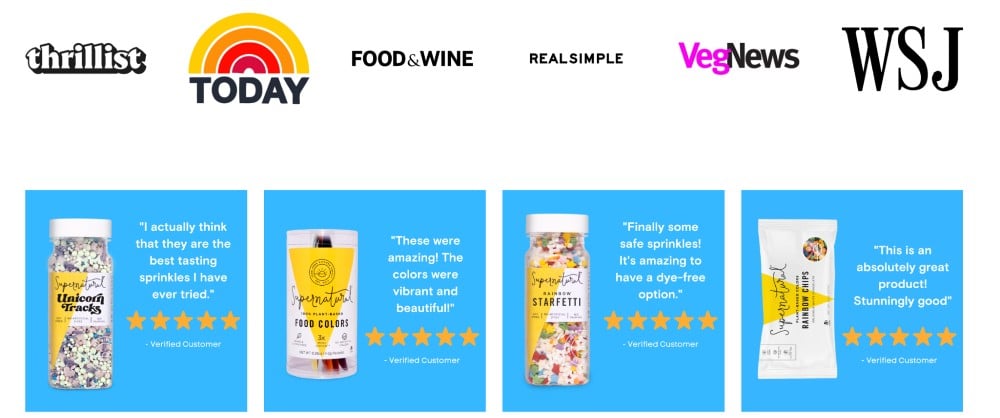 ---
---
The business owner of Twig Flowers has been a long-standing Square seller, using its systems to sell their floral arrangements in-store. He went with Square Online when he built his website so that inventory and sales integration will be seamless.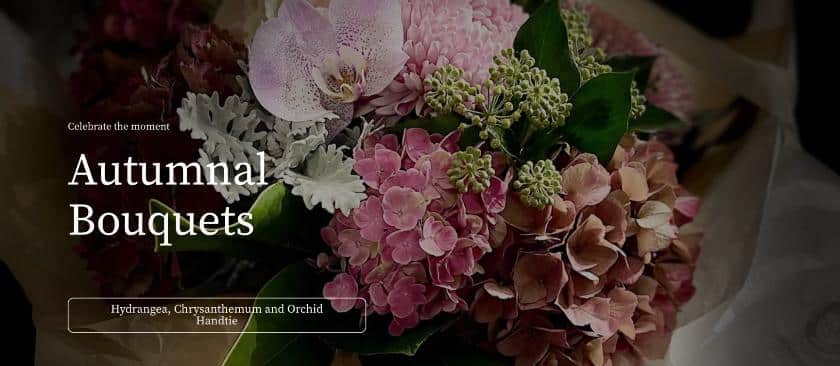 ---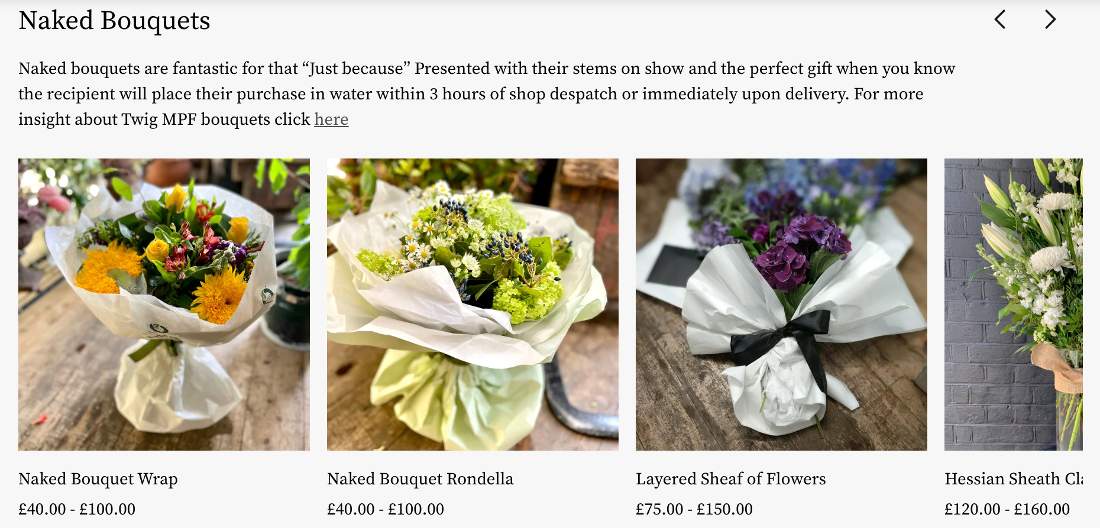 ---
---
Ecommerce Website Design Frequently Asked Questions (FAQs)
Designing for an ecommerce website slightly differs from designing a regular website as it involves creating effective product pages for visitors to purchase and providing a seamless buying experience for them. You need to ensure your website leaves a trustworthy impression on visitors.
---
A good ecommerce website design incorporates five design principles: trustworthiness, a high level of visual appeal, a mobile-first design, user-friendly navigation, and a seamless checkout experience.
---
The best ecommerce platform for designing an online store would greatly depend on your business needs and level of website design proficiency. For example, if you plan to build your online store yourself, website builders such as Shopify and Squarespace are user-friendly and intuitive for beginners. If you have a developer, going with ecommerce platforms that allow for high levels of customization, such as WooCommerce, would be a better fit. Check out our best ecommerce platform buyer's guide to find the best fit for your business.
---
Bottom Line
A well-thought-out ecommerce website design helps increase sales. This is important as 42% of consumers say that they abandon websites with poor functionality. So, always begin with your customers in mind when designing an ecommerce website—make it easy for them to purchase (and for you to close a sale).
Apply our ecommerce design tips in building your online store and go with a website builder that allows you to customize and infuse your branding and give you native features to enable you to list and sell products easily.
You May Also Like…