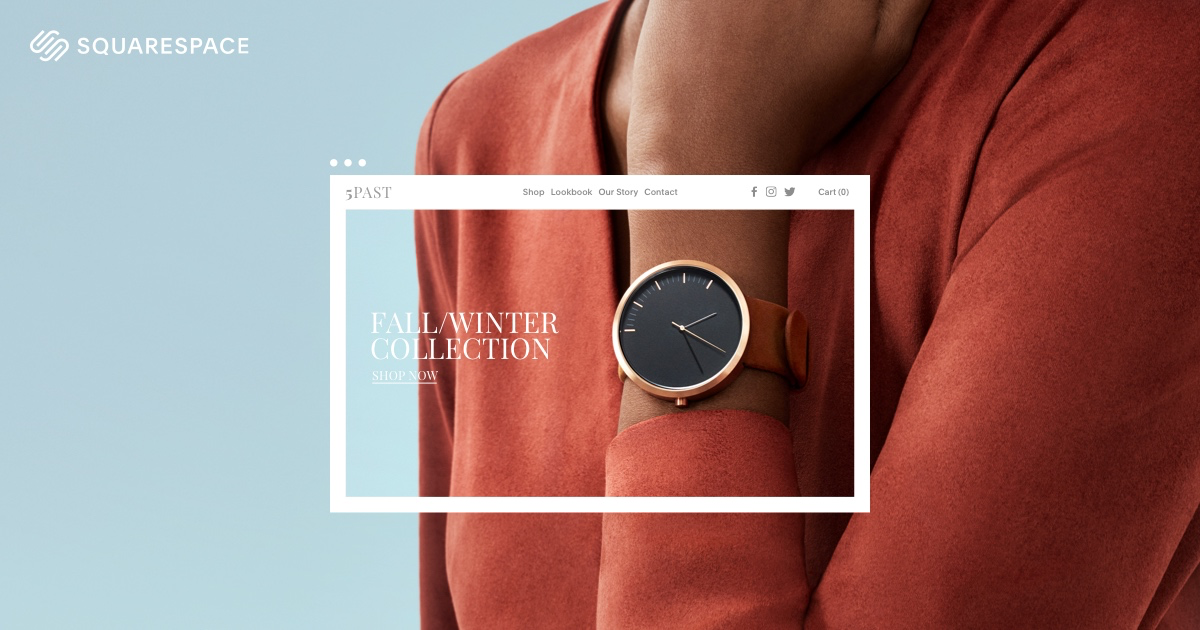 Squarespace is a popular website platform that enables businesses of all shapes and sizes to create a compelling ecommerce experience for their customers, both new and returning, for as little as $18 per month. It makes building an ecommerce site easy with its award-winning online store themes and user-friendly site editor, along with its ability to connect to hundreds of apps and integrations from shipping calculators and email marketing tools to dropshippers.
By 2023, there will be an estimated 300 million online shoppers in the U.S., so having an online store to sell your products and services is critical to future success.
Here's everything you need to know about building and launching your ecommerce operation with Squarespace.
Squarespace Ecommerce Pricing
Squarespace offers three plans that allow you to sell products or services online. The "Business" plan starts at $18 per month (paid annually), "Basic Commerce" is $26 per month (paid annually), and "Advanced Commerce" is $40 per month (paid annually).
Each of these plans come with features that are important to operating a business online. Here's a side-by-side comparison of the most important ones:

| | Business | Basic Commerce | Advanced Commerce |
| --- | --- | --- | --- |
| Starting Price | $18/mo. | $26/mo. | $40/mo. |
| Transaction Fees | 3% | 0% | 0% |
| Unlimited Products | ✔ | ✔ | ✔ |
| Customer Accounts | N/A | ✔ | ✔ |
| Checkout on Your Domain | N/A | ✔ | ✔ |
| Sync With Facebook Product Catalog (Sell on Instagram) | N/A | ✔ | ✔ |
| Point-of-Sale Integration | N/A | ✔ | ✔ |
| Ecommerce Analytics | N/A | ✔ | ✔ |
| Advanced Merchandising Tools | N/A | ✔ | ✔ |
| Abandoned Cart Recovery | N/A | N/A | ✔ |
| Sell Subscription | N/A | N/A | ✔ |
| Real-time Shipping Cost Calculation | N/A | N/A | ✔ |
| Limited Availability Labels | N/A | N/A | ✔ |
Squarespace Ecommerce Pros & Cons
Squarespace is a versatile ecommerce platform that offers lots of options for businesses of any size. Just like any website design tool, it has its strengths and weaknesses. We walked through the process of setting up an online store on Squarespace; these were our big takeaways in terms of pros and cons:
Pros
Professionally designed themes
Easy-to-use site editor
Comprehensive mobile app options
Cons
Limited customization options
Only one level of menu sub-navigation
No automatic data backup
Squarespace Ecommerce Reviews
We are constantly collecting feedback from our readers about their experiences with companies like Squarespace. With 42 ratings, our readers have awarded Squarespace a collective 4.4 out of 5 stars, specifically calling out the modern and stylish templates and user-friendly editor as positive traits, and the limited customization options and relative expense for ecommerce solutions compared to other website providers as negatives.
Most Helpful Positive Review
"Squarespace is one of the most attractive website builders on the market. The platform offers an extremely wide variety of templates for users to start with and expand later. Font, placement, images, and mobile compatibility are very well-thought-out."

— Joshua Melder
Most Helpful Negative Review
"If you are a power-user and want to build custom features, then this is not for you. Customizations are limited to some third-party services and products, and usually require additional payment."

— Matthew Budram
How to Create a Squarespace Ecommerce Website in 6 Steps
Building an online store with Squarespace is easy, and for most online merchants can be done in a day—even hours, depending on how quickly you work and how complex your site is. Follow these six steps to building your online store with Squarespace.
1. Go to Squarespace & Select an Ecommerce Theme
We know what you're thinking: "Shouldn't the first step of the process be to create a Squarespace account?" Actually, no. Squarespace allows you to walk through the first couple of steps of the process without even giving as much as your name.
When you first click the "Get Started" button, Squarespace will ask you a couple of basic questions about the type of site you want to build and the sorts of things you want to do with it. Then, they'll make some suggestions to you on the themes that might suit your purposes best. You can click through and preview themes to see which ones feel best for your goals, and when you're ready to start building, you can select your theme and move on to registration.
2. Create an Account
Registering an account with Squarespace is genuinely painless and takes less than 30 seconds. You can utilize one of your existing accounts (e.g., Google, Apple, Facebook), or sign up with an email address. To sign up with an email, all you need is your first and last name and email address.
3. Add Pages & Customize Your Theme
Squarespace site-level customization is easy and fast. On the left-hand side of your window is a menu offering options to add pages, customize the design of your theme with limited color and font options, link display options, and more.
To customize a page, simply click on it from the navigation menu, click "edit," and fill in the information you wish to display.
Adding pages to your site is easy too. While in the "Pages" menu, click the "+" icon on your left-hand navigation. Select the sort of page you want to add and place it in your main navigation. Then, go through the same customization process you used for the pages that came on your selected template to create pages that will help you sell your products or services.
Don't forget to also customize your website header and footer to include important navigation links, contact information, and email lead capture so you can stay in touch with your website visitors, as well as give them a way to reach out to you if they have questions or comments.
4. Add Products & Configure Ecommerce Settings
Once you've got your website pages set up properly, it's time to start listing your products for sale. The Squarespace ecommerce platform makes it easy to add products quickly to your store, including images, product descriptions, payment options, and more.
Make sure to take advantage of the "tags" and "categories" options for each of your products. Doing so helps to keep your inventory more organized, as well as better utilize the Squarespace feature of product suggestions for shoppers who are looking at particular types of items.
5. Register (or Transfer) Your Domain Name
To launch your site and start selling products from your Squarespace online store, you need to have a domain name (e.g., www.yourstore.com). Those who already own a domain name can manually connect to it by clicking "Primary Domain" and following the steps based on which domain name register you purchased your domain name through.
Those who need a domain name can get one for free by choosing an annual plan at checkout in the next step. Those who need a domain, but do not want an annual plan, can purchase one directly from Squarespace for around $12 per year or from a domain name registrar such as GoDaddy for around the same price.
6. Launch Your Online Store
Once your site is ready to go, it's time to get it online. In order to make your site available to the public, you've got to select your Squarespace plan (Business, Basic Commerce, or Advanced Commerce), enter your payment information, decide on whether you want to be billed monthly or annually, then hit go.
Before launching your ecommerce site, make sure you've got all your details just right. Here's a checklist of items to review before you send your Squarespace site out into the world:
Site design and style: Check your site's design and style (especially anything you've made manual changes to) on every desktop and mobile browser, including iPhones and Android phones. Everything should look consistently good across all platforms.
Site pages and navigation: Check to make sure every link in your site's navigation leads to the proper page. Check the content of every single page (including each product page) to verify all images, prices, and descriptions are accurate.
Site images: Check every single image on the site to make sure it loads properly, is properly sized, and is linked properly (if necessary).
Site form fills: Check every single site form to make sure you are capturing lead data properly, that it is being transferred to your email marketing or customer relationship management (CRM) tool, and that the form fill confirmation displays the correct message.
Site integrations: Check any integrations you may be using (e.g., G Suite, Acuity Scheduling) to make sure they're functioning correctly and providing the correct service.
Site SEO: Work through the Squarespace SEO checklist to make sure your site is properly optimized for Google search.
Verify store setup: Make sure you have a payment processor in place, that your checkout experience includes the necessary state-level taxes, and that you have at least one shipping option available for customers if you're selling physical products.
Place a test order: Walk through the customer journey on your website, from site discovery all the way to checkout, to make sure the experience is seamless and easy. Make sure to place test orders on both desktop and mobile devices to verify the experience on both platforms.
Make final preparations for launch: If any of your pages are password protected, remove all passwords. Disable any "under construction" landing pages. Disable "test mode" in your online store. Make sure your CRM and email marketing platforms are set up correctly and ready to start receiving leads.
For more information and in-depth walk-throughs of the Squarespace website building process, make sure to check our article on how to build a website with Squarespace.
Best Squarespace Alternatives
If you're not sure if Squarespace is the right fit for your small business website, there are other options available. For example, you can use another top site builder such as Weebly, Wix, GoDaddy, or Shopify, or use the world's leading website content management system, WordPress, for the most robust customization capabilities at a low price.
Here are the five best Squarespace ecommerce alternatives:
If you want to see a little more of how these tools and their features line up side-by-side with one another, be sure to check out our guide comparing the best website builders.
Frequently Asked Questions (FAQs)
Which Squarespace plan is best for me?
The answer to which is the best Squarespace plan for you depends on various factors. For example, those looking to sell on the side are good candidates for the Business plan, whereas businesses whose main sales channel is their site will likely find the advanced plans better. Also, consider sales volume to determine which plan makes more financial sense, as the higher-tiered plans cost more, but have a 0% transaction fee.
Can I change my Squarespace template?
Yes, you can switch up your template choice even after starting to design your site. Be aware, however, that there is some information that won't transfer to the new template (Squarespace is very explicit about these warnings too), so if you decide you aren't happy with your current design, you may have to start from scratch again. Get more information on how to build a website with Squarespace.
Is Squarespace good for SEO?
Squarespace comes with built-in search engine optimization (SEO) tools, though you need to follow the general SEO best practices if you want to get found in search. Squarespace's framework is naturally SEO-friendly, but you still need to submit your site to Google, work hard for valuable links to your site to increase your authority, create content optimized for keywords, and make sure your site provides a solid mobile experience.
Is Squarespace better than Shopify?
The answer depends on your business and ecommerce needs. Shopify is great for those running an online business with a lot of different inventory categories and many marketing channels, whereas Squarespace is best for those running a business with a relatively small number of products and are using content marketing as a primary means of promoting that product. Read the full breakdown of Squarespace vs Shopify.
Which is better: Squarespace or WordPress?
WordPress is the world's leading content management system (CMS), though that doesn't mean it's the best option for every business. While it's possible to build a WordPress site without code or technical experience, it does require a learning curve and is inherently more complex than Squarespace. Those looking for an easy, "plug-and-play" platform that's easy to build and manage will find Squarespace to be the best option. Learn more about Squarespace vs WordPress.
Bottom Line: Squarespace Ecommerce
Squarespace provides a solid ecommerce platform for anyone looking to start a business and sell things online. Their templates are attractive and their editor is easy to use, and they offer three different plans for businesses of all shapes and sizes with different options to suit your needs. If you need an ecommerce website, Squarespace is definitely worth considering.