How to Start a Cleaning Business: The Complete Guide
Cleaning businesses offer a wide range of services, including disinfecting, vacuuming, dusting, tidying up, floor mopping, and waxing. More recently, cleaning businesses are specializing in CDC recommended procedures to kill the COVID-19 virus. In this guide, we talk about low-cost strategies to get your cleaning business up and running on a budget. We cover how to get your cleaning business started in seven steps.
1. Choose Your Type of Cleaning Business
The very first step you need to take is to determine if you'd like to create a residential or commercial cleaning business. Your decision here will affect everything else you do, from the financing to the equipment to the marketing.
Most cleaning companies don't provide services to both residential and commercial customers. The specialization is because each provides different services and requires unique equipment. You also need to decide if you're starting your biz from scratch or purchasing a cleaning-based franchise.
Residential vs Commercial Cleaning Business
As a basic definition, a residential cleaning service specializes in homes and commercial specializes in businesses. But, it gets more complicated. Typically, the residential cleaning business is a lower cost to start; however, commercial can be very lucrative because of the add-on services such as floor waxing, window washing, and deep disinfecting.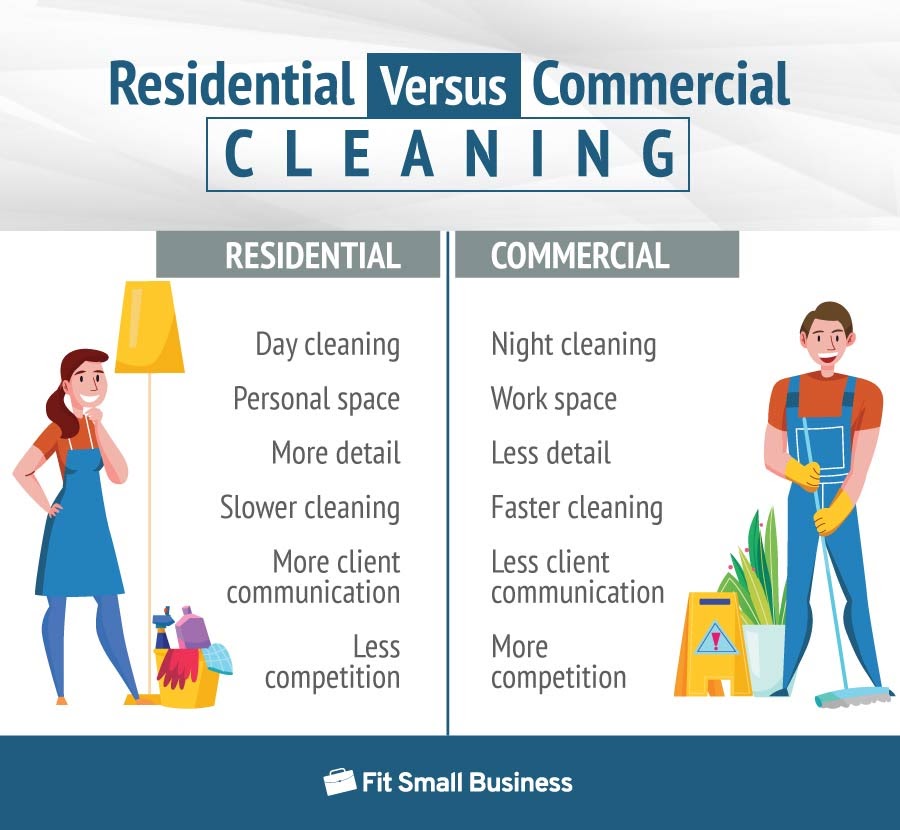 You also want to consider that residential is done during the day, and commercial is during the night. Also, residential cleaning is more detail oriented because the homeowner is more likely to inspect your work, and be particular about how you do certain tasks such as arranging pillows and blankets. Commercial covers more square feet, so you'll have to work faster and less detail oriented than residential.
From a business perspective, you'll find less competition in the residential space because there are more customers available. Overall, your choice between residential and commercial depends on your budget for equipment and lifestyle.
Should You Buy a Cleaning Franchise?
Cleaning franchises are popular—you can choose from over 15 brands. One aspect that makes cleaning franchises appealing is they're generally low-cost to start. Many also provide an option to start from home or part-time. The Stratus Building Solutions franchise costs as low as $3,500.
Now, it's important to remember that not all cleaning franchises are low-cost. Some require up to a $200,000 investment. These types of franchises often require vehicles, a location, and advanced equipment.
Many new business owners choose to buy into a franchise because it provides business and industry training. For example, The Maids offers seven weeks of business training, plus two days of culture training at headquarters, six days of admin training, and four days of on-site training at your location. It's a cleaning business boot camp!
Top cleaning franchises to research:
| Franchise | Type | Initial investment |
| --- | --- | --- |
| | Commercial | $4,000 - $73,000 |
| | Commercial | $4,000 - $54,700 |
| | Commercial | $6,000 - $37,000 |
| | Commercial | $11,000 - $68,000 |
| | Residential | $58,000 - $222,000 |
| | Residential | $63,000 - $141,000 |
| | Residential | $90,000 - $125,000 |
| | Residential | $112,000 - $156,000 |
2. Write a Quick Business Plan
The next step to start a cleaning business is to create a one-page business plan. You should get your ideas out of your head and on paper. You should also research the startup costs and forecast how much money the cleaning business will earn and spend over the next two years (called financial projections).
If you're seeking a large amount of financing from a bank or investor, you will need a traditional business plan. Most people will use a business plan software to assist with planning financial projections. If you find yourself wondering what an income statement, balance sheet, or break-even point is, you likely will need software.
Create a One-Page Business Plan
You should be able to complete the one-page business plan in less than 15 minutes. It's simple: Write down one to two sentences to the questions in the free template below:
Set up a Budget
Along with the business plan, you need to estimate the financials of your cleaning business. You need to determine three figures: startup costs (how much it costs to start), estimated monthly expenses, and estimated monthly income.
The following are common expenses for a low-cost cleaning business:
Licenses and permits: $100 to $500 to register as a limited liability company.
Insurance: $500 to $3,500 annually, depending on number of employees. Expect to pay a few hundred dollars per month.
Cleaning equipment and products: $300 to $600 depending on the type of tools. High-quality vacuums can cost $200 to $300, $10 for several large all-purpose cleaning solutions, $10 for a broom, $20 for a mop, and $20 for dusting supplies.
Advertising: $100 to $200 for print and online marketing.
Labor: Roughly $12 per employee, per hour.
Once you have your expenses estimated, you need to determine your rates and how much income you will earn every month.
Set Your Cleaning Rates
Factors such as your location, competition, clientele, and interior condition will determine your exact rates. You can also earn additional revenue with upgrades such as window cleanings, appliance cleanings, or wall washings.
Consider these options when determining your rates:
Hourly Rate: $30 to $90 per hour. The hourly rate is the most common billing method. Establish an estimate for your hourly rate by calling competitors and inquiring about how much service would be.
Flat Rate: $120 to $150 for a single-family home. Determine this rate by estimating how long it will take to clean a particular house. Customers may prefer this rate because they know the exact amount to pay every month.
Square Foot Rate: It's standard in the commercial cleaning business to charge per a square foot rate. Expect to charge an office building anywhere from $.05 to $.20 per square foot.
Put Together the Income and Expenses
Now you have your startup costs, monthly expenses, and potential income, the next step is to determine your net income (income after expenses), and how long it will take to earn your initial investment back—also called breakeven.
For example, let's say your startup costs are $4,000. Regarding monthly expenses, you determine that you'll spend $1,000 every month, including your quarterly tax withdrawal (about 20% of income).
For income, if you clean 20 homes per month at $120 per home, that is $2,400 in revenue. After taking out the $1,000 in monthly expenses, that leaves you with $1,400 net income every month.
In this scenario, it will take you at least four months to breakeven and make your initial $4,000 back. Keep in mind, it's likely you won't have 20 homes in your first month in business. It may take longer than four months to build up this clientele and make your money back.
3. Get Necessary Funds
Whew, you did one of the hardest parts. You crunched the numbers and know how much money you'll need to start the cleaning business and keep it afloat for at least six months. Now you need to come up with the cash. But how?
Ideally, you'll want to use personal funds to start the business. You want to avoid debt at all costs. That may not be possible if you're starting a cleaning business with vehicles or a physical location. Whatever type of business you're opening, remember that you still have to pay back the debt if the company fails.
Consider the following funding options to start your cleaning business (bullets):
Personal funds: Before using any of your personal funds to start the biz, transfer the money into a business bank account (discussed below).
Crowdfunding: This is a funding option many new cleaning businesses overlook. Use crowdfunding to raise funds from potential customers such as family and friends, before opening. Use the funds to purchase equipment and then perform the prepaid services.
Credit cards: Remember, we don't recommend taking on a substantial amount of debt to start your first business. However, if you choose to take on debt, a credit card is an option. If you have good credit, you can get a 0% introductory APR for 12 to 18 months.
Personal loan: Generally, we recommended that you don't take out a personal loan to start a cleaning business. The interest rate is relatively high (above 12%) because the loan isn't secured to collateral.
Home equity loan: If you have equity in your home, you can take out a loan to start your business. Because this loan is tied to your home as collateral, the interest rate will be low.
Rollover for business startups (ROBS): Only look into this if you're opening a franchise. A ROBS is when you use 401(k) money to open a business.
Until you have at least a three year history of income and expenses, or paid off equipment such as vehicles, don't apply for a traditional bank loan or SBA loan. Typically, banks don't lend to startups.
If you're franchising, a bank loan or franchise financing could be an option. The franchise may have a relationship with a bank and can organize funding for you. A bank may be open to financing a franchise if the overall failure rate is low.
4. File Legal Paperwork
Once you have the funds to start your cleaning business, it's time to get your legal paperwork in order. You'll need to get an employment identification number, register the business legal entity, and open a business bank account.
Get an Employment Identification Number
The employment identification number (EIN) is provided by the federal government to identify small businesses. You'll use this number when filing taxes, opening a bank account, or getting a loan. You can get an EIN for free through the IRS. The entire process takes about 15 minutes.
Register the Legal Entity
All cleaning business owners need to register their business as a legal entity. Registering as a legal entity protects personal assets if a lawsuit were to ever occur against the business. Depending on your state, the cost to register a business is anywhere from $40 to $500.
Tip: Don't try to save money by skipping this step! A cleaning business carries a risk—you're using chemicals in the homes of your customers. If you, for example, ruined or broke something in a customer's home, they could sue you for damages. Without a legal entity, your personal assets are at risk to cover damages.
Sole proprietorship: This is the default business structure if you don't register your business as a legal entity. There are no legal protections with a sole proprietorship.
Limited Liability Company (LLC): The LLC is the legal entity you'll most likely choose for your cleaning company. It's easy to set up and takes little maintenance every year.
C corporation: The C-corp is the other legal entity. Compared to the LLC, it's more complicated to set up. Often, business owners hire an attorney to assist in the setup. The C-corp is typically for larger companies that have multiple investors in the business.
S corporation: Technically, the S-corp (small business corp) is not a legal entity; it's a tax designation. Congress created the S-corp so that small businesses could get similar tax advantages as corporations. You can use a custom calculator to determine if designating your LLC as an S-corp will save tax money.
To register your business, visit your state's official business registration website. If you find the site cumbersome and challenging to navigate, consider using an online legal service to handle it for you. IncFile will register your business for free (plus any state fees).
Open a Business Bank Account
Before incurring any expenses or taking on any new clients, get yourself a business bank account. As a business owner, you want to ensure you keep personal and business finances separate.
Separate bank accounts help with keeping track of business income and expenses for tax purposes. Plus, this separation of finances helps the process go more smoothly if the IRS ever audited you.
If you have a current banking relationship, you can go to that bank to open a business checking. If you're looking for a bank, consider Novo. They are an online bank designed for small businesses. Novo requires no minimum balance for their checking account (big banks often require $1,500).
5. Get Proper Licenses & Insurance
A cleaning business is likely to need a license in the city where it's operating. Regarding insurance, all cleaning businesses will need at least general liability insurance to cover any damages in a customer's home. If you are hiring employees, you'll also need workers' compensation insurance.
Business License
It's likely your state won't require a license for a cleaning business. To confirm there is a license requirement, search on your state's business regulation website.
Regarding your city, it's likely it will require a General Business License. Most cities simply want a record of what businesses are operating. To obtain the General Business License, visit your city's official government website.
For example, Atlanta requires all businesses to obtain a General Business License—even at-home and online businesses. The cost to acquire the license is $75. Failure to obtain a license can result in a $500 fine.
General Liability Insurance
At a minimum, you'll want to purchase general liability (GL) insurance. This insurance will cover bodily damage and property damage. GL insurance for a small cleaning company will cost around $300 per year.
You may find that customers ask for proof of general liability insurance before hiring your cleaning business. They want to know they can collect on any damages your cleaning may cause in their home or business.
Janitorial Bond
You will try to hire the best employees for your cleaning business, but unfortunately, you can't guarantee they won't commit theft on the job. A janitorial bond (surety bond) protects the homeowner's assets in the event of a theft.
Here's how it works: If an employee steals an item from a customer's home, the bond company will pay to replace it. The bond company puts your business on a payment plan so you can pay them back over time. This is preferable to a lawsuit or a large payment to the customer.
New cleaning companies definitely need a bond so that a significant expense from a theft doesn't sink the business. A janitorial bond will cost around $200 per year.
Workers' Comp
If you have employees, you'll need workers' compensation insurance. This insurance provides payments for medical bills, rehab costs, and lost wages for employees who get injured on the job. Workers' comp will cost around $450 per employee per year.
6. Purchase Cleaning Equipment
You're almost ready to accept your first customer! But first, you need to purchase the required equipment to get the job done. We've compiled a list of low-cost items to get your cleaning business started on a budget.
Here are some basic supplies you will need:
Cleaning uniform or apron
Paper towels
Microfiber cloths
Latex gloves
Scrubbing brushes
Toilet brush
Grout brush
All-purpose cleaner
Window cleaner
Wood cleaner
Tile and grout cleaner
Extendable duster
Sponge
Disinfectants
Vacuum
Bucket
Mop
If you're starting on a budget, don't get overwhelmed with the number of cleaning supplies—and brands. Remember that when first starting out, purchase items that will get the job done. Don't spend more money, or go into more debt, than necessary.
Regarding your wish list cleaning items, write them down. You may want that premium vacuum now, but resist the urge to acquire it.
List your wish list items in your business plan. Indicate at what net income level you'll make each purchase. You'll have milestones to look forward to in your business!
7. Market Your Cleaning Business
Let's talk about low-cost and free strategies to get your cleaning business noticed. Online marketing such as Google My Business, social media, and online directories are all free. Physical marketing materials will have a cost, but you can use it creatively to make a memorable impact on customers.
Physical Marketing Materials
There are several options for physical marketing materials, such as business cards, flyers, and postcards. Because we're discussing marketing on a budget, I'm only going to discuss one low-cost marketing strategy for a cleaning business to implement.
After every cleaning of a new home, leave a card with a handwritten note. In the note, thank the homeowner for their business and ask them to pass your card to anyone interested in getting their home cleaned.
When promoting your business with marketing materials, make sure to leave a small gift such as chocolates or something the homeowner would find beneficial, such as a small hand sanitizer. This is a persuasion tactic called reciprocity. This personal marketing makes an emotional connection with the homeowner and makes them more likely to reciprocate a customer in return.
Online Marketing
Consider these free online marketing strategies to get your cleaning business noticed online:
Google My Business (GMB): The GMB is a free listing Google provides to all businesses looking for local customers. When a potential customer searches for what you sell (residential cleaning business), they will read your GMB before your website.
Google My Business website: Once you create your free GMB listing, Google also provides a free one-page website. This isn't a "forever" website, but it's an excellent option for a cleaning business on a budget.
Social media profiles: A great best piece of advice for social media success is to choose one platform and do it well. Choose whichever social platform you enjoy the most (for cleaning, either Facebook or Instagram) and grow your following there.
Local business directories: For a cleaning business, you should be listed on at least Yelp and Yellow Pages. To determine other directories to be on, do a Google search for the specific service you provide, and see what directories show in the results.
Network in Your Community
In-person networking is a memorable and effective way to get your business in front of potential customers. Experiment with attending several small business organizations in your city such as the Chamber of Commerce or Rotary club. To make a lasting impact on an organization, volunteer to be in a leadership position.
Bottom Line
We've discussed the necessary steps and several low-cost strategies to get your cleaning business up-and-running. If you're a first-time business owner, consider starting a low-cost franchise to get the training and support you need. Once you have your first customers, you need to do great work—a clean home or office is your best marketing.
The mop is now in your bucket: What action are you going to take today to make your cleaning business a reality?