Cash registers are machines that businesses use to record transactions and accept payments from customers. Once just advanced versions of calculators that add sales totals, cash registers of today can perform many more functions, including generating reports, accepting multiple payment methods, and managing inventory.
Some companies may still prefer electronic cash registers (ECRs), which can perform basic functions and operate without an internet connection. But, point–of-sale (POS) systems (sometimes called POS cash registers) are used more often and are by far the best choice for most small businesses. In fact, many ECR manufacturers have stopped production entirely.
POS systems are the modern, advanced versions of the cash register with a much broader and deeper set of features for a comparable price.
Read on to learn more about what each type of cash register can do, as well as which one is best for your business.
Types of Cash Registers Key Takeaways
ECRs can print receipts, make simple calculations, and produce basic reports.
However, major brands like Casio have stopped producing and supporting ECR products, as they are being replaced by POS systems
Almost always the better choice, POS systems can accept payments and perform lots of other crucial business functions.
Cloud and mobile POS systems provide additional flexibility and sales mobility.
Free and low-cost POS systems with full feature sets are widely available.
Electronic Cash Registers (ECRs): Basic Transaction Processing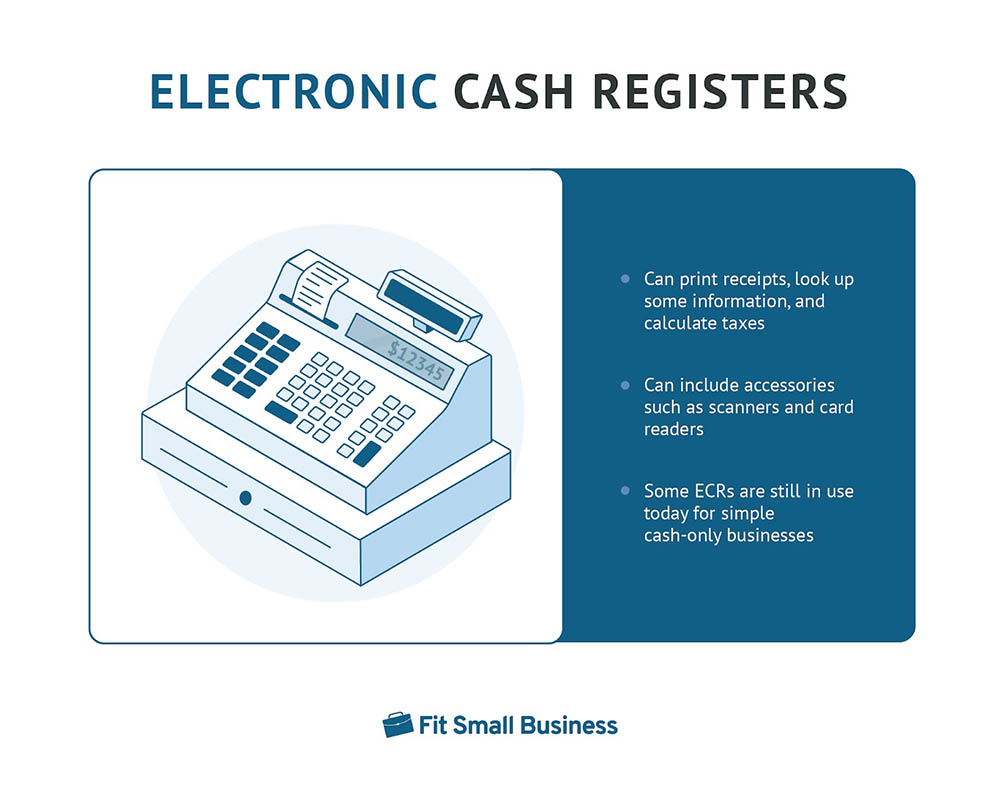 ECRs contain secure drawers for storing cash payments, receipt printers (some of which are thermal receipt printers), electronic screens and more efficient keyboards, price lookup functions, tax calculators, and sometimes basic reporting tools. Some ECRs also let you connect external accessories such as additional printers, weighing scales, card readers, or scanners—all of which make transactions faster, expand customers' possible payment methods, and allow for different types of products to be tracked and sold.
Electronic cash registers are uncommon these days. In fact, many of the largest cash register manufacturers—including Casio and Sanyo—have stopped making ECRs altogether. That said, you will still see some electronic cash registers in use today. They are a viable option for very small businesses with simple operations, such as those only accepting cash payments, not needing advanced reporting and analytics, and without an internet connection. Electronic cash registers can also have a lower upfront cost than the more modern POS systems, and they typically carry no monthly fees or service contracts, making them potentially appealing for businesses with tight budgets.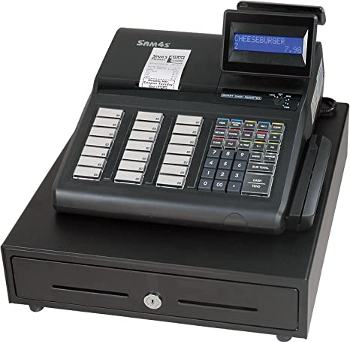 However, even for businesses that fit these criteria, a full-fledged modern POS system is almost always the better option; customers these days want the broadest number of payment options. ECRs have limited to no inventory management, sales tracking and reporting, and customer relationship management capabilities, among other functions. There are POS systems on the market that offer all of this for free.
Check out our best cash register guide, which includes both ECRs and POS systems, to see what options are available for your small business.
Point-of-Sale Systems: Complete Functionality for Modern Businesses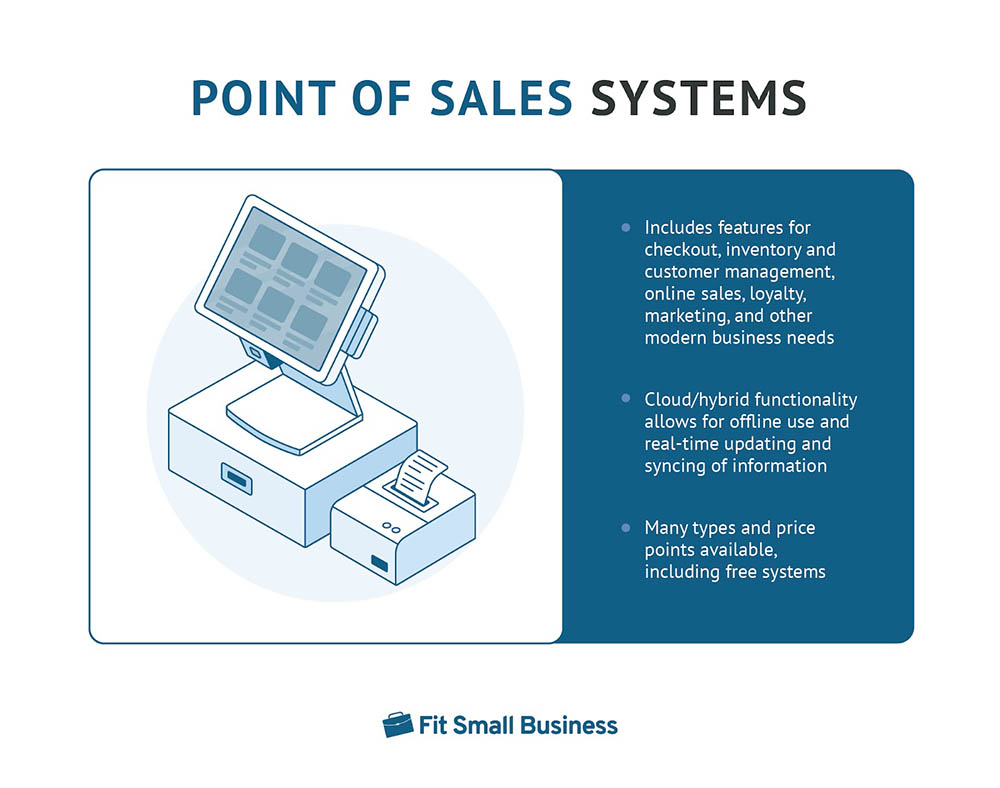 POS systems are the best choice for businesses, superior to any kind of electronic cash register. Modern point-of-sale systems can accept multiple types of payments including cash, credit and debit cards, online payments or digital wallets, and contactless methods such as quick response (QR) codes.
But accepting payments is just one of the many things POS systems can do. Even the most accessible free POS systems often include reporting tools, ecommerce functions or online store builders, customer databases and management, loyalty programs, inventory management, marketing, staff scheduling, and lots of other functions (some via POS integrations).
Many POS systems also have paid subscription plans that offer advanced versions of all these features and more. As modern commerce becomes more complex and connected, businesses need an all-in-one solution that can track and manage all of these business needs.
POS systems come in many types, so you'll always find something to fit the particular needs of your small business—whether you want to keep things simple and flexible with mobile apps, customizable with open-source systems, or focused on multichannel or online sales.
As a modern small business owner, you should no longer be thinking in terms of cash registers or simple payment collection. Instead, you need to consider all the features required to fulfill your business needs, stay on top of operations, and meet customer demands. Then, choose a system that has what you need (see our guide to the best POS systems for small businesses).
If budget is a concern, or if you don't want to grow your small business faster than it can handle, don't worry—free POS systems are available, and they include paid subscriptions for increased functionality as your business grows. Many of these systems are widely used and highly regarded; for example, Square (which has both a free version and affordable paid plans) is so beloved by business owners that it controls nearly 30% of the POS market.
To learn more about the pros and cons of cash registers and POS systems—and why the latter is often the best choice—visit our breakdown of POS systems vs cash registers.
Cloud POS Systems: Manage Your Business From Anywhere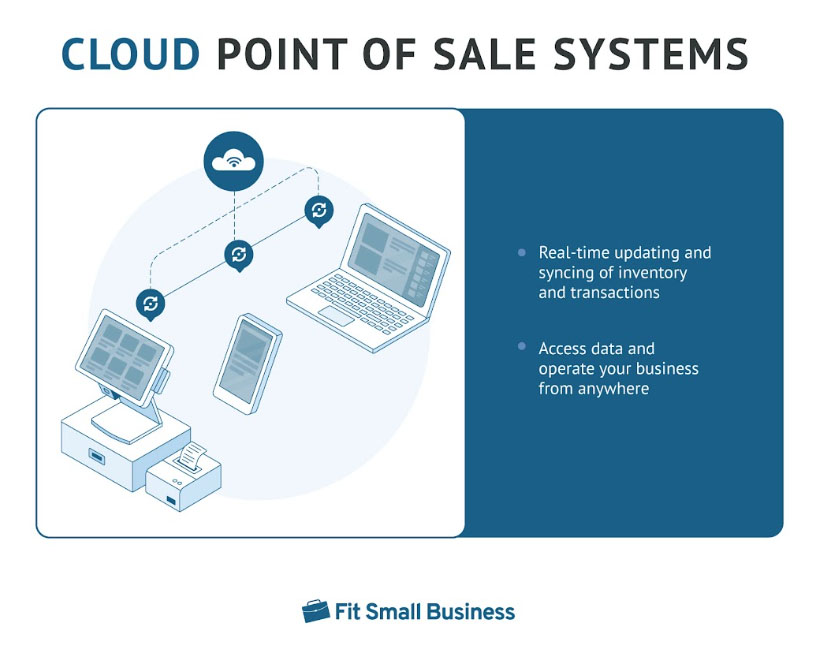 Many modern POS systems are cloud-based, meaning that they record transactions, sync data, update inventory, and provide reporting and business insights in real time from anywhere. This operate-from-anywhere capability is a boon for multilocation retailers that need to manage multiple store branches or warehouses; these businesses need to know what stock levels are like at all times and in all locations, what transactions are happening in which branches, and how each store performs in relation to the others.
Being able to access data from anywhere is also incredibly helpful for business owners who aren't on location 24/7—you can check sales and reports anytime from home or travel, communicate with customers and employees, and make sure things are running smoothly.
Given their basic functionality and lack of internet connectivity, an electronic cash register—or even a set of multiple cash registers in different branches—could never hope to meet these multilocation needs the way a cloud POS system does.
Mobile POS Systems: Selling on the Go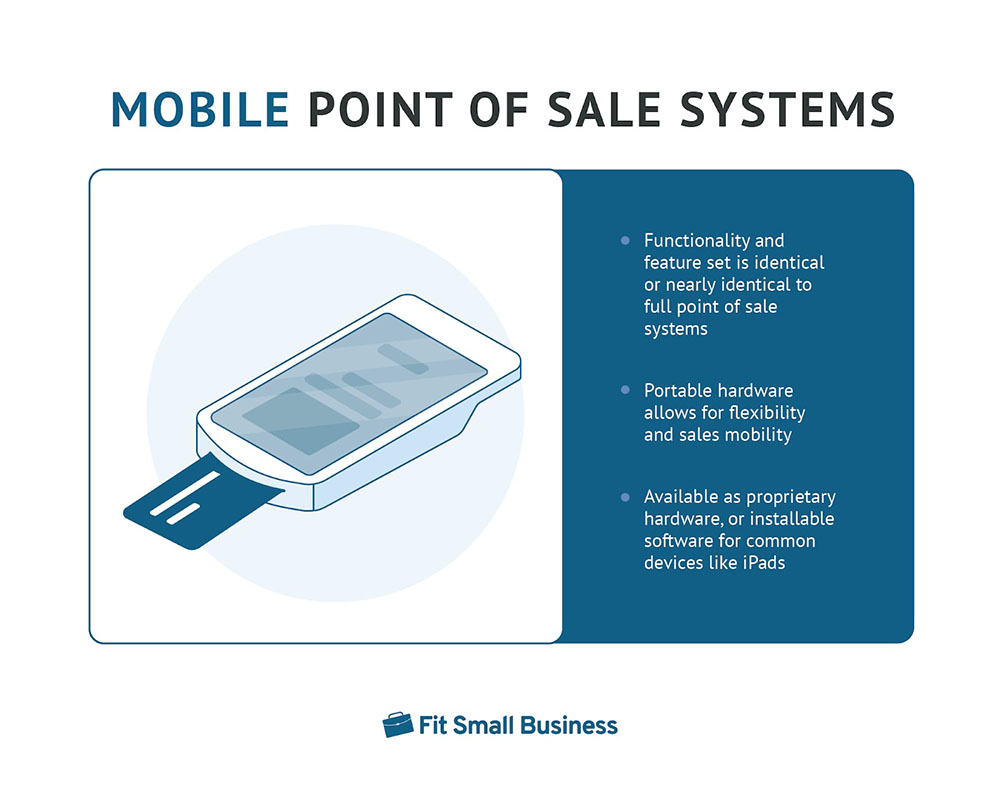 Mobile POS (mPOS) systems provide portable hardware and software that's great for solopreneurs, food trucks, traveling retailers or service providers, or pop-up vendors. They can look like handheld proprietary POS devices or POS software apps downloaded onto a smartphone or tablet. Mobile POS systems are often cloud systems as well, so you get the same multilocation functionality while also being able to carry the system around in your pocket or bag.
Because of this flexibility, mPOS systems are very budget-friendly. And, they are not just for businesses that travel. Storefront businesses can benefit from mobile POS systems for ringing out customers right on the sales floor, checking out customers and even rebooking at the point of service, taking and processing curbside or online pickup orders, and taking tableside orders and payments.
mPOS transactions are rapidly gaining value—in fact, the global mobile transaction value is expected to reach $3.3 trillion in 2023 (up 18% from the previous year). You can learn more about these systems in our guides to iPad pos systems and POS apps.
Why Businesses Have Always Needed Cash Registers
The most basic need of any business is the ability to process sales and collect payments; this has also been the core purpose of cash registers for as long as these devices have existed. At their heart, cash registers are machines that record all sales of products and services, as well as collecting and storing customer payments.
As transaction processing—and all other business processes—have become increasingly complex over the past century, cash registers have also added new features and functions, to the point that they are nearly unrecognizable as the original devices.
Over time, the different types of cash registers included the original mechanical registers that stored cash, which evolved into electronic cash registers that began to print receipts, and now we have point-of-sale systems with more comprehensive features, and mobile and cloud systems that emphasize portability and connection to the internet.
Types of Cash Registers & POS Systems Frequently Asked Questions (FAQs)
A cash register is a relatively simple device that adds up a customer's purchases, displays the total, and stores cash payments; it usually cannot perform many other functions. A point-of-sale (POS) system can do what a cash register does, plus accept other payment types, manage inventory and CRM, enhance online sales, generate reports, handle payroll and staff management, create marketing campaigns and loyalty programs, and more.
---
Cash-only businesses that don't need any of the features listed above might be able to make things work with an electronic cash register. But any modern business—even a very small, new, or budget-conscious one—would be making a smarter investment by getting a full POS system that can perform all the other functions.
---
Apart from choosing between a free POS and a paid one (good options exist for both), you'll need to consider what features you need. This will depend on the industry you are in, the size and expected growth of your business, transaction volume, and your target market. At minimum, look for reasonable processing fees, smooth checkout, inventory management, basic reporting, and customer management.
---
Bottom Line
Retail has come a long way since the first cash registers were invented. Businesses today that want to be relevant and competitive need much more than simple calculations and cash storage ability. Electronic cash registers may be suitable in limited circumstances, but a modern POS system (including cloud-based and mobile systems) is the best choice for most businesses, large and small.