Whitebox was a unique third-party logistics (3PL) company that provided full-service marketplace management solutions to small and midsize businesses (SMBs). The company consisted of an order fulfillment operation and a separate marketing agency, which were usually used in tandem by Whitebox clients.
In November 2023, Whitebox informed us that the company no longer offers fulfillment or logistics services. The company also rebranded to WBX Commerce, and is focusing on ecommerce marketing solutions.
Instead, consider one of our recommended fulfillment companies:
Whitebox Alternatives
| | | | |
| --- | --- | --- | --- |
| | | | |
| Best for: Ecommerce fulfillment for SMBs and lightweight goods | Best for: Competitive Amazon sellers | Best for: Oversized, heavy, high-value, or fragile items | Best for: On-demand services, labor, and space for scaling in-house fulfillment |
| Monthly minimum: $250 spend | Monthly minimum: None | Monthly minimum: Around 200 orders | Monthly minimum: None |
| | | | |
The following content describes WBX Commerce's former fulfillment services.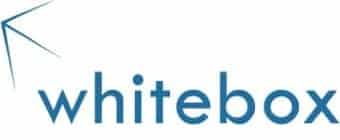 Pros
Full-service marketplace management platform handles much more than fulfillment
Amazon specialists optimize your listings for maximum visibility and profit
4.9 out of 5 stars on Amazon
High-level client support from dedicated account manager
Cons
Not ideal for businesses seeking fulfillment services only
Prohibitive order minimums
Monthly platform fee for software
Lack of pricing transparency
When to Use Whitebox
For a hands-off operation: Whitebox is one of the best choices for direct-to-consumer (DTC) and business-to-business (B2B) ecommerce fulfillment because it handles listing creation and post-sales servicing.
Amazon sellers: It specializes in Amazon sales and works well in tandem with Fulfillment by Amazon (FBA).
Brands and product manufacturers: Whitebox's turnkey services focus on branding and growth.
Multipreneurs: Outsourcing marketplace management to Whitebox gives you time for other ventures.
Brick-and-mortar retailers: Whitebox can help you expand your business online while you continue focusing on your store.
When to Use a Whitebox Alternative
Startups and microbusinesses: Whitebox has a 1,000-order monthly minimum that many young businesses don't qualify for; we recommend ShipBob's Growth Plan.
High-value, heavy, fragile, or oversized products: Red Stag Fulfillment is more economical for special-handling needs.
Hybrid fulfillment: If you're splitting fulfillment between an in-house operation and a third party, try Saltbox.
Global distribution: We recommend ShipBob for its wide international warehouse network.
Whitebox has services to take care of your entire ecommerce sales process—from listing creation and order fulfillment to post-sales servicing. This unique, hassle-free approach is geared toward sellers wanting to outsource as much of their operation as possible.
The company's main focus is on Amazon. Clients can use its highly rated Amazon seller account in conjunction with FBA to achieve maximized visibility. But Whitebox also fulfills multichannel orders and can promote non-Amazon stores.
If you only want to outsource fulfillment and shipping while you continue managing your sales and listings in-house, other providers are more economical and specialized than Whitebox. It's also a poor fit for heavy, oversized, or fragile products, and it can't accept any perishable or temperature-sensitive goods. Some startups and low-volume businesses should seek an alternative as well due to Whitebox's 1,000-order per month minimum.
Whitebox Deciding Factors
Supported Business Types

SMBs, product manufacturers, ecommerce stores, retail stores, DTC sellers, B2B sellers,

dropshipping

suppliers, and subscription-box services

Standout Features

Turnkey service manages entire Amazon listing, including photos and copy
Content optimization and ad strategy services for increased visibility
Dedicated customer support representative assigned to each account
Marketing agency services
Web-based fulfillment software with inventory management, order management, and billing
Sophisticated reporting and analytics software
99.9% accuracy rate
FBA prep services
Customization and branding options
Amazon Seller-Fulfilled Prime (SFP) eligibility

Minimum Requirements

1,000 orders per month

Setup and Onboarding Fees

Custom quoted

Pricing

Custom quoted

Contract Length

6 months-plus

US Warehouse Locations

3

International Warehouse Locations

None

Shipping Partner Options

FedEx, UPS, United States Postal Service (USPS), DHL, and Amazon

Customer Support

Via phone or email, 9 a.m. to 5 p.m. Monday through Friday, Eastern time
Whitebox doesn't publish its pricing; you have to contact the provider to receive a quote. Our evaluation of the top fulfillment companies considers pricing transparency, billing transparency, and billing predictability. Whitebox lost points for lack of pricing transparency, but its easy-to-use billing system helped boost its score.
Whitebox's fee structure is different from most other order fulfillment companies' pricing. Rather than being billed for each service individually, clients pay a monthly "all-in fulfillment fee" that covers all related charges, including receiving, pick and pack, shipping, and marketplace management. The "all-in fulfillment fee" does not include storage costs, which are billed additionally.
The company's order management software is also included in the all-in fulfillment fee. Advanced cross-channel data-management software, called Omnifi, is available at an additional cost.
Whitebox's growth agency service is charged on commission, assessed as a fixed percentage of the client's sales. Third-party sources say Whitebox charges an onboarding fee of $3,000 and a 10% commission on product sales, but this has not been verified.
Whitebox advertises free receiving for single stock keeping unit (SKU), pelletized shipments, and fulfillment fees as low as 99 cents per order. Its fulfillment software features an advanced billing platform that delivers high levels of visibility into your monthly bills.
A contract is required to partner with Whitebox—typically a six-month duration.
Whitebox provides high-quality services with minimal errors, although it lacks a few features that some competing fulfillment providers use to offer superior services.
Orders are picked and packed with 99.9% accuracy, largely thanks to Whitebox's advanced warehouse management system (WMS) and automation technologies. The company also reports a 99.8% on-time delivery rate.
But Whitebox's network of three warehouse locations pales in comparison to our other top picks—such as ShipBob, which boasts 35 US fulfillment centers and eight international warehouses. Whitebox also offers fewer pre-built integrations than most other competitors.
Click below for Whitebox features that contribute to quality and functionality.
Whitebox works with UPS, USPS, FedEx, and DHL (in addition to Amazon Logistics) to achieve two-day delivery options for 99% of US customers.
The company's strategically located warehouses enable cost-effective shipping by distributing each client's inventory near their customer bases. Whitebox also offers flexible shipping solutions based on consumer needs, your brand's preferences, and the company's own optimized algorithms.
---
Whitebox's fulfillment dashboard provides a centralized platform to manage sales and fulfillment across your marketplaces. It features automation tools, inventory management, demand planning features, order management, returns history tracking, and expiration date/lot tracking.
The web-based software connects with Whitebox's Omnifi Insights platform to incorporate product promotion and marketing data. Omnifi, covered in detail below, is only available to clients using Whitebox's Growth Agency service, which isn't included in a standard fulfillment partnership.
---
Whitebox has three fulfillment centers in the US, located in Las Vegas, Baltimore, and Memphis, Tennessee. Although the company's warehouse network is significantly smaller than those of many competitors, its facilities are positioned strategically to cover 99% of the US with guaranteed two-day shipping.
Many competing fulfillment companies offer similar delivery guarantees. But the advantage of a wide warehouse network (such as that of ShipBob or Deliverr) is that it achieves two-day ground shipping anywhere within the continental US, typically incurring lower overall shipping costs than Whitebox.
Whitebox's facilities are equipped with a proprietary WMS that can support specialized inventory needs, like expiration and lot code tracking/prioritization. It also works with the company's fulfillment software to connect sales and inventory data for accurate demand planning.
---
While Whitebox may have a smaller range of turnkey integrations compared to providers like ShipBob or ShipMonk, its full-service model covers many processes that would otherwise require third-party tools. This means that the limited range of integrations is less of an issue for its users.
The company also offers application programming interface (API) and electronic data interchange (EDI) capabilities for custom connectivity with platforms for which it hasn't yet developed integrations.
Here's a list of Whitebox's direct integrations:
Ecommerce platforms and marketplaces: Amazon, eBay, BigCommerce, Shopify, Shopify Plus, Skai, Walmart, and WooCommerce
Operations and finance: SPS, ACT Data Services, and Wayflyer
Fulfillment and shipping: Ware2go
---
Whitebox offers most of the standard specialty services that we look for in a fulfillment provider, such as assembly/kitting, international shipping, and Amazon SFP eligibility. However, it lacks climate control and can't provide local fulfillment in any foreign markets, which cost it points in our evaluation.
Whitebox stands out against the competition in its special services that go beyond fulfillment. The company offers comprehensive solutions to manage other aspects of your business—creating a hands-off, turnkey platform.
Here's a rundown of Whitebox's specialty services:
Whitebox employs a team of experienced ecommerce professionals who tackle listing creation (including product photography, description copywriting, profitability studies, and SEO), customer service, and marketing on your behalf. Combined with its order fulfillment services, these features provide a full-service solution.
The company can also deliver tools to automate the management of your online marketplaces, including review alerts, order tracking, reseller tracking, and more.
For Amazon sellers, Whitebox can use its own Amazon seller account to sell and fulfill goods on your behalf. This is illustrated in the Whitebox client listing below, showing an item "sold by" Whitebox Inc. and Fulfilled by Amazon.
When partnering with Whitebox for your Amazon sales, the company will manage FBA for you, including prepping inventory and dealing with Seller Support.
You'll also get the platform benefits of selling on Whitebox's Amazon account, which maintains 98% lifetime positive feedback from over 26,000 ratings. These stats can dramatically boost your products' visibility in searches and help you win the Featured Offer Buy Box.
Although Whitebox clients aren't building their own seller identity on Amazon, it doesn't impact their brand recognition and loyalty. Amazon shoppers are notoriously more conscious of seller rating rather than identity, which is part of how the Whitebox platform maximizes listing exposure. Whitebox is in the top 4,000 of Amazon sellers (out of about 9.5 million sellers globally).
---
The Whitebox platform combines fulfillment operations with a well-equipped marketing agency. It begins by setting you up with a dedicated data and content manager who analyzes your store's data against industry reports to highlight consumer search trends and shopping behavior specific to your product catalog.
Using this information, your content manager (along with the rest of Whitebox's Marketplace Services Team) optimizes your listing content to drive more qualified traffic and sales.
These listing changes are closely monitored by the marketing team to measure impact and build more meaningful insights. Over time, they can provide insight on:
Journey mapping
Product configurations to offer
Shipping incentives to influence shopping cart activity
What price is most likely to lead to a purchase
Keyword optimization
Alongside content strategy, Whitebox provides a range of Amazon advertising services, including organic and paid search advertising, display ads, and platform-specific programs, such as access to Amazon's Deal of the Day.
---
In addition to standard fulfillment software, Whitebox also offers its proprietary Omnifi Insights software. Together, these platforms achieve full ecommerce multichannel management.
With a focus on marketing and ad strategy, Omnifi can help clients leverage geographic sales trends, create new product offerings, evaluate the customer journey, and identify profitable areas of expansion.
The platform brings together data from marketing, sales, and logistics, and presents you with actionable insights to help you improve your marketing strategies, such as which ads are moving products, what products are performing best, and where each item is seeing the most success. Omnifi's analytics extend into return on ad spend (ROAS), detailed consumer behavior insights, and benchmarking your performance against the competition and market.
Whitebox reports that during its nine-month beta testing period, Omnifi Insights (along with the support of its ecommerce experts) helped some clients achieve a monthly growth rate of 15%.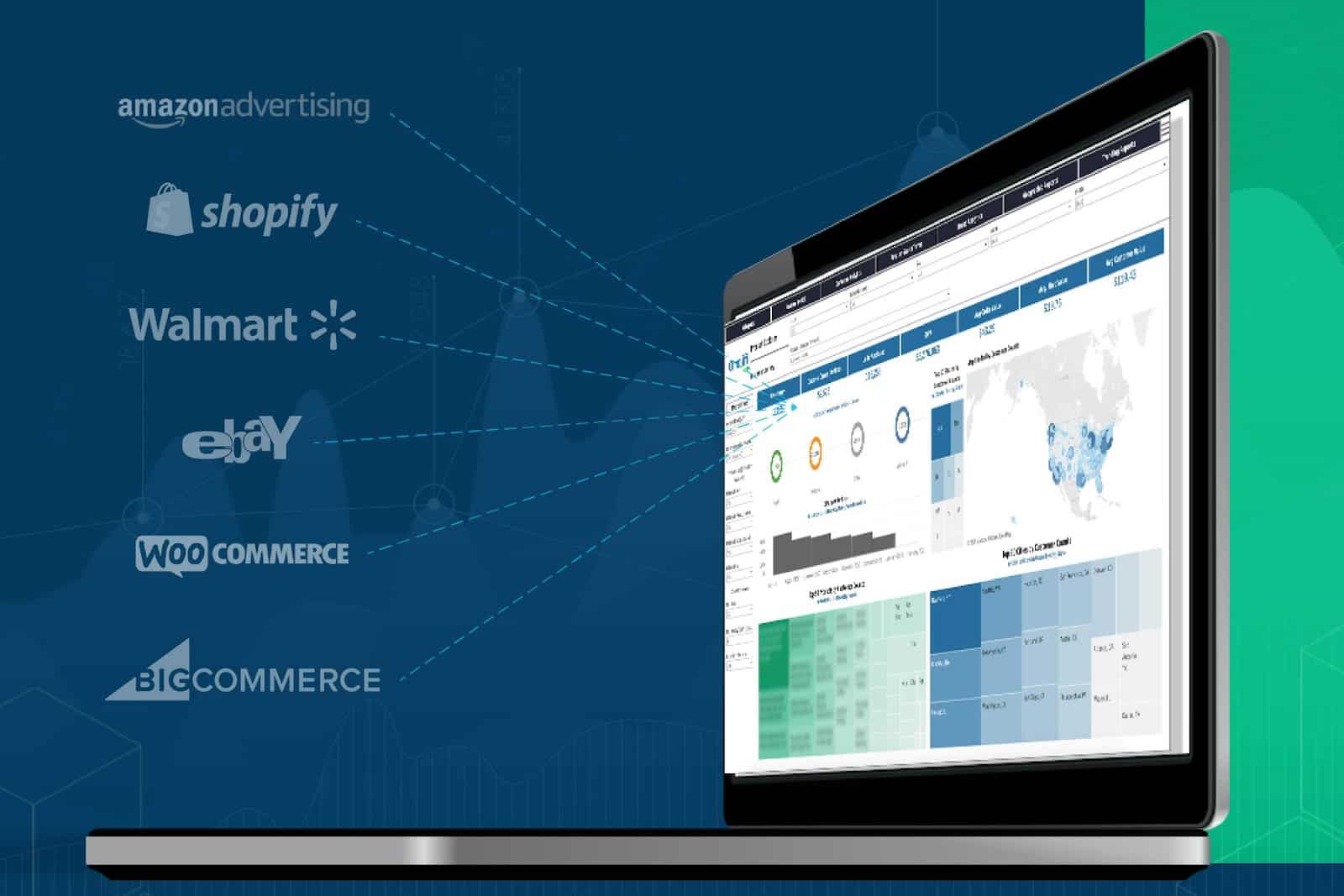 ---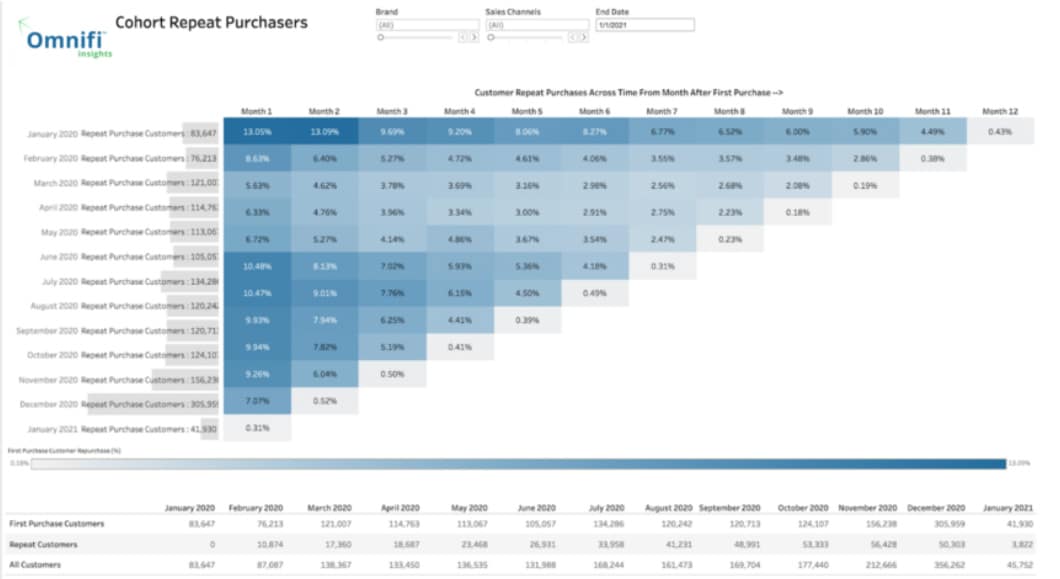 ---
Omnifi is a part of Whitebox's Growth Agency service, which is not included in a standard fulfillment partnership. The software is available for free to clients who meet a minimum volume requirement or at an additional cost to all other partners.
---
Whitebox's business model heavily relies on FBA, which has its own team of customer service reps that handle inquiries about your orders. But when it comes to more specialized help or multichannel servicing, sellers are usually left to fend for themselves.
In line with its end-to-end service platform, Whitebox also has a team of representatives that handle your customers' needs. They are available by phone during standard business hours or by email. The company promises on-brand and friction-free fulfillment, including 100% customer satisfaction around the level of support it provides.
---
Whitebox's dropshipping program enables you to expand your brand's presence to new retailers that work through dropshippers, such as Wayfair, Walmart, Target, Lowe's, Best Buy, QVC, Sam's Club, Chewy, and more.
Your products sell directly on the partnered retailer's online store, and each order is then forwarded to Whitebox. Whitebox fulfills the order by sending it directly to the customer, and you receive payment for the product. Exposure from dropshipping on new marketplaces can quickly generate more sales and bring in additional customers with low cost to entry.
ShipBob offers a similar retail dropshipping program.
---
Whitebox is an easy-to-use service thanks to its intuitive software, high scalability, and excellent operational transparency.
However, the company's client support availability is limited to standard business hours, and its high minimum order requirements may make it difficult for startups and young businesses to use.
Here's a summary of the factors we took into account in our evaluation:
Support: Each Whitebox client is set up with a dedicated account manager, plus a separate data and content manager to handle actions from the Growth Agency. Service hours are 9 a.m. to 5 p.m. Monday through Friday Eastern time.
The company reports that these individual partnerships are long-lasting to promote knowledge and understanding of the retailer's operations. It is rare that an account manager will be reassigned—unless requested by the client.
Quality control: Whitebox works with you to create a checklist-formatted document for each of your products, which is used by its warehouse employees to make sure each shipment is up to your store's standards.
Accuracy: Whitebox touts a 99.9% accuracy rate in fulfilling orders, with 99.8% of orders shipping on time.
Order processing transparency: The Whitebox Dashboard provides insight into where your orders are within the fulfillment process.
Billing transparency: Whitebox provides payout statements and sales channel/inventory reporting via a client portal.
Multichannel capabilities: Although it specializes in Amazon sales, Whitebox can manage all of your sales channels and provide omnichannel visibility from its dashboard.
Whitebox ranked highly in our Expert Score category, earning points for its impressive services, good ease of use, and general popularity with its users. Its comprehensive special features create a unique, all-in-one solution that can propel your online business while you focus on production, in-store channels, or separate ventures.
That being said, Whitebox's full-service approach may be overkill for many small businesses. If you're seeking order fulfillment rather than turnkey marketplace management, we recommend considering another provider with a stronger focus on fulfillment.
For this reason, we deducted points for Whitebox's overall value.
What Users Say in Whitebox Reviews
One of the best ways to gauge Whitebox's success is by checking its Amazon seller rating. With a 4.9-out-of-5-star score, Whitebox has proven that it delivers on its promises to buyers by handling Amazon orders efficiently. In the last 12 months, the account has received more than 1,600 Amazon reviews with a 99% positivity rate, which not only showcases its functionality but also works to boost the visibility of your listings and instills confidence in potential buyers.
However, there are limited Whitebox reviews outside of Amazon. There are several reviews on its Google listing from employees and truckers, but only a couple of ratings from clients.
The only existing Google user reviews are highly negative and were posted approximately two years ago, criticizing Whitebox for overcharging, unfulfilled SLAs, and frequent errors.
Whitebox's Facebook page has a number of 5-star reviews with no comment, and one review from a disappointed consumer.
Amazon: 4.9 out of 5 stars based on around 29,000-plus reviews
Facebook: 4.6 out of 5 stars based on about 15 reviews
Google: 3.0 out of 5 stars based on about 25 reviews
Methodology: How We Evaluated Whitebox
In our Whitebox review, and to evaluate competing fulfillment services, we consider the factors that matter most to small retail and ecommerce businesses. We research each provider by examining third-party reviews, user ratings, relevant articles, and the company's own content.
For information we can't find online, we reached out to the companies as potential customers rather than reporters. We received a detailed demonstration of Whitebox's software from its staff and found the company to be highly transparent with its features and operational processes.
We then evaluate each provider on a 23-point scale shaped by industry experience, reader surveys, and competing providers' attributes. Our criterion weighs functionality, scalability, and transparency throughout a range of processes.
30%
Quality/Functionality
30% of Overall Score
We evaluated the quality of service and functionality of each company by weighing critical details like order turnaround time, shipping partner options, size of fulfillment center network, and accuracy rate. We also considered how each service integrates with ecommerce shopping carts, marketplaces, operational tools, and solution providers that your online store may use.
Points for this category were deducted because of Whitebox's small warehouse network as well as its limited array of native integrations. However, the company has an impressive lineup of shipping options and high accuracy rates, which helped to earn it a total score of 3.65 out of 5 points.
20% of Overall Score
This category examines the providers' pricing transparency, billing transparency, and billing predictability.
Unfortunately, Whitebox is very unwilling to disclose pricing information until clients reach a certain point within the sales process. This lack of pricing transparency cost it points, but the provider's robust billing portal helped it reach a final score of 3.38 out of 5.
15% of Overall Score
This score considered customer service accessibility, software usability, and operational transparency. Lastly, order minimums and service scalability were taken into consideration for small businesses that need a fulfillment partner that can grow with them.
Whitebox was awarded points for its scalability and its highly intuitive software that provides excellent operational transparency. It was docked for its business-only customer service hours and steep minimum order requirements, ultimately scoring 3.45 out of 5.
15% of Overall Score
We awarded points for the availability of special services like climate control, international shipping, custom packaging elements, and different types of assembly. Being crucial to ecommerce operations, return handling and reporting/analytics were prioritized. Lastly, we assessed whether each company was eligible to fulfill Amazon Prime or SFP orders.
Whitebox earned a score of 3.95 out of 5 in this category, receiving points for its Amazon Prime compatibility, sophisticated reporting functions, and advanced customization options. The company was docked here for lacking climate control and international warehouse locations.
20% of Overall Score
This score combined our retail and ecommerce experts' final evaluation of value, ease of use, and standout features with scores from real-world users on trusted third-party review sites
Whitebox received high marks in this category for its robust specialty services, popularity, and painless ease of use. Since the company focuses on providing full-service marketplace management, it's not the best service for small businesses seeking outsourced order fulfillment, which cost it points for lacking value.
*Percentages of overall score
Frequently Asked Questions (FAQs)
Whitebox offers 3PL solutions including order fulfillment, shipping, and warehousing, so it is a 3PL company.
However, Whitebox also provides marketing and multichannel management services for ecommerce sellers. This is a unique feature that 3PL companies don't usually supply.
Read more about how 3PL companies work in our guide: What is a 3PL?
---
Whitebox is a good fit for ecommerce businesses seeking a full-service solution to outsource their order fulfillment and marketplace management.
Many of Whitebox's services are centered around branding and customization, making it a good fit for ecommerce brands and product manufacturers. It also specializes in Amazon sales and works well in tandem with FBA.
---
Unlike traditional fulfillment companies, Whitebox delivers a range of services beyond fulfillment, including listing generation, marketing, and customer service. If you want to outsource fulfillment but continue managing your business in-house, we recommend a more specialized 3PL, such as ShipBob.
Local international fulfillment has a number of advantages over cross-border shipping. All of Whitebox's facilities are located in the US, so sellers targeting foreign customer bases may find better success with a global 3PL. We recommend ShipBob.
Whitebox doesn't offer liability insurance, services for goods like ammunition, or economical storage for oversized goods, so it's a poor fit for sellers who need these types of special handling. We recommend Red Stag Fulfillment.
---
Bottom Line
Whitebox provides solutions for busy entrepreneurs and multichannel merchants by handling the entire sales process from start to finish. However, the extensive services provided by it aren't the best choice for emerging businesses that need to stick to a limited fulfillment budget or want high levels of control over their operation.
If you're seeking a more traditional fulfillment partner, broker site WarehousingAndFulfillment.com can compare your specific needs to more than 500 prescreened companies to find the best fit for your business. Plus, the service is completely free to use.