Jewelry is a $270 billion market with an endless amount of opportunity to carve out a specific niche or market. You can make jewelry for men, women, adults, children—or animals even. Though competitive, a jewelry business can also be lucrative. Historically, the average gross profit margin has been in the 43%–47% range.
It's estimated to cost anywhere between $600 and $29,000 to start a jewelry business, though you can certainly get started with less if needed.
Whether you want to learn how to start a jewelry business online or through a physical store, we outline nine steps you can follow below:
Step 1: Develop Your Skills
Like many creative entrepreneurs, you can get your start making jewelry by jumping right in. Many jewelry designers did exactly that, honing their craft with training later on.
With so much content available online, you can pretty much learn any type of jewelry-making skill with some Googling and YouTubing. But to refine your skills—and build confidence—you'll likely want to invest in more formal training.
That's the route Despina Canelake of Jewelry by Thespi took. "​​I taught myself initially how to make basic jewelry, and then I took classes to learn how to metalsmith from another local jewelry maker," she says.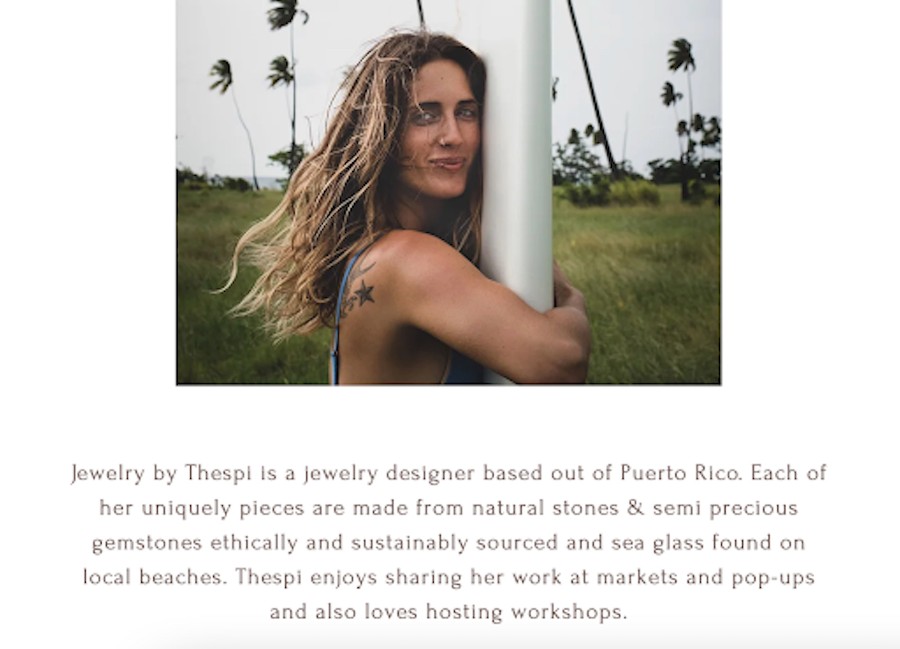 Sarah Rivera of Caracuri followed a similar path. "I learned to make jewelry while traveling in Central America with a Mexican artisan," she says. "I learned different techniques with other artisans along the way." She continues to learn and has plans to take fine jewelry classes someday.
Danielle Gerber, owner and founder of Freedom Jewelry, was first introduced to the industry at a job she once had. "I used to work in a luxurious diamond jewelry boutique owned by two brilliant female diamond drillers, and I've learned all the basics about the industry from them," she says. Later on, she enrolled in classes more relevant to the niche she wanted to pursue. "When I decided I wanted to learn how to craft in metal, I took private classes with amazing jewelers." She also learns about gemstones from her suppliers and colleagues and the internet.
Veronica Cabrera, owner and founder of Hunterhue, took a somewhat more formal route, though the designer proclaims she is mostly self-taught. "I'm self-taught in my craft, but I have studies in art that have also helped a lot," she says. Those studies have transferred nicely to her jewelry designs.
If jewelry-making isn't for you, that doesn't mean you have to give up on your idea to start a jewelry business. You can work with suppliers who will make the jewelry for you. For example, you might buy and sell wholesale jewelry from designers, source and sell vintage pieces, or dropship from a third-party supplier.
Step 2: Narrow Down Your Niche
Choosing a niche is important when starting any kind of business, especially so when it comes to a crowded industry like jewelry. Your niche market is essentially a specific area in which you specialize. It helps you hone in on your messaging and marketing to appeal to a specific group of people.
For example, Limnia sells customized jewelry. It describes its products as "renewable jewelry for the modern woman," explaining that "we create design-forward, customizable fine jewelry that empowers modern women to buy for themselves, on their own terms." This is a very specific market they're appealing to: forward-thinking, independent women who have some money to spare.

On the flip side, The Clear Cut sells diamond engagement rings—jewelry not meant to be purchased for oneself. The marketing and messaging for these two examples will be very different because they operate in two different niches.
Other attributes to consider for your jewelry business niche include:
Customized or personalized designs
Handmade jewelry
Children's jewelry
Fine jewelry
Costume jewelry
Designs with semi-precious stones
Metal jewelry
Unisex jewelry
Smart/connected jewelry (things like wearable fitness bracelets)
Step 3: Create a Blueprint for Your Business
Once you settle on your niche, the next step is planning your business. This includes drafting a business plan, deciding on a legal structure for your business, and patenting your designs.
---
An important step for starting any retail business is to make it official in a legal sense so you can protect both yourself and your business. This includes business registration and incorporation and protecting your intellectual property and designs.
The first step in business incorporation is to choose a legal structure. There are a few different options to choose from, each with its own unique benefits and drawbacks. Options include a C corporation, sole proprietorship, limited liability company (LLC), limited liability partnership (LLP), and S corporation, among others.
We've created a bunch of handy guides to help you learn about each type of business structure so you can choose the best one for your needs:
---
It's important to not only claim and protect your business identity but also to patent your jewelry designs. You don't want anyone else stealing your creations or, worse, taking credit and patenting them before you get a chance to yourself. Consider applying for a patent for your designs and registering a trademark for your business.
---
Step 4: Build Your Brand
Branding is important, especially in a crowded market like jewelry. Your brand identity makes the first impression and is also ultimately what customers will connect with. Sure, they'll love your jewelry, but you want them to love your brand as well.
And while visuals are important, a strong brand goes beyond a great business logo design. Your brand identity should come through in your voice and copy, and in every customer touchpoint—online and in person.
Step 5: Organize Business Finances
When you start a business, it's a good idea to treat it as an entirely separate entity from your personal life. And this includes finances. Small business owners should keep business and personal finances separate as an extra layer of protection should something go wrong with the business. This includes getting dedicated business bank accounts, such as a business checking account, a business savings account, and possibly signing up for a business line of credit.
These resources can help you navigate this further:
Additionally, you might also need to secure funding to either launch your business or reinvest once you've gotten it off the ground. External financing options often look for solid business credit history. Having good business credit will make more funding options available for small business loans and investors. You can also pursue crowdfunding regardless of credit history.
Related: Best Crowdfunding Sites for Small Businesses
Step 6: Create or Source Jewelry to Sell
When it comes to the actual products you're going to sell, the process may be slightly different depending on whether you're creating jewelry from scratch or reselling it. Either way, you'll want to secure a workspace and source suppliers before bringing your designs to life.
If you're making the jewelry yourself, you'll need to find a dedicated area to do so. At a minimum, this requires a surface, some basic tools, and lighting. Ideally, you'll have a separate workshop or room, but a dedicated space in your home or office will also suffice.
Veronica has a beautiful studio where she makes her designs for Hunter Hue. She focuses a lot on having a space that allows her to feel creative—this allows her to improve the quality of her products. She takes great care to create an environment that fuels her creative process. "I set stations for each stage of [jewelry-making] and experimenting with new material, even protecting myself from hazardous materials."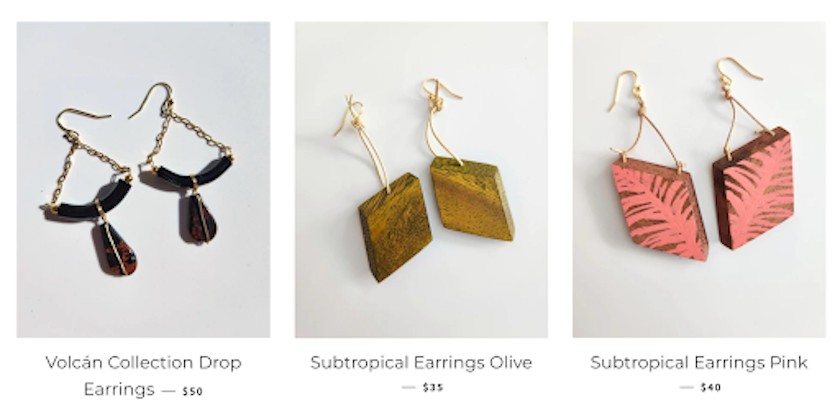 The equipment you need depends on the type of jewelry you're making. For some, you might just need some scissors and pliers. Other crafts require the help of tools. Sarah, for example, uses a Dremel drill to help her work with the metals in Caracuri designs.
Your equipment needs might include:
Assortment of pliers (flat nose, round nose, needle nose, nylon tipped, etc.)
Wire cutters
Tweezers
Mallet
Triblet
Polishing supplies and files/sanders
Soldering block
Torch
Jeweler's saw
---
If you're going the route of third-party product suppliers, you'll look for places that sell jewelry. For vintage finds, you might browse local thrift shops or garage and estate sales. You can also check out these guides to help you find ready-to-sell jewelry products:
Jewelry-specific marketplaces and websites include:
If you're looking to create the jewelry yourself, your supplier search will be more focused on finding raw materials rather than finished products. The options here are really varied because jewelry can be made with almost anything. Expect some trial and error along the way until you find the right sources.
Sarah has spent a lot of time searching for the right suppliers and materials for Caracuri, traveling abroad so she can work with the best of the best. "I get my wire and stones in Mexico," she says, "I've found the best suppliers after years of looking for the best quality and price, and I maintain the relationship with them by buying a lot of materials every time I go—I'm a loyal client."
Similarly, Veronica is dedicated to working with the best raw materials that fit into her brand story while also feeding her creative drive. "I source my raw materials locally from Puerto Rico," she says. "I buy other materials online, including Certainly Wood in New York, for specific veneers."

Danielle works with local suppliers to find specific gemstones for Freedom Jewelry. Despina sources her stones ethically from a network of connections and purchases all of her metals from Rio Grande, a Berkshire Hathaway Company.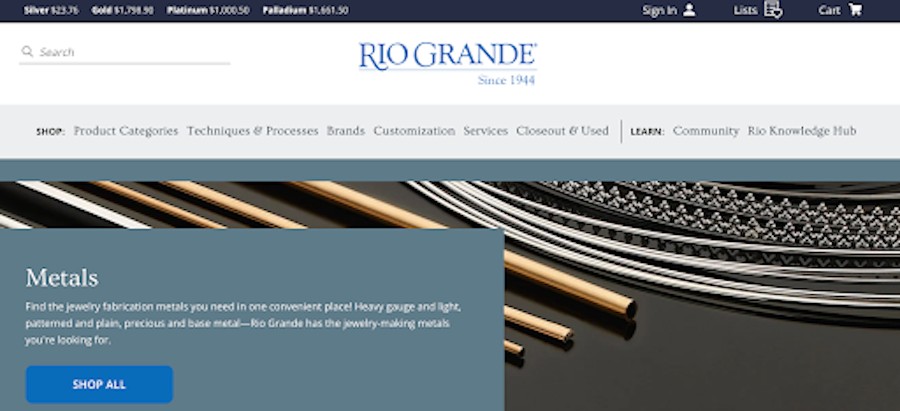 One key to finding the best suppliers is to maintain a great relationship with them. You might even be able to learn some things from your suppliers, as is the case with Hunter Hue. "I made an agreement with an artisan friend, and he's helped me a lot, from teaching me how to use the light to knowing good quality woods from Puerto Rico," says Veronica. "He's a mentor, a friend, and also the supplier for my wood raw materials."
Supplier relationships are also important to Freedom Jewelry. "I have excellent relationships with my suppliers and employees. I meet their needs and honor their requests while ensuring I'm within the time frame of the manufacturing process," says Danielle. She even celebrates their birthdays and sends holiday gifts. "I highly appreciate them, and it's essential to me that they feel it. When a person feels appreciated, they're willing to go way above and beyond for you."
---
Now that you have all the pieces in place, it's time to bring your designs to life. The most important thing to remember is to be creative and unique and to have fun. But it's also helpful to have workflows and processes in place, especially if you're working with others.
All of the pieces for Freedom Jewelry are handmade in Israel by Danielle and her team. She also works with a team of small sanders in India, who hand-polish every stone.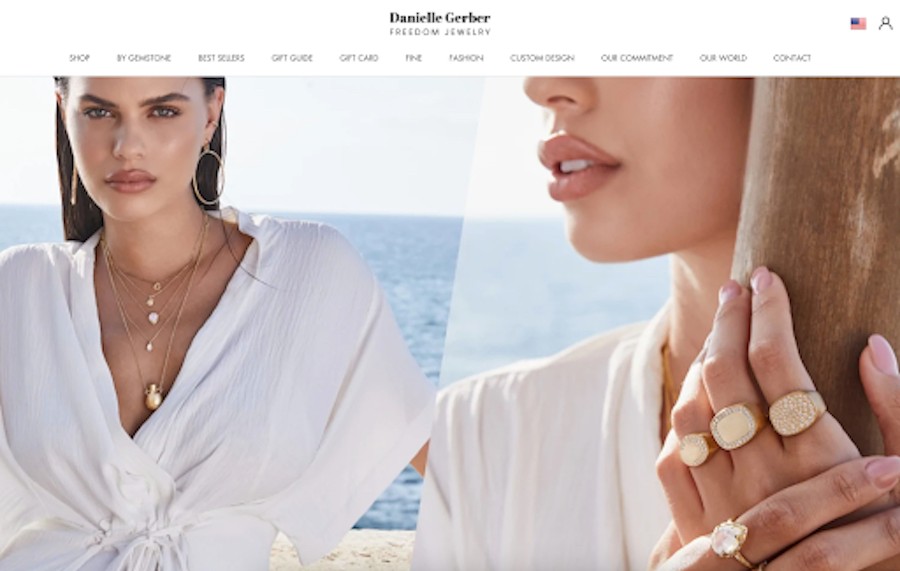 Constantly coming up with new designs requires creativity, and it's important to stay updated on the latest trends. "Develop your own unique style and be patient with yourself," says Despina. "I get a lot of inspiration from Instagram and read books to learn new techniques to level up my designs." She's constantly refining her pieces for Jewelry by Thespi. Learning new skills is another way to keep your designs fresh.
Advice from the creator of Hunter Hue? "Keep on with the practice, as it will guide you to your next step," Veronica says. "As an artist and designer, your intuition is the pathway to a breakthrough. But intuition needs a spark to burst, and practice is the only way to ignite that."
---
Step 7: Determine Where to Sell Your Jewelry
There are several options for where to sell your jewelry: in person, online, through social media, or at third-party marketplaces. You may also choose a combination of selling platforms to maximize sales.
Though ecommerce is certainly making waves, there's still no replacement for the in-person shopping experience. In fact, in person is what has been the most successful for Hunterhue. "I get to know so many people, and some customers become regulars," Veronica says of the relationships she builds with customers. "New opportunities may show up when a customer meets you, feels your energy, and sees how you present your work."
There are many options for in-person retail selling when it comes to your jewelry:
Open your own physical store. Launching a physical retail store is exciting but requires significant investment and commitment. You'll need upwards of $10,000 to get started. However, it's a great way to establish your brand.
Set up a pop-up shop. Pop-up shops require less investment and commitment than a full-on physical store. These temporary retail activations are a great way to build buzz, enter new markets, connect with customers, and test ideas. Check out these pop-up shop ideas to get started.
Sell at markets. Veronica sets up weekly at her local Art Walk. "I take the time to curate my booth and show what inspires me and how I want my work to be perceived," she says. "It's a challenge because it's a small space, but I really love it."
Go wholesale in another store. You can offer your designs at discounted rates for bulk wholesale orders. Caracuri sells its jewelry wholesale at stores like Kuda Laut Designs and the gift shop at Casa Grande Mountain Retreat.
Starting your own online store is another way to capture direct sales. Luckily, there are many online store builders you can use to create a website without having any technical or design skills. These guides should help you find the right platform for your jewelry business needs:
The biggest challenge here isn't necessarily building the website—it's more so about optimizing your website for traffic and sales. We'll get more into that in Step 9 when we discuss marketing and promotion. For now, you want to focus on building an online store that's easy to navigate, has beautiful product photography, includes targeted messaging and CTAs, and is reflective of your brand.
Step 8: Choose an Order Fulfillment Strategy
Shipping and order fulfillment is critical but not the most fun part of your jewelry business. When it comes to getting orders to your customers, you can choose to handle this yourself, offload it to a third party, or use a hybrid of the two.
If you have a physical store, you can make it do double-duty as a fulfillment center. Click and collect offers convenience for shoppers—without the cost of shipping for merchants.
To help you navigate shipping and fulfillment for your jewelry business, check out these posts:
Step 9: Promote Your Jewelry Business
Once your jewelry business is set up, the last step is launching and promoting it. Physical stores can benefit from a grand opening event. Additionally, you can promote your business through social media, paid ads, email marketing, and participating in local events.
The launch of your jewelry business is the most exciting time. If you're opening a physical store, a grand opening event is a great way to boost foot traffic and introduce your brand to the local community. You might partner with fellow local businesses or influencers to generate more buzz. Promote it with a grand opening press release.
Social media is very much a pay-to-play marketing channel. If you don't have budget for paid ads, you're likely to fall victim to the algorithm. Even Sarah of Caracuri invests in Instagram ads to keep the momentum going, running ads for just three days at a time to help boost visibility.
Paid ads may also happen via Google's advertising network, displaying your ads to digital users across various platforms, websites, and apps.
If you need help figuring out how to run ads for your jewelry business, check out these resources:
Email marketing is a powerful tool because there are no algorithms or bidding strategies. Instead, you build your subscriber list and then send out promotional emails when appropriate. Consider offering unique promos or deals for email subscribers as an incentive to subscribe and stay subscribed.
Here are some resources to help build out your email marketing strategy:
Local events, markets, and pop-ups can also help spread the word about your jewelry. Plus, people can see and try on your creations in real life—often a much more impactful and convincing experience than simply browsing through product photos online.
"I've always had the most successful experiences doing in person pop-ups and markets," says Despina of marketing her brand Jewelry by Thespi. "I've been working harder networking in different areas to have a broader clientele and more opportunities."
Caracuri also sees a lot of success selling in person. It sets up most Saturdays at a local farmers market as well as participates in local events and festivals throughout Puerto Rico.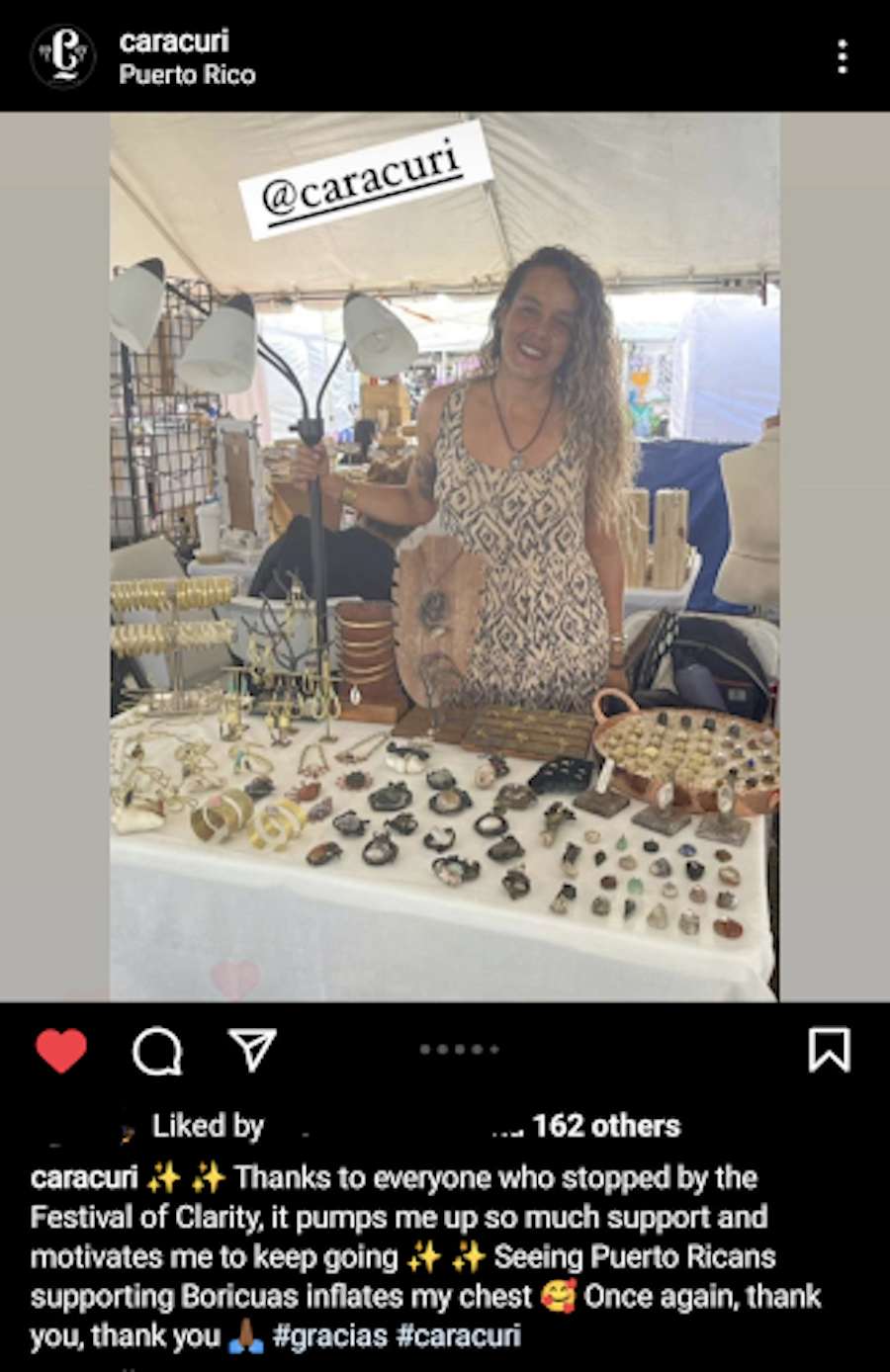 Look for events and pop-ups in your area to see where you might want to promote your business.
How to Start a Jewelry Business Frequently Asked Questions (FAQs)
How much do jewelry owners make?
Jewelry designers make an average annual salary of $49,058. Jewelry makers make the most in Washington and Massachusetts, and the least in South Dakota and Mississippi.
Is jewelry-making a profitable business?
Yes, jewelry-making is a profitable business. Jewelry makers can earn a gross profit in the 40%-plus range.
Bottom Line
Starting a jewelry business can be a very rewarding entrepreneurial endeavor. It's a great creative outlet, offers lots of flexibility, and has the potential to earn a substantial living.