Coupon advertising has been a staple for businesses for a very long time. These days it has evolved into more than just cutting along dotted lines in newspapers and magazines, yet it remains an indispensable tool to attract customers and create a real "buzz" for your marketing campaign.
Offering a fixed percentage or discount when paying for your product or service is a great incentive for people to try it out. Satisfied customers are likely to buy again — even at full price. To grab the attention of potential customers and generate more sales for your business, create coupons that are visually appealing. Read on to learn more.
Is Coupon Advertising Right For Your Small Business?
Coupon advertising isn't just a way to appease the deal hunters in your life. It's an essential way to draw in new customers. Everyone appreciates a good deal, right?
In fact, coupons have proven themselves to be highly effective sales tools. CMO Council reports that 71% of internet users in the U.S. were influenced by coupons and discounts when making their purchase decisions.
While coupons work for most sizes and types of business, small businesses may get frustrated when they feel they have to offer coupons just for people to try their offerings. However, a survey among businesses revealed that 75% of companies are willing to sacrifice margins to offer exclusive discounts and secure their customers' loyalty. So you better keep up with the game.
Remember, the main goal of offering coupons is to encourage consumers to try your products or services. If what you offer is really good, they'll most likely stay. Coupons give you the opportunity to persuade new customers to switch to your brand. Make it count!
4 Components Of An Effective Coupon Ad
There are basic strategies that you can implement to make your coupon more enticing. Let's discuss what makes this coupon effective: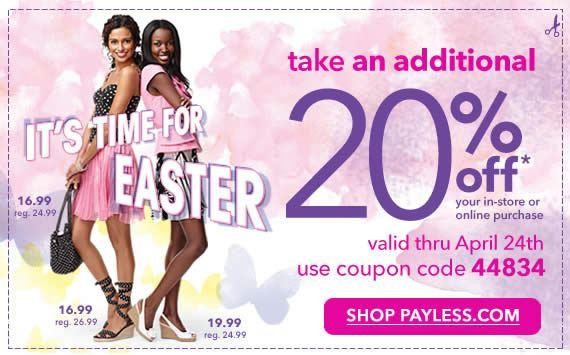 1. Exciting Visual Appeal
Payless uses imagery of shoes and clothes that puts you in a shopping frame of mind. Coupons that provide full-color, eye-catching content can compel customers to read your message. Give your content the professional and stylish look it needs. Include your logo and photos of your products to intrigue consumers. Click here to visit Fiverr and have a freelancer design a coupon for your business for as little as $5.
2. Clear Text
The above coupon also uses just enough text to get their message across without overwhelming the customers with too much unnecessary information. They answer every concern a buyer could think of. What: 20% off your purchase, Where: both in-store and online, When: until April 24th, and How: use the code 44834.
Be careful not to overdo your coupon with unnecessary images because the text is also important. Don't forget to include important details about the promotion: title, expiration date, and the terms. Don't try to trick your customers and always specify if there are certain restrictions. This honesty will demonstrate that your brand or company is trustworthy.
3. Strong Call to Action
Just like with other marketing materials you need to direct your customers where to go or what to do next. Be sure to include a clear call to action when designing your next coupon. Just like how Payless invited their customers to shop on their website.
4. Tied to a Holiday
Running relevant holiday promotions is a good business move. Just like what Payless did with their Easter coupon. People love a good holiday sale, no matter when it is. Keep an eye on upcoming events and create a coupon code to send out during those celebrations. Take advantage of the opportunities to run holiday promotions that your customers will look forward to year after year.
How To Design Your Own Coupon
Now that you know what elements are needed to create an effective coupon, the next step is to design one. Here are three options you can consider:
1. Use free graphic design tools
There are plenty of free design tools aimed at helping beginners and professionals alike. One of the most popular ones is Canva. This website is useful for those who aren't graphically inclined and are overwhelmed by the thought of using Photoshop.
2. Hire a designer on a freelance site
If you don't have the time to make your own coupon, you can check out sites like Fiverr to get freelance design services, starting at $5. There are plenty of freelancers looking for projects.
3. Hire a professional
For a more professional design, you can use sites specifically dedicated to offering graphic design expertise, such as 99designs. Tapping a specific community of proficient designers improves your chances of getting quality work done.
Where to Distribute Your Coupons
The best way to distribute your coupon is going to depend a lot on the type of business you run. An eCommerce store will obviously focus more on online coupons. A brick and mortar business should also consider online coupons, but on more specific local websites like Coupons.com and LocalSaver. Here are some of your options for distributing coupons:
Online
There's a lot of different ways to distribute coupons online, and the options vary widely in cost. On one end of the spectrum, there's free coupon hosting sites like RetailMeNot. You can post your coupons for free, although they're unlikely to be viewed by anybody who isn't already an existing customer. Another option is to distribute coupons to Coupons.com and other local coupon websites. This is a better option for brick and mortar businesses, since searches are narrowed by zip code. Your business can acquire new customers from users who are browsing local deals.
Email
Whether you're a web-based or brick & mortar business, offering loyalty coupons is an essential way to keep customers coming back. If you already have an email list, then congrats – you have perfect medium for sending coupons. Email-based coupons allow you to send more personalized offers based on what other purchases a customer has made. You also get the advantage of privacy, since email-based deals (hopefully) won't be available to the public at large.
Social Media
Use your Twitter, Facebook and other social media accounts to offer friends and followers special discounts. Make sure the promotion's compelling enough to make your followers feel special. One great perk of social media coupons are that they are very shareable. People can easily pass the deal along to their friends so take advantage of it. Try promotions like "Get 40% when you refer a new client," or "Bring in two friends and get 20% off for everyone."
Newspaper/Magazines
Print coupons have been widely used since Coca Cola issued the first coupon in 1887. While digital coupons are more convenient to redeem, print coupons still represent 44% of the coupon market. Coupons distributed through magazines and newspapers haven't lost their popularity among consumers even in today's digital age. One study showed that 70% of consumers still look for and use traditional print coupons in their newspaper and magazine subscriptions.
Sending a Postcard
Let's say you have pet store and want to send 5,000 local dog owners a coupon for dog food. Using VistaPrint, you can have full-color postcards printed, addressed and mailed for about $2,000. For an additional $300 – $500, you can also "rent" a mailing list. VistaPrint gives you tools to create a mailing list of potential customers in your area. You can narrow down by location, age, and other factors, like dog ownership. For more about this option, check out our guide Best Direct Mail Service: VistaPrint vs. PSPrint vs. EDDM.
Who To Target With Your Coupon Advertising
Existing Customers
Offering occasional discounts can encourage your existing customers to keep coming back. Coupons shouldn't just be a one-time deal. Use it to build loyalty. Always follow up with further promotions down the road. You can send coupons to your email list, have a popup or coupon banner on your website, post on your social media media accounts, or blog about it.
Also, make sure to always deliver something of value to your existing customers. Send compelling and targeted offers that nurture an ongoing relationship. However, be strategic with which discounts you promote. You don't want to discount items they buy frequently. Advertising an add on or a new product can be more rewarding for your business.
New Customers
Use an attractive offer to get new customers through your door, or to your website. According to a report, 80% of shoppers would willingly switch brands when offered a compelling promotion. This is one of the biggest reasons businesses use coupons. Send out coupons that are only eligible for first time customers. Target by demographics to make sure to attract representatives of your current audience. Some of the most important considerations in targeting new customers are:
Where do they live
What are their interests
What types of things do they buy
Income level
Gender
Age
Political leanings
Religious beliefs
Remember, in order to convert new customers into loyal ones, you need to offer follow up discounts. The follow-ups should be big enough to encourage retention, but small enough so you're not losing out on subsequent orders.
How Much Coupon Advertising Costs
Coupon advertising ranges from free to several thousand dollars. This is not the only factor that should be considered, however, when determining how much coupon advertising costs. You also have to add the cost of the discount itself, the revenue you'll gain from new customers, plus the revenue you'll lose from existing customers who find the coupon.
The Costs of Generating New Business
The following equation will help you determine how much it costs to bring in new customers from coupon advertising:
[(A) + (C) + (D) – (B)] / E = cost of acquiring a new customer using coupons
(A) $ Cost Of Promotion (not including discount):
(B) $ Sales From New Customers Resulting From Promotion:
(C) Cost of Goods and Services Provided To New Customers:
(D) Lost Revenue (discounts) From Existing Customers:
(E) Number Of New Customers That Return After Promotion:
Example
Store: Jim's Gyros
Coupon: $10 Gyro Plate (normally $15). The plate costs you $10 to make and serve, so you break even when a coupon is used.
Cost of Promotion: $99. You distribute it for 1 month through LocalSaver + Facebook ads + mobile display ads.
Sales From New Customers: 100 new customers come. Some buy additional items, resulting in $2,000 in sales.
Cost of Goods Sold to New Customers: $1,750. Despite high sales, you net only $250 from new customers because of the discount.
Lost Revenue from Existing Customers: 50 existing customers use coupons, resulting in a loss of $250.
Number of New Customers that Return: Half your new customers (50) return after the promotion.
Now let's run the math
[($99 + $1,750 + $250) – $2,000] / 50 new customers = $1.98 per customer
In this scenario, it would only cost you $2 for each new customer you attract to your business. This is a small cost that could easily be made up with a subsequent visit – so running this promotion would be a no brainer!
Now let's make a few quick adjustments
Let's say only 25 new customers return after the promotion. Also, let's say 100 existing customers (instead of 50) caught wind of promotion and used a coupon. Now your revenue lost from existing customers would increase to $500.
[($99 + $1,750 + $500) – $2,000] / 25 new customers = $13.96 per customer
This drastically changes the outcome. Now a customer would have to return 2 or 3 more times before you can break even off your coupon.
How To Measure If Your Coupon Campaign Was A Success
Once your coupon promotion is over, it's now time to measure how well it performed. Whether it's tracking coupon codes through analytics or simply counting the amount of coupons redeemed in-store, you should carefully monitor the results and use the findings as guide for your future marketing efforts.
Before you even start a campaign, always remember to set a reasonable sales or revenue-based goal. This will help you decide how much money to spend on the campaign and ultimately, help you measure the results.
Here are 4 basic steps to take in order to measure the efficiency of your coupon campaign:
Determine overall cost of the coupon campaign. Figure out distribution costs and any promotional costs.
Find out how much money you earned for each product. Subtract the overall cost of the product from what you charge for it.
Figure out how many products you need to sell to cover the costs of the promotion. This is your breakeven point. Simply divide the overall cost of the campaign by the per product profit.
Find out how many products you sold and compare that to your breakeven point.
However, there is a lot more to measuring the results of a coupon campaign than ROI. Even if you didn't achieve as many sales as you wanted from that specific metric, there are other success points you can consider. Such as:
Customer satisfaction. Were you able to gain happier customers after the promotion? Note that customer satisfaction is a key element to loyalty and long-term brand switching. Considering customer satisfaction when determining whether or not your promotion was successful is a must.
Brand awareness. Was your promotion able to improve your brand awareness? Then all is not lost. You may be able to get more customers in the future, since they will have already heard about your company.
Bottom Line: Coupon Advertising For Small Businesses
To do it right, coupon advertising takes a lot of planning. First off, you need to figure out a discount offer that balances attractiveness and profitability. Secondly, you need to offer follow-up coupons that ensure customers are retained. Thirdly, you need pick the right distribution channels that help you draw in new customers. Lastly, you need to measure the efficiency of your campaign.
From planning to implementation to analysis, every step in the coupon promotion process is critical to making it a success.