REDX Review: Is It Right for Your Real Estate Business?
REDX is real estate lead generation software specializing in curated lists of leads stemming from for sale by owner (FSBO), for rent by owner (FRBO), preforeclosure, and expired listings. Due to a combination of its niche leads and limited marketing features, it did not earn a spot on our list of best real estate lead generation websites.
However, based on 25 evaluation factors, REDX earned a reputable score of 4.38 out of 5 because of its general features, marketing and advertising features, REDX reviews, customer support, expert score, and ease of use. Read through our REDX review to determine if their system is right for your real estate business.
What We Like
Leads are preverified by REDX
Has a Power Dialer and phone scripts to maximize connections and prospecting calls
Available podcasts for supplemental training
Brand Builder service managed by REDX's team to boost social media marketing
Provided phone scripts for each lead source
What's Missing
No tiered subscription plans and total costs for all lead sources and tools budget-restrictive
Lacks integration with other lead sources and third-party software
Leads provided are not exclusive to one agent
No performance dashboards
Not built for team collaboration
Recommended For
Experienced agents who are great at pitching business on the phone
Independent agents needing seller leads from multiple niche lead sources
Agents who want to supplement seller leads not provided by the brokerage
Not Recommended For
Agents looking for integrations with third-party websites or a listing management system
Salespeople prospecting for buyers across many geographical areas
Teams looking to collaborate using one customer relationship management (CRM) platform
Expired Leads: $69.99 per month (Expired PLUS: $129.98 per month)
GeoLeads: $69.99 per month (GeoLeads PLUS: $129.98 per month)
FSBO Leads: $49.99 per month (FSBO PLUS: $69.98 per month)
FRBO Leads: $59.99 per month (FRBO PLUS: $79.98 per month)
Pre-foreclosure Leads: $49.99 per month (Pre-foreclosure PLUS: $89.98 per month)
Power Dialer: $99
Ad Builder: $49.99
Brand Builder: $267
---
---
REDX Reviews: What Users Think of REDX
Is REDX worth it? Based on REDX reviews, customers complimented the company's responsive customer support. Additionally, one user said that the REDX leads are exactly what he was looking for as a realtor. The quality leads and the information provided through the PLUS upgrade helped him concentrate more on his niche market. Further, one REDX review commended REDX's prospecting lead dialer and the fair pricing of its services.
Most of the dissatisfied reviews complained about phone numbers that were incorrect or were no longer in service. Several customers also said they had difficulty canceling their accounts and asking for a refund. REDX's costs may also add up if you subscribe to several products. If you are looking for an affordable customer relationship manager (CRM), HubSpot is a good alternative although it doesn't have lead generation sources integrated into it. You can also check Zillow Premier Agent for a free account with a CRM and lead generation tools.
Would Our Expert Use REDX?
REDX is a great marketplace for curated leads that go beyond the typical seller listings. We particularly like its multiple types of seller leads for FSBO, FRBO, preforeclosure, and expired listings, making REDX one of the best platforms to buy leads. We also recommend several REDX tools that make prospecting easy. Power Dialer and Mail Merge tools effectively contact as many leads as possible without wasting too much time. Phone scripts are available on your Vortex dashboard, so you communicate confidently with leads.
However, we wouldn't recommend REDX to agents, teams, and brokerages looking for an all-in-one lead generation, CRM, and marketing solution. REDX offers limited marketing tools with no marketing automation or third-party CRM integration. Moreover, REDX doesn't provide paid buyer leads, unlike Offrs and Market Leader. For a more robust CRM, we recommend Top Producer because of its wide range of essential tools like property insights, social insights, email marketing, and third-party integrations.
REDX Alternatives
If you're looking for other lead generation, marketing, and CRM platforms, here are some of our recommended alternatives to REDX:
Software

Best For

Agents who want to gain leads from the industry's most visited website

Agents, teams, and brokers looking for exclusive leads along with marketing and CRM tools

Experienced agents or teams looking for buyer and seller leads

Key Features

Lead generation and CRM solutions for individuals agents and teams
Expansive network of real estate sites
Paid buyer leads only

Customizable IDX websites for lead capture
Exclusive seller and buyer leads
Team performance and productivity insights

Customizable IDX website
Third-party integration with lead generation platforms
Deploys Google pay-per-click ads and social media marketing

Starting Price

Free agent account

$169 per month

$299 per month

Learn More

or

or

or
REDX Plans & Pricing
REDX pricing currently doesn't offer tiered plans for all its products. This means all REDX products—lead sources and tools—can be purchased a la carte. You can create your own subscription by choosing from different lead sources and tools with separate monthly costs:
Types of Lead Package

Monthly Price

Features

Expired

$69.99

Industry-leading connection rate
Expired filters (location, pricing, date of expiry)
Access to old expired listings
Numbers cross-checked against do not call list (DNC)
Mobile numbers/voice-over-internet-protocol (VoIP)
Listing information from your multiple listing service (MLS)

Expired PLUS

$129.98

Same as Expired package, plus:

Premium data layer
Email addresses
Market trend data
Homeowner financial insights
Home and building specifications
Lifestyle insights

GeoLeads

$69.99

2,500 leads per month
GeoLeads filters
Up to 3 phone numbers per lead
Boundary search
Unlimited ZIP codes

GeoLeads PLUS

$129.98

Same as GeoLeads package, plus:

7,500 leads per month
Email addresses
Market trend data
Homeowner financial insights
Home and building specifications
Lifestyle insights

FSBO

$49.99

Daily delivery of vetted FSBO leads
Numbers cross-checked against DNC
Landline and mobile numbers
FSBO filters (location, pricing, and listing date)

FSBO PLUS

$69.98

Same as FSBO package, plus:

Email addresses
Market trend data
Homeowner financial insights
Home and building specifications
Lifestyle insights

FRBO

$59.99

Daily delivery of vetted FRBO leads to Vortex
Numbers cross-checked against DNC
Look up additional phone numbers
Landline and mobile numbers
FRBO filters (e.g., location, pricing)

FRBO PLUS

$79.98

Same as FRBO package, plus:

Email addresses
Market trend data
Homeowner financial insights
Home and building specifications
Lifestyle insights

Pre-foreclosure

$49.99

Industry Leading Connection Rate
Foreclosure Filters (e.g., location, pricing, date of auction)
Numbers cross-checked Against DNC
Mobile numbers/VoIP
Listing information from your MLS

Pre-foreclosure PLUS

$89.98

Same as Pre-foreclosure package, plus:

Email addresses
Market trend data
Homeowner financial insights
Home and building specifications
Lifestyle insights
Additional a la Carte REDX Tools
Aside from lead sources, REDX offers tools to help you contact leads faster and maximize your prospecting efforts. Here are REDX tools that you can purchase on a monthly subscription:
Preview Line Dialer ($59): Simplified single-line dialer with 1,500 minutes talk time; calls via computer or phone, usage log, time zone protection, and free support
Power Dialer ($99.99): Single-line dialer to make prospecting calls with unlimited talk time
Power Dialer PLUS ($149.99): Single-line dialer for up to three lines to make prospecting calls with unlimited talk time
Ad Builder ($49.99): Create social media ads to generate leads.
Brand Builder Services:

Social Video Edits ($267): Social video edits (five three-minute projects), AL-generated video scripts, teleprompter, uploading, unlimited storage, live project updates, 24-48 hour turnaround, and team functionality.
Unlimited Video Edits ($899): Includes everything in Social Video Edits package, plus unlimited three-minute videos.
Social Media Management ($699): Only available with purchase of Unlimited Video Edits package and includes everything in that package, plus content posting, account manager, monthly strategy call, caption writing, hashtag research, visible content calendar, community engagement, and post boosting.
General REDX Features
Power Dialer and phone scripts
Verified leads
Vortex CRM
Mail Merge tool
Live chat support
REDX's features support real estate agents in growing their listing portfolio. Its prospecting tools enable agents to set up as many listing appointments as possible. Choose from multiple lead sources, tools, and data insights to improve your lead conversions.
REDX stands out as one of the best platforms to find FSBO, FRBO, preforeclosure, and expired leads. Moreover, you can find tools to help you better communicate and engage with prospective clients. Its Power Dialer minimizes the hours needed to prospect by performing the dialing on your behalf. The customizable phone scripts also help tailor your calls based on your lead's journey. Verified leads ensure that contact information in the Vortex system is valid, so agents can feel confident while prospecting.
Additional REDX Features
REDX features assist in helping agents to generate and nurture leads for niche markets. Read the details about each feature by clicking on the tabs below:
Multiple lead sources
Access to old expired listings
Daily and monthly delivery of leads to your Vortex Center
Leads not exclusive to one agent
Increase your chances of finding new business when you connect to the right contacts from multiple lead sources. REDX leads are verified, which reduces frustration and extra time spent dealing with unqualified leads. Before a lead is added to Vortex, REDX will verify that the contact is not on the DNC registry or that their properties have not already been relisted.
REDX offers multiple lead sources from FSBO, FRBO, preforeclosure, and expired listings. GeoLeads will further provide you with a curated list of homeowners within your area. For as low as $39.99 per month, you are guaranteed a daily and monthly delivery of contacts on your Vortex dashboard. You will have access to their names and mobile numbers/VoIP, as well as listing information from your MLS.
If you subscribed to PLUS plans, you will receive market insights, homeowner financial insights, home and building specification insights, and lifestyle insights straight to your dashboard. This information will enable you to prepare and strategize effectively before making a cold call. However, note that leads are not exclusive, which means other REDX agents can also access their contact information.
---
Manage all seller leads
Filter prospects by source, home price, and lead status
Power Dialer integrated into the Vortex dashboard
The Vortex lead management platform allows agents to manage all REDX leads in one platform. Agents have access to lead contact information and the ability to view lead status in their sales pipeline. The Power Dialer add-on integrates directly with Vortex to give agents the ability to filter their leads and dial all at once. Agents may also take notes directly on the platform for future reference.
Having a place to store all leads will help agents focus their time and efforts on prospecting without combing through emails or manually written notes. Because you can document your interactions with clients while on the phone, it helps with client retention and consistent communication in follow-up conversations.
---
Call with a computer or phone
Time zone protection
Upload voicemails
REDX's Power Dialer helps you dial multiple phone numbers at a time so you can prospect more efficiently and start conversations with leads quickly. This saves you time as you connect with as many sellers as possible—no need to hand-dial numbers or leave voicemails manually. The Power Dialer starts with a live connection similar to a real phone call and leaves voicemails for you when there is no response, or the call is disconnected.
Using Power Dialer and verified leads helps set you up for successful real estate prospecting. Moreover, agents can add on the multi-line dialer that dials up to three phone numbers simultaneously to complete your dialing and get someone on the phone faster. It also comes with the ability to upload callback messages for leads who don't pick up, leaving an impression for the next time you dial.
---
Scripts tailored to the type of lead and lead information
Scripts can be edited on your Vortex account
Scripts easily accessible on the lead profile page
A premade script provides a format for how the phone call should flow, helping you sound more natural and confident on the phone. REDX's customizable phone scripts are helpful to new agents who are still getting comfortable prospecting over the phone. These scripts also provide conversation ideas for experienced agents, since they are tailored based on the information on the lead's profile.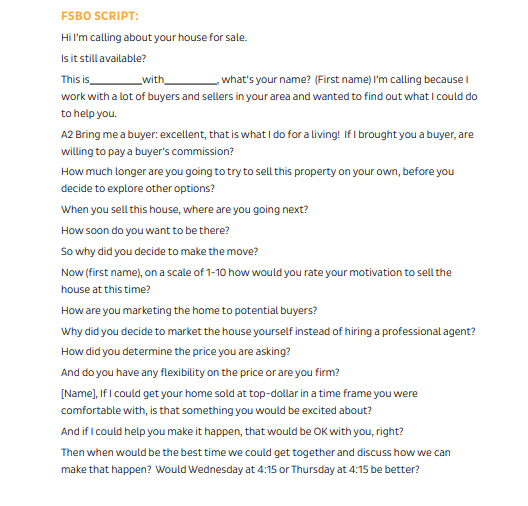 ---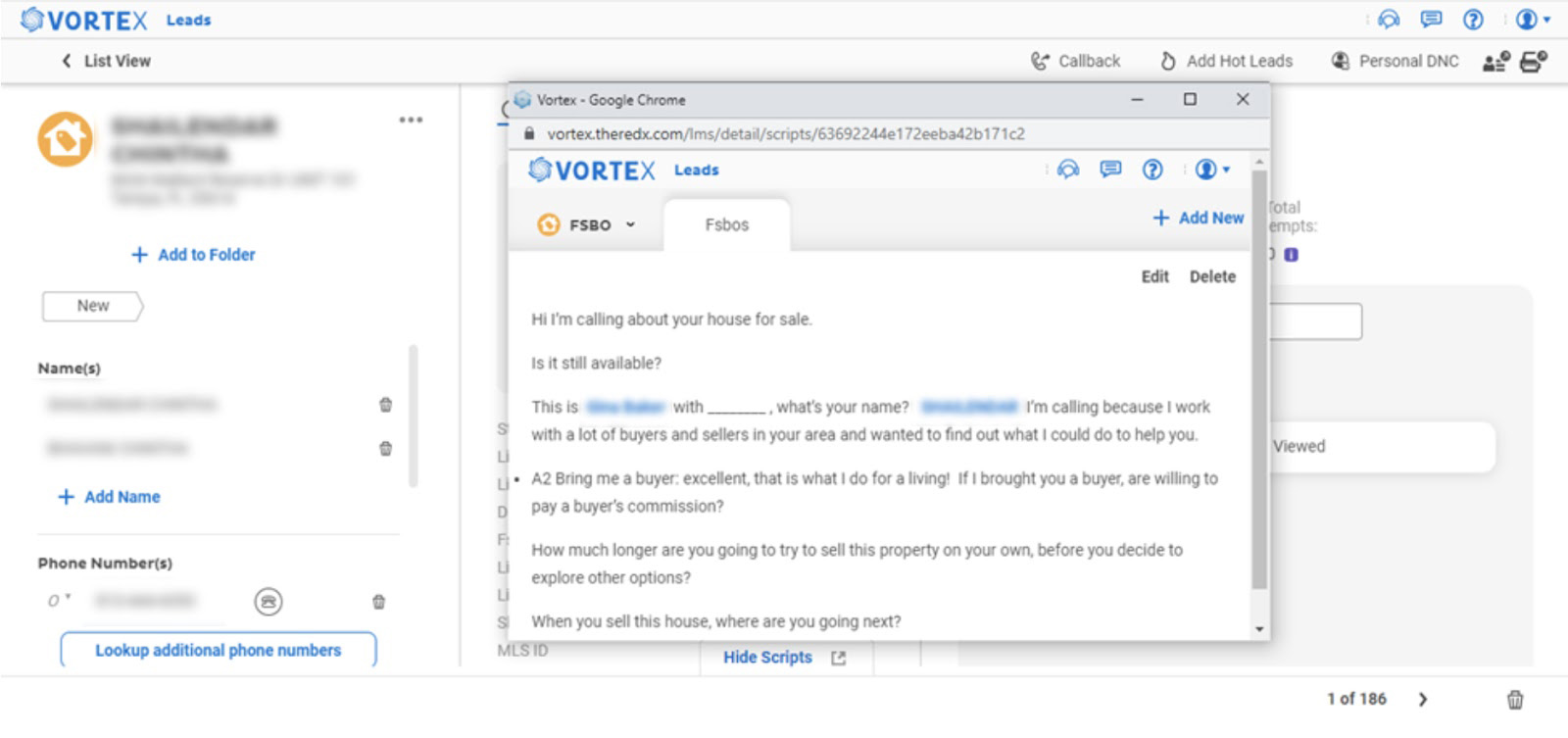 ---
Aside from downloadable phone scripts accessible on its website, you will also find a script prompt at the bottom of your lead's profile on your Vortex dashboard. By simply clicking the "Show Scripts" link, you can readily practice cold calling while looking at your lead's personal information. This improves your success in converting the lead into new business. While prospecting, scripts add value to the conversation and can steer it in your favor.
Sound more natural and confident over the phone by following real estate phone scripts that you can personalize based on the specific needs of your potential clients. Cold calling scripts are preplanned phone conversations that empower you to communicate your services clearly with potential seller leads. Meanwhile, real estate internet leads scripts will help you collect information from online leads and build connections.
---
Premade mailer templates
Print custom letters and mail labels
Agents can create their own template/letter
The Mail Merge feature included in your Vortex account is an effective way to follow up with your prospects after a call by sending physical mail in your desired farm area. REDX's Mail Merge tool lets you print custom letters and mail labels using your REDX lead data. Create your own letters tailored to specific lead types and add images to your letters and format unique labels.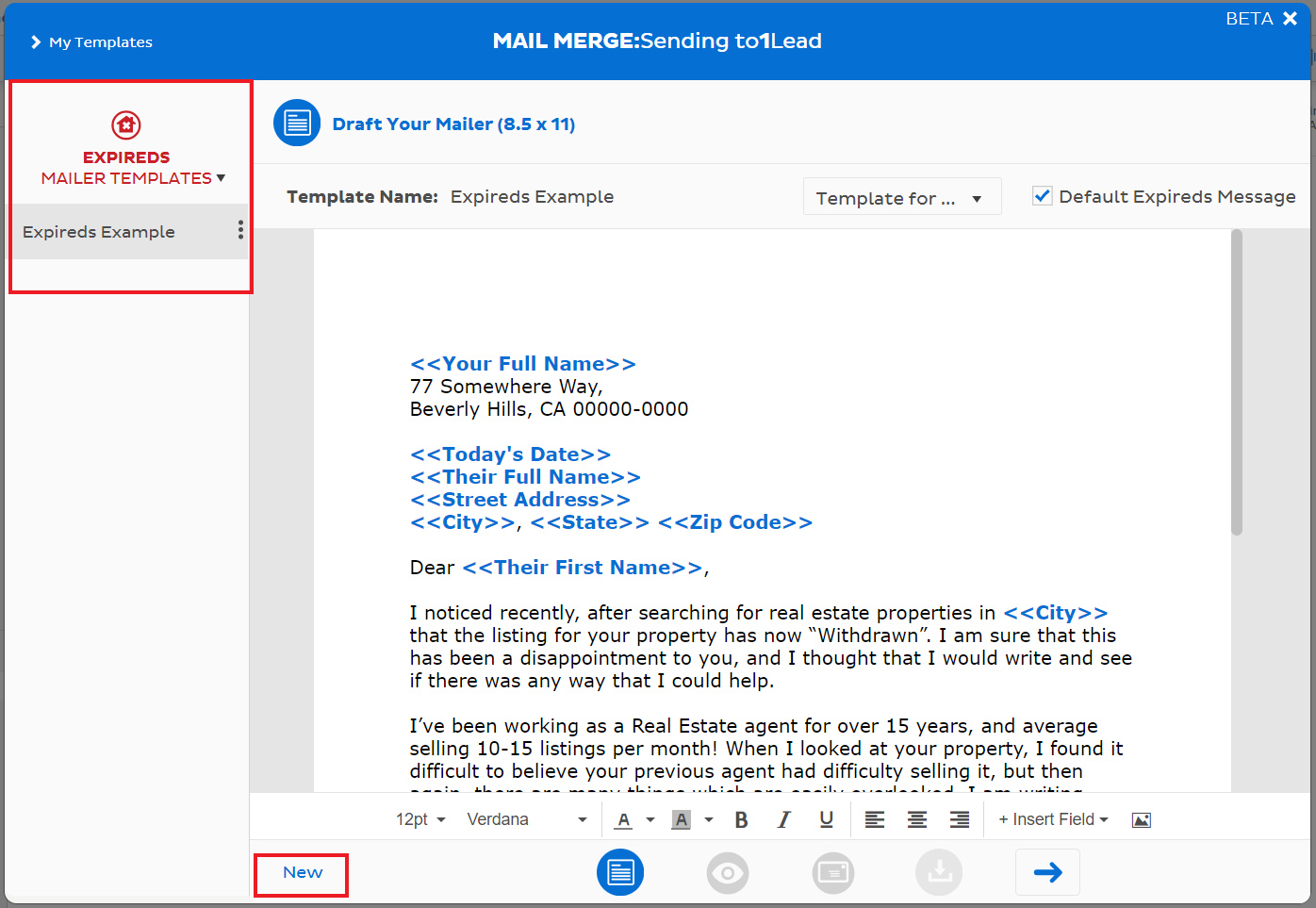 ---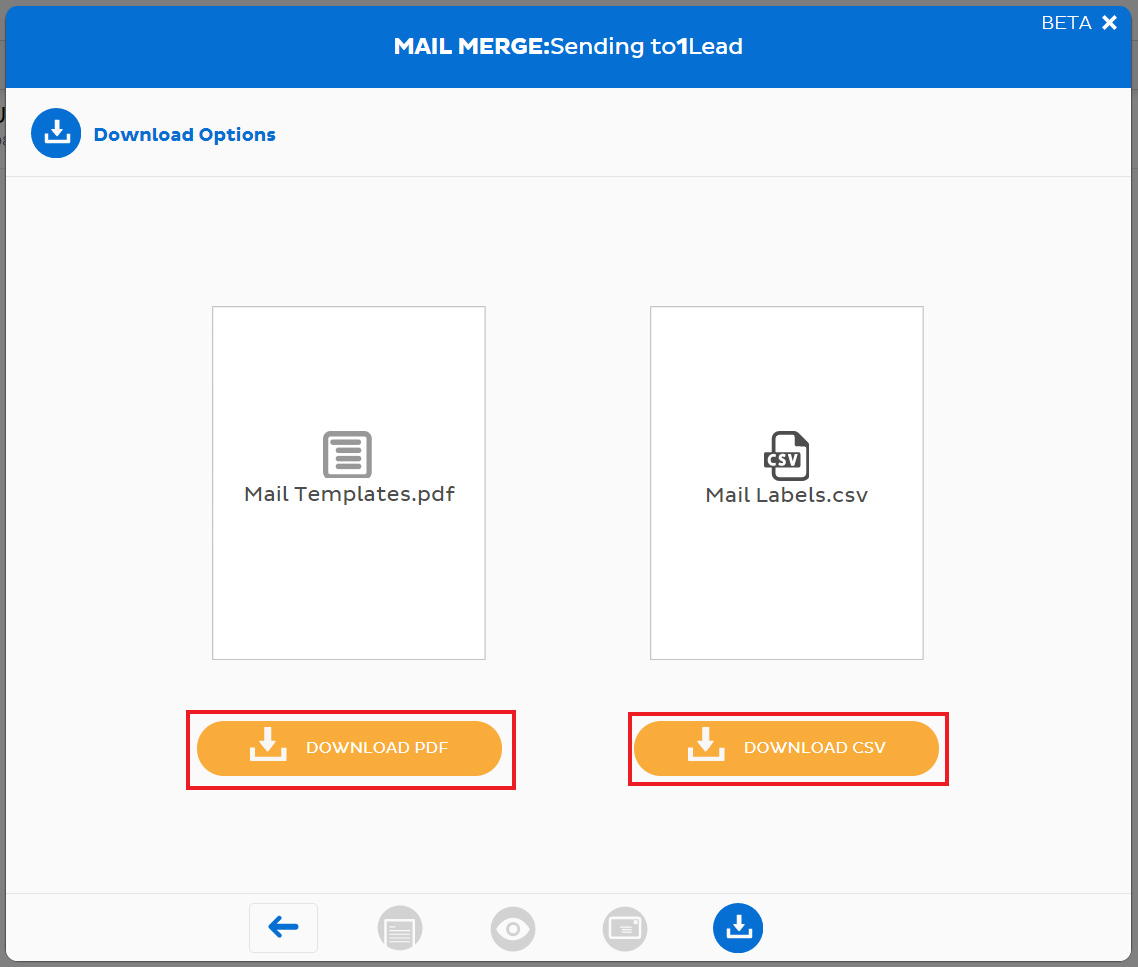 ---
On the Vortex account, agents can select the lead subscription contacts they would like to mail merge. They can then export that contact onto premade templates to merge in contact information for personalized letters or mailing labels. Strategic real estate farming plus phone calls can support an agent's business development efforts by keeping your information in mind for prospective clients.
---
Financial insights
Market insights
Home and building insights
Lifestyle insights
With REDX's data insights, you can receive relevant and important lead information and showcase your market expertise to prospective clients. REDX offers four data insight services that come with PLUS subscriptions. Each data insight service will apply to all your REDX leads, including any added within the last 30 days.
Following are the types of data insights you'll receive if you subscribe to any PLUS plan:
Market insights: Helps you gain insights into specific market data, including median list price, price per square foot, and average price increases.
Financial insights: Allows you to filter leads by estimated home equity or estimated owner net worth.
Home and building insights: Provides detailed specs for each property, like construction materials, heating and cooling, and roofing details.
Lifestyle insights: Know your lead's lifestyle, interests, and preferences to create instant connections and build lasting relationships
---
Professionally crafted social media content
Managed boosting to Facebook, Instagram, and TikTok
Access to ad builder and content library
REDX's Brand Builder helps you create social media content that will convert more leads from your database through Facebook, Instagram, and TikTok. You can share your expertise with content suggestions, questions, and topics from REDX's in-house specialists. REDX's team will also help you turn raw videos into engaging content, complete with captions, emojis, and stickers. This will leverage your social media marketing, building your online reputation while saving time.

---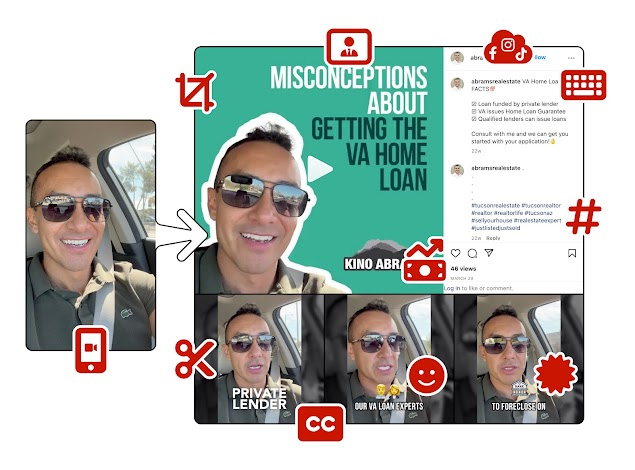 ---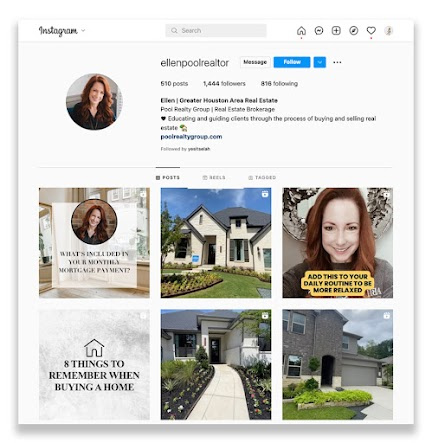 ---
Starting at $267 per month, get three custom video projects and unique posts across Facebook, Instagram, and TikTok. You will also have access to ad builder and content library and get managed boosting to your social media accounts to help you stay relevant.
Statistics show that realtors found 46% of their quality leads through social media. Facebook (89%), Instagram (59%), and LinkedIn (53%) were the top three platforms used by agents to promote their businesses. Real estate social media marketing is undoubtedly a powerful tool to grow your audience, build a trustworthy brand, and ultimately increase your income.
Explore the following articles to generate more leads on social media:
---
Chat support accessible on the Vortex dashboard
Phone and email support for general inquiries
REDX Forum and Help Center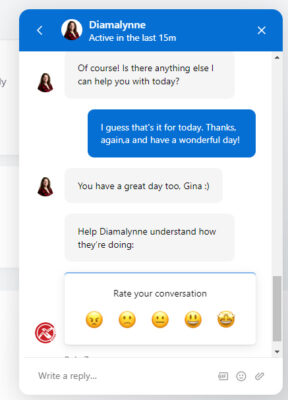 ---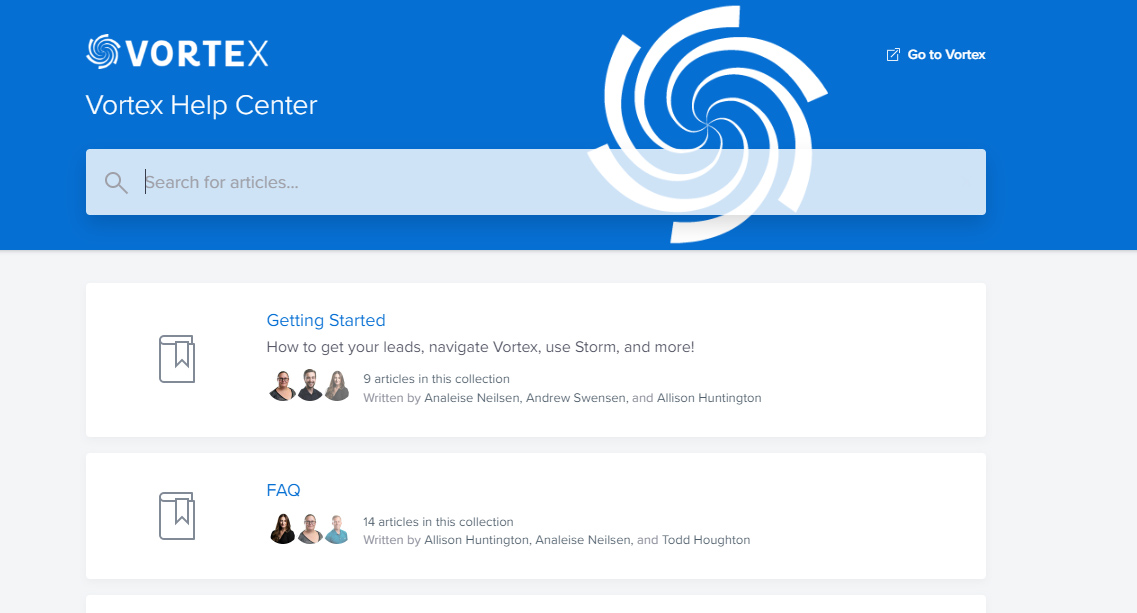 ---
There are several ways to find information about your REDX account features. You can easily contact live support right on your Vortex dashboard. A live online chat will connect you to an online representative, who quickly responds to specific questions. If you need step-by-step guides on configuring a certain feature on your dashboard, check out the REDX Forum or the Vortex Help Center for articles and FAQs.
If you're not an account holder, contact REDX via phone or email. Phone support hours are from Monday to Friday, 8:00 a.m. to 8:00 p.m. Eastern Time.
---
Covers multiple topics, such as lead generation, prospecting strategies, and relationship building
Features coaches, entrepreneurs, and real estate professionals
Podcasts can be downloaded for free
To supplement the training provided by your brokerages, podcasts are available on the REDX website to discuss the platform functions. They also dive into multiple topics that can help agents succeed in real estate. Topics are bundled into sections on the website, including business growth, new agent success, FSBO success, and prospecting strategy.
---
---
The podcasts also feature successful real estate agents, coaches, and entrepreneurs across the country. If you catch their podcast live, you can interact with the speakers through YouTube Live Chat. Otherwise, you can listen to the recorded podcasts on their website or download them in MP3 format for free. These podcasts will enrich your knowledge with real-world practices and examples from seasoned professionals in the industry.
---
Ease of Use
REDX's intuitive platform is easy to navigate. Once logged in, you can easily view all your subscribed leads and filter them by source by ticking the boxes on the sidebar navigation. On the top navigation bar, you will find buttons for Chat support, REDX Forum, Help Center, and your profile so you can easily access information about your account. You will also find the Power Dialer and Mail Merge buttons on the top menu so you can directly dial phone numbers or send emails to leads right on your dashboard.
As mentioned, leads are separated by source, which allows phone conversations to be tailored accordingly. However, for agents with multiple lead sources from third-party sites, there's no integration of outside leads, so you'd need an additional CRM. Vortex also has limited marketing automation to prospect for business outside of phone dialing.
REDX's website is also pretty straightforward. By simply navigating through the top menu on the website's home page, you can find REDX success stories, customer support, and podcasts. You can also immediately find all the information about REDX products, along with their specific pricing and inclusions, on the home page.
How We Evaluated REDX
The best real estate lead generation websites provide real estate professionals with tools that assist in generating leads and converting them into clients. We researched lead gen websites based on the following criteria:
30% of Overall Score
We researched each provider to find those with additional real estate lead generation tools going beyond what agents gain by simply buying a list of leads. In particular, we looked for software with CRM integration, pipeline management, IDX websites, automated reporting and analytics, and lead sorting.
25% of Overall Score
We searched for websites with various marketing and advertising features such as email and social media management. We also looked for those with advanced features like branded advertising and automation for text and email.
15% of Overall Score
It's important that website users have access to customer support. We favored software providers known for stellar customer service on one or more channels.
10% of Overall Score
We specifically evaluated each platform's unique or stand-out features, as well as ease of use and the overall value for the cost.
10% of Overall Score
Based on customer feedback for each platform, with particular attention given to actual user reviews of the product and the popularity of each real estate lead generation website.
10% of Overall Score
Many lead generation websites can be complicated to use and need technical assistance to set up. We sought out platforms that were easy to operate and had a mobile app for on-the-go agents.
*Percentages of overall score
*Pricing was not included in our evaluation criteria because of the vast price difference between providers and services
Bottom Line
REDX is an effective lead generation platform with an easy-to-use lead management system. Verified leads increase agents' chances of finding high-quality prospects. The phone dialer and phone scripts available on the dashboard further ensure agents consistently set up listing meetings, thereby improving the chances for lead conversions. REDX reviews show users love its responsive customer support and quick delivery of verified leads, making the platform an affordable supplement to other prospecting practices.