What Is Just in Time Inventory? A Retailer's Guide
Just in time (JIT) inventory is when retailers have the exact amount of supplies they need to meet the exact demand on time, every time. The inventory management type was made famous by Toyota in the 1970s. The car manufacturer had tight inventory control in which it worked closely with raw materials suppliers to ensure it always had just the right amount of materials to meet demand—no more, no less.
Pros & Cons of Just in Time Inventory
PROS

CONS

More cash flow
Susceptible to supply chain disruptions
Decreases expired or wasted inventory
Little room for error; requires excellent organization and reliable suppliers
Lower inventory holding costs
Not environmentally friendly
Easier to pivot product assortment
Potential for missed sales
Less susceptible to theft
Higher per-unit costs
JIT inventory management has a number of benefits, including the following:
Ties Up Less Capital in Inventory
Often, one of a small business retailer's biggest assets is inventory. After all, it's the crux of your business—without it, you have nothing to sell. However, when you have too much capital tied up in inventory, you're limited in what you can do with those assets. You may need cash to fund a second store opening, build a new online store, or invest in product development. Plus, you use less cash buying stock that will become unsellable.
Decreases Expired or Wasted Inventory
Because you rely on lower levels of safety stock with JIT inventory management, you're less susceptible to aging, expired, and wasted inventory. This dead stock, or unsellable merchandise, is costly and wasteful.
Some estimates say dead inventory costs for retailers are about $50 billion per year. With the JIT method, you have fewer items on hand and prevent overproduction, so your inventory doesn't have a chance to age or expire. Plus, because you create products in smaller batches, it's easier and less costly to deal with manufacturing defects.
Lowers Inventory Holding Costs
Less stock means more space, and that leads to better organized warehouse layouts. In 2021, it cost an average $7.91 per square foot to run a warehouse. The fewer square feet you have, the more affordable your warehousing expenses become. With JIT inventory management, you don't have a lot of inventory to store, so you don't need a large warehouse space. In some cases, you may not even need a warehouse at all.
Makes Launching New Products Easy
The JIT inventory model relies on short production cycles. As such, it's easier to bring new product ideas to market. This also makes it easier for you to adjust to emerging trends or sudden changes in demand. Some retailers even use the made-to-order model, so they don't manufacture a new product until someone has purchased one.
It's important to note that this may impact production for your other products. Some suppliers can keep up with both, while others may have to pause to have the capacity to manufacture your new products.
Provides Opportunities to Source Locally
Depending on where you're located and the availability of supplies in your area, the JIT method often presents an opportunity to source materials nearby. When your suppliers are local, shipping times are often shorter—and often more affordable.
You can even develop a closer relationship with suppliers that can become almost like partners in your business, rather than just vendors. With as many as 70% of consumers choosing to shop and support local, this is also an excellent opportunity for branding and marketing.
Reduces Theft
Internal theft alone has become a bigger priority in the past five years for more than half of retail businesses. You can reduce retail theft through the JIT method because you have fewer merchandise assets on hand to steal. Here are some resources for fighting theft and shrink:
While the JIT method certainly affords retailers the above benefits, that doesn't mean it's without its challenges. Keep the following in mind when assessing whether the JIT method is right for your small retail business:
More Susceptible to Disruptions
There's a reason we call it "safety" stock—when you don't have extra inventory on hand, you don't have a security net for unexpected disruptions to your supply chain. Such disruptions could include things like natural disasters, COVID-19 shutdowns, or equipment breakdowns. Similarly, significant but unexpected spikes in demand can also put your business in a bind.
Little Room for Error
The JIT method also leaves little room for error. If you accidentally order the wrong amount or there's a manufacturing defect, you don't have stock reserve to lean on while waiting for things to get back to normal. You need to have strong forecasting processes because inaccurate forecasts could lead to significant errors.
Relies on Suppliers
JIT inventory control puts a lot of trust and onus on your retail suppliers. This can feel unsettling, especially for the entrepreneur used to doing everything themselves. That's why it's important to carefully vet and select the best wholesale suppliers for your business. Ask about their ability to keep up with JIT and if other clients use this inventory management method. Ask about price fluctuations, raw materials availability, and contingency plans for unforeseen circumstances.
Here are more resources to help you find suppliers and manage your relationships with them:
Not Environmentally Friendly
As sustainability becomes a more pressing global issue, businesses also have to be mindful of their environmental impact. The JIT method isn't the most sustainable inventory management style. It requires lots of shipping and packaging, both of which have significant negative impacts on our environment.
Requires Excellent Organization
Because you have little room for error with the JIT method, you need to be extremely organized to mitigate those errors. You need advanced inventory control in place, and it's important for everyone on the team to follow the same processes and guidelines. While automation and inventory management software will certainly help, they're not foolproof.
Can Be Stressful
With all of the pressures listed above, the JIT method puts a lot of stress on retail business owners and employees. This is an agile way to do business, so it requires not only efficient workflows but also error-free work. Using this model, it can be challenging to stay on top of inventory needs in addition to everything else.
May Eat Into Profit
When you order smaller quantities from suppliers, you typically pay a higher per-unit price, which cuts into your profit margin. This is often the case when it comes to JIT inventory management. Plus, because you need product more quickly, you're often required to work with local suppliers. While this may be more affordable in some cases, it also limits your ability to price compare and find the most affordable options.
May Lead to Missed Sales
When you use the JIT method, you're more susceptible to stockouts, a costly problem in the retail world. Stockouts lead to not only missed sales but also a poor customer experience, which could have immeasurable negative impact for years to come when you consider potential repeat purchases and word-of-mouth marketing.
Who Should Use Just in Time Inventory?
Some retail industries and verticals are better suited for the JIT method than others. The niches below may benefit from JIT inventory.
Fashion and apparel: You may have heard of the term "fast fashion" before. It's essentially the rapid and affordable production of apparel products so businesses can capitalize on trends. Some sustainable and handmade brands also use the "made to order" model.
Food and drink: Because food and beverages have shorter shelf lives, you don't want to hold on to them for too long. As such, you may consider the JIT method to avoid spoiling and expired products.
Print on demand: Print on demand businesses rely on the JIT method by nature. When a customer places an order, only then is a design printed on the item they purchased. T-shirts and art make great print on demand options. Note these products typically offer smaller profit margins.
Cosmetics, beauty, and personal care: Similar to food and drink, many of these types of products have an expiration date.
Florists: If you sell living flowers such as bouquets, you may look into using the JIT method. These products have a short shelf life, as well, and are seasonal.
Companies That Use Just in Time Inventory
Here are some examples of companies that use the JIT inventory method.
Apple
One well-cited example of the JIT method is Apple. Back when the company still sold the iPod, it adopted the JIT inventory method to optimize production. It outsourced many of its production needs to places with more affordable manufacturing and ended up cutting the production cycle from 90 days to just 90 hours.
Vigo Swim
Puerto Rico-based sustainable swimwear brand Vigo Swim uses the JIT method. However, its operations are on a much smaller scale than Apple's. Every swimsuit is handmade, many of which are made to order (though the online retailer does offer a selection of ready-to-buy pieces). In this case, Vigo Swim is the manufacturer, so it has tighter control over operations.
Grayton Watches
Grayton Watches sells "urban-inspired watches." To raise awareness, it launched a marketing campaign in which influencers could design and customize a watch. As such, the brand needed a lean production process that would put products in people's hands with little lead time. After implementing the JIT method, it was able to ship custom orders within 10 days of the purchase date—and it pumped capital into the business without making a major inventory investment.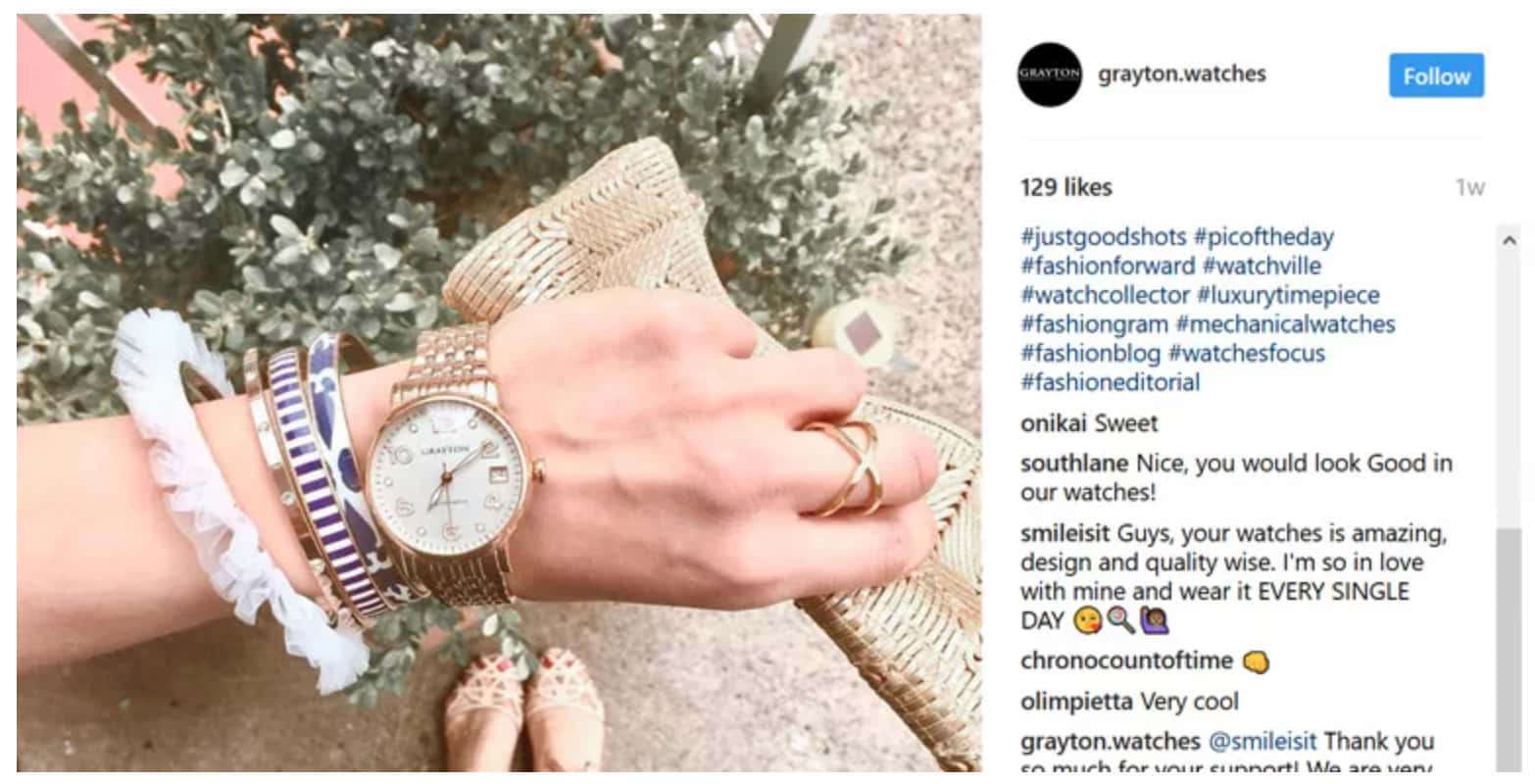 Kellogg's
Household snack and cereal brand Kellogg's also uses JIT inventory, with manufacturing plants located all over the world. The Kellogg Planning System (KPS) divided the supply chain into three distinct sectors and then optimized each. It involves weekly and monthly check-ins, which frequently lead to millions of dollars in savings due to production cycle optimizations.
Bottom Line
Starting a retail business in 2022 involves a lot of decision-making—and one of those decisions is how to manage your inventory. The JIT inventory method is great for creating lean, agile operations that can respond to unexpected spikes and dips in demand. But it also has its challenges. It's all a matter of analyzing your unique business needs to determine the best way to track your inventory.