Showcasing your home for an open house is one of the best ways to find serious buyers. For realtors, it's also a great way to to meet and exchange information with new prospects. To ensure you pack the place and make the most of your event, a unique and eye grabbing real estate open house flyer is essential.
We've created a flyer below which you can download for free and edit to match your listing. You can also check out dozens more flyer templates at ProspectsPLUS!. They also offer next-day printing and shipping, which is great if your open house is coming up fast. Click here to check them out.
Free Open House Flyer Template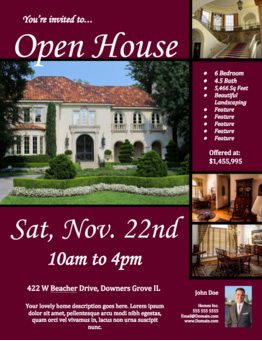 Use our free open house flyer template to create a flyer for your event. Simply open in Google Slides or Microsoft PowerPoint and replace the images and text with your own.
To replace images, just delete the ones in the template. Then, drag your photos into your browser or program and fit them to the size of the boxes
If your photos are too wide or too tall to fit in a box, we recommend cropping them instead of stretching or shrinking them. To crop a photo in Google Slides, simply double click and drag the borders. To crop a photo in Microsoft PowerPoint go to Picture Tools > Format > Size > Crop.
What To Include In An Open House Flyer
You have two main goals with a real estate open house flyer:
You want to showcase your home.

Just like a real estate listing flyer, you want to use attractive photos, a short description and bullet points to highlight your home.

You want to emphasize the event.

The key takeaway from the flyer should be that there's an open house on XX date. That's why our open house flyer template has these words emphasized more than everything else.
Here's everything you should include on your real estate flyer:
The open house date & time
4 to 6 high quality photos

, including a "main photo" of the front of the house

Bullet points of home features

, including number of bedrooms, bathrooms, square footage, special features, etc.

Asking price
Home address

– not necessarily emphasized, but definitely large and legible

A short home description

– 3 to 4 sentences.

Your Headshot

+ contact information.
Additionally, you may want to include this information as well:
Your Real Estate Logo
A Map –

If you really want to highlight the location of your home, what better way than to include a map? You can enter the address in Google Maps, then go to "menu" (the 3 horizontal lines to the left of the address box) and "print." Alternatively, you can just take a screenshot and crop out the background.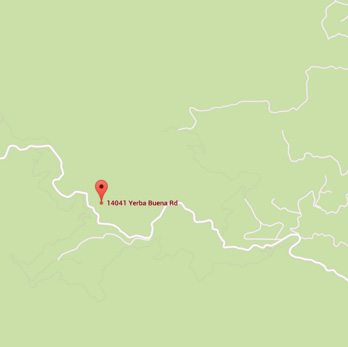 While you're working on your flyer, you also might want to draw up a sign-in sheet. That way, you're sure to get contact info for everyone that comes through your open house and follow up right away. You can make your own sign-in sheet, or just print out one of our open house sign-in sheet templates.
The Bottom Line
Our free open house flyer template gives you a quick and easy way to design a flyer for your next showing. To print your flyer, we recommend using ProspectsPLUS!. You can either upload your finished template and print from there, or uyou can work with one of their many real estate flyer templates. So if you're looking for a more minimalist or modern design, be sure to check out their templates.