Setting up payroll is a pain. You have to make sure your business is registered with all the right agencies, fill out numerous forms for each employee, and often find workers' comp coverage – all on a tight deadline. Even a seasoned business owner can get overwhelmed, especially when it comes to the distinct federal, state and local tax requirements.
In this guide, we'll break down how to setup payroll in 9 digestible steps. If you have a lot of time on your hands, we'll give you all the info you need to set up payroll manually. If you're busy like most small business owners, we'll show you how to cut the setup time from hours to minutes using Gusto payroll software.
Follow the below steps with a free 2 month trial of Gusto payroll software.
The Steps to Adding a New Employee To Payroll
Here's a brief rundown of the 9 steps to hiring a new employee. Note that several of these will vary depending on the state your business is located (registering for state taxes, worker's comp, posters/notices, State W-4) and the state your employee lives in:
BEFORE THEIR FIRST DAY:
Apply for an

Employer Identification Number (EIN)

from the

IRS

Register for

State Taxes

Determine your State Unemployment Tax (SUTA) rate

Buy

Worker's Comp Insurance (required in most states)

Post required

notices and posters

around the workplace
ON THEIR FIRST DAY:
File a signed

Federal W-4

form for tax withholding (available

here

)

File a signed

State W-4

form (in some states only: check

here

)
SOON AFTER THEY BEGIN WORKING:
File a signed

I-9 Form

for work eligibility verification (within 3 days)

Register your employee in your state's

New Hire Reporting Program

(within 20 days)
For a more detailed rundown of these steps, including links to forms and other resources, check out our New Hire Checklist.
Sound Complicated?
If getting new employees set up on payroll sounds complicated, you're not alone. The reality is messy – especially when you consider how each state government has unique requirements on top of the already-complicated federal laws.
This is why we recommend using payroll software such as Gusto. On top of streamlining the hiring process, you get a system that can automatically run payroll throughout the year, track bonuses, vacation/sick days, etc. 
Why Gusto? We tried out a lot of different payroll programs and found Gusto to be the best for small businesses because it:
Is easier to use and less expensive than competitors, like Intuit and SurePayroll.

Handles a lot of the setup process automatically (filling out W-4s, sending New Hire Reports)

Gives you full tax support throughout the year. In other words Gusto will file your state and federal payroll taxes, issue W-2s to your employees, etc.
It's basically like having an accountant to run payroll in your office – only much cheaper.
Check out our Buyer's Guide to Best Payroll Software.
How to Setup Payroll with Gusto
For the rest of the article, we'll show you how to add employees and setup payroll using Gusto. To follow along, you can sign up for a free 2 month trial by clicking this link. Afterwards, the cost is $29/month + $6 per employee. So for 5 employees, the cost would be $59/month.
Note: While this guide should be easy enough to follow, if you have trouble at any point in time, you chat with a Gusto support representative. Just click the green question mark icon on the bottom-right corner of the screen and a chat window will open on the right side. (pictured below)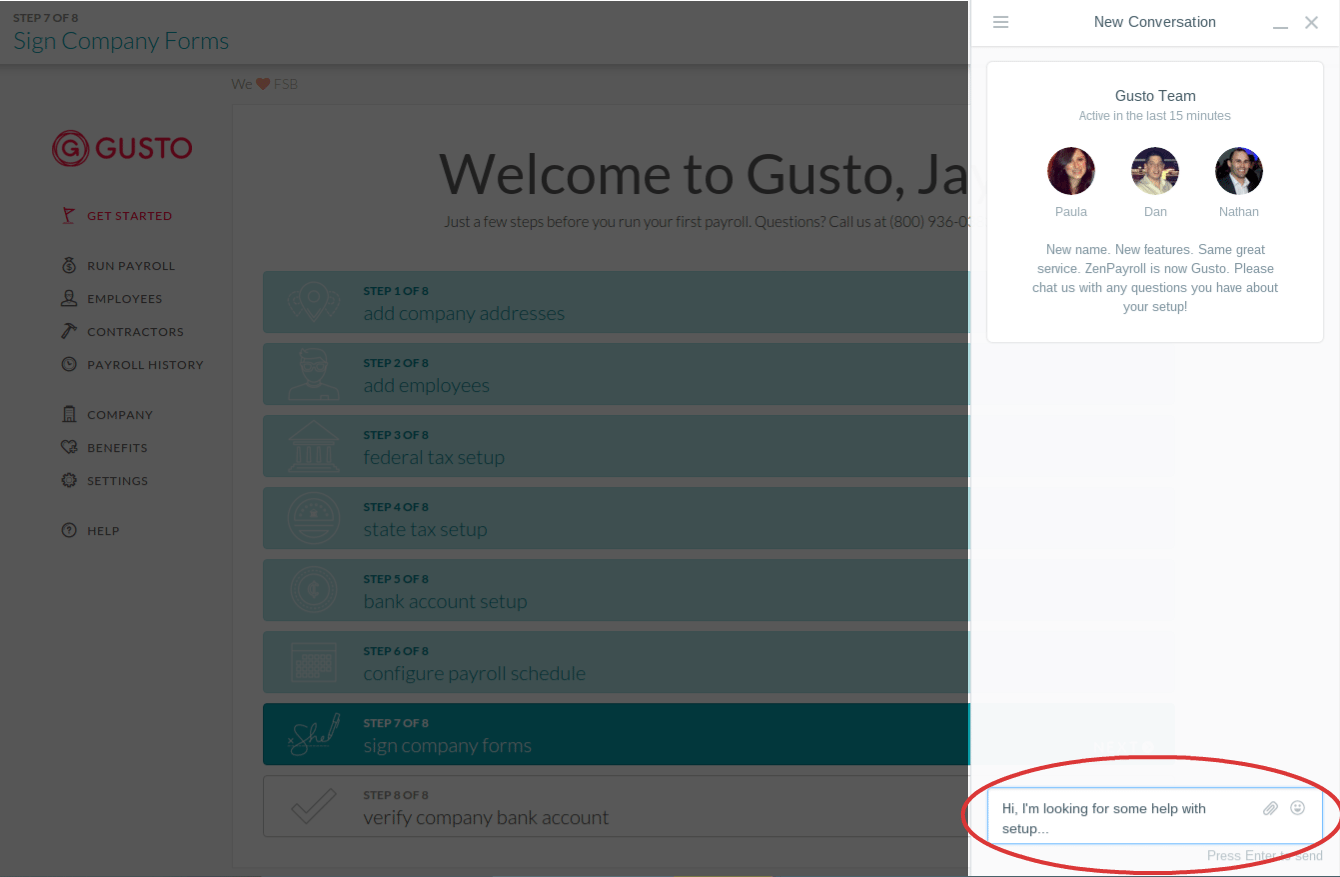 You can also call their support team, or schedule a call for a future time/date if you don't want to wait. Just tell the support representative in live chat that you'd like to speak on the phone.
For more options on how to handle payroll, check out our in-depth guide to the Best Payroll Software.
Step 1: Basic Information
After you sign up for an account, you'll first be asked to add some basic company information, including your address(es). This helps Gusto determine what specific forms you need for your state. Assuming you have only one location, this first step will be very simple.
Step 2: Adding Employees
Next you'll begin adding your employee(s) to the system. You'll start with some basic information, including their name, address, email, hire date and salary/wage.
The next step is to enter personal details, like social security number (SSN) and birthdate, as well as tax withholding preferences. If an employee is married and/or has kids, they can withhold less money from their paycheck. In other words, they'll receive a higher net pay on each payday, but then receive a smaller tax refund at the end of the year (or, potentially pay a tax liability of they don't withhold enough).
Since this all comes down to personal preference, you can let your employees decide how much they withhold. Gusto has a handy "employee self-onboarding" option. By selecting this, employees will receive an email with a link to enter this information themselves. This is also useful if you don't have employee's birthdays or SSNs on hand.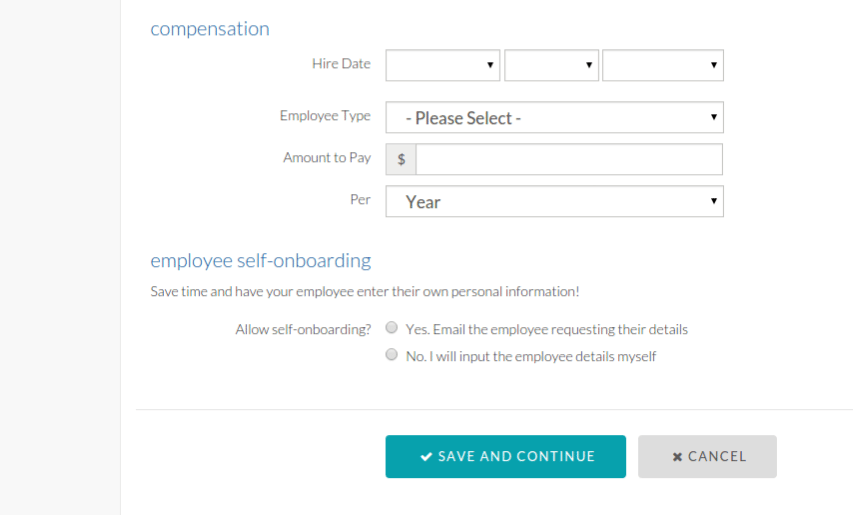 At around this same stage, you can automatically file a New Hire Report. This is a notice you must send to your state office within 20 days of hiring a new employee (as explained in Step 9 at the beginning of this article.) By selecting the option below, Gusto will automatically file the report to your proper state agency.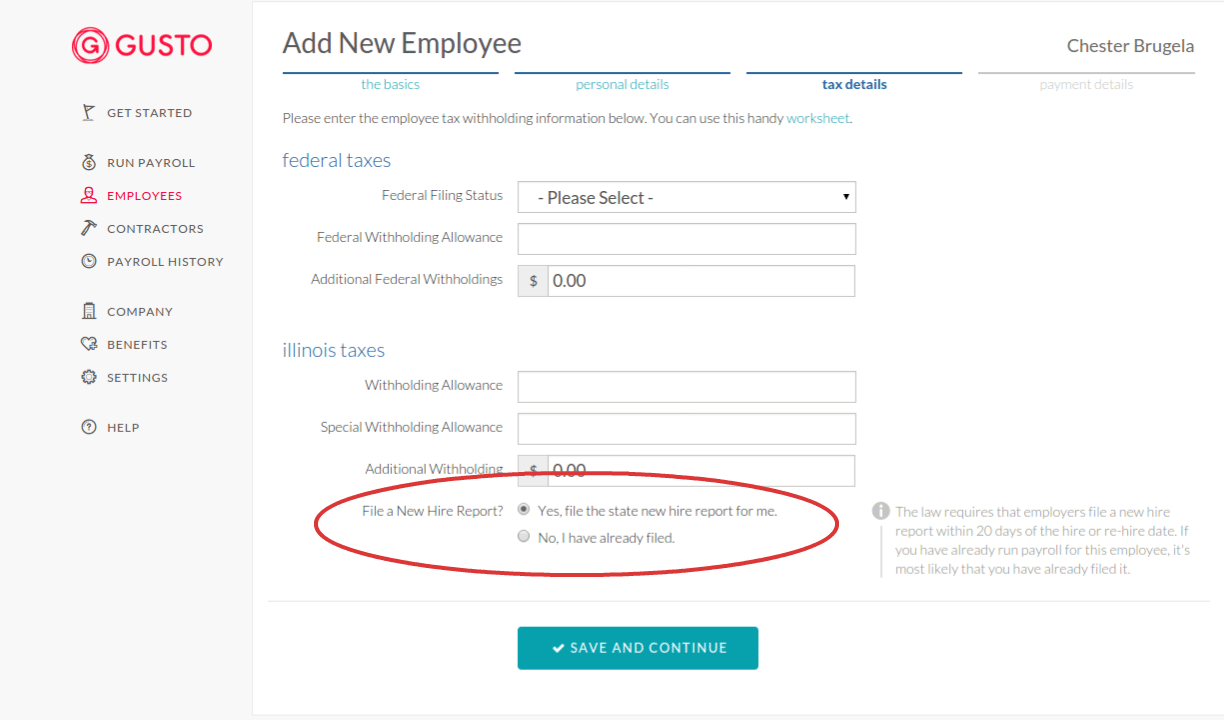 Once each employee is added, Gusto will automatically fill out federal and state W-4 forms (steps 6 and 7 at the start of this article). All you need to do is print out the form, sign it and have your employee sign it. Then you just need to store it in a safe place. Unless specifically requested, W-4s do not need to be submitted to the government.
Step 3: Federal Tax Setup
The next step is to enter your Federal and (where applicable) State Tax information. This requires some pretty basic information, like your company type (LLC, S-Corp, etc.) and federal deposit schedule. If you're unsure about any of these, Gusto will give you a short explanation/advice on the right side of the menu. The only tricky part here may be applying for a Federal Employer Identification Number (EIN), if you do not have one already. Gusto will link you to the IRS page where you can apply online.
Step 4: State Tax Setup
This menu is similar to the Federal Tax Setup, although it will vary depending on the state you're located in. You'll likely need to enter a State Employer ID number and a State Unemployment Insurance (SUI) Rate. As with the previous menu, Gusto will give you suggestions on what to enter and provide links to other agencies where needed.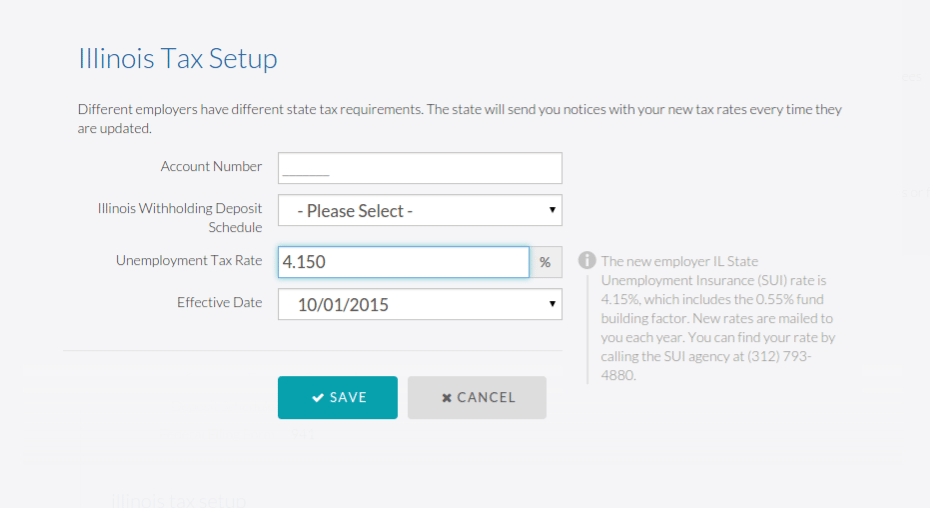 Step 5: Bank Account Setup
This next step involves linking your business bank account with Gusto. This is required so that Gusto can pay employees from your account and send the government payroll taxes on your behalf. Just enter your bank account and routing number. Gusto will make two small bank deposits (that will appear in a day or so) which you'll enter into the system later on to verify your account.
Need a Business Bank Account? Click here to see which business checking account provider we recommend.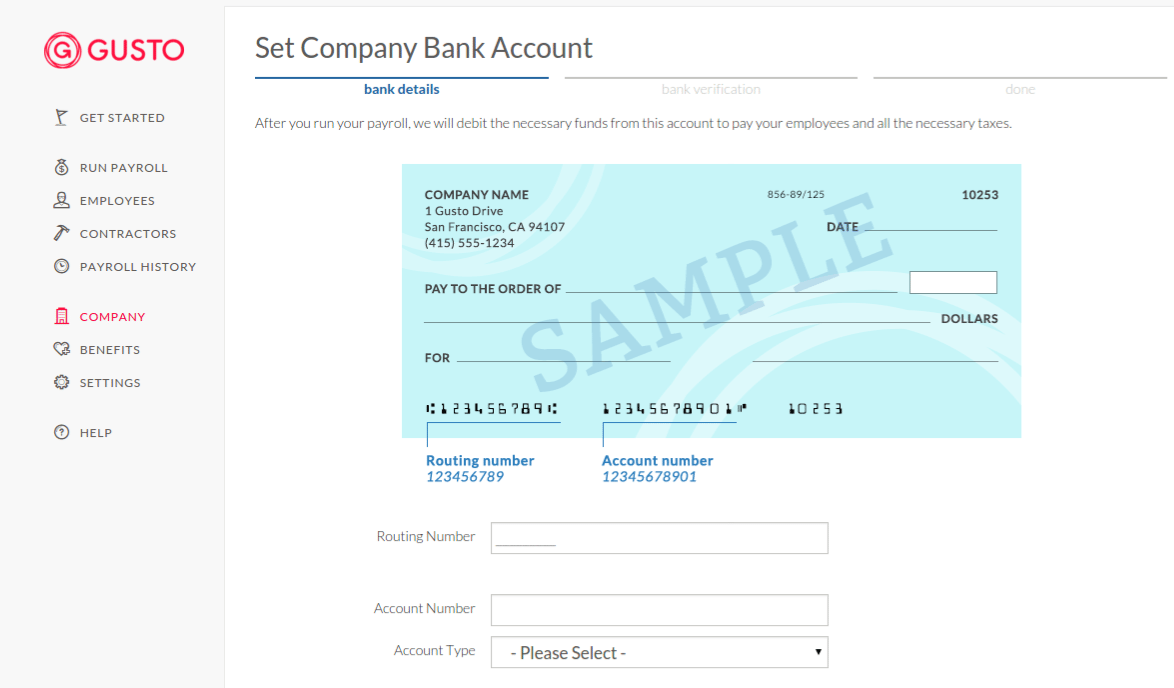 Step 6: Choose the Pay Period
Now it's time to answer some specific questions on how you'll be running payroll:
How frequently will you pay employees? (once a week, every other week, twice a month, or once a month)

When is payday? (what day of the month or day of the week?)

When will you run the first payroll?

For what work period will that first payroll cover?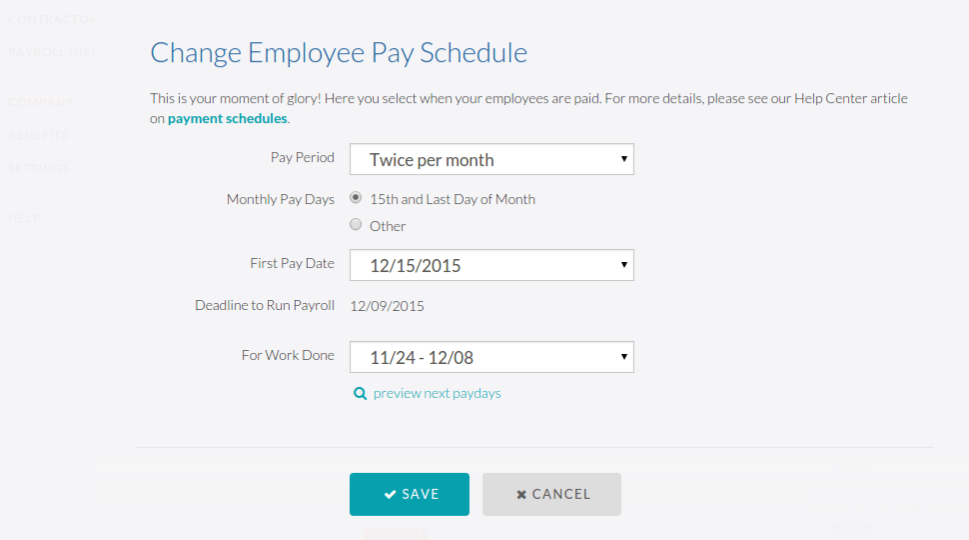 Note that you can only have 1 pay schedule. In other words, you can't pay some employees on a biweekly schedule and others on a monthly schedule. You have to pick one or the other. If this presents an issue, check out Intuit Payroll instead, which can support multiple pay schedules.
Step 7: Sign Company Forms
With employees entered, federal/state tax forms submitted and your pay schedule now set up, you're just about ready to start running payroll. Before you can do so, however, there's 2 forms you'll need to sign.
Company Direct Deposit Authorization

– This gives Gusto approval to transfer money in and out of your bank account, in order to pay employees and payroll taxes.

Reporting Agent Authorization

– This gives Gusto authority to pay all payroll taxes on your behalf.
To sign the forms, just add yourself as the company signatory. The signatory is the person at your business who has the authority to approve these forms, as well as future documents sent to the government (like your payroll taxes.) Once entered, you can sign the forms instantly with an electronic signature.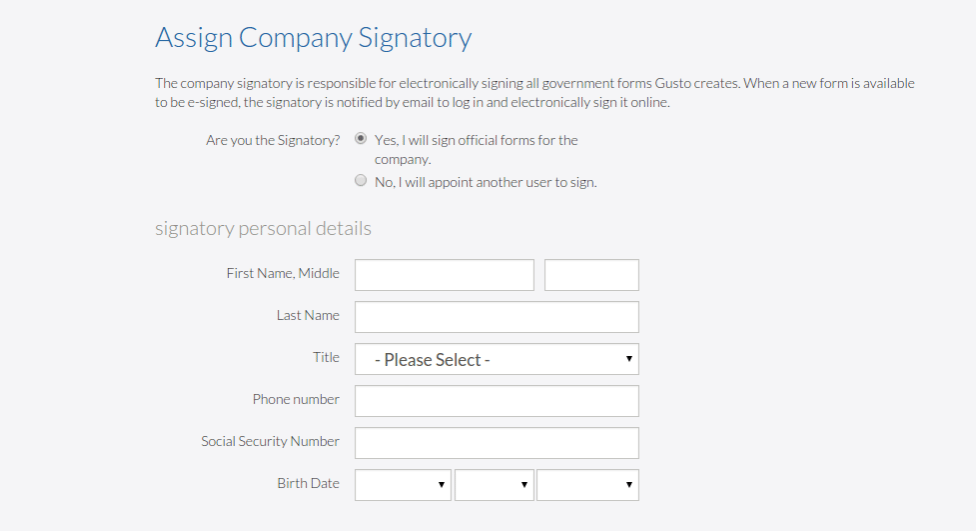 In the future, Gusto will notify you via email of any forms that need signing. Likewise, you can add your e-signature with a single click.
Step 8: Workers Compensation Insurance
But wait! There's one more step to setup payroll…
If you're hiring your very first employee, there's a good chance you also need to buy workers comp insurance. Most states require it as soon as you add 1 employee besides the owners of your business and coverage usually needs to start on your employee's first day. To see what the requirements are in your state, check out this table from the National Federation of Independent Businesses (NFIB)
Fortunately, you can sign up for workers comp insurance directly through Gusto. There's no additional cost (besides the cost of insurance), and payments will automatically be calculated and deducted each month.
To sign up, go to the "Stay Compliant" tab, then click "I Need A New Policy." From there you'll fill out some details about your business and employees to generate quotes. Their partner, AP Intego, should find you several different offers in your area. (see more here)
(Optional) Step 9: Adding Benefits
As a newly released feature, Gusto also lets you offer certain benefits to your employees. You can sign up for health insurance, retirement plans, transportation benefits, charity matching and more. As with workers comp, payments are automatically calculated and deducted each pay cycle. (Read more about Gusto's benefits
here.)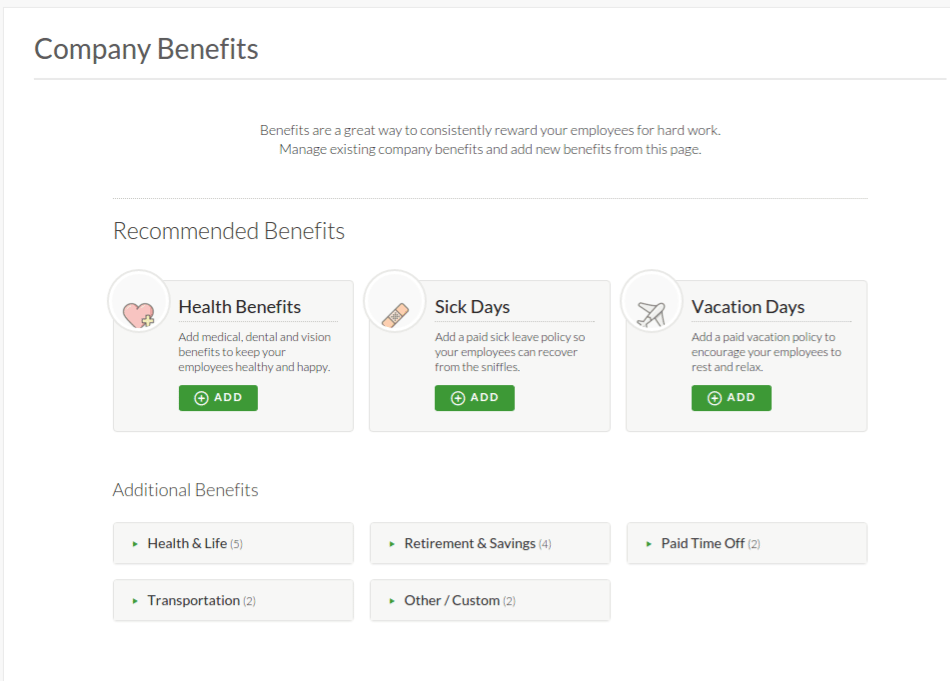 Start Running Payroll
With your bank account confirmed and workers comp figured out, you're officially done setting up Gusto. The next step is to start using the program as it's intended: for running payroll.
Gusto makes this very easy. Since the system saves your employee's salary/wages/hours, you can set it up to run on "auto-pilot." Every month, week or two weeks, etc. it will automatically distribute payment via direct deposit (or print checks). If you need to make adjustments, however, like adding hours, bonuses, commission or sick days, you can do this very easily from the payroll menu. (for more on running payroll, see here)
The Bottom Line
Hiring new employees is complicated. One of the most frustrating and time consuming aspects can be figuring out which forms you need and, ironically, which ones you don't. If you want to rough it out on your own, check out our new hire checklist. We'll give you copies of forms, as well as links to check your state-specific requirements.
For most small business owners, however, we recommend using Gusto. It not only makes employee onboarding much faster, but you have a huge burden lifted off your shoulders when it comes to calculating payroll tax and sending it to the government.
Looking for more payroll options? Check out our in-depth guide to the leading payroll software providers.