Big Cartel vs Shopify: Price, Features & What's Best in 2023
Between Big Cartel vs Shopify, Shopify is a better choice for an ecommerce platform for serious online sellers. Shopify won in every evaluation criteria I have set—pricing and payments, site builder and maintenance features, product and sales tools, and ease of use.
Shopify is the best ecommerce platform for small businesses. Big Cartel is better suited for occasional sellers or those that sell a limited inventory and offer limited product runs or unique items because it offers a free plan that lets you sell from a full standalone store without any fees.
Comparing Shopify vs Big Cartel boils down to:
Best for small businesses or startups: Shopify
Best for creative artists selling limited product runs: Big Cartel
To evaluate the two, I looked at price, website tools, marketing features, and ease of use. I also tested both platforms by building the same demo store on each.
Shopify vs Big Cartel: Quick Comparison
---
---
---
---
If you are looking for more ecommerce alternatives or are unsure if Big Cartel and Shopify are right for you, see how they compare with other top ecommerce platforms. You can also check our recommended best free ecommerce website builders.
Big Cartel vs Shopify: Pricing & Payments
| | | |
| --- | --- | --- |
|   | 2.88 out of 5 | 3.75 out of 5 |
| Subscription Monthly Plans | $9.99–$19.99/month | $39–$399/month |
| Subscription Annual Fees | No yearly subscriptions | $29–$299/month (25% discount) |
| Starter Plans (Sell on social channels) | N/A | $5/month |
| Free Trial | No free trial on paid plans | 3 days, then $1/month for three months |
| Free Plan | Yes | N/A |
| Built-in Payment Provider (Optional) | N/A | Shopify Payments |
| Option to Connect to Third-party Processor | Yes | Yes; 0.5%–2% fee |
| Transaction Fees | None | 0.5%–2% |
| Payment Gateway Options | Stripe, PayPal, and Apple Pay | 100-plus |
| Financing Options (Buy Now, Pay Later Options) | Yes, via Stripe (Afterpay) | Yes, Shop Pay (built-in) and third-party apps |
| | | |
Our Quick Take: While Big Cartel offers a forever-free plan, Shopify still wins in the pricing category because of its scalable pricing plans and feature inclusions. Big Cartel's plans, although more affordable compared to Shopify's, don't provide room for growth because of its product and feature limitations.
During my evaluation of both platforms' pricing plans, the only upside I saw in going with Big Cartel is if you are looking for a free plan. Big Cartel's free plan allows you to sell using a full standalone website and connect to a custom domain—the only ecommerce platform I have tested that does so.
Shopify provides more robust pricing plans and offers an extended trial for three months for only $1 a month. Its basic plan ($39/month) gives you the ecommerce core tools you need to launch, maintain, and grow your business. While it has a built-in payment provider (Shopify Payments), you still have the option to connect to a provider of your choice. Shopify has over a hundred payment integrations.
Big Cartel offers a forever-free plan (Gold) and two paid tiers, Platinum ($9.99/month) and Diamond ($19.99/month). You can see the inclusions of each plan below:
Gold ($0): Big Cartel allows you to sell up to five products with one photo per item. It also lets you connect a custom domain, such as www.yourstore.com. If you don't own a custom domain, you can use a Big Cartel subdomain, like yourstore.BigCartel.com, for free. You can set up product options and variants and even run discounts and promotions.
Platinum ($9.99/month): Under this plan, you get to sell up to 50 products with five photos per item. Theme editing via CSS, inventory tracking, and integration with Google Analytics are unlocked, too.
Diamond ($19.99/month): Aside from the additional features added in Platinum, Diamond lets you sell up to 500 products with five products per item.
As you can see, Big Cartel's paid subscriptions essentially have the same functionalities except for the number of products you can sell.
---
Shopify offers three plans with the following monthly fees: Basic Shopify ($39/month), Shopify ($105/month), and Advanced Shopify ($299/month). An enterprise plan is also available by request (custom quote).
Basic Shopify ($39/month): You access Shopify's core features—build an online store and sell unlimited products throughout virtually any selling channel on the internet.
Shopify ($105/month): Under the Shopify plan, you access tools like professional-level reporting, POS enhancements such as register shifts and unlimited staff PINs for tracking activities.
Advanced Shopify ($399/month): When your business takes off like a rocket, you'll need every ecommerce tool Shopify has in its arsenal. Advanced Shopify is where you find that. In addition to everything mentioned above, this pricing tier gives you an advanced report builder, calculated third-party shipping rates, and a discount on Shopify credit card payment rates.
It also offers a much lower tier at $5/month, the Shopify Starter plan, which allows you to embed Buy Now buttons to existing website pages and generate checkout links for social channels. Note, though, that under this plan, you will not be able to build a standalone store.
---
Between Shopify and Big Cartel, Shopify provides more flexibility when it comes to payment providers. You can choose to go with its built-in payment provider, Shopify Payments, or with over a hundred payment integrations. Big Cartel currently only lets you accept payments through Stripe, PayPal, and Apple Pay.
The only advantage of Big Cartel over Shopify when it comes to payment processing is it doesn't charge any transaction fees. Shopify charges 0.5%–2% for every transaction if you use a third-party payment provider.
---
Interested to know the true cost of starting an online store with Shopify? When I tested its platform and built a demo store, I estimated the following expenses: For startup fees, you can expect to pay $300 to $600 initially and around $75 to $150 in monthly expenses at the onset, including add-ons. If you need to sell in-store, that will be an additional $49 to $499 for hardware purchases, plus an $89 per location monthly fee for using Shopify POS Pro (which I recommend).
Big Cartel vs Shopify: Site Builder & Maintenance
| | | |
| --- | --- | --- |
| | 2.75 out of 5 | 4.5 out of 5 |
| Free Templates | 18 | 11 |
| Paid Templates | None, all are free | 110-plus (starting at $180) |
| Editing Tool | WYSIWYG editor | Drag-and-drop builder |
| Customization | Yes (CSS and HTML) | Yes (CSS and HTML) |
| SEO & Blogging | Weak | Strong |
| App Marketplace / Add-ons | Limited | Extensive (8,000+) |
| SSL Certificates | Free | Free |
| PCI-Compliant | No | Yes |
| | | |
Our Quick Take: Shopify wins again for builder and maintenance features. It offers more templates, a more user-friendly web builder, strong SEO features, and a vast marketplace for add-ons or third-party integrations. Big Cartel's few templates, very restricting site editor, and almost non-existent SEO tools pale in comparison, hence, its low score.
If you want to know how we tested and built our demo stores, you can follow along the guides below:
Website Builder & Themes
Both platforms offer mobile-responsive, beautifully designed templates. Both of their free template offerings have different designs, something I appreciate compared to other ecommerce platforms' free offerings that only differ in color and stock photos.
Big Cartel's templates are designed with the artist in mind, as evidenced by its layouts that make product photos shine. Shopify's templates are varied and made for different industries, and this is their advantage over Big Cartel's.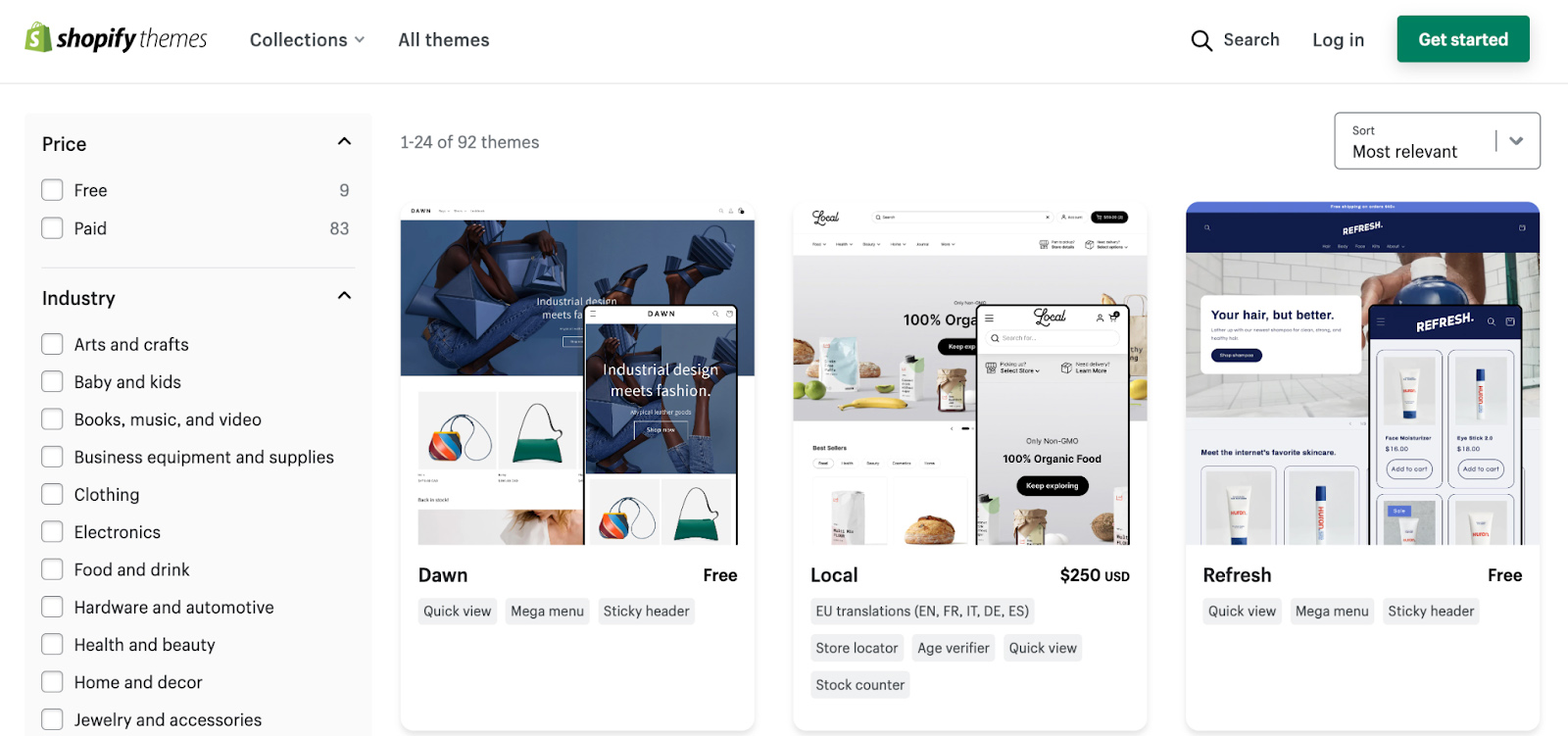 ---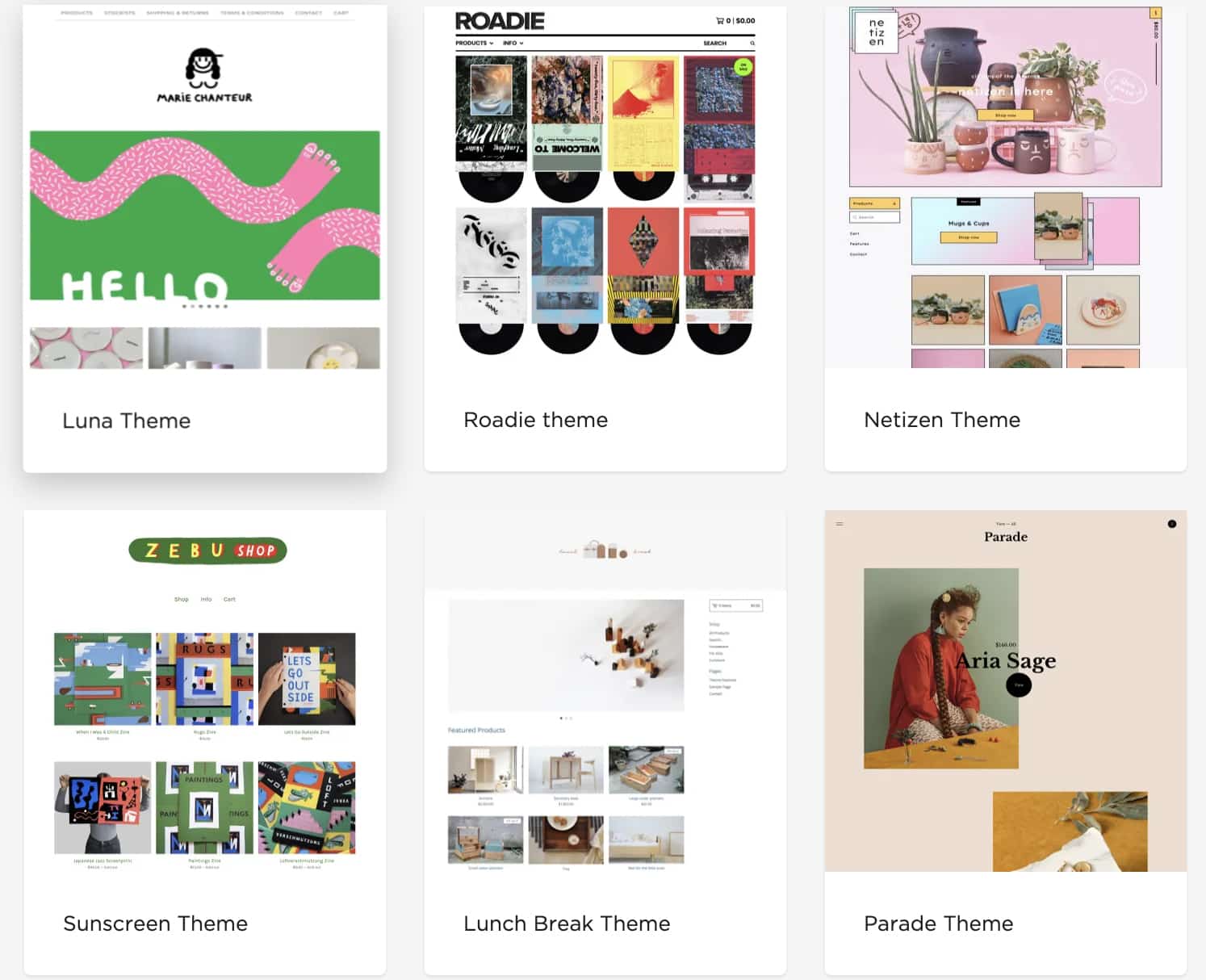 ---
When it comes to web builders, Shopify's Online Store 2.0 (OS 2.0) is way better than Big Cartel's WYSIWYG editor. Both are intuitive and user-friendly, but Big Cartel is that way because it features very simple layout editing options.
When I was testing out both platforms, I was pleasantly surprised with how Shopify's web builder was so easy to use even for a tech-newbie like me, and I can still build a very good-looking online store with my limited skills.
Meanwhile, Big Cartel's WYSIWYG editor is also very easy to use—but that is because you can only change banner images, font types, color, and sizes, and add or disable certain sections. It's a good thing that Big Cartel's templates are so modern, elegant, and beautiful to begin with, so it's not that frustrating to have customization limitations. However, I see that this can be very frustrating for businesses that want to make their stores "their own."
SEO Tools & Blogging
Shopify has stronger SEO tools than Big Cartel. For one thing, Big Cartel doesn't have a blogging feature, Shopify does. While Big Cartel has mobile-responsive templates, valid HTML markup, and an automatically generated sitemap—all of which help sites get indexed and rank in Google search engines—that's as far as it can go when it comes to providing you with SEO features.
For one thing, I was unable to set meta descriptions for any Big Cartel site page and product pages I set up. I also wasn't able to edit a page's URL once I had set them up. I can edit a product page's URL, but its redirect goes to the site's homepage for some reason, which I was unable to figure out even after so many tries. Simply put, Big Cartel's SEO tools leave a lot to be desired.
Shopify, meanwhile, gives you the freedom to set titles, descriptions, featured images, breadcrumbs, and URLs on your site and product pages. Its SEO toolkit is not as robust as Wix or BigCommerce, but it gives you plenty of advantages when it comes to helping you get ranked on search engines.
Site Security & Compliance
Both platforms are shared hosting solutions, so you do not have to worry about site security as they come with free SSL certificates. However, when I read Big Cartel's Merchant User Agreement, I learned that Big Cartel is not Payment Card Industry (PCI)-compliant. This isn't really a huge problem, as you can still rely on your chosen payment provider's security and compliance (and Stripe and PayPal are two of the most popular and secure platforms). But most shared hosting ecommerce providers, like Shopify, are PCI-compliant.
App Integrations & Add-ons
Big Cartel is no match to Shopify's vast marketplace of third-party extensions. As of this writing, Shopify's App Store lists more than 8,000 add-ons (free and paid). I say this all the time—if there is a feature you would like to activate in your online store, it's a guarantee you can find an app for that in Shopify's App Store.
Big Cartel provides basic integrations for marketing, shipping, store management, and dropshipping. As of this writing, Big Cartel only has around 27 apps.
Big Cartel vs Shopify: Sales & Product Features
| | | |
| --- | --- | --- |
| | 2.75 out of 5 | 5 out of 5 |
| POS for In-person Sales | Yes, Stripe (basic and limited) | Yes, Shopify POS (free and paid plans available) |
| Digital Goods | Yes, using a third-party app Pulley ($6/month) | Yes; using a third-party app (free and paid version available) |
| Product Variants | Up to 150 | Up to 100 |
| Custom Product or Work Order Tools | N/A | Only with add-on |
| Real-time Shipping Calculators | N/A | Available in highest plan, Advanced Shopify ($399/month) |
| Shipping Discounts | N/A | Yes, with Shopify Shipping (discounts depend on plan) |
| Social Media Integration | Instagram | Yes |
| Native Email Marketing | N/A | Shopify Email |
| Abandoned Cart Recovery | N/A | Yes, on all plans (from the $39 tier) |
|   | | |
Our Quick Take: Shopify wins by a mile when it comes to product and sales features. There is no contest, really, when Shopify has so many built-in marketing tools, like email marketing and abandoned cart saver, incorporated even in its entry-level plan ($39/month). In fact, Shopify is the only ecommerce platform that earned a perfect score in this category among close to 20 ecommerce platforms I have evaluated.
When I evaluated the two platforms for product and sales features, I graded each feature by asking, "Is Big Cartel or Shopify better at (insert feature)?" and finding each feature's inclusions and whether it is a paid add-on or not.
Big Cartel provides basic marketing features for online selling, such as discounts and promo codes—which you can do even under its free plan. It also lets you accept in-person sales via Stripe but don't expect all the bells and whistles a standard POS provides. You can connect to Instagram and enable Instagram Shopping, but not on Facebook. Its product variant options are greater than Shopify's—but that's the only feature it does better than Shopify.
Shopify, on the other hand, gives you all the tools you need to help ensure you can promote your products easily. Shopify Email, its built-in email marketing tool, is free for the first 10,000 emails you send each month. It even has a lead generation tool, Shopify Form, that can help you collect customer emails.
POS & Sales Channels
Shopify has a proprietary POS app, which is a clear winner over Big Cartel's in-person selling solution—going with Stripe. The Shopify POS app allows you to start taking payments immediately, without the hassle of setting up a third-party solution. You can also use its hardware to scan credit cards and more.
When it comes to multichannel selling, Shopify has exclusive partnerships to enable in-app purchases with TikTok, Facebook, Messenger, Amazon, Pinterest, and Instagram. As mentioned earlier, Big Cartel lets you enable Instagram Shopping only. I find this odd since most ecommerce platforms I have tried enable both Facebook and Instagram by default since the two social platforms are under the same parent company, Meta.
Product Management
Both platforms let you easily add products. You can add a product's name, description, options and variants, and images. Note that stock-keeping units (SKUs) are not available in Big Cartel.
Digital downloads and custom work order fields are not available natively on both platforms. You would need a third-party extension to activate the feature. I found Pulley, a Big Cartel extension that can enable digital downloads for a fee, but I was unable to find an app for custom work order tools. For Shopify, I found an app for digital downloads that was free (Digital Downloads) and a paid extension for custom work order tools.
Both, however, provide you with the ability to set product options and variants. You can set up to three product groups on both platforms, but Shopify only lets you add up to 100 variants compared to Big Cartel's 150. Both automatically generate product variant combinations for you, which I like.
Inventory Features
Shopify has intelligent inventory management tools to automate product categories and a fulfillment network for storing and fulfilling orders. You can even adjust inventory from the mobile app. Moreover, inventory tracking is easy with Shopify. The "Products" tab gives you an at-a-glance view of the products you have on hand and how many are coming in, and it allows you to take set actions when inventory runs low manually.
Big Cartel, meanwhile, unlocks inventory tracking under a paid plan—which is fine. It automatically marks items that are sold out, and I like that those products that have zero inventory turn red in my dashboard, and turn yellow when it hits 25% inventory level. However, I do not find its stock inventory tracking intuitive, as I need to click on individual product pages to update numbers instead of being able to update it in bulk from a list like Shopify.
Shipping Tools
With Shopify, you'll need to be on the $299 Advanced Shopify to unlock third-party real-time shipping rates, a feature included in other ecommerce platforms I reviewed, like BigCommerce. This is one area where Shopify can improve on. Note, though, that Shopify can provide real-time shipping quotes and discounts across all of its plans if you use Shopify Shipping and its partner couriers.
Big Cartel doesn't offer real-time shipping calculators or discounts. I don't even see a way for me to set up weight-based shipping profiles.
Big Cartel vs Shopify: Ease of Use
3.5 out of 5

5 out of 5

Onboarding and Setup

Yes; easy-to-follow setup wizard

Yes; easy-to-follow setup wizard

Store Management

Beginner-friendly

Beginner-friendly

Online Knowledgebase

Extensive

Extensive

Community Forum

None

Yes; active and helpful community members

Customer Support:

Live Chat, Email, and Phone

Email support, Monday–Friday, 8 a.m.–6 p.m. Eastern time

24/7
Our Quick Take: Shopify wins in ease of use because of its easy onboarding process, beginner-friendly platform, and remarkable 24/7 support via email, phone, and live chat.
Onboarding & Setup
Both platforms provide setup wizards, helpful prompts, and an extensive knowledge base you can refer to while building your online store.
The only difference I want to highlight between the two platforms is that Big Cartel is easy to use because you only do so much with the platform. Basic features are what you get, so it is fairly easy and quick to set up an online store and start selling. When I was building a demo store, I was able to set up five products and design a basic online store in a few hours.
What I like about Big Cartel is that it is not hard to get lost in the platform. Given the basic features I get under a free plan, it still has helpful and carefully-placed help bubbles that explain things when a field is new to a customer.
Shopify, meanwhile, will require longer hours (even days or weeks) to get an online store up and running, but that is because of the extensive things you can do with your set-up. What I like about Shopify is that it's very intuitive, even if its features are complex and have so many details. It takes time to set up—but it is not hard at all.
If you have trouble with Shopify's toolset, a wealth of help options will show you exactly how things are done.
Customer Support
Big Cartel doesn't offer live chat or phone support, which may be a dealbreaker for those that want more hand-holding when it comes to setting up and maintaining their online store. However, I find their email support very helpful and competent. Email response time is fast, and its support team is pretty active in the provider's social media accounts, especially Twitter.
Shopify's customer support team, on the other hand, is highly praised and reviewed by a majority of its users—which speaks of their competent team. Shopify is also one of the few ecommerce platforms I have reviewed that provides 24/7 support via live chat, phone, and email—in multiple languages.
Big Cartel vs Shopify: Expert Score
Our Quick Take: During my evaluation, Shopify beat Big Cartel in all categories—pricing, site builder, product and sales features, and ease of use. Shopify is the clear winner when it comes to choosing the better ecommerce platform. However, Big Cartel has been clear on their target audience from the get-go—and they made sure they can serve this audience well.
Shopify gives you a robust ecommerce toolkit yet makes it easy to use and uncomplicated. Its starter plan has all the necessary features you need to get your store up and running, even marketing features offered only in other ecommerce platform's higher plans (or need to pay an added fee). These reasons—along with sophisticated point-of-sale apps, an extensive app marketplace, and plans that can grow with your business—make Shopify the best ecommerce platform for most small businesses.
Meanwhile, Big Cartel might pale in comparison to Shopify, but it certainly holds its own strengths. For one, its free plan gives artists the creative freedom they need to build a full website and sell their products—without being under a marketplace where competition is tough (like Etsy). If you offer limited product runs or only operate seasonally, its free plan and even its monthly subscriptions are hard to beat.
During my evaluation, Big Cartel's strongest strengths were its ease of use, beautifully designed templates, zero transaction fees, and free plan inclusions. I cannot rave enough about how its free plan is such a steal; it's no wonder it made it to our list of best free ecommerce platforms.
I wouldn't recommend upgrading to Big Cartel's paid plans, though. It would be better to invest and get started on more robust ecommerce platforms. For example, Wix and Squarespace have the same modern and elegant templates if creatives prefer the design flexibility and have lower entry ecommerce plans than Shopify ($27 and $33 per month, respectively).
Big Cartel User Reviews
There are not many Big Cartel reviews available online. The reviews I read, though, were mostly positive, with most users sharing how the free plan allows them to have a full basic store. They also commended its affordable pricing plans. Common negative feedback, meanwhile, is that it lacks features for scaling—such as advanced inventory capabilities and customization.
Among the dozens of ecommerce website builders I have tested and used, Shopify is still the most straightforward system to use without sacrificing advanced features. I regularly test ecommerce platforms to check for improvements and enhancements (and lack thereof), and Shopify always exceeds my expectations each time.
During my evaluation of nearly 20 ecommerce platforms, Shopify was the only system to earn perfect scores for sales and product features and ease of use. It is the best comprehensive ecommerce platform for most online sellers.
Shopify User Reviews
Shopify has plenty of online user reviews across third-party platforms, with a majority of them agreeing with our evaluation of Shopify being one of the best ecommerce website builders.
Methodology—How We Evaluated Shopify vs Big Cartel
To help you decide which ecommerce platform is best for your store, I compared Big Cartel and Shopify on price, ease of use, store builder and design tools, inventory management, and sales tools. I built demo stores and added our own expert opinion based on years of experience testing different ecommerce platforms.
Click through the tabs below for our overall online payment processor evaluation criteria:
15%
Pricing and Payment Integrations
20%
Site Builder and Maintenance Features
25%
Sales and Product Features
15% of Overall Score
We considered the price point of each base plan that offers a complete online store, what plan options are available as your business grows, and payment processing options, including fees, flexibility, and one-click checkout options. 
20% of Overall Score
We considered how easy it is to build and maintain a professional and attractive online store, including available templates, customization options, free domain and SSL certificates, unlimited storage and bandwidth options, and built-in SEO tools and site analytics.
25% of Overall Score
We looked at what kind of product assortments Shopify and Ecwid can accommodate, tools for in-store and mobile, integrated social media, and marketplace selling, and marketing tools. We also consolidated shipping options and PCI compliance.
20% of Overall Score
Because online stores operate 24/7, we prioritized platforms that offer 24/7 customer support and have multiple customer touchpoints, such as phone, email, and chat.
20% of Overall Score
Here, we considered overall value, quality of features, popularity, customer satisfaction, and ease of use. We also factored in our own experience working with each platform and feedback from businesses that use each system.
*Percentages of overall score
Meet the Experts
The following retail and ecommerce experts contributed to this article:
Meaghan Brophy

is a resident retail and ecommerce expert at Fit Small Business with over 10 years of retail experience and seven years of experience delivering actionable content to independent retailers. She has spent the last 4+ years at Fit Small Business testing retail and ecommerce software.

Agatha Aviso

is Fit Small Business' resident ecommerce software expert. She has spent years testing and evaluating different platforms and building online stores.
Shopify vs Big Cartel Frequently Asked Questions (FAQs)
Yes, it has integrations for importing products over from Shopify. But note that you cannot use Big Cartel with Shopify as they are separate ecommerce platforms.
---
Yes, it is easy to switch from Big Cartel to Shopify. You can import your products using a CSV file or use a third-party app to help migrate your Big Cartel store to Shopify.
---
The main differences between Shopify and Big Cartel are the presence of a free plan and sales and product features. Big Cartel has a forever-free plan; Shopify doesn't (it offers a free trial though). Big Cartel doesn't have an abandoned cart saver, shipping calculators, integrations to other sales channels, and email marketing tools. Shopify provides all these under its entry plan at $39/month.
---
Bottom Line
If you are deciding on Shopify or Big Cartel, consider your intentions and long-term goals. If you intend to sell only from time to time, going with Big Cartel might be a better fit. It's super easy to maintain and has a free plan that will not cut into your profits.
For those operating an online business and launching an ecommerce platform for the first (or second and third) online storefront, we strongly recommend Shopify. It's easy to sell your products as early as the first day of your free trial, so start yours today.