A Comprehensive Guide to Becoming a Successful Part-time Real Estate Agent (Can It Work for You?)
A part-time real estate agent spends fewer than 40 hours per week building their business and actively working with buyers and sellers. Being one provides a flexible schedule and additional income, but also presents challenges, such as upfront expenses and competing priorities. This career demands strict time management, but having access to the right marketing and lead generation tools, as well as funds to get your license and pay for business expenses, makes it a sustainable income-generating option.
Determine if a part-time real estate career is best for you by knowing its pros and cons, along with everything you need to know—from the expectations to the salary and tips to become successful.
What to Expect in a Part-time Real Estate Agent Career
Your success as an agent depends on a few factors, but one of the most important is your ability to meet your clients' needs. While you may not need to be available for your clients for a full 40 hours per week, it's extremely important that the time you have available is flexible. When your clients find a brand-new house on the market, you may need to schedule a showing within a matter of hours. For this reason, it's important to think realistically about your personal obligations and lifestyle when deciding if you can do real estate part time.
In addition, agents working part time in real estate must meet the same requirements as those who dedicate 40 or more hours per week to their careers. That includes:
Meeting state licensing requirements
Completing required coursework
Earning a passing grade on a real estate licensing exam and receiving a state-issued license
Finding a sponsoring brokerage
Completing ongoing continuing education (CE) or post-licensing classes to maintain an active license
Finally, you must consider your financial means and security when considering a part-time real estate career. It's absolutely possible to make well over six figures as a real estate agent, but it's extremely rare for that to happen within the first year of having your license. In fact, it's not uncommon for new agents to go six to 12 months without closing a sale.
A study by McKissock Learning showed that agents who worked full time were able to multiply their income after their first year. This means you should plan to have a reliable secondary source of income while you build your business.
Part-time Real Estate Agent Salary
Even though the salary is arguably the most important factor in your decision, it's also one of the most difficult questions to answer accurately. Real estate agents do not make a guaranteed amount of money, which is why the term "salary" can be misleading if you are coming from another industry. Your annual income could be significantly higher or lower, depending on your location, local real estate market, and your marketing abilities.
Real estate salespeople primarily earn money through commissions when their clients close on a property, which means that your part-time real estate salary depends on the number of clients you work with and transactions you close. For reference, a recent study by Colibri Real Estate estimated that agents working less than 20 hours a week made an average of $43,889 per year, and part-time real estate agents who worked 21 to 39 hours per week averaged $72,398 per year.
Learn more about the factors that impact your salary in the article Real Estate Agent Salary: How Much Agents Earn & Factors Affecting Their Salary.
Make sure your research and financial considerations don't end after looking at income information. Real estate agents also have many expenses they're responsible for covering, like prelicensing education and marketing tools. As you calculate your potential real estate agent part-time salary, make sure you include the additional costs of becoming a real estate agent.
Who Part-time Real Estate Work Is Right For
A part-time real estate career is a good choice for those who have a flexible schedule and other means to provide for themselves financially. It's also best for those who can successfully manage their time and prioritize tasks on their own.
As a result, it is a particularly good option for:
Shift employees: People who only work part-time at another job or work off-shift hours with daytimes free.
Parents with kids in school: When children go off to school, many parents have time to focus on building their part-time real estate business during the day. While you will still have to balance parental duties with professional responsibilities, an open schedule during the day is a good opportunity to sell real estate.
Realty office managers: Office managers for real estate agencies often move into real estate sales because they already have connections in the industry and resources to work as agents.
Teachers: Although teachers have demanding work hours during the school year, they also have a summer hiatus that could be perfectly suited to working in real estate. In addition, teachers typically have more community connections than others, which can be a powerful asset in a part-time real estate career.
However, while having an open schedule and time management skills can set you up for success, there are notable pros and cons of part-time real estate agent work. One of the main reasons why real estate agents fail is because they don't take the time in advance to consider and plan for the realities of the real estate world. Make sure that you think seriously and prepare yourself for the benefits and risks of a part-time real estate career.
Pros & Cons of Being a Part-time Real Estate Agent
PROS

CONS

Increased income
Upfront expenses
Real estate experience
Poor client perception
New connections
Competing priorities
Build confidence in the industry
Potential for higher stress
Some of the benefits of working in real estate part time include the ability to earn as much money as you can⁠—even though there are no guarantees. You also get to meet new people, both in the real estate industry and others within your community. You'll get valuable real estate industry experience, even with limited hours, which can help you build a solid business foundation and help you become more confident if and when you choose to become a full-time agent.
On the other hand, it can be difficult to fit in last-minute client appointments when you have other responsibilities. If you tend to get stressed easily and struggle to balance multiple tasks, you may find part-time work even more difficult than full-time work. Plus, even though you'll make less money by working less hours, you'll have the same upfront expenses as all other real estate agents.
Finally, it's possible that potential clients will feel skeptical about working with a part-time agent as opposed to someone who focuses solely on real estate as a full-time career.
8 Tips to be Successful as a Part-time Real Estate Agent
Anyone can work as a real estate agent part time, but it takes a strong work ethic, discipline, and strategy to be successful. Successful part-time agents manage their time effectively to make consistent sales and increase their income. To ensure your own success, consider schedule availability, financial needs, and education requirements.
Here are the top eight tips to follow as you learn how to become a part-time real estate agent:
1. Choose the Right Real Estate Education
The process of getting a real estate license can take a long time and present plenty of challenges, especially if you're doing it with limited hours. Choose a real estate education provider with courses that are easy to understand, navigate, and access, so that you can make progress during whatever times you are available.
For example, Colibri Real Estate offers self-paced prelicensing courses that provide digestible information and periodic self-assessments, and are accessible from any device. Many of its courses include additional real estate books, a dictionary, discussion groups, live sessions with an instructor, and even an exam prep course.
2. Determine Your Level of Flexibility
Many people discover the possibility of becoming a real estate agent when they're looking for side hustles. However, even though real estate is a flexible career without required office hours, it can also be very demanding, with many high-pressure, time-sensitive tasks. For this reason, you need to seriously consider your other commitments and evaluate whether a real estate career fits into your life.
A good way to learn about the time commitment of a real estate agent is to talk to a local agent. Call a local brokerage or speak to an agent online about how much time they invest in different aspects of their career, like client meetings, marketing, follow-ups, administration tasks, and working with clients. The reality of the career may look different than you expect. For example, about 62% of agents say they spend at least an hour per day on marketing, and 26% devote several hours a day to marketing and lead generation.
Be honest with yourself about how much flexibility you have in your day so you can estimate how many clients you can work with in a week. Ideally, you'll be able to block out several hours of each day for real estate work.
Look for places where your life and your career as a real estate agent might conflict and think about ways to avoid these clashes. If you find too many conflicts, then being a part-time agent might not be the best choice. However, if you have three to four consecutive hours available each day, then part-time real estate work is feasible.
3. Ensure You Have Adequate Existing Financial Stability
Although being a real estate agent can provide additional income, it takes a lot of hard work and can take a long time to see a paycheck. In fact, only about 22% of agents say they are able to support themselves financially in less than six months. In the same survey, 24% of agents said it took more than two years to have a secure living as an agent. In order to successfully do real estate part time, make sure you're financially prepared while you build your network and level of experience.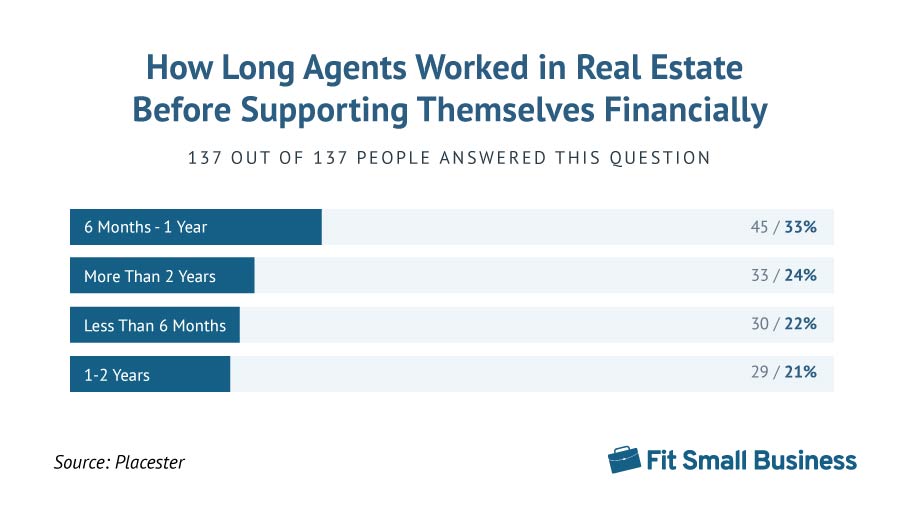 A good way to determine if you have the financial stability to pursue a part-time real estate career is to do this:
Write down all of your monthly expenses
Calculate your monthly income from your primary job or other sources
Subtract your monthly expenses from your monthly income
If you have sufficient funds to cover all expenses, you will likely be able to work for several months without guaranteed income from real estate work. If, however, you are not covering your current expenses and are leaning on savings or cash reserves to stay afloat, part-time real estate work may not be the best option.
Don't forget that the upfront costs of becoming an agent and running your business can add up quickly, so you'll need some reserves to cover the cost. Some of the biggest expenses include:
Transportation: 55% of agents spend more than $1,000 per year
Professional dues and fees: National Association of Realtors (NAR) membership for Realtors or state and county board dues
Online marketing: 31% of agents spend more than $1,000 per year
4. Find the Right Brokerage
All real estate agents must choose a sponsoring brokerage in order to work with clients, and finding the right real estate brokerage is especially critical for a part-time agent. Some brokers provide agents with leads, training, and marketing tools, while others offer very little support. Brokerages also offer very different commission split structures, and many new or inexperienced agents get caught up in looking for the highest commission split possible.
The unfortunate reality is that the majority of new real estate agents don't last more than five years in the industry. However, research also shows that 70% of new businesses that work with a new mentor survive the first five years. This is why it's so important to find and choose a real estate brokerage that offers the support you need to build a strong business.
5. Network & Grow Your Sphere of Influence
Real estate businesses are built on relationships. Successful real estate agents know how to make connections with potential leads, build genuine relationships, and turn those relationships into sales. As a part-time real estate agent, the faster and more efficiently you can grow your sphere of influence, the faster you'll have success.
Make sure that you have the tools to grow your connections with a real estate client relationship manager (CRM) that keeps track of each of your contacts, automatically sends messages, and reminds you when to follow up with each of your leads. According to the National Association of Realtors (NAR), 31% of Realtors say that their CRM was the best source of quality real estate leads.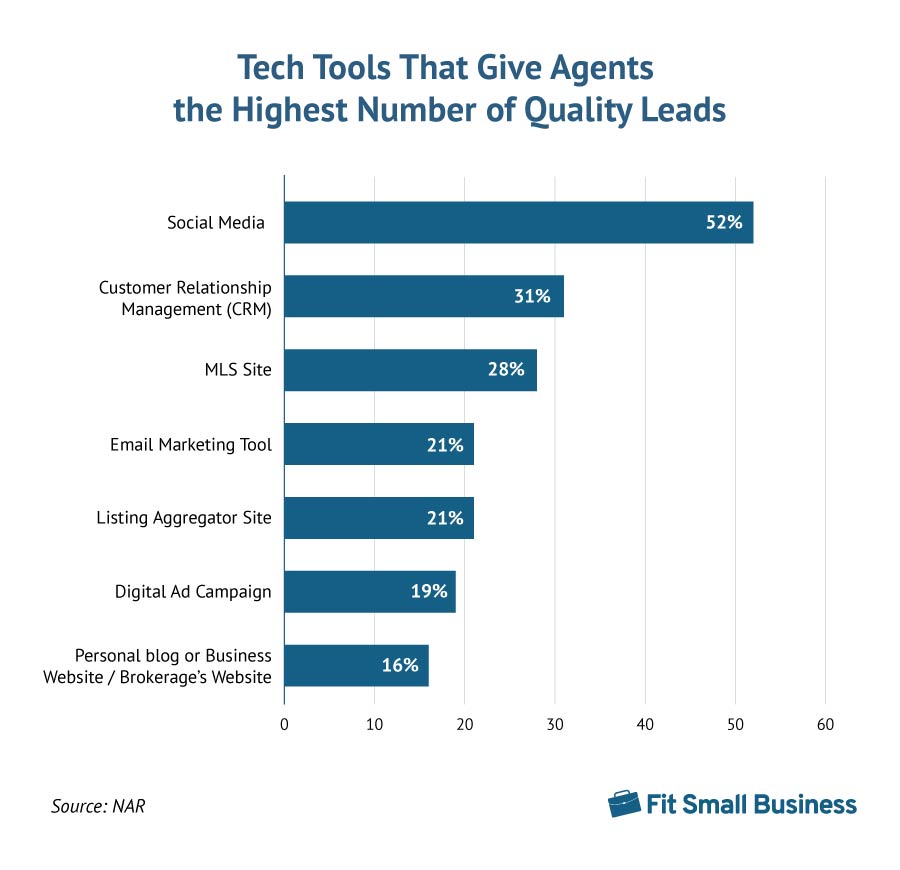 Check out Pipedrive for an affordable, visual pipeline or LionDesk for multichannel communications. With LionDesk, agents can get a bundle with a robust CRM built for real estate, lead generation tools, transaction management, email marketing, SMS marketing, and even the capability of sending video text messages—all for an extremely affordable price. It is one of the most user-friendly and powerful CRMs because it was specifically designed for real estate agents. Try LionDesk free for 30 days.
6. Make Use of Lead Generation Tools
If your chosen brokerage does not provide leads, you will need to find your own methods of generating real estate leads. Start by choosing a lead generation tool that provides high-quality leads and launches ads to consistently build your pipeline. Supplement these leads with those you secure through network or in-person meetings.
Here are a few of the top lead generation tools to consider:
Lead Generation Tools

Best For

Agents and teams needing a powerful solution to increase lead generation

Agents wanting to increase homebuyer leads

Agents needing an all-in-one lead generation and marketing system

Agents wanting exclusive leads and marketing automation tasks

Key Features

Exclusive leads
Preset follow-up funnels
User-friendly CRM

High volume lead generation
Contact and organization management
Forecasting and reporting tools

IDX website and landing pages
Email and SMS marketing
Customizable CRM

Exclusive leads
Marketing automation tools for digital and print campaigns
Marketing suite and content library

Pricing Starts At

$499 per user, per month

$20 to $60 per lead

$299 per user, per month

$139 per user, per month

Learn More
While the tools above are effective ways to secure leads as a new part-time real estate agent, there are many ways to acquire high-quality, warm leads. For more guidance, read our article on the Top 15 Real Estate Lead Generation Strategies.
7. Market Yourself
Real estate is an exciting but competitive field, and it's up to you to make yourself known as a reputable source for buying and selling a property. If you decide to do real estate part time, use the limited time you have to market yourself and get your name in front of potential clients. This can include social media, advertising, networking, direct mail, email campaigns, or any combination of these to increase visibility and connect with prospective buyers and sellers.
Here are a few ways to market yourself as a part-time real estate agent:
Use the marketing tools above to connect with potential buyers and sellers. If you find one that works better than another, focus your time and money on that tool. But always examine your return on investment (ROI) to make sure you aren't wasting money on marketing that doesn't work.
Part of evaluating whether you can be a real estate agent part time should include selecting your primary marketing methods and tools. With a marketing tool like Market Leader, you'll have access to exclusive leads, a customizable website, and a full content library to create a professional logo and branding.
Regardless of which strategy you use to market yourself, Market Leader has a tool within their marketing suite to help you create it more quickly and easily. Learn more about how Market Leader can support your part-time real estate business.
8. Master Time Management
As we've discussed, one of the challenges of working as a part-time real estate agent is time management. Real estate is already a hectic job that requires you to do many different tasks, so having success in part-time hours requires you to be a master of task and time management.
Although there are hundreds of different ways to improve your time management skills, start with these three:
Schedule your day: Create a daily schedule of things you need to accomplish, and plan a time slot for every major task in your week.
Track your leads: Set up a CRM like LionDesk to automate lead tracking and communications and save hours of time each week.
Use tools to streamline tasks: Don't rely on your memory for all the different tasks on your plate; use tools and real estate agent software programs to save time and set reminders for important tasks.
If this is an area where you could use improvement, try reading a few real estate books for specific strategies to increase your productivity.
Alternative Part-time Real Estate Careers
Working as an agent isn't the only way to make money in the real estate industry. If you enjoy being part of real estate transactions but find that your lifestyle and financial means don't align with being a real estate agent part time, there are alternative options. You may choose to use your real estate license to start a part-time career in one of these fields:
Real estate investing
Property management
Many of these careers require education and licensing, similar to the process of becoming an agent. Luckily, most states provide online coursework options and on-the-job training. Learn more about alternative real estate career paths that might work for you.
Bottom Line
When you are trying to decide if you can do real estate part time, consider your financial security and weekly availability for working with clients. Follow the tips above and launch a successful part-time real estate work, securing extra income without working full-time hours.