In this guide, we introduce you to the sales funnel, which can help you improve the integrity and performance of your sales process. We will then take you through a step-by-step guide to show you how to create your own sales funnel using our sales funnel template. We'll also show you how tools like Pipedrive can help you manage this automatically.
What is a Sales Funnel?
A sales funnel is a simple way to visualize your customer's journey through your sales process— from realizing they have a need for your product to making a purchase. It's called a sales funnel because this illustrates how every sale begins with more potential customers and ends with less who make a purchase.
Your sales funnel (also known as a sales pipeline) is the key to measuring, managing, forecasting and ultimately improving your sales process so that you can close more deals. If you want to know more about the entire sales process, I recommend reading B2B Sales – the Ultimate Guide.
The value of a well-constructed sales funnel is its ability to:
Define a clear and consistent sales funnel process that reflects your customer's journey and supports them at each and every stage.
Promote clear communication across sales, marketing and account management departments towards a common sales goal. Most sales funnel teams have a daily or a weekly standup call to review their progress.
Forecast future sales revenue with a far greater degree of accuracy than you'd be able to without clearly defined stages.
As we'll explain throughout this article, there's 2 main phases to creating a sales funnel: First understanding your customer journey, then mapping your sales process to mirror your customer's decision-making process.
Understanding the Customer Journey
The first step to building your sales funnel is to understand your customer's decision-making process, which is often referred to as the customer journey. To do this, you have to put yourself in your customer's shoes as they first become aware of a "problem" that needs to be solved. Then, consider each stage of the decision-making journey they go through. This will help you ensure that your sales team responds at the right time and in the right way to each of your customers' information needs.
Not many people walk straight into a car salesroom to buy a car. Most go through a number of logical steps that help them to make the right decision. A sales funnel is made up of stages which are intended to reflect the key decision-making steps in a customer's journey to making a purchase from you. The number of stages may vary according to the type of business you run, but small businesses generally define 3, 5 or 7 stages.
In the sales funnel below, we have labeled each of the 5 classic stages.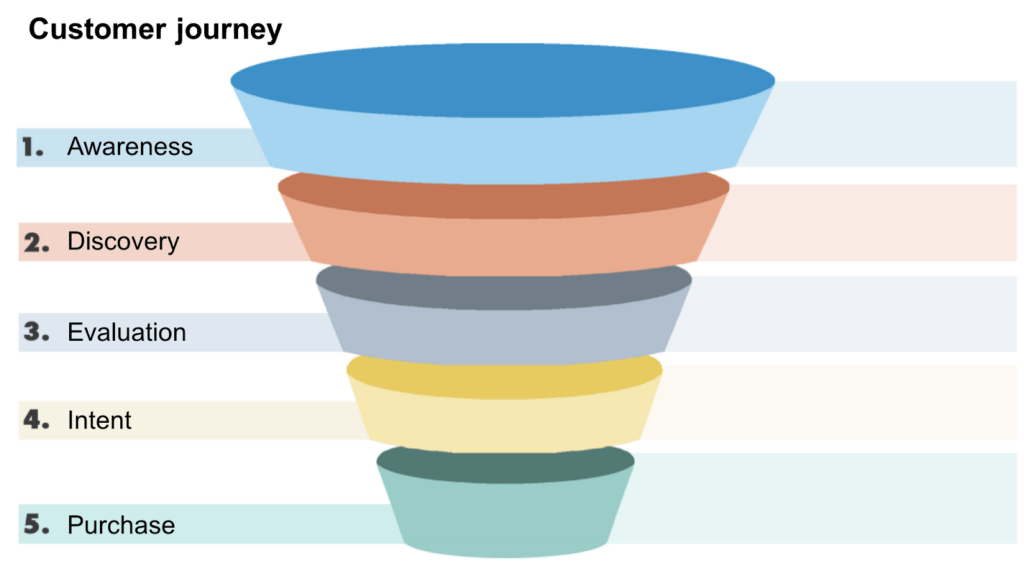 These are intended to reflect the decision-making journey that your customer prospect goes through when they buy a product or service. Let's discuss each one in a little more detail.
Awareness: Your customers have become aware of a problem that they need to solve. For example, I want to hang my picture, but I do not have a hammer. Advertising is one of the methods you might use to make them aware of your product. This stage will include the largest volume of your customer prospects.
Discovery: Your customers realize it's time to find a solution to their problem and they start to seek more information about your product. For example, I've found three different hammers that would all solve my problem. A promotional website is one of the ways you might allow your customers to explore your services further and capture qualified leads. At this stage, there are fewer customer prospects, as some have not progressed from being aware of their problem to exploring your product as a potential solution. However, those that remain are now more likely to convert into customers.
Evaluation: The customer narrows the range of potential solutions to their problem. Customers may discard options based on a wide range of considerations including price, style and quality. They might do this by requesting further information via your website or by calling in to speak to a salesperson. For example, I don't want to pay more than $15 for my hammer and I want it to be able to pull nails out too. At this stage, your number of customer prospects decreases further, but the chances of closing a sale increases even further.
Intent: Your customer prospect is seriously considering your product, and is now reaching out to ask more detailed questions. What has changed in recent times is that more and more customers are now completing this stage online. As a result, customers do not often feel the need to speak to sales unless they cannot find the information they need online. At this stage, your number of customer prospects decreases further, but the chances of closing a sale increases even further.
Purchase: At this stage, the customer has decided which product to purchase online, or they are communicating with your sales team to complete the purchase. They may also try to negotiate price or take advantage of promotional offers you have running. For example, I've decided to buy your hammer, but I want to get this discount that you advertised. At this stage, you have the smallest number of potential customers left, but closing the sale is almost a sure thing.
The Sales Process
Now that we've looked at the customer process, let's see how we can set up the sales process to guide more customers to complete a purchase. Each stage of sales process needs to mirror the customer journey. This is because your sales process will not work well if you do not recognize and respond to each of your customer's needs.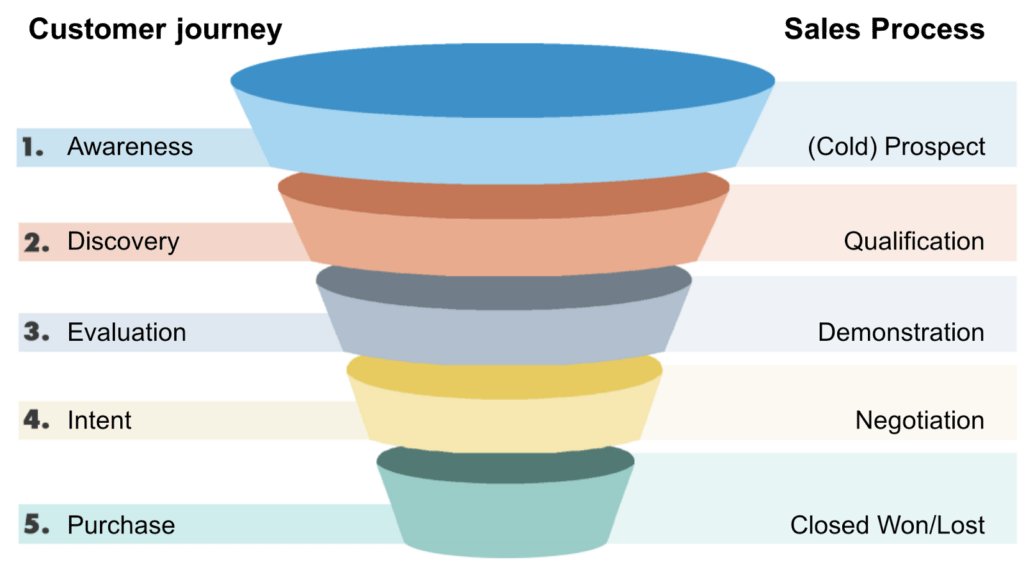 Above we've paired up the sales process with each stage of the customer journey. Let's discuss each one in a little more detail so that you can see how this works.
(Cold) Prospect: Your future customers are aware of your brand, but they do not know very much more about you at this stage. Communicating the benefits of your brand over other solutions is the kind of support customers appreciate and respond well to at this stage. Sales may be communicating with these prospects via cold calling or networking at events. Marketing may be reaching these customers via online marketing campaigns.
Qualification: At this stage, you've pinpointed customers who have a real interest in your product and the ability to pay for it. Customers will have likely self-completed a qualification process online, or have spoken to someone in your sales team who has qualified them. You should now have their basic information saved in your CRM, including name, job title, telephone number, email address, interest, budget authority and timescale to purchase.
Demonstration: At this stage, the customers are exploring your solution (and one or two competitive solutions) in greater depth. This maybe as a result of you providing the customer with an information packet, written proposal, or demo.
Negotiation: At this stage, the customer has decided that you can probably provide the best solution to their problem, so they raise the question of price. This is likely to result in discussions with your sales team to negotiate out the price and the terms of the sale.
Closed Won/Lost: At this stage, the deal has been won and the transaction takes place. The relationship objective with the customer now changes from being how to acquire a new customer to how to retain the new customer that you have won and win further new customer referrals.
Using Digital Tools to Manage the Sales Funnel
This article is going to show you how to create your own sales funnel manually. We should point out, however, that most small businesses do use software tools like Pipedrive to automate the process and reduce their level of administration.
Pipedrive is a customer relationship management (CRM) system, which besides managing your sales funnel, lets you store contacts, track relationship interactions, schedule tasks, run reports and much more. You can check out article on how a CRM works to learn more.
How to Build Your Own Sales Funnel in 5 Steps
Now we have covered the customer journey and how the sales process mirrors this, you are ready to start building your own sales funnel.
Let's get started.
Step 1: Mapping your Customer Journey
The first step is to map-out your own customer journey. The best way to do this is to put yourself in your customer's shoes and consider things from their point of view.
If you haven't done so already, we would suggest downloading our free sales funnel templates, which will allow you to draw out these steps by hand, or via Microsoft Powerpoint.
By way of example, let's assume that you run a car service. In the sales funnel below, on the left-hand side, you can see the classic customer journey. On the right-hand side is a customer journey specific to our car service example.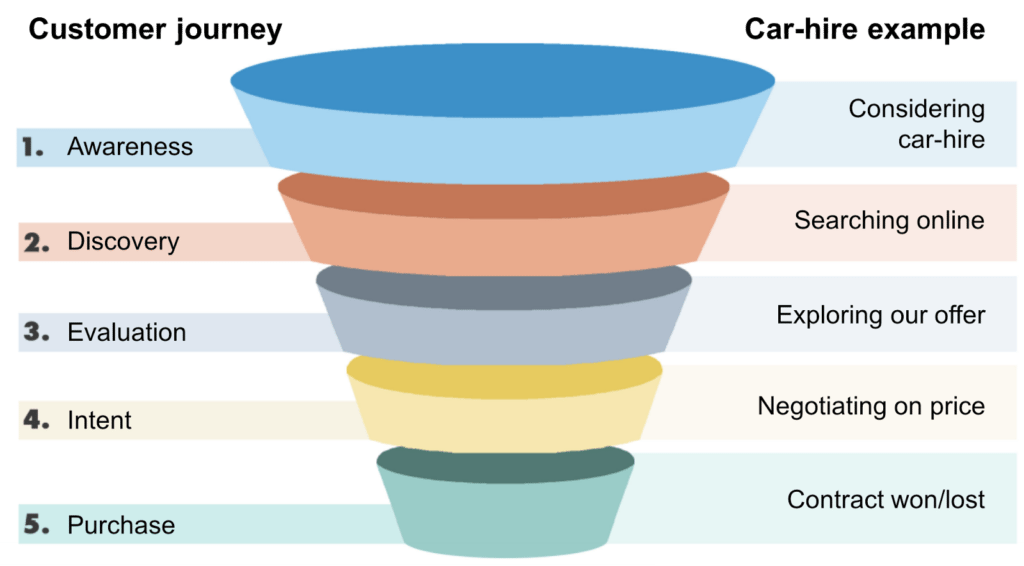 The key stages of the car service business customer journey could map out like this:
Awareness of the problem: Our employees need transportation when traveling on business and taxis are expensive for long journeys.
Discovery of potential solutions: A car-service seems like the best solution and searching online, there are lots of options available in the state where we operate.
Evaluation of potential solutions: A handful of these car-service options match our price point and provide the service we are looking for in the required locations. Maybe we'll reach out to some of these businesses.
Intent to buy: Three of these companies stand out from the rest, so we'll ask them to pitch and provide us with proposals so that we can make the best buy.
Purchase of solution: This car-service firm seems like the best option. Let's see if we can negotiate a little more and then sign a deal.
These stages will obviously vary and may include more or fewer stages depending on the nature of your business. However, the general principle is the same.
Now it's Your Turn
Now try and to map your customer's key decision-making stages into the template.
If you are not confident that you can do this accurately, it's worth taking the time to become a customer again and complete the process as a mystery shopper with 1 or 2 of your competitors.
This will help you to ensure that you reflect each key stage of your customer's journey in your sales funnel. If you don't do this, you risk losing customers because you will not be recognizing the need to engage with them in the right way at each key stage. For instance, in our example, if you do not recognize that many customers search for car service companies first online, your sales potential will reduce dramatically.
It's also important to note that the earliest you could hope to have a sales conversation with your customers is at Stage 3: Evaluation. Though it could be as late as Stage 4: Intent, or even Stage 5: Purchase. This is because customers have less need to speak to sales as they go online to gather information.
Step 2: Mapping your Sales Process
Now that you have mapped your customer journey stages into your sales funnel, you are ready to consider how your sales process can best reflect this. It's important that your sales process correctly matches the key stages of your customer journey so that you can respond at the right time and in the right way to your customers' needs.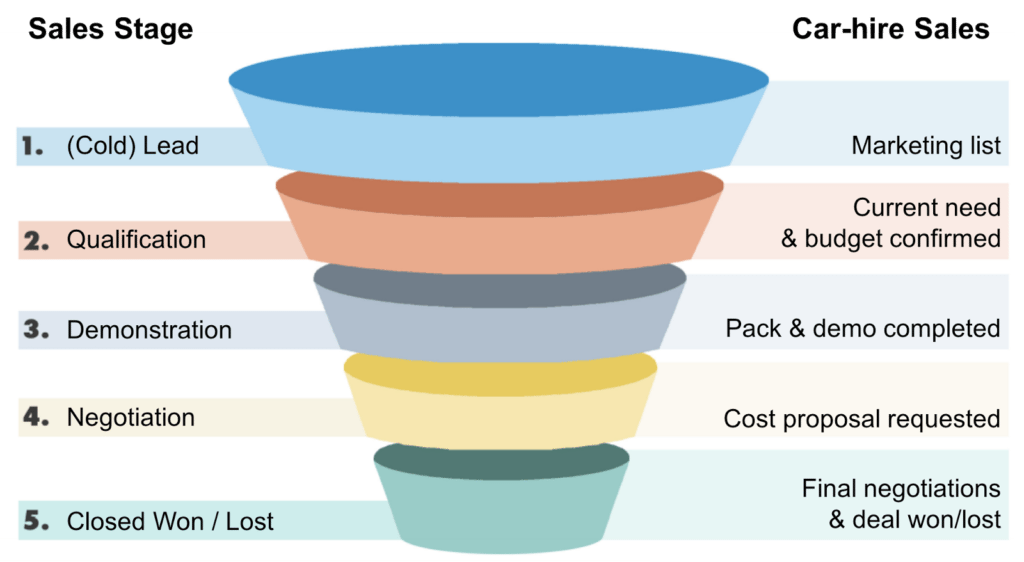 To bring this back to life, let's return to our car-service example.
(Cold) Prospect: A company in your area is considering hiring cars for their employees when they are travelling on business. They are aware of your brand because you have cold called them, or they have seen your advertisement at the airport. However, they do not know very much more about you at this stage.
Qualification: The boss asked his assistant to do some research and she found you online along with a number of other firms. She signed-up to get more info.
Demonstration: Sales reaches out and provides further info. They also offered to give her boss a run through of their services and an opportunity to try them for free.
Negotiation: The boss liked the service and started negotiating with your sales team direct to see if she could cut a fair deal.
Closed Won/Lost: We closed the deal and are now focusing on delivering the service and growing the account.
Now it's Your Turn
Now it's time to map your sales process stages into the template.
As you might already be thinking, the sales funnel isn't completely limited to the sales department. There's considerable input from marketing— especially in the early stages. To make sure you get the funnel right, it's important to pool ideas from both departments. Specifically, you'll want to determine when exactly a lead should transition from a marketing opportunity to a sales opportunity, and when a stalled sales opportunity should cycle back to marketing.
Your objective at this stage is not only to define the stages of the sales funnel accurately, but also to build consensus with the team who will drive your sales pipeline success.
Managing Your Sales Process with a CRM
Now that you understand the principles, you may find it easier to create your sales funnel using a CRM software tool like Pipedrive. As you can see in the photo below, your sales stages can be easily programmed into the CRM. Moving a prospect from one stage to another is as simple as dragging and dropping. Once in a new stage, you can automate notifications and tasks to appear for your sales (or marketing) team.
This also allows you to share customer contact details and a record of all sales interactions with your team in one central place— for instance; email, meeting and phone communications.
Step 3: Defining the Criteria for Each Stage
So now you have your customer journey and your sales process in place that reflects what your customers need from your sales team at each stage. The next thing you need to do is to define an entry and exit point for each stage, this will help to ensure the integrity of your sales funnel and stop important activity from falling off the radar.
Each stage should have objective criteria to define when a customer enters and completes each stage. If it's not possible to clearly define the start and end point of a stage, then it's probably not a proper stage and needs to be reconsidered.
Using our car-service example, each stage could be defined as follows:
(Cold) Prospect – a company that has been cold called or signed-up online at some stage and provided contact details but may not have indicated a current need for our services at this stage.
Qualification – sales has made further contact and established that the contact has a budget and a current need. It moves back to the prospect stage if the contact becomes non-responsive to 3 calls from sales.
Demonstration – we've been given the opportunity to pitch our services. It moves back to the prospect stage the contact becomes non-responsive to 3 calls from sales.
Negotiations – we are actively discussing price and reviewing contract terms. It moves back to the prospect stag if the contact becomes non-responsive to 3 calls from sales.
Close Won / Close Lost – the customer has communicated their decision to purchase, or not.
The number and naming of funnel stages should be an open conversation with the sales, marketing and account management execs. In a small business, this could just be you or a small team of people. What's important is to give careful consideration to defining the criteria for each stage. Too many stages and the sales team may feel micro-managed. Too few, and it becomes difficult to see how deals are progressing and which have stalled.
Step 4: Understanding your conversion rates
A key benefit to using a sales funnel is that you can begin estimating how likely leads are to convert at any given time. This also allows you to forecast your sales revenue, as we'll describe in Step 5.
The conversion rate is the number of customer prospects that process from each stage to the next expressed as a ratio. For example, how many prospects do your sales team manage to qualify? Then how many of these do they go on to pitch to at the next stage? Then how many of these request a proposal and finally how many of those that request a proposal convert into paying customers?
The answers to these questions will determine your conversion ratios for each stage of your sales funnel. In the example below the conversion rate of marketing leads to sales qualified opportunity is 2:1 or 50%. This means that every 2 marketing leads will generate 1 sales qualified opportunity.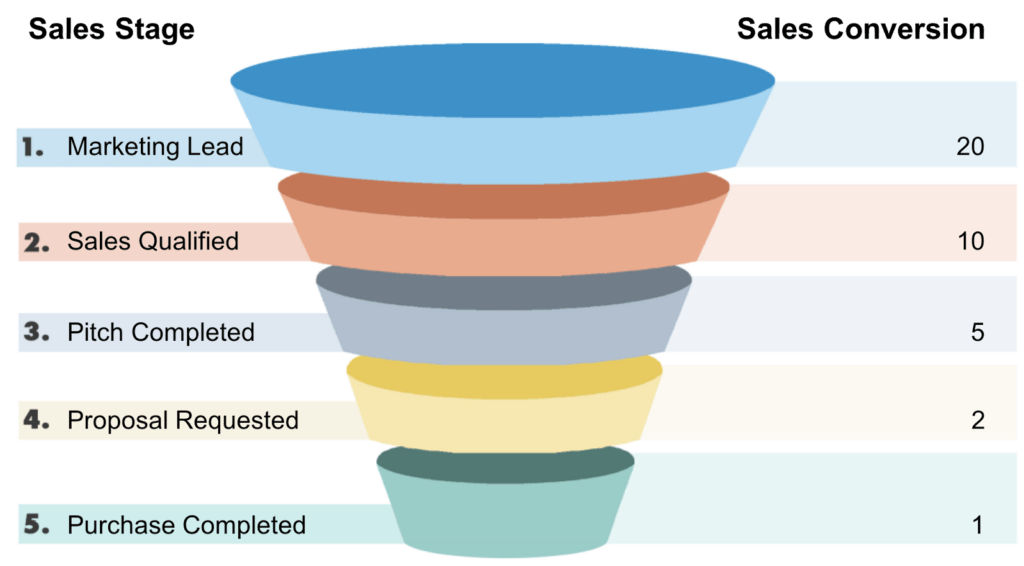 Let's turn back to our car-sales example to illustrate how this works.
As we said earlier, the reason it's called a sales funnel is because the number of customer opportunities at each stage reduces as you progress through the sales funnel.
Understanding conversion rates allows you to decide what to prioritize for improvement. For example, in the funnel above, marketing may be asked to explore alternative lead sources to improve the conversion ration from marketing lead to qualified sales opportunity.
Most businesses will start with the first stage and try to improve its conversion rate, then move on to work on the next until they have worked through all of the stages to optimize the performance of their sales funnel. In practice, the feedback and refinement process should never stop as market dynamics change on such a regular basis.
This is, again, why a CRM comes in handy. A tool like Pipedrive can automatically calculate your conversion rates from each stage in the pipeline. You can look at the conversion rates for your whole team, or run a report on individual salespeople.
Step 5: Assigning Value to Your Sales Funnel
Now you have established your conversion rates for each stage of your sales funnel, you are able to identify the future sales revenue that your sales funnel represents.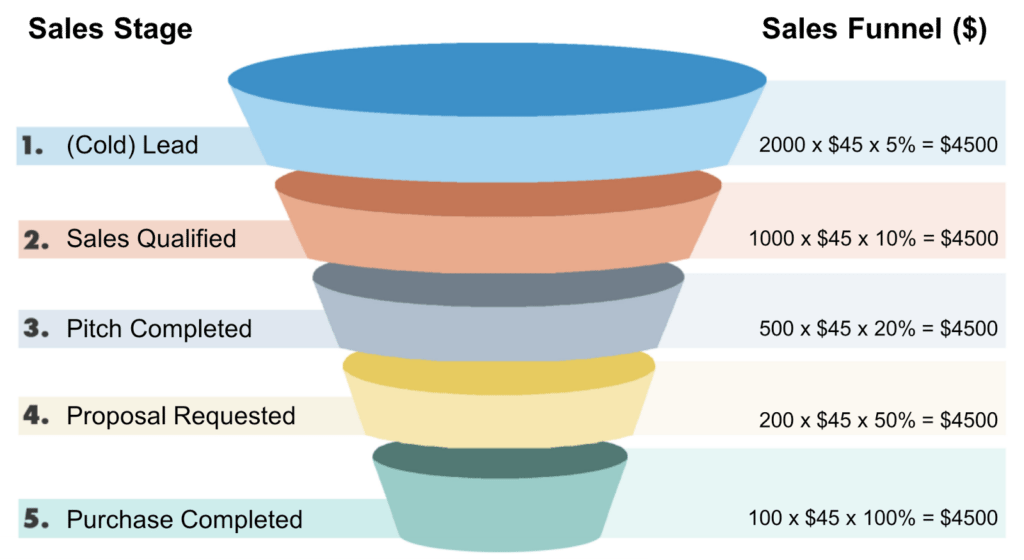 In the example above, each car-service contract is for $45, (obviously in real life, the contract values will vary). We have 2000 cold leads generated each month from advertising and the conversion rate of cold leads to purchases is 20:1. Expressed as a percentage this is 5%. As a result, the value of the pipeline at the cold lead stage is 2000 (leads) x $45 (the average deal value) x 5% (the likelihood of converting to a new customer.
Once you have calculated the value of each stage, you can add these together to understand the total value of your current sales funnel to your business at any given point in time.
This approach is how to more accurately and objectively forecast your sales revenue, which is key to managing your cash-flow.
Calculating your future sales revenue using a CRM tool
While it's important to understand the formulas behind your sales forecast, most businesses do not actually calculate this by hand. Instead, they use a CRM like Pipedrive to automatically generate sales funnel reports.

In the above screenshot, you can see that after you have entered your deals into Pipedrive, it automatically calculates the total value at each stage of the funnel and also the total value that exists in the funnel as a whole. In this example, the total sales forecast (or value in the pipeline is $39,050).
From the reports dashboard in a tool like Pipedrive, you can analyze the sales funnel from many different angles. For instance, you can look at the conversion rates, time spent and the sales revenue generated at each stage in your sales funnel. Or with one click, you could look at the performance of one of your sales reps or one of your locations.
The Bottom Line
Building a sales funnel for your business is a great way to understand and improve the performance of your sales process. It's essential to have a clear understanding of your customer's journey and to ensure that your sales process reflects this. It's also important to clearly define each stage and to understand both the conversion rate and the value generated so that you can forecast your sales revenue accurately and better-manage cash flow.
Now you understand the core principles of a sales funnel, you are ready to consider simple pipeline management tools like Pipedrive, which will help you to manage this while reducing the burden of the administration involved.