8 Best Paycom Competitors
Paycom offers payroll and HR support primarily aimed at midsize and larger businesses, although many small businesses enjoy its services. However, if it's not right for your business because of expense, company size, or simply not having the right match of tools, many excellent competitors provide comparable functionality, pricing, and standout features.
The eight best Paycom alternatives are:
Paycom Alternatives Compared
Starting monthly pricing

Standard direct deposit times

Payroll tax filing services

Health benefits coverage

PEO option

International

Best for (company size)***

$4–$6 per employee*

Unspecified

W-2 and annual transmittal costs extra

50 states

✕

✕

Midsize to large

$99 + $5 per employee*

2 days

Some tax services cost extra

50 states

✓

✕

Midsize to large

$6 per employee + $40 base fee

2 and 4 days (next-day option for Premium users)

✓

39 states

✕

✓

(Contractors only)

Small to midsize

$8.25/employee*

1–2 days

✓

50 states

✕

✕

Small to midsize

$39 +$5 per employee*

2 days

Some tax services cost extra

50 states

✓

✓

Solopreneurs to large

$65 + $3 per employee*

2 days

Year-end reports cost extra

50 states

✓

✓

Small to large

$35 + $8 per employee*

2 days

✓

50 states (benefits admin costs extra)

✓

✓

Small to large

$200 + $9 per employee*

Same-day

Tax filings cost extra

50 states

✕

✓

Midsize to large

$24 per employee**

Unspecified

✓

50 states

✕

✓

Small to large
*Prices based on quotes we received; please call providers for custom quotes.
** Price taken from third-party source; please call provider for custom quote.
***Customer size analysis from enlyft.com.
When to Choose Paycom
Paycom is a comprehensive HR and payroll software that serves businesses of all sizes but primarily works with businesses that have 50 to 500 employees. Like most of its competitors, it requires you to call for a quote and builds a plan based on your company's needs. Paycom is an excellent choice for companies moving up from a small business system, especially if they need more automation and streamlining of workflows.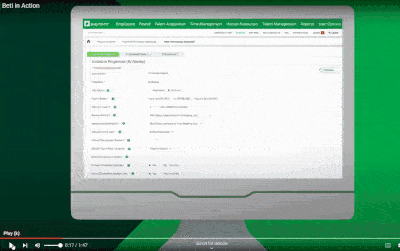 Its most recent claim to fame is its Beti application. Beti takes much of the payroll work off your HR team's plate by having employees review and approve their pay cards and fix any errors discovered by Paycom's automated system. HR still has final authority over payroll approval, but it has been shown to save hours of work and the hassle of back-and-forth communication to make corrections.
Paycor: Best Overall Paycom Alternative

What We Like
User-friendly software with a lot of functionality
Often waives setup fees for new customers
Users say its time tracking is one of the best and easiest to use
Unlimited and automatic pay runs
What's Missing
Benefits administration, time tracking, and learning management are paid add-ons
Few third-party integrations
No PEO option
Paycor Pricing
Small Business plans (those with up to 49 employees)
Basic: $99 per month + $5 per employee monthly
Includes payroll, tax services, custom reports, paycheck stuffing, on-demand pay, and compliance tools
Essential: $149 per month + $7 per employee monthly
Basic + onboarding, PTO tracking, job costing, general ledger reporting, wage garnishments, HR support, and a report builder
Core: $199 per month + $8 per employee monthly
Essential + expense management, HR administration tools, and access to an online HR support center with 1:1 guidance from HR pros
Complete: $199 per month + $14 per employee monthly
Complete + analytics, career planning, work goals tracking, performance reviews, and compensation planning
Mid-market plans (businesses with 50 and more employees): Custom-priced
Paycor, like ADP and Paycom, can handle companies of all sizes. However, it most commonly works with businesses with anywhere from 10 to 5,000 employees, making it the best overall competitor to Paycom. It often makes our lists for best alternatives to other HR payroll systems (Paychex and ADP, for example) and also ranks among our best HRIS software. While the basic plan is pricier than most on our list, when you start getting into the higher plans, they are more competitive for the features offered.
While Paycom has a payroll-only plan (similar to ADP), we liked its integrated HR solution the best. It takes a manager-first approach to the backend, with lots of analytics and reports readily available and quick clicks to compliance information. The HR support modules offer expert advice, documents, and an employee handbook wiki. We thought it closely matched Paycom for function and ease of use, and user reviews seemed to agree.
Paycor is one of the few on our list that posts its plans and pricing on the website, although we had to Google to find it. It prefers you contact sales for a consultation. Paycor is divided into two business sizes, less than 50 employees and more than 50 employees. For the latter, you need to call for custom quotes. As of this writing, the plans all come with free setup and three months free with an annual contract.
The most basic plan ($99 per month + $5 per employee monthly) covers payroll only. To replace Paycom's offerings, you'd need at least the Essential Plan ($149 per month + $7 per employee), which includes an HR support center, onboarding, PTO management, job costing, and wage garnishments.
For Paycor expense management, career management, and HR support center on-demand, you need to step up to the Core plan ($199 per month + $8 per employee monthly). This best competes against ADP's Complete Plan or UKG.
Paycor's Complete Plan ($199 per month + $14 per employee monthly) adds compensation planning, analytics, and talent management.
---
Payroll and expense management: Like UKG, Paycor provides pay-on-demand and an expense management feature that makes it easy to reimburse employees quickly. It pays your employees through direct deposits, pay cards, and paper checks. Paycor even offers check-stuffing services like ADP and Paychex. It can handle workers' compensation, benefits and garnishment deductions, W-2 and 1099 reporting, and payroll tax processing. Like Gusto, it does filing and allows unlimited pay runs.
HR tools: You need higher plans for the best tools, but Paycor has a lot to offer. In addition to the hiring, onboarding, talent management, and employee satisfaction tools. The learning management module lets you handle classroom learning, online classes, and self-paced learning from desktop or mobile.
Analytics and reporting: Paycor offers a deep set of analytics tools that are easily accessible from the dashboard. You can see graphs to gauge payroll expenses or do deep dives into employee satisfaction, turnover, pay equity, and more. It offers a predictive resignation feature to let you predict turnover. We did not find this in other software.
Excellent mobile app: Paycor's mobile app works for both employees and managers, letting employees view and change data, see tasks and notifications, and request leaves. Managers have approval power and applicant tracking tools. It comes in English and Spanish, something we've not seen in other mobile apps. Like Paycom, it has a 4.7 out of 5 stars for iOS. Meanwhile, it has 4.2 out of 5 stars for Android.
---
Gusto: Best for Small Businesses Needing Payroll

What We Like
Unlimited pay runs
Cheap, contractor-only plan
Gusto Wallet helps employees with financial health and get salary advances
Includes basic job posting and applicant tracking tools
What's Missing
Health benefits available only in 39 states
Lacks learning management tools
Doesn't provide international employee payroll services
Gusto Pricing
Simple: $40 per month + $6 per employee monthly

Includes full-service payroll, tax filings, payroll tax filings, single state pay processing, two- and four-day direct deposits, employee benefits, new hire reporting, offer letter templates, onboarding, and basic support

Plus: $80 per month + $12 per employee monthly

Simple + next-day direct deposits, time and paid time off (PTO) tracking, applicant tracking, basic job postings, project tracking, multi-state payroll, and full support with extended support hours

Premium: Custom-priced

Plus + performance reviews, surveys, full-service payroll migration, access to HR experts, direct line to priority phone and email support, and a dedicated account manager

Contractor-only plan: $6 per contractor monthly
Full-service payroll, four-day direct deposits, and state new hire reporting
Add-ons
State payroll tax registration: Pricing varies per state
HR advisory services for Plus plan only: $8 per employee monthly (this is included for free in the Premium tier)
If you're a small business that just needs basic payroll and some HR tools, Paycom will be more than you need. In that case, consider Gusto. As our best payroll service and one of our leading small business HR software, it's a great choice, offering unlimited pay runs, a special rate for contractors, multistate payroll options, and hiring tools.
The one drawback is that it only offers health benefits in 39 states. If you are not on its list of approved states, you need a third-party broker or should look at others on our list—BambooHR is probably the closest to Gusto, although Paychex is also a good choice for small businesses. Both BambooHR and Paychex offer health benefits in all 50 states.
Gusto's simple plan is $40 a month + $6 per person monthly, but only covers payroll and hiring/onboarding. For more HR tools like PTO management, time tracking, work costing, and team management, you need the Plus plan, which runs $80 + $12 per person monthly.
The highest plan, Premium, includes an HR resource center, compliance alerts, employee surveys, and other tools that bring it closer to Paycom in terms of offerings. You need to call for a quote for it.
Gusto stands alone in that it offers special pricing of $6 per person monthly for contractors.
---
Easy-to-use payroll: Gusto is our pick for simple payroll because it offers full-service payroll with tax filing services and automatic and unlimited pay runs. Gusto also handles garnishment deductions and sends child support payments for all states except South Carolina. It includes year-end tax reporting, something most of the others on our list charge extra for.
Gusto Wallet: Gusto stands out for employee financial benefits because of Gusto Wallet. This free app lets your employees choose where to send their paycheck—even splitting it among accounts—set up and track savings goals, get paid faster, create a budget, and more. Gusto recently added time clock features to the app. Wallet earned 4.5 out of 5 stars on Android and 4.9 out of 5 stars on iOS.
HR tools: Gusto starts with only hiring/onboarding in its cheapest plan and progresses to fuller support in the Premium plan. Most providers on our list add items in modules. The applicant tracking systems are good, and Gusto posts your job on free boards including LinkedIn, ZipRecruiter, and Google Jobs. At its highest plan, it has a resource center, compliance alerts, and access to HR experts with expertise in local laws. Nonetheless, if you need learning management or performance management, look elsewhere.
User feedback: Gusto earned an average of 4.55 out of 5 stars on various user review sites, which is the highest approval rating after Rippling. People gave high praise to the intuitive interface. Those that complained wanted more functionality.
---
BambooHR: Best for Small Business HR

What We Like
Intuitive platform
Integrates with over 80 applications
Customizable workflows and reports
Strong mobile app for HR managers
What's Missing
Lacks learning management tools
Payroll is an add-on
No dedicated representatives
BambooHR Pricing*
Call for a quote
Essentials: Custom-priced

Includes employee management, benefits tracking, workflow automation, and email support

Advantage: $8.25 per employee monthly for a business with 15 workers

Essentials + applicant tracking, onboarding tools, and phone support
Add-ons
Payroll: $75 + $4.05 per employee monthly
Time tracking: $3 per employee monthly
Performance management: $5.25 per employee monthly
*From our most recent quote
Unlike the other Paycom competitors on our list, BambooHR is HR-first, with payroll being an add-on. Therefore, it's a great choice if you are satisfied with your payroll service but want to add some HR support. With BambooHR, you get easy-to-use software that can be as basic as handling employee records, benefits, time off, documents, and workflows, or can include hiring, performance management, employee satisfaction, and time tracking.
Bamboo's primary customer base has 10 to 200 employees. The pricing is competitive. BambooHR is on our best HR Software list for its strong employee and performance management tools. Users praise its simplicity. It has an API and 80 integrations, which is not bad for its price range. Overall, it's simpler software than most (except Gusto) and easy to use.
BambooHR requires you to call for a quote, which is similar to most of the HR payroll services that would compete with Paycom. We recently got a quote for the Advantage Plan, which is the higher-tier plan. For $8.25 per employee monthly, you get records and benefits tracking, tailored workflows, time off management, an org chart, hiring tools, integration support, and employee satisfaction monitoring tools.
You'll note, however, that this does not include payroll. Most of the others on our list start with payroll and add HR. For payroll, you pay an additional $75 + $4.05 per employee monthly (per our quote). BambooHR also charges extra for time tracking and performance management, but this is typical of most of the Paycom alternatives on our list.
---
Employee data and analytics: BambooHR's Essentials Plan concentrates on employee records and data and workflows. You can store company documents and individually signed forms, track benefits, and view general reports by company or department. You can also set up workflows for different tasks. It's similar to Rippling's Unity module in that it provides a single database to which you can add other functions or integrations.
Customizations: With the Advantage plan, you get a wider range of customizations, including hiring workflows, checklists, permissions, and more. It's a good option if you are in a specialized industry that may require actions beyond the norm for onboarding or employee management.
Payroll: Like Rippling, BambooHR treats payroll as an add-on. It automates payroll like Paycom does. Additionally, it offers unlimited pay runs and over 100 standard payroll reports—more than most of the others on our list. One drawback is that it does not offer pay cards except through third parties.
User reviews: BambooHR earned an average of 4.5 out of 5 stars from real-world users, the third-highest score on our list. They said it was easy to set up and very user-friendly while keeping them organized.
---
Paychex: Best for Solopreneurs

What We Like
Great choice of payroll and HR tools to customize your plan
Handles new hire reporting
Has a PEO option
24/7 live support from customer service and HR experts; offers dedicated payroll support
What's Missing
Software comes with a learning curve (due to the many features)
Some of its payroll tax administration services cost extra
Charges by pay runs
Paychex Pricing*
Call for a quote
Paychex Flex Essentials: $39 per month + $5 per employee

Includes full-service payroll, tax filing services, direct deposits, new hire reporting, garnishment payments, and a financial wellness program

Paychex Flex Select: Custom-priced

Essentials + check logo and signing services, learning management, and access to a dedicated payroll specialist

Paychex Flex Pro: Custom-priced

Select + onboarding, background checks, state unemployment insurance (SUI) services, and an employee handbook builder

Paychex Solo: Custom-priced

Includes payroll, incorporation services, and access to a 401(k) plan
*From our most recent quote
While Paychex can handle medium and even large companies, it's the only one on our list with a plan for solopreneurs (including incorporation services and other features). Its sweet spot is 10 to 200 employees. Like the others on our list, it offers custom pricing and is one of the most customizable plans, with (we've been told) 300 different tools to meet your specific needs. However, it has three basic plans for companies, each providing payroll plus an increasing number of HR services.
Paychex ranks high on many of our best-of articles, including best professional employer organization (PEO) companies (along with ADP), best payroll apps (along with Gusto), and best HR apps. It's also a good choice for restaurants. We were also impressed with Paychex's financial wellness program that provides access to short-term loans, educational resources, and other tools to assist employees in achieving their financial goals.
You need to call Paychex for a custom quote. The latest quote we received was $39 + $5 per employee monthly for Paychex's simplest plan, Essentials, which covers payroll and tax filing, direct deposits, new hires, and financial wellness. In this way, it's similar to Gusto's Simple plan for services. While it looks cheaper than Gusto, this price is for biweekly pay runs, so if you pay weekly or need to do an out-of-schedule pay run, it costs more. Year-end tax reporting also costs more.
---
Paychex Solo: Paychex Solo offers a plan with self-employed payroll and tax services, incorporation services, and even a 401(k) for retirement planning.
User-friendly payroll: Like several on our list, it has automatic pay runs and customizable earning/deduction types. Paychex handles payroll tax payments and filings but charges extra for year-end tax reporting. Like ADP, you can get check-stuffing services, and it also offers a pay card program like ADP and Gusto.
HR features: Depending on what plan you choose, you get hiring and onboarding, time and attendance, employee benefits, workers' compensation, and learning management. It has 60 options for analysis and customizable reports, which can help with compliance reporting. Your HR consultant provides advice that's both personalized and actionable.
Business insurance: Paychex is the only one on our list that offers such a wide range of insurances, including workers' compensation, liability, umbrella, cyber liability, and commercial property insurance.
User reviews: Paychex has the lowest user review rating on our list: 4.12 out of 5 stars, which is still not bad. Paycom, by contrast, earned 4.08 out of 5 stars. Recent reviews for Paychex have been high. Employees found it easier than managers.
---
ADP: Best Paycom Competitor for Growing & International Businesses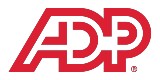 What We Like
Feature-rich platform with a wide range of HR solutions
Grows with your business
International payroll and HR available
Highly experienced PEO that's IRS- and ESAC-certified
What's Missing
Customer service isn't always easy to contact
Year-end tax reporting, time tracking, and access to benefits plans cost extra
Benefits, time tracking, and workers' compensation are add-on products
ADP Pricing*
Call for a quote
Essential: $65 plus $3 per employee monthly

Includes payroll, tax filings, onboarding, direct deposits and a Wisely debit card, new hire reporting, and employee discounts

Enhanced: $88 plus $3.60 per employee monthly

Essential + check signing services, SUI management, background checks, and job postings via ZipRecruiter

Complete: $144 plus $3.50 per employee monthly

Enhanced + HR forms and documents, an employee handbook wizard, and an HR help desk

HR Pro: $220 plus $4.50 per employee monthly

Complete + training programs, enhanced HR help desk support, and additional assistance in creating your employee handbook
Add-ons
Time and attendance: Custom-priced
Employee benefits: Custom-priced
*From our most recent quote
ADP often makes our lists for best HR payroll software, and makes a great Paycom alternative for companies of any size. Its ADP Run software is best for companies of 10 to 200 employees, while ADP Workforce Now is best for 50 to 5000 employees. Thus, ADP can grow with you. If you are looking to outsource your payroll, it offers a PEO solution.
This provider is on our list of the best international payroll software. It provides a scalable HR system for over 140 countries for both payroll and workforce management. Several of its international solutions are for large companies, but it can accommodate smaller businesses too. Others, like Paychex, work through partners, while Rippling and Gusto only work for international contractors.
Like so many on our list, ADP offers custom pricing based on the modules you need and the size of your company. For features similar to Paycom's basic offerings, we suggest the Enhanced plan; however, Paycom charges extra for payroll, while ADP includes that in all its plans. These are the most recent quotes we've received for a biweekly payroll using ADP Run:
Essential: $65 plus $3 per employee monthly
Enhanced: $88 plus $3.60 per employee monthly
Complete: $144 plus $3.50 per employee monthly
HR Pro: $220 plus $4.50 per employee monthly
You pay extra for time and attendance and year-end tax filing. ADP offers workers' compensation, health insurance, retirement plans, and other programs like learning management at additional fees—not included in the quote above.
---
Local and global payroll: ADP's full-service payroll includes not only direct deposit but also the Wisely debit card, something not all on our list offer. It also offers check signing and stuffing services. ADP handles international payroll for contractors, salary, or hourly employees. Others, like Paychex, use a partner service, while Gusto and Rippling only pay international contractors.
Strong benefits options: ADP offers health, vision, and dental benefits as well as life insurance, retirement, FSPs, and more. It also has non-standard benefits like an employee discount program—something not found in many providers on our list. However, it lacks the financial wellness tools that both Paychex and Gusto offer.
HR tools: Like most on our list, ADP can take your employee from hiring to retiring. The recruiting tools include posting to ZipRecruiter, onboarding, and background checks. Several on our list offer similar features, but as an add-on, and few include background checks in the plan. Globally, its HR experts around the world keep you up to date on compliances and regulations that affect you and your people. You can analyze data globally or by specific location.
PEO: Like Paychex and Rippling, ADP offers PEO services through ADP TotalSource. This gives you HR services, including compliance support and access to Fortune 500-level benefits are great prices. It's a great choice for companies that are expanding but not ready to add to their HR staff. It's on our list of best PEOs for growing companies.
High-ranking mobile app: ADP blew away the competition with its mobile app, which earned 4.9 out of 5 stars on both Android and iOS. (Paycom earned 4.7.) While it does not work for multi-company access, it does let you run payroll, manage taxes, download reports, and view insurance policies and certificates.
User feedback: ADP has several programs, running from 4.2 to 4.5 out of 5 stars in user feedback. ADP Run has an average of 4.4 out of 5 over multiple sites. While managers overall liked the software, they complained about the prices and customer support seems to be taking a downturn after a big uptick in satisfaction last year. It has a separate app for employees, which also ranks well.
---
Rippling: Best for Hardware & Software Onboarding & Integrations

What We Like
Intuitive interface highly rated by users
Offers hardware and software onboarding
Integrates with 500+ third-party software
PEO services available on demand
What's Missing
Gets pricey as you add functions
Limited employee payment options
No live customer support for software issues unless you pay extra
Rippling Pricing*
Call for a quote
$35 plus $8 per employee monthly, which includes access to Rippling's core workforce management platform plus full-service payroll and time tracking solutions
IT tools (such as device, app, and computer inventory management) cost an additional $5 per user monthly
Benefits administration costs extra, pricing is based on your insurance broker
Call for pricing on learning management, employee surveys, and HR support
*From our more recent quote
Rippling features a highly intuitive platform and module-based system that lets you add just the functions you need and also has excellent integration capability (it integrates with more than 500 applications). It is our choice for the best HRIS software and also ranks among our lists of leading online payroll, international payroll, and PEO systems. Plus, if you sign up before December 1, 2023, your first month is FREE!
Where Rippling shines is IT support. It stands out from all the others on our list in its ability to onboard hardware and software, even allowing you to purchase hardware with your software preloaded directly from them. It also has incredibly high user satisfaction ratings. Currently, it averages 4.78 out of 4 stars over multiple sites, but we've seen ratings as high as 4.9. The mobile apps on Android and iOS are rated at 4.9 out of 5 stars at the time of this writing.
Rippling is the most modular of all the Paycom competitors on our list. You must purchase the Core program, Rippling Unity, at $8 per user. Our most recent quote included time tracking and payroll and ran $35 + $8 per employee monthly.
In the past, we've seen pricing for the other modules varying from $5 to $100 per month. Call for a personalized quote. Modules include:
Benefits administration
Flex benefits
Affordable Care Act (ACA) and Consolidated Omnibus Budget Reconciliation Act (COBRA) administration
Applicant tracking
Learning management
Pulse (employee surveys)
HR Help Desk (last quoted at $100 per month)
App management (quoted at $5 per employee monthly)
Device management (quoted at $5 per employee monthly)
Inventory management (quoted at $5 per employee monthly)
---
IT support: Rippling offers the greatest depth of IT support. Rippling can provide, set up, secure, and manage employee work computers. You can buy them from Rippling, supply your own, or repurpose an existing computer for a new employee. Plus, it sets up the apps and manages them for you, and also removes employee accounts when they leave the company.
Huge number of integrations: Rippling integrates with over 500 business programs, including Slack, G Suite, and other popular business applications. Most on our list integrate with major software; Paylocity has 300 options available. However, Rippling's App Management module makes it extremely easy to grant new employees access to the software they need—just specify what they need during onboarding, and Rippling handles the rest.
Local and international payroll: Rippling's payroll module includes tax filings, direct deposits, garnishments, multiple job codes, and multiple pay rates. Like Gusto, Rippling can pay international contractors, but Rippling ranks as one of our top international payroll providers. For global employee payroll, however, consider ADP.
Flexible PEO: Rippling offers PEO services as Paychex and ADP do. However, Rippling lets you turn it on and off directly from your account and easily transition to using Rippling's platform again. This makes it a great option if you only need PEO for a short time, like during a transition period.
User satisfaction: Rippling consistently tops the charts for user satisfaction, often blowing away the competition. Currently, it averages 4.78 out of 5 stars over several user review sites. Paycom, by contrast, rated 4.08. People sing high praises for its features and ease of use. The few complaints concerned its learning curve and glitches in two-factor authentication—both very minor.
---
Paylocity: Best for Medium & Large Businesses

What We Like
"On-demand payment" payroll options
Expense management system
Strong compliance support
Wide range of HR solutions and integration options
What's Missing
Tax filings cost extra
Costly implementation fee
Expensive for small businesses
Paylocity Pricing*
Call for a quote
$200 per month + $9 per employee per month
$700 setup fee
$7 per employee for W-2 filing
*From our most recent quote
Like Paychex, Paylocity is a highly customizable HR and payroll system designed to streamline your payroll and benefits administration; keep you compliant with local, state, and federal laws; and manage employees from hiring to retirement. The price point and complexity make it better for medium to large businesses, and its customer sweet spot is businesses with 50 to 200 employees, like Paycom.
We were impressed by its expense management features, which can automatically feed into payroll. Employees can request advances on pay. It handles same-day deposits, where most default to two-day direct deposit. If you get the HR Edge module, then you have access to consulting, training, and more. With over 300 integrations, it works well with just about any software you use. (Rippling leads here with 500+ integrations.) It is one of the most expensive on our list, however.
Like most on our list, you need to contact Paylocity for custom pricing based on your needs. Our latest quote was for a business with 25 employees. For $200 plus $9 per employee monthly, we received payroll and tax filing, benefits administration, some hiring tools, time and PTO management, performance reviews, an LMS, and reporting.
Setup costs an additional $700, and Paylocity charges $7 per W-2 filed at the end of the year. Overall, it's one of the pricier Paycom competitors but offers a lot.
---
Extensive payroll tools: Paylocity impresses with its payroll capabilities. In addition to the tools you'd expect from a payroll system for midsized companies, like garnishment support, you also get automated expense tracking. (Paycom has this, too.) It automatically files taxes, although W-2 filing costs extra. It has pay cards through a third party, whereas ADP and Paychex offer them natively.
HR functionality: Like most of the Paycom competitors on our list, Paylocity offers a document library and employee self-service portals. However, it goes further with compliance tools that include HR and employee training videos. Its HR Edge module includes a dedicated HR consultant as well.
Integrations: Paylocity rivals Rippling in the number of integrations. With over 300, you can ensure easy data flow to and from Paylocity. Integrations cover everything from applicant tracking to employment verification, learning management, and time and attendance.
User feedback: All the HRIS services on our list score over 4 out of 5 stars for user satisfaction. Paylocity has an average of 4.3 out of 5 stars, putting it in the middle of the pack. Ditto for the mobile applications, which score 4 out of 5 stars for Android and 4.2 out of 5 stars for iOS. Overall, managers found the application easy to use, although it can take some time to learn due to the number of tools. Employees said it was easy to find their information and use the features.
---
UKG: Best for Larger Health Care & Manufacturing Companies

What We Like
Customizable schedules based on qualifications and patient volume
Strong compliance tools and reports
UKG Wallet allows immediate payment to employees
Employees predict paychecks based on scenarios
What's Missing
Workforce Central mobile app not good
Interface not as intuitive as others on this list
No PEO option
UKG Pricing
Call for a quote
Third-party sources list fees at $24–$35 per person per month with an installation fee of 40% or more. This includes

Payroll
Benefits Admin
HR / Employee Files
Time and Attendance
Onboarding
Recruiting / ATS
Performance
Comp and Succession
Engagement
Learning
UKG popped up in our research as a commonly considered alternative to Paycom. The scheduling and payroll features particularly impressed us. It also has strong and easily accessible compliance tools. Finally, for employees using UKG Wallet, instant after-shift pay is available. For these reasons, we think it's the best alternative for health care and manufacturing industries, where you need to schedule qualified shift workers based on patient/workload demand and can quickly pay people who take an additional shift for a little extra cash.
The pricing makes this a better choice for larger businesses that need a strong software solution. Nonetheless, UKG does have a large clientele of businesses in the 50-200 employee range. Real-world users seem satisfied with the functions offered, but many complain about the user interface.
As with most of the software on our list, you need to call UKG for a quote, and it will depend heavily on the modules you choose as well as your company size. Outsail.com lists prices ranging from $24—$35 per employee monthly, making it the most expensive on our list, but it is also one of the most complete, with everything from payroll to learning management, recruiting to succession planning. It requires a contract, and the implementation fee is up to 40% of the annual software fee.
---
Extensive scheduling tools built for hospitals: UKG offers highly customizable scheduling tools that can take into account qualifications and patient volume so you can make sure you have the optimal patient/caregiver ratio. It's also easy for managers to put out a call for qualified replacements in cases of leave or sudden absences. This could also be used for other industries where qualifications and workload determine staffing.
Ready compliance tools: UKG Ready impressed us with its easy-to-access compliance tools. Its document section provides up-to-date information on important compliance events like enrollments, and the tabs mean you need one click to manage leave of absence, ACA reporting, or even document injuries. The injury report even lets you mark if it's Occupational Safety and Health Act (OSHA) reportable and, if so, logs the event to be reported on-site. It gives easy access to OSHA, Equal Employment Opportunity (EEO), and Veterans' Employment and Training Service (VETS) reports.
Strong payroll functions: UKG's payroll includes data validation, proactive alerts, automatic compliance checks, and reporting. It handles off-cycle checks as well. (Some, like Paychex, may charge extra for this.) One standout feature is the "What If" tool that lets employees calculate take-home pay based on scenarios, like extra shifts.
Immediate pay: With UKG Wallet, employees can have access to their pay as soon as their shift ends. This is similar to Gusto Wallet.
User satisfaction: UKG has three programs: Ready, Pro, and Workforce. All scored 4 to 4.2 out of 5 stars. While users were overall satisfied with the platform, many said that it was not as easy to use as others; for example, a task might take more clicks than they expected.
---
How We Evaluated
To find the best Paycom alternatives, we looked at user review sites for the most common comparisons and considered our own lists of the best HR and payroll services. Then, we looked at size, pricing, and what each product offered that set it apart from Paycom. Some are very similar, while others, like Rippling, offer unique functions that make them stand out.
Paycor comes closest as a match to Paycom for functions, features, and ease of use. Even its mobile app ranks similarly for features and user satisfaction. For the overall software, real-world users actually prefer Paycor to Paycom for ease of use and toolset.
Bottom Line
Paycom is an HR payroll service with a strong emphasis on employee self-service, as evidenced by its Beti application that lets employees do their own payroll. However, if it's too expensive, too complex, or simply not what you need, there are plenty of options available.
For the closest match, we recommend Paycor. It lacks the employee self-payroll of Paycom, but has other tools that make it great for managers. Pricing and user satisfaction are similar as well. Paycor offers standard pricing, but asks you to call for a quote so they can match you to the best plan. Give them a call and get started on making payroll and HR easier.