When it comes to comparing Shopify vs Volusion for in-person retail and online selling, Shopify is the better choice because it's scalable, flexible, and has more comprehensive selling tools. The more products you sell, the better fit Shopify is going to be for a selling platform. Volusion is a better fit if you really want advanced analytics and reporting tools and more affordable payment processing rates.
In general, we recommend:
Shopify: Best for retail businesses or merchants interested in growing a standalone online store
Volusion: Best for small retailers and online merchants interested in trading low payment processing fees for less comprehensive features and those looking for in-depth data analytics
Comparing Shopify vs Volusion, Shopify is the better choice for both selling in person and online. It's our top-recommended ecommerce platform. If you just need a standard website and plan to sell occasionally or as a side hustle, Volusion could be a better option.
Shopify vs Volusion Quick Comparison­
Evaluation score

4.65 out of 5

3.53 out of 5

Best for

Retail businesses and growing a standalone store

Low payment processing fees and advanced analytics reporting

Monthly fees

Starter (social media): $5
Basic: $39
Shopify: $105
Advanced Shopify: $399

Personal: $35
Professional: $79
Business: $299

Transaction fees

None (if using Shopify Payments); 0.5%–2% if using third-party providers

None (if using Volusion Payments Powered by Stripe); 0.35%–1.25% if using third-party providers

Point of sale (POS)

Shopify POS; third-party integrations also available

No; only third-party integrations

Ease of use

Beginner-friendly

Experienced sellers

Customer service

24/7 live chat, email, and phone support

Email and 24/7 live chat; Prime and Business members get phone support as well

Pros
User-friendly interface
Scalable platform
Extensive app marketplace for third-party integrations
Cons
Advanced features (reports, fraud analysis, gift cards, and real-time shipping rates) only available on higher-tier plans
Incurs transaction fees if not using Shopify Payments
Shipping calculator requires an annual plan
Shopify is Best For
Small businesses with online sales as a primary profit driver. Shopify's interface is beginner-friendly but comes jam-packed with management and sales features—along with thousands of third-party integrations—​​that allow you to scale your business effectively.
Selling on social media and doing occasional in-person sales. The platform also lets you sell on social media, such as Facebook, Instagram, and TikTok, and offers a POS system that can connect seamlessly with your online store for omnichannel sales like buy online, pick up in-store (BOPIS), and browse in-store, buy online.

Pros
Excellent analytics
Good inventory tools
Deal of the day feature (promote a product in a specific landing page if wanted)
Cons
Lacks blogging feature
No phone support
Not as intuitive
Volusion is Best For
Small retailers and online merchants that prioritize low payment processing fees than ecommerce comprehensive features
Online merchants that need strong analytics for their online stores. Volusion provides tons of useful data, analytics tools, and payment options—all of which help you see your online store's strengths.
Alternative

Monthly Fee

Best For

Read More

$0+

Online ordering for storefronts
Free online store and POS
Solutions for nonretail businesses (cafes, service providers, salons, and more)

$27+ 

Drag-and-drop website builder for SEO

$39+

High-revenue, growing, or enterprise ecommerce businesses
More comprehensive SEO tools
Choice of payment processor with no added transaction fees
If you're looking for more ecommerce alternatives or are unsure if Volusion and Shopify are right for you, see how they compare with other top ecommerce platforms. You can also check our recommended best free ecommerce website builders.
Shopify vs Volusion: Pricing, Fees & Payment Processing
| | | |
| --- | --- | --- |
| | | |
| Evaluation score | 3.75 out of 5 | 3.75 out of 5 |
| Free plan | None; 3-day free trial | None; 14-day free trial |
| Paid plans | Starts at $5/month | Starts at $35/month |
| Transaction fees | None (if using Shopify Payments); 0.5–2% if using third-party providers | None (if using Volusion Payments Powered by Stripe) 0.35%–1.25% if using third-party providers |
| Listing fees | None | None |
| Payment processing fees | Starting at 2.9% + 30 cents | Starting at 1.25% |
| POS system | Yes, Shopify POS | No |
Our Expert Take: Both offer tiered subscription plans plus payment processing fees. The more you sell, the less expensive Volusion becomes compared to Shopify. Shopify charges more in transaction fees, but this decreases as you upgrade your plan, and subscription fees are still fairly competitive. Overall, though, Shopify gets you more bang for your buck. Shopify has more robust ecommerce tools included in its basic plan and offers better scalable pricing plans as your business grows.
When it comes to pricing, Shopify is cheaper than Volusion upfront—though Volusion's 14-day free trial is more generous than Shopify's three days, and it also charges significantly lower transaction fees on payments. Both require a subscription of some sort if you want to open an online storefront, as well as typical ecommerce website costs (securing a domain, paid theme, and add-ons, if any) for a full standalone online store.
Both Shopify and Volusion have tiered pricing structures and custom plans for enterprises that are very similar, though Shopify's entry-level $5/month plan is more accessible than Volusion's plans starting at $35/month; however, it's extremely limiting. Shopify's low-tier plan, Basic, is more in line with Volusion's intro plan.
Let's compare their first-level entry plans: Volusion's Personal plan ($35/month) and Shopify's Starter tier ($39/month). We'll exclude Shopify's Starter plan ($5/month) as it doesn't give you a full store. Say, you sell 50 items for $25 each, generating $1,250 in sales revenue. If you sell on Volusion, your payment processing fees will be around $15.63 plus $35 in subscription fees, totaling $50.63. If you sell on Shopify and use Shopify Payments, you'll pay $36.55 in fees plus $39 in subscription fees, totaling $75.55. Volusion ends up being cheaper, but it also comes with more limitations. You can't import or export data, use a CRM, batch process orders, or create a customer loyalty program.
When you compare plan inclusions, you will notice Shopify's plans deliver more value. Suppose you were to unpack both platforms' ecommerce starter plans, Basic Shopify and Volusion Personal. Basic Shopify provides more robust features, specifically:
Additional sales channels such as online marketplaces and social media
Multiple inventory locations
Abandoned cart reporting and recovery
Take a look at the detailed pricing and fees of the two platforms below.
Volusion Pricing Plans & Fees
$35/month (Personal): Under the free plan, you can build a store with Volusion templates, sell up to $50,000 in a year, list 100 products, get one user account, and access either live chat or email support. Payment processing fees are 1.25% of the transaction value.
$79/month (Professional): Volusion Professional includes everything under the free plan with an extension to $100,000 in sales per year, up to 5,000 product listings, and five user accounts. Other additions include the ability to import/export, take phone orders, use a CRM, implement ratings and reviews, send email newsletters, and access abandoned cart reports. Payment processing fees are 0.65%.
$299/month (Business): Under Volusion Business, you can sell up to $400,000 and list as many products as you want. You also get 15 user accounts and access to phone customer support in addition to email and live chat. Added features include API access, batch order processing, and a customer loyalty program.
Volusion also has custom pricing for businesses with even more needs under its Prime plan. Pricing is based on your sales.
Shopify Pricing Plans & Fees
$5/month (Starter): Shopify's social media selling tool, which allows you to sell on social media, messages, and other websites (no full standalone store).
$39/month (Basic): This plan includes all the main ecommerce features but has limited reporting; online transactions are charged at 2.9% + 30 cents.
$105/month (Shopify): This plan has stronger reporting (such as first-time vs returning customer sales), USPS cubic pricing, and a discounted transaction fee of 2.6% + 30 cents.
$399/month (Advanced Shopify): Under this plan, you can build custom reports and show third-party calculated shipping rates at checkout; online transactions are further discounted to 2.4% + 30 cents.
Starts at $2,000 (Shopify Plus): This plan is for large enterprises and includes lower transaction fees, a dedicated account manager, full customization access to site coding, and more.
Shopify doesn't have seller fees but charges transaction fees (varies per plan, 0.5%–2% per transaction) if you don't use its built-in payment gateway, Shopify Payments. Fees are waived under Shopify Payments, and the usual credit card processing fees apply (2.4%–2.9% + 30 cents).
To learn more about Shopify's plan inclusions and corresponding fees, read our ultimate guide to Shopify pricing plans.
Payment Processing
Both platforms have built-in payment providers, and they also both allow you to choose to integrate with a preferred third-party provider (though note this will incur additional transaction fees).
Shopify has built-in payment processing through Shopify Payments and Shop Pay, its one-click checkout solution. You can start accepting payments from day one without needing to apply for and connect a separate merchant account. Shopify Payments is the easiest option for most small and new businesses, and Shopify's transaction fees are pretty standard.
Volusion also offers built-in payment processing through a partnership with Stripe Payments. Its transaction fees are very competitive—never more than 1.25% of the transaction value. You can also choose to use a third-party option with its own fee structure.
When comparing Shopify vs Volusion in terms of the number of payment processors, Shopify wins. It partners with over 100 payment gateways compared to Volusion's more limited integrations. Volusion works with Stripe, PayPal, Fort Point Payments, Authorize.net, and NMI.
Shopify vs Volusion: Site Design, Builder & Maintenance Features
| | | |
| --- | --- | --- |
| | | |
| Evaluation score | 4.5 out of 5 | 3.63 out of 5 |
| Free templates | 10+ | 23 |
| Paid templates | 110+ (starting at $180) | In-house custom web design agency |
| Editing tool and customization | Drag-and-drop builder; CSS and HTML | Templated content blocks; drag-and-drop; CSS and HTML |
| Number of available apps and integrations | 8,000+ | 81 |
| Secure Sockets Layer (SSL) certificates | Free | Starting at $149 |
| Payment Card Industry (PCI) compliance | Yes | Yes |
Our Expert Take: If you want better control of your online store when it comes to branding and site design, go with Shopify. Shopify has more templates and more integrations to help you create the store you envision. Plus, it comes with important security features you have to pay extra for through Volusion.
With both Shopify and Volusion, you can build an online presence, including buying a domain name and customizing the look and feel of your site with themes.
Shopify's site builder is also intuitive and easy to use. You can build a nice-looking website even with limited technical coding skills. It also provides a lot of varying website themes.
When you build your store with Volusion, you'll notice it has fewer themes and integrations to choose from, and its features are more limited than Shopify's, so you'll be more limited with what you can create.
Shopify has free and paid themes, ranging from modern to elegant and everything in between. The free options are different in design and cater to various industries, allowing you to have a variety of designs even with fewer templates. The paid ones are similar in quality to Volusion's themes, having modern design features such as full-bleed content, image animation, and video backgrounds. You also have access to a library of royalty-free stock images.
Volusion, on the other hand, has more free themes to choose from than Shopify, but fewer paid options. Most of its themes are similar in nature in some way, shape, or form, and it offers far less variety than Shopify. It also lacks industry- and niche-specific themes and templates.
---
Both Shopify and Volusion are PCI compliant. They also both offer options for SSL certificates. However, Shopify provides this for free whereas you'll need to select and pay for a third party if building your store on Volusion.
---
Volusion and Shopify provide basic SEO features to help your online store rank higher in search engine results. You can access and modify page URLs, titles, meta descriptions, meta tags, canonical links, 301 redirects, and alt text for images on both platforms. However, Shopify has a slight edge over Volusion because of its blogging functionality (which Volusion lacks) and abundance of SEO tools (in its App Store).
Volusion's SEO tools are competent on their own. One aspect Volusion lacks that Shopify has is the ability to start a blog on your website. Shopify has this functionality readily available. Volusion, on the other hand, requires you to build a blog on a third-party platform and integrate it with your ecommerce site.
Shopify has drag-and-drop blocks with its Online Store 2.0 content management system, although its presentation options may be limited.
Both platforms offer fast load times and site speeds, imperative to optimizing for search and creating a great user experience. According to Volusion, it has some of the fastest sites online because of its reduced dependence on plugins.
---
When it comes to apps and integrations, Shopify wins by a mile. It has more than 8,000 available integrations in the Shopify App store. Volusion, with just over 80 integrations, pales in comparison. One of Shopify's key strengths is its App Store—if there's something your store needs, it's a near certainty that you'll find it there.
---
Shopify vs Volusion: Sales & Product Features
| | | |
| --- | --- | --- |
| | | |
| Evaluation score |  5 out of 5 | 3.56 out of 5 |
| POS tool | Yes, native Shopify POS | Yes, extremely basic |
| Abandoned cart saver | Yes (starting at lowest plan - Basic $39/month) | Yes (starting at 2nd tier plan - Professional $79/month) |
| Sales channels | Facebook, Instagram, TikTok, Amazon, and more (all tiers) | Ecommerce |
| Product options | Up to 3 | Unlimited |
| Product variants | Up to 100 | Unlimited |
| Real-time tracking across locations/channels | Yes | Yes |
| Real-time shipping calculators | Available in highest plan, Advanced Shopify | Live rates with USPS, FedEx, UPS, Royal Mail, Canada Post, and Australia Post |
| Shipping discounts | Yes, with Shopify Shipping (discounts depend on plan) | No |
Our Expert Take: With scalable ecommerce features and unlimited product listings, Shopify wins this category by a landslide. Volusion might have unlimited variants, but it's not strong in terms of multichannel selling or cheap shipping rates. As your business grows, you can seamlessly transition into Shopify's higher-tiered plans. It's important to note, though, that certain sales features (such as those in the Shopify App Store) come with monthly fees. It can quickly add up, so consider which features your store needs before buying.
Shopify is unbeatable when it comes to sales and product features—it's the only platform that earned a perfect score in this category during our evaluation of the best ecommerce platforms. It's undoubtedly made for the online merchant bent on driving sales.
Shopify lets you sell an unlimited number of products even on the basic plan, set up promo codes and discounts, and perform lead generation and email marketing with its built-in tools, Shopify Forms and Shopify Email. The abandoned cart recovery feature—which is mostly offered on higher plans with other ecommerce platforms—is also included in the entry-level plan (Basic at $39/month).
In short, if you're serious about online selling and want to start with a platform that can support your growth, Shopify is the way to go. Shopify gives you all you need to grow your ecommerce business. Read our Shopify review for a more in-depth look at its sales features.
Volusion, meanwhile, offers a basic ecommerce toolkit that includes everything you need to manage your store easily. These features include:
Advanced analytics reporting to get in-depth insight into your business
Unlimited product variants
Create and manage coupons
Ability to sell digital products
You can choose to upgrade to Volusion Professional for $79 a month and get CRM functionality, the ability to import and export data, customer ratings and reviews tools, phone order features, email newsletters, and abandoned cart reports.
Even with an upgrade, Volusion's multi-channel selling tools and shipping features are limited and not fit for a scaling business. For example, Volusion doesn't offer a customer loyalty program for Personal or Professional subscribers.
When it comes to product features, Shopify and Volusion allow you to sell unlimited products and digital goods and services, although Shopify would require the use of a third-party app to sell digital goods. While Volusion offers better product options (more variants), Shopify wins in this category because of its real-time shipping calculators and available shipping discounts. Whatever Shopify lacks in built-in features can be solved by integrating third-party apps, which it's known for.
Regarding sales features, Shopify seems to have a better grasp on how important ecommerce marketing is for online stores. It has tons of built-in and third-party marketing tools to help get your site noticed. While Volusion offers some marketing features, it makes many available on higher-priced plans. Shopify has most of its marketing tools (such as Shopify Email and abandoned cart saver features) accessible even on its starter plan.
Volusion makes a stronger case for itself with the types of products you can sell since it has built-in tools for selling physical items and digital goods. With Shopify, you can sell these and more, though some would require using an app, which may or may not have added fees. You can only sell physical products natively in Shopify (or by default).
Product categories: Both Shopify and Volusion have product categories enabled for easy segmentation and organization. Shopify tags aren't case-sensitive, but products have a limit of 250 tags. Volusion also allows for subcategories and category-specific images and metadata, as does Shopify.
Product options: Shopify lets you set up three options per product, and its limitation on product variants is only 100. Volusion, on the other hand, lets you configure an unlimited amount of product options and product variants.
---
Shopify is no match for Volusion when it comes to inventory management. Both platforms allow you to sell unlimited products, add items manually or in bulk, generate revenue reports, and track stock levels and reorder points.
What gives Shopify an edge over Volusion in managing inventory is its fulfillment network for storing and fulfilling orders. You can even adjust inventory from the mobile app.
Moreover, a complete setup with Shopify POS lets you have full visibility to manage products and orders in an omnichannel setting—it's why Shopify is our top recommendation for multichannel POS systems.
---
Both Volusion and Shopify allow you to set up various shipping rules, including:
Free shipping rates
Flat rates
Price-based rates
Weight-based rates
Calculated ("real-time") shipping rates from third-party carriers
Real-time shipping rates
Real-time shipping rates are unlocked in Shopify's $399 Advanced Shopify plan. However, Shopify can provide real-time shipping quotes and discounts on any plan if you use Shopify Shipping and its partner couriers. With Volusion, real-time shipping rates are available for USPS, FedEx, UPS, Royal Mail, Canada Post, and Australia Post.
---
Shopify is the clear winner when it comes to multichannel selling. Sell anywhere—in person, online, and in various channels.
Multichannel selling is a huge advantage for any online business. Shopify allows you to seamlessly sell on different channels and use its platform as a central inventory, order management, and payment platform. You can integrate your Shopify store and start selling on Facebook, Instagram, TikTok, Pinterest, Etsy, Amazon, and more.
With Volusion, you can sell on eBay, Amazon, and more. You need to rely on third-party integrations to connect other sales channels to your ecommerce site. But this often comes with an added cost.
When it comes to in-person selling, Shopify makes it easy for you by having many POS options. Shopify has a built-in POS system, Shopify POS, while Volusion can integrate with a select set of third-party POS software.
Shopify has industry-leading partnerships with social channels like Facebook, Instagram, and TikTok. If you want the ability to offer in-app social media selling, Shopify is for you. For in-person selling or if you have a brick-and-mortar retail business, it also has a free built-in POS app, Shopify POS, available for all ecommerce plans (hardware prices are excluded).
While Volusion lets you sell on other channels and sync your inventory data, you need to use a third-party integration to be able to do so.
---
Both platforms give you tools to market your online store effectively but make them accessible across different tiers. You can create and manage discounts and promo codes under both platforms' first-level plans, but more advanced marketing features are unlocked at different tiers, as listed below.
Abandoned cart recovery: Shopify makes this marketing tool available across all subscription tiers for standalone stores (starting at $39). It lets you send a singular email as an abandoned cart saver manually or after 1, 6, 10, or 24 hours, with 10 as the default. On the other hand, Volusion unlocks abandoned cart reports at the $79 tier (Professional), and specific details of what you can do with this feature are unclear. The price difference between the two subscriptions is decent and can be a dealbreaker for small businesses.
Email marketing: Shopify Email is available across all Shopify plans. You can send up to 10,000 emails per month, and it's just $1 for every 1,000 emails you send after exceeding the 10,000 limit. You can customize your email with templates and schedule delivery, but advanced email marketing features are unavailable, such as automation and customer behavior segmentation. Meanwhile, Volusion doesn't offer any robust email marketing features.
Social media: Shopify has tight integrations with all major social platforms, including Facebook, Instagram, TikTok, Snapchat, YouTube, and more. Volusion also has integrations; however, it lacks the advanced social selling features Shopify makes available to merchants on its platform. Volusion limits users to simply sharing content on social media rather than selling products there.
One thing that sets Volusion apart here is its in-house marketing agency, which can serve merchants looking to promote and grow their stores. To compare, Shopify has a database of Shopify Experts ranging in specialties from SEO to graphic design and everything in between.
---
Shopify vs Volusion: Ease of Use
| | | |
| --- | --- | --- |
| | | |
| Evaluation score | 5 out of 5 | 3.63 out of 5 |
| Onboarding and setup | Yes, easy-to-follow setup wizard | n/a |
| Store management | Beginner-friendly | Requires some technical knowledge and comfortability |
| Online knowledge base | Extensive | Extensive |
| Community forum | Yes, active and helpful community members | n/a |
| Live chat, email, and phone support | 24/7 | Live chat & email for all tiers; phone for Business and Prime tiers |
Our Quick Take: When we compared Volusion versus Shopify, we found both to be fairly intuitive and user-friendly, though Shopify has a bit of an edge. It has an easy-to-follow setup wizard—nearly anyone with minimal computer skills can pick it up immediately. Shopify also wins in this category because of the level of customer support it provides.
Onboarding & Setup
Signing up for trial accounts can be done in a few minutes, and both provide setup wizards and helpful prompts to guide you in building your site.
When you build an online store with Shopify, there's a clear-cut setup wizard in my dashboard once you sign up. you can access its full feature set from every interface window because of the navigation menu sidebar. If you have any questions or find a roadblock with any of Shopify's toolsets, you can easily refer to its help center or click any of the bubble prompts to find out how things are done.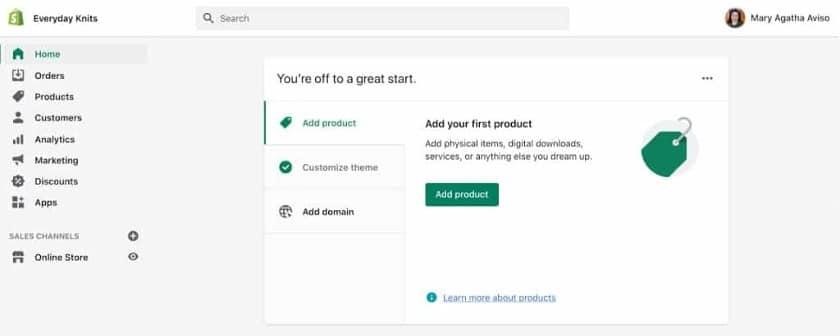 Meanwhile, Volusion's dashboard is approachable but slightly confusing, as it lacks prompts about where to start. Its layout helps you see things quickly, but it's difficult to know where to go first.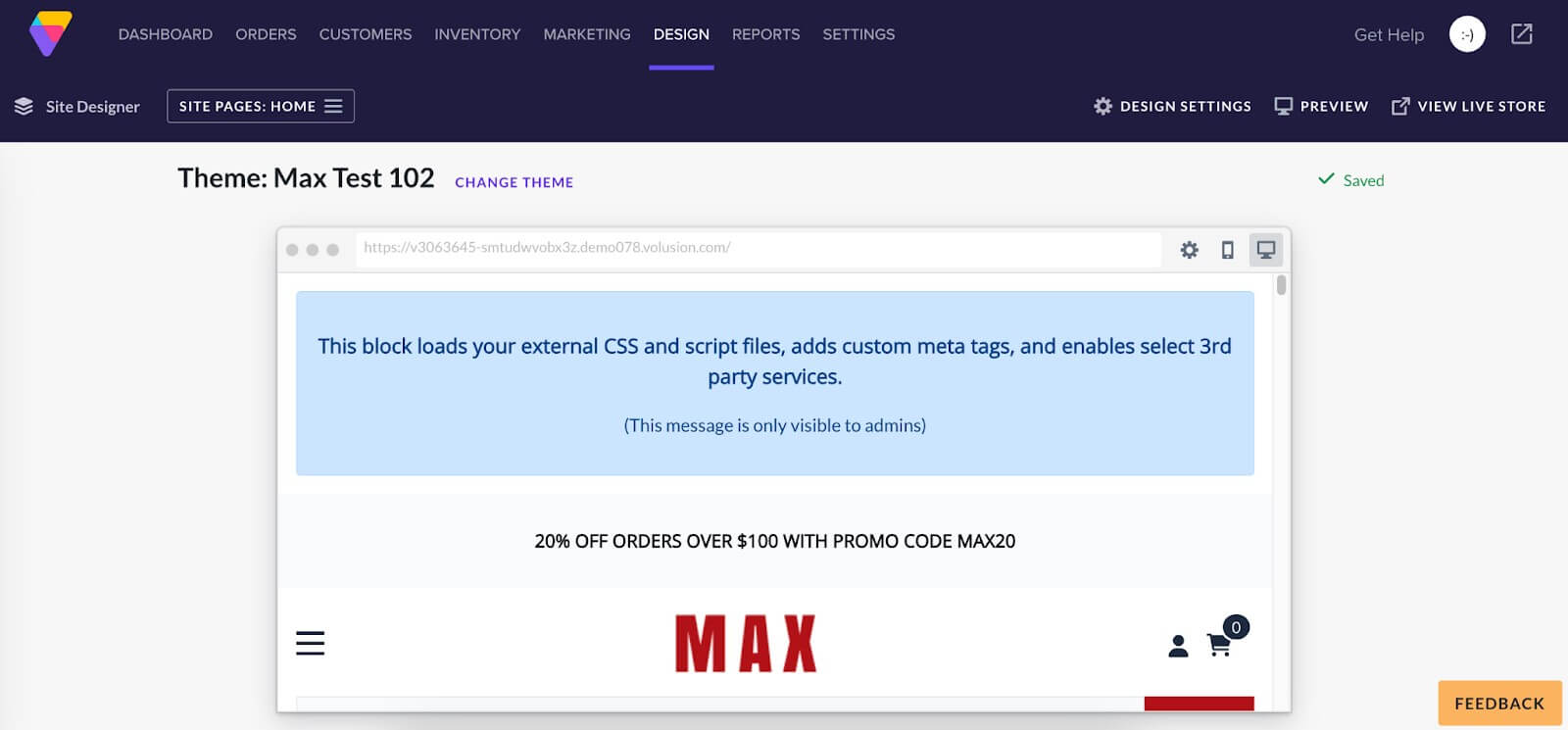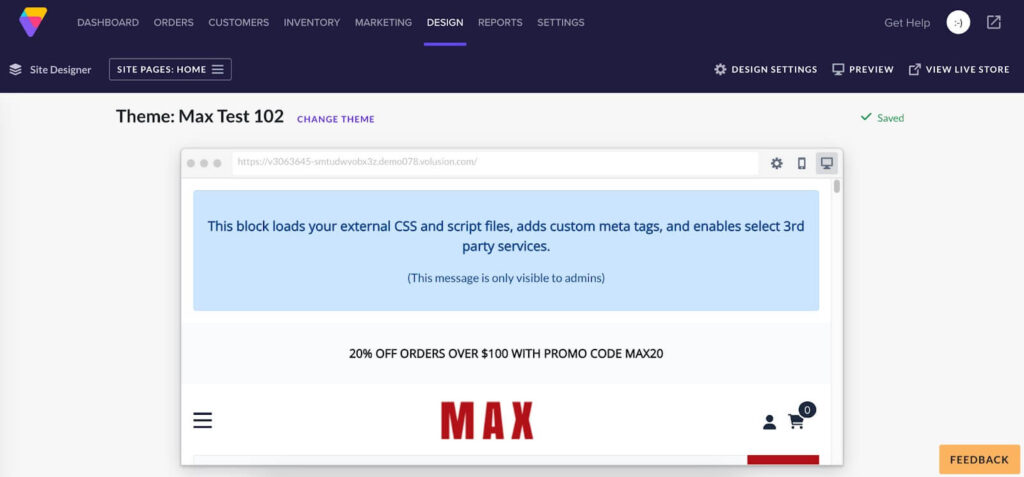 Store Management
Both Volusion and Shopify dashboards are easy to navigate. Since Shopify has more robust features, you have more options to set up and details to fill in so it takes time to accomplish things. However, it doesn't fail to provide tips and callout boxes throughout the process.
Volusion's navigation is slightly simpler. However, during our Volusion setup, we noticed there's no option to add a product directly from the navigation panel. You would need to click on Inventory and then Products to add a new product. This process can be counterproductive as you need more clicks to perform the most basic function—adding products—when it comes to store management. You can see how it looks in the image below.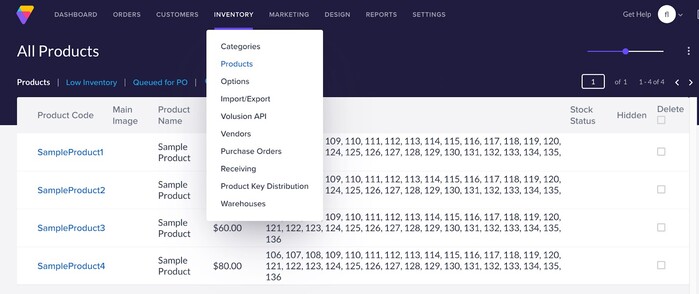 Customer Support
What gives Shopify an edge over Volusion for customer support is that it provides live chat, email, and, more importantly, phone support 24/7.
Shopify also provides helpful beginner guides, and its help page tries to give answers to commonly asked questions with tips and how-to articles before recommending you contact its support team.
Volusion's setup requires a similar amount of time and effort, and it's simpler but has fewer prompts to assist you along the way.
When it comes to customer support, although Volusion provides an extensive help section, it has no community forum and limits phone support to merchants on higher tiers. Shopify offers immediate 24/7 support—something you might need, especially if you're just starting your online store. Most users even commended its team for being professional and competent.
Shopify vs Volusion: Expert Score
Our Quick Take: When we compared Shopify and Volusion in ecommerce features, Shopify wins in every category—pricing, site builder, sales and product features, and ease of use. Shopify is also extremely popular among ecommerce experts and the general public.
Shopify is our top ecommerce platform recommendation for small businesses. You can set up a Shopify store for more or less $500 with around $100 monthly costs. What we like about Shopify's subscription plans is that on top of being affordable, they also come with built-in marketing tools you can use to promote your online store.
Shopify also gives your business lots of room for growth. As you scale, Shopify has tools to help you advance your business, with real-time shipping calculators and a vast App Store where you can find almost any integration you need.
Shopify User Reviews
Shopify user reviews are overwhelmingly positive. Most user feedback reflects what we noticed in our own analysis. Shopify is intuitive, easy to use, and flexible enough for new and experienced sellers.
Volusion is one of the website builders for small businesses we would least recommend. Its ecommerce functionality is basic, at the very least, compared to Shopify's robust tool set. If your business relies simply on ecommerce transactions and you just plan to sell products on the side, Volusion could be a better option for its affordable processing fees.
However, note that Volusion doesn't have a robust set of features to support business growth. If you have plans to expand to new channels, scale in volume, or grow in any sense of the word, you may find Volusion to be limited, especially in comparison to Shopify.
Volusion User Reviews
While Volusion reviews show users are happy with ecommerce features like product management, payment processing, and tax calculation, many agree that it falls short regarding integrations, functionality, and features like marketing. Its interface and tools are outdated, and customer support gets mixed feedback.
Methodology—How We Evaluated Volusion vs Shopify
To help you decide which platform is best for your online business, we compared them using the following criteria: price, ease of use, store builder and design tools, inventory management, and sales tools.
The evaluation criteria include:
Pricing and Payment Integrations: We looked at the price point of each base plan that offers a complete online store, what plan options are available as your business grows, and payment processing options, including fees, flexibility, and one-click checkout options. Shopify is a clear winner in this category. It offers a better overall value with its Starter Plan at $5 per month, a free connected POS app, and Shop Pay (its one-click checkout option). In comparison, Volusion unlocks limited ecommerce functions at its third plan, Business at $299 per month.
Site Builder and Maintenance Features: We considered how easy it is to build and maintain a professional and attractive online store, including available templates, customization options, free domain and SSL certificates, unlimited storage and bandwidth options, and built-in SEO tools and site analytics. Shopify offers better website templates and provides a better drag-and-drop site editing tool with more flexibility than Volusion's site editor. Both platforms, however, make it easy to manage an online store when adding products and setting up backend tools.
Sales and Product Features: We looked at what kind of product assortments Shopify and Volusion can accommodate, tools for in-store and mobile, integrated social media, and marketplace selling, and marketing tools. We also consolidated shipping options and PCI compliance. Shopify wins this category by a mile, as it offers built-in tools for selling in-person and online, has several integrations with social media channels and marketplaces, and provides a one-click checkout option via Shop Pay.
Ease of Use: Because online stores operate 24/7, we prioritize platforms that offer 24/7 customer support and have multiple customer touchpoints, such as phone, email, and chat. While both provide a comprehensive help center, Shopify provides 24/7 customer support by live chat, email, and phone. Volusion has 24/7 live chat support but its phone support is available starting at the Business plan for $299/month. However, both platforms are easy to use and provide beginner-friendly tools.
Expert Score: Here, we considered overall value, quality of features, popularity, customer satisfaction, and ease of use. We also factored in our own experience working with each platform and feedback from businesses that use each system. Shopify beats Volusion in our expert review because of its popularity, ease of use, and industry-leading innovations.
Frequently Asked Questions (FAQs)
Click through the tabs to go through the most frequently asked Shopify vs Volusion questions.
The purpose of Volusion is to serve as an ecommerce platform to help businesses create and manage their online stores. Its primary purpose is to provide a user-friendly environment for setting up an ecommerce website, allowing businesses to showcase and sell their products or services online. Volusion also offers a range of features and tools to assist with website design, inventory management, payment processing, and more.
---
Volusion can support your business in site building and maintenance, payment processing, product listing and promotion, and selling on different channels.
---
Shopify is our top-recommended ecommerce platform for good reason. It offers a comprehensive set of business tools, a user-friendly platform that requires no technical skill set, and helpful customer support, support content, and community forum. Shopify also has advanced features for businesses at every stage of growth and plans to fit all kinds of budgets.
---
Yes, Shopify is the best selling platform according to our analyses. However, whether it's the best platform for your specific needs depends on various factors, including your business's size, industry, and unique requirements. Research and compare different selling platforms, including Volusion, to determine which one aligns best with your goals and budget.
---
Bottom Line
Even if Volusion has the edge over Shopify in terms of payment processing fees, Shopify wins in almost all other aspects. When choosing an ecommerce platform, work with what you have now (e.g., a small budget or limited tech know-how), then scale as your sales grow. On both counts, Shopify can help.
If you want to keep it small, Volusion could be a good option. But if you plan to grow your business, Shopify is the platform that will best serve your needs.